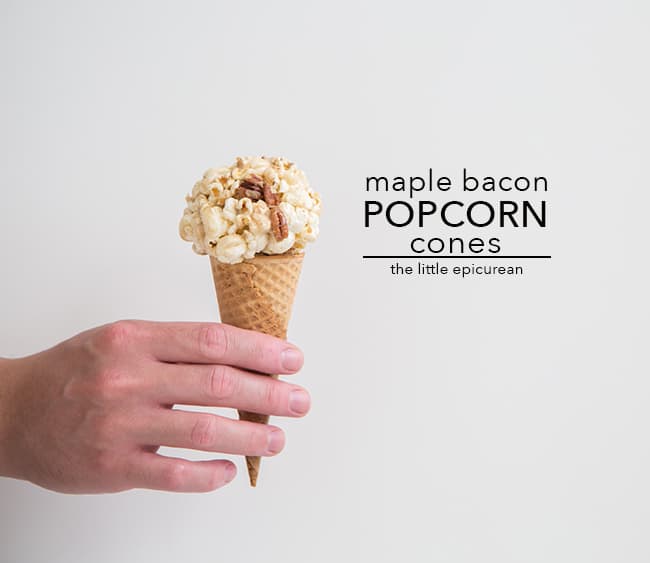 What is with this extreme heat wave in the middle of September?  It was over 100 degrees in many parts of Southern California this weekend.  I was in Ojai to attend a wedding and the high on Sunday was 106.  It's not fair.  Other parts of the United States have cooled down to the 70s.  Sweater weather needs to make its way to California pronto.
Any baseball fans out there?  I'm a huge Dodger fan.  Have you seen the Dodger baseball hat cake I made for Alex last year or the picture of Charlie in his Dodger dog outfit?  The LA Dodgers and the SF Giants played a pivotal series this weekend.  As baseball season winds down, every game matters.  And it's even more important when the #1 and #2 teams are playing for their division spot.  Even though the Dodgers the lost Friday's game, they came back big on Saturday (17-0) and Sunday (4-2)!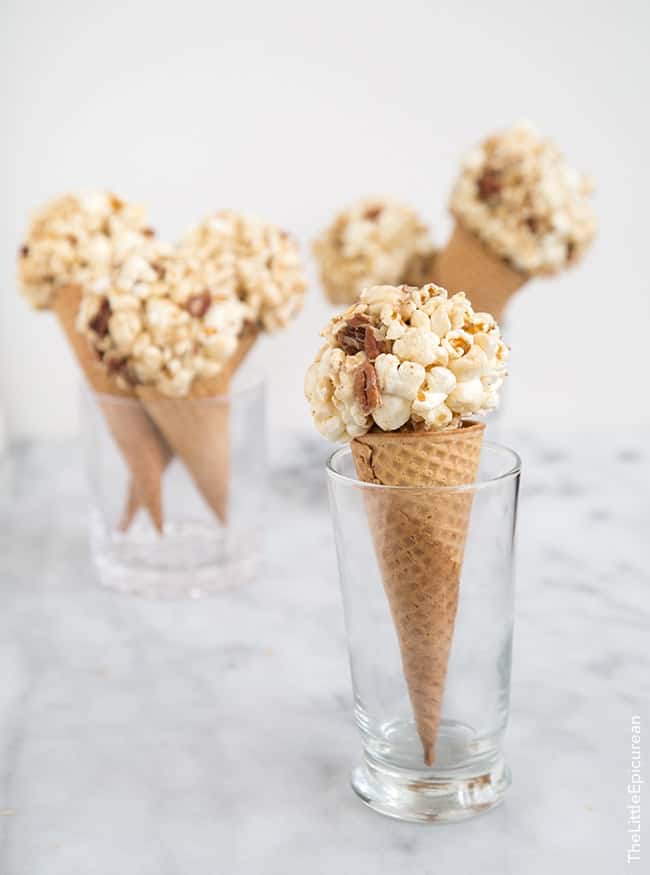 One snack I like to eat while watching baseball?  Popcorn!  Cracker Jack, caramel corn, and now, these cute popcorn ice cream cones! It looks like ice cream, but it's not!
I was inspired to make these treats after trying out Kettle Brand's new line of popcorn.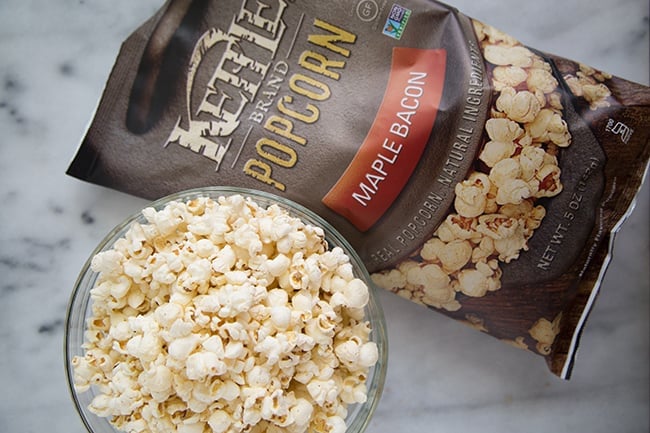 I used their maple bacon popcorn, but any popcorn will do.  I suggest a flavorful popcorn like kettle corn or caramel corn because their flavors won't get lost in the marshmallow.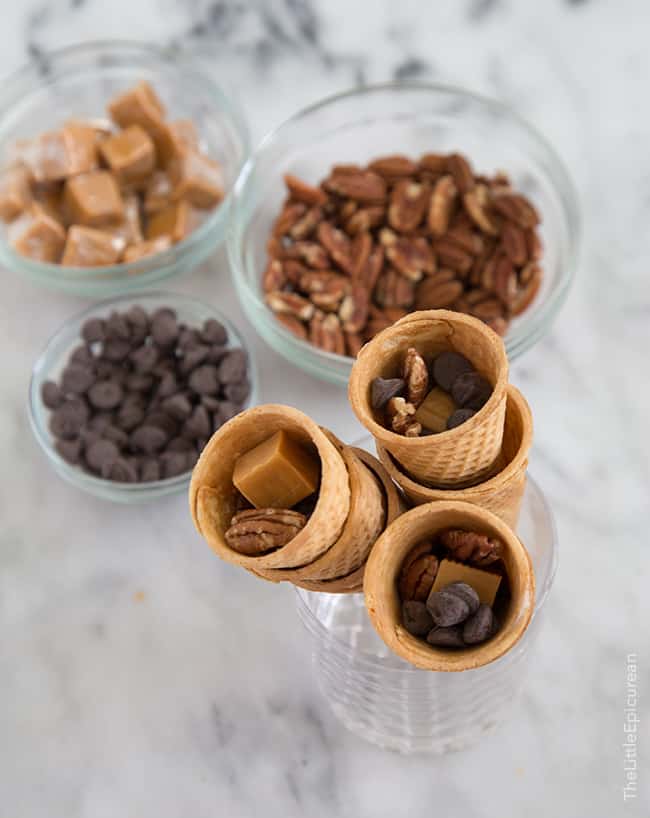 I filled the ice cream cones with pecans, caramel candies and chocolate chips because that's what I happen to have on hand.  Get creative and use your favorite candies and gummies.  Or make these ice cream cones even more special by hiding secret messages or prizes inside.  I have a feeling I'll be making more variations of this these popcorn balls during Halloween and the subsequent holidays.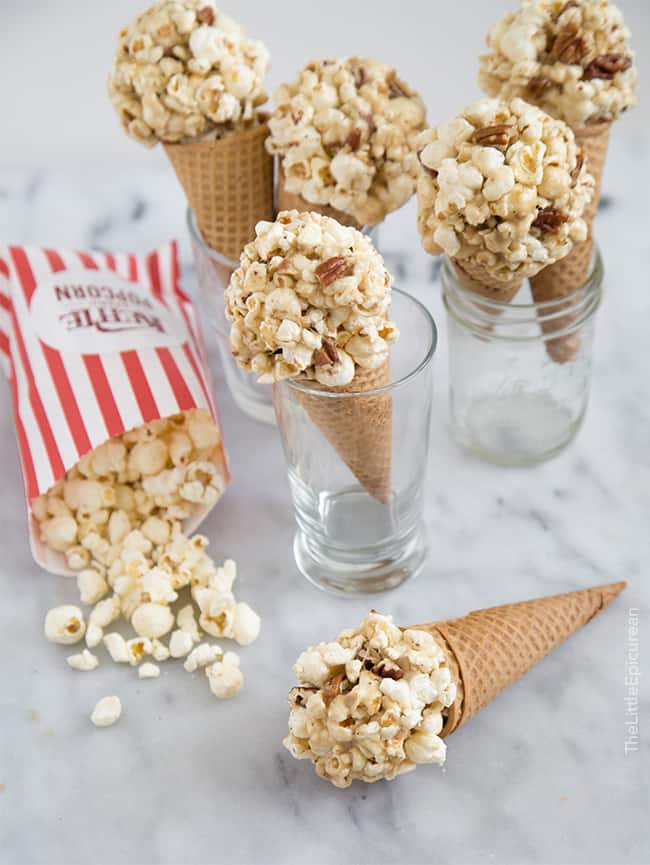 Maple Bacon Popcorn Cones
Yield: makes 10-12 popcorn balls
Prep Time: 5 minutes
Cook Time: 10 minutes
Total Time: 15 minutes
Ingredients:
1/3 cup chopped pecans
3 Tbsp unsalted butter
3 cups mini marshmallows
1/2 tsp maple extract (optional)
ice cream cones
chocolate chips, as needed
caramel candies, as needed
additional pecans, as needed
Directions:
Fill ice cream cones with chocolate chips, caramel candies, and pecans as desired.  Set aside.
In a large bowl, combine popcorn and chopped pecans.  Set aside.
In a sauce pot, melt butter.  Add marshmallows.  Stir to combine with butter.  Cook over medium heat until marshmallows are melted.  Remove from heat.  Add optional maple extract.  Stir to combine.
Immediately pour melted mixture over popcorn.  Gently fold until popcorn is coated with marshmallow.  Use an ice cream scoop to divide popcorn into balls.  Place popcorn ball over prepared ice cream cone.  Work quickly before marshmallow mixture cools.