Take advantage of fall's abundance of apples with this apple cider sangria. Mix and match your favorite apple varieties!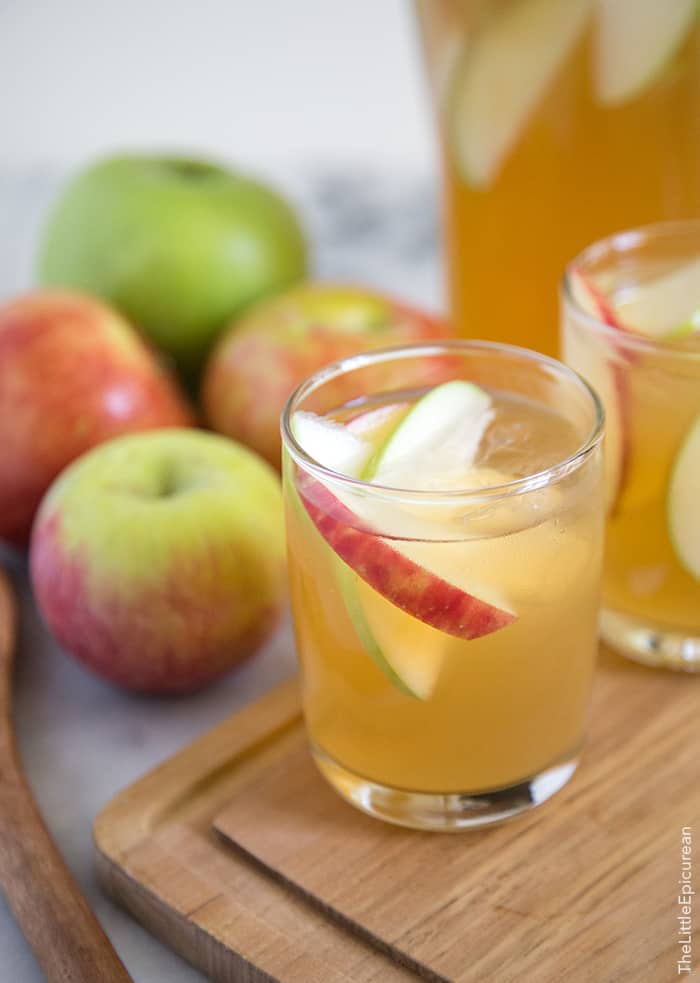 For the longest time, I have talked about driving along the East Coast to experience New England's fall foliage. I long to see the changing palettes of nature.
I want to see all those leaves turn from lively green to beautiful gold; see the reds, yellows, and deep colors of fall. One day.
One day Alex and I are going to take that gorgeous drive and end up in Maine where we're going to eat our weight in lobster. Until then, this apple cider sangria will have to do.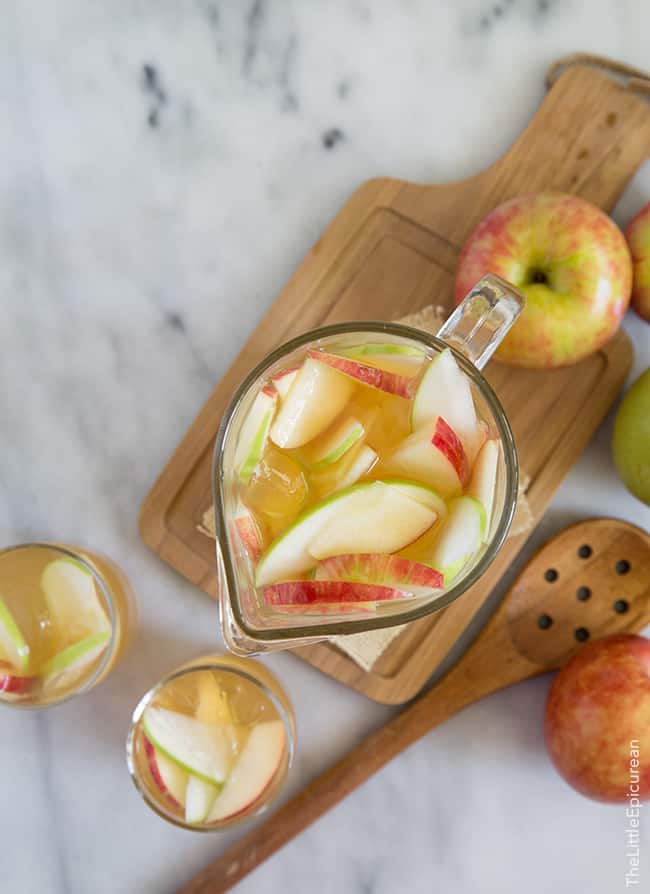 Apple Cider Sangria
Can you see fall's warm colors in this sangria? I sure can.
Sangria translates well into any season. Since apples is in full bloom, why not take advantage?
This apple cider sangria is easy to customize to your liking. It only requires a handful of ingredients:
White Wine
Apple Cider
Calvados
Fresh Apples
Club Soda
White Wine
Choose a dry white wine that is light and refreshing. I suggest using pinot grigio. Pinot grigio wines tend to be on the acidic side. It will mellow wonderfully with the sweet apple cider.
Other wine options include: pinot gris and New Zealand sauvignon blanc.
Stay away from sweet moscato wine or oaky chardonnay wine.
Apple Cider
The labeling of "apple cider" versus "apple juice" varies from state to state. For the sake of this recipe, apple cider refers to unfiltered pressed apples. It is juice that is a bit cloudy and thicker than your regular boxed apple juice.
Do not use Martinelli's sparkling apple cider. That's a completely different product!
Calvados
Calvados is apple brandy produced in Normandy (Northern France). It is made from pressed apples that is fermented into a dry cider. The liquid is distilled into brandy and aged.
Calvados adds a rich apple flavor that highlights the sweetness of the apple cider. If you cannot find Calvados you may substitute in pear brandy or a light brandy.
Big box beverage stores like BevMo and Total Wine carry many varieties of Calvados.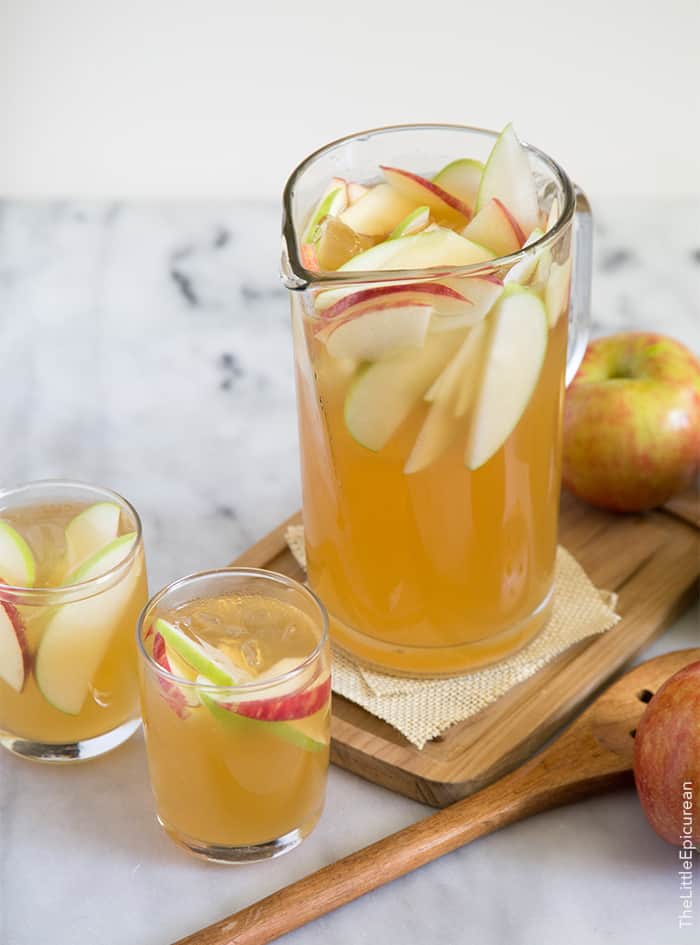 Best apples to use for Autumn Sangria?
With all the different varieties of apples available, it's fun to mix and match and find your favorites. There are well over a thousand apple varieties. I used a combination of:
Granny Smith
Braeburn
Honeycrisp
Granny Smith is the best variety to use for sangria. It adds the perfect bright tartness to contrast with the slightly sweet white wine and apple cider mixture.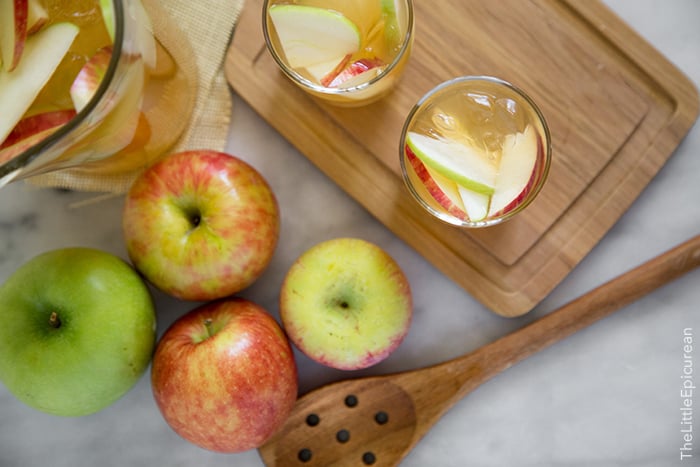 As always, it is best to let sangria sit for a couple hours (overnight is ideal) to allow the flavors to meld together.
However, if you aren't patient, go ahead and pour yourself a glass or two. I won't tell.
Cheers!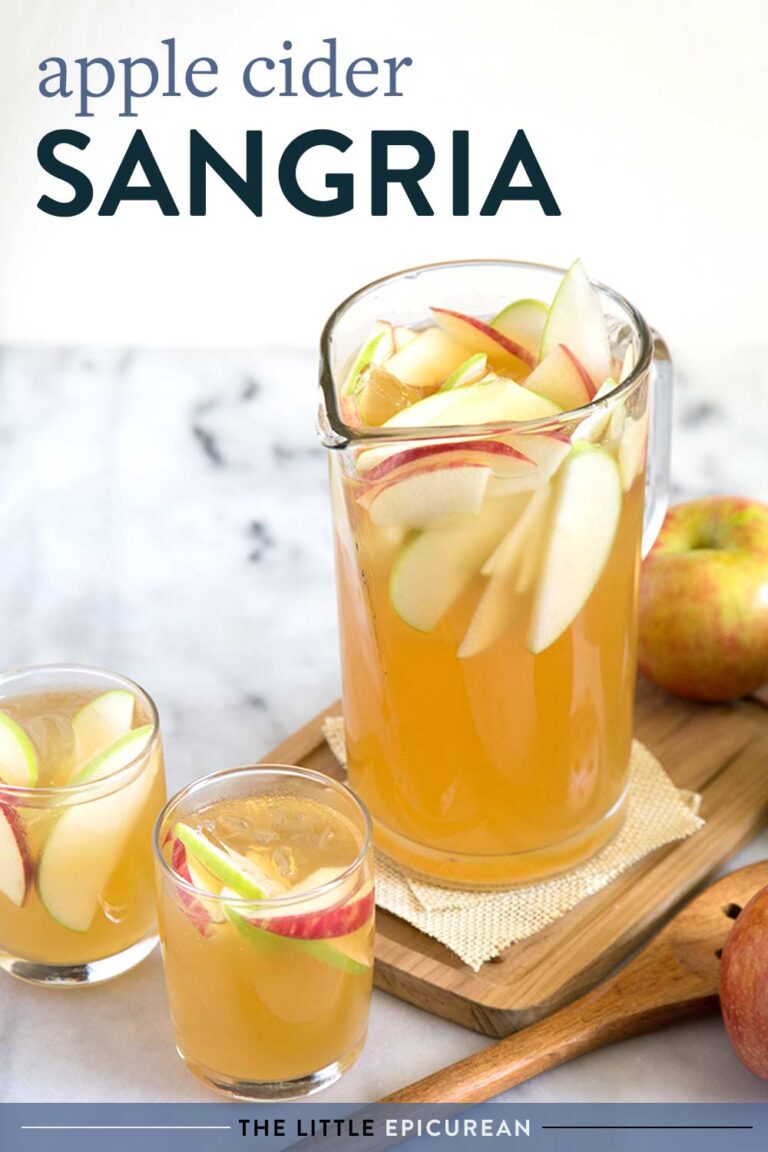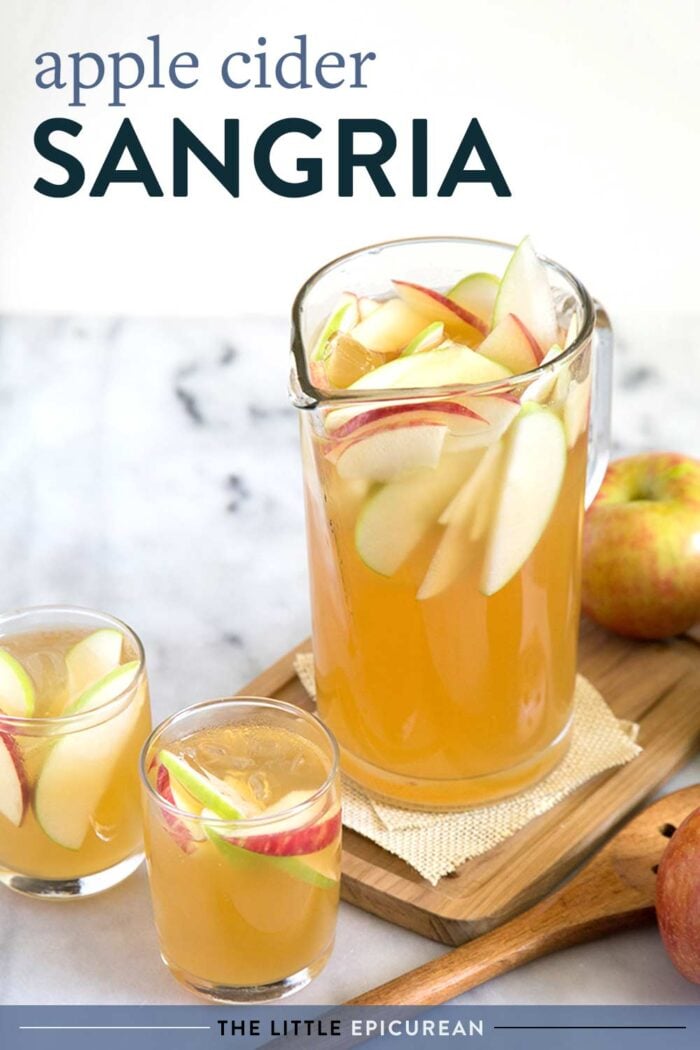 Apple Cider Sangria
Sangria translates well into any season. With apples in full bloom, take advantages of all the different varieties available. Mix and match apples and find your favorites!
Yield: about 1 1/2 liters
Ingredients
750

mL

bottle Pinot Grigio

2

cups

apple cider

1/2

cup

Calvados (apple brandy)

3

apples, unpeeled, cored, and sliced

1

cup

club soda
Instructions
In a large pitcher combine wine, apple cider, Calvados, and sliced apples. Cover and let chill in the fridge for at least 1 hour allow to allow flavors to infuse. Add club soda before serving. Stir to combine. Serve chilled, with ice if desired. Garnish with fresh apple slices