Orange Vanilla Mulled Wine is a warm beverage made by combining red wine with various spices, sweetener, and fruit.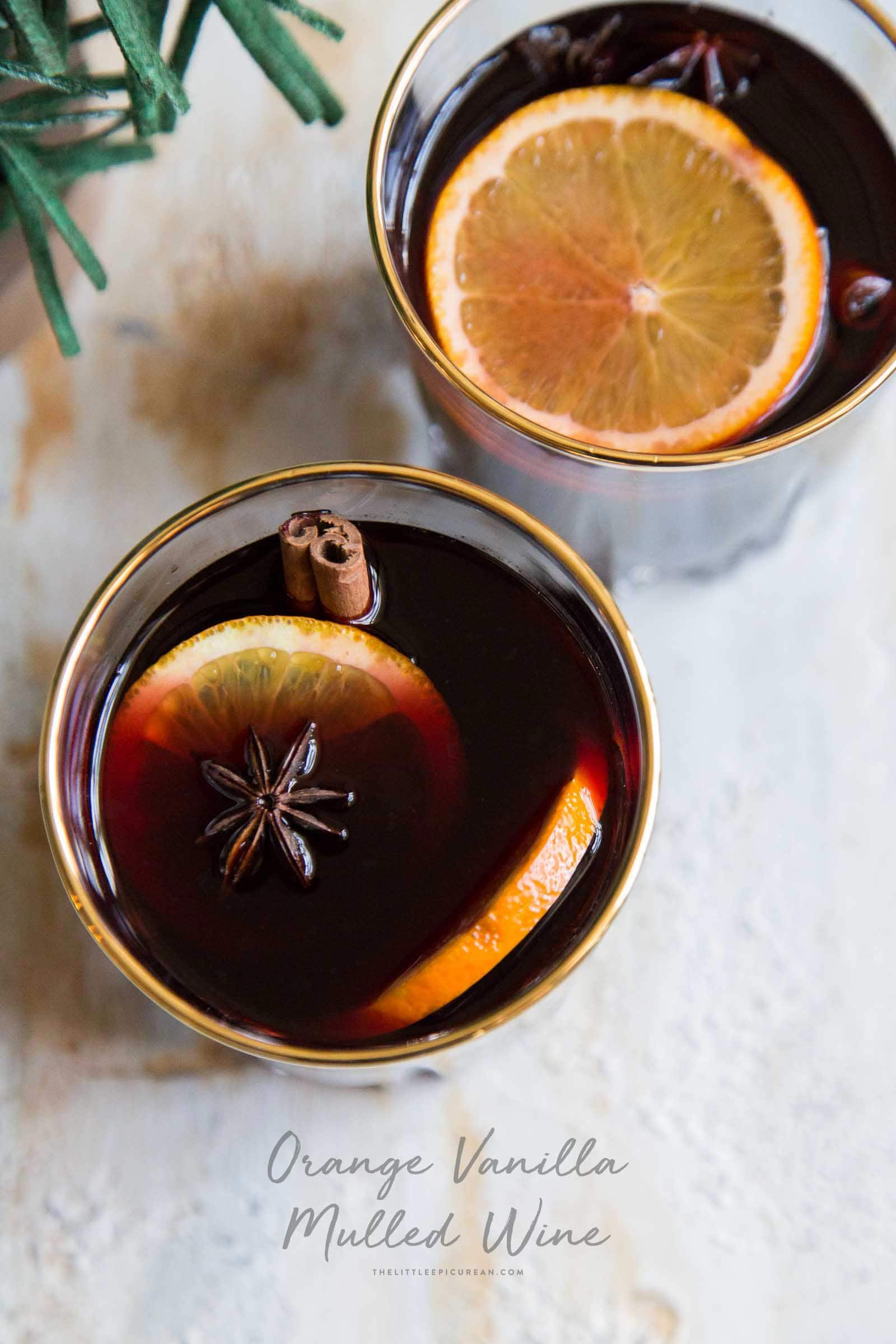 Baby, it's cold outside. For many parts of the United States, it's freezing right now. But for those of us in Southern California, it still feels like summer.
It's currently 78 degrees and sunny. At night it might dip to the high 40's, which in LA translates to bundle up and stay inside. That means get your cozy blankets, plop on the couch, and sip on some mulled wine.
(I'll never complain about the "winters" in LA. After experiencing one real winter when I lived in Chicago, I'll never take SoCal weather for granted. I'll take heat over cold any day!)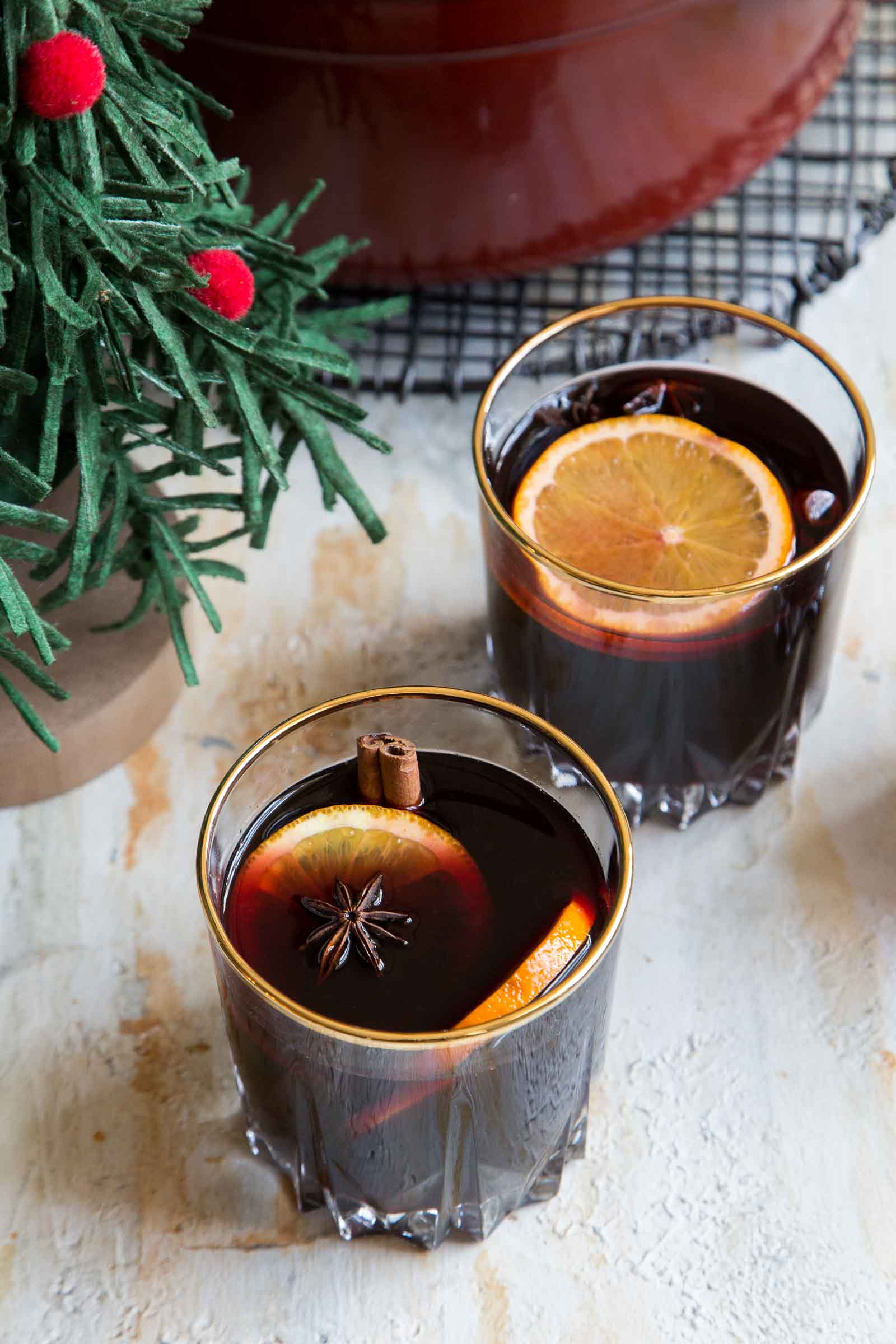 Orange Mulled Wine
What is mulled wine?
There are numerous variations of this popular drink all over the world: German glühwein, Nordic glögg, Chilean navegado.
Mulled wine is a warm beverage made by combining red wine with various spices, sweetener, and fruit. I like to use merlot because it tends to be fruitier and sweeter.
(Don't splurge on an expensive wine!) In my opinion, cabernet sauvignon and shiraz are a bit too strong for mulled wines. It takes more steeping to infusing the flavors from the spices.
Spice Options
The use of cinnamon seems to be as a staple across the board.
Along with that, you have a myriad of spices and herbs to mix and match together: cloves, nutmeg, mace, star anise, cardamom, ginger, peppercorns, rosemary, thyme, vanilla beans, etc.
Mulled Wine Sweeteners
You've got a lot of choices with sweeteners: granulated sugar, brown sugar, honey, agave, or maple syrup.
You could even use apple juice or orange juice to add sweetness.
Pick Fruits
Citrus fruits are at their peak during the winter season. This is when blood oranges make their awaited appearance. Clementines, grapefruits, lemons, and tangerines are also abundant during this time.
The oils from the citrus peels are another great way to infuse bright flavors into mulled wines. Asides from taste, citrus also adds a welcome pop of color.
More Holiday Drink Recipes
Customize Mulled Wine with More Options
Once you've steeped the red wine with spices, sweeteners, and fruit, the fun part can begin. I like to add additional spirits to my mulled wine. Brandy is a popular choice.
Because I wanted to highlight the orange vanilla flavors in this mulled wine, I added a splash of Tuaca. Tuaca is an Italian brandy flavored with vanilla and various citrus.
Along with that, I used honey flavored whiskey to add another dimension of sweetness and booze.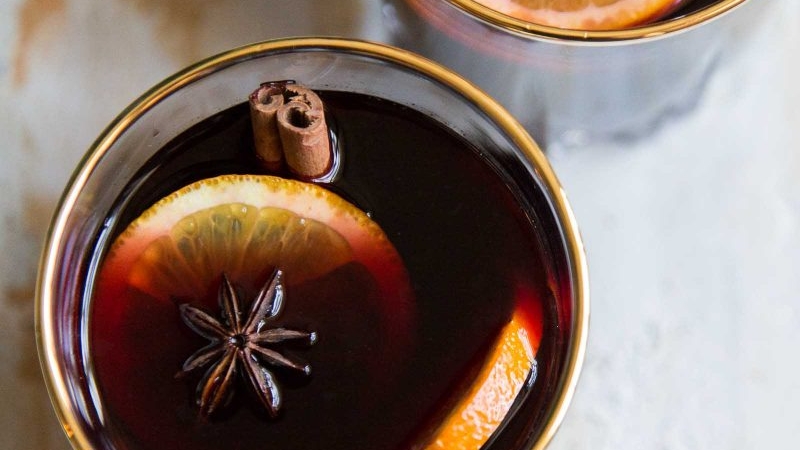 Orange Vanilla Mulled Wine
This warm beverage combines red wine with various spices, sweetener, and fruit.
Ingredients
4

3-inch cinnamon sticks

2

star anise

3

green cardamom pods

12

whole cloves

750 mL

bottle red wine, merlot

½

vanilla bean, split lengthwise and scraped

1

medium orange, peeled and sliced

⅓

cup

dark brown sugar, packed

½

cup

honey whiskey

¼

cup

Tuaca (Italian brandy flavored with citrus and vanilla)
Instructions
In a heavy bottom sauce pot (preferably a Dutch oven), heat cinnamon, star anise, cardamom pods, and cloves over medium heat until fragrant, about 1 minute. Stir often to ensure spices do not burn.

Reduce heat to low and pour in red wine. Add vanilla bean, orange peel, orange slices, and brown sugar. Stir to combine. Bring to a simmer and allow sugar to dissolve. Remove from heat. Cover pot and allow spices to steep for 15 minutes.

Strain out spices, orange, and peel. Add honey whiskey and Tuaca. Stir to combine. Back mixture back to a simmer. Serve warm and garnish with orange slices, cinnamon stick, and star anise.

Notes
I used Blackstone Merlot for this recipe. I usually stock up on this wine during the holidays because it's very affordable, great for mulled wines and sangrias, and available at Costco.
There are numerous choices for honey whiskey. I used Jack Daniels Tennessee Honey.
Related Wine Recipes and Posts