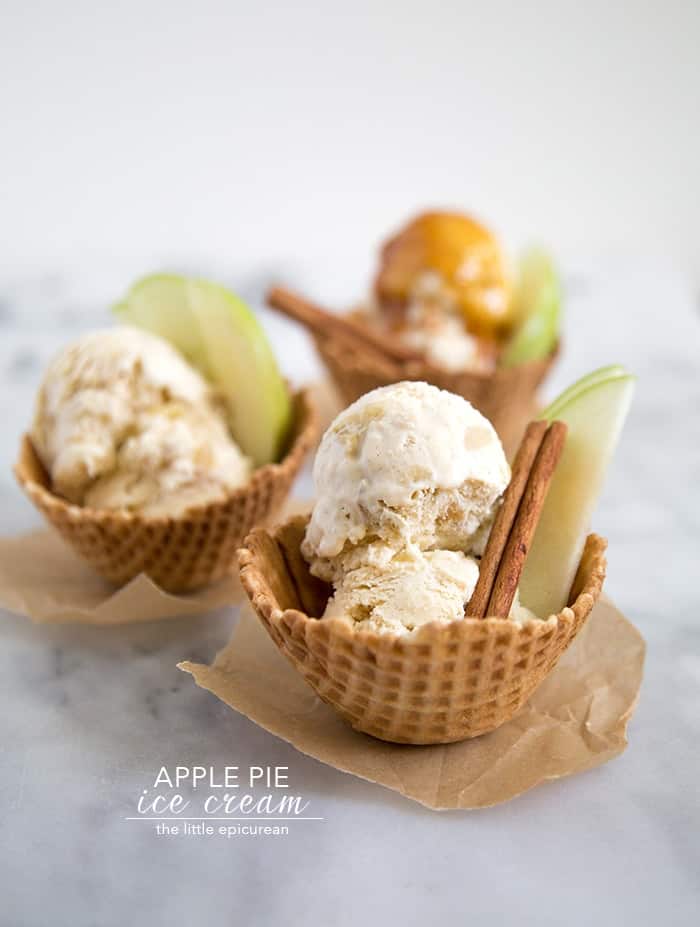 Who needs apple pie à la mode when you can have apple pie ice cream?!
Just because the weather has cooled down doesn't mean you stop eating/making ice cream.  Au contraire mon ami!  When it's cold outside, all I want to do is make ice cream!  Fall is when food bloggers and frozen treats are best friends.  It is so much easier to photograph ice cream when it's not melting.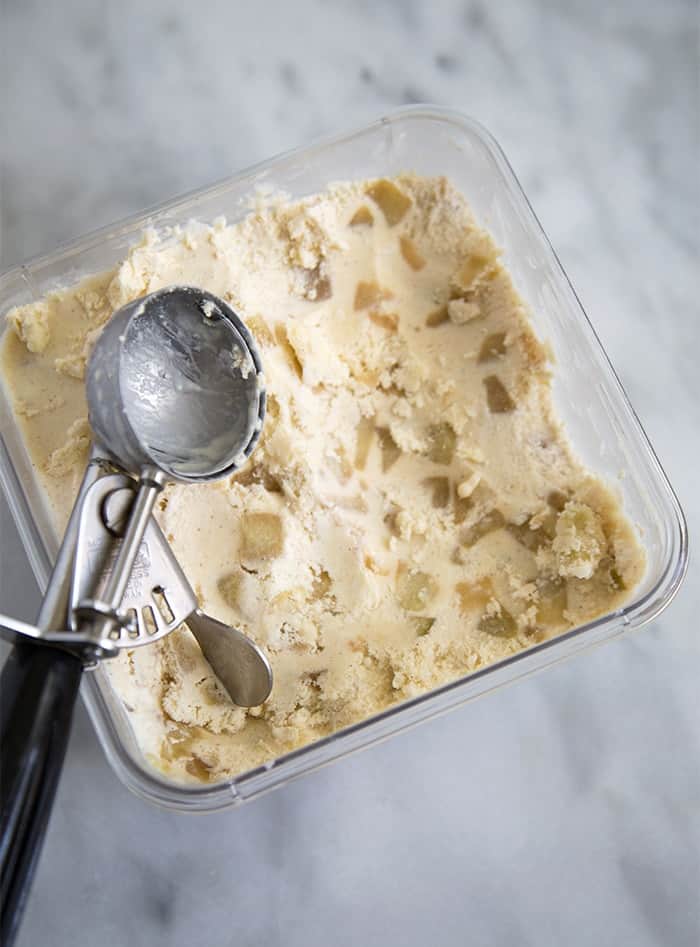 Since I made apple pie a couple weeks ago, Alex has been asking me when I'm going to make it again. In all honesty, I don't want to make it again.   Once is enough.  There are so many other recipes I want to try out.  Apple pie is time consuming.  First you have to make the dough, slice all the apples, bake it for almost an hour, and then wait just as long for it cool down before you can finally enjoy a slice.  At most, you'll have apple pie to eat for three days and then it's gone.
What are you supposed to when you want apple pie to last longer?  You make apple pie ice cream.  (Although, this ice cream only lasted a week at my house.  Maybe you should make a double batch, just in case.)  This ice cream takes all the flavors of apple pie and stuffs into a scoop.  Just look at all the cinnamon apple bits in the ice cream!  It pretty much tastes like frozen apple pie.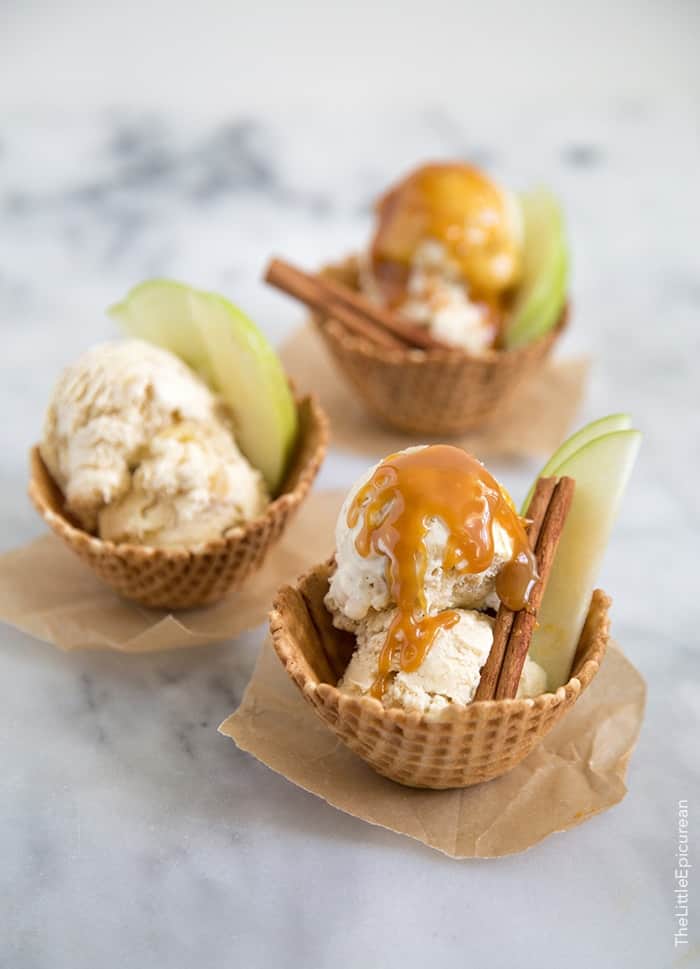 I hesitated calling this "apple pie" ice cream simply because of the best part of pie is the buttery crust, which this ice cream clearly lacks.  And then I found these super cute waffle bowls and forgot all about the crust.  I think the waffle bowls provide enough crunch.  Not sold on the waffle bowl idea?  I get it.  Don't fret.  I have a solution for you.  Check out this pie crust ice cream cone by Jasmin of 1 Fine Cookie!
Not that this apple pie ice cream needs anything else, but let's add a drizzle of caramel sauce for the heck of it.
Apple Pie Ice Cream
Ingredients:
2 cups heavy cream
1 cup whole milk
7 large egg yolks
1/4 cup granulated sugar
1/2 tsp vanilla paste (or pure vanilla extract)
1 Tbsp brown sugar
1 cinnamon stick
apple filling (recipe follows)
Apple Filling:
2 Granny Smith apples, peeled, cored, and chopped (about 3 cups)
1/3 cup light brown sugar, packed
2 Tbsp unsalted butter
3/4 tsp ground cinnamon
1/4 tsp fine sea salt
Directions:
In a medium pot, bring cream, milk, and 1 Tbsp sugar to a boil.  Meanwhile, in a large bowl whisk together egg yolks and remaining sugar. Once milk begins to boil, lower heat.
Temper hot milk into sugar-yolk mixture.  Slowly add hot milk into yolks about 1/4 cup at a time, whisking to distribute heat.  Once all the milk has been added, transfer everything back to the pot.
Stir over medium-low heat until mixture reaches nappe consistency, or 180 degrees F on a kitchen thermometer.  Let it sit at 180-185 degrees F for 3 minutes to pasteurize mixture.  Remove from heat.  Add vanilla and brown sugar.  Stir until dissolved.
Transfer to an airtight container.  Add cinnamon stick.  Let mixture mature in fridge overnight, or for at least 3 hours.
Meanwhile, prepare cinnamon apples.  In a medium sauce pot, combine chopped apples, brown sugar, butter and ground cinnamon.  Set over medium heat.  Let simmer until sugar has dissolved and apples are soft and tender, about 8 minutes.  Remove from heat.  Add salt and stir.  Transfer to an airtight container and let chill in the fridge until ready to use.
Freeze mixture in ice cream maker according to your unit's instructions.  Once the volume has increased by half and has reached a soft serve consistency, add prepared cinnamon apple mixture.  Continue to churn until apples have been distributed.  Transfer ice cream to a freezer safe container.  Freeze for at least 30 minutes before serving.