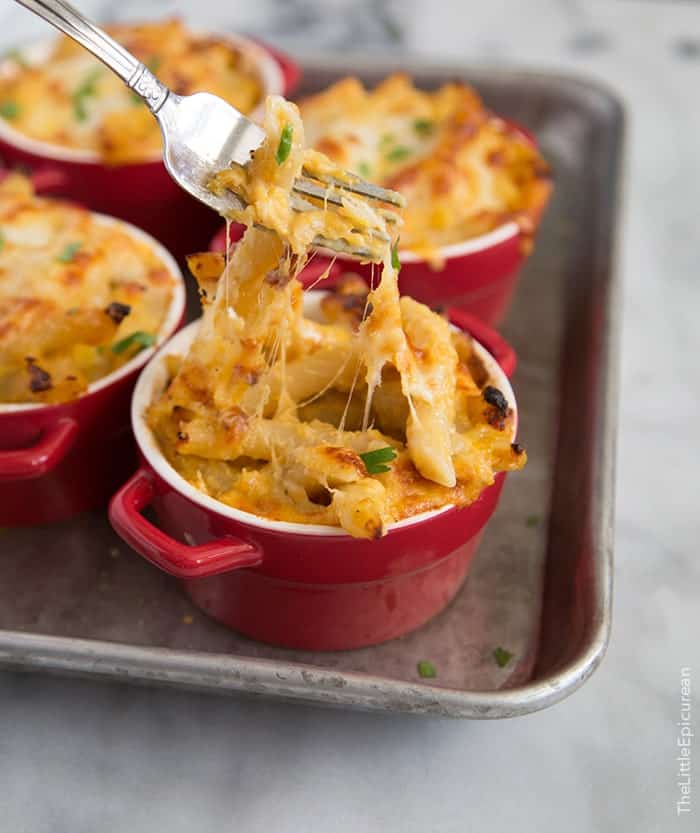 I started off believing I was going to make a healthy mac and cheese alternative.  Butternut squash mac and cheese sounds healthy, but it's really not.   I admit failure.  This recipe still has a plenty of cheese, but at least you get that added nutrients from the butternut squash.
Hey, I tried.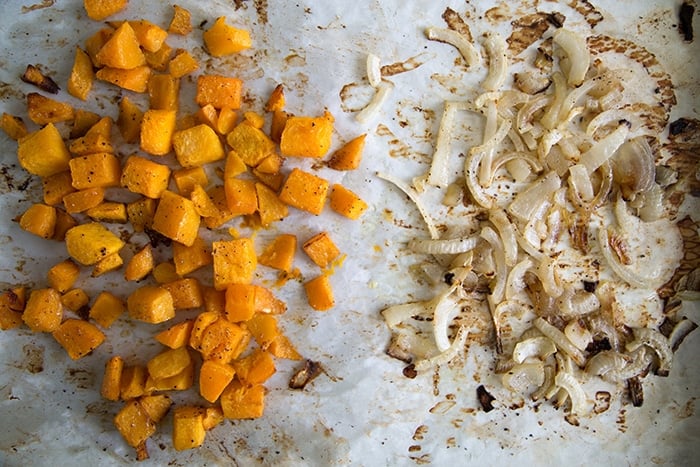 So it may not be as healthy as I had intended, but it tastes awesome!  I'm going call this my autumn mac and cheese.  To slightly cut back on cheese, I roasted butternut squash and onion and then pureed it.  The sweet and savory puree brings another dimension of umami to this dish.  While traditional mac and cheese uses cheddar, I combined cheddar, mozzarella, and parmesan.  You still get the familiar cheddar profile, but it is complemented with the light creamy mozzarella and the salty parmesan.  Like I said, it's umami heaven.
I don't like béchamel or any kind of sauce that requires I make a roux.  It is a pain in the butt.  It needs constant attention.  If the béchamel is too hot when you add the cheese, the fat from the cheese may separate.  If the béchamel is too cold, the cheese won't melt.  And there is always that chance that the sauce may be grainy.  Let's remove béchamel from mac and cheese!
Instead of a roux, my butternut squash-onion puree helps to thicken this mac and cheese.  Since I'm baking it in the oven, no need to melt the cheese ahead of time.  Simply mix together the pasta, puree, and cheese and let the oven do the work.  Easy peasy cheesy.
And because there isn't a roux, you can make this gluten-free by using quinoa pasta, brown rice pasta, and the sort.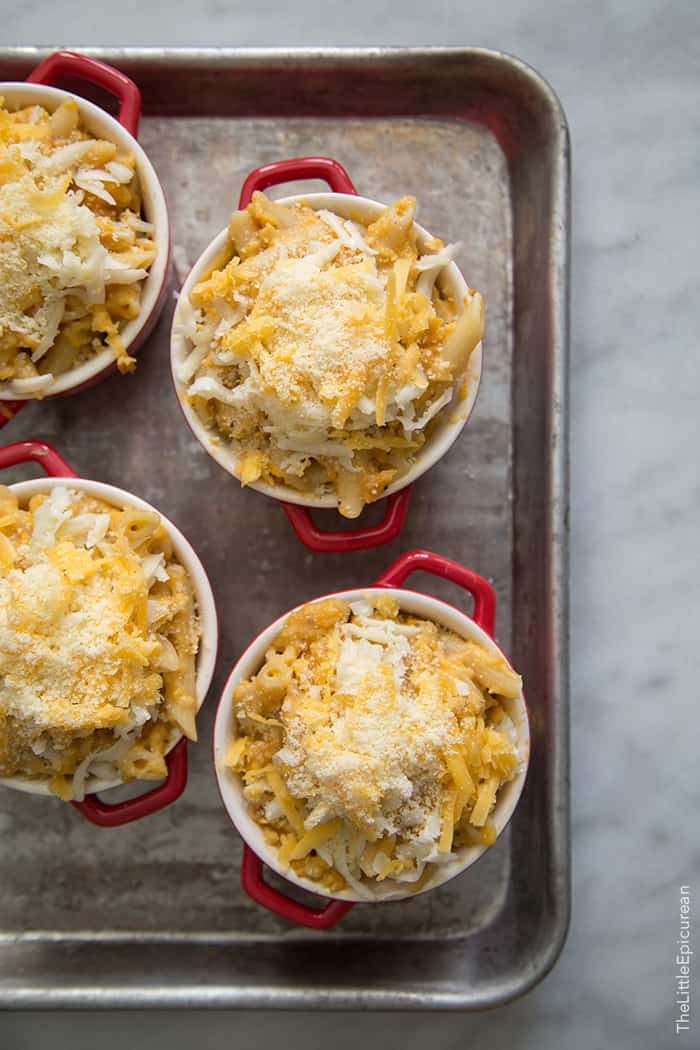 So what if this isn't your typical mac and cheese?  It's creamy, cheesy, and delicious!  I didn't tell Alex that this was butternut squash mac and cheese.  But he knew something was up.  He quietly ate his little red bowl of pasta trying to figure out why this batch was so different.  When I finally told him of the added squash, he nodded and reached for a second bowl.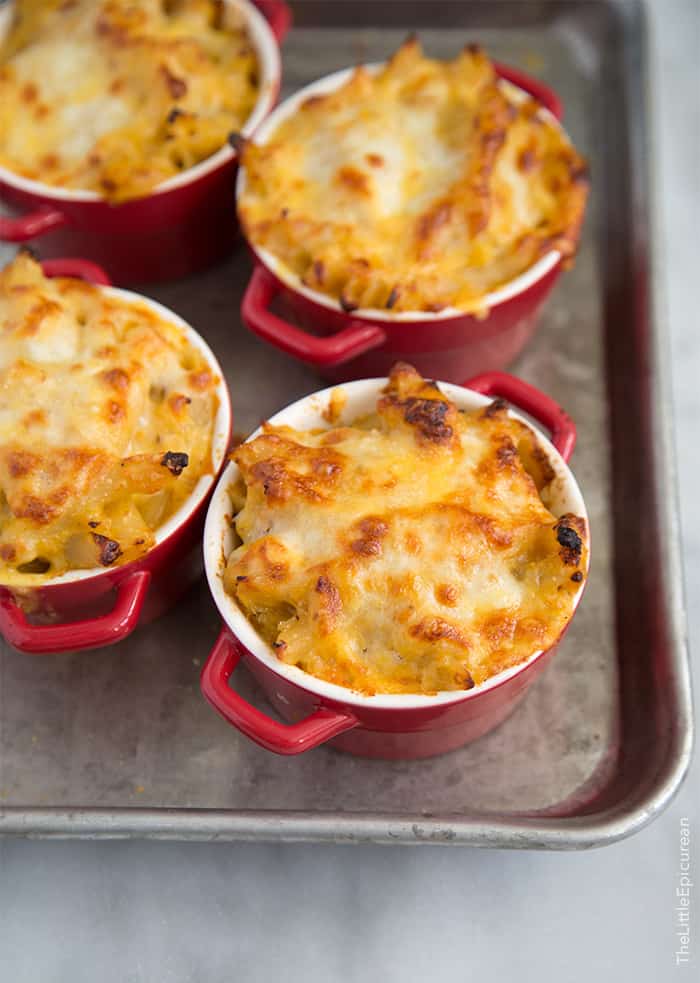 Butternut Squash Mac and Cheese
Butternut squash mac and cheese is the quintessential autumn pasta dish. Thickened with a roasted butternut squash and onion puree, this dish is magically sweet and savory!
Ingredients:
13 oz butternut squash, sliced into small cubes
1/2 white onion, sliced
1 Tbsp olive oil
8 oz penne, or pasta of choice
1/2 cup reserved cooking pasta water
2 Tbsp unsalted butter, melted
1/2 cup shredded sharp cheddar cheese
1/2 cup shredded mozzarella
1/2 cup grated parmesan cheese
additional shredded cheese of choice for topping
kosher salt and ground black pepper, to taste
Directions:
Preheat oven to 400 degrees F.  Line baking sheet with parchment paper.  Place butternut squash and onions on baking sheet.  Toss in olive oil.  Season with salt and pepper.  Bake for 15 minutes, remove from oven and stir contents around to ensure even cooking.  Bake for another 15 minutes until squash can be easily pierced with a fork.  Allow to cool.
Meanwhile, cook pasta in a large pot of salted boiling water.  Cook one minute under al dente according to package instructions.  Save about 1/2 cup of pasta cooking water before straining cooked pasta.
Place cooked butternut squash and onion in a blender (food processor or immersion blenders also works) with melted butter and 1/3 cup of reserved pasta water.  Puree until smooth.  Add additional water 1 tablespoon at a time if necessary.
Place drained pasta in a large bowl.  Add butternut-onion puree and all three cheeses.  Fold to combine.  If mixture is a bit dry, add 1 tablespoon of reserved pasta water at a time.  Divide pasta between serving bowls. Sprinkle additional cheese on top.  Bake for 15-20 minutes in 400 degree F oven until cheese has melted and begins to brown.  Let sit for 5 minutes to slightly cool before serving.