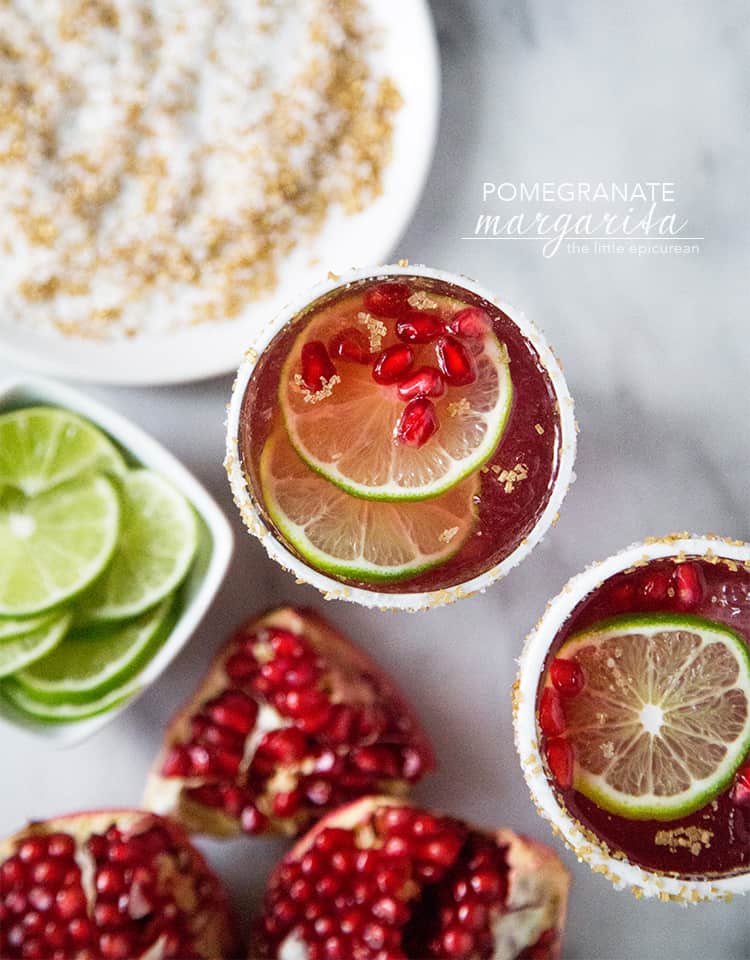 Truth be told, I don't like tequila very much.
What kind of Southern California girl doesn't like tequila?!  This one right here.  Yeah, it's a shame, I've been told.  People say it's because I haven't had "good" tequila.  You know, the pricey kind that goes down smooth and doesn't burn.  I've tried it, and you know what?  The mere mention of tequila shots gives me the chills.
I am immediately reminded of hangovers in college, Margarita Mondays, and Taco Tuesdays.  And I remember that one spring break with my friends when we went on a cruise to Mexico and partook in a tequila distillery tasting tour.  Tequila and I were definitely not on the best terms after that trip.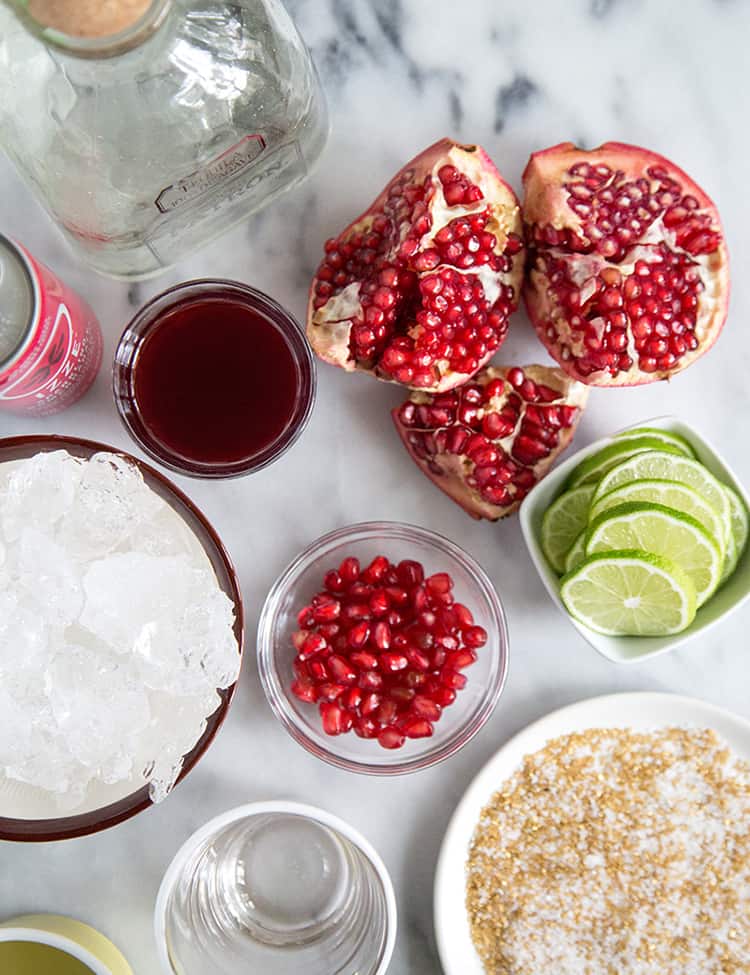 But hey, I'm always willing to give it a second/third/fourth/fifth try.   I can't say I absolutely hate something if I haven't tried it every single capacity.  So I'm trying again.  I refuse to give up hope that tequila and I can't be friends.
I figure should make a super Christmas-y cocktail for my family's annual holiday party.  That's how this pomegranate margarita was born.  You can easily make a large batch of this and serve it in a pitcher or large bowl.  Provide guests with additional pomegranate juice/soda so they can adjust the strength of their drinks.  I'm really loving the way this cocktail came together.  It's SO pretty…red, green, and GOLD.  Perhaps, tequila and I could start anew in 2015!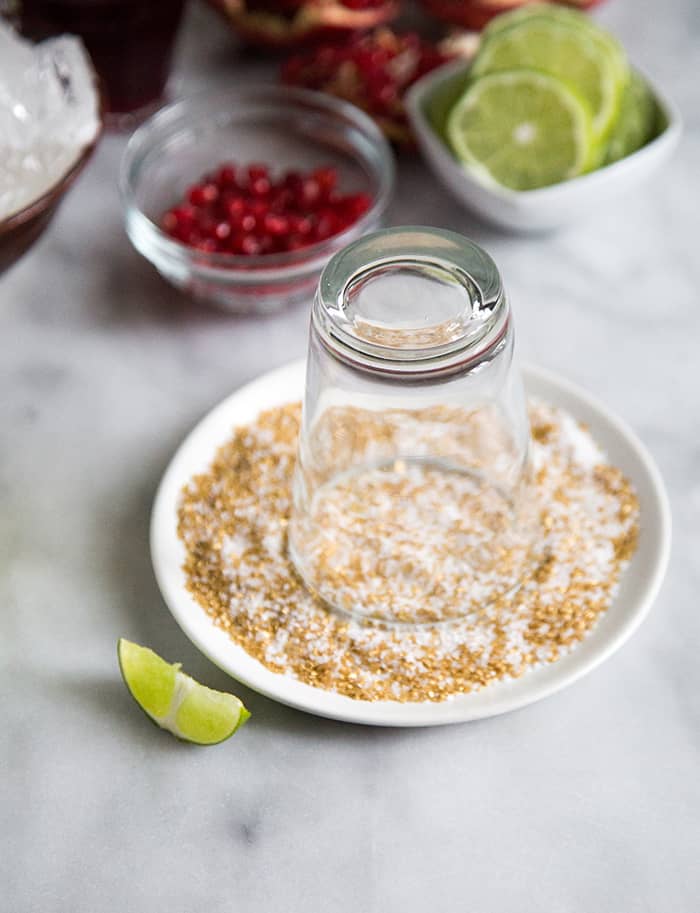 Because it's the holidays and I love sparkle, I mixed in some gold sugar along the traditional salt rim.  It makes it look fancy and so much prettier!  Who can resist a little glitter?
Moisten the rim of serving glass with a wedge of lime. Invert glass in a plateful of coarse salt and gold sanding sugar.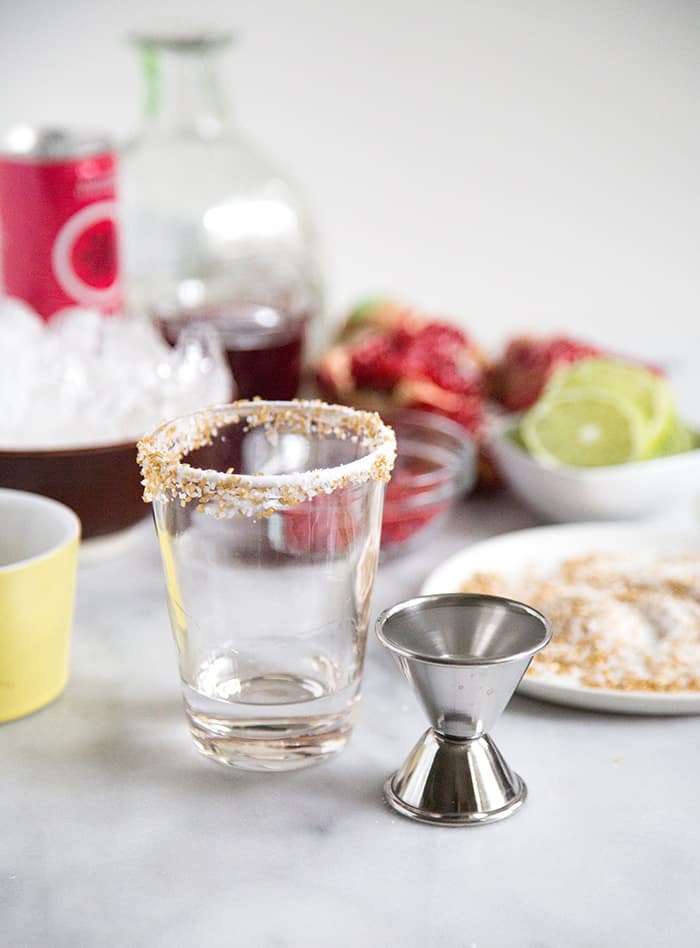 Add 2 oz of tequila.  I would go with a basic silver or white tequila.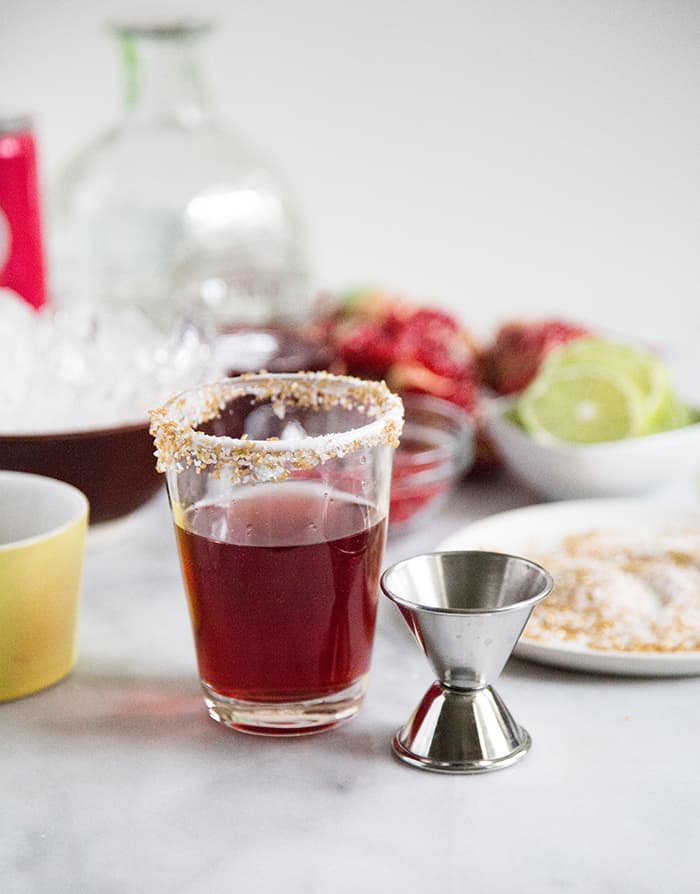 Add 3 oz of sparkling pomegranate juice and 1 oz of 100% pomegranate juice.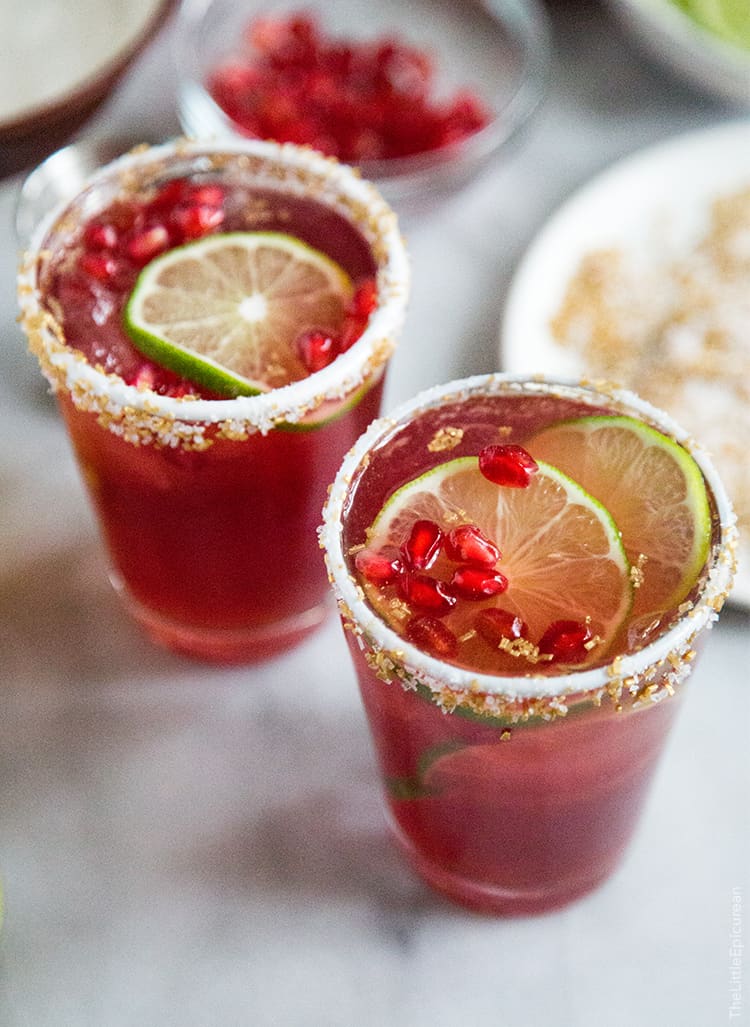 Top with ice and garnish with slices of lime and some pomegranate arils.  CHEERS!
Pomegranate Margarita
This pomegranate margarita is perfect for the holidays! With hues of red and green and a little gold sparkle, is it sure to be a party favorite!
Ingredients:
2 oz tequila, white (blanco) or silver
1 Tbsp fresh squeezed lime juice
3 oz sparkling pomegranate juice
1 oz pomegranate juice
sliced lime, to garnish
pomegranate arils, to garnish
coarse salt and gold sugar, to rim glasses
Directions:
Combine coarse salt and gold sugar in a small flat plate. Moisten the rim of serving glass with a wedge of lime.  Invert serving glass in salt-sugar mixture.
Add tequila, lime juice, sparkling pomegranate juice, and pomegranate juice.  Top with ice.  Stir to combine.  Garnish with sliced lime and pomegranate arils.