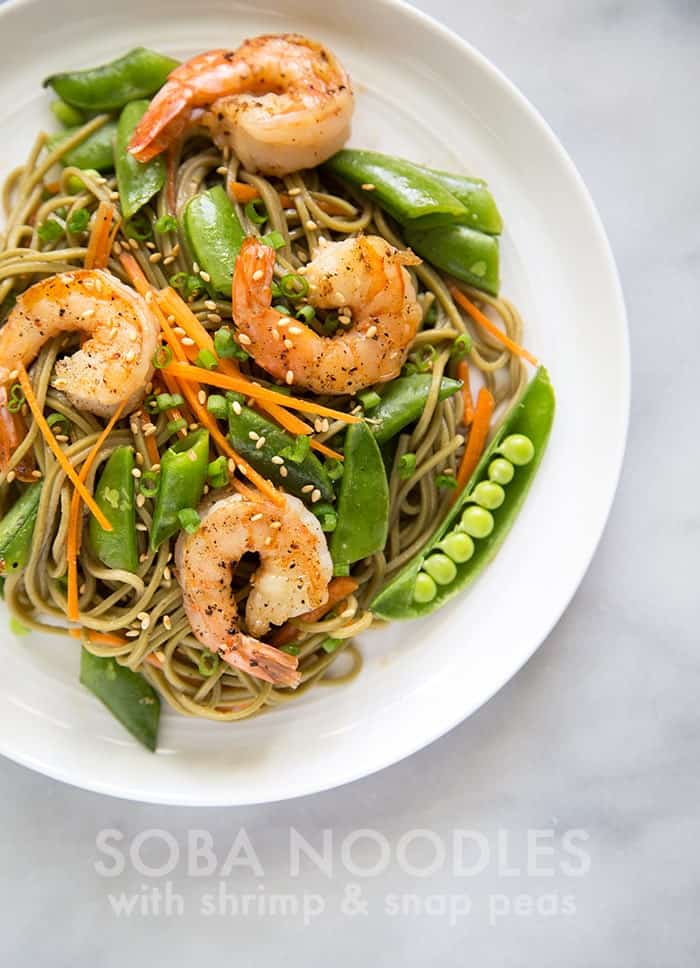 Let's talk about something serious: food allergies.
Food allergies can develop at any age. You could go your entire life eating something and then one day your body decides to reject it.
I learned all about this first hand. Ironically, this all happened to me last February on Friday the 13th. I was in Las Vegas with my family and we were eating dinner at a fancy two Michelin starred restaurant. I ordered all my favorites: lobster, scallops, and shrimp. Every bite was deliciously scrumptious. However, by coffee and dessert time, I wasn't feeling very well. All of a sudden, I had cold sweats, I couldn't hear anything and my vision was fuzzy and blurry. I excused myself and stood up to freshen up in the restroom, but after two steps I fainted.
I don't recall passing out. When I woke up, I was on the restaurant floor gasping for air. I could barely breath. I just remember feeling super, extremely thirsty.  Luckily, we were seating off in the corner, so none of the other patrons seems to noticed what was going on. Next thing I know, the paramedics start checking my vital signs. Apparently my blood pressure was so low that I was on the verge of fainting again. They put an oxygen mask on me, stuck a giant needle in an arm with an IV bag, and then they carried me onto a stretcher and hauled me into an ambulance.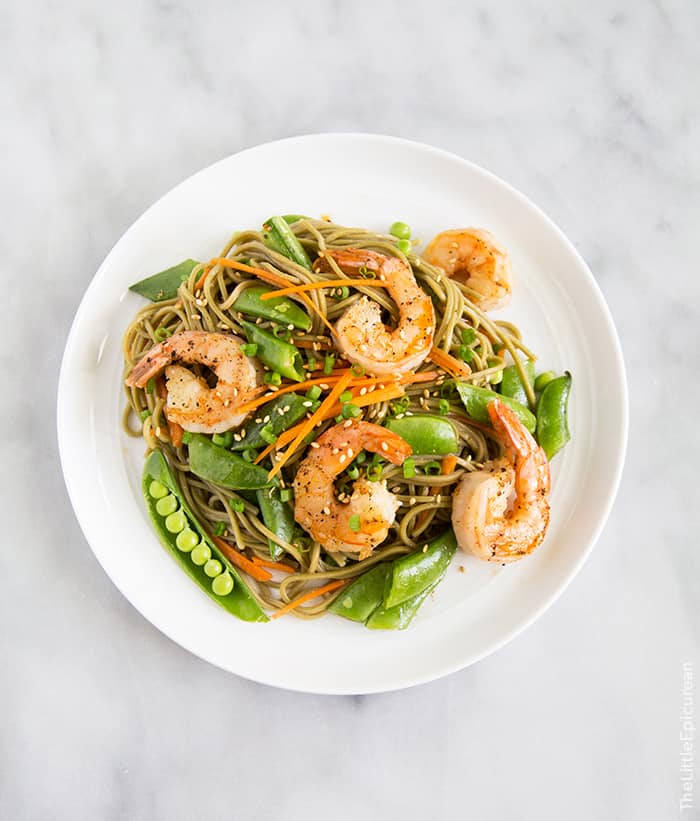 After 8 hours in the ER and many tests and exams later, turns out shellfish and I can no longer be best friends.
Shellfish allergies commonly surface later in life. I used to get mild stomach aches when I'd eat shrimp- but I figured it was due to overeating, nothing too severe.
Unable to take no for an answer, I ended up taking a tiny little bite of the shrimp from my shrimp and cheddar oatmeal from a couple weeks ago. It tasted great until I started sweating and vomiting. You could say I'm stubborn, but I say I'm persistent. The doctor DID say that my intolerance to shellfish might not be permanent.  There's still hope for me and lobster in the future.
Anyway, because of this entire shellfish fiasco I've been cleaning out the kitchen of anything that might trigger any stomach problems.  I had some frozen shrimp that I didn't want to throw out.  I used half to make the shrimp and cheddar oatmeal and the other half to make this soba noodles with shrimp and sugar snap peas.  (I made another batch with pressed tofu and edamame for me to eat.)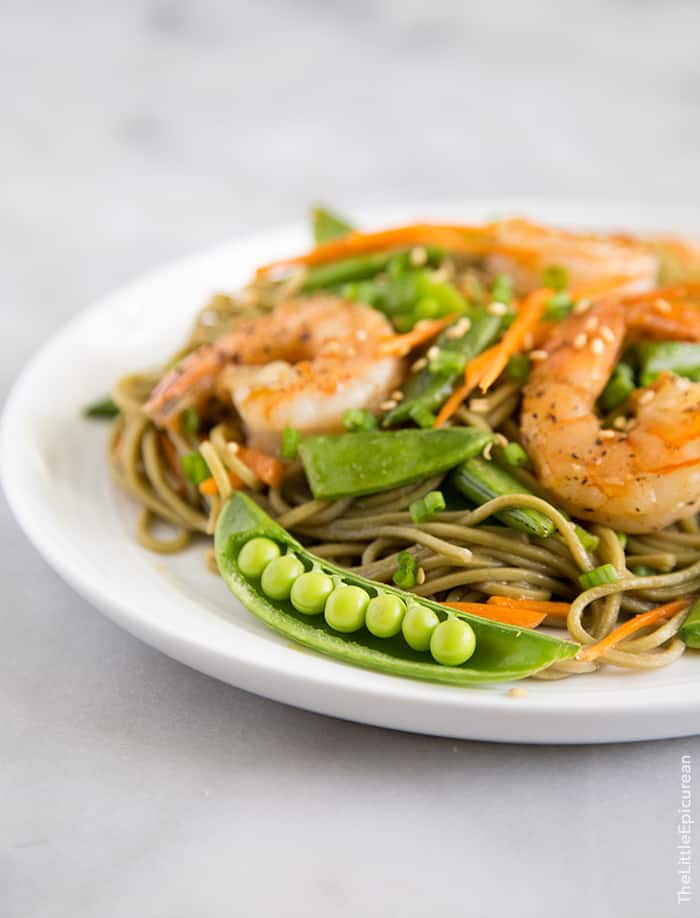 I am currently obsessed with snap peas. They are my fav veggie of the moment. They're just so beautiful. Just look at all those little peas!
Instead of shrimp, you could also serve these soba noodles with just about any protein.  You can even go vegetarian and throw in all the spring vegetables you can find.  It's a great noodle dish that can served warmed, chilled, or room temperature- meaning it's perfect for picnics, barbecues, and beach parties! The sauce is a simple combination of soy sauce, rice vinegar, honey and sesame oil. Easy peasy.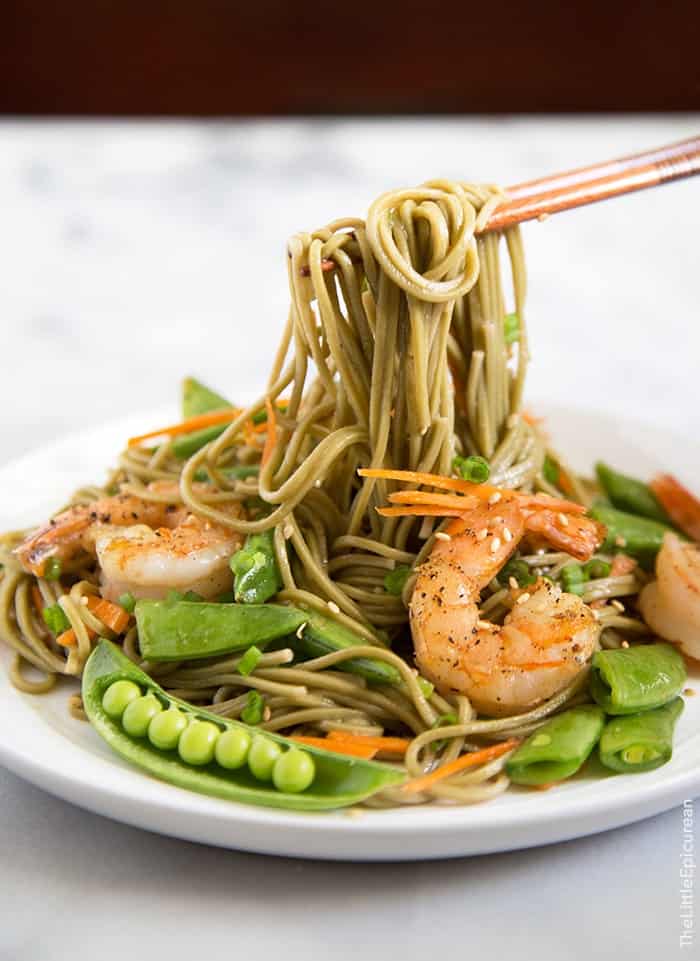 I was admitted into the hospital around 9pm and I wasn't released until 5am the following morning.  Funny thing, after finally getting some sleep and feeling like myself again, all I could think about was the Earl Grey cheesecake with blackberry Earl Grey latte sherbet and bergamot pâte de fruit that I didn't get to finish. Two months later, whenever I think about shellfish, that Earl Grey cheesecake still tugs at my heart. Perhaps I should return to that restaurant for my upcoming 30th birthday and just order ALL their desserts for dinner while my family dines on the seafood.
Soba Noodles with Shrimp and Snap Peas
Ingredients
6

oz

soba noodles

six

8 oz.

medium shrimp, shelled and deveined

salt and pepper, to season

1

Tablespoon

vegetable oil

1 1/2

cup

snap peas, whole or sliced

1

small carrot, julienned

1

green onion, sliced

toasted white sesame seeds, as needed
Sauce:
3

Tablespoons

reduced sodium soy sauce

1

teaspoon

rice vinegar

1

teaspoon

honey, or agave syrup

1/2

teaspoon

sesame oil

black pepper, to taste
Instructions
Bring a pot of water to a boil. Add soba noodles, stir often, and cook according to package instructions until tender. Drain noodles and rinse until cold running water. Drain and set aside.

In a skillet, heat 1 Tbsp vegetable oil over medium-high heat. Season shrimp generously with salt and black pepper. Once skillet is hot, add shrimp. Turn shrimp over just once, cooking until pink, about 2-3 minutes. Set aside.

In a large bowl, combine soba noodles, snap peas, carrots, and green onions. Add sauce as much or little sauce as desired. Before serving, add cooked shrimp and toasted white sesame seeds. Serve warm, chilled, or at room temperature.

To make sauce: whisk together soy sauce, rice vinegar, honey, and sesame oil. Add freshly ground black pepper to taste.
Recipe Notes
 Any protein (tofu, chicken, beef, pork) can be used in place of shrimp. Also, feel free to add more vegetables.