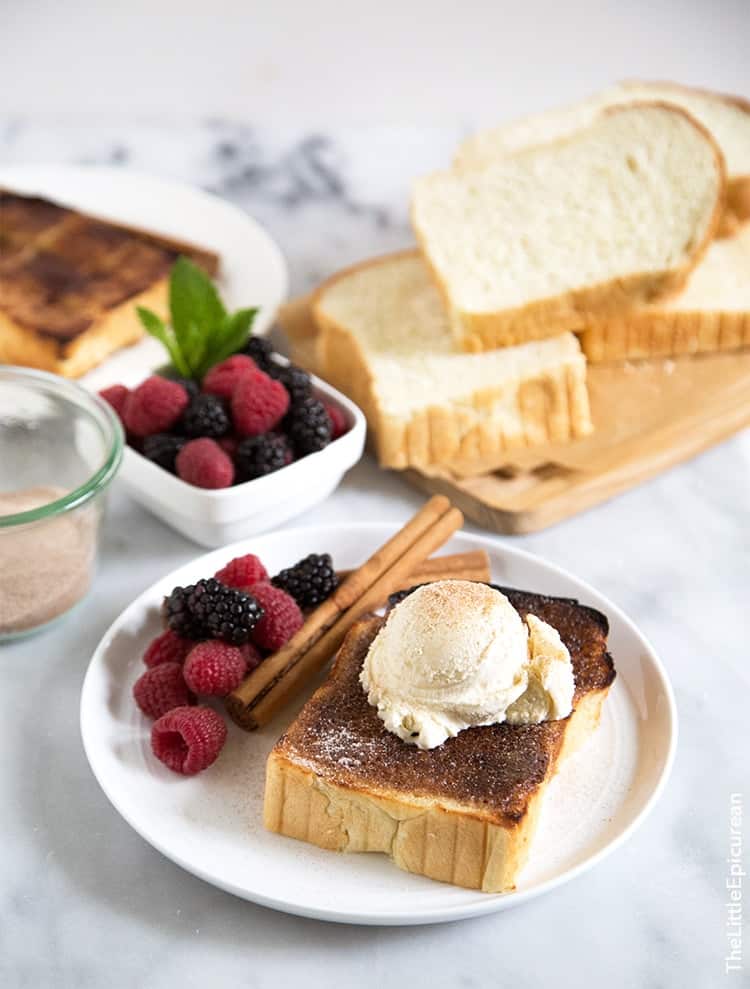 Bread is good. Toast is better.
Toast is major in LA. You are sure to find a hip version of it at all the cool coffee shops and cafes. When I lived in Silver Lake, I couldn't get enough of the brioche toast with jam from Sqirl. It's killer. As soon as I moved to Pasadena, I found Lavender & Honey and their delicious toasts (and excellent espresso!). And then a couple months ago, Alex and I stumbled across Stir Market and I fell madly in love with their After School Cinnamon Toast. I can go on and on about all my favorites toasts in LA, but the one I prefer over all the rest, is my homemade cinnamon sugar milk bread toast.
Don't be fooled by the scoop of ice cream on top. This toast is totally acceptable for breakfast…duh, because it's TOAST, after all. But on those special mornings (mother's day, birthdays, weekends) or those tough mornings (Mondays, sick days, days after coming back from vacation), this toast is best served with that scoop of ice cream (maybe two scoops, if necessary).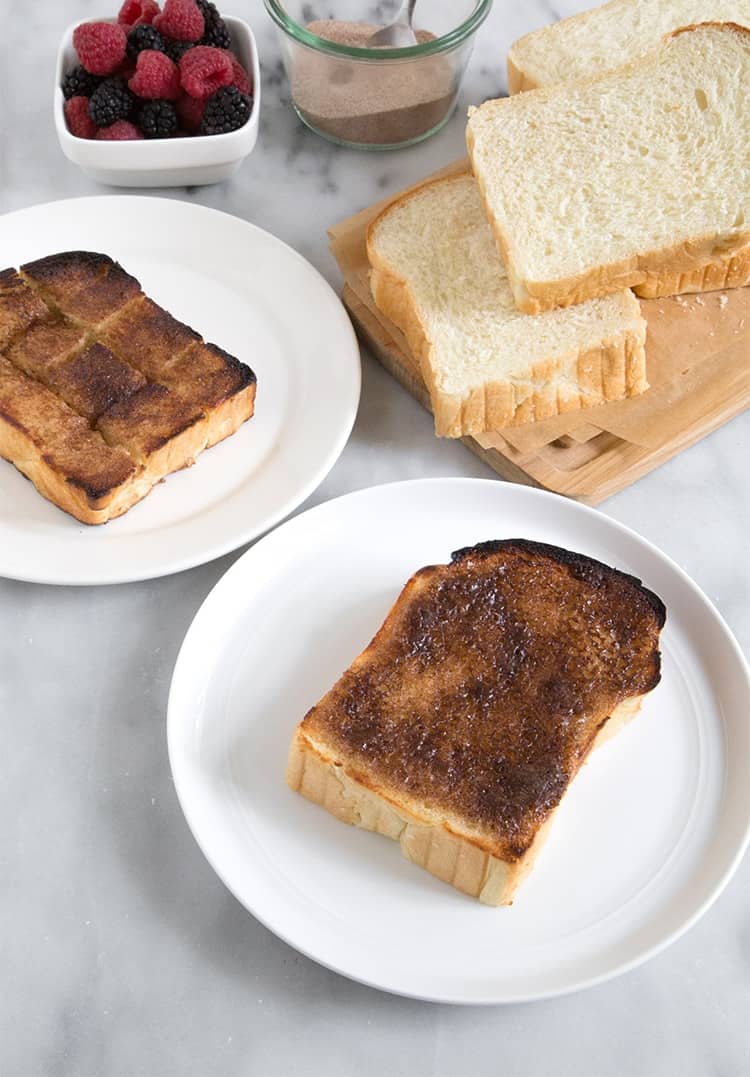 While you can use any soft bread to make this toast, the Japanese milk bread works best. By slicing the milk bread into thick pieces, when toasted, the insides of the bread remains soft and fluffy. In some ways, this milk bread toast reminds of me a creme brûlée because of that nice caramelized, crunchy crust that covers a soft, silky interior.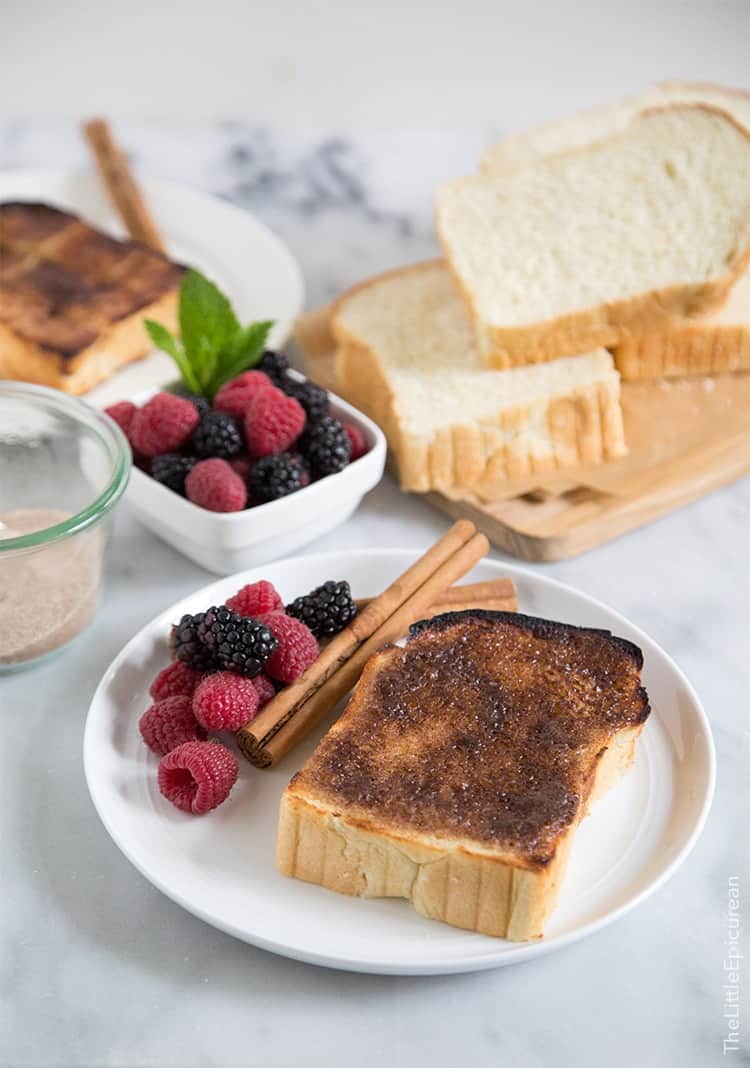 The broiler is a magical oven setting that in my opinion, doesn't get enough attention. In less than 2 minutes, you can be enjoying this tasty sweet treat.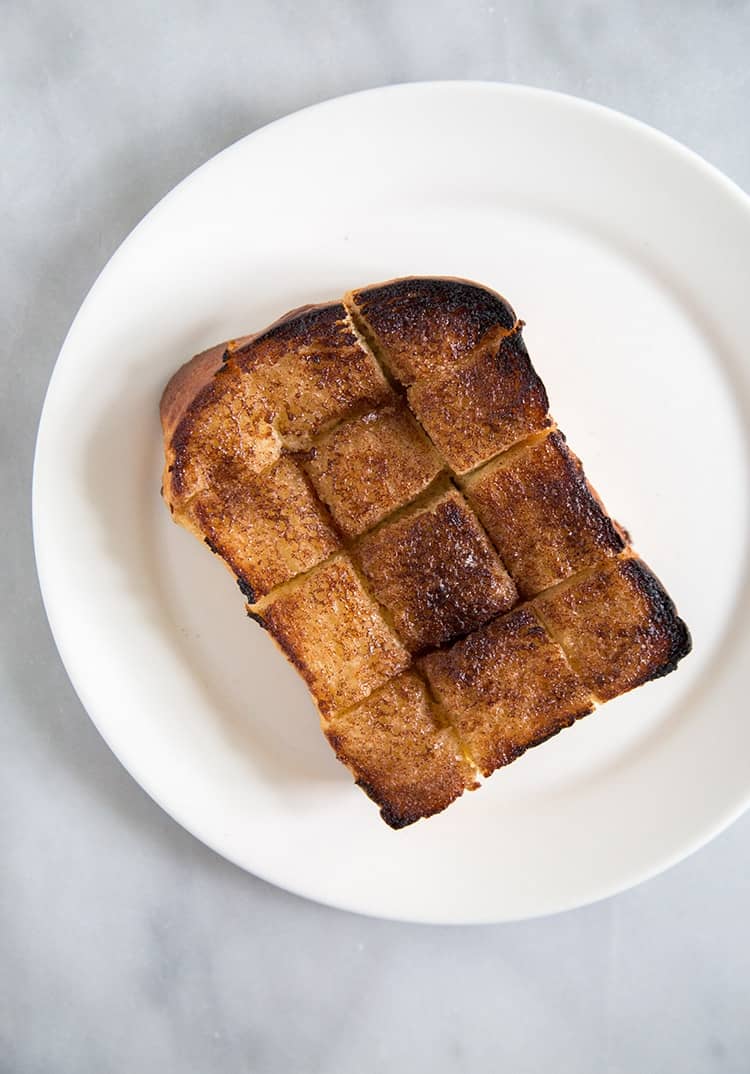 If you're one of those people that like the brownie corners, you can score the bread before buttering and sugaring. You'll end up with scrumptious little crunchy bits like sweet croutons. Scoring the bread also allows you to eat slowly and enjoy the toast…one little square at a time.
Cinnamon Sugar Milk Bread Toast
Ingredients:
thick slices of Japanese milk bread
salted butter, softened
2 tsp cinnamon sugar
drizzle of sweetened condensed milk, optional*
Cinnamon Sugar:
1/2 cup granulated sugar
2 Tbsp ground cinnamon
Directions:
Set oven to broiler setting. Place thick slice of milk bread on a baking sheet. Spread salted butter over bread. Sprinkle 2 tsp cinnamon sugar on top. Place under the broiler for 50-70 seconds until the sugar has melted and started to caramelized.
Cinnamon Sugar: Pulse granulated sugar and cinnamon together until sugar is fine.
*For a super rich and decadent milk toast: spread salted butter over bread, drizzle sweetened condensed milk, and then sprinkle cinnamon sugar. Place under broiler for 50-70 seconds until sugar has melted.