This matcha ice cream shaved ice features homemade matcha ice cream atop sweetened condensed milk shave ice, fresh mochi, sweetened red beans, and sliced strawberries.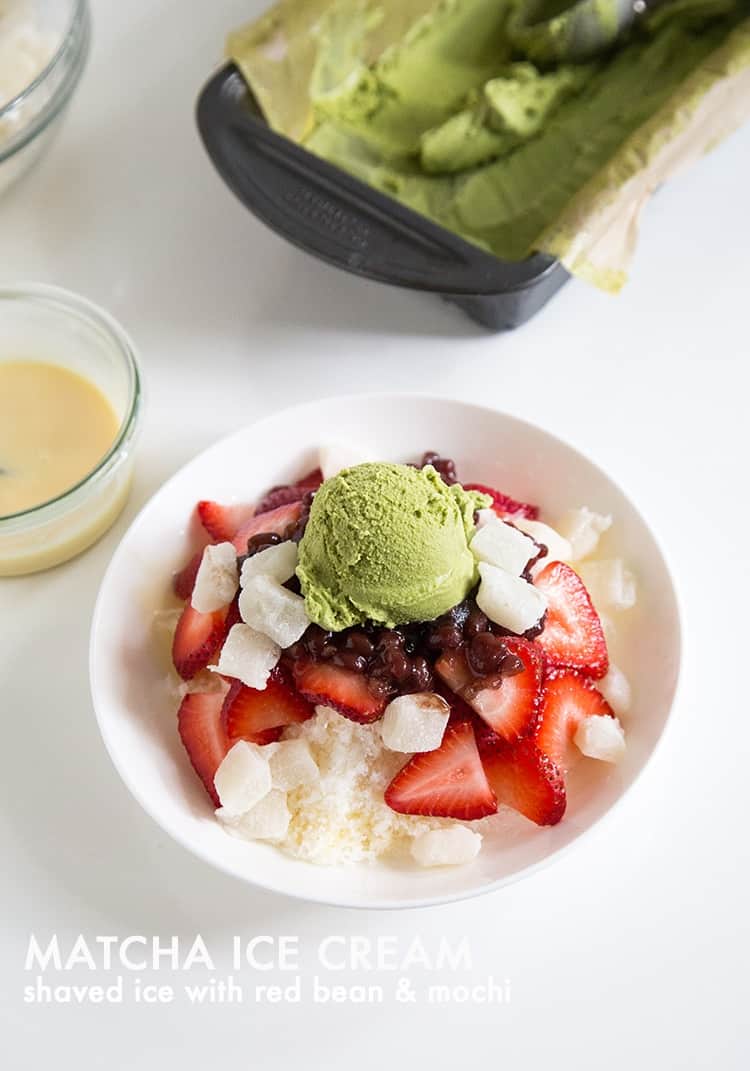 Ice cream is great during the summer…but ice cream shaved ice is a million times better.
As a kid, on hot summer days, I knew I was in for a sweet treat when my mom would grab the hand cranked ice shaver from the garage. As soon as she placed it in the kitchen, I would run to my room so she couldn't ask me to crank it.
When I could no longer hear the ice crushing, I'd make my way downstairs and pretend like I didn't know what was going on. I'd sit down and my mom would have shaved ice all ready for me. Score!
My mom said goodbye to that old-school ice shaver a long time ago. Now she uses this electric shaved ice machine. It was so awesome that I ended up buying one for myself as well.
Typically my mom makes halo-halo. From Tagalog, it translates to "mix-mix." It's a very colorful Filipino sundae that mixes together all sorts of toppings.
It's usually served in a tall glass. It's a layered dessert of shaved ice, evaporated milk, sweetened condensed milk, a variety of sweet beans, gelatin, fruits, and flan. But my favorite part is the scoop of ube (taro) ice cream on top!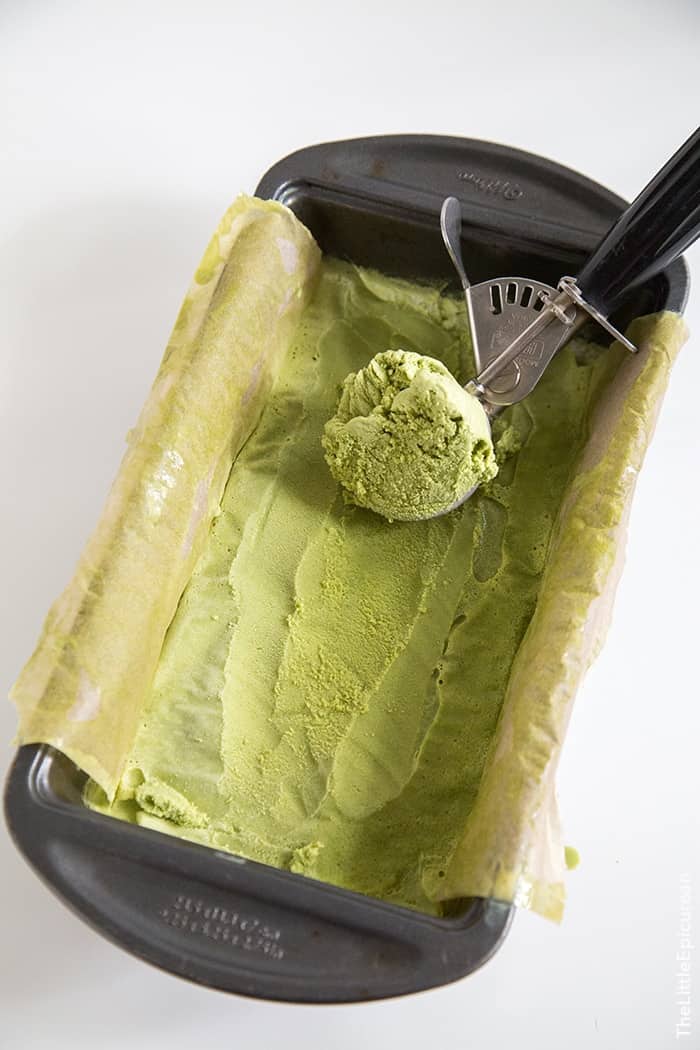 Homemade Matcha Ice Cream
No ube ice cream here. I have yet to perfect my ube ice cream recipe. Instead, this is my Japanese flavor inspired ice cream shaved ice.
I'm really picky with matcha ice cream. I don't like the ones that are too sweet or artificially colored green. This batch of ice cream is made with this matcha powder I bought from Amazon.
It's a relatively clean tasting matcha that is great for cooking/baking. It's not the best quality, but suitable for cooking and baking. I'd suggest a higher grade, ceremonial matcha powder if you intend on drinking it straight up.
This matcha ice cream is super easy to make. You bring milk, cream and sugar to a boil. Add in the matcha powder and stir until smooth. I like to let the mixture mature in the fridge overnight before churning it in the ice cream machine the following day.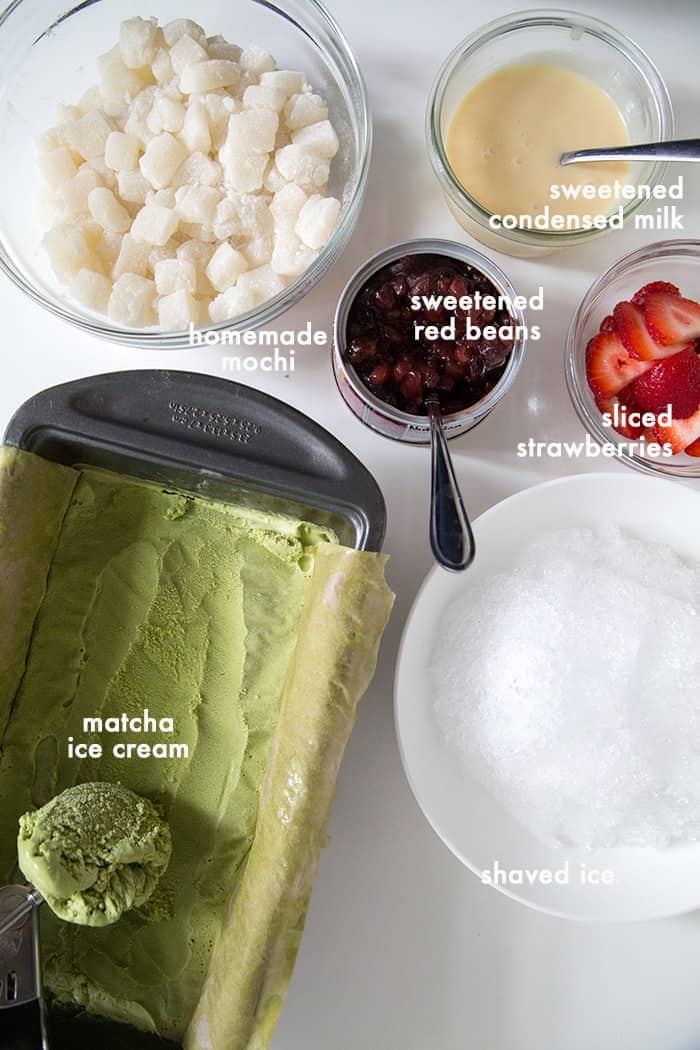 Shaved Ice Toppings:
Do people throw shaved ice parties? Is that a thing? Let's make it a thing.
It's very simple. Just like a taco bar, salad bar, etc. you set up a bunch of toppings together. Serve a variety of ice cream flavors, whatever fruits are in season, maybe some brownie or cheesecake chunks…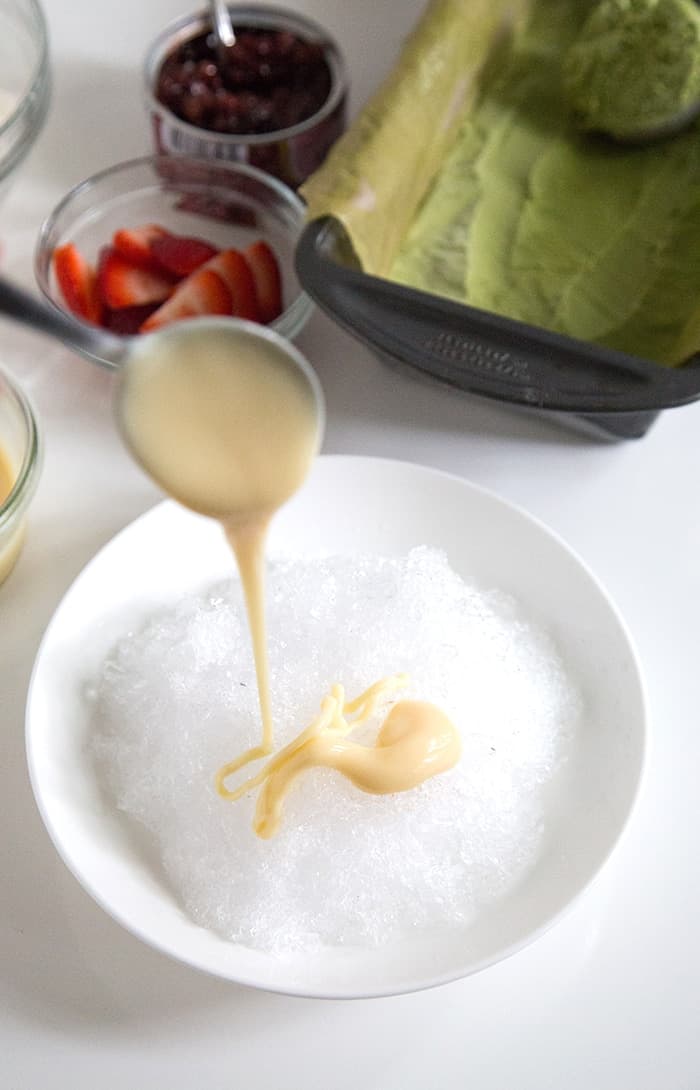 My favorite way to build ice cream shaved ice:
Sorry. I don't have exact measurements for assembly. Just act like you know what you're doing. There's really no wrong way to assemble it.
Place shaved ice in a shallow bowl. Drizzle as much sweetened condensed milk as your heart desires. Remember, a little goes a long way. If it isn't sweet enough, you can always add a little more later.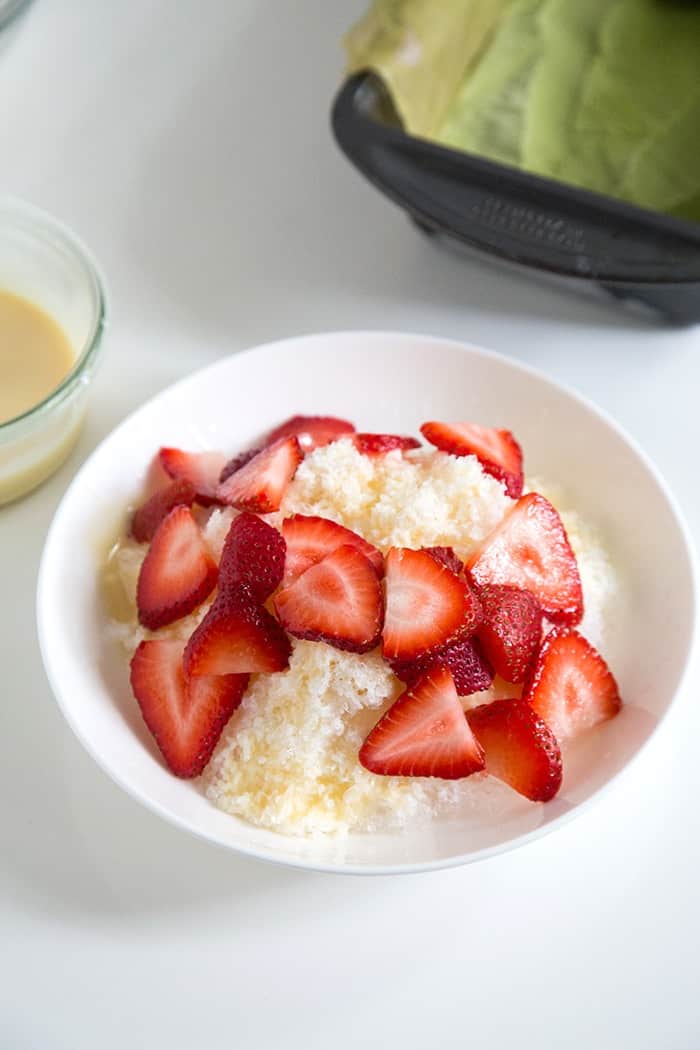 Add fruit of your choice. Kiwi, mango, grapes, peaches, etc. I used strawberries because they pair so deliciously well with red bean and matcha ice cream.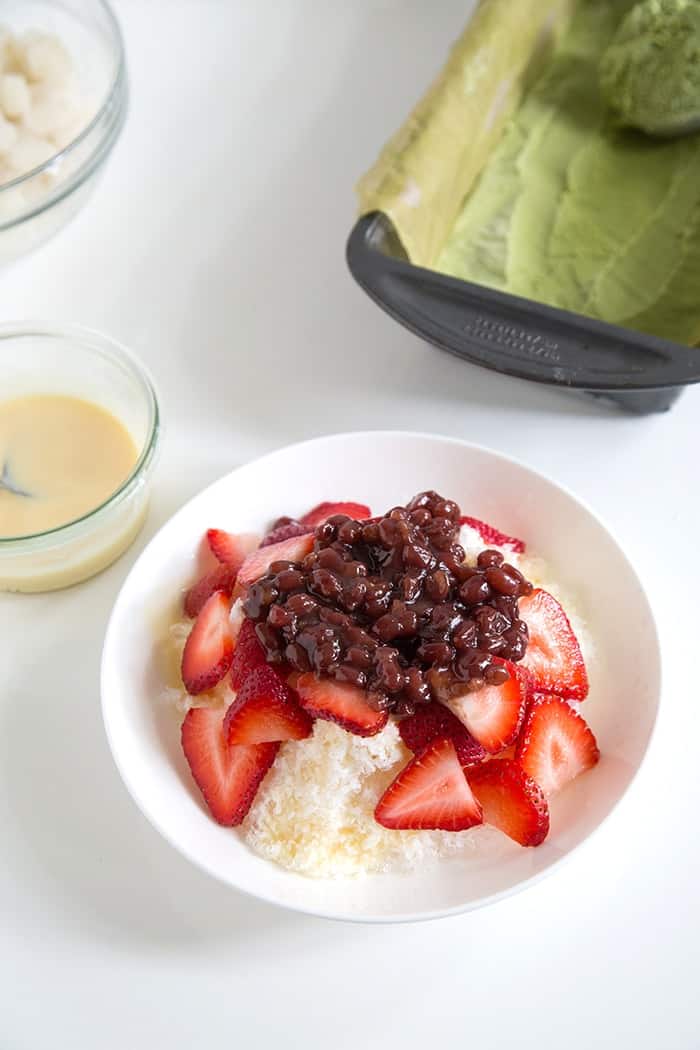 Spoon a generous portion of sweetened red bean in the center. This sticky sweet stuff will hold the ice cream in place.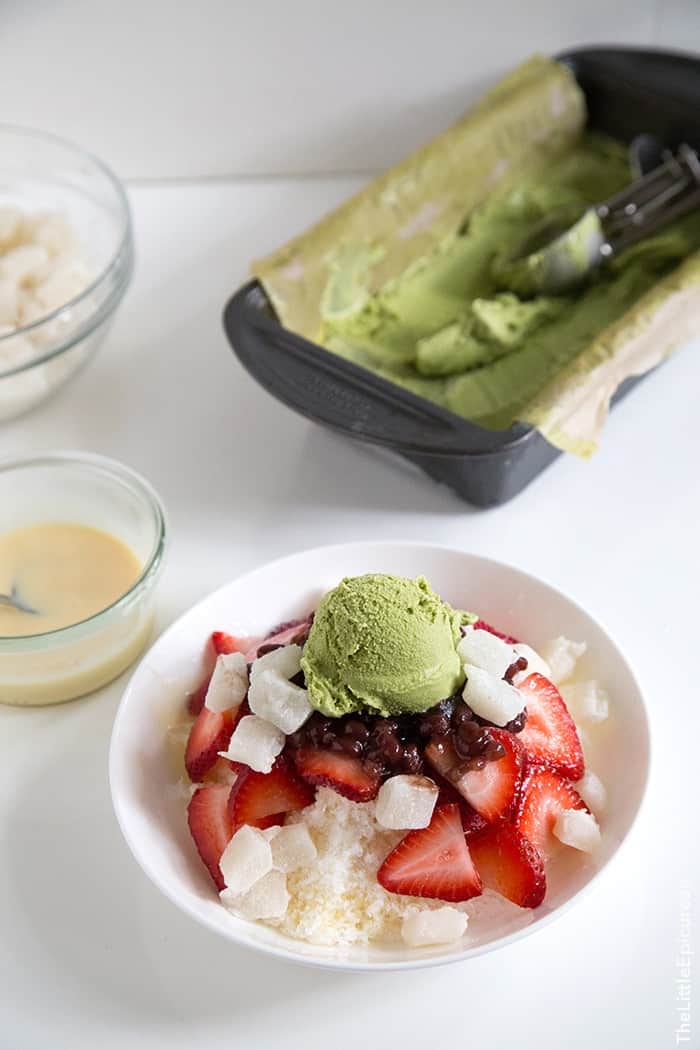 Add a large scoop of matcha ice cream (more if desired!) and add a handful of mochi. Enjoy immediately!
Note: I used the mochi recipe from Food52 by Cynthia of Two Red Bowls. I love it because of the coconut milk!
Matcha Ice Cream Shaved Ice with Red Bean, Mochi, and Strawberries
Ingredients
Matcha Ice Cream:
1 1/2

cups

whole milk

1 1/2

cups

heavy cream

1/3

cup

+ 3 Tablespoons granulated sugar

2

Tablespoons

matcha powder
Components:
shaved ice*

sweetened condensed milk

sliced strawberries

sweetened red beans*

mochi, homemade or store-bought
Instructions
Matcha Ice Cream:
In a medium pot, bring milk, cream and sugar to a boil. Once mixture boils, remove from heat. Whisk in matcha powder.

Allow to cool to room temperature. Transfer mixture to an airtight container. Store in the fridge and let mature overnight.


Stir matcha ice cream base. Churn in ice cream maker according to your unit's instructions. Once the mixture has reached a soft serve consistency, transfer to a freezer safe container. Freeze for at least 30 minutes before serving.

Assembly:
Using your shaved ice machine, fill serving bowl with desired amount of shaved ice. Drizzle sweetened condensed milk over shaved ice. Top with sliced strawberries. Spoon sweetened red beans in the center. Top red beans with a scoop of matcha ice cream. Sprinkle mochi all over. Serve immediately.

Recipe Notes
I used this electric shaved ice machine
I prefer the Shirakiku Brand red bean. It is labeled "Yude Azuki" or prepared red bean.  These canned sweet red beans can be found at Asian markets, big market chains, and I've even found them at Target.  There are many brands available, just be sure to get one that is sweetened.  Look for one made without artificial color and preservatives.  It can also be labeled as "prepared sweet azuki" or "azuki red beans."
I used the mochi recipe from Food52 by Cynthia of Two Red Bowls. I love it because of the coconut milk!