These cherry chocolate rolls are in honor of my favorite childhood birthday cake- black forest cake!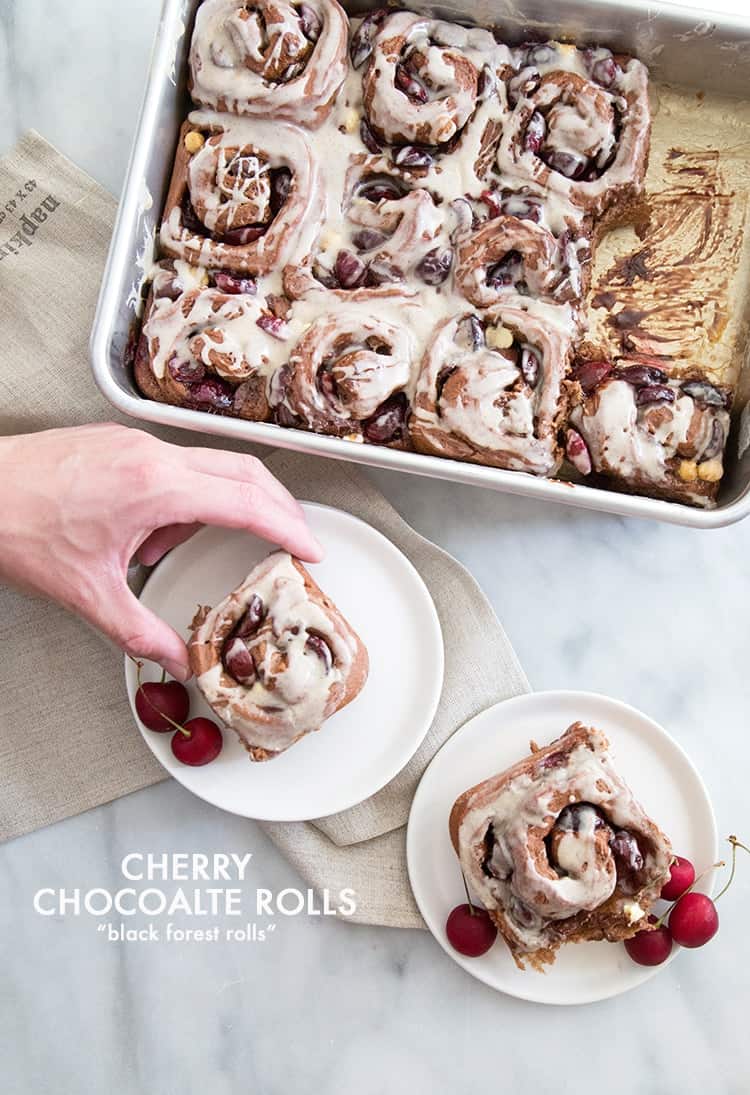 Coming back from vacation is always tough. I've had way too much excitement during the month of July. Now that I'm back home and back to life's normal routines, it feels really strange and somewhat sad.
I have major vacation withdrawals. I've also been feeling totally unproductive these days. I have lists and lists of dishes I want to make, cakes I want to bake, and cocktails that need to be mixed, but all I've been doing is looking at photos and videos from our trip and scheming the next family vacation!
The month of July has always been such a fun and memorable time for me. (It's my birthday month!) All month long, the house would be full of desserts and sweet treats. I made these cherry chocolate rolls in honor of my favorite childhood birthday cake- black forest cake!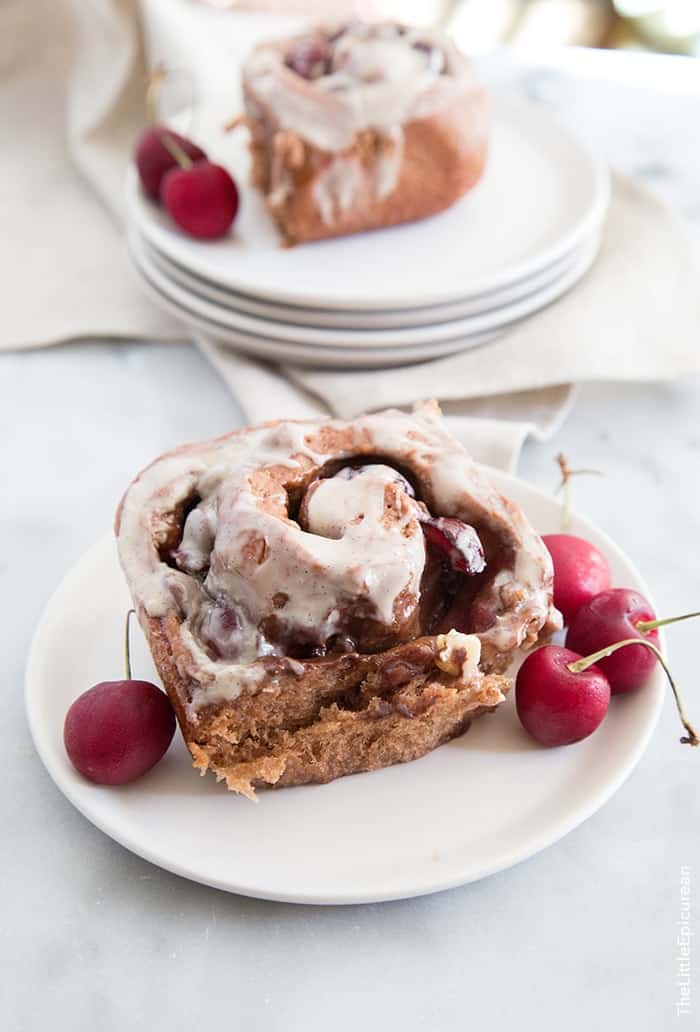 Birthday parties at the Cabrera household always involve cake. Actually, come to think of it, on any random weekend, you're sure to find cake at my parents' house. This past weekend, my dad had bought mango icebox cake from the local Filipino bakery just because.
Back to black forest cake. While I liked the shaved chocolate that covered the sides of the cake, it was the cherries atop the cake that I loved the most. On more than one occasion, I was guilty of eating all the cherries on the cake before any of the guests had arrived for the party.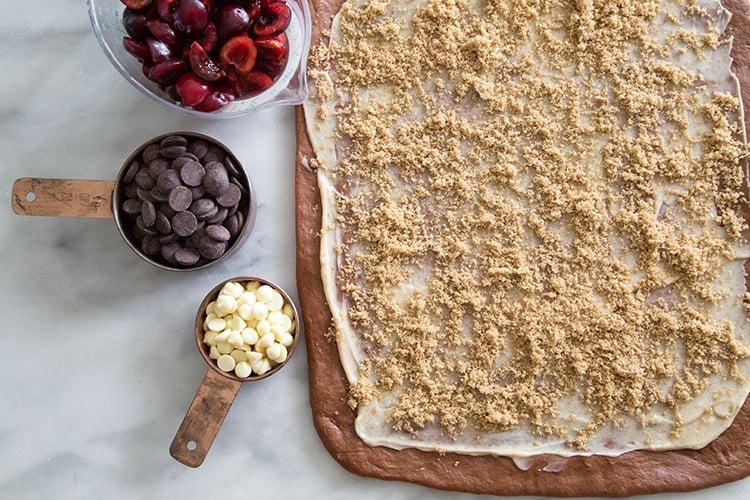 I added a touch of cocoa powder to my usual dough recipe to up the chocolate flavor of these rolls. The filling is made of softened butter, vanilla, and brown sugar. On top, I sprinkled a combination of fresh Bing cherries, dark chocolate chips, and white chocolate chips.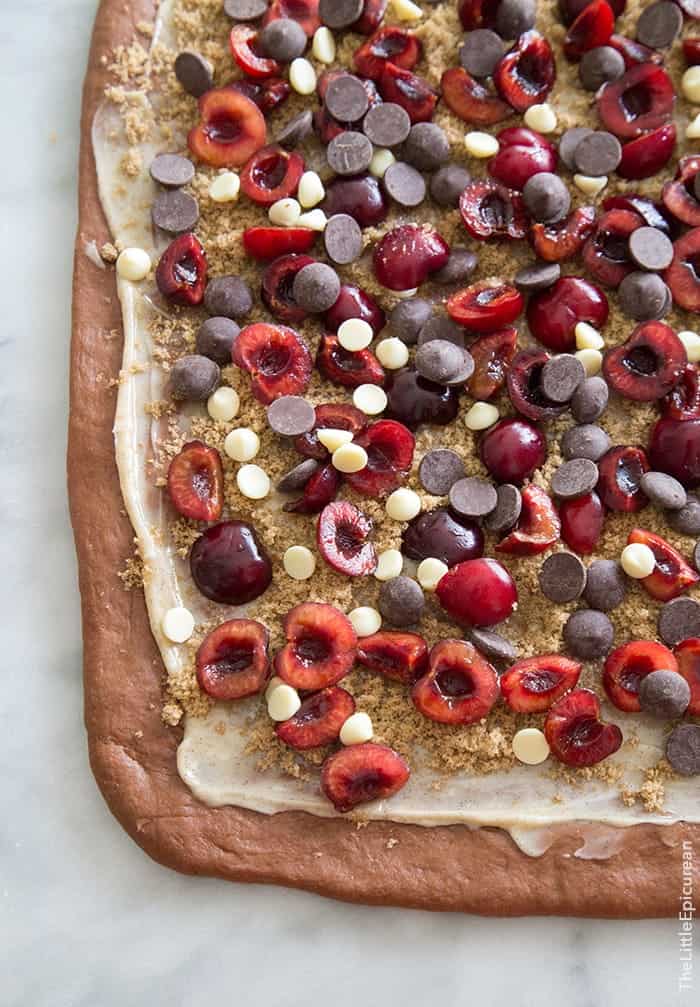 I really like to pack on the filling. I say, the more the merrier! Before you start rolling the dough into a log, be sure to press the filling into the dough. Gently roll the dough into a log and slice it into 12 equal pieces.
Don't worry if some of the filling escapes while you slice. Simply tuck them back into the rolls once they've been arranged on the baking pan.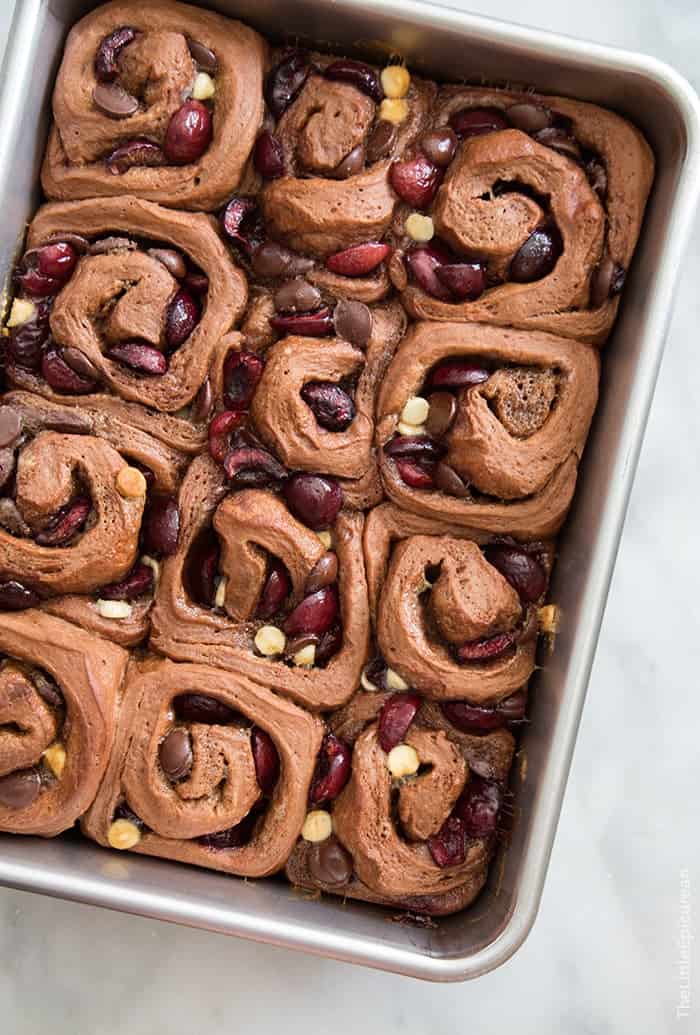 Cover the rolls and let them rest for about an hour. Then it's time to pop them in the oven. 30 minutes later you'll have these delicious and super aromatic chocolate rolls.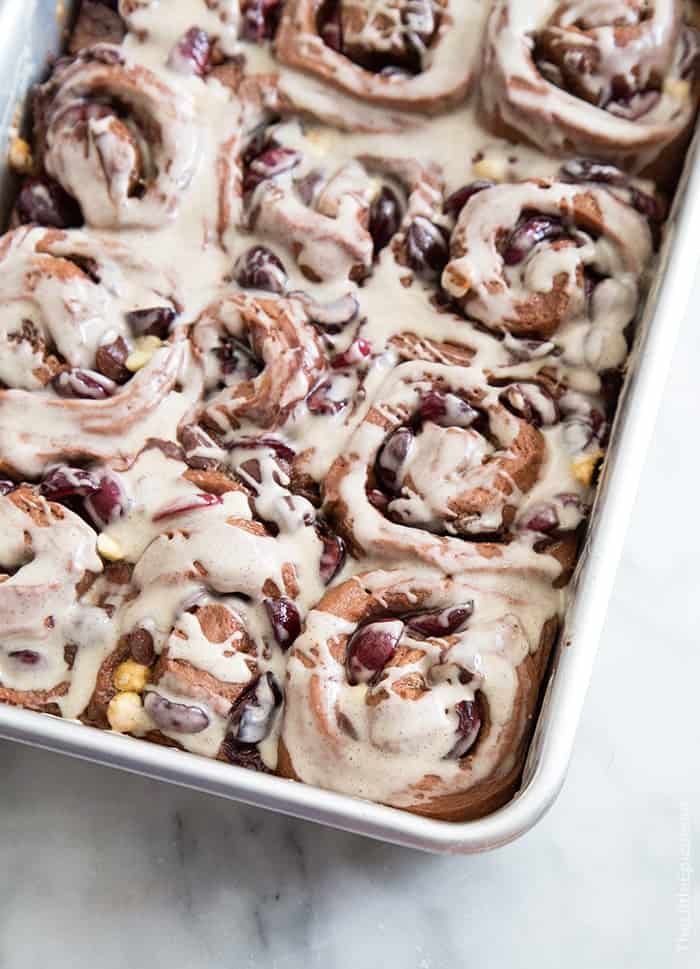 We're not done yet! Let the rolls cool for a little bit and then drizzle as much (or as little) vanilla glaze as you'd like!
P.S. If you'd like to booze this dish up, I suggest adding a touch of kirsch to the glaze. Kirsch, or kirschwasser, is a colorless brandy made from cherries!
Cherry Chocolate Rolls (Black Forest Rolls)
Yield: 12 rolls
Ingredients
Chocolate Dough:
1/4

cup

warm water, about 110 degrees F

2 1/4

teaspoon

active dry yeast

1/4

cup

+ 1 teaspoon granulated sugar

1/2

cup

whole milk, room temp

1

teaspoon

fine sea salt

1

large egg, whisked

3

Tablespoon

coconut oil

3

cups

all-purpose flour

5

Tablespoons

unsweetened cocoa powder
Filling:
1/3

cup

unsalted butter, softened

1

teaspoon

vanilla bean paste

5

Tablespoons

dark brown sugar, packed

2

Tablespoon

white chocolate chips

1/3

cup

chocolate chips

1 1/2

cups

fresh Bing cherries, pitted, halved

2

pinches fine sea salt
Vanilla Glaze:
1 1/2

cups

confectioners' sugar

1

teaspoon

vanilla bean paste

3

Tablespoons

whole milk, or heavy cream
Instructions
Sprinkle yeast over warm water. Add 1 tsp sugar and stir to combine. Let sit for 5-7 minutes to allow mixture to bubble and active.

In the bowl of a stand mixer, add dissolved yeast mixture, milk, remaining sugar, salt and egg. Whisk together. In another bowl whisk together flour and cocoa powder.

Add one cup of flour mixture to stand mixer. Use the hook attachment to combine ingredients. Follow with coconut oil. Add remaining flour, 1 cup at a time. Knead until dough is smooth and cleans the sides of the bowl. If dough is too sticky, add 1 Tbsp of flour.

Transfer dough to a lightly greased bowl. Cover bowl with plastic wrap and let dough rest at room temperature for 60 minutes.

To make filling: Meanwhile, combine softened butter and vanilla paste. Stir together. It should resemble the consistency of mayonnaise. Set aside.

Transfer dough to a lightly floured working surface. Roll dough into a 18 x 12-inch rectangle. Spread softened vanilla butter over dough, leaving a 1/4-inch border around all sides. Sprinkle brown sugar over butter. Top with white chocolate chips, chocolate chips, and cherries. Gently press filling into dough. Sprinkle salt over filling.

Roll dough into a tight log, starting with long side. Slice log into 12 equal slices. Place cut slices into a lightly greased 13 x 9 inch pan. Cover with plastic wrap and let rest for 30-45 minutes until dough has risen.

Preheat oven to 350 degrees F. Uncover rolls. Bake for 28-30 minutes. Let rolls cool slightly before pouring vanilla glaze.

To make vanilla glaze: mix together powdered sugar, vanilla bean paste and milk. Stir until smooth. If glaze is too thick, add milk 1 tsp at a time until desired consistency is achieved.