Maple hazelnut ice cream is flavored with rich dark maple syrup and loaded with toasted hazelnuts.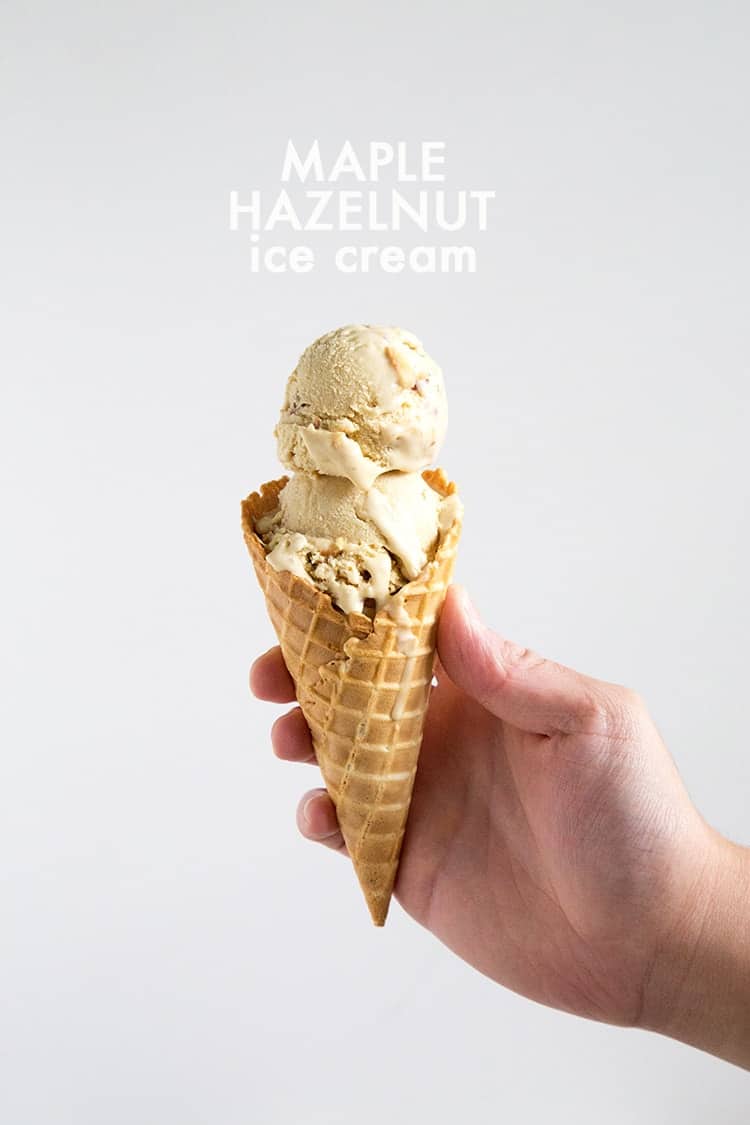 Inspiration can come from anywhere: a stroll in the park, books and magazines, and even maple hazelnut scented candles. Yes, it's true.
This ice cream was inspired by the candle in our guest bathroom.
After smelling the sweet, alluring scent of maple hazelnut for the last couple of weeks, I finally caved and decided to make it into something that I could actually eat.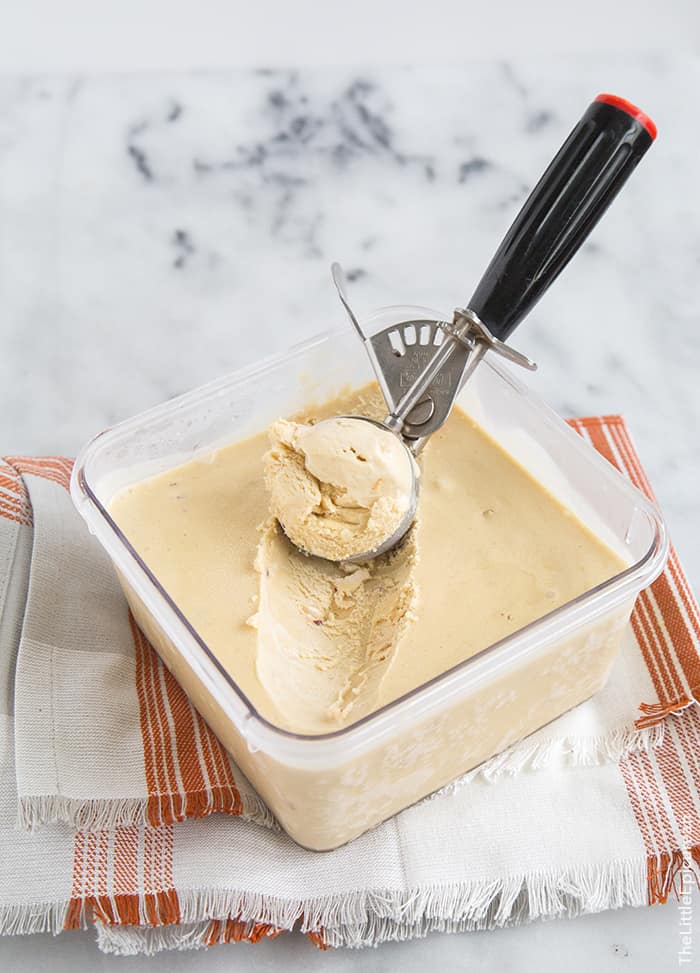 Hazelnut Ice Cream
Maple hazelnut ice cream is the perfect treat for these warm autumn days still looming around Los Angeles.
Growing up, I only favored three ice cream flavors: vanilla, mint chocolate chip, and butter pecan. This maple hazelnut ice cream is quite similar in flavor and texture to butter pecan.
I used dark maple syrup for its rich intense flavor.
It's best to used skinned hazelnuts. However, if you are having trouble removing the skins, don't fret. It's okay to leave it on.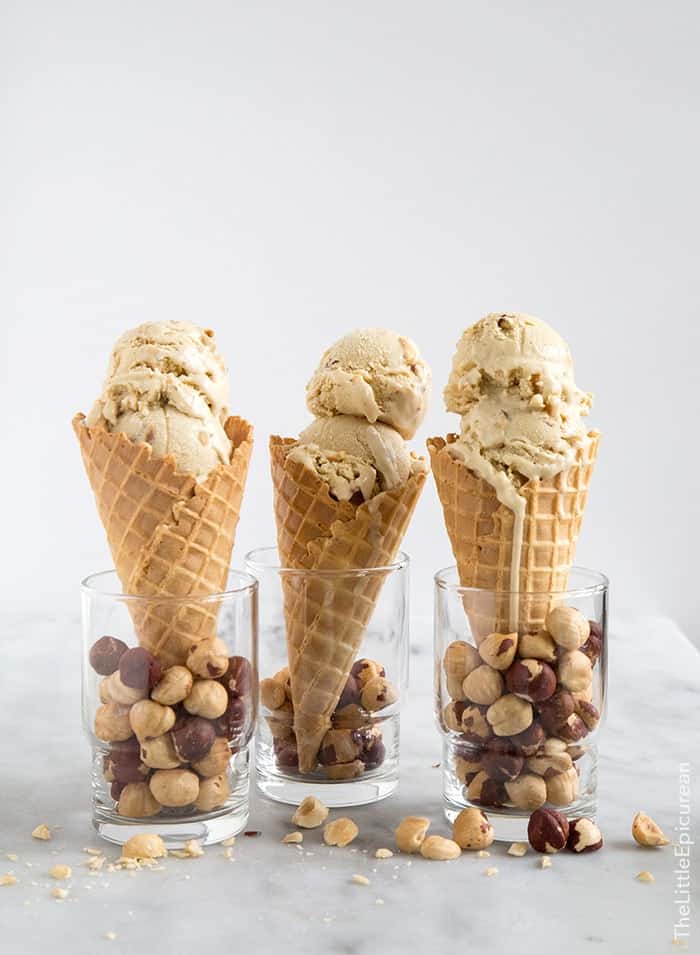 I hardly categorize ice cream as a summertime dessert. I crave it all year long.
As the holidays near, I'll be making more festive ice creams… think hot cocoa ice cream, gingerbread ice cream, and my favorite- peppermint ice cream!
Come December I can't wait to go to Disneyland and order a double scoop of peppermint ice cream in a chocolate dipped crushed candy cane covered waffle cone.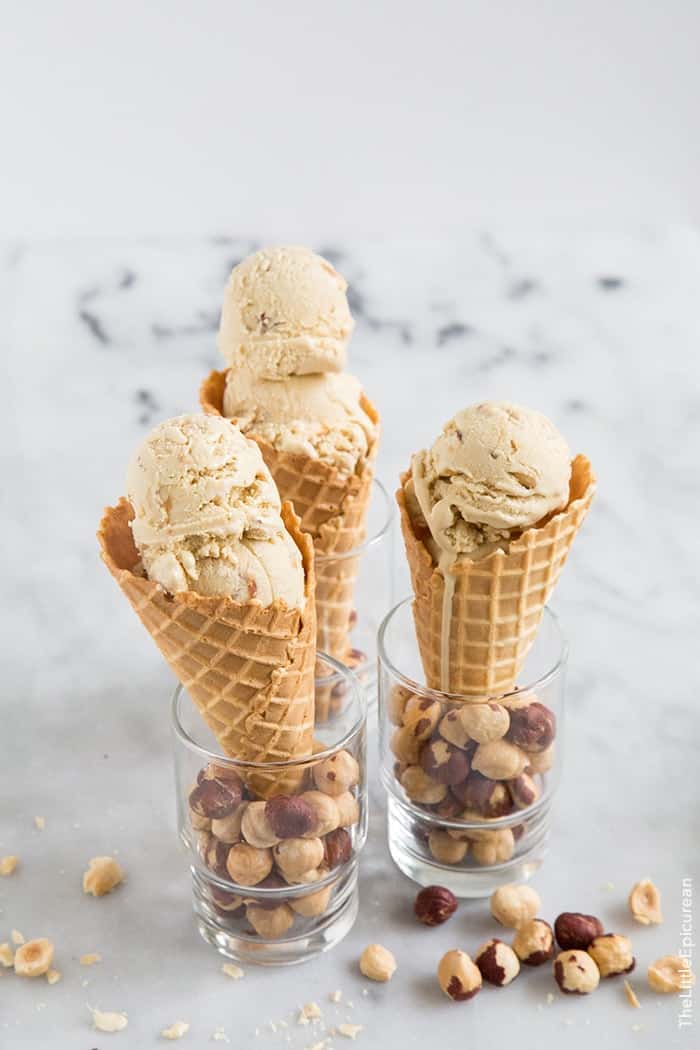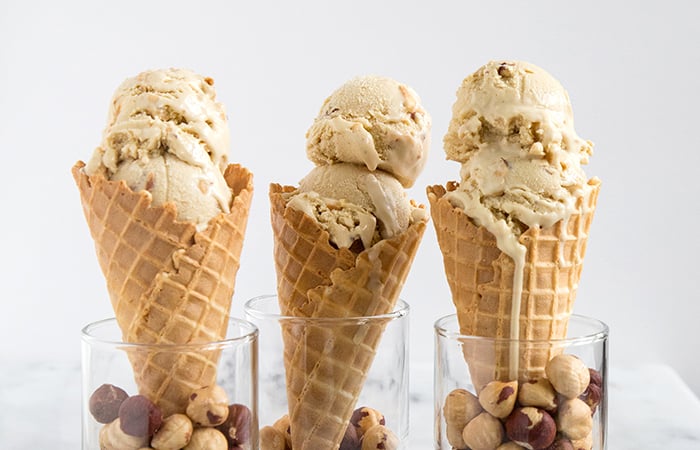 Maple Hazelnut Ice Cream
Yield: about 1 quart
Ingredients
1 3/4

cup

heavy cream

1 1/4

cup

2% milk

5

large egg yolks

3/4

cup

maple syrup, grade B

pinch fine sea salt

1

cup

toasted hazelnuts, roughly chopped
Instructions
In a medium pot, combine cream and milk. Set over medium heat and bring to a simmer. Stir as necessary to ensure milk does not burn along the sides or bottom of the pot.

Meanwhile, in a large bowl, whisk together egg yolks and maple syrup. Once milk mixture has almost come to a boil, lower heat. Temper hot milk into sugar-yolk mixture. Slowly add hot milk into yolks about 1/4 cup at at time, whisking to distribute heat. Once all the milk has been added to yolk, transfer all contents back into the pot.

Stir over medium-low heat until mixture reaches nappe consistency, or 180 degrees F on a kitchen thermometer. Stir frequently to ensure mixture does not burn at the bottom. Let mixture sit at 180 degrees F for 2 minutes to pasteurize eggs. Remove from heat and add sea salt. Stir to combine.

Transfer mixture to an airtight container and let mature in the fridge overnight. Freeze mixture in ice cream maker according to your unit's instructions. Once the volume has increased by half and has reached a soft serve consistency, add in chopped hazelnuts. Transfer ice cream to an airtight container and let chill in the freezer for at least 30 minutes before serving.