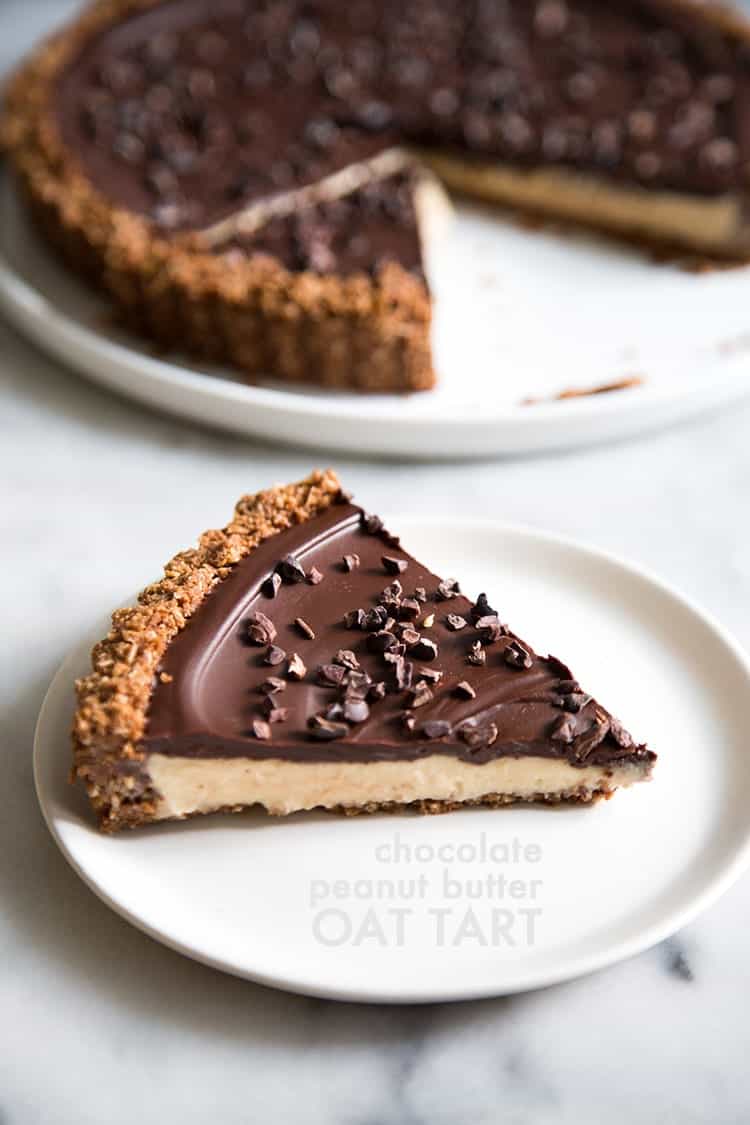 I always love a good challenge.
Instinctively, when I think of peanut butter and oatmeal, I assume cookies. Cookies are tasty and all, but I prefer the unexpected.
For the month of October, Peanut Butter & Company has partnered up with Bob's Red Mill to create #Oatober! PB&Co. sent me a jar of peanut butter (their honey version!) and a package of Bob's Red Mill organic old fashioned rolled oats. No rules, no obligations, no limitation. Complete creative freedom. At first it feels great and freeing, but when you're open to a million options it is difficult to narrow it down.
When it came time to making something, I followed my stomach. My stomach said make a peanut butter oat tart and cover it with chocolate. DONE.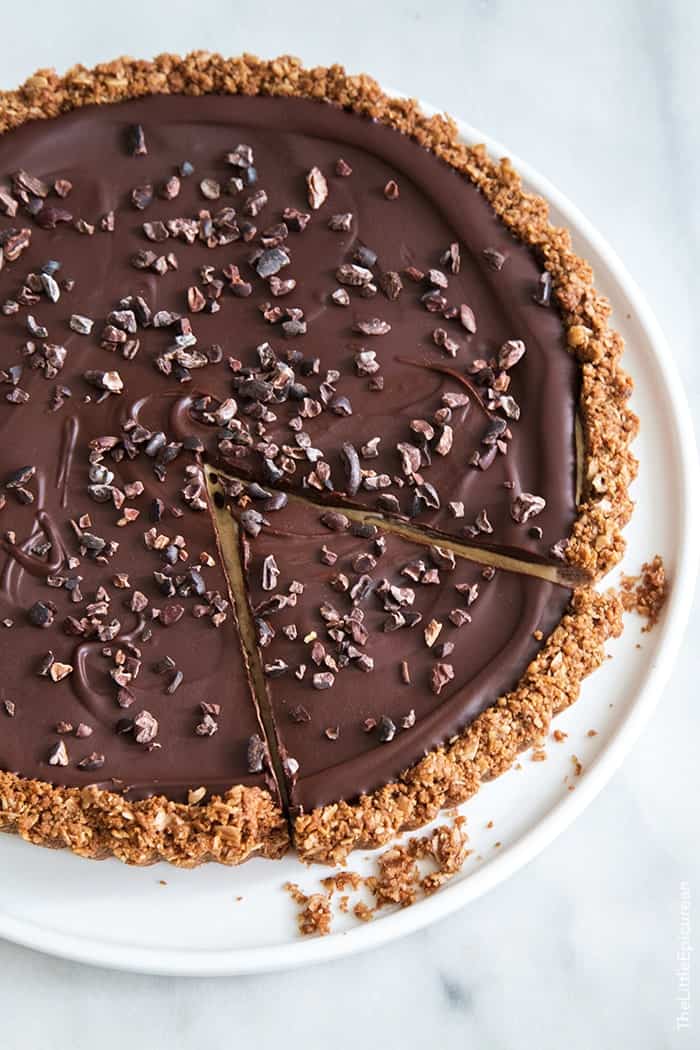 I'm not exaggerating when I say that this tart is AMAZING. The oat crust is a delicious treat in itself. It's a combination of rolled oats, graham cracker and cocoa powder. I barely pulsed the oats in the food processor. I wanted to keep retain the oatiness of the rolled oats. I did not want to end up with oat flour.
The crunchy and substantial crust balances the delicate honey peanut butter mousse. To ensure the dessert isn't too sweet, I used dark chocolate chips (at least 60% cacao bittersweet chocolate) for the glaze and a handful of cacao nibs to top it off.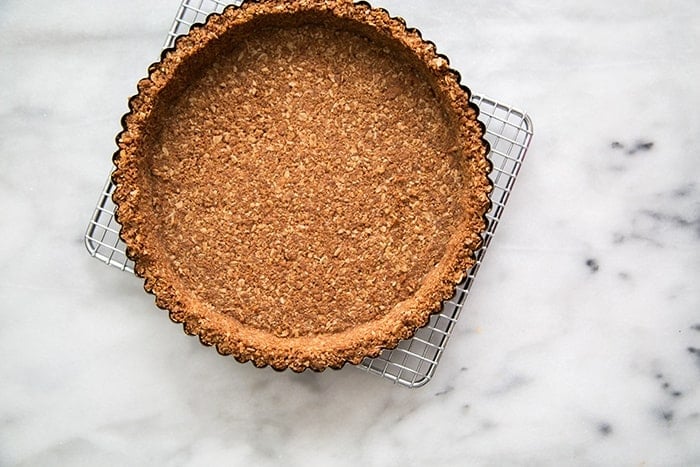 You'll need a 9.5-inch tart pan with a removable bottom. (These Gobel nonstick tart pans are my favorite. They're made in France and they last FOREVER. I've had mine for over ten years and I love it. You can find it at Sur la Table or get a similar tart pan on Amazon.)
Pulse all the tart ingredients in a food processor and then press it into the bottom and sides of the tart pan. I suggest using the flat bottom of a drinking glass or a measuring cup to push the crust mixture into the pan. During baking, the crust may puff up slightly. Upon removal from the oven, simply use the glass/cup to deflate the crust and push it back into the pan. Allow the tart crust to cool completely before adding the mousse filling. (Otherwise, the mousse will melt!)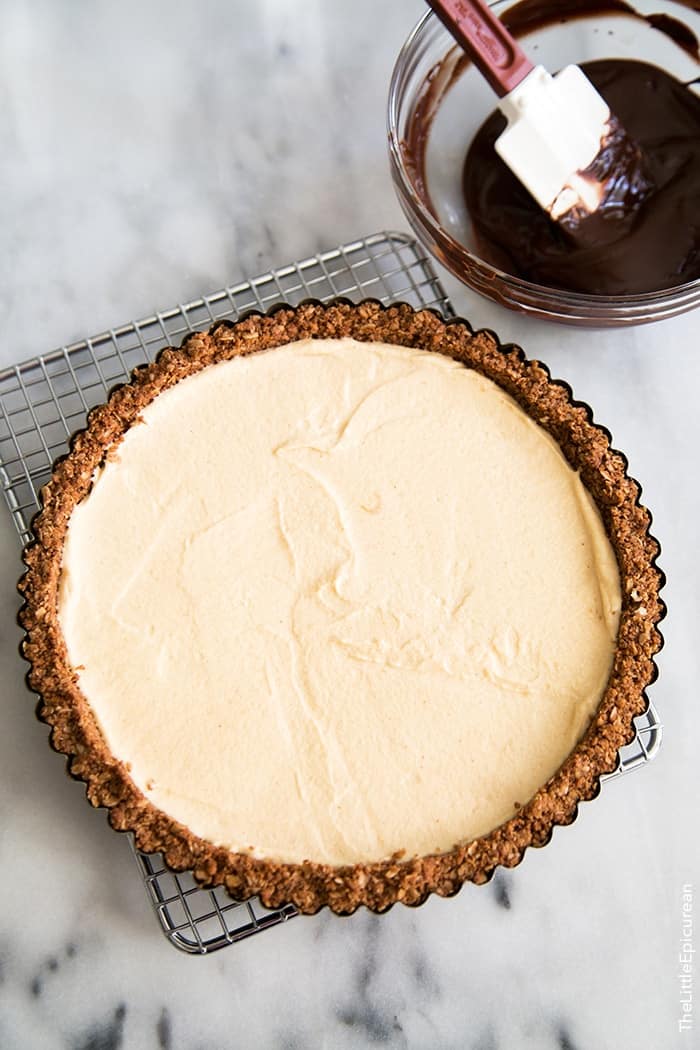 It's a good idea to prepare the chocolate glaze BEFORE making the mousse. The glaze will need to cool slightly before you can use it.
The honey peanut butter mousse is fairly straight forward. Whip up chilled heavy cream (in a chilled bowl works best!) to medium peaks and then add in the peanut butter, honey, and salt. Whip just until almost stiff peaks. Scoop the mousse into the cooled tart crust. Spread the mousse into an even layer.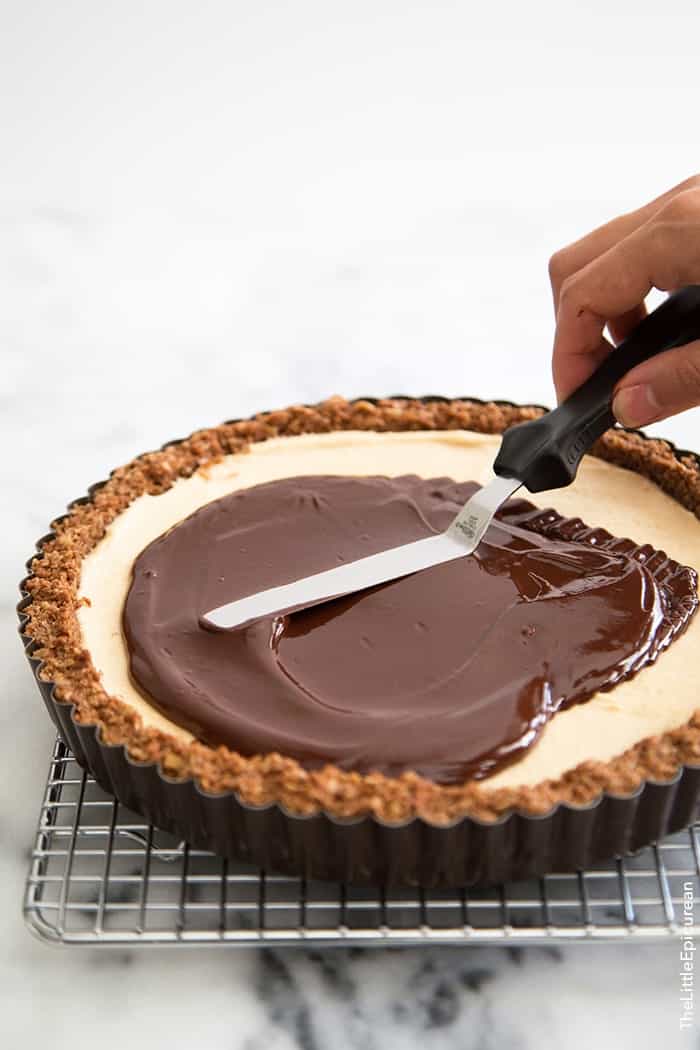 If your chocolate glaze is taking awhile to cool down, place the mousse tart in the fridge. Just be careful! If your mousse tart is too cold, the chocolate glaze will instantly thicken and set up. My advice, my the glaze. Let it cool for 10 minutes or so and then proceed with making the mousse. By the time you've filled the tart, the glaze should be good to go.
As soon as you pour on the chocolate glaze, immediately spread it into an even layer, making sure the glaze makes contact with the crust. Sprinkle on the cacao nibs and let the tart chill in the fridge until you're ready to eat.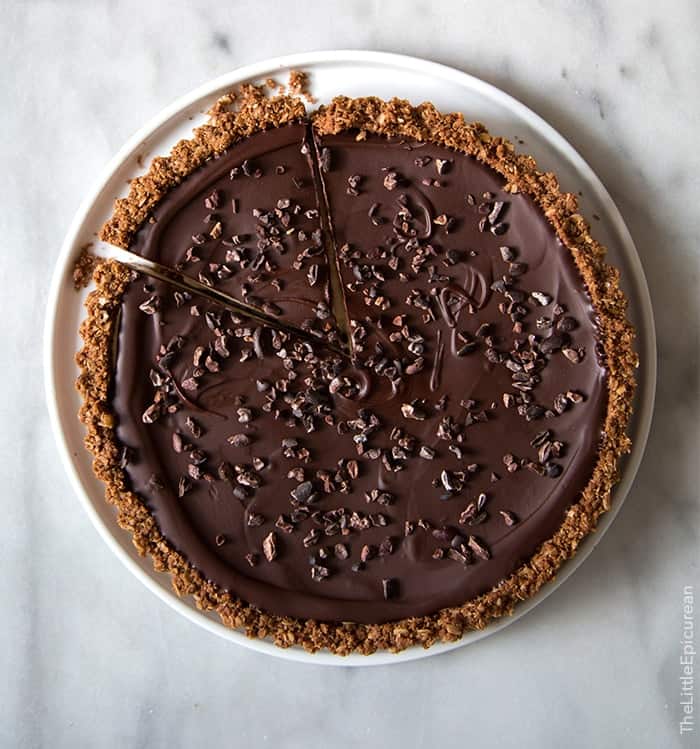 It's a million times easier to slice this tart when it's chilled. To ensure clean slices, you a sharp knife and wipe your blade clean after each cut. As the tart sits out at room temperature, the mousse may start to soften (depending on the temperature of the room) making it super frustrating and messy to slice.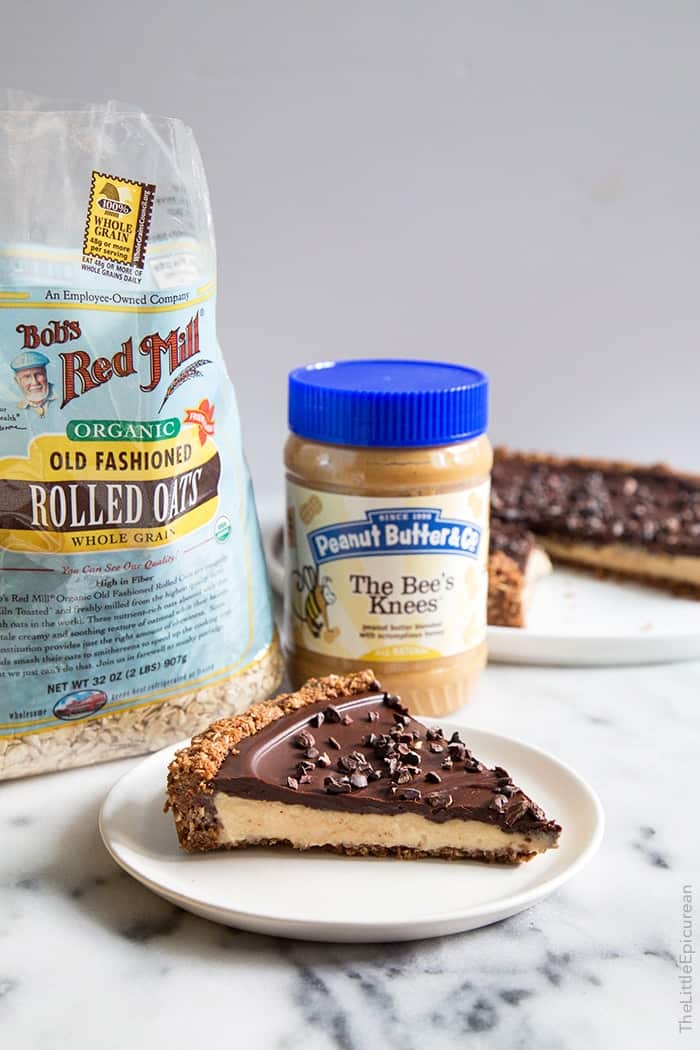 Chocolate Peanut Butter Oat Tart
Yield: 9-inch fluted tart
Ingredients:
Cocoa Oat Crust:
1 cup old fashioned rolled oats
6 full graham cracker sheets
2 Tbsp unsweetened cocoa powder
3 Tbsp dark brown sugar, packed
1/4 tsp fine sea salt
7 Tbsp unsalted butter, melted
Honey Peanut Butter Mousse:
1 cup heavy cream, chilled
1/4 cup Peanut Butter & Co. The Bee's Knees, honey peanut butter
1 Tbsp honey
pinch of salt
Chocolate Glaze:
3/4 cup dark chocolate chips, at least 60% cacao
2 Tbsp unsalted butter
1 Tbsp light corn syrup
cacoa nibs, as needed for topping
Directions:
Cocoa Oat Crust:
Preheat oven to 350 degrees F. In a food processor, barely pulse together rolled oats, graham crackers, cocoa powder, sugar, and salt. You do not want to end up with oat flour. Pulse just until the rolled oats are somewhat broken up. Add in melted butter and stir until mixture comes together. Press into tart shell with removable bottom.
Bake for 12-15 minutes until crust is set and golden brown. Crust may slightly puff up during baking. Use the bottom of a glass or measuring cup to gently press crust into shell. Set aside and allow to cool to room temperature before filling.
Honey Peanut Butter Mousse:
Place chilled cream in a chilled bowl. Whip to medium peaks. Add peanut butter, honey, and salt. Continue to whip to almost stiff peaks.
Pour mousse into cooled cocoa oat crust. Spread into an even layer.
Chocolate Glaze:
Gently melt together chocolate chips, butter and corn syrup over a bain-marie (double boiler). Alternatively, you can microwave mixture at half power for 10-15 second intervals until melted and smooth.
Allow to cool for 10-12 minutes. Pour over peanut butter mousse and quickly spread into an even layer. Chocolate will set up because of the cold mousse. Immediately sprinkle cacao nibs over chocolate. Set in the fridge and keep chilled until ready to serve.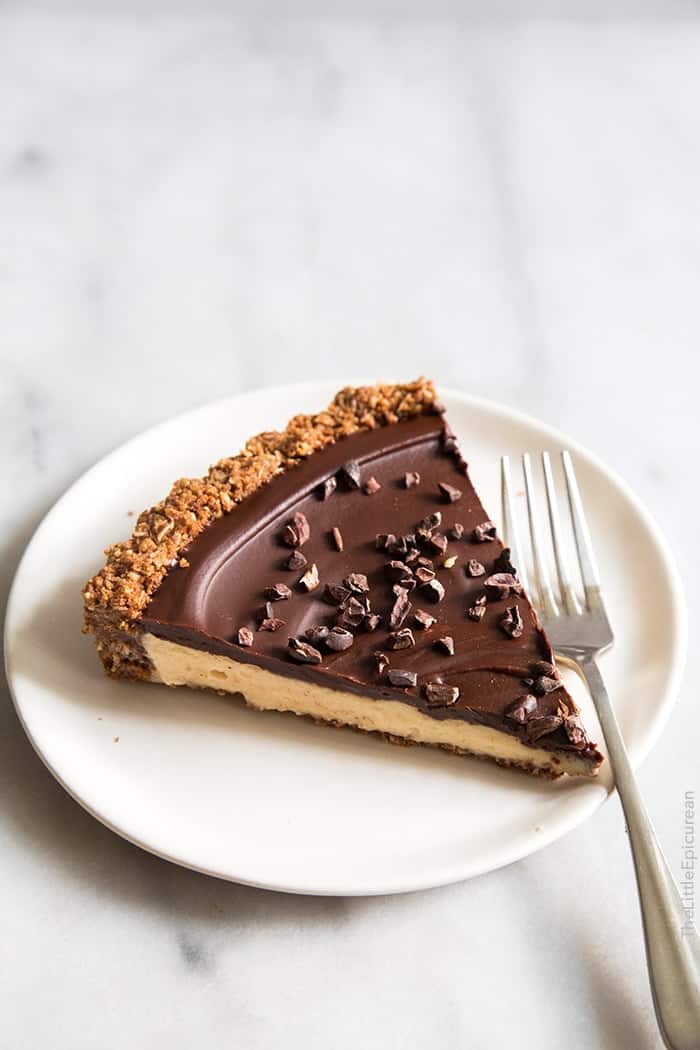 Disclosure: I was not compensated for this post. I created this recipe because I love peanut butter. As always, all opinions are my own.