The easiest dessert to make when serving a crowd. This walnut chocolate chip bread pudding is served with caramel sauce.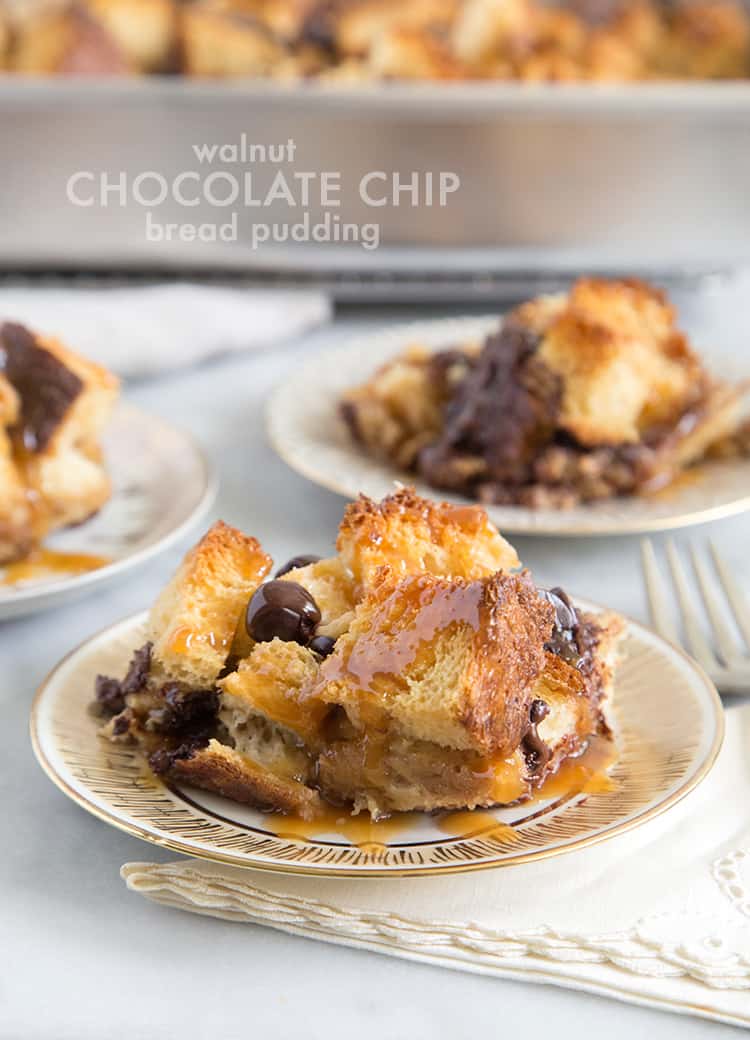 The countdown to Thanksgiving is on! Normally, I'd be freaking out by now.
How many guests are coming over? Does anyone have any food allergies? How many side dishes should I make?
But this year is a little different. It's definitely going to be strange celebrating the holidays without my dad. All these end of the year festivities won't be the same without him.
But of course, the show must go on and we WILL survive the holidays. Anyway, this year is also different because we've been invited to so many Thanksgiving dinners!
I'm not one to attend a dinner party without bringing dessert. My go-to dish is this walnut chocolate chip bread pudding.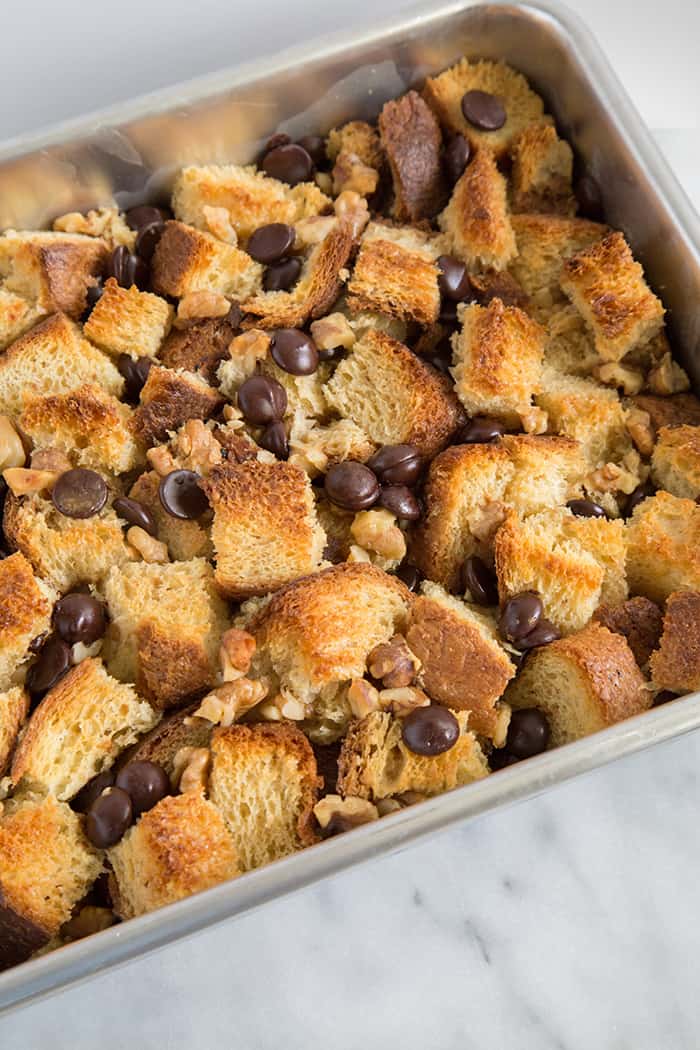 Walnut Chocolate Chip Bread Pudding
Bread pudding is one of my favorite desserts, but I only make it for special occasions (preferably ones that involve sharing food with a lot of people).
I just can't trust Alex and myself with a pan of bread pudding. A tiny taste turns into a large scoop, which eventually turns into us with an empty pan with bread pudding remnants. It's just bad news.
For the holidays when stress is high, there are too many cooks in the kitchen, and there is just too much going on, bread pudding is heaven sent.
It's a dessert that can easily feed a crowd and is super easy to make.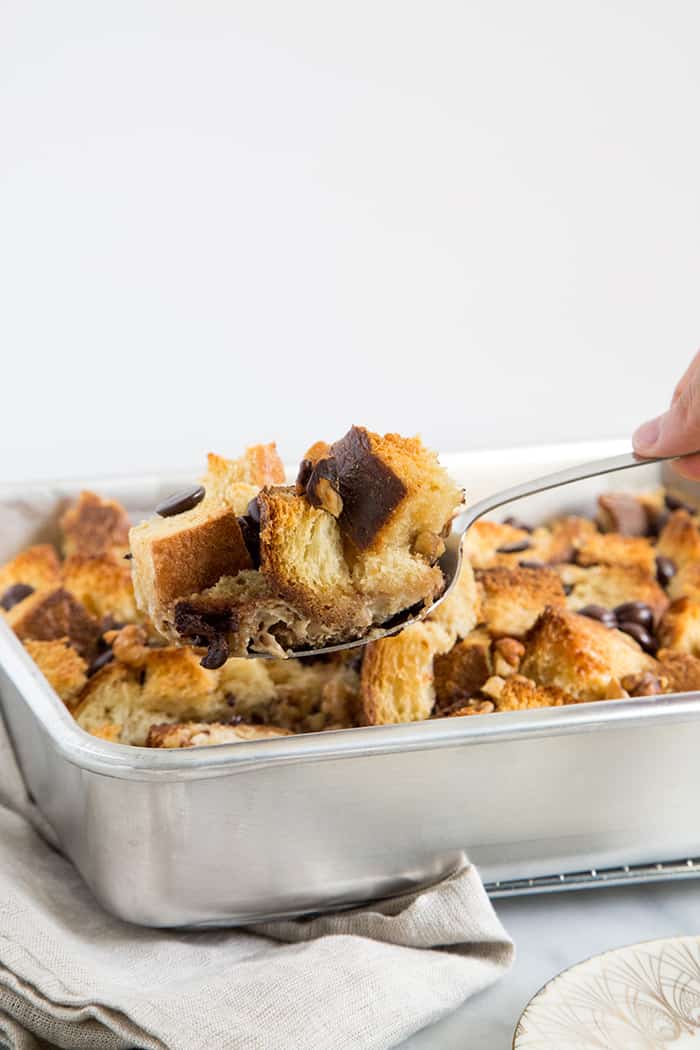 Bread pudding is simply day old bread soaked in custard, baked to perfection, and drizzled with sweet goodness. This is just one variation of many, countless bread pudding combinations.
Most bread puddings are super soggy and drenched in custard. I like to keep mine a little drier on top because I prefer the crunch from the exposed toasted bread. You can always soak the finished bread pudding with caramel sauce…or whiskey.
I can't get enough of this version. It tastes like a chocolate chip cookie that I can eat with a spoon. Win-win!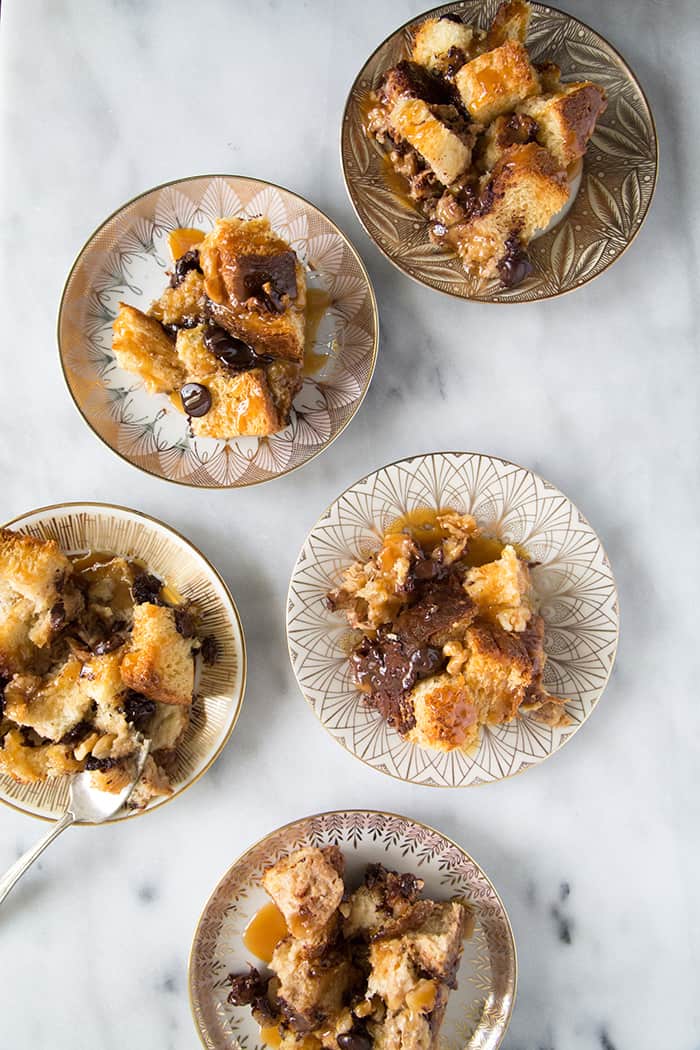 Have I ever told you about my obsession with old plates? Alex's grandmother gave us these gorgeous plates.
She bought them in the 1960s during a trip to Europe. They're hand painted bone china from Austria. They're so pretty and I get so happy just looking at them.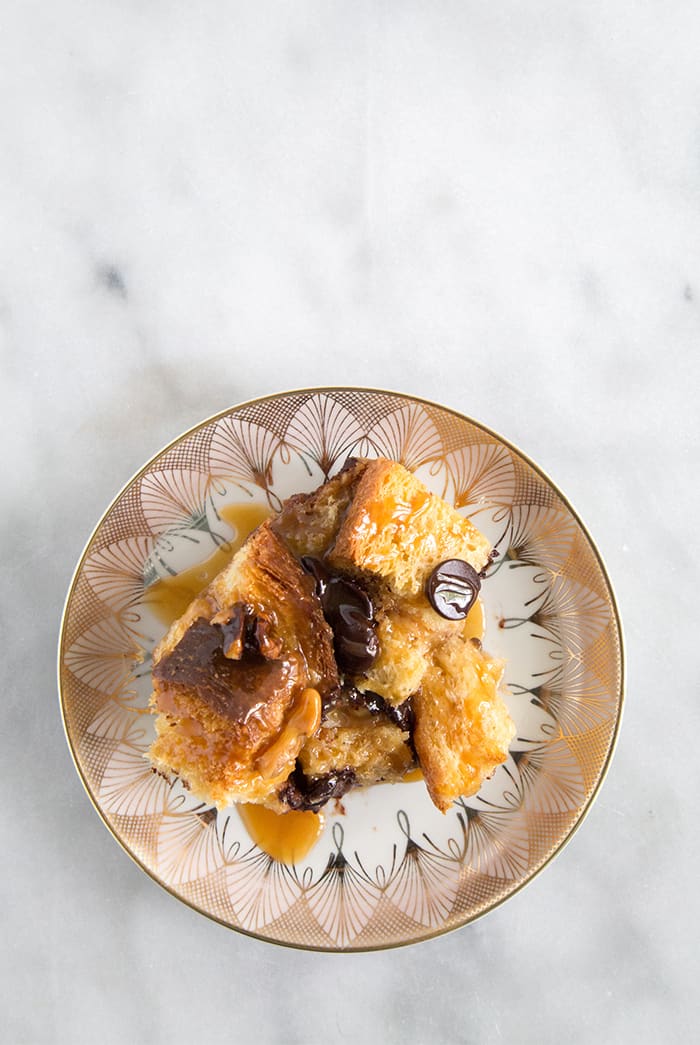 #BlogsgivingDinner
Thanksgiving is all about spending time with loved ones and sharing a delicious meal together.
Thanks to Meghan from Cake 'n Knife and Susannah from Feast + West, the food blogging community has come together this week to share Thanksgiving inspired dishes to make sure your holiday is a success.
The idea is based on an old-fashioned potluck dinner party. Each blogger is bringing one or more dishes to the party, so be sure to stop by each one and get some ideas for your own Thanksgiving meal.
We'll be posting to social media with the hashtag #blogsgivingdinner and you can see the entire menu in Part 1 and Part 2 of the recipe round-up.
Walnut Chocolate Chip Bread Pudding with Caramel Sauce
Ingredients
1

pound

brioche,

day old, cut into 1 1/2-inch squares

1/2

cup

granulated sugar

1/2

cup

dark brown sugar,

packed

4

large eggs,

room temp

1 1/4

cup

heavy cream

1 1/2

cup

whole milk,

or 2% milk

1/4

cup

bourbon of choice

1/4

teaspoon

kosher salt

2

teaspoon

vanilla extract

1 1/2

cup

walnuts,

roughly chopped

3/4

cup

dark chocolate chips

caramel sauce, as needed
Instructions
In a large bowl, whisk together sugar, brown sugar, eggs, cream, milk, bourbon, salt, and vanilla. Whisk until the sugar has dissolved.

Spread bread in 9 x 12-inch pan. Add chocolate chips and walnuts. Toss to combine until well distributed. Pour liquid mixture over bread. Gently push bread down to ensure it get coated with liquid. Cover pan and let chill in the fridge for at least one hour, or up to overnight.

Preheat oven to 350 degrees F. Bake for 40-50 minutes until the liquid has set and the top pieces of bread are toasty. Let bread pudding sit for 10 minutes to slightly cool. Serve bread pudding warm with caramel sauce.