This coffee ice cream cake has a decadent brownie bottom topped with coffee ice cream and a layer of vanilla ice cream swirled with fudge. This ice cream cake takes me back to childhood!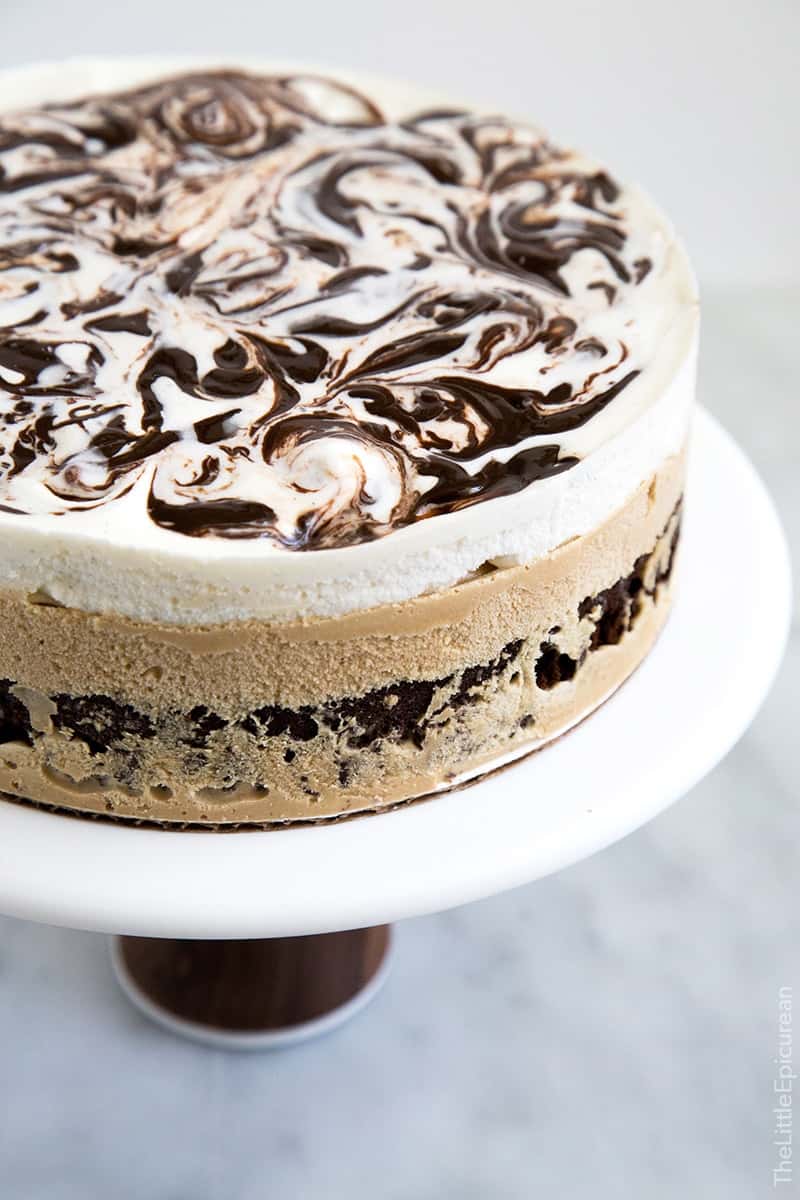 We've been slowly cleaning out my childhood home. There's almost 30 years of memories that in house. I'm finding little bits and pieces of my younger years every weekend.
Ever since I found my dad's stash of family videos, I've been watching them every chance I have.
My dad was super adamant about filming the family. He wanted to capture every important moment on film. He had this giant Betamovie video camera (remember, this was the 80s) that he would lug around everywhere.
The video camera probably weighed between 10-15 pounds. It was enormous, especially compared the small electronic devices we have these days.
I found one video that documented every Easter, birthday, summer vacation, Halloween, and Christmas from my birth up until 4th grade. Crazy, right?!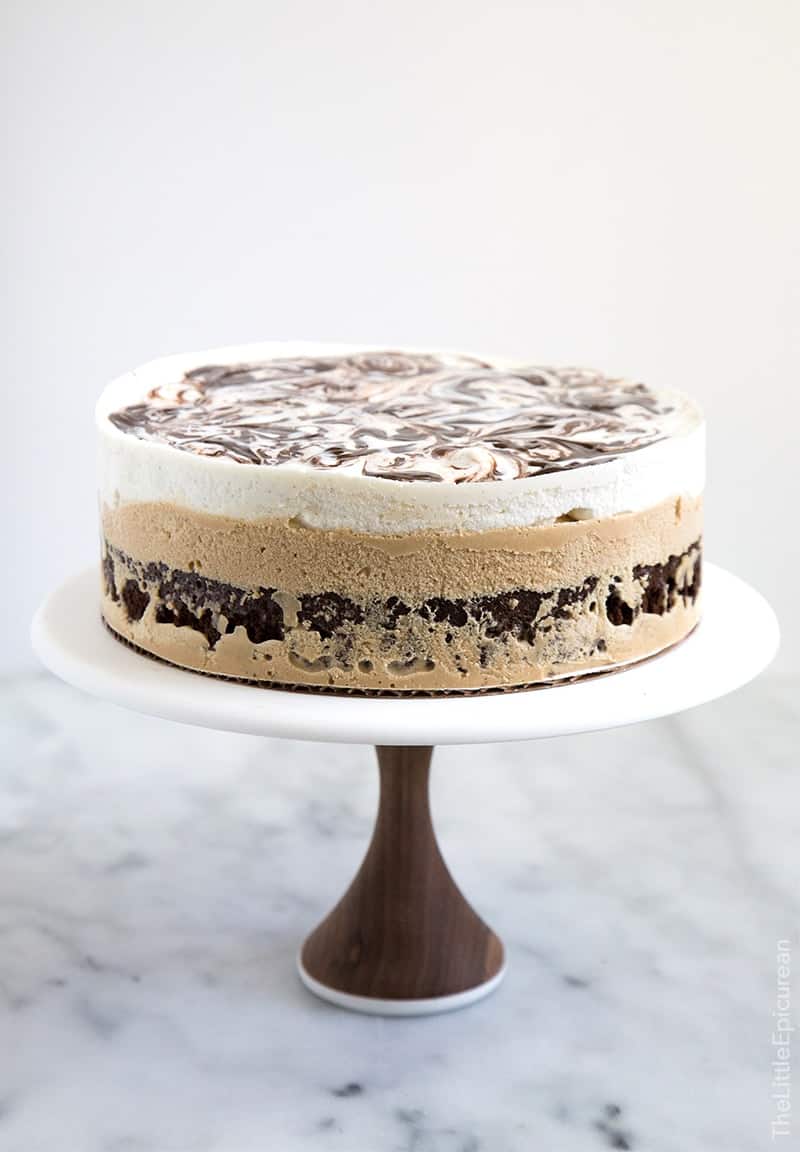 Coffee Ice Cream Cake
One thing I remember from childhood very well- ice cream cake! Since my birthday was during the summer, ice cream cake was a requirement.
As a kid, I LOVED mint chocolate chip. I'm not sure if it was the little chunks of chocolate scattered throughout the ice cream or the green color that I found so alluring.
While, I still love mint chocolate chip, these days I'm all about coffee. This coffee ice cream cake is an ice cream cake for the big kids!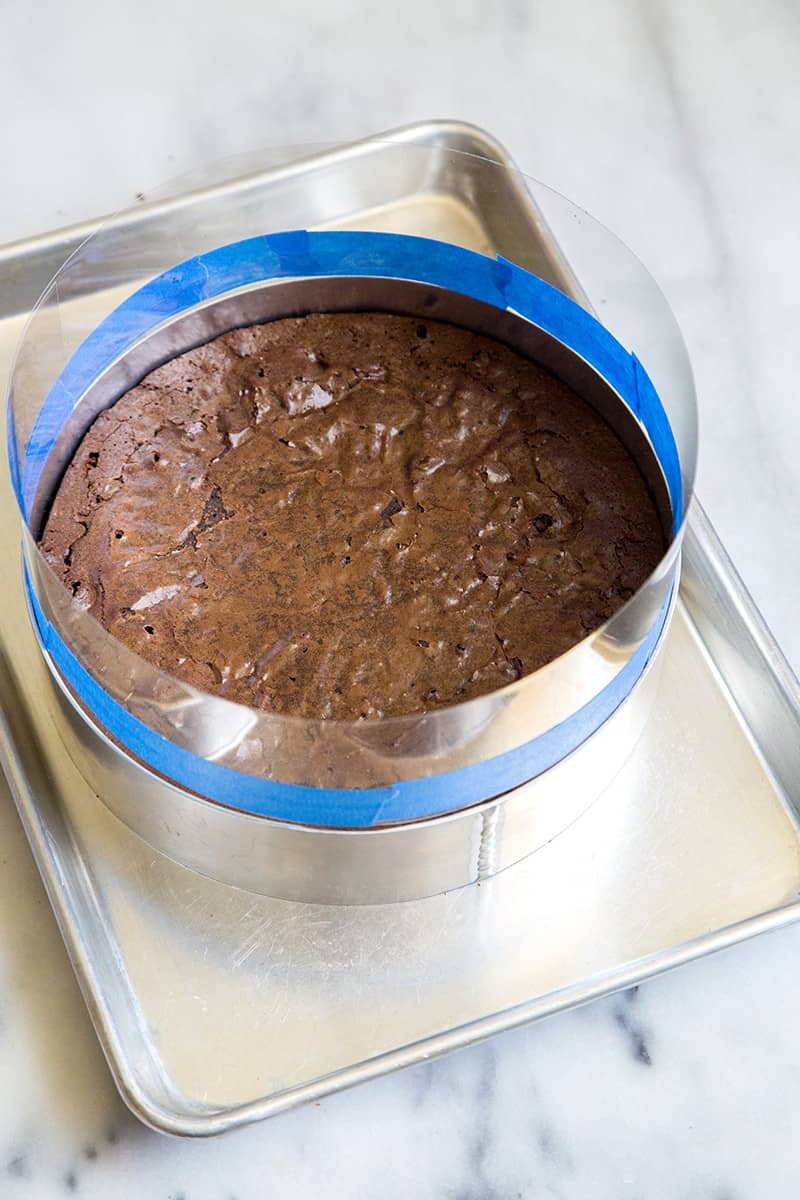 How to make coffee ice cream cake:
This ice cream cake starts with a brownie bottom. It's your standard brownie recipe baked in an 8-inch cake pan. Once it's cooled, place it in a cake ring mold lined with an acetate strip.
(If you don't have a cake ring mold, you can also use a springform ring – the ones used to make cheesecake.)
Depending on how wide your acetate strip is, you might need to tape them together to build a taller cake (like I have photographed above).
Once the brownie is securely placed into the acetate lined cake ring, spread coffee ice cream inside.
While I find it's best to use homemade freshly-spun coffee ice cream, you can totally use softened store-bought ice cream.
Level off the coffee ice cream layer and place it the freezer until the layer is almost frozen. Remove from the freezer and spread vanilla ice cream on top. Add dollops of chocolate fudge and swirl. Place back in the freezer until top layer is frozen.
Ice cream cakes may take a little more time and effort than a traditional cake, but I think it's well worth it!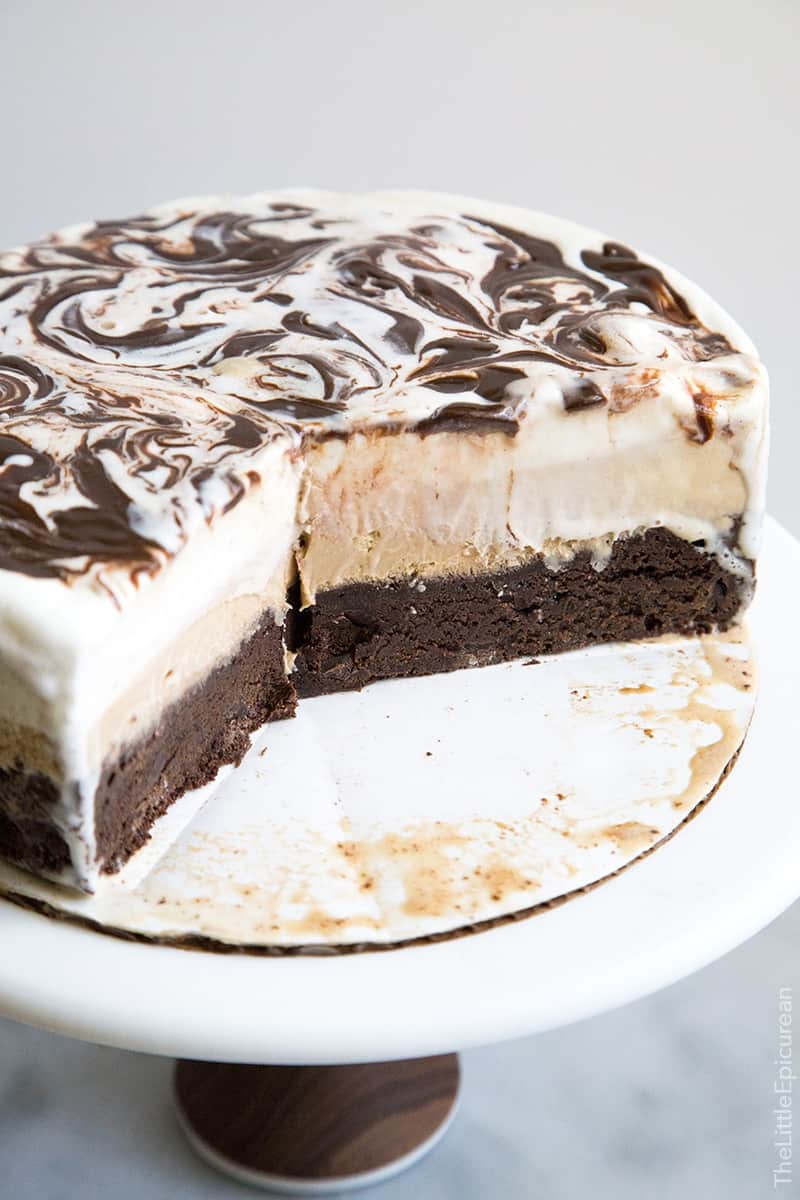 Regardless of the ice cream flavors, ice cream cake tastes like childhood. I immediately remember my pool party birthdays and weekends playing at the beach.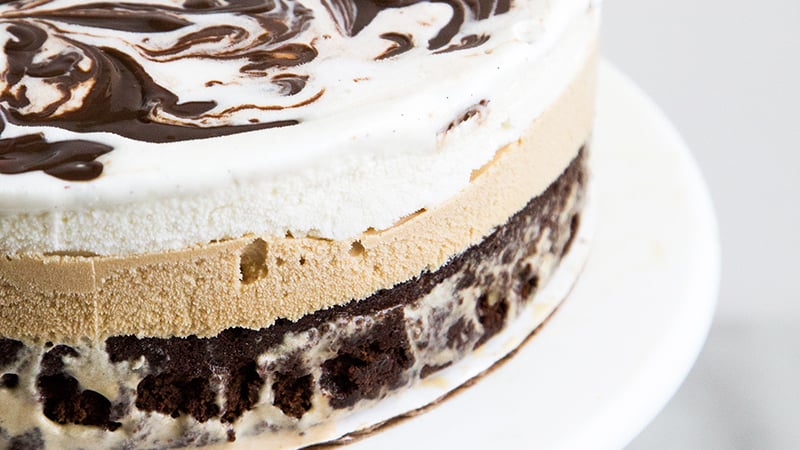 Coffee Ice Cream Cake
Yield: 8-inch cake
Ingredients
Brownie:
10

oz

dark chocolate, chopped

3/4

cup

granulated sugar

1/4

cup

dark brown sugar, packed

1/2

cup

unsalted butter, sliced into tablespoons

*

3

large eggs, room temp

2/3

cup

all-purpose flour

1/2

teaspoon

fine sea salt
Ice Cream Components:
1.5

pint

(0.75 quart) homemade coffee ice cream, or store-bought

1

pint

(0.5 quart) homemade vanilla ice cream, or store-bought

2

Tablespoon

chocolate fudge, homemade or store-bought
Instructions
Brownie:
Preheat oven to 375 degrees F. Line 8-inch round cake pan with parchment paper. Lightly grease cake pan and set aside.

Over a double boiler (bain-marie), gently melt together 8 oz of the chopped chocolate with sugars and butter. Once mixture is smooth and melted, removed from double boiler and allow to cool slightly.

Add eggs, one at a time, to cooled chocolate mixture. Whisk until each egg is incorporated. In a small bowl, whisk together flour and salt. Add flour mixture and remaining 2 oz of chopped chocolate to batter. Fold to combine until there are no longer any dry streaks of flour.


Pour into prepared cake pan. Bake for 20-25 minutes until center of brownies no longer jiggle and a toothpick inserted in center of brownie comes out clean. Allow to cool in pan for about 5 minutes. Run a mini offset spatula around the edges of brownie to unmold. Unmold brownie and place on a wire rack to cool to room temperature.

Assembly:
Place cake ring mold on top of a parchment lined baking sheet. Line cake ring mold with acetate. Place cooled brownie on top of the cake board and place inside the ring mold.

If using homemade coffee ice cream: Use freshly spun ice cream while it is still a little soft. Spread on top of brownie layer. Cover with plastic wrap and keep in freezer for 2-3 hours, or until the ice cream layer is solid.


If using store bought ice cream: Place ice cream in the bowl of a stand mixer fitted with a paddle attachment. Beat ice cream until softened and spreadable, but still cold. Spread ice cream on top of brownie layer. Cover with plastic wrap and keep in freezer for 2-3 hours, or until the ice cream layer is solid.


Remove ice cream cake freezer and add vanilla ice cream layer using homemade/store bought direction above.


Spread vanilla ice cream into an even layer. Dollop chocolate fudge over vanilla. Use a knife to swirl chocolate into ice cream. Cover with plastic wrap and return to freezer for another 3 hours, or until ice cream layer is solid. At this point, overnight is best to ensure ice cream cake layers are set.


Remove ice cream from freezer. Gently remove metal cake ring mold. Gently peel off acetate strip. If ice cream cake starts to melt, cover with plastic wrap and return to freezer.


Use a sharp knife to cut into cake. Brownie layer will be a bit stiff during slicing. It will soften as you eat the ice cream cake. Enjoy immediately! Keep leftovers well wrapped and covered in the freezer.

Notes
Special Tools & Equipment:
I used this homemade coffee ice cream recipe. 
Cover and wrap the ice cream cream well to avoid any nasty unwated "freezer" taste. Ice cream cake keeps for about 2 weeks in the freezer.
Brownie recipe adapted from 

Theo Chocolate
The brownie will slightly harden in the freezer. For a softer brownie, substitute half of the butter with coconut oil. Coconut oil has a lower melting point than butter, as such the frozen brownie will soften faster at room temperature.