Sweet creamy cookie butter filling enrobed in silky dark chocolate. These cookie butter truffles are a rich and satisfying treat.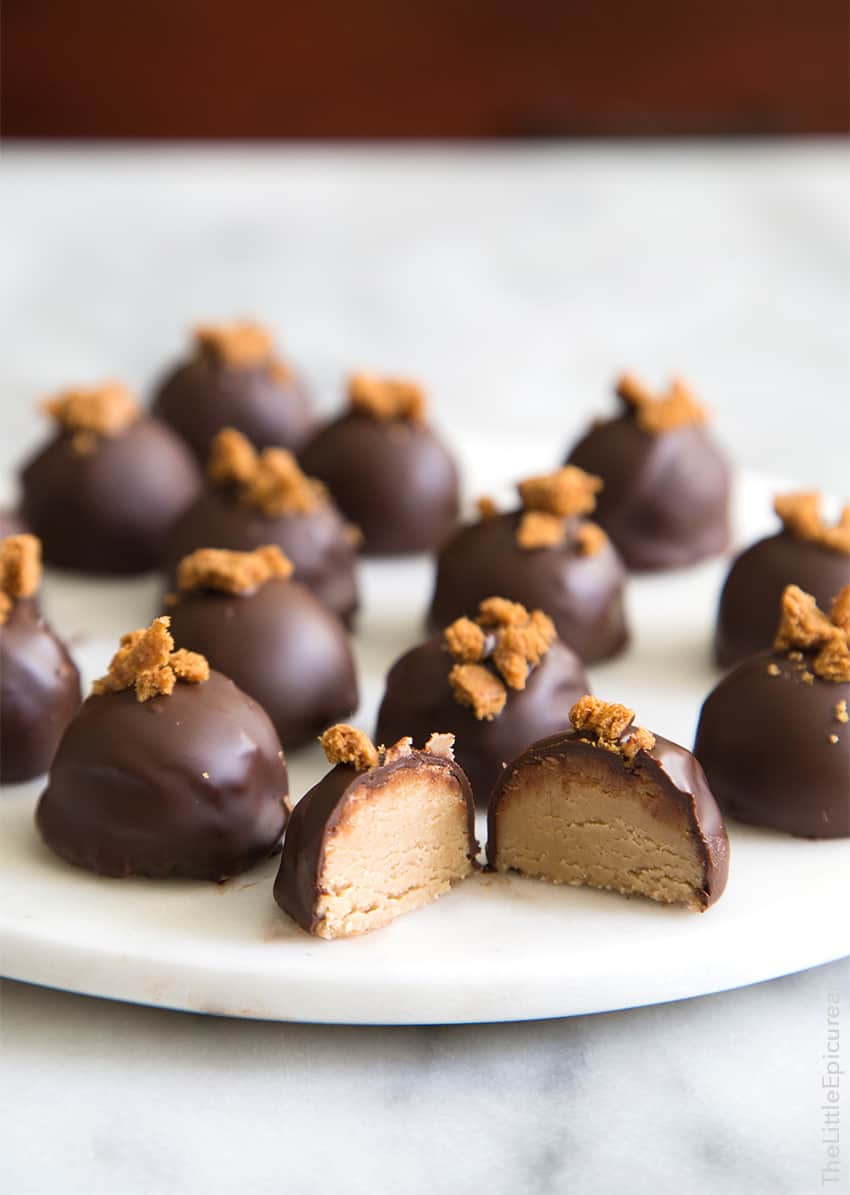 I remember the first time I spied the jar of speculoos cookie butter on the self at Trader Joe's. I wasn't really sure what it was, but I immediately dropped it in my shopping cart.
Things labeled with "cookie" and/or "butter" deserves a ride home with me.
What is cookie butter?
It's not peanut butter. It's not almond butter.
Cookie butter is this magical concoction of crushed biscuits pulverized into a smooth, creamy, delicious spread. It's decadent, it's rich, and it should be spread on everything!
It is made from speculaas (also known as speculoos or Biscoff cookies). It is a thin and crispy Belgian cookie flavored with various spices.
Cookie butter is delicious on its own. But, it's even better mixed into desserts like cookie butter cheesecake and cookie butter snickerdoodles.
Homemade Cookie Butter Truffles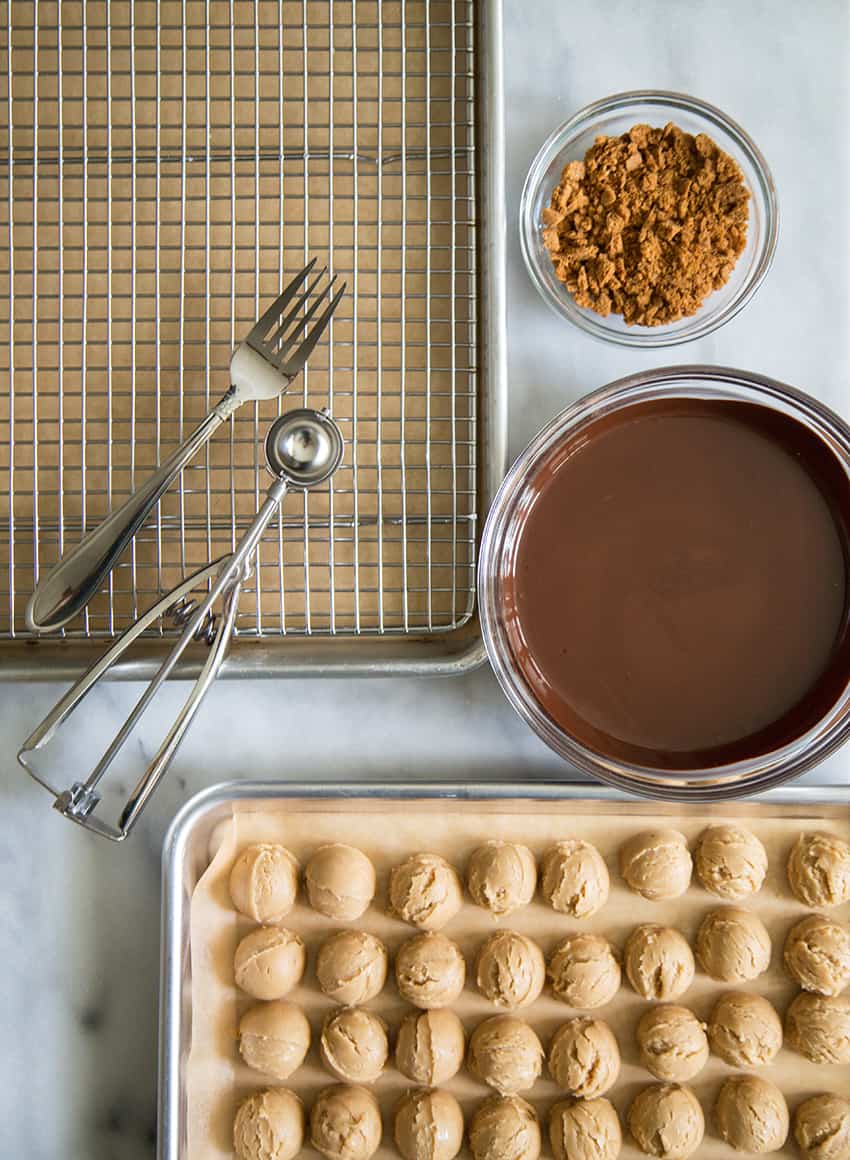 The key to candy making and chocolate coating is working efficiently. That means being organized and having all your mis-en-place ready.
I like to use this 1-inch cookie scoop to portion out the filling, but you can also divide them by hand. Before coating the cookie butter balls in chocolate, make sure they are thoroughly chilled.
The melted chocolate has a tiny bit of coconut oil mixed in. The chilled cookie butter balls will allow the chocolate to set up faster.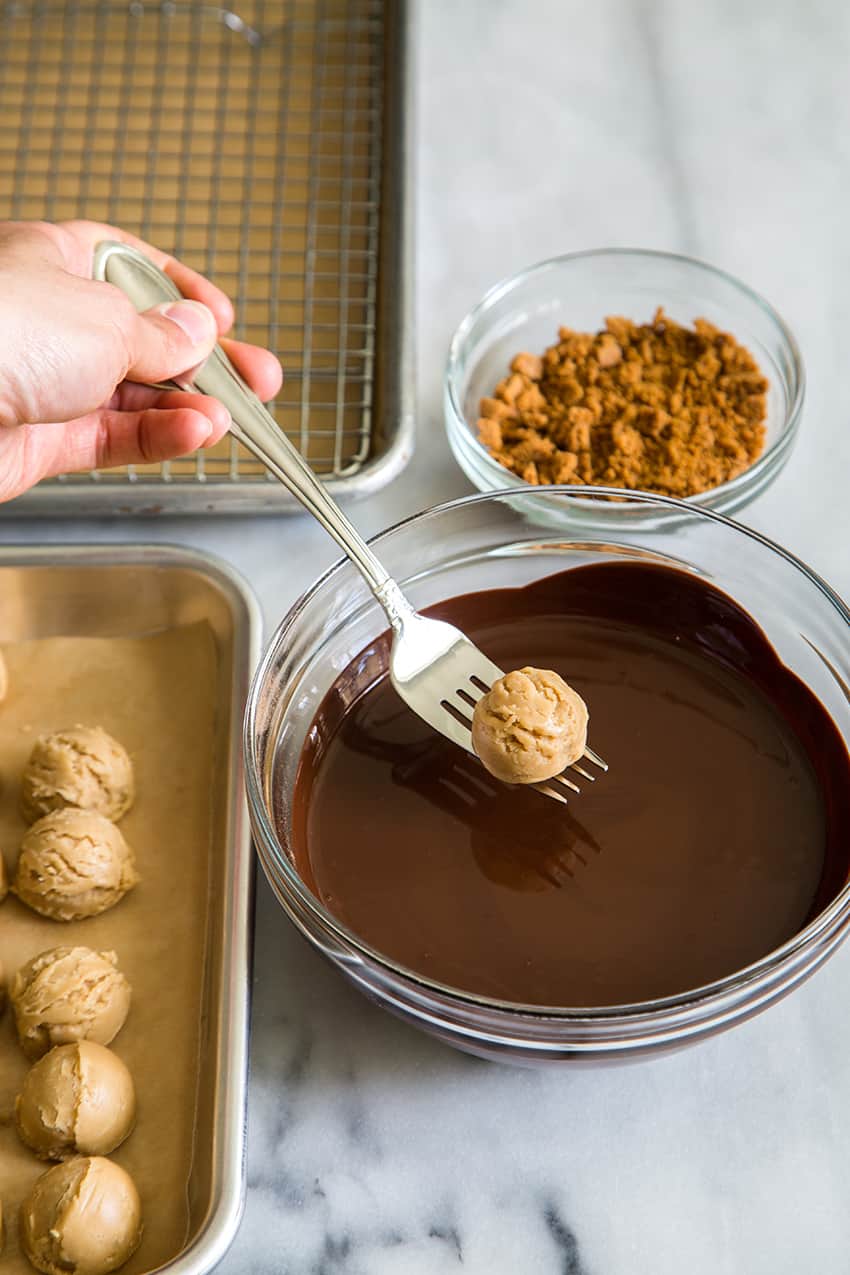 Cookie Butter Filling:
While it would be heavenly to have the filling to be made purely out of cookie butter, that's not the case here. The filling would be way too intense.
Rather, the cookie butter is cooked together with evaporated milk, butter, sugar, and marshmallows. The resulting candy filling is an addicting melt in your mouth treat.
I'm sharing the recipe for these cookie butter truffles over at BHG's Delish Dish blog. They're an adaptation of these peanut butter truffles.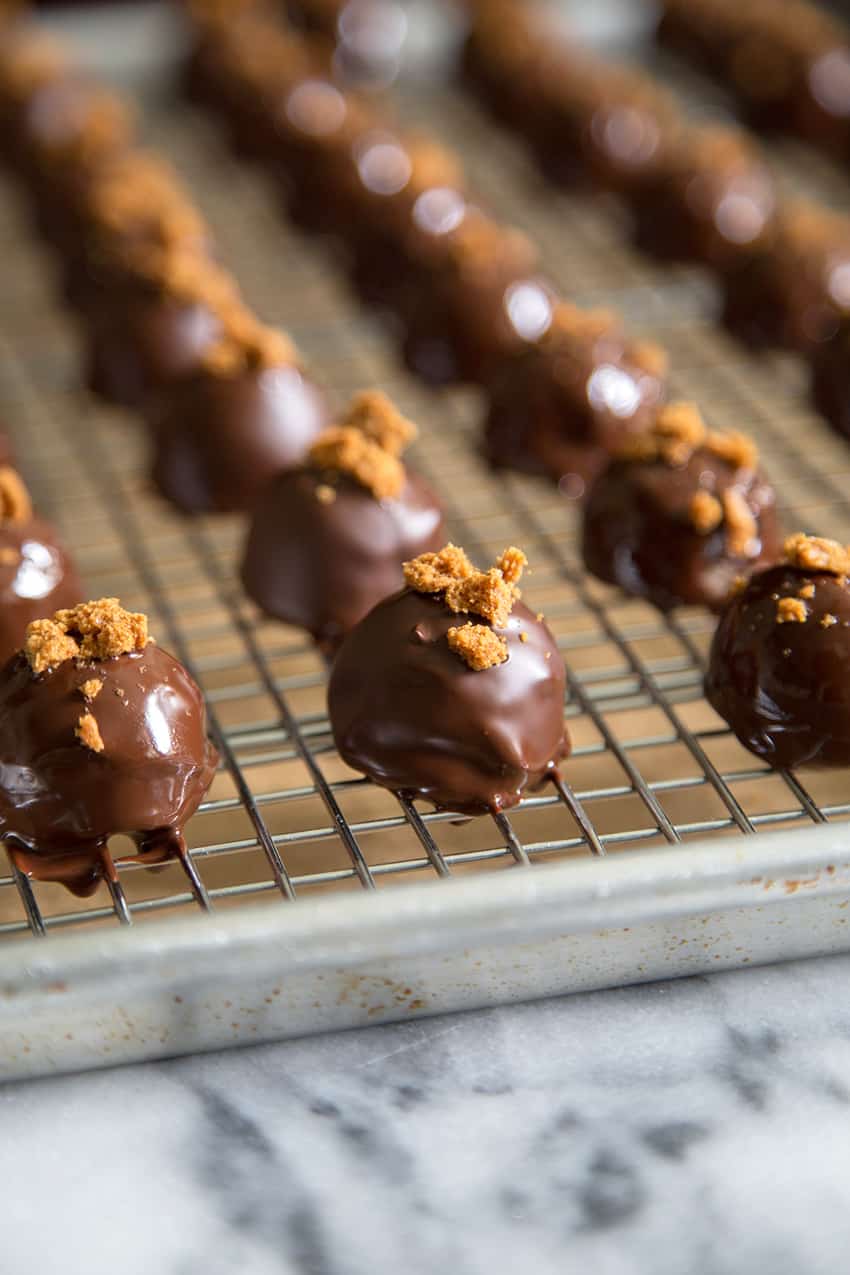 Storage and Tips:
Ensure the cookie butter balls are fully chilled before dipping in melted chocolate.
Allow the chocolate coating to fully set before picking up cookie butter truffles with your fingers.
Layer truffles between sheets of waxed paper or parchment paper in an airtight container.
Truffles can be stored at room temperature for 3-5 days or kept in the fridge for up to two weeks.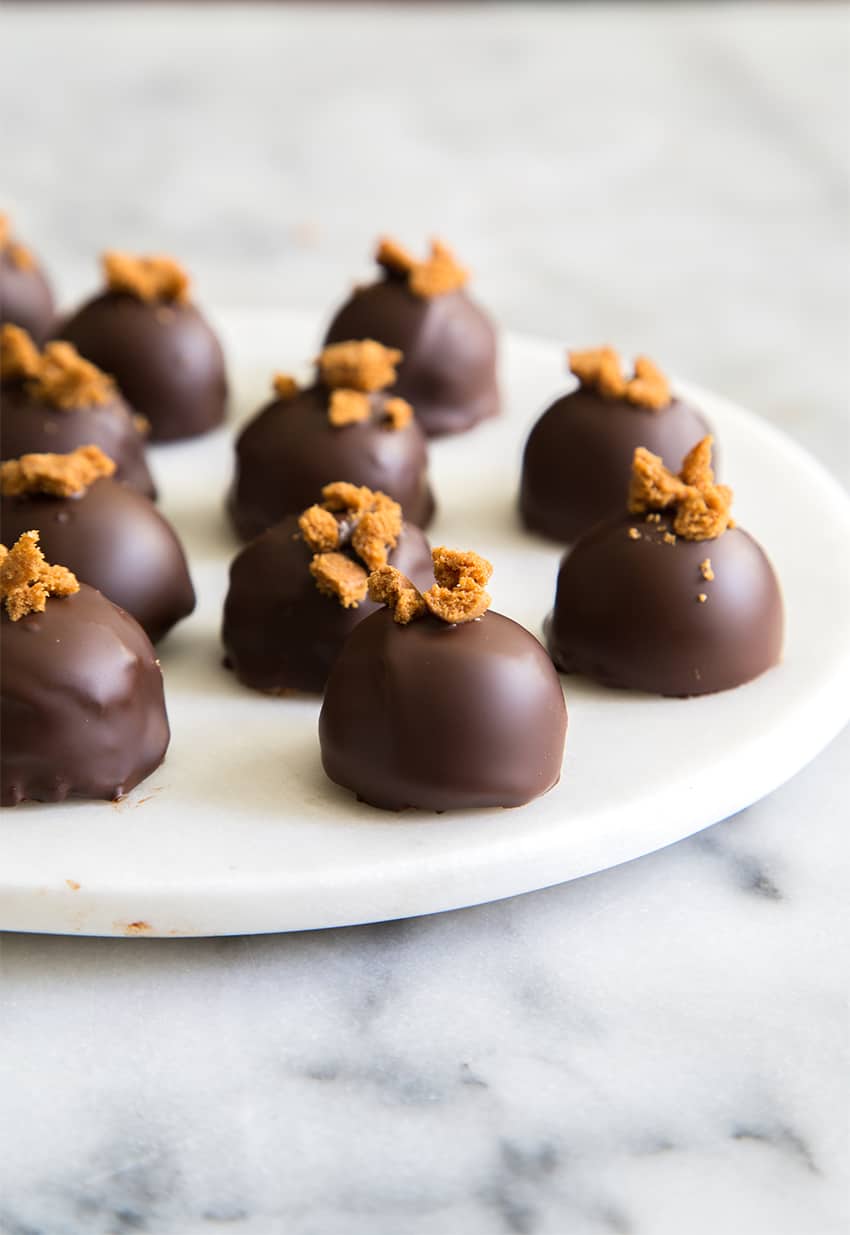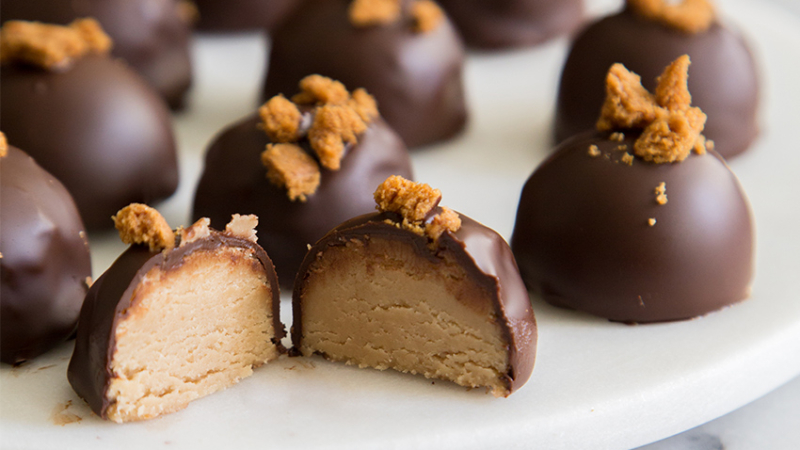 Cookie Butter Truffles
Sweet creamy cookie butter filling enrobed in silky dark chocolate. These cookie butter truffles are a rich and satisfying treat.Yield: makes 50 one-inch truffle balls
Ingredients
1 ½

cups

granulated sugar

½

cup

(4 oz) canned evaporated milk

½

cup

unsalted butter,

sliced into tablespoons

2

cups

mini marshmallows

½

cup

cookie butter spread*

pinch kosher salt
Chocolate Coating:
12

oz

dark or bittersweet chocolate,

chopped

2

Tablespoons

coconut oil

chopped speculoos cookies,

as needed to top truffles
Instructions
Generously butter the sides of a heavy bottomed pot (such as a Dutch oven). Combine sugar, evaporated milk, and butter in prepared pot. Set over medium-high heat, cook and stir mixture until boiling. Continue to cook until mixture reaches 200°F, stirring frequently to prevent burning.

Remove pot from heat. Stir in marshmallows, cookie butter, and salt. Transfer mixture into a large bowl. Cover and chill in the fridge for about an hour, until mixture is thick and pliable.

Line baking sheet with parchment paper or reusable silicone mat. Use a 1-inch cookie scoop to portion mixture. Shape into balls and place on prepared baking sheet. Freeze for 20-25 until cold.
Chocolate Coating & Assembly:
Place wire rack over parchment paper or wax paper. Set aside.

Combine chopped chocolate and coconut oil in a medium sauce pot. Set over low heat. Gently melt mixture. Stir often to prevent burning. Remove from heat once mixture is fully melted and smooth.

Using a fork, dip chilled cookie butter balls one at a time into melted chocolate. Let excess chocolate drip off. Place chocolate dipped cookie butter balls on prepared wire rack. Immediately top each truffle with crushed speculoos cookie pieces. Allow to chocolate to set before eating.
Notes
Storage: Truffle can be stored at room temperature in an airtight container for a few days. For longer storage, keep in the fridge for up to two weeks.