Slushy, fruity, and refreshing! This frozen strawberry margarita is reason to kick up your feet and party!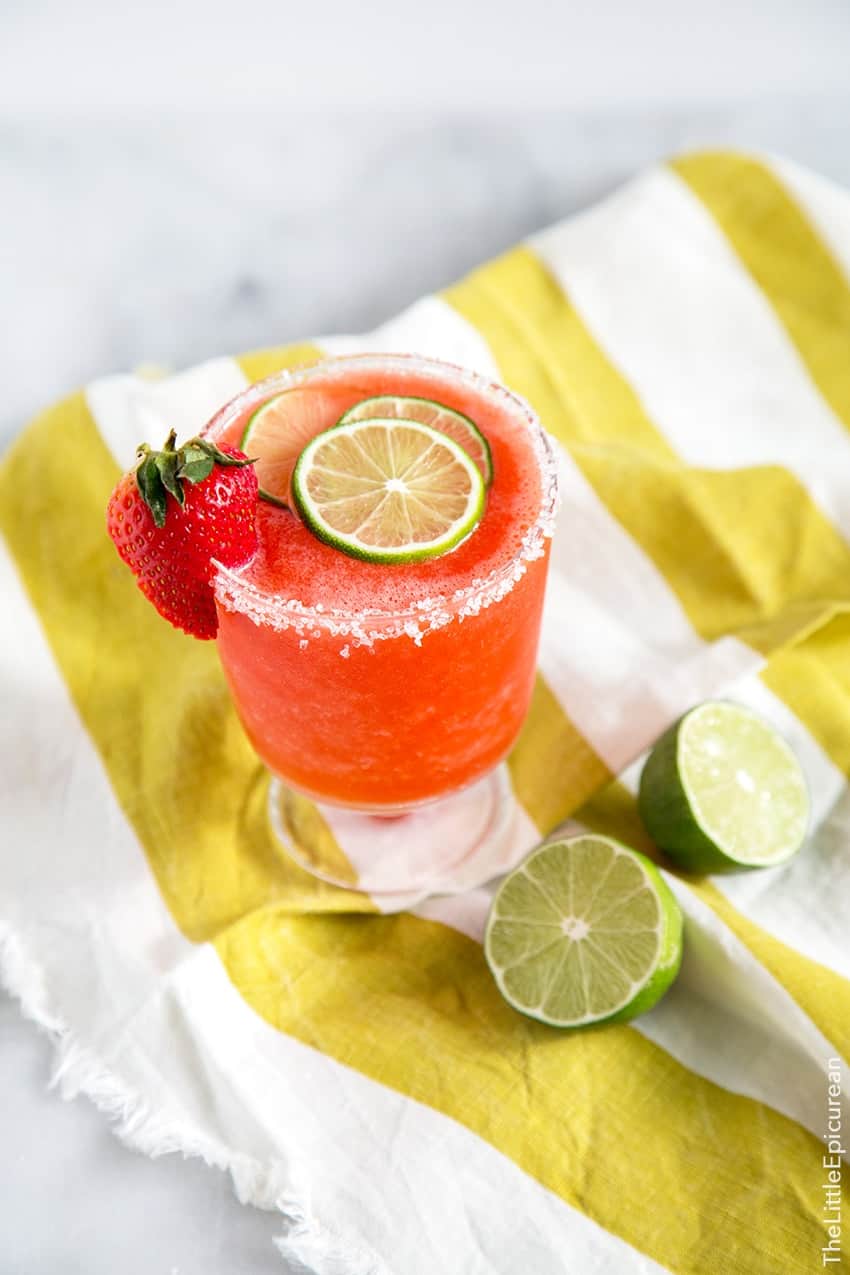 Happy Margarita Monday! With Cinco de Mayo this Thursday, I feel it's fitting to share a tequila based cocktail. But then again, Mexican food is a staple in my diet so margaritas are welcome any day of the week!
I started off this lovely Monday morning taking a little jog around the Rose Bowl. Once upon a time, I ran that 3.1 mile loop several times a week in preparations for 10Ks and half marathons. I haven't ran that trail in 6 months or so.
I had mentioned to my best friend that I'm not partaking in any running events this year because I'd like to have all ten toenails present come wedding day. (My last half marathon in September resulted with my big toe nail falling off around mile 10. TMI. Gross. I know, I'm sorry.) She says I should tweet that. I keep forgetting to do so. I will.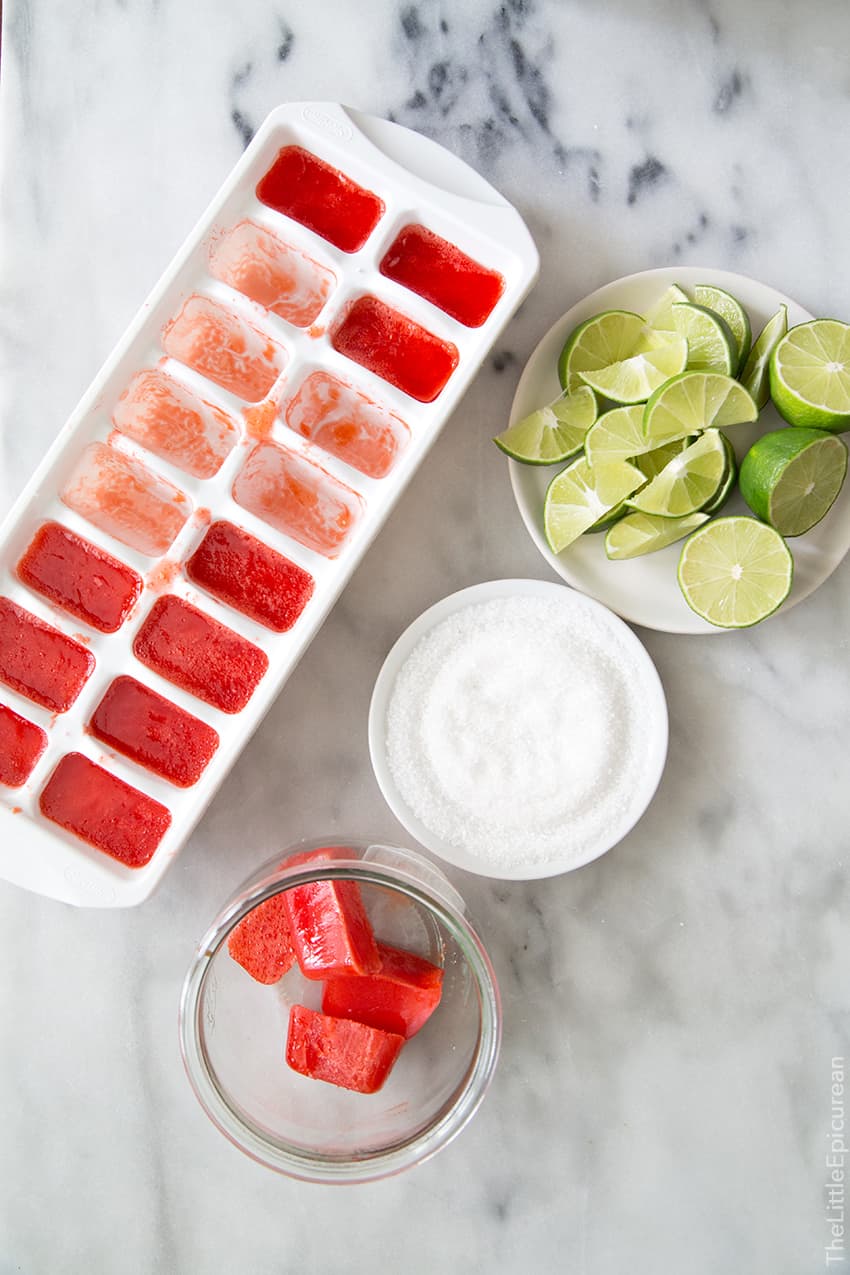 It felt really good to sweat, get my legs moving, and my heart pumping. However, after the first mile I was huffing and puffing. Somewhere after that point, I seriously contemplated turning around and walking back to the car. I stopped for a moment, caught my breath, and decided to keep going.
I'm not one to quit. Sure, I felt beat today, but I'm going to wake up early tomorrow and try again.
But for now, my legs are resting. It's Monday afternoon and we're having frozen strawberry margarita!
I made a ton of strawberry ginger limeade last week. I frozen the leftovers in ice trays. It's the best way to prolong the life of juices, smoothies, and the sort.
These frozen limeade cubes keep in the freezer for a week or two. Just enough time to make oodles of frozen strawberry margaritas.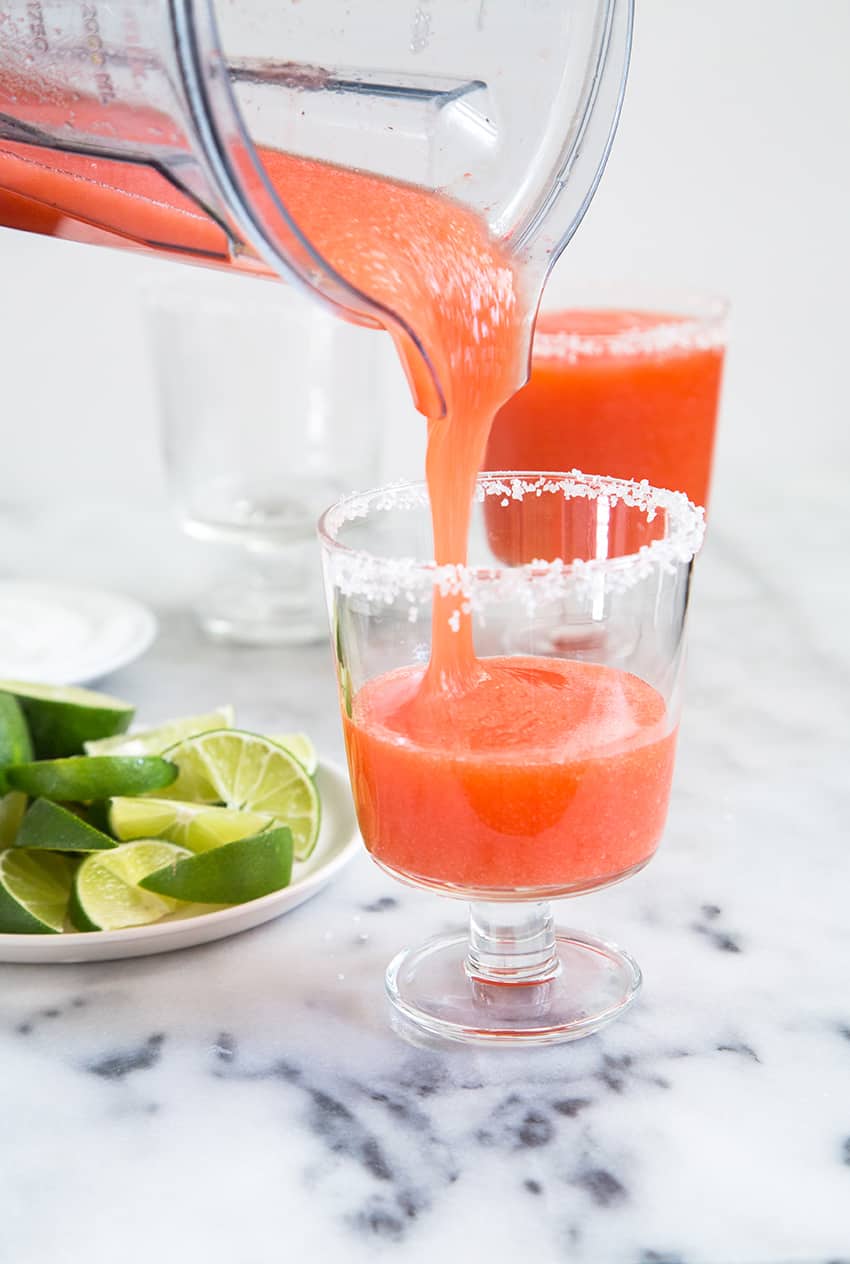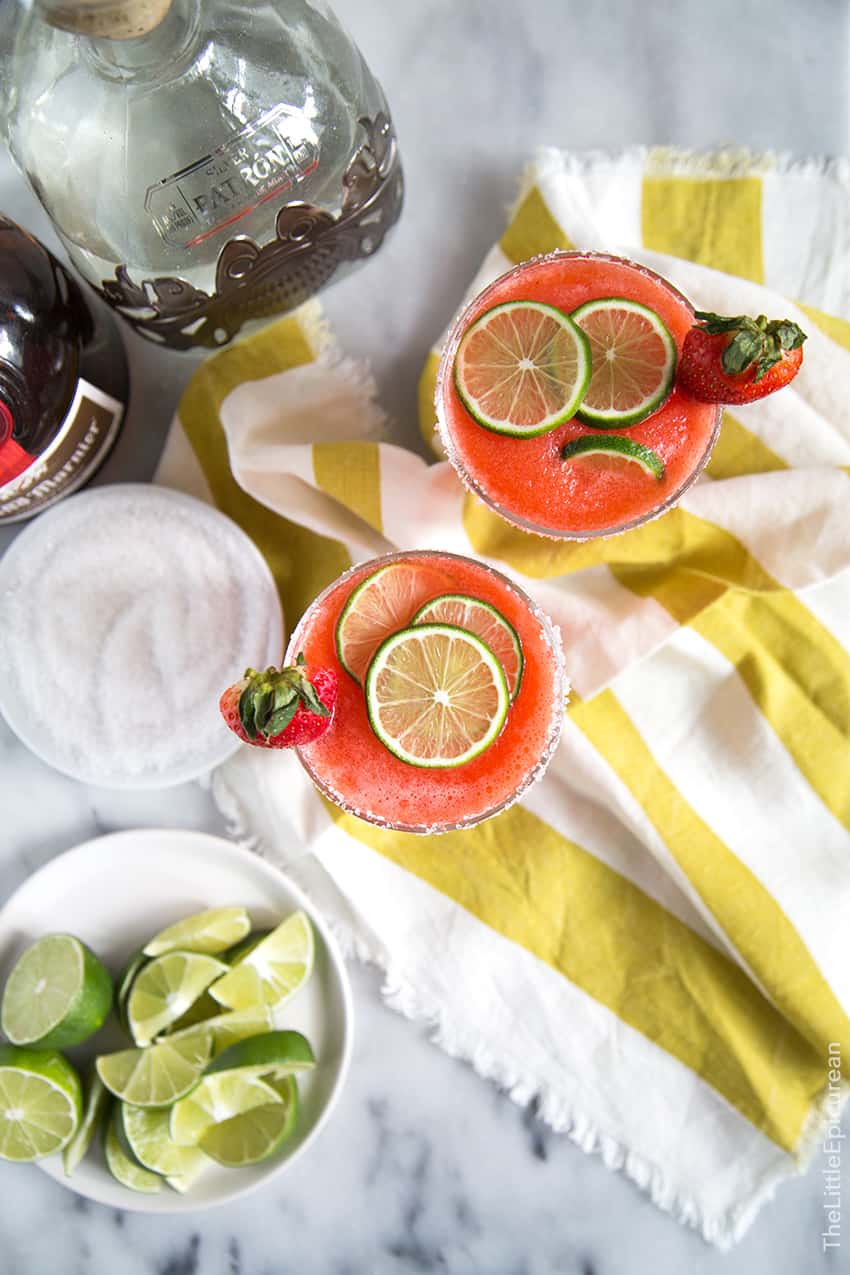 Instead of diluting your frozen margarita with a ton of ice, use frozen juice cubes to keep it tasty and slushy. This works with all frozen blended drinks. Sometimes when I make too much green smoothies, I'll freeze the leftovers and blend it into the following day's smoothie.
As the hot summer months approach, I need all the chilly drinks to keep me sane.
Cheers friends! Here's to an awesome week!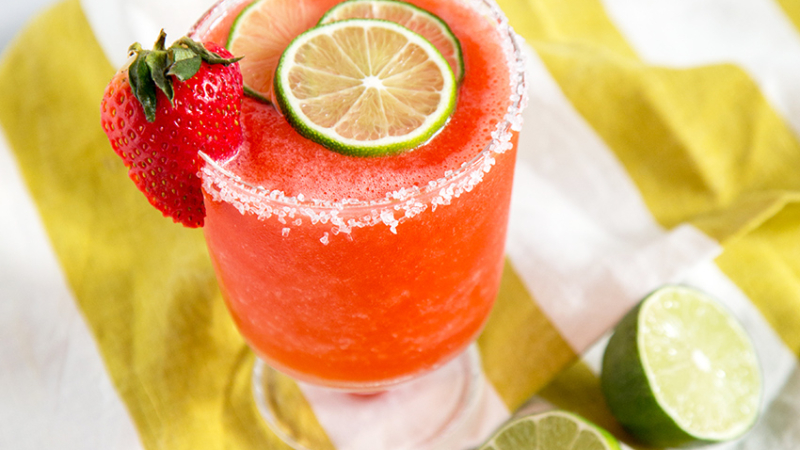 Frozen Strawberry Margarita
Yield: serves 2
Ingredients
2

cups

frozen strawberry ginger limeade cubes*

4

oz

silver or blanco tequila

2

oz

fresh lime juice

1

oz

orange cognac liqueur, like Grand Marnier

½

cup

ice

coarse sea salt, to rim glasses

fresh strawberries and sliced lime, to garnish
Instructions
Moisten rim of serving glasses with lime wedge. Invert glass into plate of coarse sea salt.

In a blender combine frozen strawberry ginger limeade cubes, tequila, lime juice, orange cognac liqueur, and ice. Process until smooth.

Pour slushy frozen margarita in prepared serving glasses. Garnish with strawberries and lime, if desired. Serve and enjoy immediately!