Tropical sangria slush combines frozen pineapple, mango, and papaya with white wine, elderflower liqueur, and calamansi juice for one delicious blended cocktail.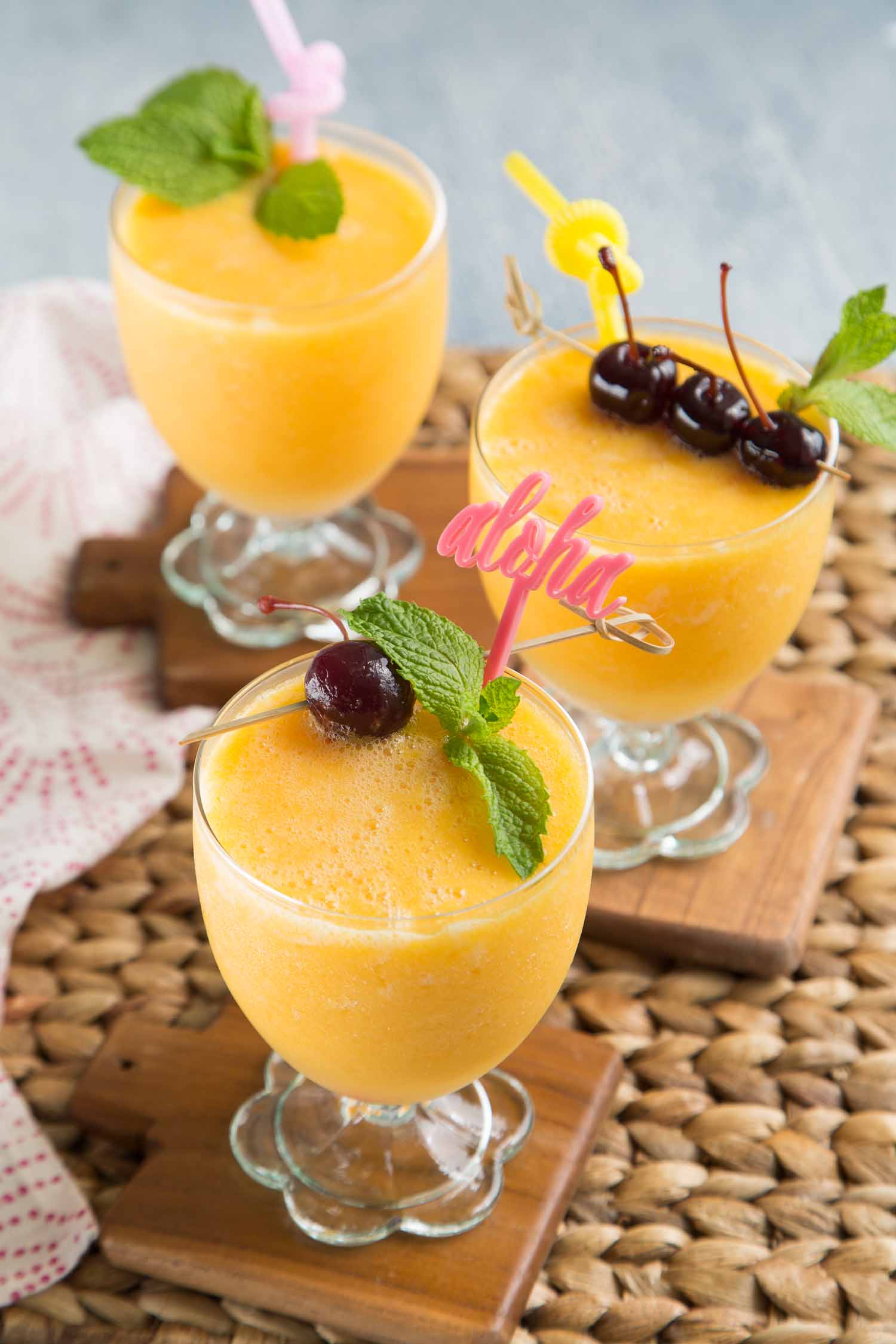 Skip the punch bowl and make sangria slush instead!
I was introduced to my first blended sangria a few summer ago. It was life changing.
While I'll always love a traditional sangria with alcohol soaked fruits, there's something so refreshing about a frosty blended beverage.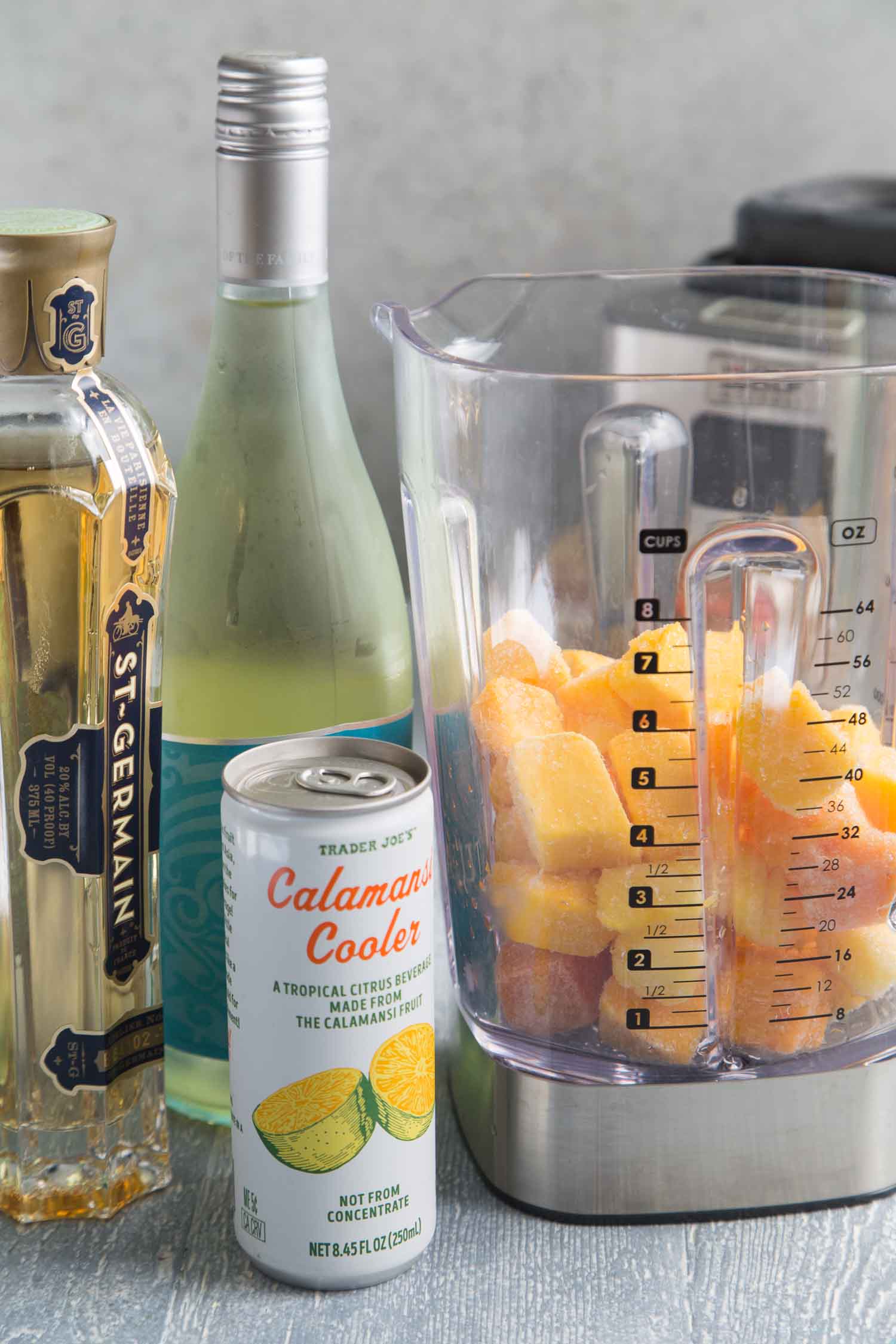 Tropical Blender Sangria
This tropical sangria slush combines a variety of frozen fruits with chilled white wine.
While any white wine will do, I highly suggest the Matua Sauvignon Blanc. This particular wine is tart, crisp, yet fruity.
It's flavors are reminiscent of passionfruit, making it a wonderful pair with the mango, pineapple, and papaya in this sangria. (I also used the same sauvignon blanc for: lychee sangria and ginger pineapple sangria slush.)
Unlike traditional sangrias that benefit from long soaking and steeping time, this blender sangria should be enjoyed as soon as possible.
Ingredients and Substitutions
The key to making slushie drinks is frozen fruits!
Fruit fruits give blended beverages texture without diluting it the way ice does. Best of all, the frozen fruits sold at markets were frozen at their peak- meaning they'll be sweet and tasty.
This recipe uses 2 cups of each frozen fruit: pineapple, mango, and papaya. Most supermarkets carry some blend of frozen tropical fruits. Find it in the frozen food aisle.
Feel free to adjust fruit ratio to your liking. Skip the papaya, swap in dragon fruit. Focus on just pineapple! Just make sure you have a total of 6 cups frozen fruits for one bottle of wine.
What is calamansi juice?
Calamansi (also spelled kalamansi) is a tropical citrus fruit popular in the Philippines and Southeast Asia.
Calamansi juice is similar to lemonade and limeade. It's made by combining the juice with water and sugar. You can make it from scratch using this recipe, or find it pre-made in stores. Trader Joe's sells the the can photographed above.
What if I can't find calamansi juice?
Don't fret. You can substitute in canned pineapple juice. The slush will taste a little sweeter, but at least it'll still be "tropical." (I've tried it with pineapple juice and it's just as tasty and refreshing.)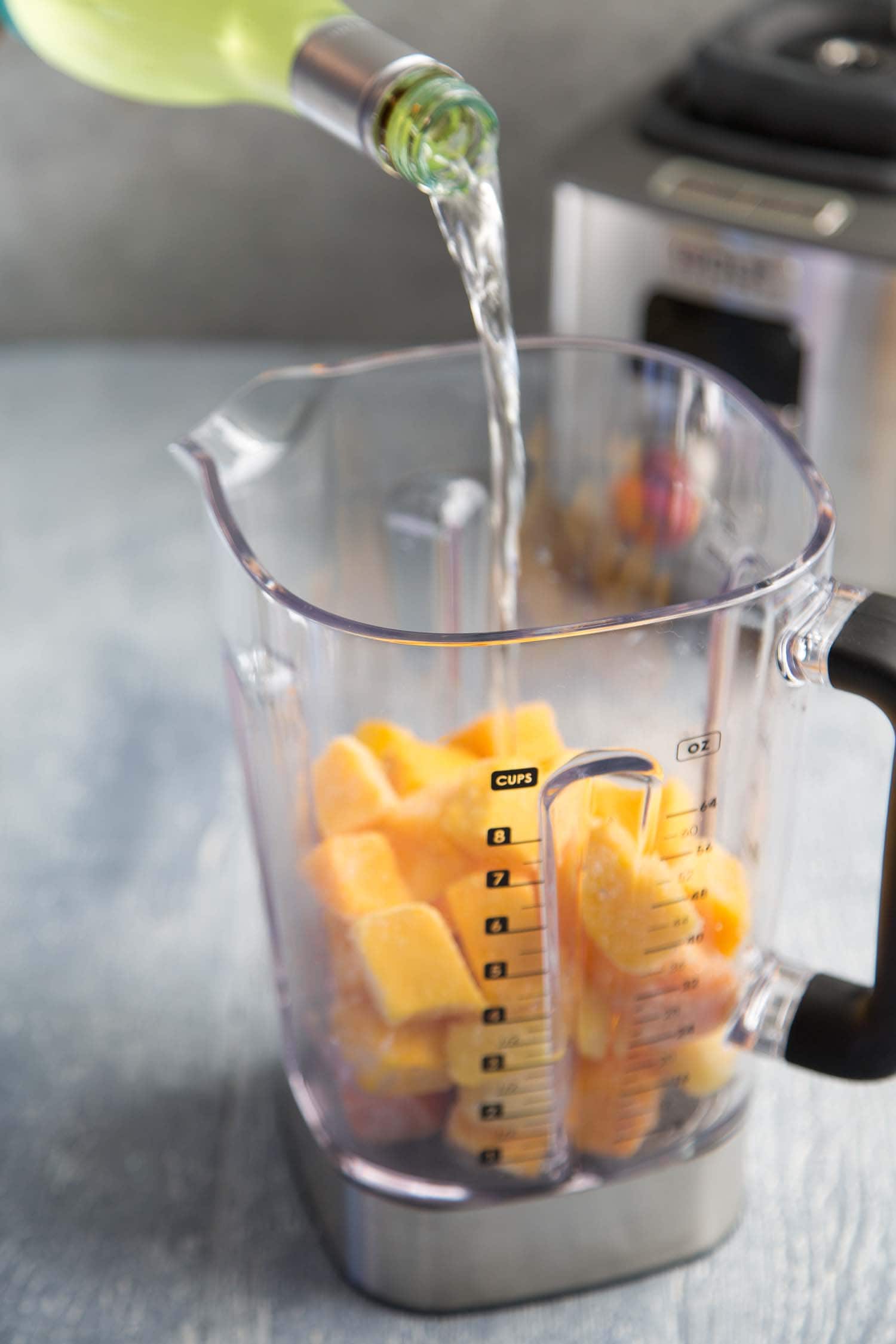 Elderflower Liqueur
The final ingredient that rounds out this tropical sangria slush is elderflower liqueur. Elderflower is most popular in Western Europe. However, the flowers grow in Europe, Africa, and Asia.
I like to add it to tropical drinks because elderflower smells and tastes very similar to lychee.
The elderflower adds a sweet honey blossom flavor. Once you try it, you'll want to start adding a splash to everything- lemonade, iced tea, etc.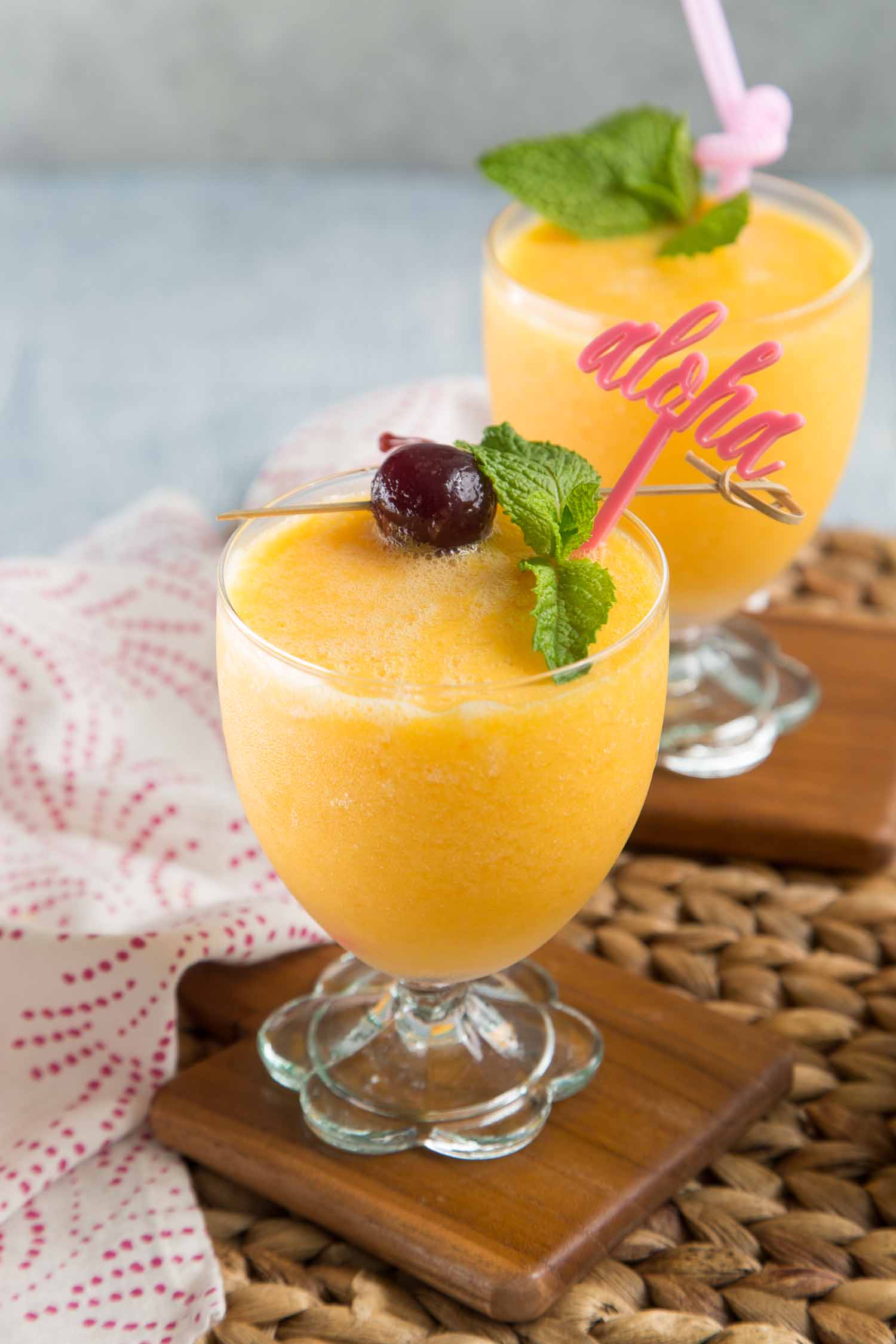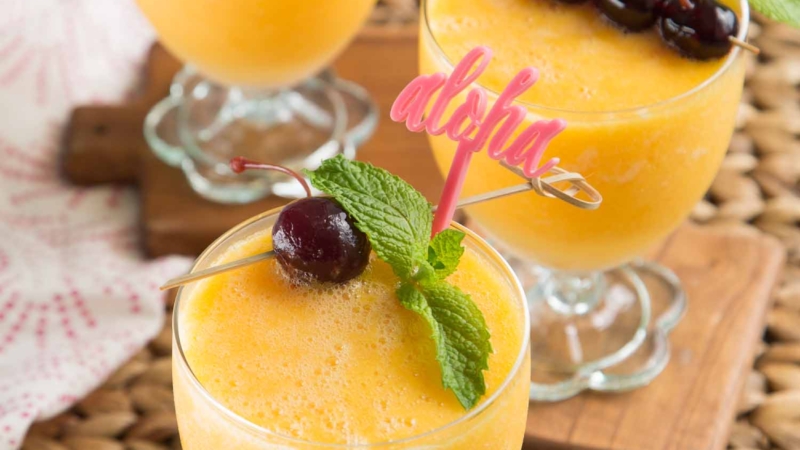 Tropical Sangria Slush
This tropical sangria slush is made from a combination of frozen pineapple, mango, and papaya blended with white wine, elderflower liqueur, and calamansi juice. Yield: makes about 7 ½ cups
Ingredients
6

cups

tropical frozen fruit mixture*

1-

750 ml

bottle Sauvignon blanc, chilled

⅓

cup

Elderflower liqueur (like St. Germain)

½

cup

calamansi juice*
Instructions
In a blender, process together frozen fruits, chilled wine, elderflower liqueur, and calamansi juice until smooth. Pour into serving glasses and garnish with maraschino cherries or mint. Serve immediately.
Notes
This recipe uses 2 cups of each fruit: pineapple, mango, and papaya. Feel free to adjust ratios to your liking. 
Ingredients must be cold in order to achieve that thick, slushie like consistency.
Store bought calamansi juice is usually sweetened. Calamansi juice is a Filipino lemonade-limeade hybrid. If you cannot find calamansi juice, to keep with the tropical flavors, substitute in canned no-sugar added pineapple juice. 
If your frozen fruits are not sweet, add agave or simple syrup to adjust sweetness of sangria to your liking. 
More Frozen Blended Drink Recipes