These watermelon margarita floats are a bright and refreshing summer entertaining beverage. With the addition of watermelon sorbet, these margaritas are more than just a cocktail!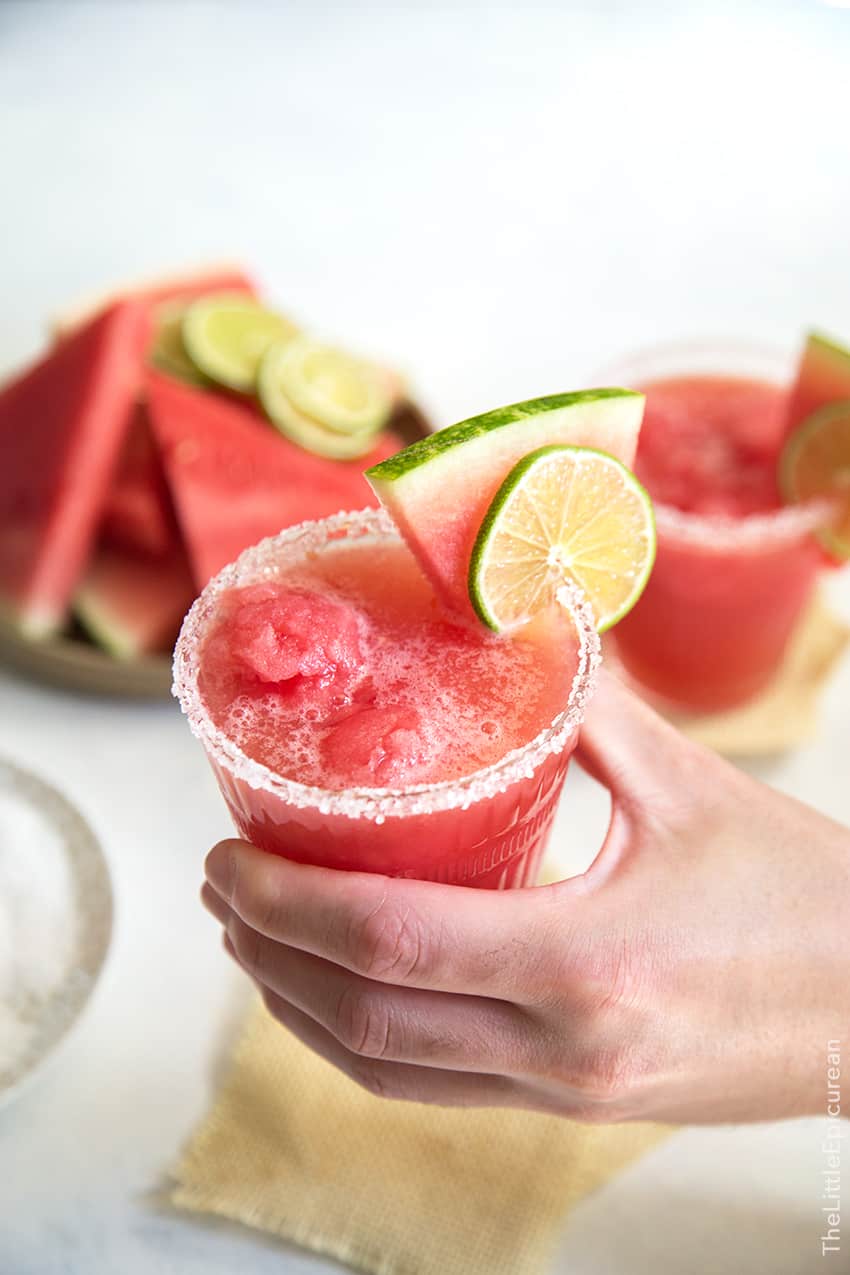 During the summer, there's nothing quite as refreshing as biting into a icy cold watermelon. Just thinking about watermelons already makes my mouth water.
What's the deal with watermelons these days? I can't seem to find watermelon WITH seeds anywhere. I miss the watermelons I ate as a kid studded with black seeds.
As a child, were you told that if you ate the seeds you'd grow a watermelon in your belly? Ever the skeptic, I ate dozens of seeds for verification. What did I learn? Adults lie to kids ALL THE TIME.
Nowadays it seems like seedless watermelons are all I can find. One day when I live in a house with a yard, I'll grow some heirloom variety of seeded watermelons. And I won't tell any future kids/nieces/nephews about the watermelon seeds growing in your belly story. I'll scare them into helping me with the garden/cleaning instead.)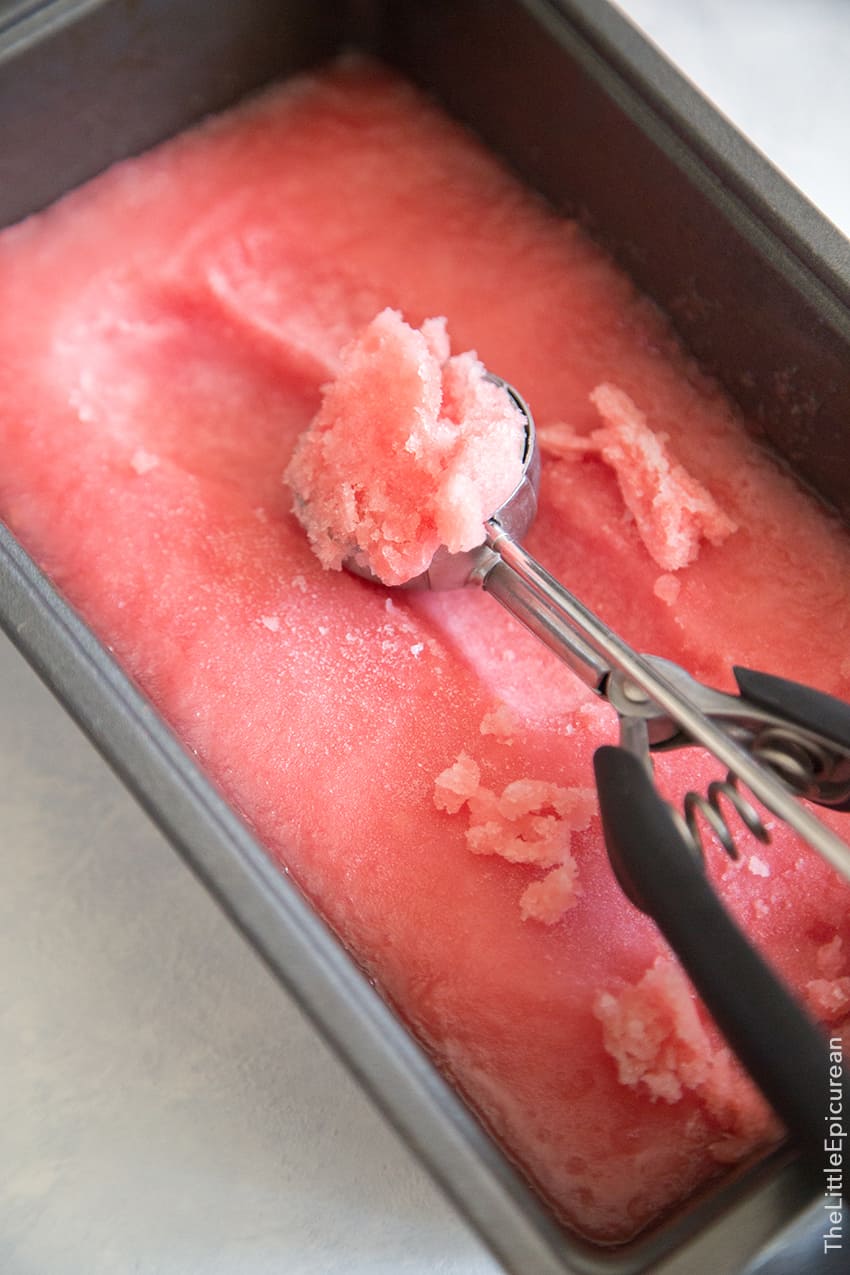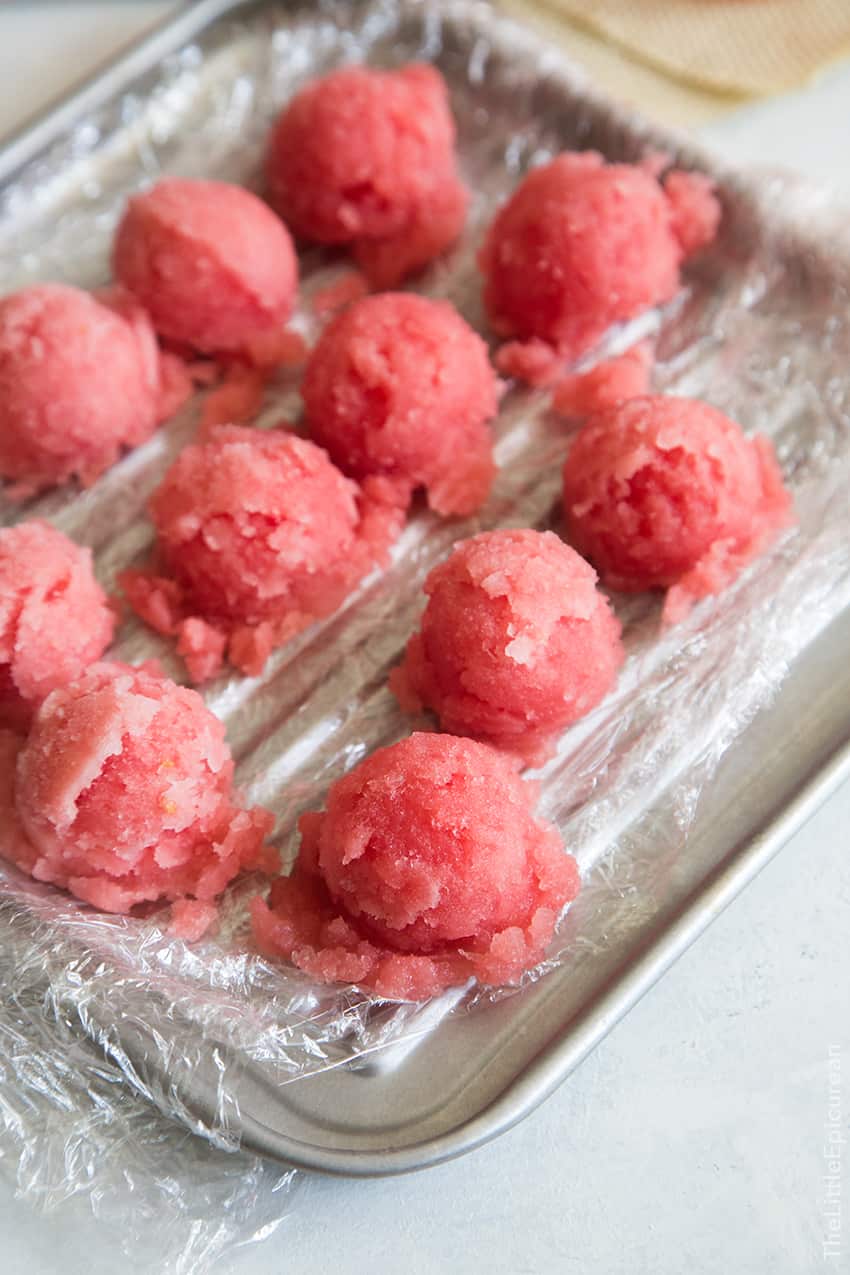 Here's the third cocktail float in my summer series!  We started with cucumber gin and tonic floats and followed with (my fav!) grapefruit greyhound floats.  Today, the California girl in me rejoices because it's time for watermelon margarita floats!
I've taken this fresh lime margarita and amped the flavors with watermelon juice and watermelon sorbet.
While I think the seeded watermelons are far superior, seedless watermelons do have their shining moments. Seedless watermelons are perfect for juicing, smoothies, and sorbets.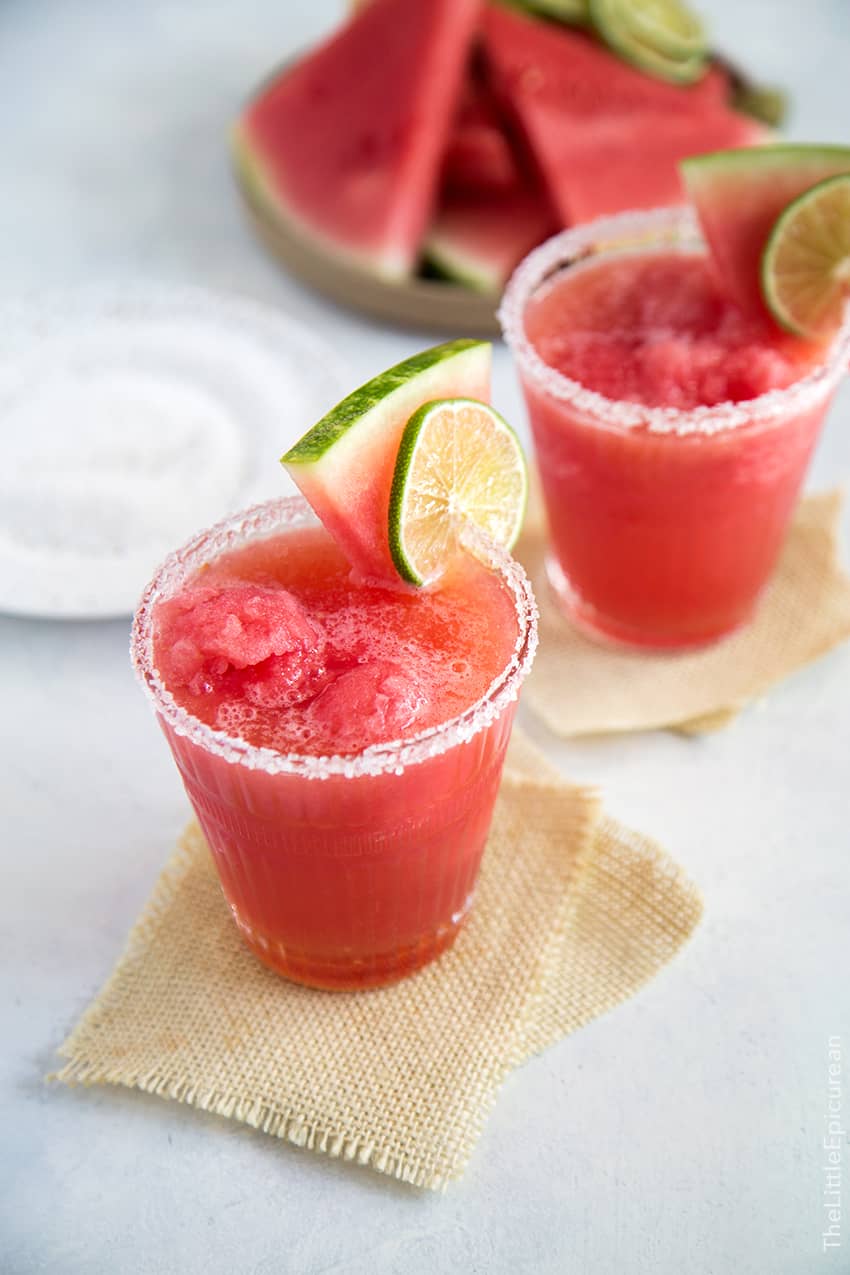 Not only this cocktail float delicious (Alex finished his in record time), it "feels" hydrating. For me, anything with watermelon during summertime is rejuvenating.
Whether you'll be spending your weekends lounging by the pool or plopped on the couch watching Parks and Recreations marathons (like me), you'll need this juicy, boozy, and pretty cocktail in hand.
For the kids and non-drinkers, you can float the watermelon sorbet in Sprite, 7-Up, or ginger ale. It tastes fantastic!
Watermelon Margarita Float
Yield: serves 1, multiply as needed
Ingredients
Watermelon Margarita Float:
2

oz

tequila

1

oz

fresh squeezed lime juice

2

oz

watermelon juice*

1/2

oz

Grand Marnier, or orange-cognac liqueur

1

Tablespoon

agave syrup

3-4

scopps

watermelon sorbet (recipe follows)

coarse sea salt, to rim glasses

watermelon slices and lime wedges, to garnish
Watermelon Sorbet:
3

pounds

cut seedless watermelon*

3/4

cup

granulated sugar

3

Tablespoons

fresh squeezed lime juice
Instructions
Moisten the rim of serving glass with a lime wedge. Invert glass into a plate of coarse sea salt. Twist glass to ensure it is thoroughly coated with salt.

Turn glass right side-up. Pour in 2 oz tequila, 1 oz lime juice, 2 oz watermelon juice*, and Grand Marnier. Add agave syrup and stir to combine.

Add 3 to 4 scoops of watermelon sorbet to glass. Garnish with watermelon slice and lime slice. Enjoy immediately!

Watermelon Sorbet:
Place seedless watermelons in a food processor. Pulse until smooth. Add sugar and lime juice and process until combined.

Transfer to an airtight container and let chill in the fridge until cold (1-24 hours).

Pour half of mixture into ice cream maker unit. Reserve remaining half of mixture and use as "watermelon juice*" for the margaritas. Freeze mixture in ice cream maker according to your unit's instructions. Process until mixture has reached a soft serve consistency. Transfer to a freezer safe container and leave in the freezer for at least 4 hours before serving. Allow to sit at room temperature for 5 minutes before scooping and serving.

Notes
3 pounds watermelon refers to weight after removing the rind. 
"Watermelon juice"refers to watermelon sorbet liquid mixture. 
All images and text © The Little Epicurean