Funfetti cinnamon rolls frosted with sweet cream cheese. With the addition of colorful sprinkles, classic cinnamon rolls are elevated to a whole new level of fun and excitement.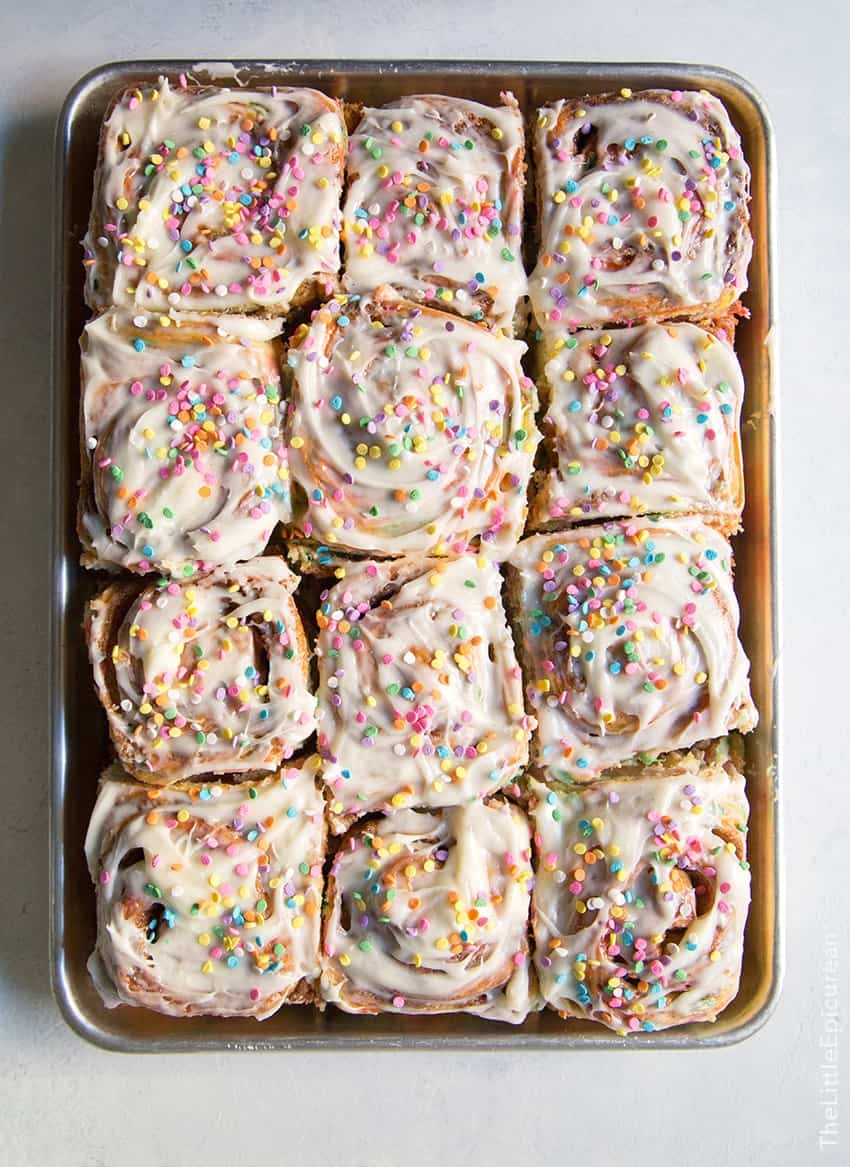 Within the past few years we have seen fried croissants, rainbow bagels, and over the top milkshakes. It's time to put a fun spin on cinnamon rolls. Since it's my birthday week, we're adding sprinkles!
My funfetti obsession began last year when I made this funfetti doughnut cake for my 30th birthday. It looks like my 30s will be fondly known as "the confetti decade."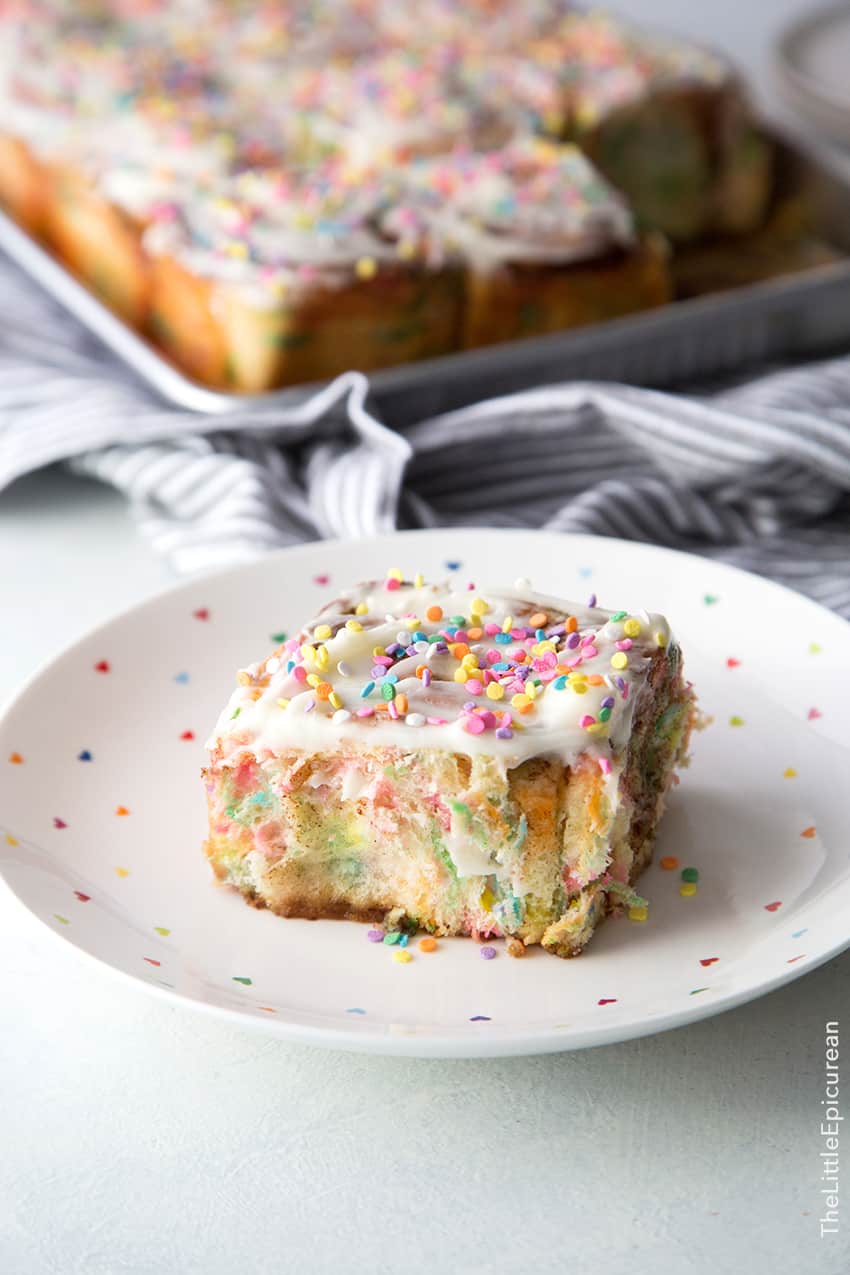 Funfetti Cinnamon Rolls
On the outside, these look like your average cinnamon rolls simply sprinkled with confetti on top. But once you grab a slice, you'll notice the all the color hidden on the inside.
Upon first meeting me, I'm rather quiet and introverted. It's not until you spend one-on-one time with me that you'll get to see the more bubbly, opinionated, and talkative side of me. I think these funfetti cinnamon rolls are a great representation of who I am right now!
How to make funfetti cinnamon rolls: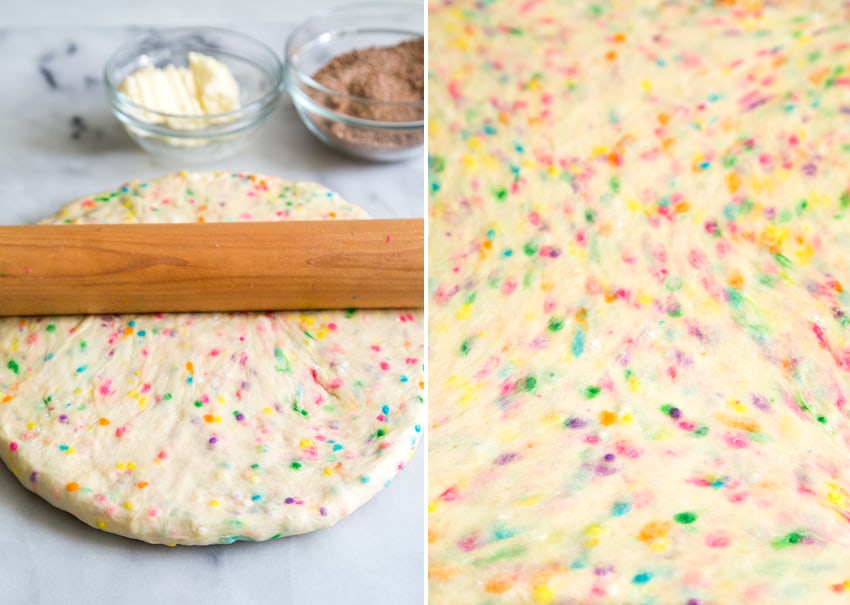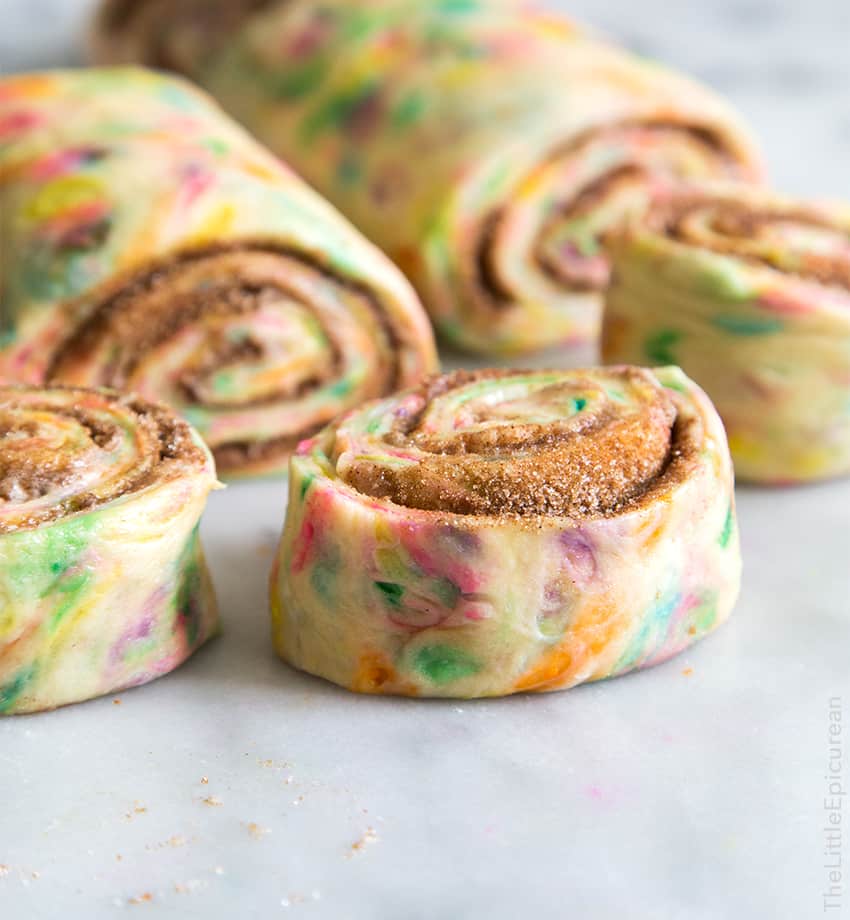 There are quite a few confetti/funfetti cinnamon rolls out there. Most of them add the sprinkles to the filling. I wanted to do something different. I added the sprinkles to the dough! And it turned out better than expected.
After dough has time to proof, the confetti sprinkles dissolve into the dough. You end up with this very cool tie-dye effect. (The mixture of colors remind me of rainbow sherbet!)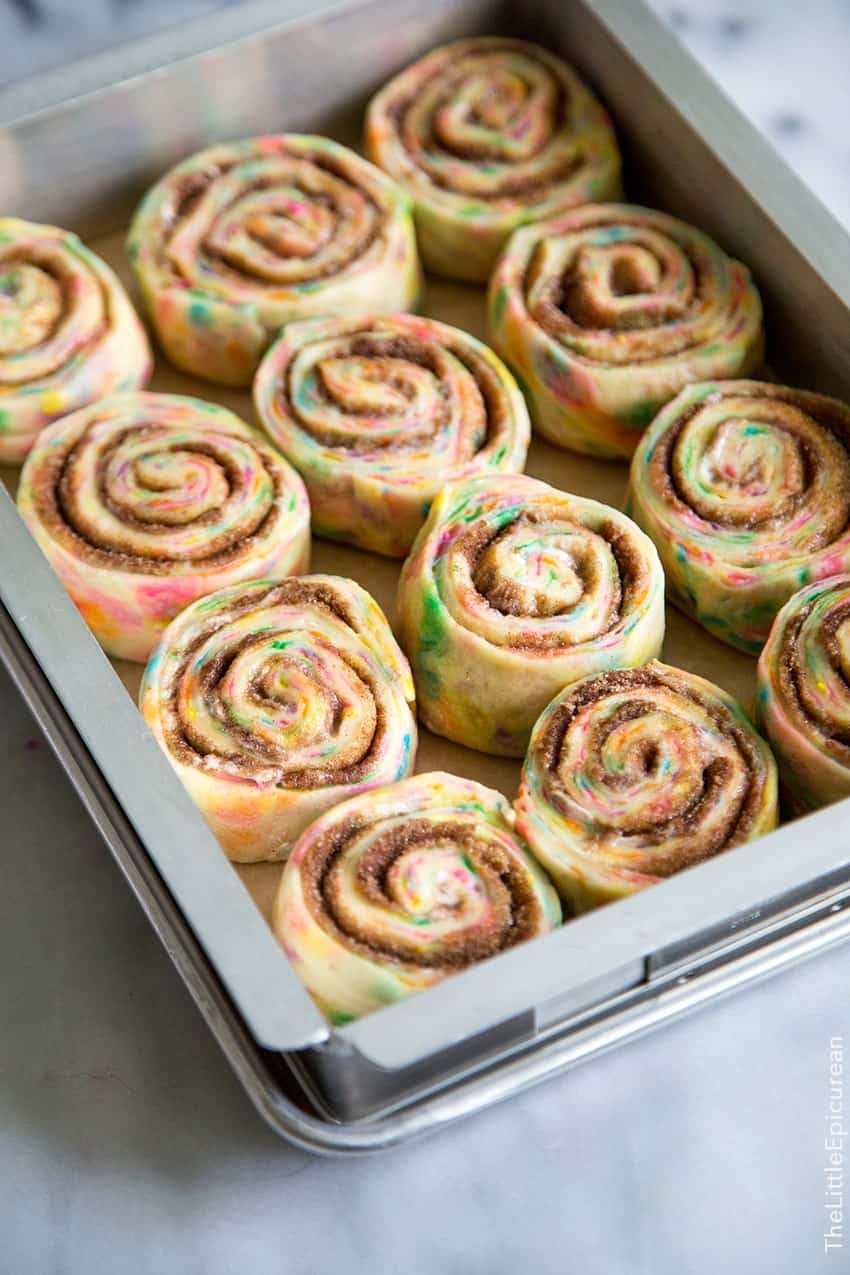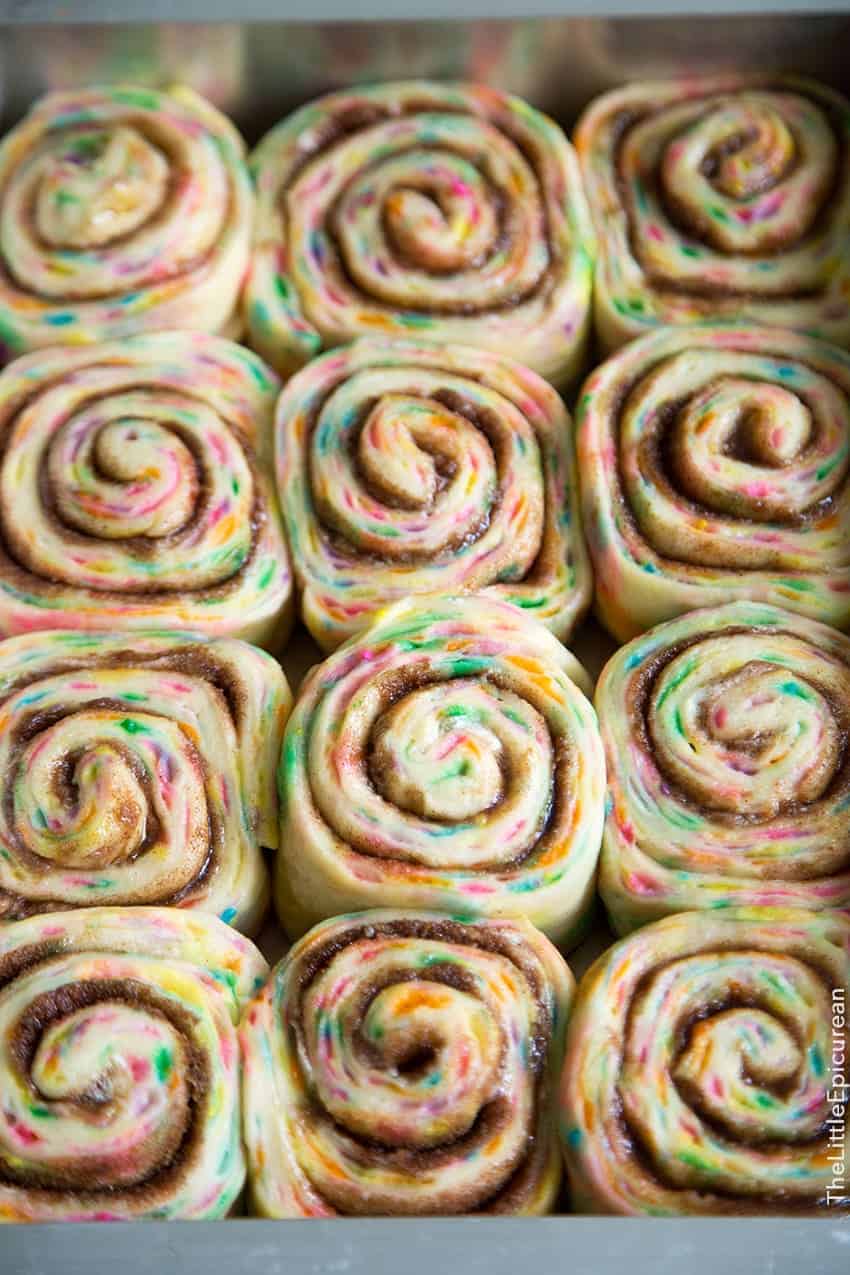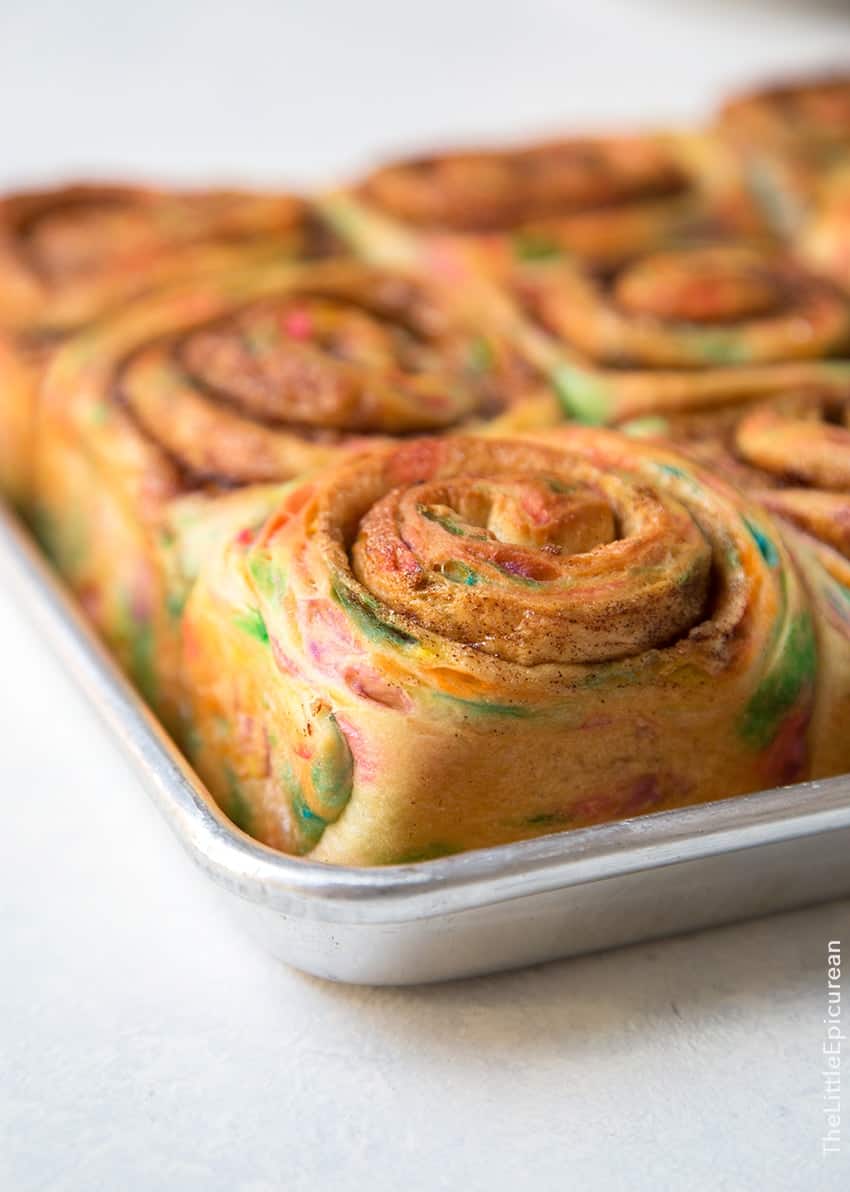 Even after baking, the colors will still peak through the dough. All the drama and excitement is further heightened once you start slicing into the cinnamon rolls.
Do it matter what kind of sprinkles you use?
YES. IT DOES.
Nonpareils
These "round sprinkles" will not work. There are tiny white balls coated with color. The color will rub off the dough and you will end up with strange crunchy bits in the baked rolls.
Jimmies
Also known as "cylinder sprinkles." These sprinkles are also coated with color. While they make dissolve a little slower than nonpareils, they're still a bad choice.
Sanding Sugar
These crystal sugar sprinkles will simply dissolve into the dough. You'll end up with grey color dough. No one wants that, unless you're going for a spooky Halloween themed cinnamon roll…
Confetti Sprinkles
YES. These are the sprinkles you need. As the same suggests, these sprinkles look like round paper confetti.
Sometimes they are called "confetti quins." They come in all sorts of different confetti shapes: from traditional circles to flowers to stars and more.
(I buy my pastel colored confetti sprinkles from Smart and Final.)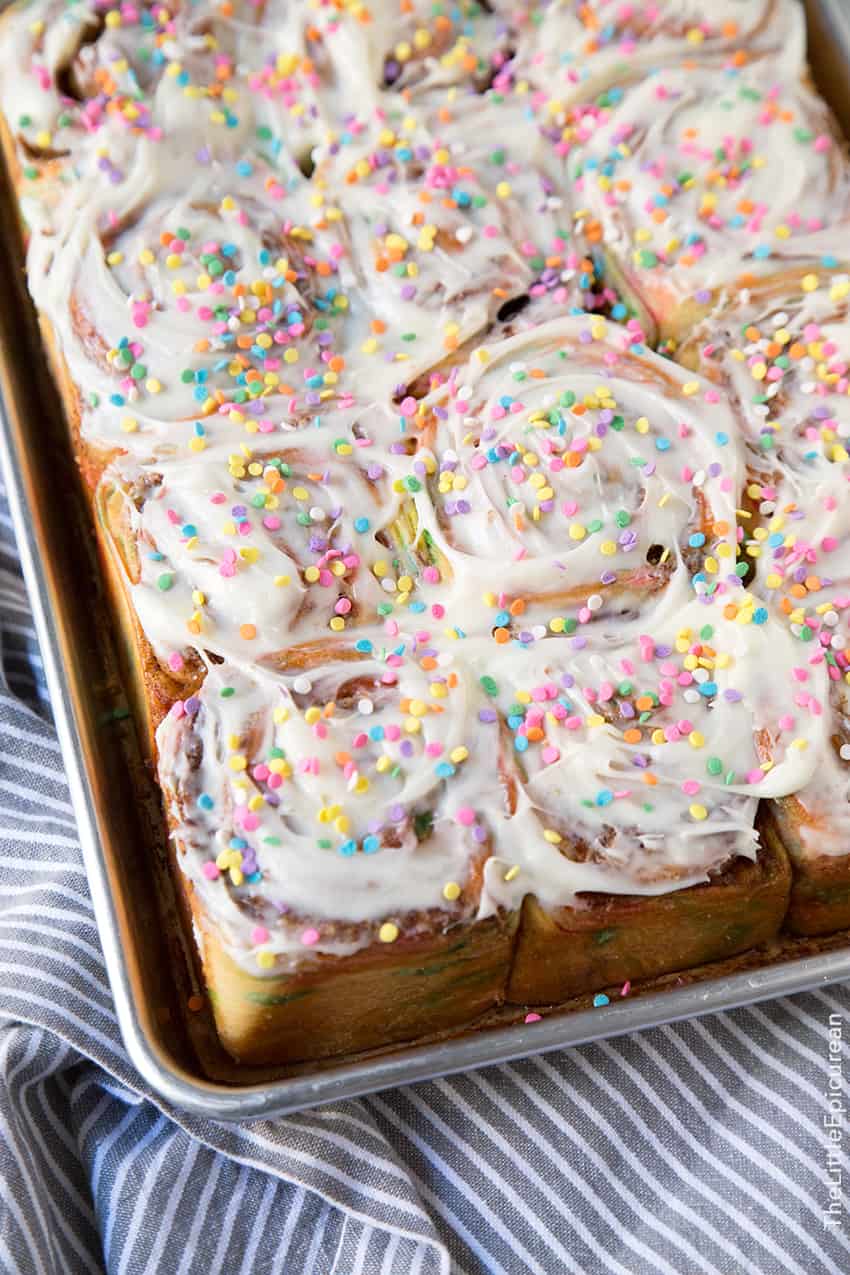 Cinnamon rolls have always been one of my favorite treats. In all honesty, if given the choice between cake or cinnamon rolls for my birthday, 80% of the time I'd pick the cinnamon rolls.
From the way they smell baking in the oven to the natural smile that appears on my face after devouring a roll, cinnamon rolls bring me much joy. Plus, they're the dessert that I enjoyed eating with my dad the most.
In a world where rainbow bagels exist, it's only natural to have colorful funfetti cinnamon rolls as well!
Funfetti Cinnamon Rolls
Ingredients
Funfetti Dough:
1/2

cup

warm water, about 110°F

1/2

cup

whole milk, room temperature

2 1/4

teaspoon

dry active yeast

1/4

cup

+ 1 Tablespoon granulated sugar

1

large egg

1

large egg yolk

1

teaspoon

fine sea salt

4

cups

all-purpose flour

5

Tablespoons

unsalted butter, room temperature

1/2

cup

confetti sprinkles (I used pastel colors)
Cinnamon Sugar Filling:
1/3

cup

unsalted butter, softened

1/3

cup

granulated sugar

1/3

cup

dark brown sugar, packed

1

Tablespoon

ground cinnamon

pinch fine sea salt
Cream Cheese Frosting:
4

oz

cream cheese

1/4

cup

unsalted butter, room temperature

1 1/2

cup

powdered sugar

pinch fine sea salt

additional confetti sprinkles, to garnish
Instructions
Dough: Sprinkle yeast over water and milk. Add 1 tablespoon sugar and stir to combine. Let sit for 5-7 minutes to allow mixture to bubble and active.

In the bowl of a stand mixer, whisk together yeast mixture, remaining sugar, egg, and egg yolk. Whisk salt into flour. Add 2 cups of flour to mixing bowl. Use the dough hook attachment to mix together. Add another 1 cup of flour. Continue to knead on low speed, add softened butter 1 tablespoon at a time. Add remaining cup of flour and knead until the dough is smooth and cleans the sides of the bowl. Add confetti sprinkles and mix until evenly distributed in the dough.

Transfer dough to a lightly greased bowl. Cover with plastic wrap and let dough rest at room temperature for about an hour until double has doubled in volume.

Punch down risen dough. Transfer to a lightly floured working surface. Roll dough into a 20 x 14-inch rectangle. Spread 1/3 cup softened butter over dough.

Cinnamon Sugar Filling: In a bowl, mix together sugar, brown sugar, and cinnamon. Distribute cinnamon sugar filling and gently press into dough. Sprinkle sea salt.

Roll dough into a log, starting at the longer side. Slice the log into 12 equal parts. Place rolls in a greased 9 x 12-inch baking pan. Cover with plastic wrap and let rolls rest for 30-45 minutes at room temperature to allow rolls to rise.

Preheat oven to 350°F. Remove plastic wrap and bake rolls for 30-35 minutes until golden brown on top and the internal temperature of the rolls hit 185°F. Allow rolls to rest for 5 minutes to slightly cool.


Cream Cheese Frosting: Beat together cream and butter until smooth. Add sifted powdered sugar and beat until smooth and thickened. Spread over warm cinnamon rolls. Top rolls with additional confetti sprinkles, if desired.

All images and text ©The Little Epicurean