No churn funfetti ice cream bars dipped in dark chocolate and topped with funfetti sprinkles These funfetti ice cream bars are ideal for birthday parties.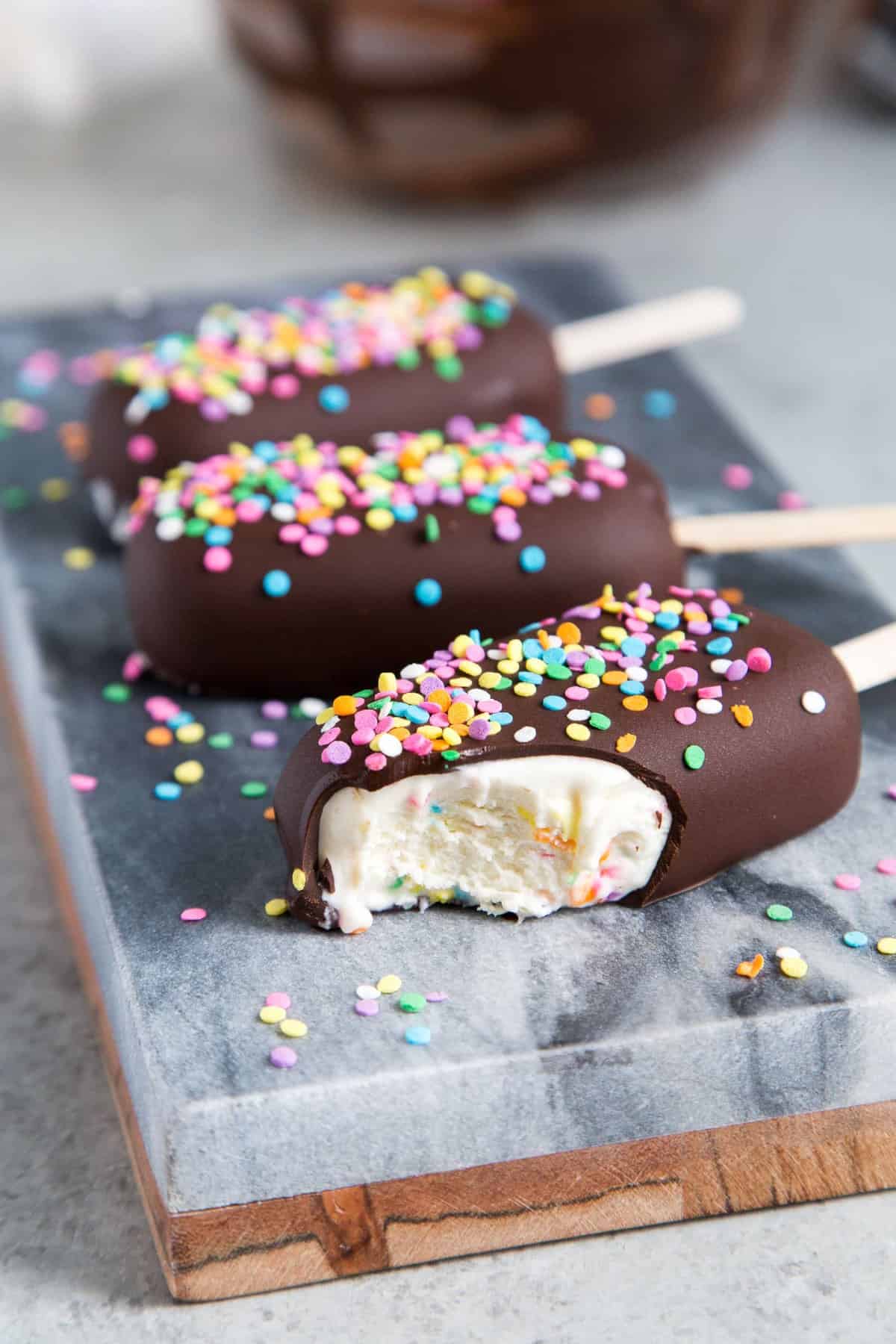 I remember the first time I had a Nestle Ice Cream Crunch Bar. Oh man, those were good. Then I moved on to Dove Ice Cream Bars. Even better. And then, I was introduced to Magnum Ice Cream Bars. Mind blown.
Chocolate Dipped Ice Cream Bars
Inspired by my favorite ice cream bars, I introduce you to a super easy homemade version that I'll be making quite often this summer: chocolate dipped funfetti ice cream bars!
Ever since sharing the no churn espresso dulce de leche ice cream a couple weeks ago, I've been on a no churn ice cream binge making all sorts of frozen goodies.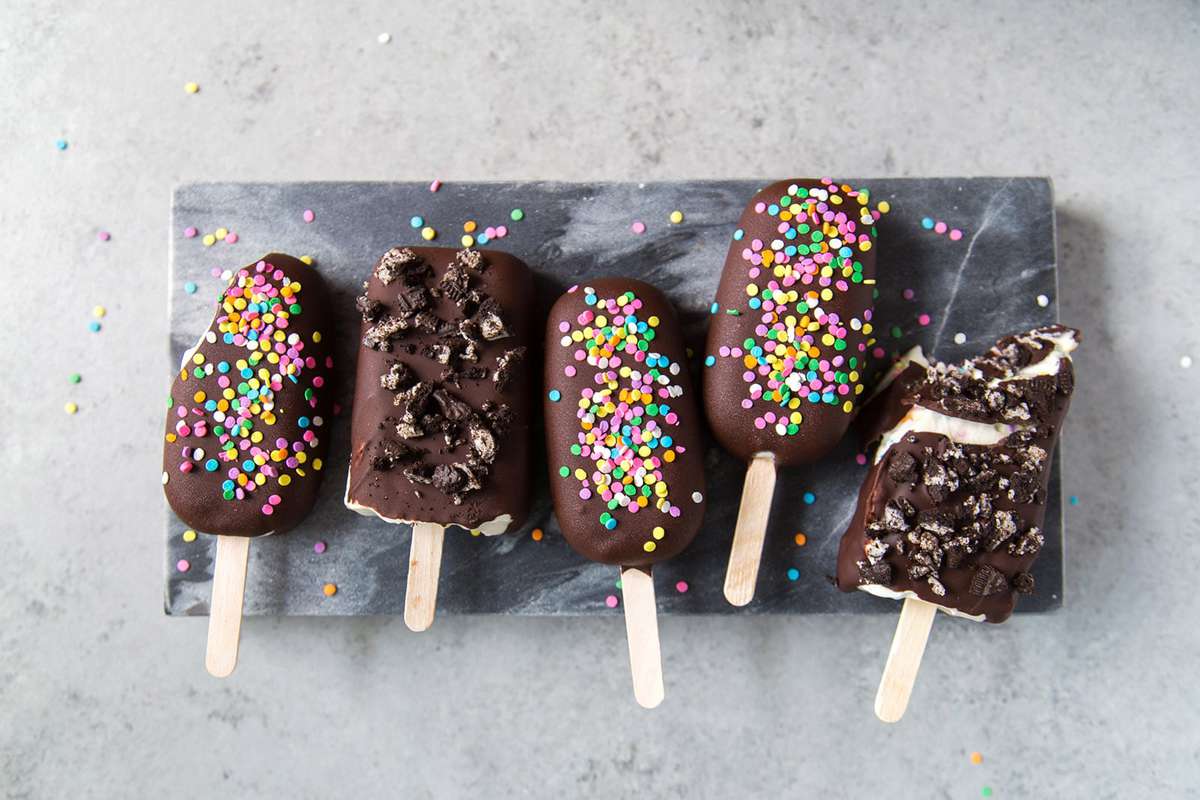 I'm all about the sprinkles these days because Alex and I are celebrating our birthdays very soon. What's more festive than confetti/funfetti/sprinkles? Maybe some chopped Oreos.
The funfetti ice cream bars have sprinkles on the inside and the outside! However, if you believe in such thing as too much sprinkles, chopped Oreos, cookies, or chocolate chips cookies are a fantastic substitutes.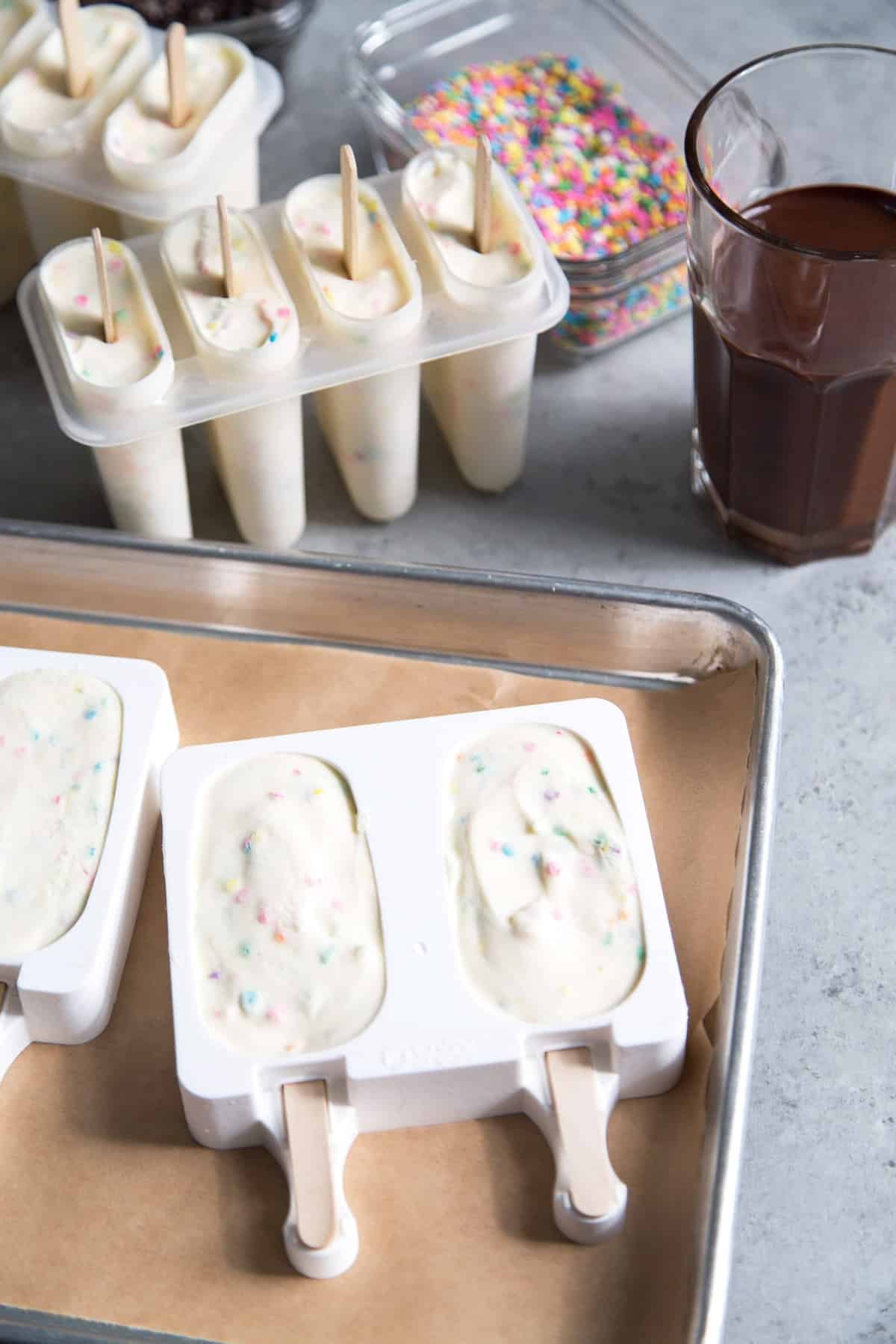 Recommended Silicone Molds
I bought these silicone molds years ago and totally forgot about them. Luckily, I stumbled upon them while cleaning out my kitchen gadget shelves. Now that I've used it, I am obsessed.
These silicone molds are easy to fill and even easier to unmold. Best of all, the silicone mold produces such clean lines. Asides from ice creams, you can use the mold for jello, gelatins, puddings, and popsicles. AND they're also oven safe!
Not interested in another kitchen gadget to add to the pile? No worries. This recipe also works for any standard ice pop mold. The rounded ones in the back I have photographed up were from the dollar section of Target a few years ago.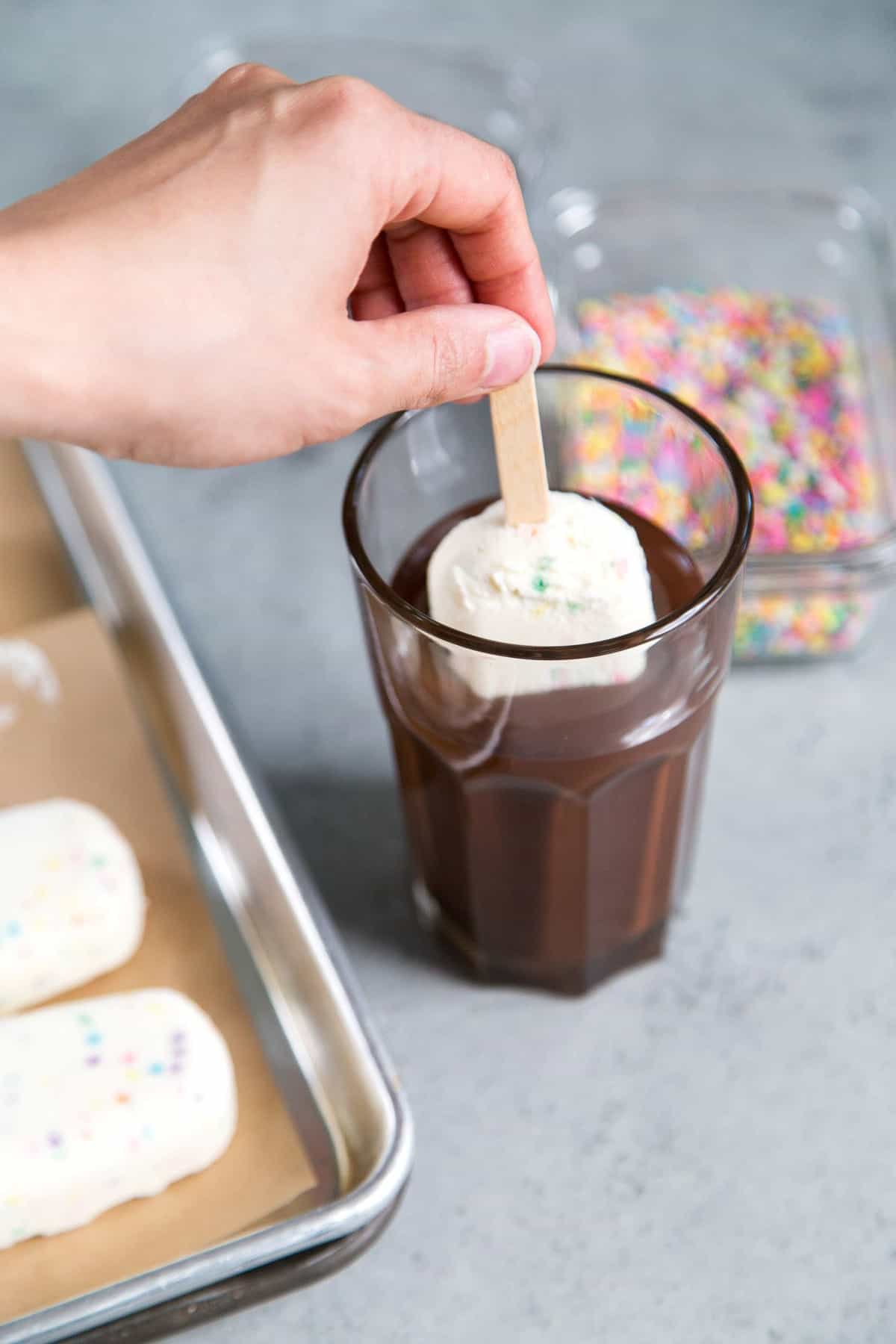 Chocolate Magic Shell Secret Ingredient
Coconut oil is the secret ingredient when it comes to coating frozen treats in chocolate. Coconut oil has a rather low melting point, turning into a liquid around 75 degrees Fahrenheit.
On the other end of the spectrum, coconut oil begins to solidify around room temperature. Melted chocolate mixed with coconut oil creates a silky, luscious chocolate sauce.
When frozen ice cream is introduced to the melted chocolate mixture, the coconut oil solidifies and hardens- thus, creating that nice chocolate "magic shell."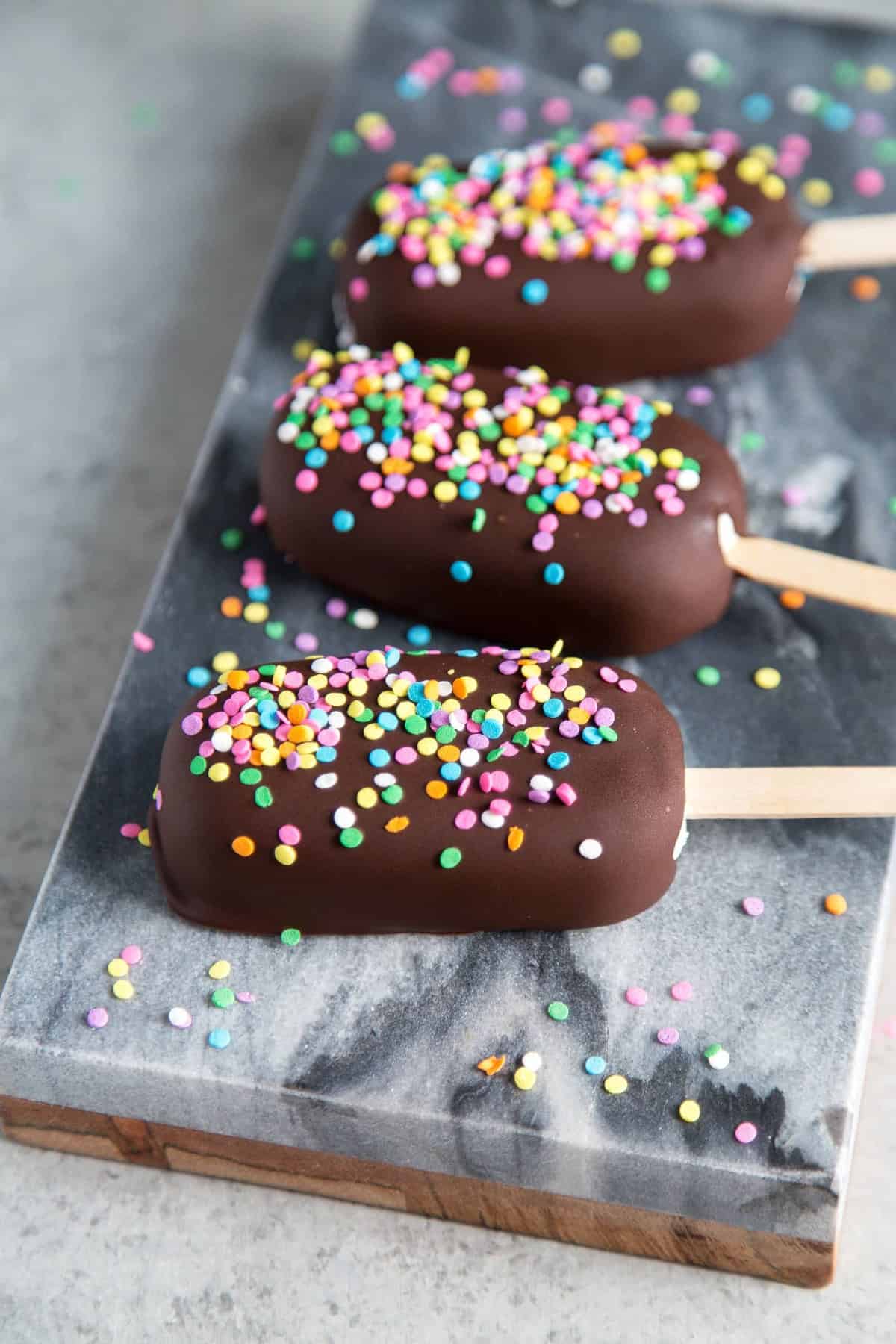 The recipe below produces a thick chocolate coating with nice snap. If you want a thinning chocolate shell, adjust the consistency by adding additional melted coconut oil to the melted chocolate.
(P.S. For a fun toasted almond chocolate shell, check out Oh, How Civilized's Matcha Ice Cream Bars.)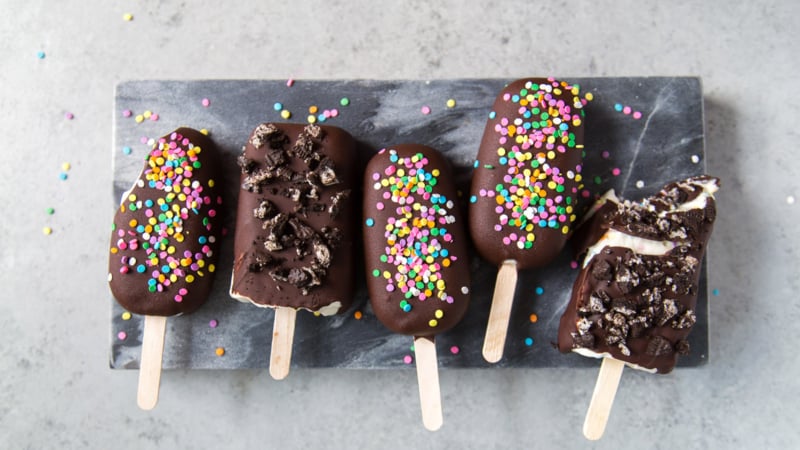 Chocolate Dipped Funfetti Ice Cream Bars
No churn funfetti ice cream bars dipped in dark chocolate and topped with funfetti sprinkles These funfetti ice cream bars are ideal for birthday parties!
Ingredients
Funfetti Ice Cream:
2

cups

heavy cream

cold

13.4

oz

can sweetened condensed milk

1

teaspoon

pure vanilla extract

½

cup

funfetti sprinkles

or desired sprinkles of choice
Chocolate Dip:
16

oz

dark chocolate (72%)

finely chopped

2

Tablespoons

coconut oil*

sprinkles or chopped Oreo cookies

as needed
Instructions
Funfetti Ice Cream:
Whip chilled whipped cream to soft peaks. Add condensed milk and vanilla. Continue to whip to stiff peaks. Fold in in sprinkles.

Fill ice cream bar molds with mixture and insert wooden stick. Freeze for at least 6 hours until solid. Overnight is ideal.
Chocolate Dip:
Combine chopped chocolate and coconut oil in a large bowl. Place bowl over a pot of simmering water. Make sure bowl does not touch water. Melt mixture gently and stir often to ensure even melting. Once mixture is smooth, pour into a tall drinking glass.

Assembly:
Unmold frozen ice cream bars. Dip in melted chocolate and immediately top with sprinkles. Enjoy immediately or keep frozen until ready to eat. Cover tightly in plastic wrap or keep in an airtight container in the freezer for up to two weeks.

Notes
I use these 

silicone ice cream bar molds

 from Amazon.
The chocolate dipping mixture will result with a thick chocolate shell. If you want the shell to be thinner, add additional tablespoons of coconut oil. To test thickness, dip a cold butter knife in chocolate mixture.
All images and text ©The Little Epicurean