These Oreo Donut are made with pillowy fried Oreo studded dough topped with cream cheese icing and chopped Oreo cookies.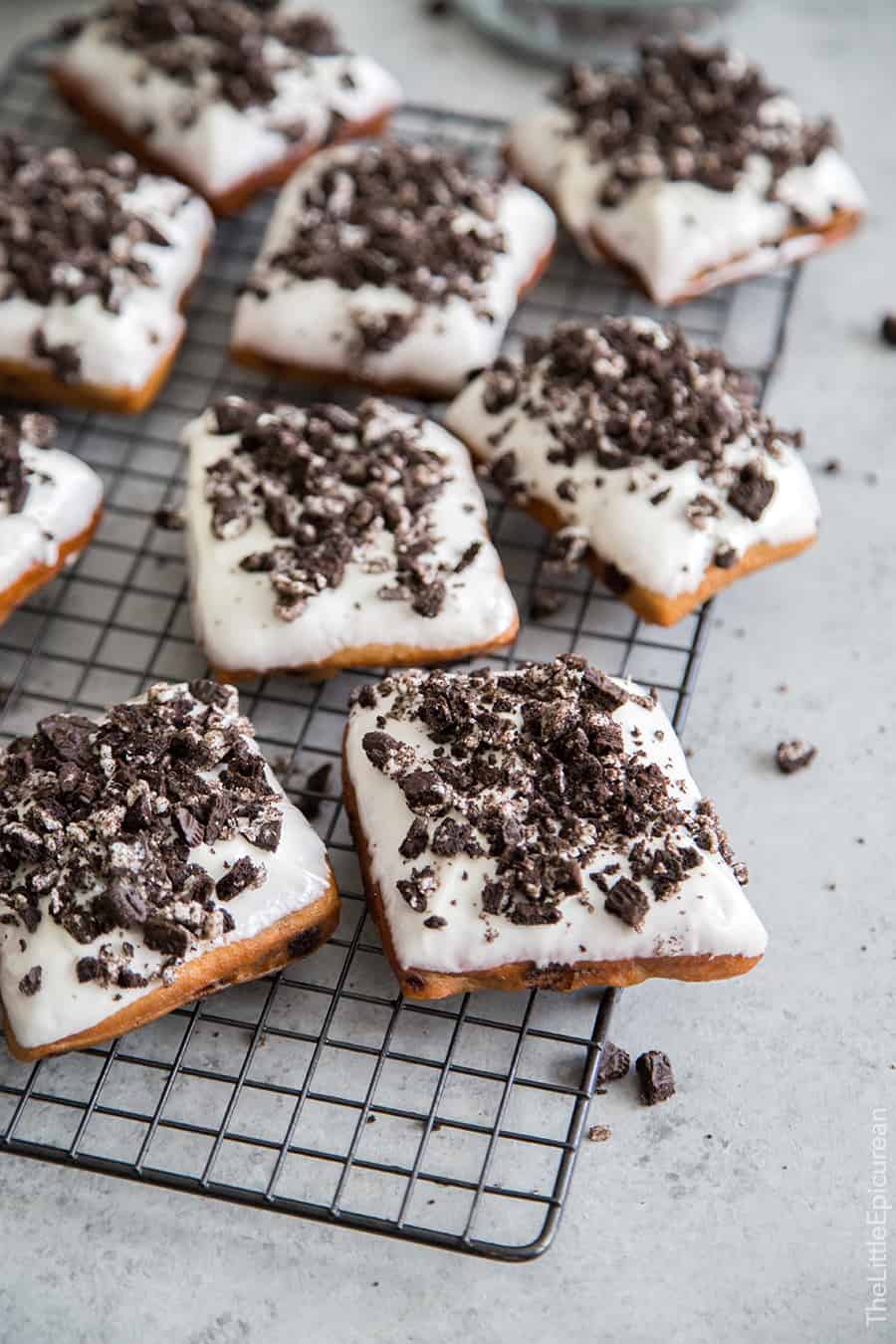 Summer is dwindling down. Get ready to pack up the swimsuits and sundresses. It's time to move on to sweeter things. It's time to loosen your belt buckle, eat all the donuts, and smile.
While I love summer for it's bounty of fresh produce and long sunny days, I'm super excited for autumn's shift towards comfort foods, bowls of soups and stews, and desserts, desserts, desserts.
I've confessed before that I'm a feeder. Within 6 months of dating me, Alex gained 30 pounds. (I'll save that story for another time.) More recently, I brought a couple of these Oreo donuts in tow when meeting new friends. Because from my understanding, you bring people you like donuts.
(That being said, being friends with me requires a gym membership or workout routine of some sort. If you are within a 10 mile radius of my house, I WILL be bringing you desserts on the regular.)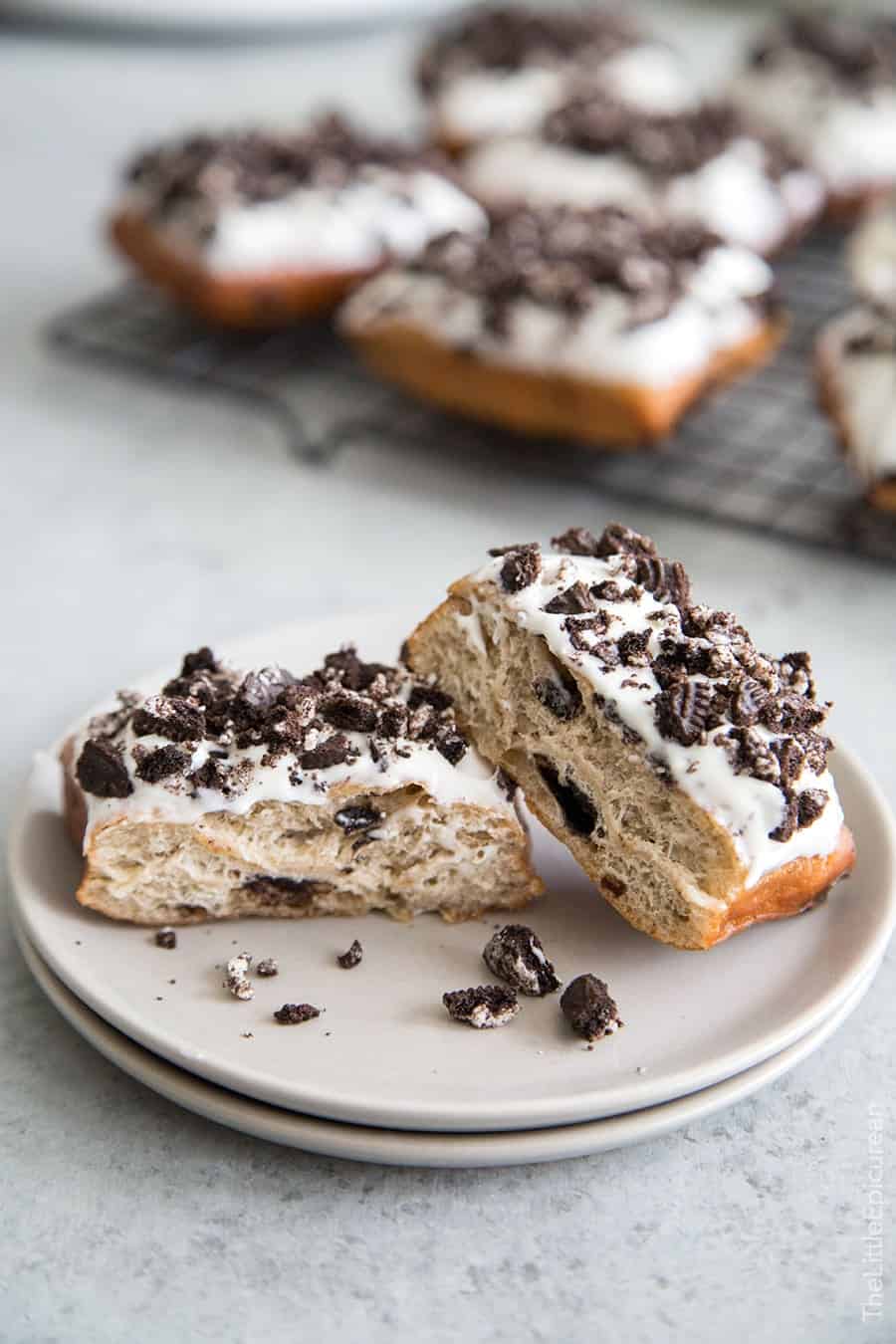 Yeast Raised Oreo Donuts
It's been an awfully long time since I've fried a batch of REAL donuts.
I love baked donuts (and I've made a few that almost live up to real donuts), but they never quite hit the spot. There's something magical about fried dough that just can't be replicated by other means.
I'm very particular about names of dishes. I feel like if you're going to mention an ingredient in the title, that ingredient must be prominent.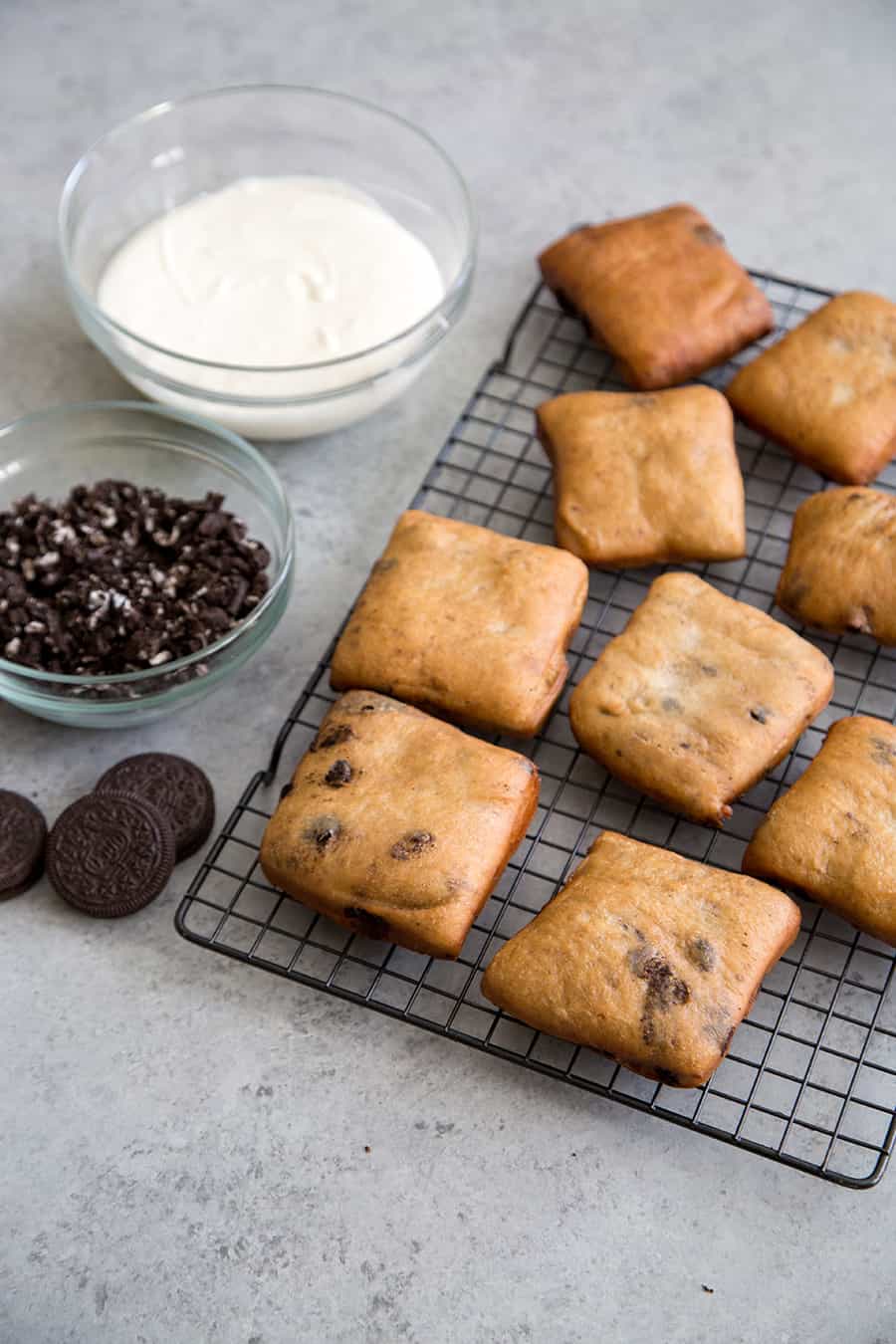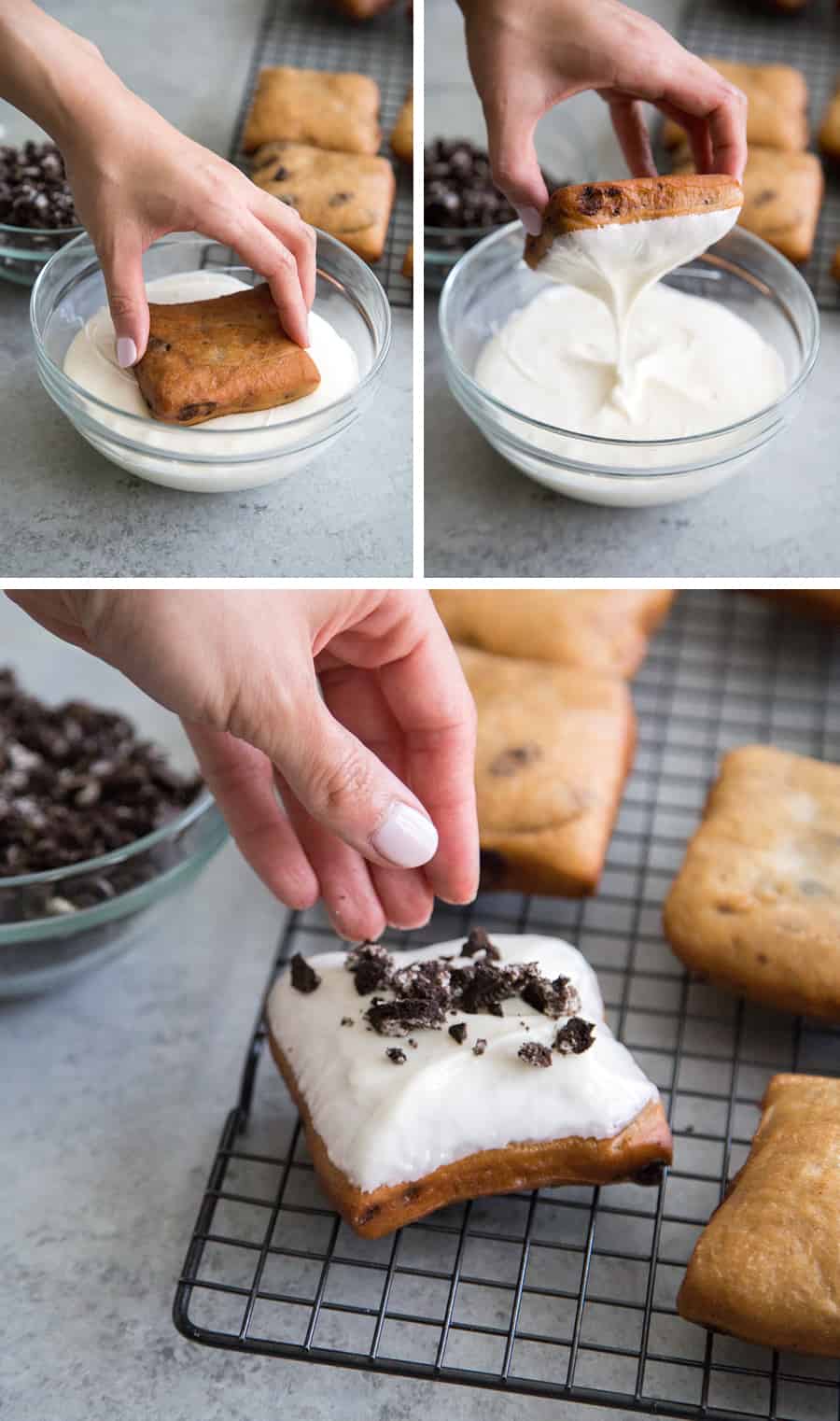 This is an Oreo donut. That means I've incorporated chopped Oreo cookies into the dough, as well as a ton of chopped Oreos for topping. (If it looked pretty, I would have mixed in crushed Oreos in the cream cheese frosting as well.)
I kneaded in chopped Oreos in the dough similar to how I added confetti sprinkles in my funfetti cinnamon rolls.
Important Frying Tools:
Candy thermometer
Even consistent oil temperature will produce properly cooked donuts. Attach a candy thermometer (or deep fry thermometer) to the pot to maintain the oil temperature.
Heavy bottomed pot
I used this 5.5 quart Staub. This particular pot works over fire, electric, or induction burners. This pot is well insulated and does a great job maintaining cooking temperature.
However, any heavy bottomed pot will do. Just make sure the pot has a thick bottom to prevent oil from scorching or overheating.
Timer
These donuts take about 40 seconds to cook on each side. Use a kitchen timer or use your smartphone's timer to ensure even cooking.
Spider Strainer
The strainer is perfect for lowering the raw dough into the hot oil. It's also great for flipping the donuts, as well as removing the cooked donuts from the hot oil.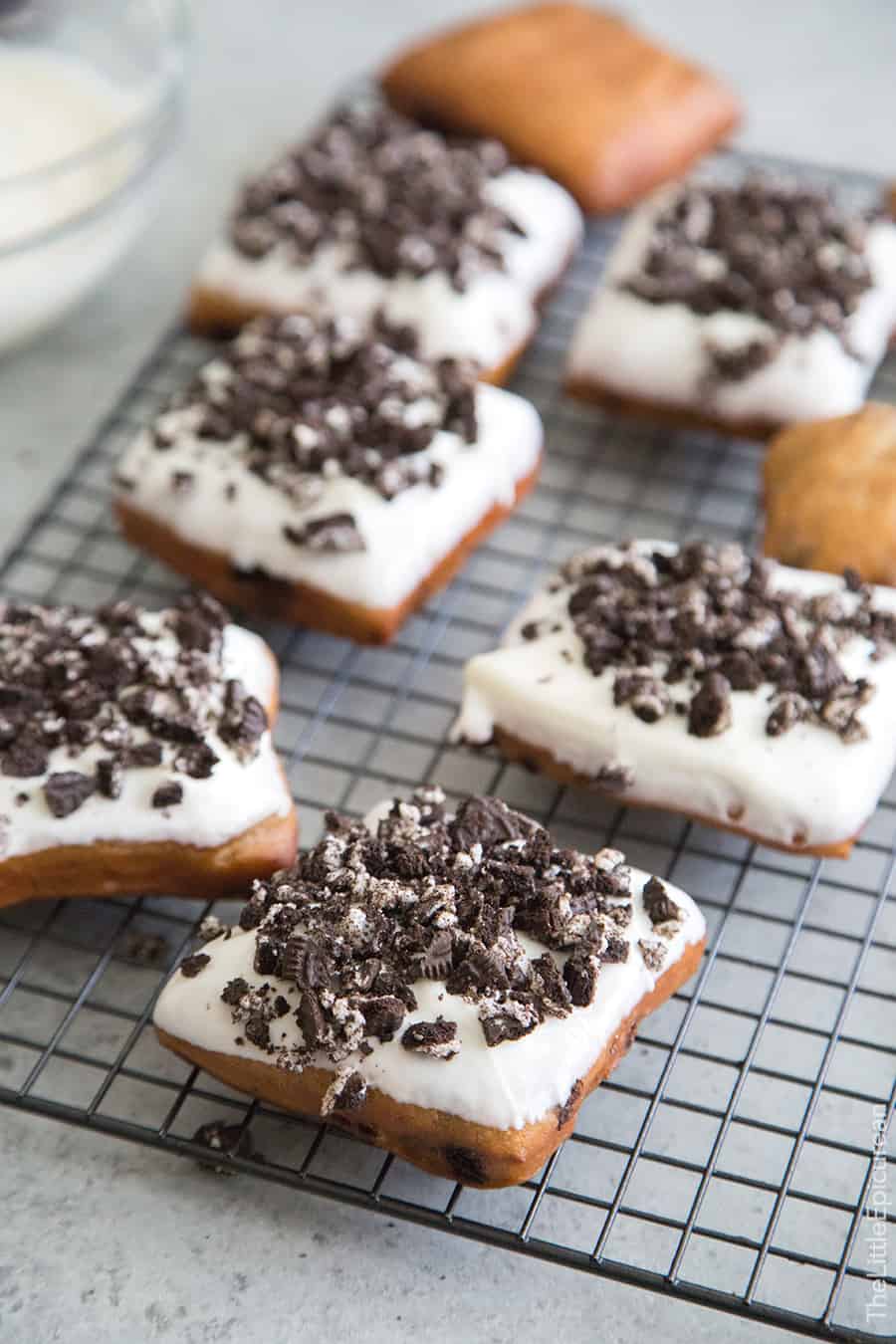 Have you had those deep fried Oreos sold at the fair? THEY'RE AMAZING. Those were the inspiration behind these donuts.
These Oreo donuts are no joke. They're super rich and decadent and they WILL affect your waistline if you eat too much. I suggest keeping one or two for yourself and then share the rest with all your favorite friends, family, and neighbors. That's what I did.
How long do these Oreo Donuts keep?
Like with most donuts, these are best eaten the day they're made.
Fried foods are best consumed immediately. Try to eat these within 8 hours of frying. Overtime, the donuts will stale.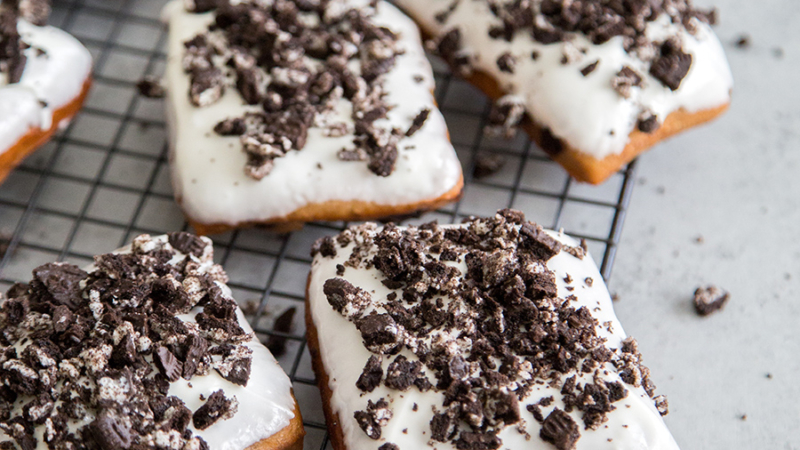 Oreo Donuts
These Oreo Donut are made with pillowy fried Oreo studded dough topped with cream cheese icing and chopped Oreo cookies.Yield: 16 three-inch square donuts
Ingredients
Yeast Dough:
1

cup

warm water, about 110 degrees F

3

Tablespoon

active dry yeast

½

cup

granulated sugar

4 ½

cups

all-purpose flour

2

teaspoon

fine sea salt

3

large egg yolks, room temp

¼

cup

vegetable shortening

1 ½

teaspoon

vanilla extract

1

cup

roughly chopped Oreo cookies
Cream Cheese Frosting:
4

oz

cream cheese, room temp, softened

2

Tablespoon

unsalted butter, room temp

2

cups

powdered sugar

¼

teaspoon

vanilla extract

¼

cup

milk

roughly chopped Oreo cookies, as needed
Instructions
Yeast Donuts:
Place warm water, yeast, and 1 tablespoon of sugar in the bowl of a stand mixer. Stir to combine. Let sit for 5-7 minutes until yeast mixture is foamy on top.

In a large bowl, whisk together remaining sugar, flour, and salt. Set aside.

In the bowl of stand mixer, add egg yolks and vanilla. Whisk until egg yolks are incorporated.

Add half of flour mixture. Mix on low-medium speed until flour is almost incorporated. Add vegetable shortening and continue to mix on low speed. Add remaining half of flour. Once flour has been incorporated, add chopped Oreo pieces. Increase speed and mix/knead for 2 minutes or so until the dough is smooth and pulls away from the sides of the bowl.

Cover dough with plastic wrap or kitchen towel. Allow dough to rest for 10 minutes. Transfer dough to a lightly floured baking sheet. Pat dough into a rectangle with a thickness of about 1/2-inch. Cover with kitchen towel and set up a proofing box in your oven.

In medium sauce pot, bring 3 cups of water to a boil. Place sauce pot on the bottom rack of oven. Place towel covered dough on the top rack of oven. Close oven door and let the dough rise for 45 minutes, until the dough also doubled in size. Do not open the oven door during this time, keep in as much heat and steam in oven as possible.

Remove dough from proof box oven and place on a lightly floured work surface. Pat dough into a rectangle about 18 x 13-inches. Use a sharp knife (or pizza cutter) to cut the bars into 3-inch squares.

Gently transfer squares to a lightly floured baking sheet. You will need two baking sheets. Arrange squares at least 1 1/2-inches apart from each other. Bring water in sauce pot back to a boil and place back on the bottom rack of oven. Keep squares uncovered and place let rest in oven for another 45 minutes until they have puffed up.

Fill a large pot with 3-inches of vegetable. Use a candy thermometer to measure the temperature. Heat oil to 350°F.

Remove dough squares from oven. Dust off any excess flour and carefully place 2 to 3 squares into the hot oil. Be sure not to crowd the pot. Set a timer and fry one side for 35 seconds, until light golden brown in color. Carefully turn over the bar and fry the other side for another 30 seconds. Once golden brown all over, remove cooked donuts from oil and let drain over a cooling rack set over paper towels.

Cream Cheese Frosting:
Using a hand mixer, cream together cream cheese and butter until smooth. Add powdered sugar, vanilla, and milk. Mix until smooth.

Dip one side of donut into cream cheese frosting. Top with chopped Oreos. Enjoy immediately.

Notes
All images and text ©The Little Epicurean