Put an egg on it and you've got breakfast potato nachos!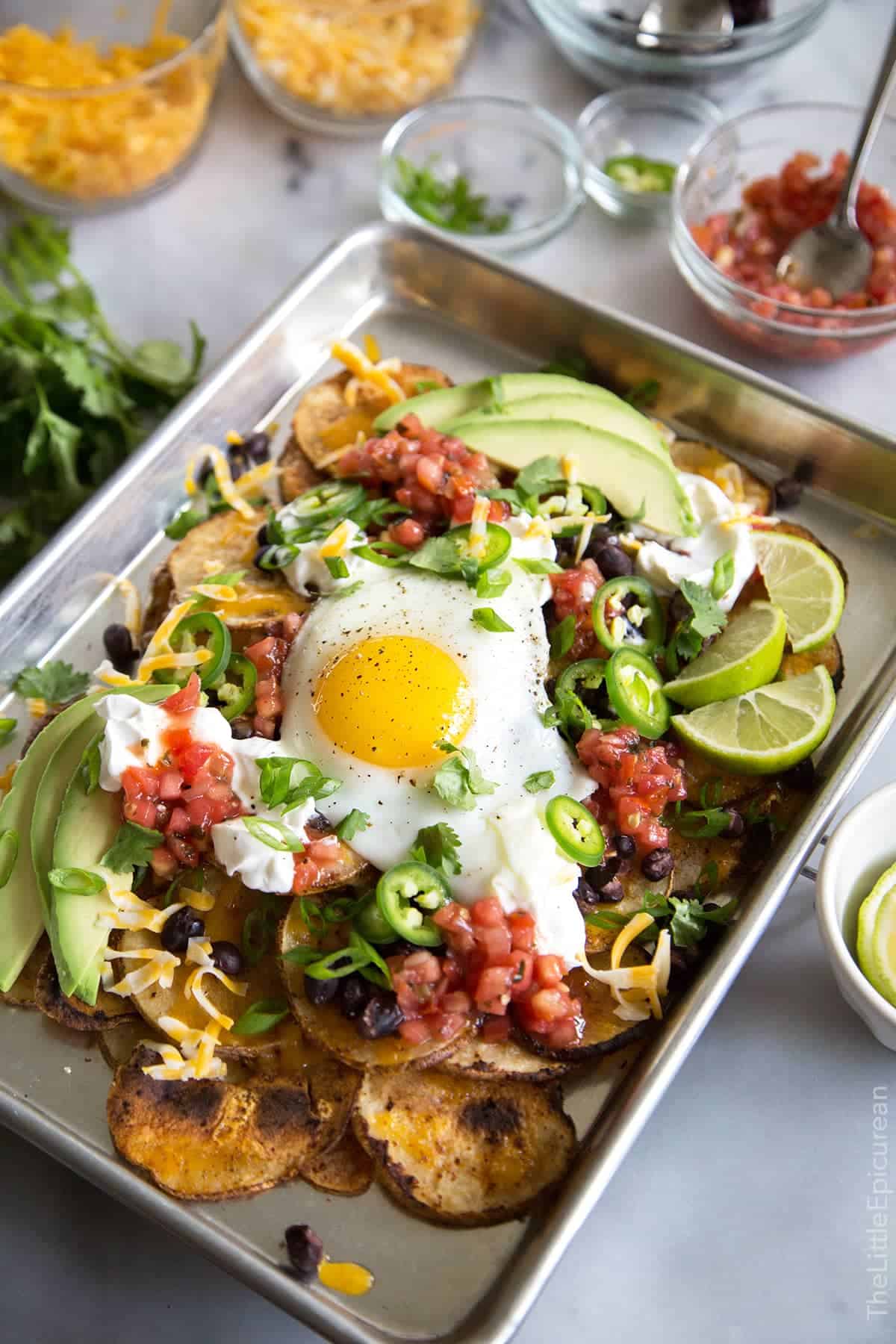 The Super Bowl is coming up. I may not follow football, but I never miss a football party. Buffalo wings, chili, spinach artichoke dip, pizza, and ribs. Food is reason enough to attend. But my all time favorite tailgating food, hand downs, has to be nachos.
I. LOVE. NACHOS. and it got me thinking, are nachos suitable for breakfast? Who cares? Let's make it appropriate!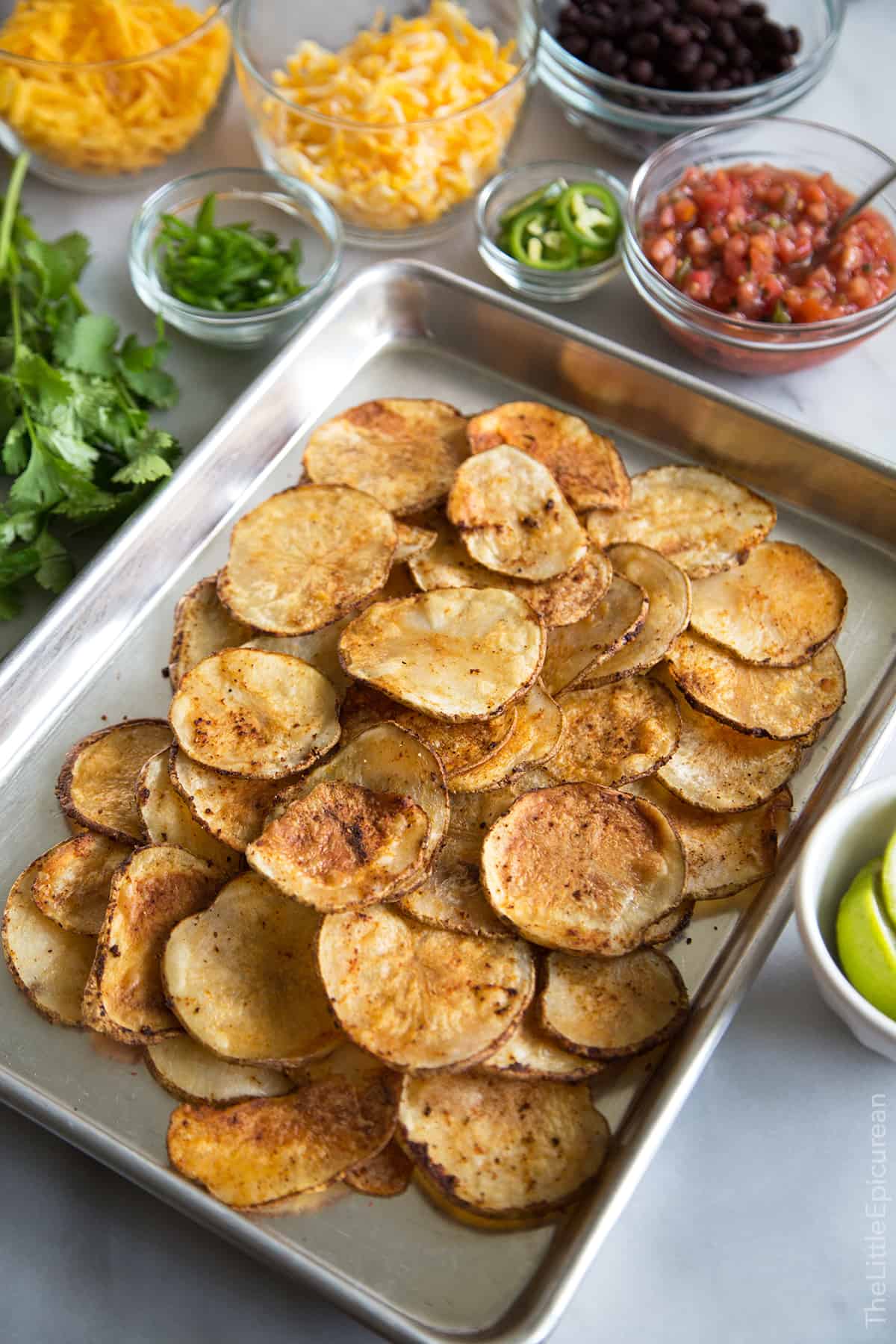 Instead of tortilla chips, we're using roasted sliced potatoes. Potatoes are a breakfast must. These potatoes are seasoned with all sorts of tastiness: chili powder, cumin, and garlic. Slice the potatoes super thin if you want crispy chips, slice them a little thicker (about 1/4-inch) for a sturdier salsa vehicle.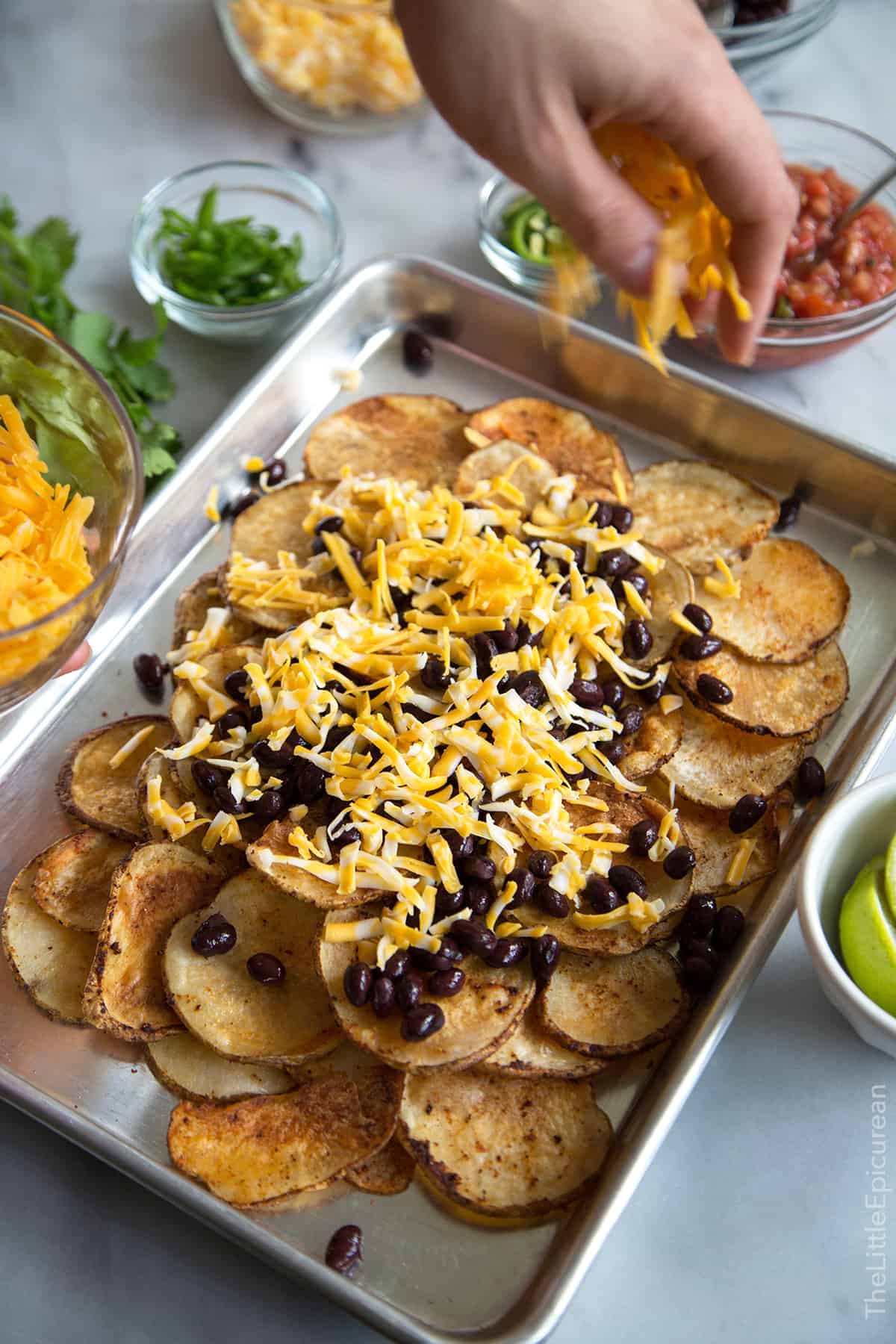 Once the potatoes are baked, it's time to assemble! (This is the best part, but also the most difficult because it's way too easy to snack on the potatoes. You might run out of potatoes before they've been transformed into nachos.)
Load the potatoes on a baking sheet. Top it with black beans and shredded cheese. Then pop it under the broiler until the cheese is ooey-gooey melted.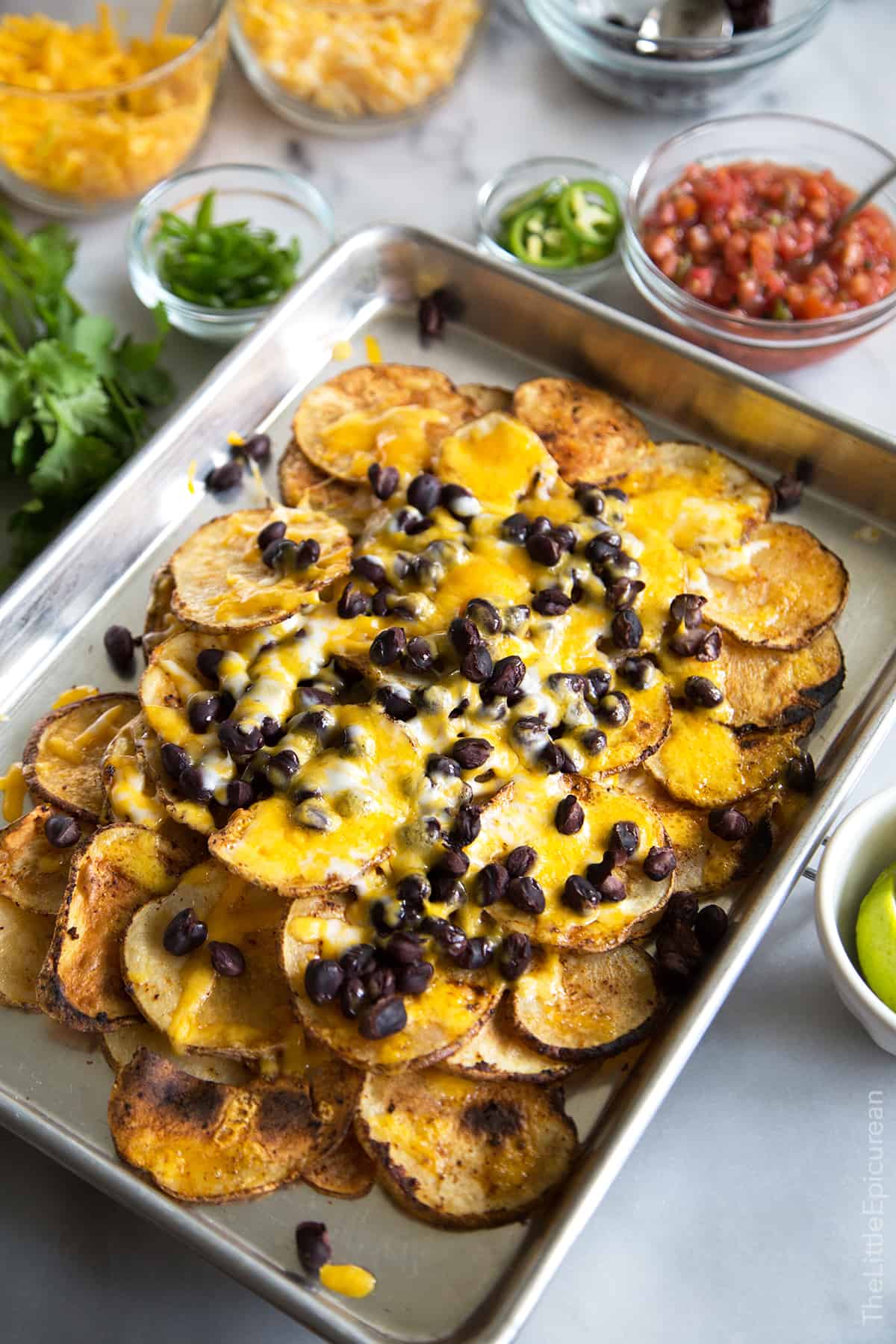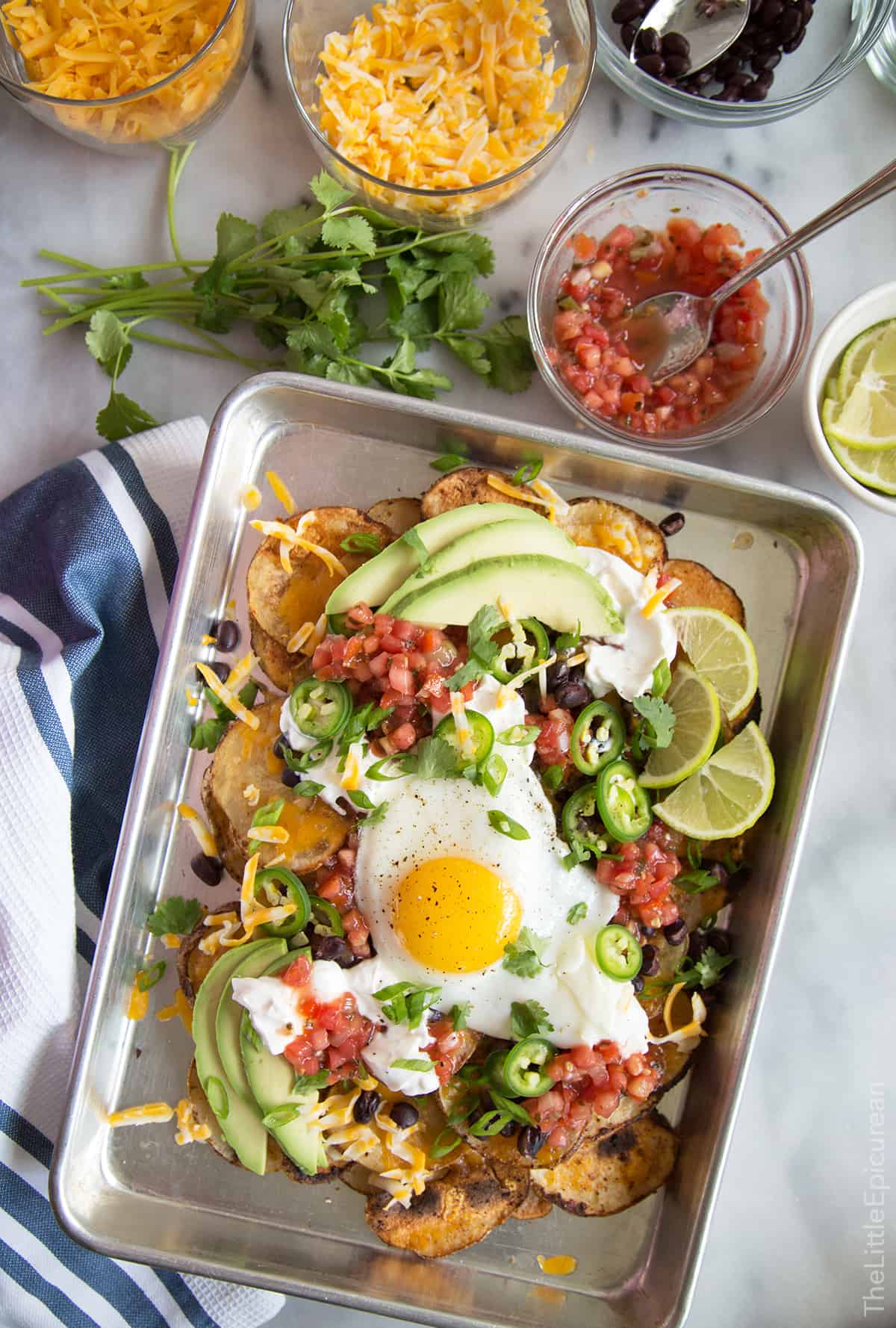 Add all the important accoutrements: spicy salsa, sliced jalapeños, sour cream, avocado slices, green onions and cilantro. And for the final touch: lay on a fried egg!  This is how I plan to get ready for Super Bowl Sunday: breakfast potato nachos in the morning, followed by regular nachos, pizza, and chicken wings in the afternoon! It's a win-win regardless which team gets the trophy.
Breakfast Potato Nachos
Yield: serves 4 as an appetizer, or 2 as a meal
Ingredients:
Chili Spiced Potatoes:
2 medium (about 2 pounds) Russet potatoes, sliced into 1/8-inch or 1/4-inch thick rounds
2 Tbsp olive oil
1 tsp chili powder
1/2 tsp ground cumin
1/4 tsp garlic powder
1/4 tsp fine sea salt
1/4 tsp ground black pepper
1/8 tsp ground caynenne pepper
Toppings:
1/2 cup shredded Colby-Jack cheese
1/2 cup canned black beans, rinsed and drained
2 jalapeños, thinly sliced
tomato salsa
sour cream
sliced green onions
chopped cilantro
sliced avocado
lime wedges
fried egg
Directions:
Chili Spiced Potatoes:
Preheat oven to 400 degrees F.
In a small bowl, combine chili powder, cumin, garlic powder, salt, pepper, and cayenne pepper. Set aside.
Coat potato slices with olive oil. Arrange potatoes in a single layer on a two baking sheet trays, making sure the potatoes do not overlap. Sprinkle spice mixture over potatoes, flip potatoes and sprinkle spice mixture on the other side. Bake for 25-30 minutes until potatoes are tender. (Note: if you slice the potatoes 1/8-inch thickness, bake for 20-25 minutes until potatoes are crisp)
Assembly:
Set oven to broiler setting.
Layer about half of baked potatoes on a baking sheet. Sprinkle with half of black beans and half of shredded cheese. Top with remaining potatoes, black beans, and shredded cheese. Set under broiler for 20-30 seconds until cheese is melted.
Garnish nachos with salsa, sour cream, sliced jalapeños, avocado slices, sliced green onions, and chopped cilantro. Before serving, top with fried egg. Enjoy immediately.