Rose water shortbread cookies: chocolate dipped shortbread cookies spiked with a hint of rose water. They're the perfect accompaniment for afternoon tea!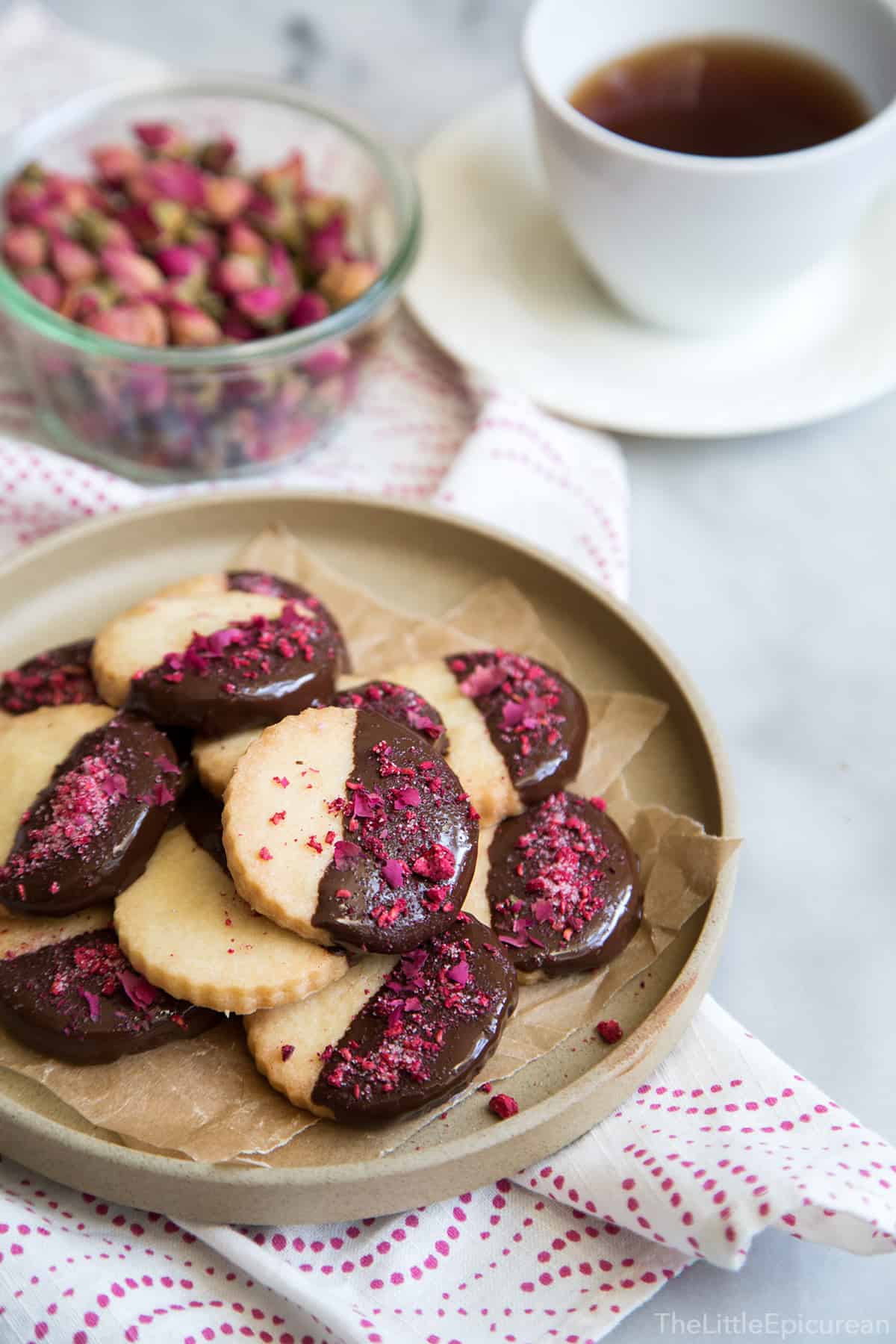 I'm on a big rose kick right now. Perhaps, it's because of Valentine's Day looming, or maybe it's my addiction to The Bachelor. Last week I shared this romantic rose yogurt creme brûlée. Today, the rose trend continues with these chocolate dipped rose water shortbread cookies!
Just like the creme brûlée, I'm not going for a blast in your face of rose flavor. The use of rose water requires a fine balance and a delicate hand. You just want a hint of that sweet floral note. It's definitely one of those instances when a little goes a LONG way.
With a heavy hand, these rose water shortbread cookies go from pleasant to potpourri. (I speak from experience. It took me a couple tries to get the right amount of rose in these little cookies. Ask Alex about the cookie failures.)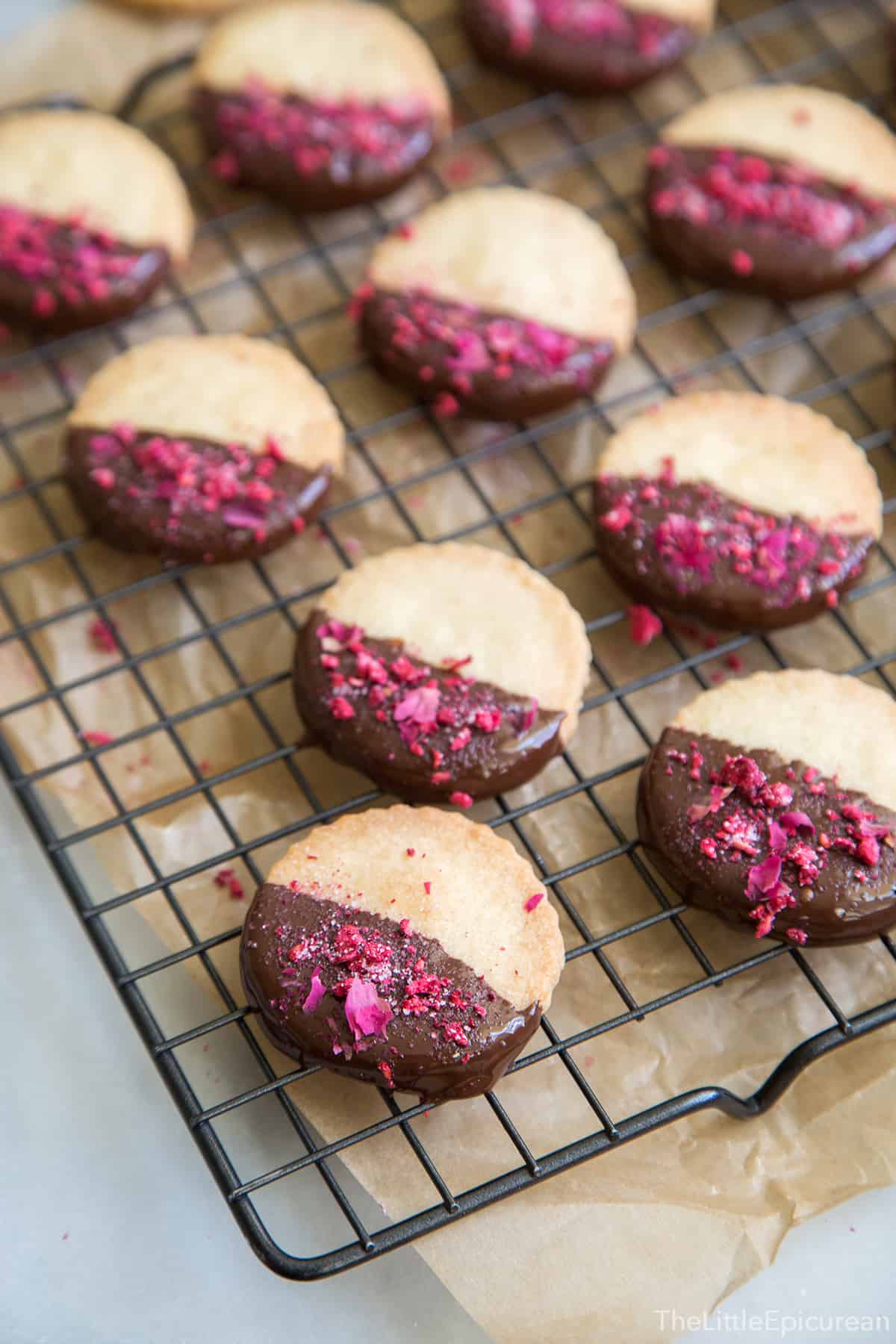 Rose Water Shortbread Cookies
These rose water shortbread cookies remind me of my younger days (around 2nd-3rd grade) when I would create "perfumes" in the backyard.
I would pick the prettiest flowers from my dad's garden and smash the petals in a bowl with collected rain water. I'd rub this concoction all over my arms and end up with rashes the following day. What the heck was I thinking?
Apparently, I didn't learn my lesson the first time around because I did this OFTEN. Believing the perfume only affected me, I experimented on the arms of my friends. And guess what? They also got same rashes.
Fortunately, those friends are still my friends today. While they no longer are subject to my backyard antics, they are often the taste testers of new recipes.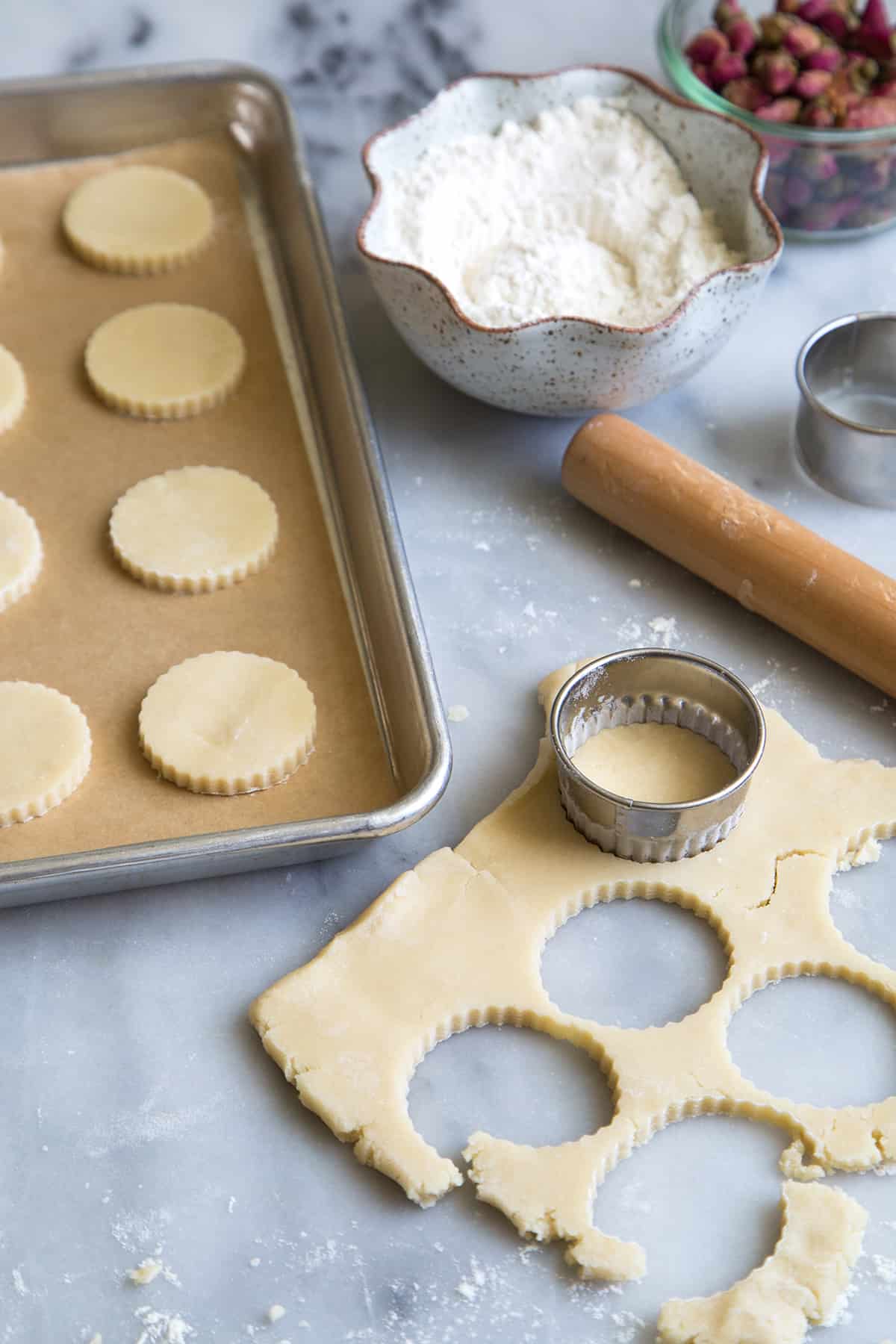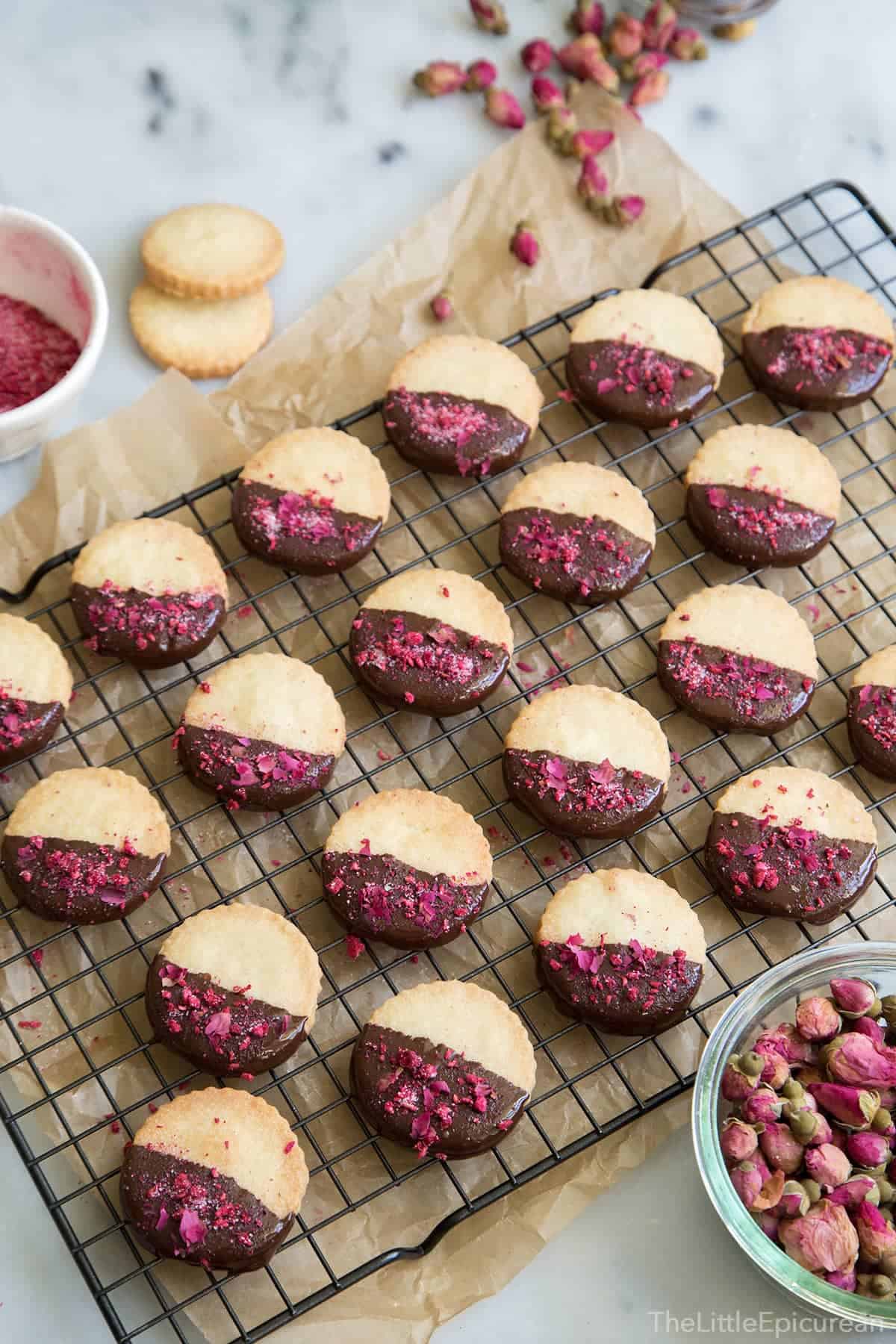 I'd say these cookies fulfill all the necessary Valentine's Day qualifications. You've got a buttery cookie, dark chocolate, a little sprinkling of (freeze dried) raspberries, and a delicate touch of rose petals on top.
This recipe makes a batch of 4 dozen shortbread cookies. Go ahead a share them with your loved ones this Galentine's Day, Valentine's Day, and beyond!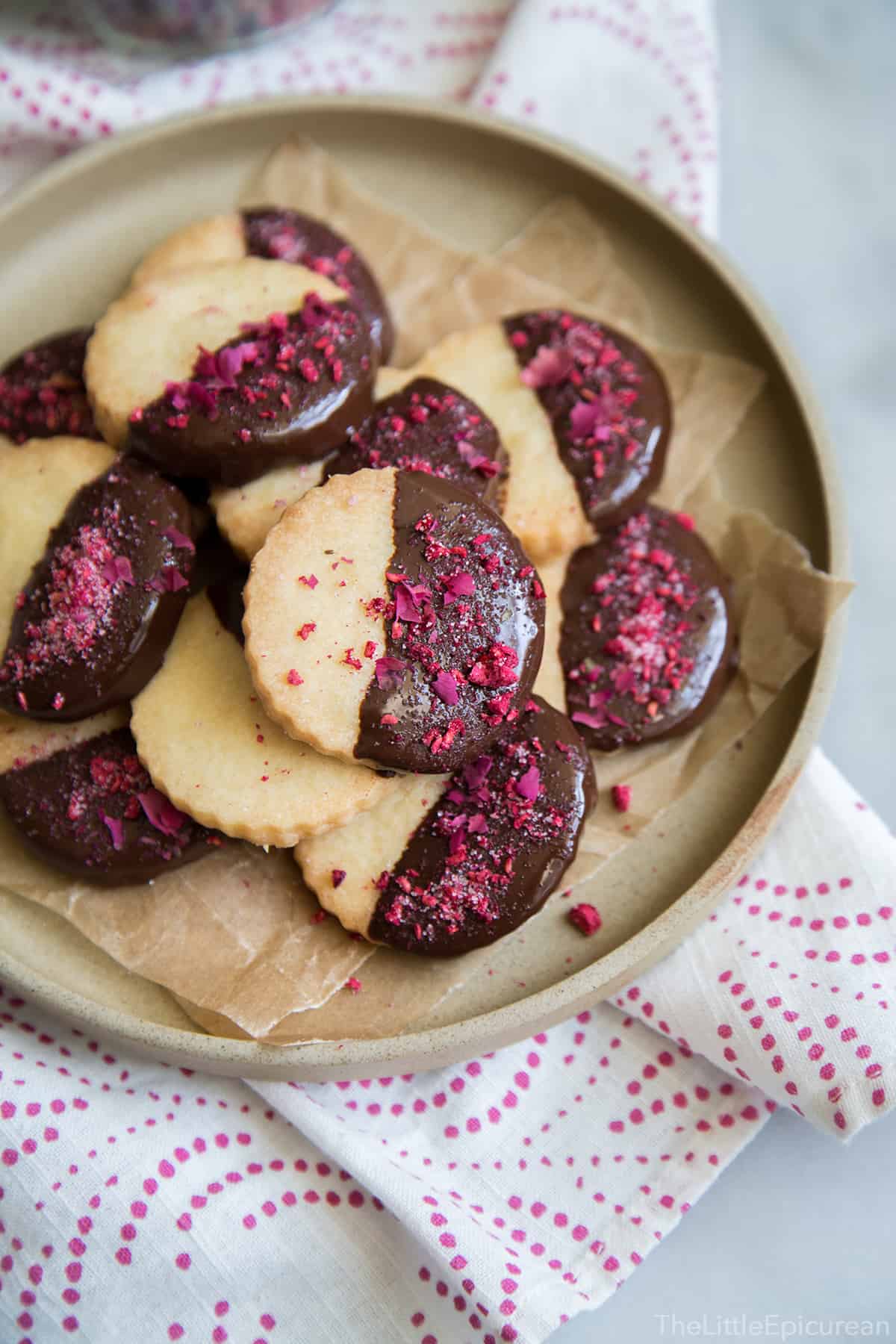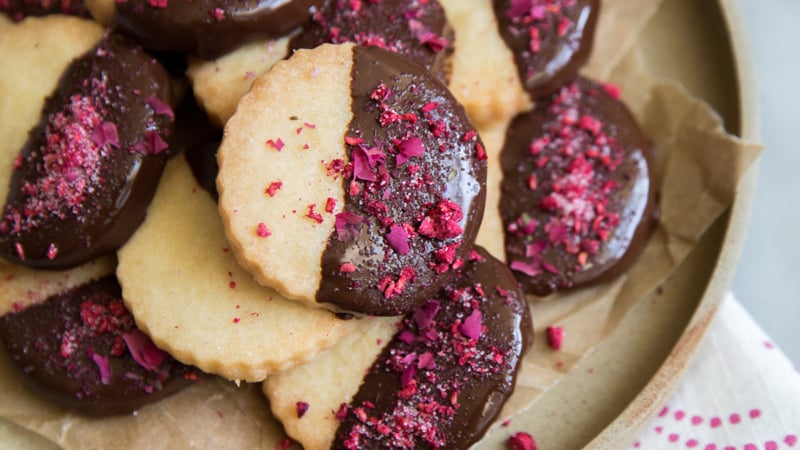 Chocolate Dipped Rose Water Shortbread Cookies
Chocolate dipped shortbread cookies spiked with a hint of rose water. They're the perfect accompaniment for afternoon tea!
Yield: makes 4 dozen 2-inch cookies
Servings:
4
dozen cookies
Ingredients
1

cup

(227 grams) unsalted butter, room temp

2/3

cup

(131 grams) granulated sugar

1

teaspoon

rose water

1/2

teaspoon

vanilla extract

2 1/3

cups

(285 grams) all-purpose flour

1/4

teaspoon

fine sea salt
Toppings:
melted dark chocolate

freeze dried raspberry sugar mixture*

dried rose petals (rose tea)
Instructions
In the bowl of a stand mixer fitted with a paddle attachment (or using a hand mixer), cream together softened butter and sugar until smooth. Mix in rose water and vanilla extract.

Whisk together flour and salt. Add dry mixture to creamed butter. Mix until there are no longer any dry streaks of flour. Dough will be slightly dry and a bit crumbly.

Wrap dough in plastic wrap and let chill in the fridge for 1 hour (up to overnight).

Preheat oven to 350 degrees F. Allow dough to rest at room temperature for 10-15 minutes to soften. Roll dough out on a lightly floured work surface to a thickness of 1/4-inch. Stamp out rounds using a 2-inch fluted circle cutter. Gather dough scraps and press together to roll out additional cookies. Place cookies on a parchment lined baking sheet, spacing cookies about 1-inch apart.

Bake for 18-20 minutes until the edges of the cookies are golden brown. Allow cookies to cool on baking sheet.
Assembly:
Once cookies have cooled to room temperature, gently melt dark chocolate over a double boiler. Dip half of cookie into melted chocolate. Set on a wire rack and sprinkle freeze dried raspberry sugar mixture and dried rose petals over chocolate. Allow chocolate to harden and set before serving.

Notes
All images and text ©The Little Epicurean