This post was created in partnership with Ghirardelli Chocolate Company. All opinions are my own. 
Mini Bourbon Caramel Derby Pies: individual pies filled with bourbon caramel chocolate and toasted pecans and topped with bourbon whipped cream.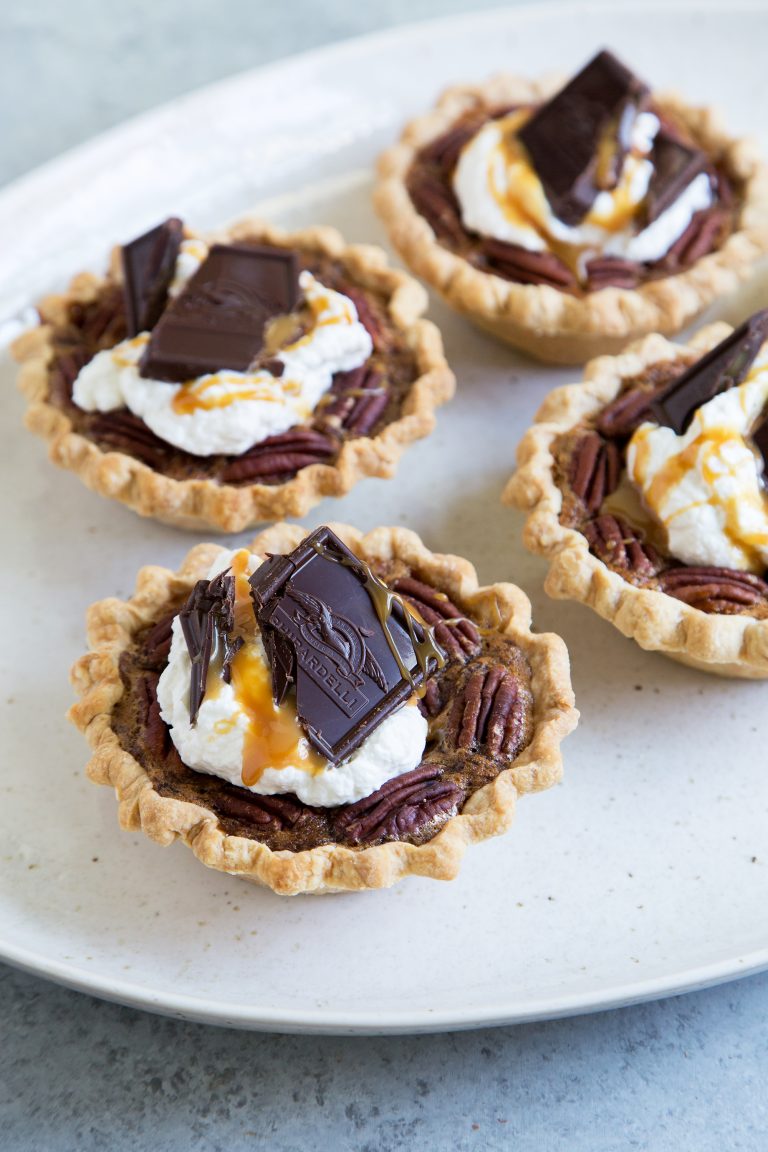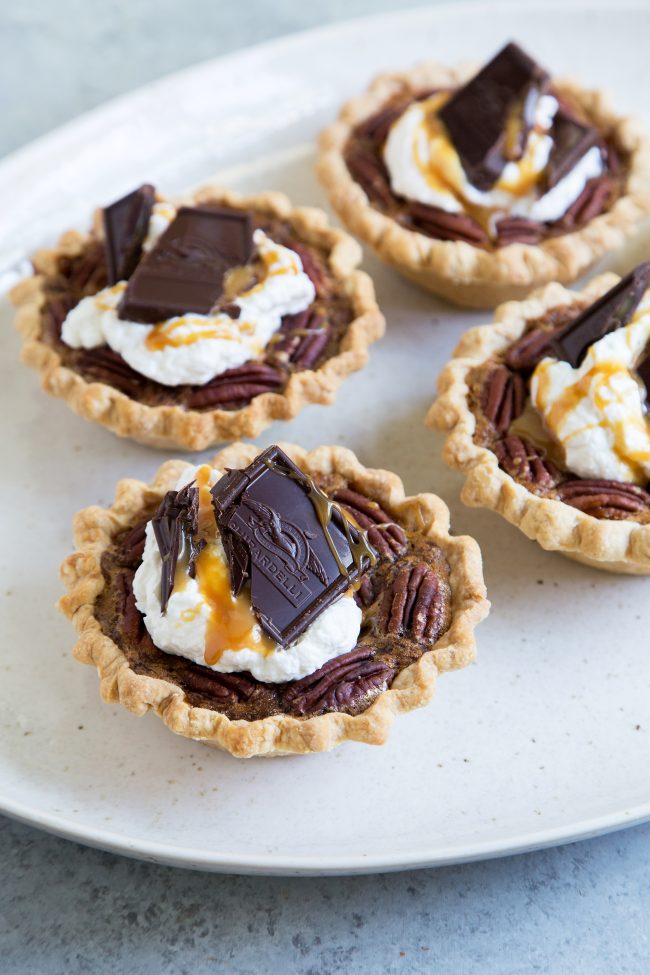 When I think about the Kentucky Derby, three things come to mind: 1.) big hats, 2.) that insane garland of roses the winner receives, and 3.) BOURBON. One day, I'll eventually make my way to Louisville and partake in the festivities.
In the meantime, I'm more than happy attending local Derby viewing parties (wearing my giant hat, of course) and filling up on my share of all things bourbon (like mint juleps and spiked desserts!).
Mini Bourbon Caramel Derby Pies
Today I'm sharing these super cute and tasty mini bourbon caramel derby pies! They're my take on pecan pie with the added punch of chocolate and caramel.
These mini pies feature Ghirardelli's newest flavor- dark chocolate bourbon caramel squares.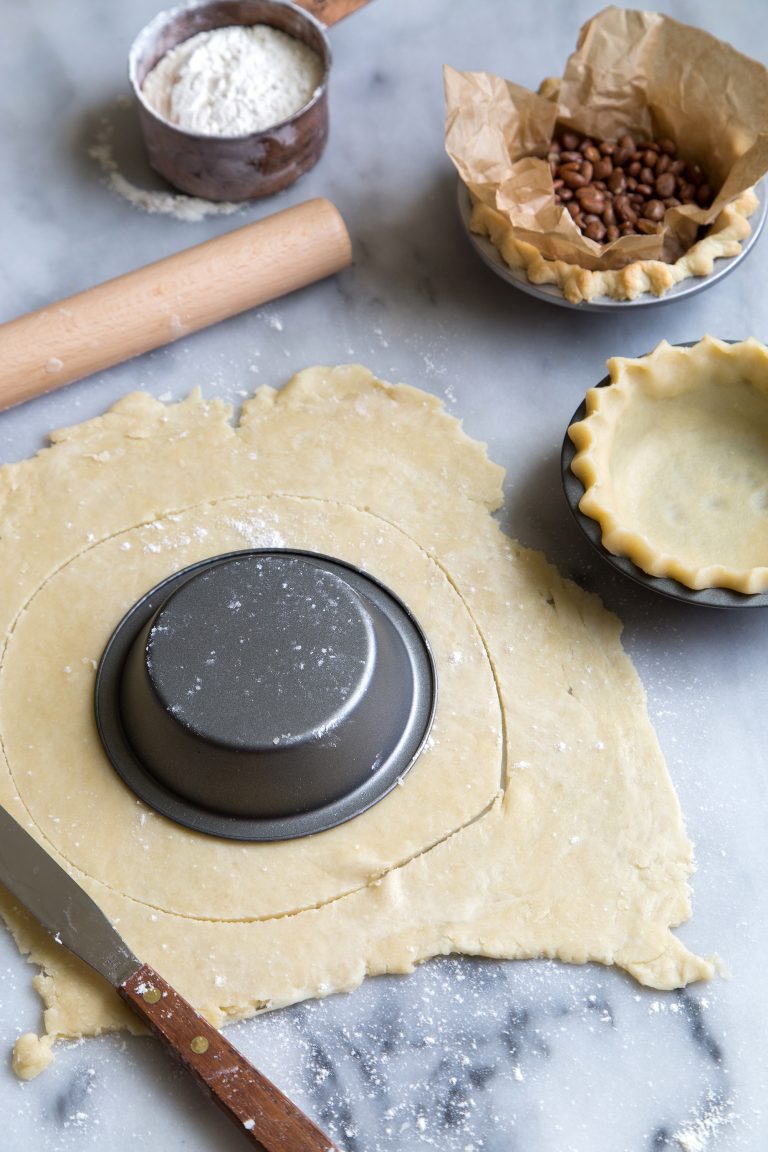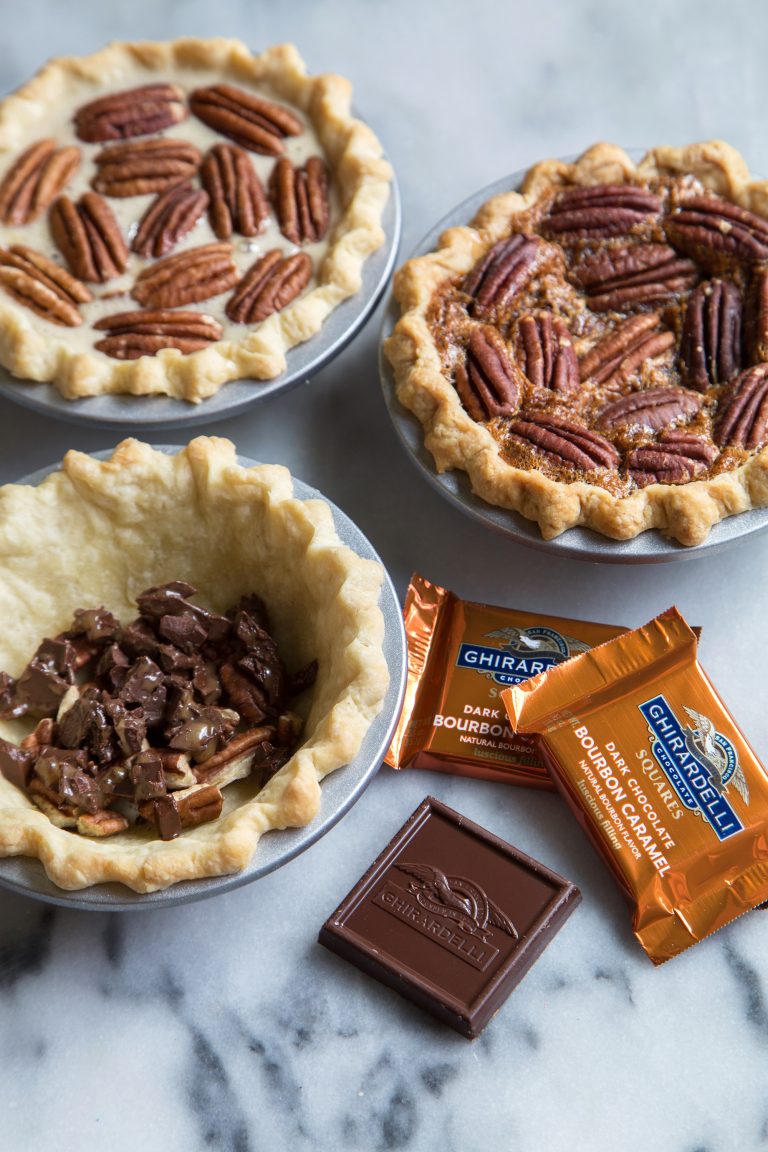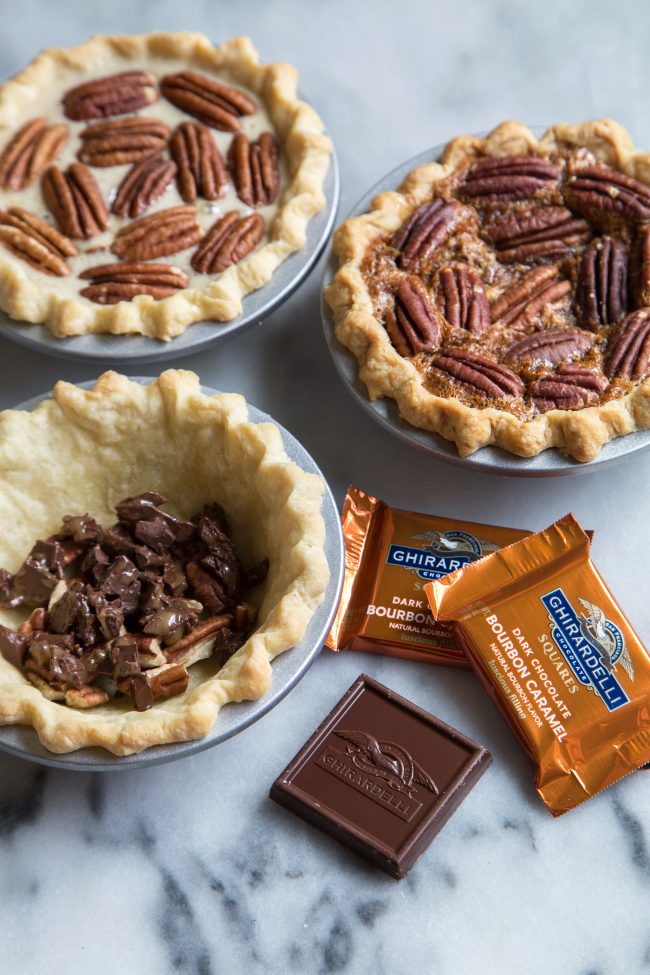 I'm a sucker for all things bourbon and these bourbon caramel squares don't disappoint. While these chocolate squares don't actually contain alcohol, the natural sweet flavor of bourbon does shine through the luscious caramel filling.
This recipe makes 8 individual four-inch pies. I prefer to serve mini pies for parties and celebrations. I've seen whole pies on dessert tables go untouched. I'm not sure why guests feel shy cutting into a whole pie. (Although, I'm guilty of it, too.) If you happen to have any leftovers, it is also much easier to box up and send home with guests as well.
*Don't worry if bourbon isn't your thing. There are several other Ghirardelli chocolate square options you can substitute in like milk chocolate caramel or dark chocolate sea salt caramel.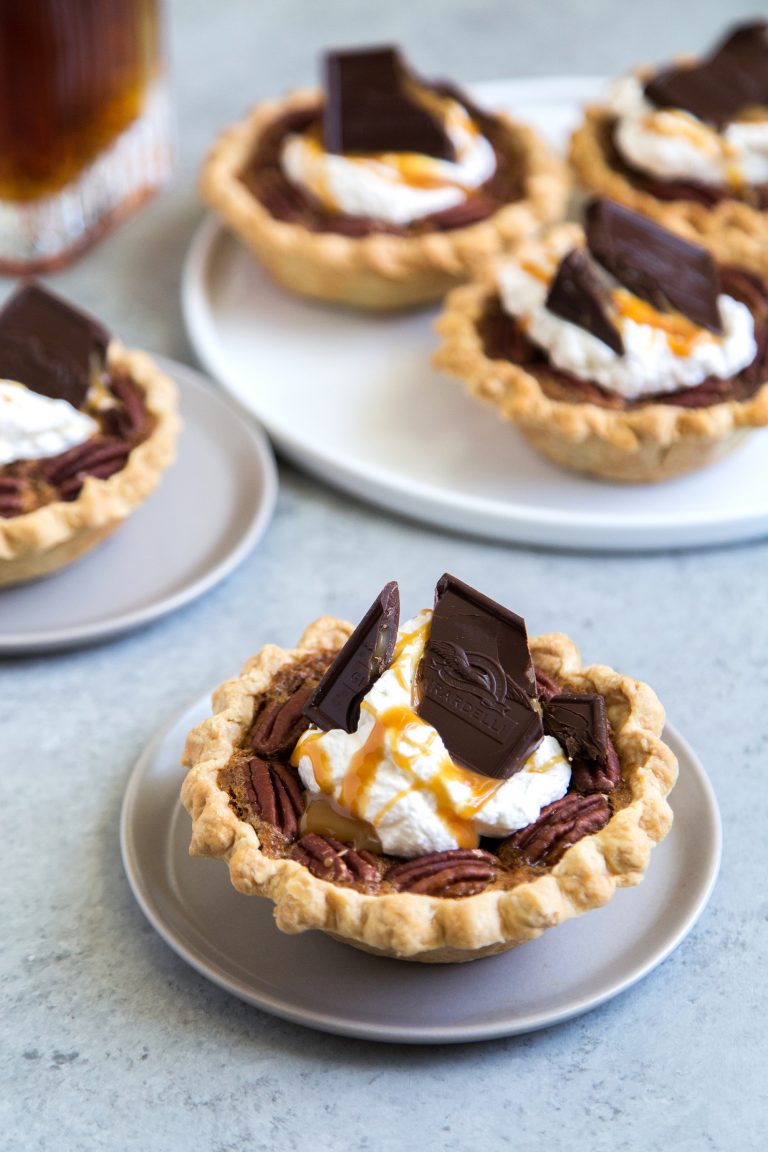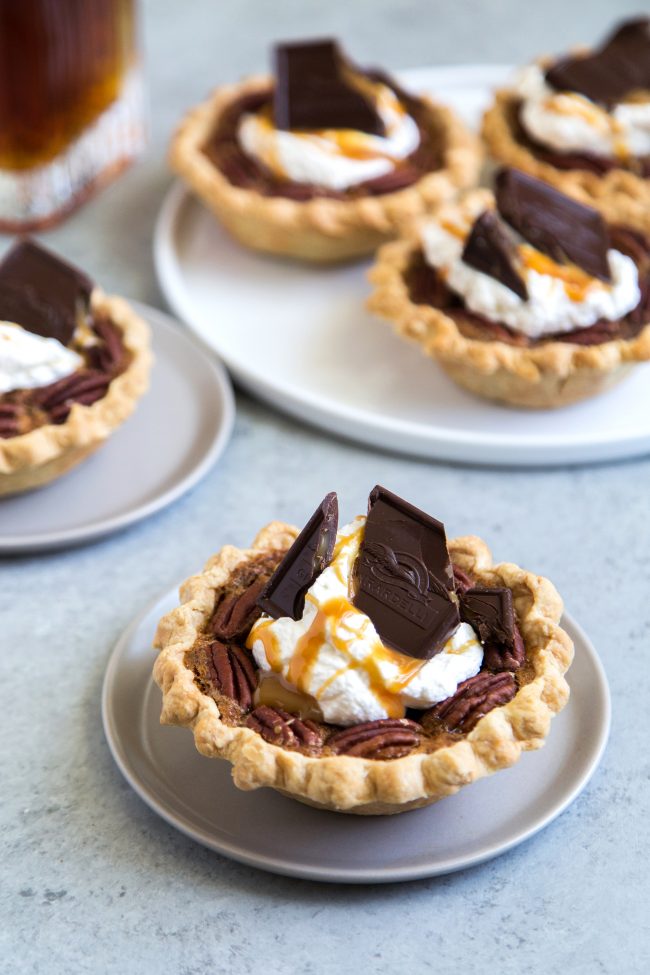 In my opinion, the hardest part about pie making is waiting for it to cool after baking. Allow these mini derby pies to cool to room temperature before serving. The filling needs time to set up.
Once it's time to serve, these mini pies get a dollop of bourbon spiked whipped cream and a chocolate bourbon caramel square on top for the finishing touch!
Since these mini derby pies can be made in advance, you'll have plenty of time to relax with a mint julep before guests arrive. That is definitely a win-win!
Mini Bourbon Caramel Derby Pies
Yield: 8-mini four inch pies
Ingredients
Pie Dough:
3

cups

all-purpose flour

1

teaspoon

fine sea salt

1 1/2

teaspoon

granulated sugar

1

cup

unsalted butter, sliced into tablespoons, cold

5

Tablespoon

ice cold water
Chocolate Pecan Filling:
8

pieces

Ghirardelli dark chocolate bourbon caramel squares*, chopped

1

cup

lightly toasted pecans, roughly chopped

1

cup

granulated sugar

2

Tablespoons

cornstarch

2/3

cup

dark brown sugar, packed

1

cup

light corn syrup

6

large eggs, lightly whisked

1/2

teaspoon

fine sea salt

2

teaspoons

vanilla extract

1/4

cup

unsalted butter, melted, slightly cooled

additional pecans, to top pie as needed
Bourbon Whipped Cream:
1

cup

heavy cream, cold

3

Tablespoons

powdered sugar

1

Tablespoon

bourbon
Instructions
Pie Dough:
In a large bowl, whisk together flour, salt, and sugar. Add cold butter pieces. Using a pastry blender or fork, cut the butter into the flour until mixture resembles coarse sand. Add ice cold water and use a spatula to fold mixture together. Do not over mix. Dough will be rather dry and crumbly.


Dump shaggy dough onto a lightly floured work surface. Gently knead dough until it sticks together. Divide dough into two equal parts. Shape into flat disks about 1-inch thick. Wrap the two disks in plastic wrap and allow to chill in the fridge for at least 1 hour up to 2 days.

Preheat oven to 400 degrees F. Remove pie dough from fridge and allow to sit at room temperature for 5 minutes. Working with one disk at a time, place dough on a lightly floured work surface. Roll dough to a thickness of about 1/8-inch. Place upside down 4-inch pie tins over rolled dough. Cut out rounds, allowing a clearance of about 1 1/2-inches from pie tin.

Transfer cut out rounds onto mini pie tins. Crimp, flute, or decorate the edges of the pie as desired. Allow pie doughs to chill in the fridge for 10 minutes before baking.

Line each pie with a small piece of parchment paper and fill with weights (or beans). Partially blind bake pie crust for 13-15 minutes until it is a pale golden color. Remove parchment and weights and return pie crusts to oven for another 3 minutes. Remove from oven and allow pie crusts to cool while you prepare filling.

Chocolate Pecan Filling:
Reduce oven temperature to 350 degrees F. Set aside chopped chocolate squares and pecans.

In a large bowl, whisk together sugar and cornstarch. Add brown sugar, corn syrup, and whisked eggs. Mix until combined. Add salt, vanilla, and melted butter. Continue to whisk together until mixture is smooth.

Distribute reserved chopped chocolate and pecans among cooled pie crusts. Gently pour about 1/2 cup of filling over chocolate pecan mixture. Pieces of the chocolate and pecans may float to the top. Arrange additional pecans over the filling as desired.

Bake pies for 40 minutes until pecans on top are toasted and filling is boiling. Remove from oven and allow pies to cool in their tins. Once cooled, unmold pie from tin. Serve pies at room temperature with a dollop of bourbon whipped cream and a roughly chopped Ghirardelli square. Drizzle caramel, if desired.

Bourbon Whipped Cream:
In a large chilled bowl, combine cold whipped cream, powdered sugar, and bourbon. Use a hand mixer to whip the cream to soft, fluffy peaks. Cover with plastic wrap and keep chilled until ready to use.
Notes
Mini pies can be baked ahead of time. Allow to cool to room temperature. Cover with plastic wrap and store in the fridge for up to 2 days before serving. Serve pies at room temperature.
I used these 

nonstick 4-inch mini pie pans

. Recipe can also be used to make two standard 9-inch pies.
If using store-bought refrigerated pie crusts, follow package directions for par-baking crusts. You will need enough dough for a standard 9-inch double crust pie.
This recipe also works well with a variety of Ghirardelli squares: 

milk chocolate caramel

, 

dark chocolate sea salt caramel

, 

dark chocolate 60%
All images and text ©The Little Epicurean