Halo-halo is the ultimate summertime treat. It is a layered dessert consisting of sweetened beans, fruits, shaved ice drizzled with evaporated milk, and ice cream.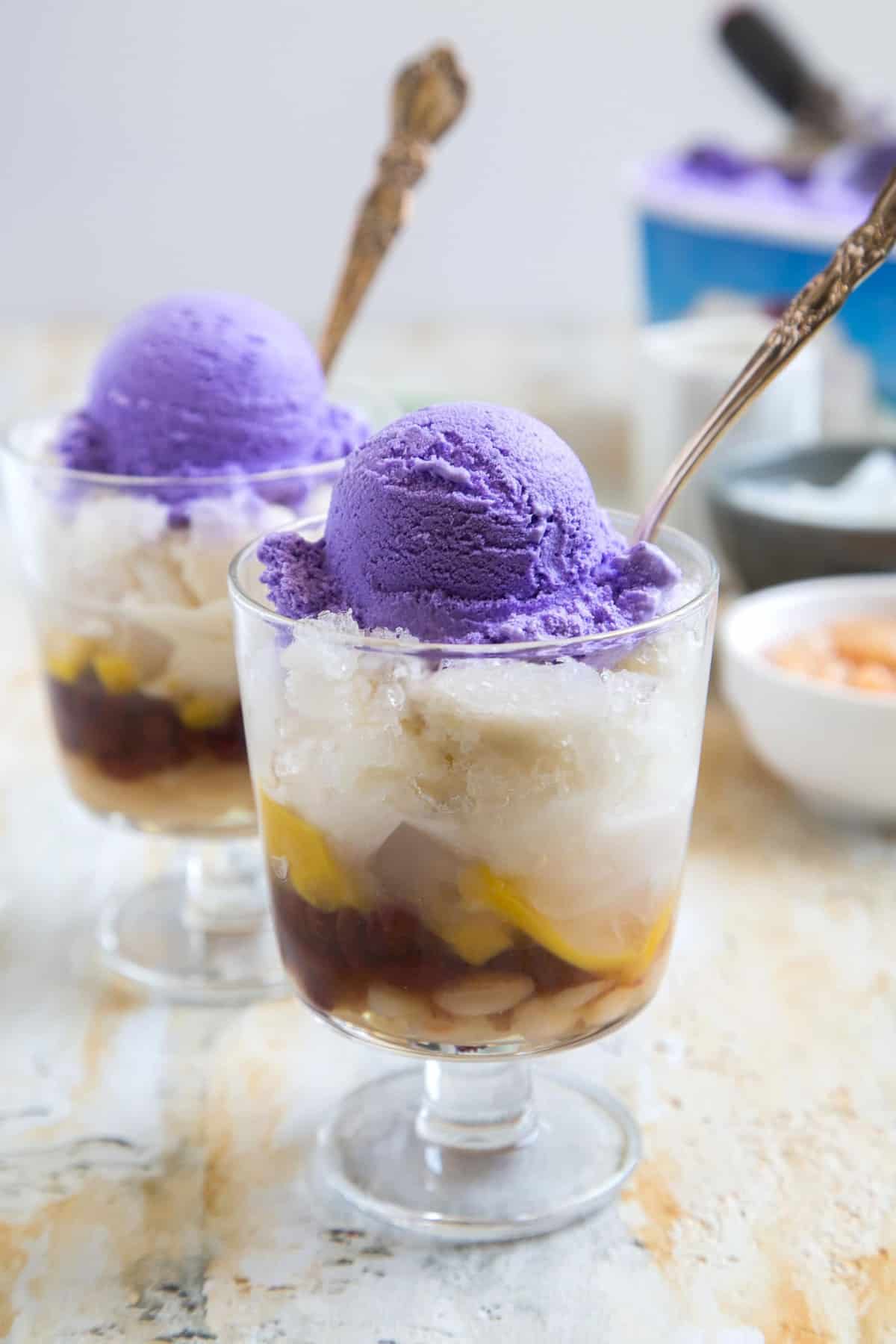 I've always believed the best way to get to know other cultures and peoples is through food. We may speak different languages, practice different religions, and live in different environments, but we all have to eat.
I grew up in a very diverse suburban community. Tasting all sorts of different foods that I normally didn't eat home help to spark my curiosity and fascination for other cultures. I found it super exciting to eat foods that were unfamiliar to me. I enjoy traveling simply because I want to taste everything that the world has to offer!
Today Lab Noon is hosting this Virtual Midsummer Potluck for Peace. There are over 20 food bloggers participating in this event. We're all contributing foods from different cuisines in hopes to spark conversation and share our cultures.
This is one of my favorite summertime childhood treats. While I was born and raised in Southern California, I spent all my childhood summers in the Philippines. This colorful layered dessert is called halo-halo. Halo-halo in Tagalog translates to "mix-mix."
I think it's the perfect recipe to share for today's event because it showcases how completely different (and sometimes random) ingredients can come together to create something tasty and wonderful.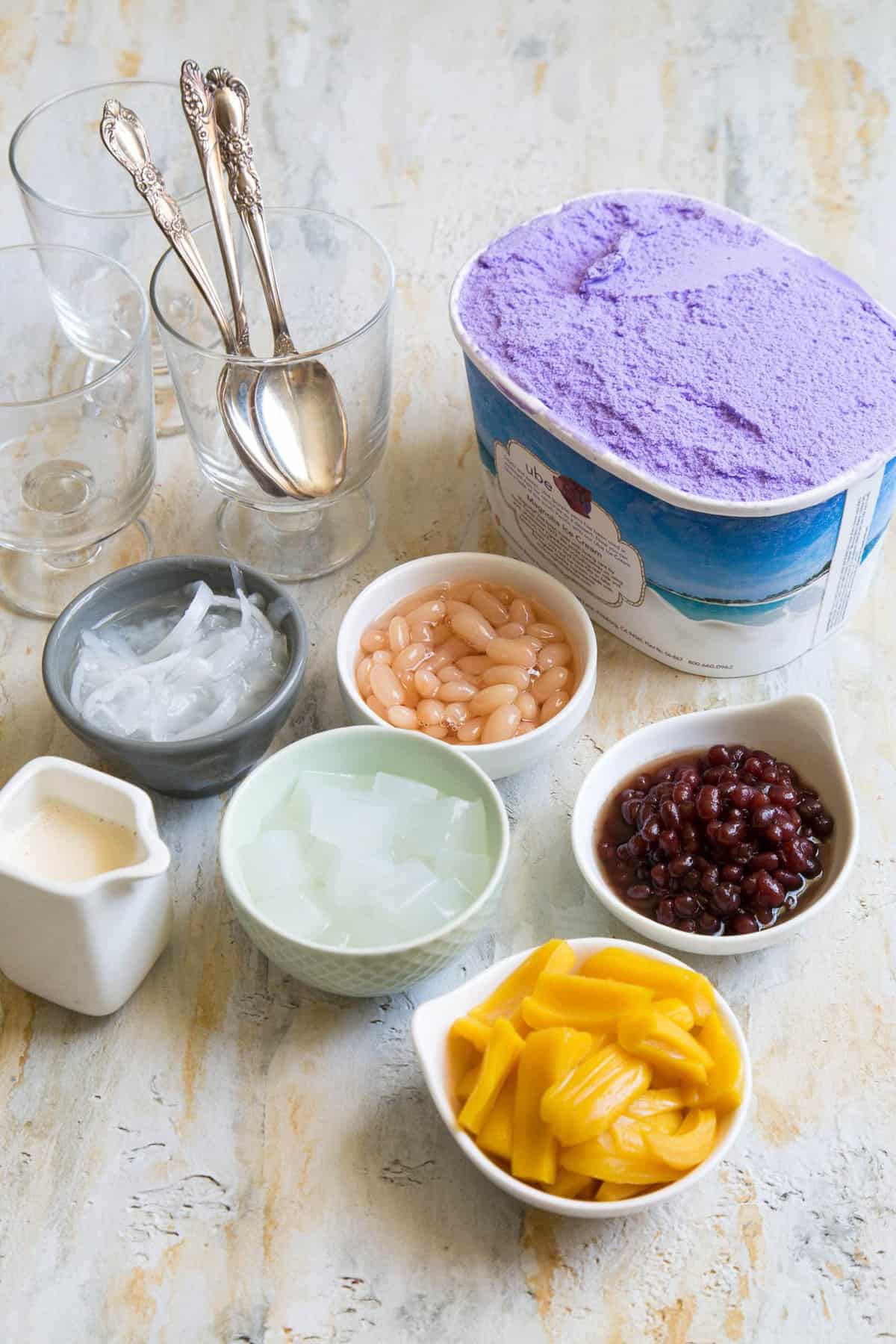 To me, America is still a melting pot of different cultures and peoples- and I love that. I love that you can get Mexican food for breakfast, Vietnamese food for lunch, and Lebanese food for dinner.
Growing up, I was exposed to different cuisines because friends were always so willing to share and introduce their foods to others. I personally am always excited to share my favorite Filipino foods with newbies. (Especially pandesal, calamansi juice, and chicken arroz caldo!)
What is Halo-Halo?
There are countless variations of halo-halo. Ideally, it's a layered dessert consisting of shaved ice, evaporated milk, ice cream, and variety of different mix-ins.
These mix-ins range from sweetened red beans, sweetened white beans, sweetened coconut strings, gelatins, and fruits such as jackfruit, plantains, and lychee. The elaborate versions usually include a serving of flan (leche flan).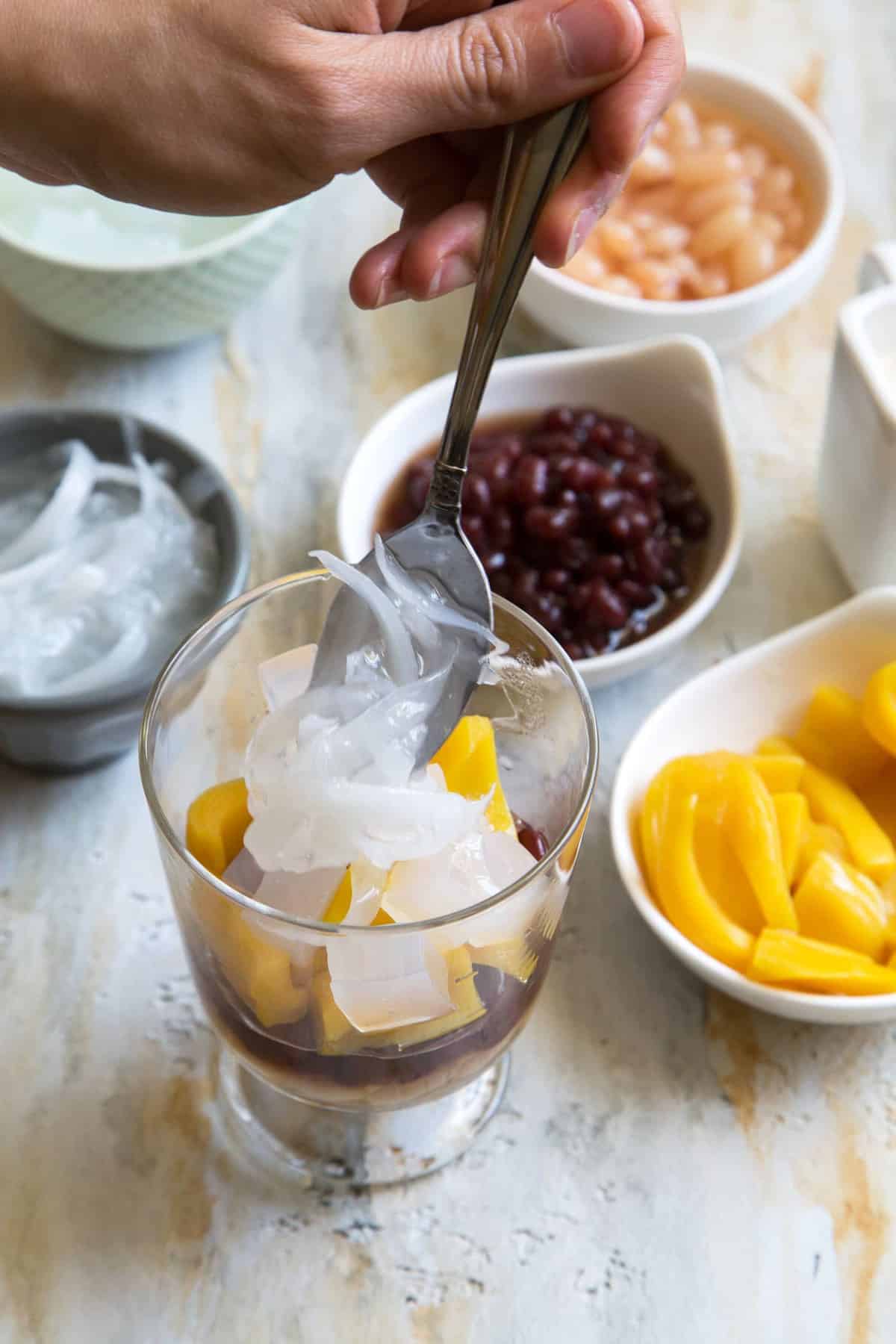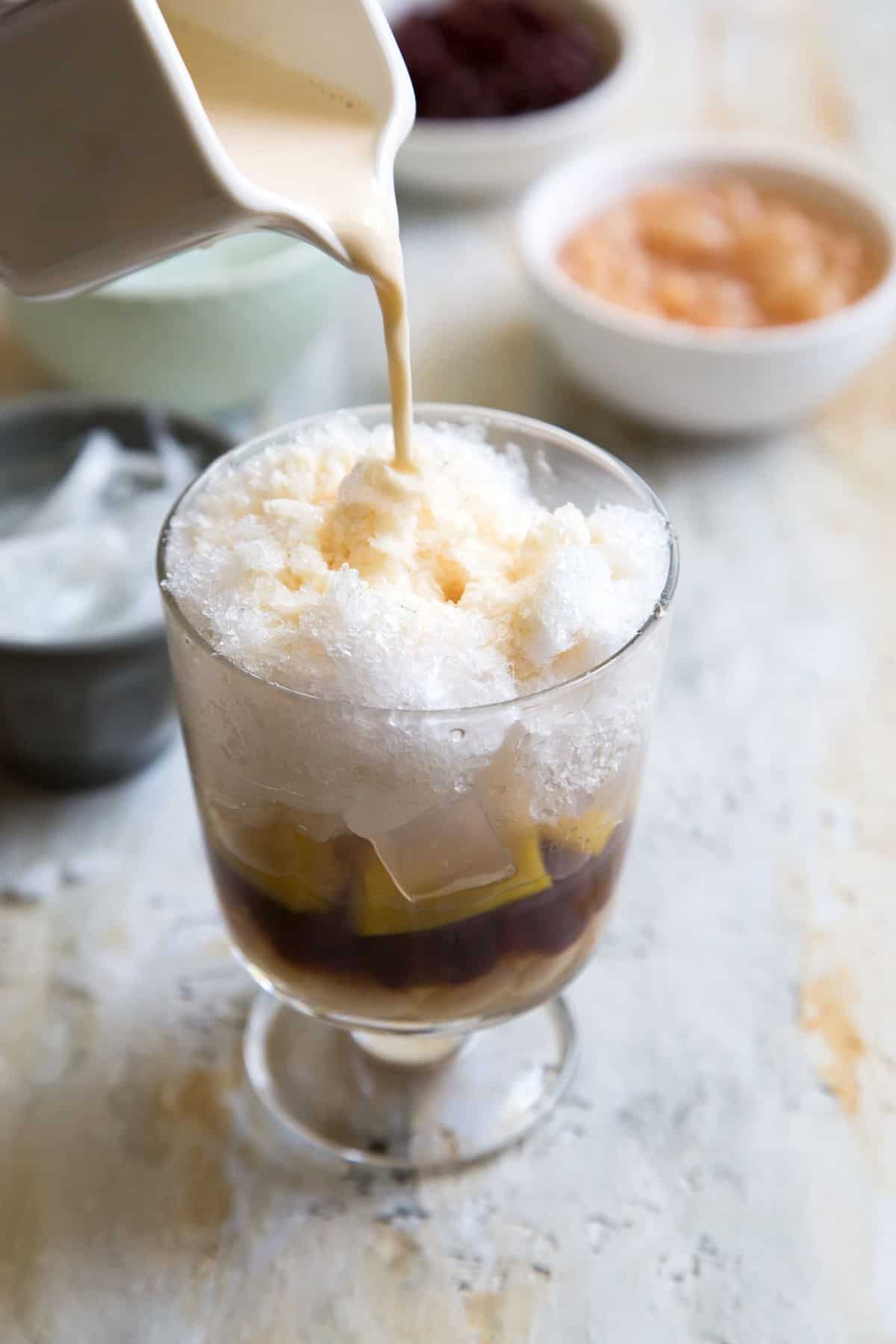 How to make halo-halo:
The different ingredients are layered in a tall glass. It is topped with shaved ice. (I use this electric shaved ice machine from Amazon and I love it!)
It is important to use shaved ice, not crushed or ice cubes. Shaved ice can be easily mixed with the other ingredients (especially the evaporated milk that is drizzled on top). The finishing touch is the scoop of ube ice cream.
This is my super easy halo-halo that uses store-bought components. (In reality no one really has the time to make all these components from scratch! You can even find a bottled version of all the different components in one jar to make it even easier.)
It's a sweet and refreshing dessert that's hard to tire of. Each bite is different.
Once you mix all the ingredients together, it's an explosion of different flavors. One bite might have a ton of fruit. The next bite will have ice cream and sweetened red beans. It's exciting sweet adventure!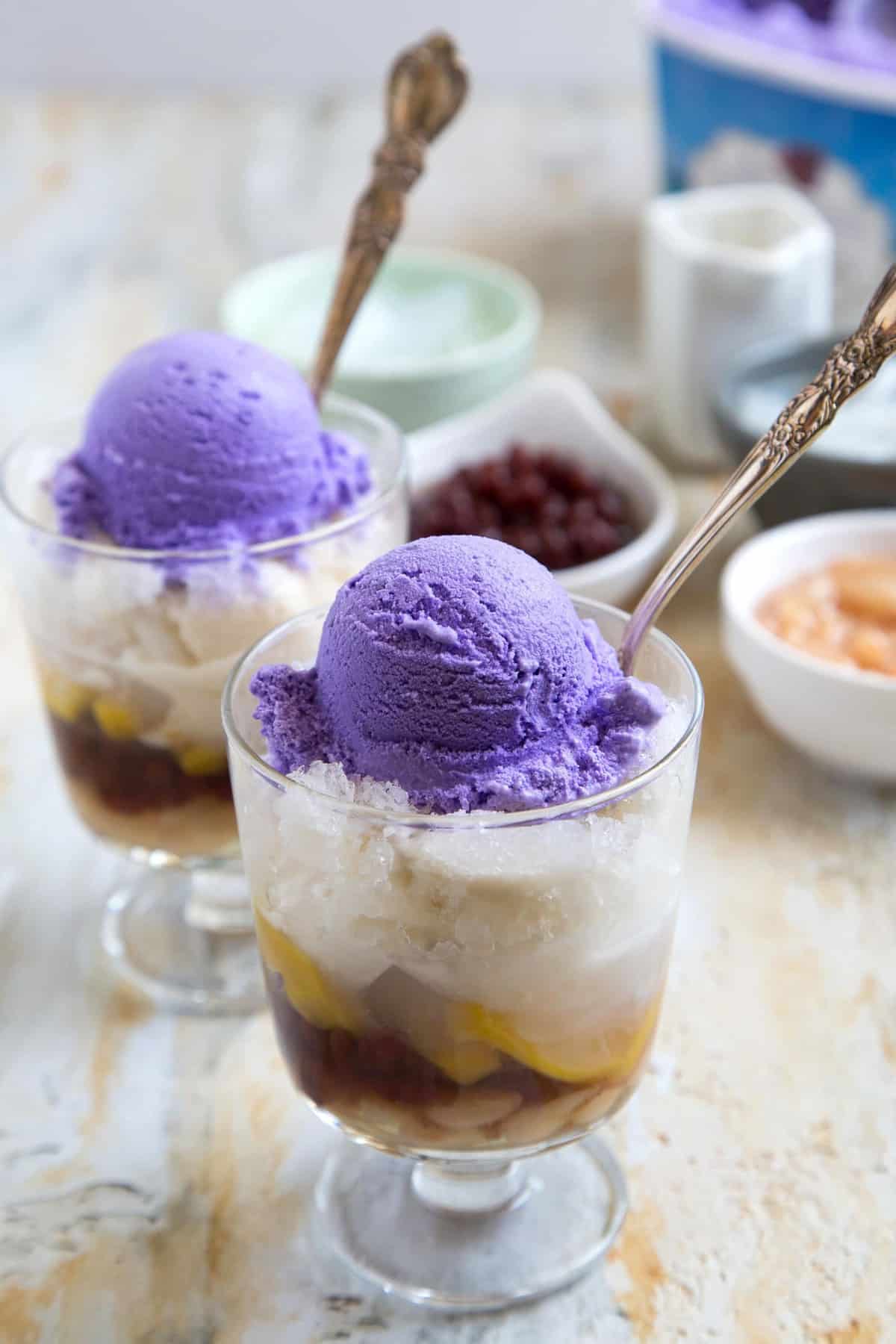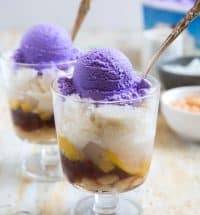 Halo-Halo (Filipino Shaved Iced Sundae)
Yield: serves 1, multiply as needed
Ingredients
sweet red bean (munggo)

sweet white beans

coconut gel (nata de coco)

macapuno (gelatinous coconut string)

Fresh or canned jackfruit, cut into chunks

Shaved ice

Evaporated milk

Ube ice cream
Instructions
In a serving glass, layer sweet red bean, sweet white beans, coconut gel, macapuno, and jackfruit. Top with shaved ice. Drizzle about one tablespoon of evaporated milk over shaved ice. Top with a scoop of ube ice cream. Enjoy immediately!
Recipe Notes
These ingredients can be found at well-stocked supermarkets. My local Vons and Ralphs carries most of this canned/bottled ingredients in their Asian aisle.
Filipino markets such as 

Seafood City

 and 

Island Pacific

 will definitely have all these ingredients. Asian markets like 99 Ranch will also carry these products.
All images and text ©The Little Epicurean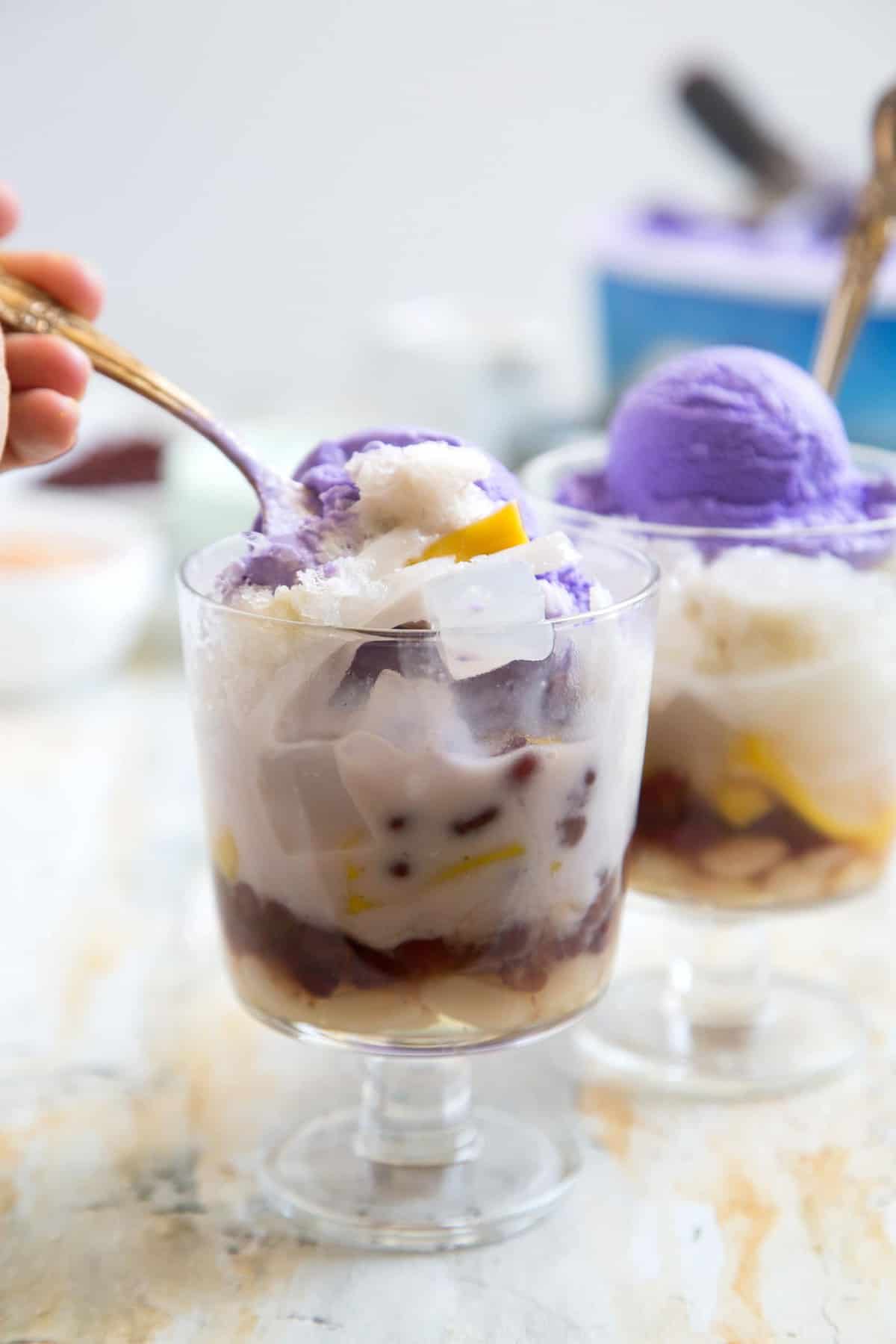 Join in on the festivities and check out the other bloggers participating in #VirtualMidsummerPotluck4Peace