Leche flan is the Filipino version of French creme caramel. This easy to make custard is slowly baked in a water bath and chilled overnight before eating.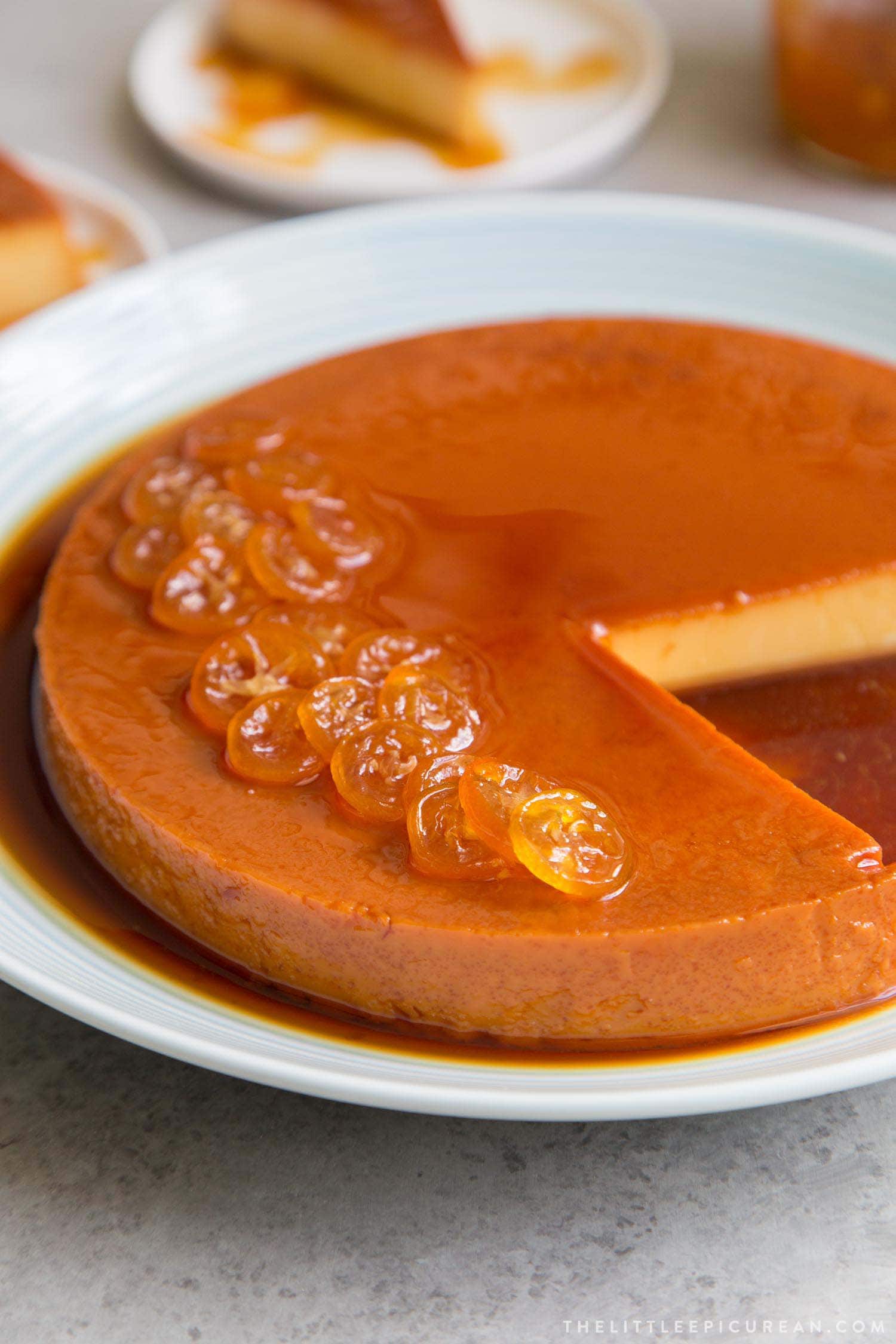 The desserts of the Philippines are varied and rich with history. Many foods that were adopted and later became "Filipino cuisine" were heavily influenced by Spain, China, and America.
Through colonization and various occupations, the Philippines has incorporated a variety non indigenous flavors.
Up until the Spanish-American War (1898), the Philippines was a colony of Spain. Afterwards, the United States took over until the Philippines was finally recognized as an independent state in 1946.
One very significant contribution of US influence are canned goods. Canned evaporated milk and canned sweetened condensed milk, being among the most popular. Both are used in this recipe.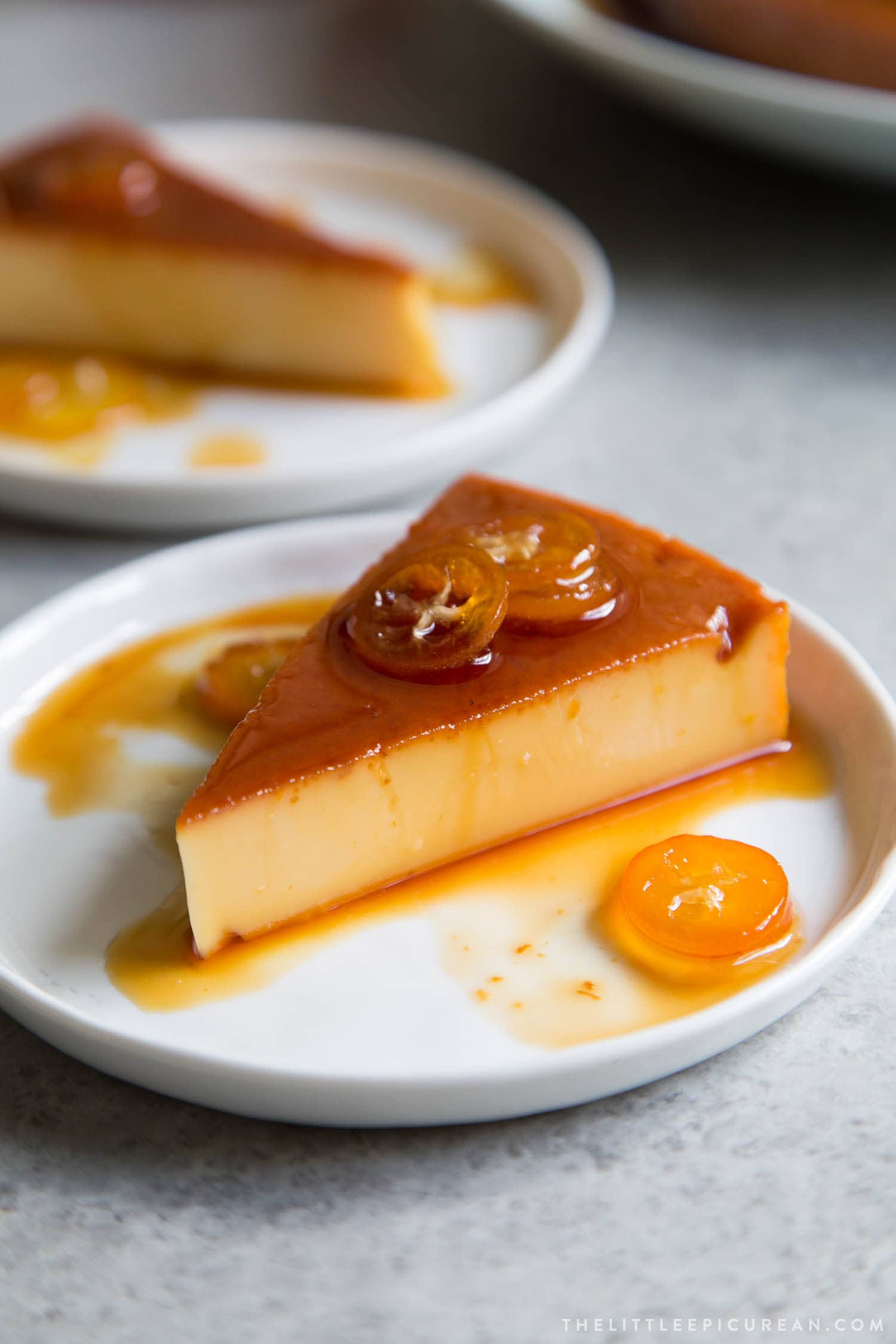 What is leche flan?
Leche flan is simply a Filipino version of creme caramel. It is a milk custard dessert made by baking a layer of caramel at the bottom of the custard mold.
The custard is slowly baked in a water bath or steamed stove-top. After baking, the custard is chilled. Before serving, the mold is inverted and the caramel topping becomes a sauce to the flan.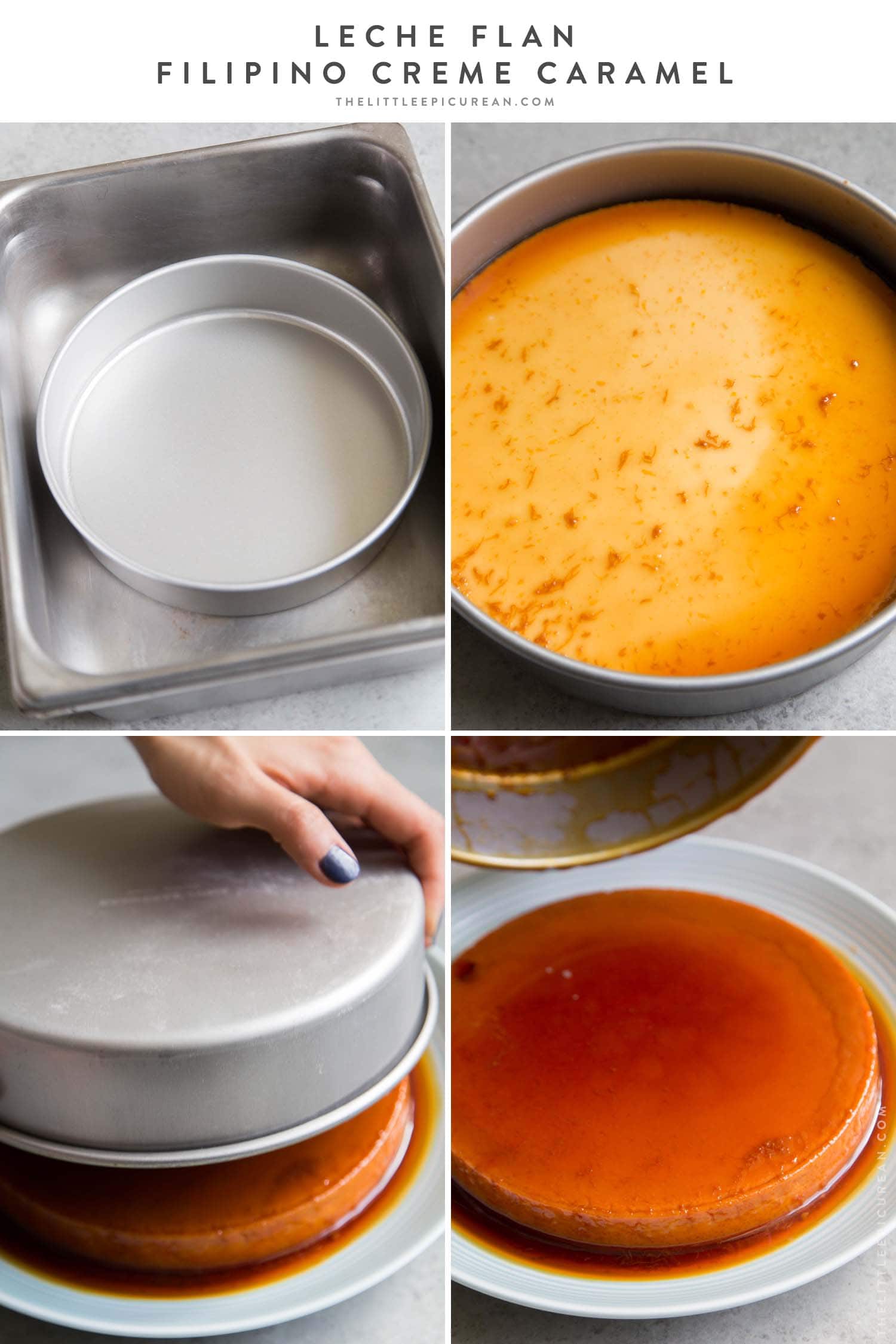 Why bake flan in a water bath?
When it comes to custards and egg based desserts, low and slow is the way to go! Do not skip out on the water bath.
Overheating or overcooking egg based desserts results in a rubbery texture and an unwanted "eggy" flavor. The water bath provides an even distribution of heat and helps to prevent overcooking.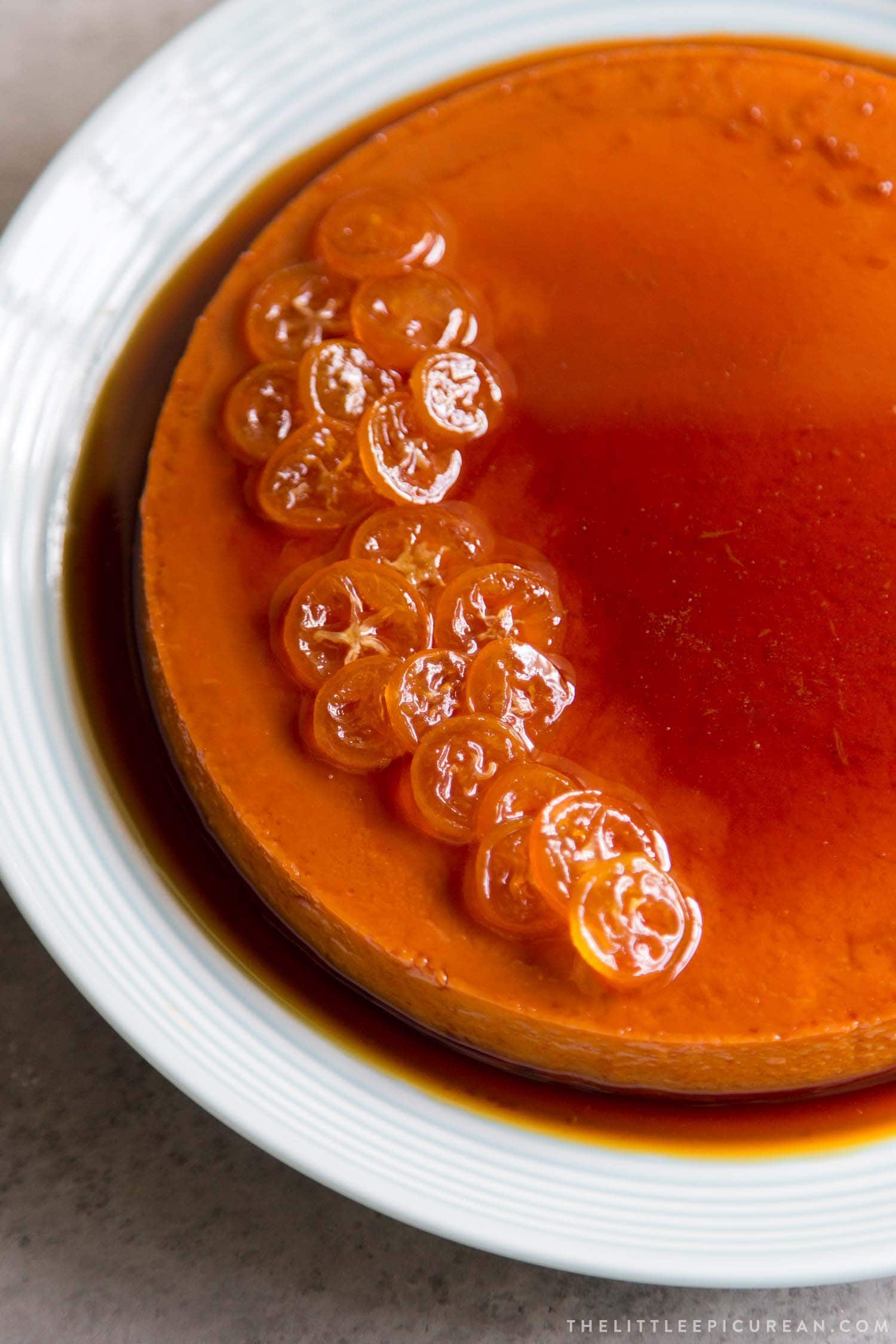 What kind of molds to use for leche flan?
Leche flan is traditionally baked in a liyanera or llanera, an oval tin pan. These tin pans can be found in various sizes and shapes. Unfortunately, I don't have any of those.
Instead, I baked my leche flan in a standard 8-inch round cake pan. For individual servings, the flan can also be baked in small ramekins.
Bundt pans and muffins tins would also work.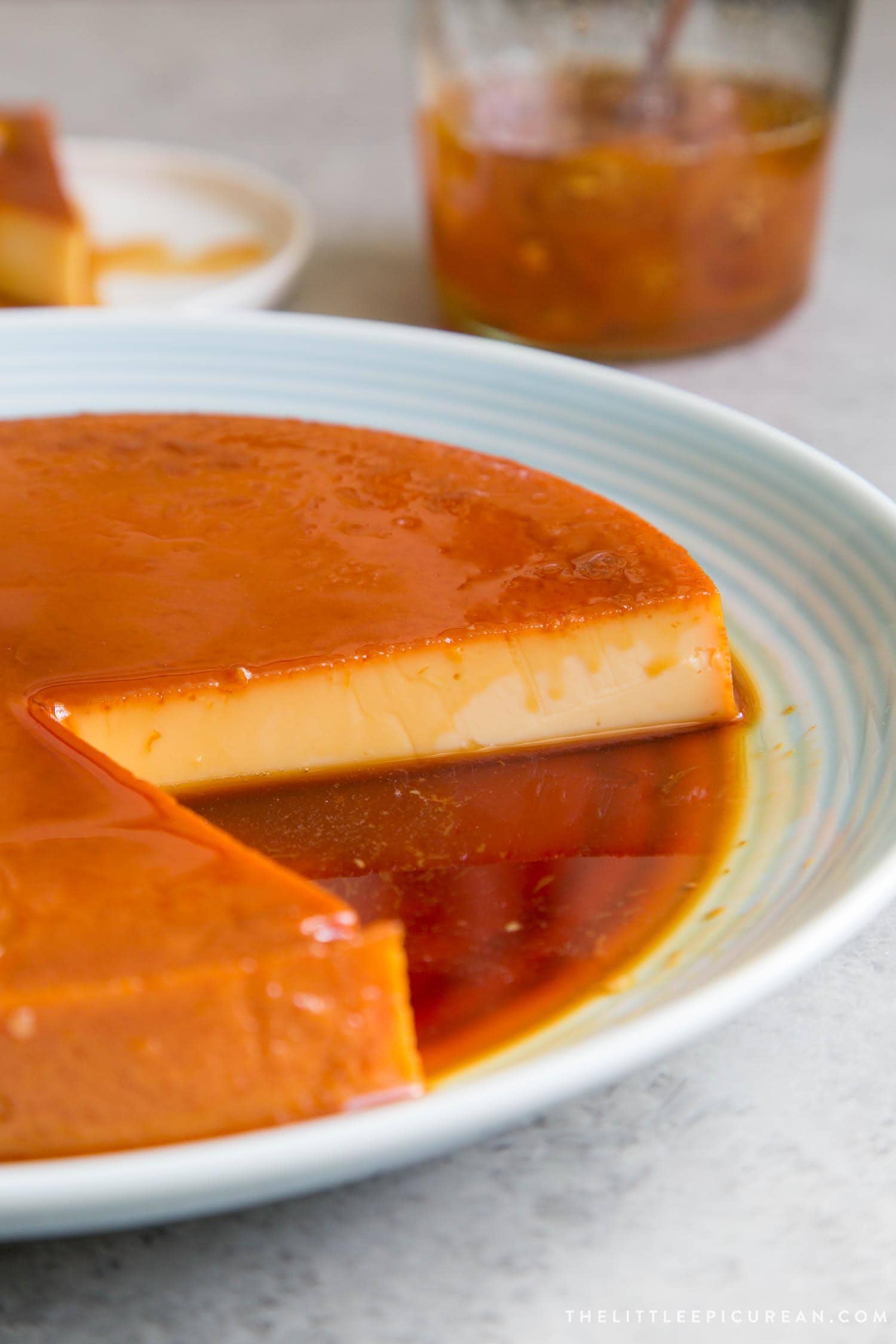 Leche Flan Variations
The staple ingredients in leche flan are milk, sugar, and eggs. Some recipes call for whole eggs, while others use all egg yolks. My version uses a combination of whole eggs and egg yolks.
Sticking to the version I recall watching being made as a kid, this flan is made with canned evaporated milk and canned sweetened condensed milk.
Evaporated milk is a lot sweeter than regular milk. For a slightly less sweet version, sub in regular milk (or low-fat milk).
Many recipes call for a touch of calamansi or dayap to add brightness to this otherwise very rich, sweet dessert. I used a combination of orange zest and Meyer lemon zest to replicate those flavors.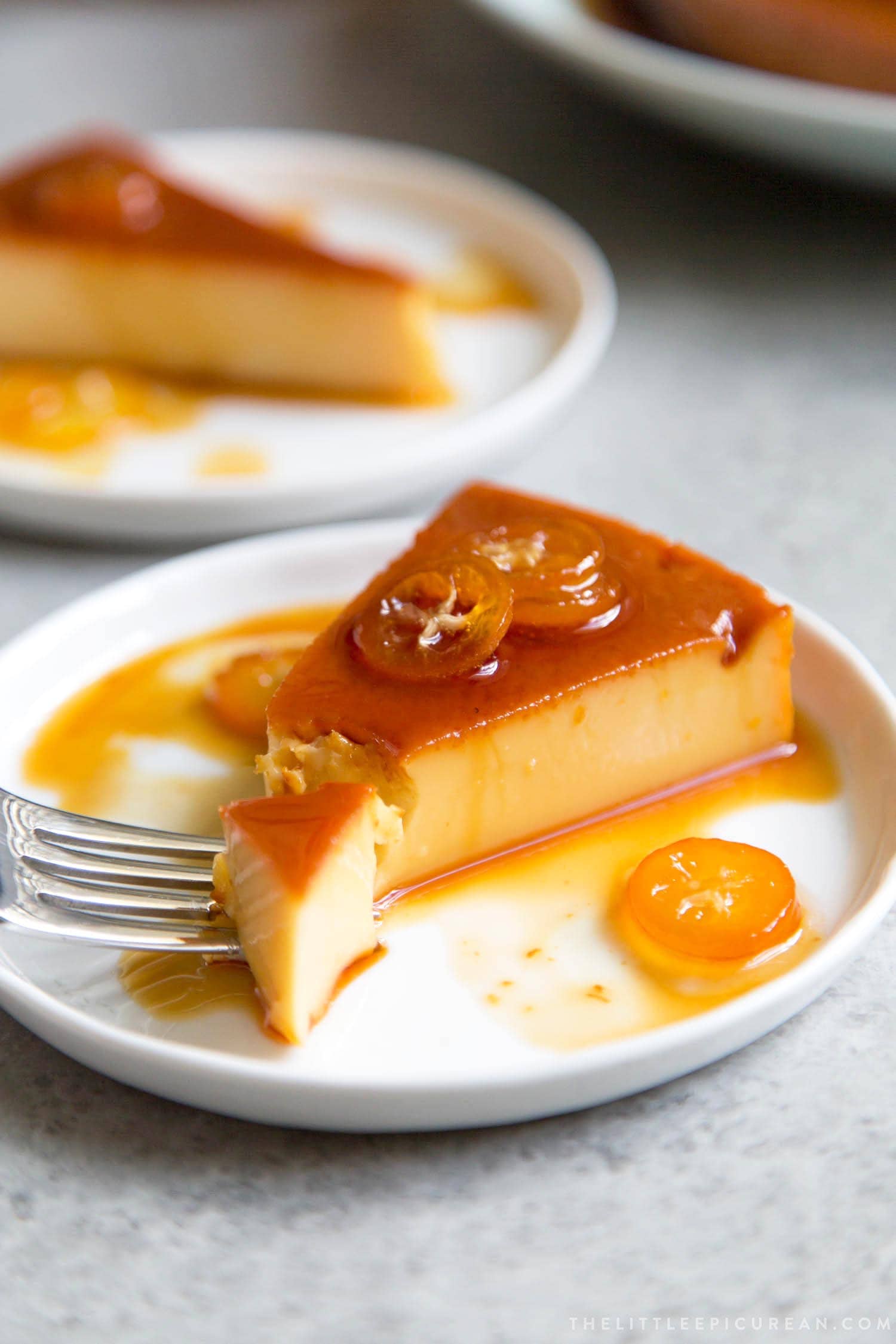 Growing up, leche flan was only served at special occasions and during the holidays. The version we ate was made with all egg yolks. Talk about super rich. One slice probably had a day's worth of cholesterol.
If you're in the mood for something super special, add a slice of leche flan to halo-halo!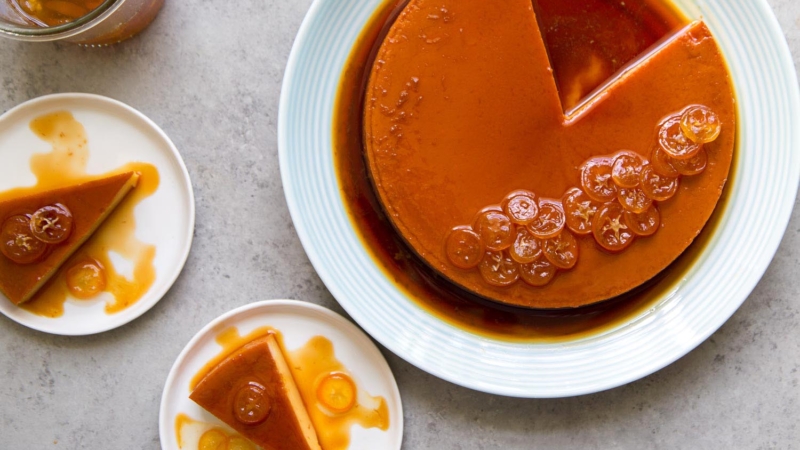 Leche Flan
Leche flan is the Filipino version of French creme caramel. This easy to make custard is slowly baked in a water bath and chilled overnight before eating. The leche flan is served with candied kumquats. Yield: 8-inch round
Ingredients
Leche Flan:
½

cup

granulated sugar

3

large eggs

3

large egg yolks

14

oz

can sweetened condensed milk

12

oz

can evaporated milk

1

teaspoon

finely grated orange zest

1

teaspoon

finely grated meyer lemon zest

1

teaspoon

vanilla extract

pinch kosher salt
Candied Kumquat:
6

oz

kumquats

½

cup

water

½

cup

granulated sugar

¼

cup

honey
Instructions
In a heavy bottomed sauce pot, melt sugar over medium heat. Do not stir sugar. Instead, stir pot around to even melt sugar. Cook until sugar is rich golden brown in color. Remove from heat and carefully pour melted sugar into a round 8-inch cake pan. Set aside to cool and harden.

In a large bowl, add eggs, egg yolks, condensed milk, evaporated milk, zest, vanilla, and set. Use an immersion blender to process until just smooth. Do not overmix. You do not want the eggs to foam up. (Alternatively, use a blender.)

Pour mixture into caramel lined cake pan. Cover with foil. Set cake pan into a larger roasting pan. Fill the roasting pan halfway with simmering water. Place in the center rack of oven. Bake for 50-60 minutes until the edges of the flan is set but the center still slightly jiggles.

Carefully remove cake pan from water bath. Allow to cool at room temperature for about 2 hours. Once cooled, let chill in the fridge for at least 4 hours, preferably overnight.

Run a butterknife or mini offset spatula along the edges of the cake pan to loosen flan. Place serving plate over cake pan. Quickly invert flan into serving plate. Garnish with candied kumquats. Serve chilled.
Candied Kumquats:
Rinse kumquats. Slice off stem. Slice kumquats into ¼-inch rounds. Discard any seeds. Set aside.

In a heavy bottomed sauce pot, bring water, sugar, and honey to a boil. Once sugar has dissolved, add sliced kumquats. Reduce to a simmer. Allow fruit to simmer for 10-15 minutes until softened and almost translucent. Remove from heat and allow to cool.

Transfer kumquats and syrup to an airtight container. Keep chilled in the fridge until ready to use. Will keep in the fridge for up to two weeks.
Notes
Calamansi (calamondin) or Dayap (Filipino key lime) is traditionally used in the this recipe. I used a combination of orange zest and Meyer lemon zest in it's place to mimic the flavors. However, you can also simply use all orange zest.
For a less sweet version, use regular milk in place of evaporated milk.
While you can eat the leche flan warm from the oven, it is best served chilled.
Store any leftover leche flan in the fridge in an airtight container for up to three days.
Candied kumquats will keep in the fridge for up to a two weeks