This quick and easy French Bread Pizza is an ode to a favorite elementary school lunch item.
My love for pizza started in elementary school.
Every Friday our cafeteria would serve French bread pizza.
I thought it was the most amazing thing ever. It was cheesy, saucy, and oh so tasty.
Forget the frozen French bread pizzas of high school and college years.
It's unbelievably easy to make French bread pizza at home using store-bought French bread (or Italian bread, or whatever soft loaf of bread your market sells).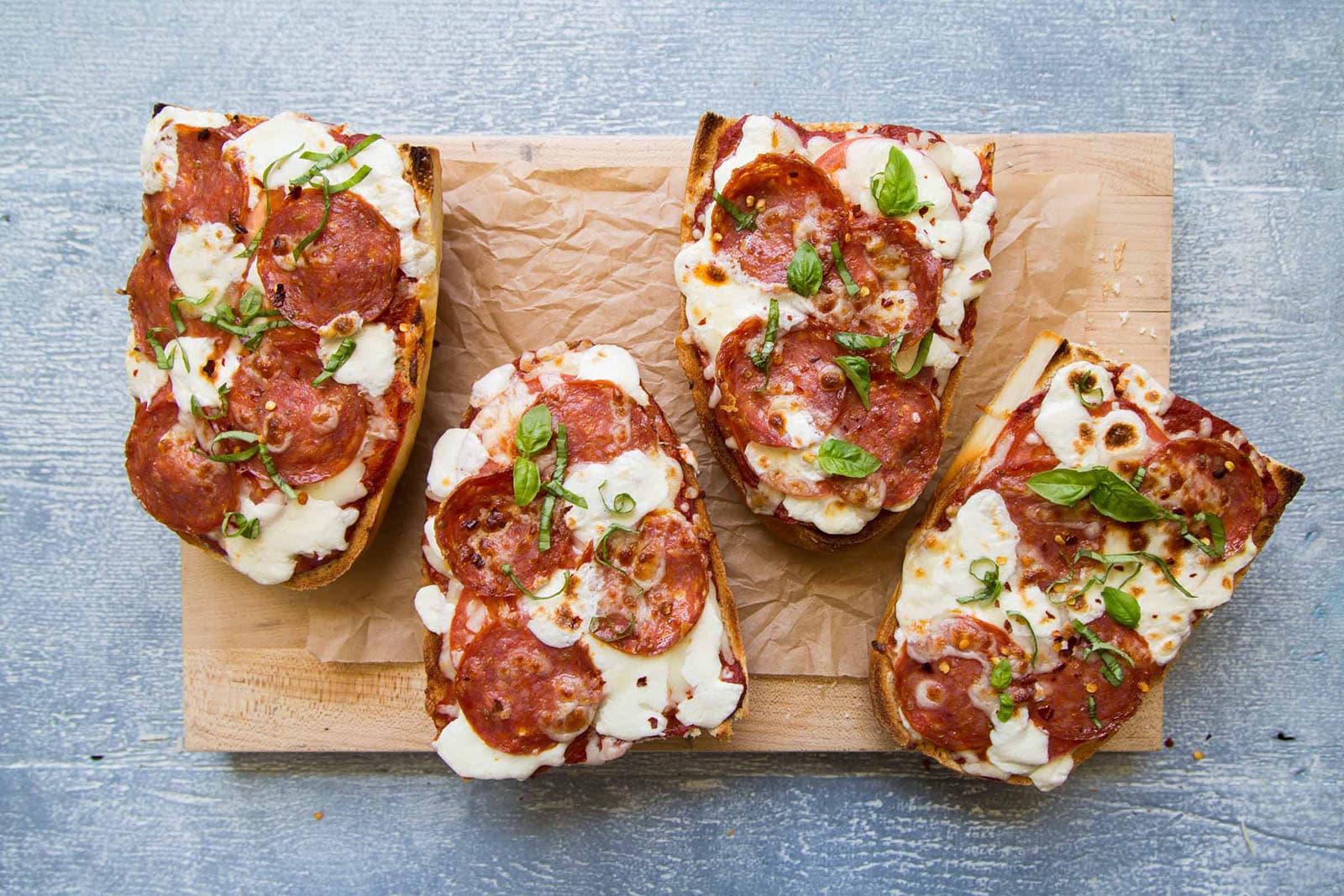 French Bread Pizza Recipe
This recipe couldn't get any easier. It takes 5 minutes to prep all the ingredients. And, less than 5 minutes of actual cooking time!
Use the oven's boiler setting to have hot, bubbly, saucy French bread pizza ready in minutes!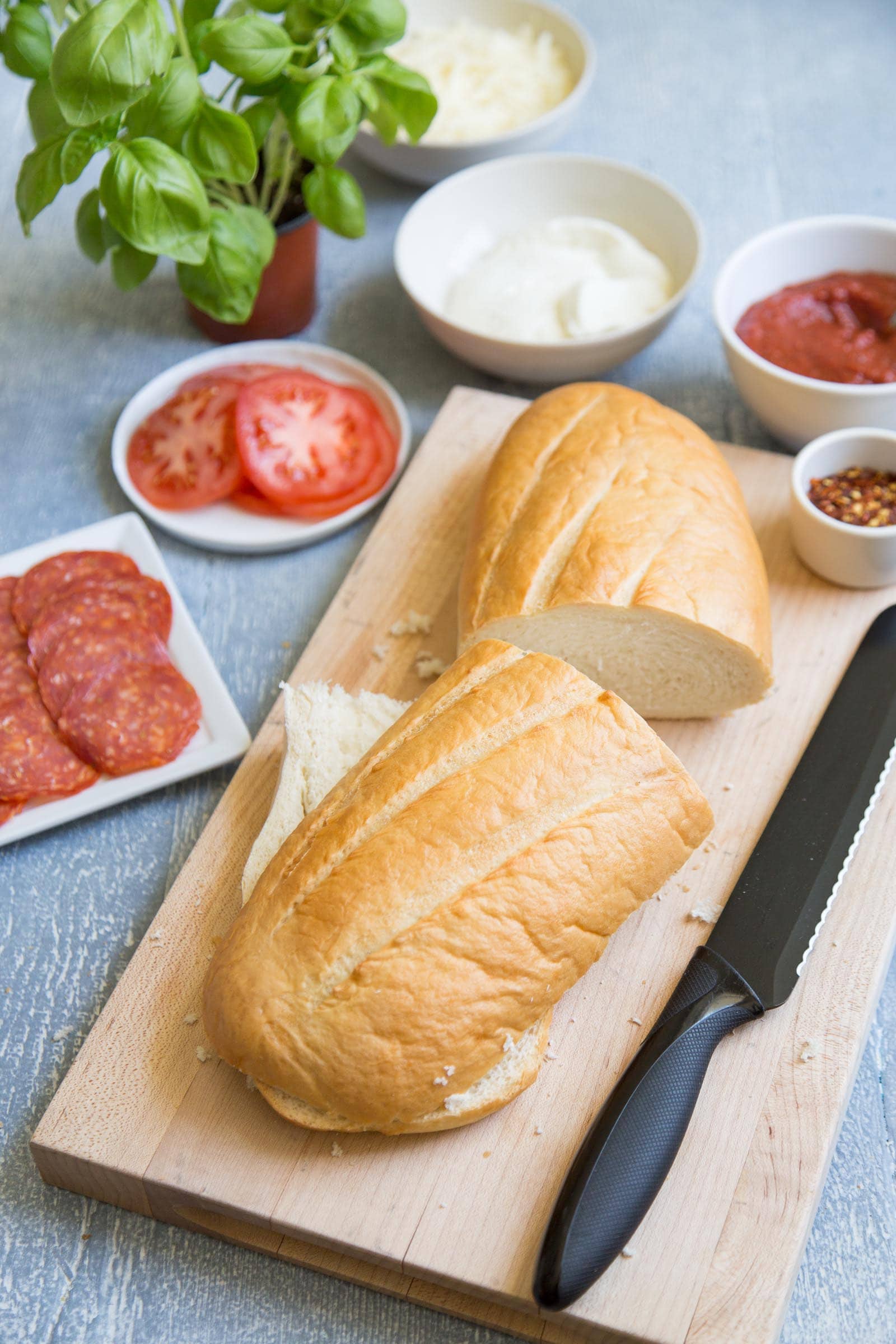 Pizza Components
Begin with your choice of French bread or Italian bread. Or, use whatever soft loaf your local grocery store or bakery carries.
From there, you can pick and choose your choices of toppings.
Sauces: tomato sauce or marinara sauce, basil pesto, sun dried tomato pesto
Toppings:
Cheese: fresh mozzarella, shredded mozzarella, fontina, Swiss, pepper jack
Protein: pepperoni, ham, turkey, crumbled sausage, grilled chicken
Vegetables: tomato, mushroom, bell pepper, olives, zucchini, onion
Garnishes:
Herbs: fresh basil, fresh thyme, fresh oregano
Assembling Pizza
Slice the bread in half lengthwise and crosswise until you have four equal pieces.
Place the bread cut-side up on a baking sheet and set it under the broiler for 30 seconds or so until the bread is nice and toasty.
This helps to give the pizza some structure and crunch.
Top toasted bread with pizza sauce (this one is my favorite!), shredded mozzarella, sliced tomatoes, pepperoni, and crumbled fresh mozzarella.
Fresh mozzarella is key!
Fresh mozzarella is key. That's how you get pockets of that ooey-gooey cheese pull.
Plus, it's way to elevate French bread pizza and make it a tad more classy.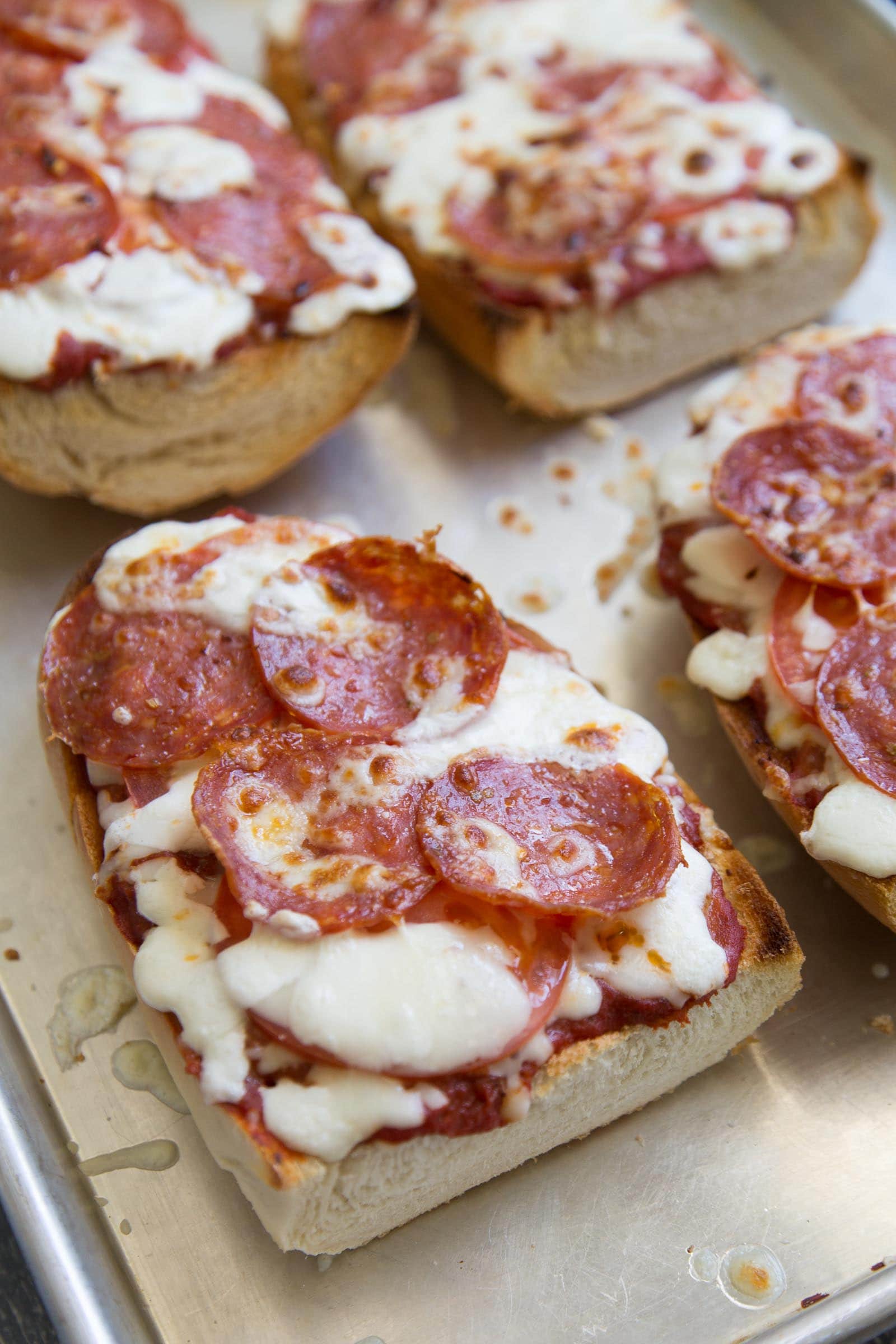 Return to the boiler for a minute or so until the cheese has melted and is starting to brown. Season with some crushed red pepper flakes and top with fresh basil. That's it!
Doesn't it look a 100 times more better than the frozen ones?
While I'm a fan of more sophisticated pizzas like ricotta and squash blossom pizza or fig prosciutto pizza with balsamic glaze, I'll always have a soft spot for my first pizza love- pepperoni pizza!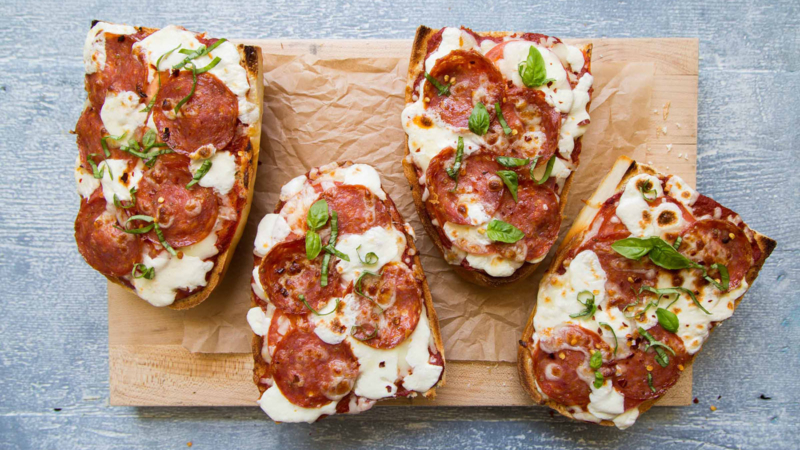 French Bread Pizza
Quick and easy French bread pizza features fresh mozzarella and pepperoni slices. Customize topping choices to make it your own!
Ingredients
16

oz

(1 pound) soft loaf French bread or Italian bread

½

cup

pizza sauce*

1

medium tomato, thinly sliced

4

oz

mozzarella cheese, shredded

3

oz

fresh mozzarella cheese

2

oz

pepperoni slices

crushed red pepper flakes, to top

fresh basil, to garnish
Instructions
Position rack in center of oven*. Set oven to broiler.

Slice bread loaf in half crosswise and lengthwise until you have four pieces total. Arrange bread cut side up on a baking sheet. Place under broiler for 30-45 seconds until tops of bread are lightly toasted.

Remove from oven. Spread about 2 tablespoons of pizza sauce over each piece of bread. Sprinkle about 1 oz of shredded mozzarella over sauce. Top with sliced tomatoes and pepperoni. Crumble fresh mozzarella over tomatoes. Sprinkle remaining shredded mozzarella on top.

Return to oven and place under broiler for 45-60 seconds, rotate baking sheet, and heat for another 45-60 seconds until cheese has melted and is starting to brown. Season with crushed red pepper flakes, if desired. Garnish with fresh basil. Serve immediately.
Notes
Position rack in center of oven about 6-inches from broiler. The broiler setting is very HOT. Keep a close eye on your pizza to make it sure it doesn't burn. 
I used this store-bought tomato sauce
All images and text ©The Little Epicurean