This ricotta and squash blossom pizza is pesto based and topped with fontina and mozzarella cheese. It is first cooked stovetop on a skillet and then finished in the oven to create the ultimate crispy crust!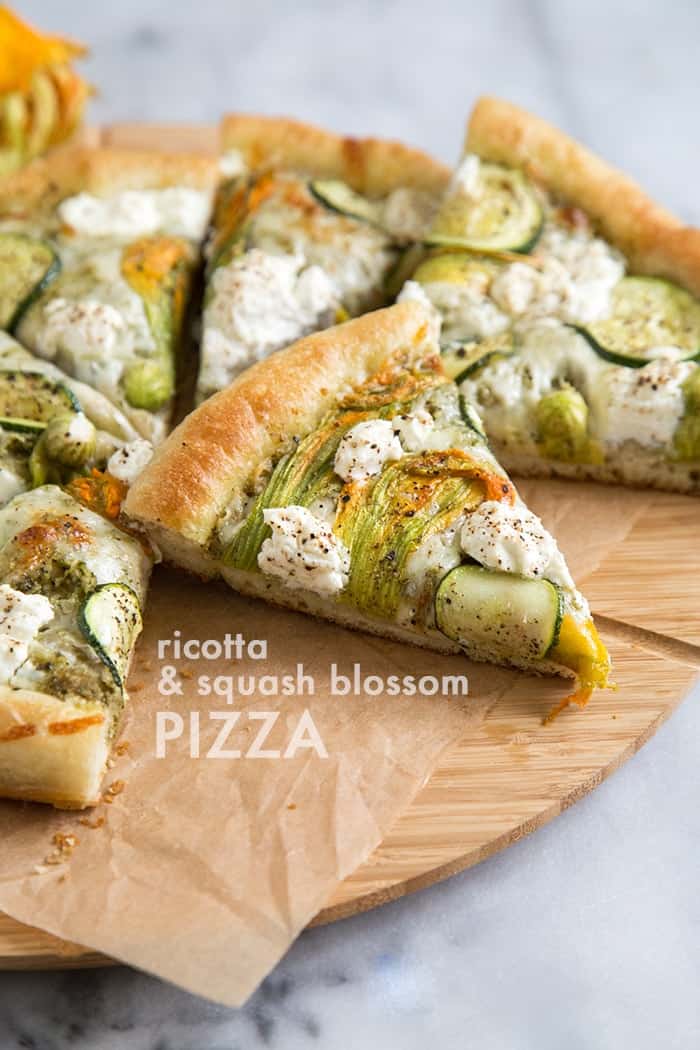 This ricotta and squash blossom pizza is an ode to Miss Green. Who is Miss Green? Miss Green happens to be my favorite pizza from Tomato Pie.
It's a pesto based pizza with spinach, artichoke, zucchini, broccoli, ricotta, shaved parmesan and a hint of nutmeg. And, it is absolutely delicious!
This ricotta squash blossom pizza doesn't have all the same toppings as the wonderful Miss Green. However, I think this variation is actually butter!
This is a must make pizza during squash blossom season.
Squash blossoms are these delicate little divas that need to be showcased. It's better to allow them to shine in the spotlight rather than bombard them with other competing flavors.
I'm a fan of skillet pizzas because you're guaranteed to get that perfect circle pizza. No wonky almost circles. No thin spots or uneven cooking.
This method results in perfect pizza. It's a wonderful tip I learned from Cook's Illustrated, aka one of the best food/cooking magazines.
How to make skillet pizza
Oil the skillet. Place the dough in the pan and stretch and pull until the dough fits the bottom of the pan. Load on your toppings and set the skillet over medium-high heat on the stove.
Pre-cook the dough for a couple of minutes. Cook until the bottom of the pizza is almost set. Then, pop the skillet in a super hot 500 degree F oven.
About 10 minutes later the pizza will have ooey-gooey cheese and a nice crisp-crunchy crust! Perfection!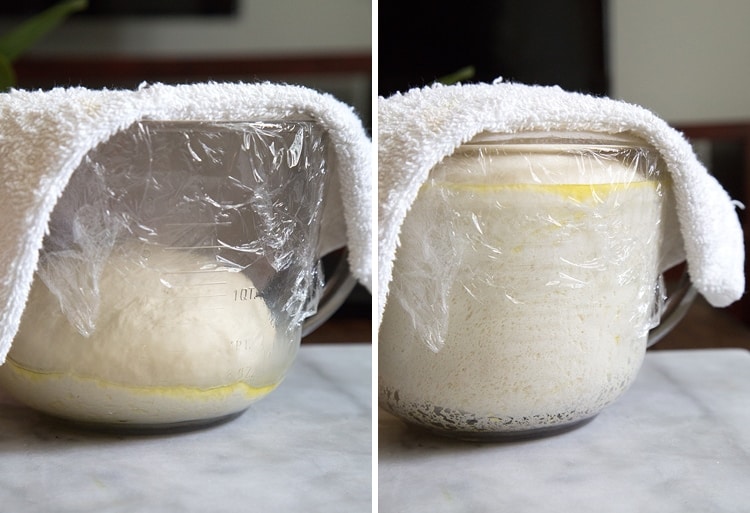 Easy Homemade Pizza Dough
This pizza dough recipe is fairly straight forward. It's an adaptation of Bobby Flay's dough recipe.
I love working with doughs. I find it very relaxing and stress relieving.
However, if you don't have the time, you can totally substitute your favorite store-bought dough.
This easy homemade pizza dough is also used to make cast iron pepperoni pizza and fig prosciutto pizza.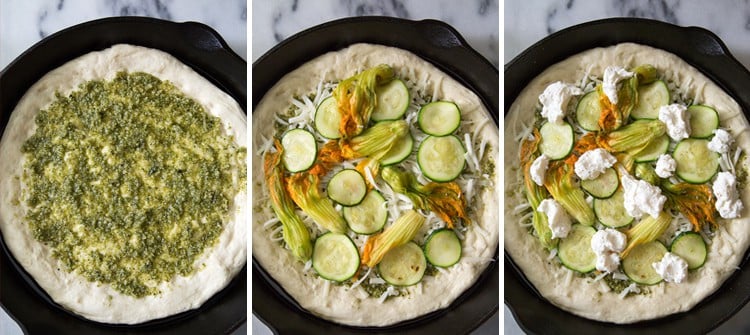 Assemble the Ricotta Pizza
This pizza is pesto based. Pesto pairs beautifully with ricotta, zucchini, and squash blossom.
Sprinkle on shredded cheese. I used a mixture of shredded mozzarella and fontina cheese. Substitute in your favorite mild cheeses.
Arrange sliced zucchini and squash blossoms on top of the cheese. Next, add a couple dollops of creamy whole milk ricotta and a sprinkling of freshly grated nutmeg.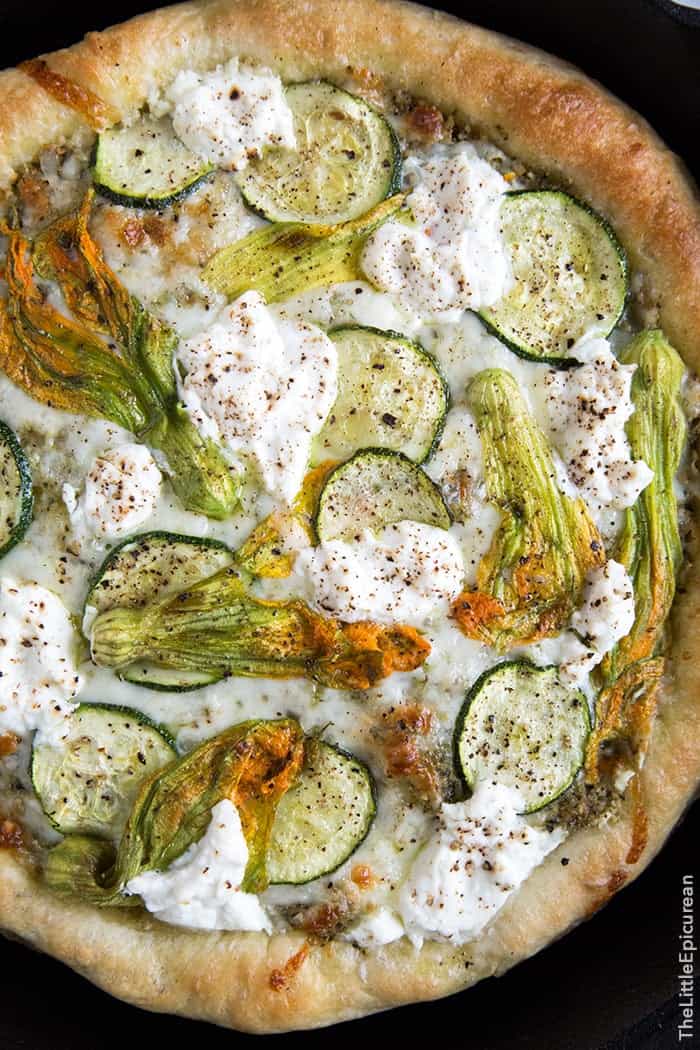 It might sound like unusual combination, but all the flavors really fall into place.
This is the kind of pizza that will have you forgetting about pepperoni, sausage and ham. Meaning you can totally serve this to your picky little brother who only eats meat, and I guarantee that he'll fall in love with it (even if it is vegetarian).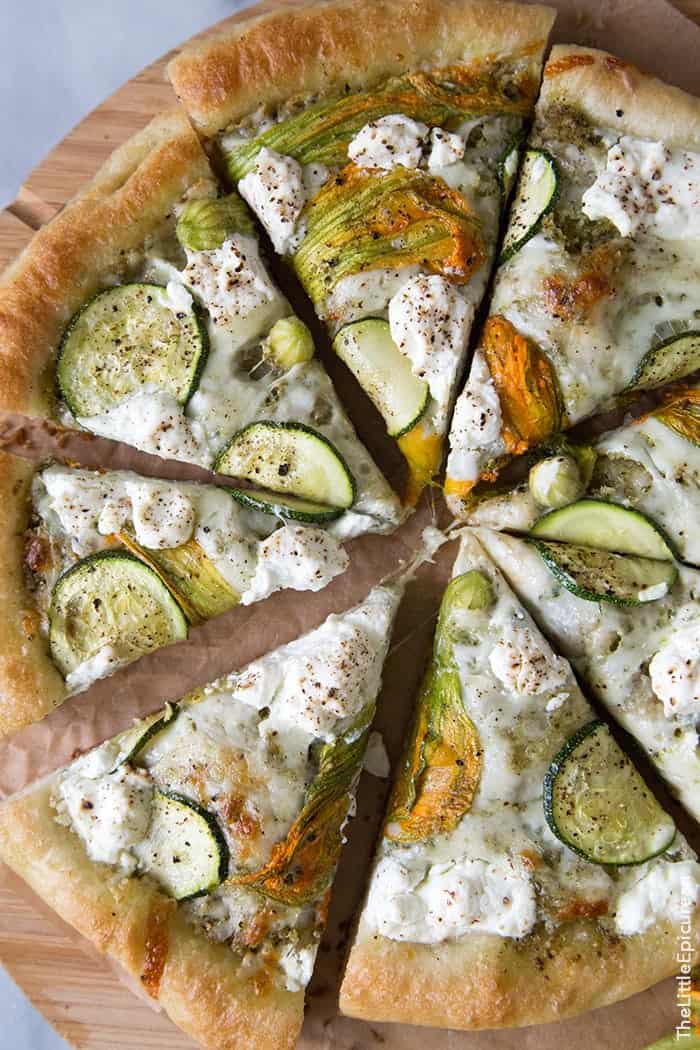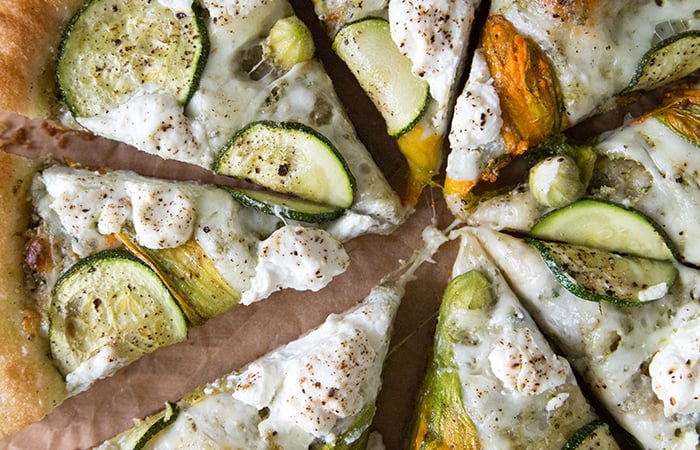 Ricotta and Squash Blossom Pizza
This ricotta and squash blossom pizza is pesto based and topped with fontina and mozzarella cheese. It is first cooked stovetop on a skillet and then finished in the oven to create the ultimate crispy crust!
Yield: 12-inch pizza
Ingredients
Pizza Dough: (makes 2)
2 1/4

teaspoon

dry active yeast

1

teaspoon

granulated sugar

1 1/2

cup

warm water,

about 110 degrees F

2 1/2

cup

bread flour

1

cup

all-purpose flour

2

teaspoon

fine sea salt

2

Tablespoon

olive oil

1 1/2

Tablespoon

honey
Pesto: (makes about 1 cup)
2

cup

fresh basil leaves, packed

1/3

cup

lightly toasted walnuts,

roughly chopped

1/3

cup

grated parmesan cheese

4

garlic cloves,

roughly minced

1

teaspoon

fresh squeezed lemon juice

1/2

cup

olive oil

salt and pepper,

to taste
Toppings:
1/2

medium

zucchini,

thinly sliced

6

squash blossoms,

stamens removed

3

Tablespoon

pesto

1/2

cup

shredded mozzarella

1/3

cup

shredded fontina

1/3

cup

whole milk ricotta

freshly grated nutmeg

salt and pepper,

to taste
Instructions
Dough:
In small bowl, whisk together yeast, sugar, and warm water. Let sit for 5-7 minutes until mixture cloudy and foamy.


In the bowl of stand mixer fitted with a hook attachment, whisk together bread flour, all-purpose flour, and salt. Pour in yeast mixture. Mix together on low speed until dough starts to come together.


Add olive oil and honey. Increase speed to medium and mix until dough has come together to form a smooth ball, about 3 minutes. If dough is too sticky and does not pull away from the sides of the bowl, add 1/2 Tbsp of all-purpose flour at a time. Transfer ball of dough to a lightly greased large bowl. Cover bowl with plastic wrap and place kitchen towel over bowl. Allow to rest for one hour until dough has doubled in size.

Punch down dough and place on a lightly floured work surface. Divide dough into two equal parts. Lightly cover dough with plastic wrap and allow to rest for 15 minutes before shaping into pizza.*

Pesto:
In a food processor, pulse together basil leaves and walnuts about 10-15 times until contents have begun to break down. Add parmesan, garlic and lemon juice. Pulse a couple more times until new ingredients have been distributed.


With the food processor running, slowly add the olive oil until mixture comes together like a paste. Add salt and pepper to taste. Transfer pesto to an airtight container and store in the fridge until ready to use.

Toppings and Assembly:
Preheat oven to 500 degrees F. Warm up a lightly oiled skillet over medium heat. Gently sauté sliced zucchini and squash blossoms to slightly softened. Transfer to a plate until ready to use.

Spread about 1 Tbsp of olive oil in a 12-inch cast iron skillet. Place dough in oiled skillet and gently push and pull dough to fit the bottom of the skillet.


Spread 3 Tbsp pesto on dough, leaving about 1/2-inch border around the pizza. Sprinkle mozzarella and fontina evenly over the pesto. Arrange zucchini and squash blossoms on top. Distribute spoonfuls of ricotta over the pizza. Lightly sprinkle freshly grated nutmeg over pizza. Season with some black pepper.


Transfer skillet to a stove over med-high heat. Warm up the cast-iron and cook pizza dough for about 3 minutes until the bottom of the crust has set and the oil is bubbling along the outer rim of the pizza. In order to have a more defined crust, use a spatula to create an indent around the toppings to separate the crust.


Transfer the hot skillet into the preheated oven. Bake for 8-12 minutes until cheese has melted and is bubbling. Remove from the oven and let sit for 2-4 minutes until unmolding. Place pizza on a cutting board and use a sharp knife or pizza wheel to cut into slices.

Notes
Dough recipes make two 12-inch pizzas. If making two pizzas, double the toppings listed above. Otherwise, store remaining dough in the fridge and use within 2 days.
pizza dough recipe adapted from 

Bobby Flay, Food Network