This Big Island Hawaii travel guide has everything you want to eat, see, and do during a weekend long vacation on the island.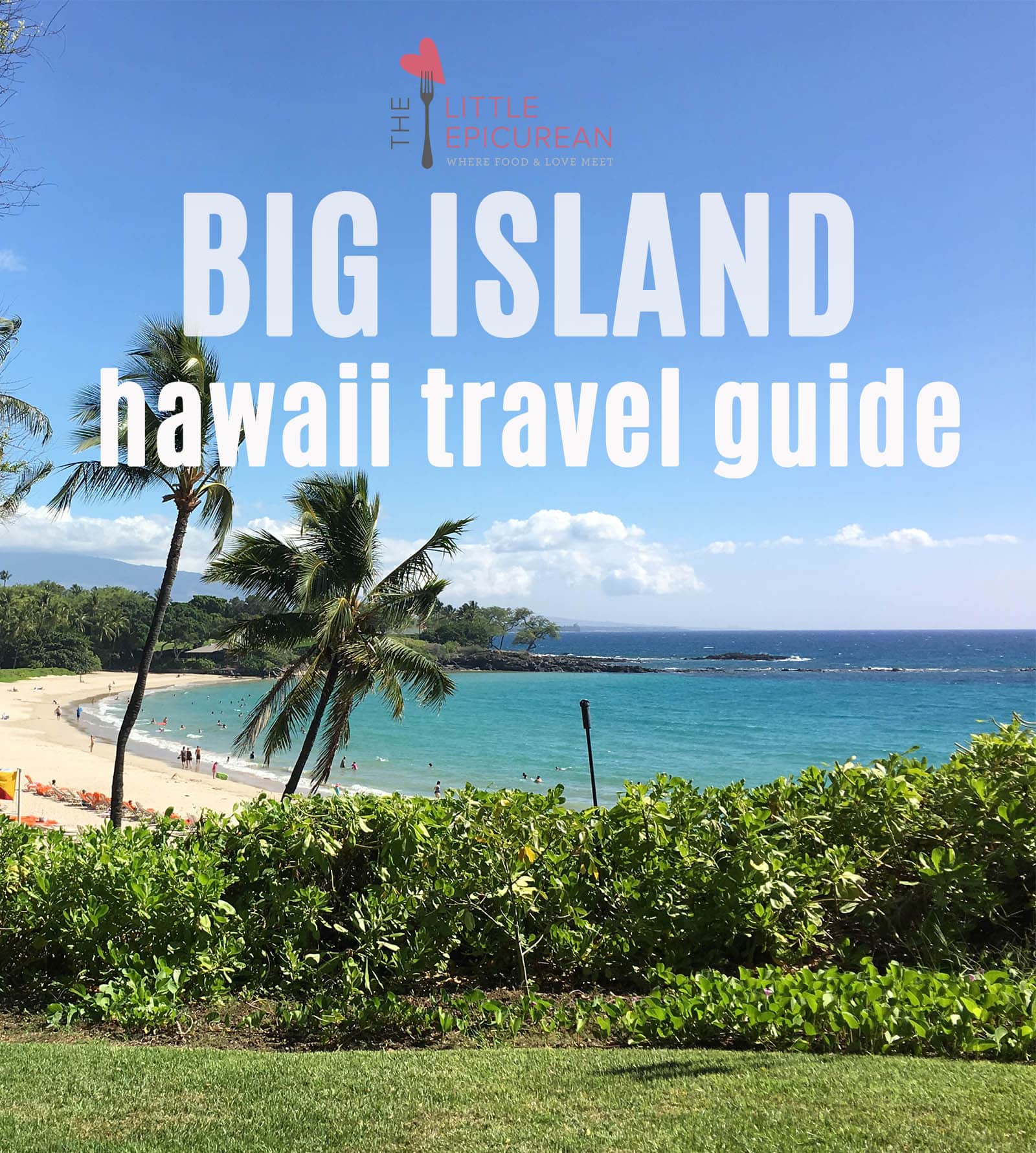 Aloha! Welcome to the Big Island. Official named Hawaii, this is the largest of the Hawaiian Islands (and it continues to grow due to volcanic activity). Kailua-Kona on the west and Hilo on the east are the island's two main cities. The island has a very diverse landscape with lava rocks on the west and lush greens on the east.
I've visited the Big Island of Hawaii twice in the past two years and this is a complication of all my favorite eats and activities. If you are planning on island hopping, I also have guides for (72 hours in) Maui and (72 hours in) Kauai.
Transportation:
There are two major airports on opposite ends of the Big Island: KOA- Kona International Airport and ITO-Hilo International Airport.
You will definitely need to rent a car. Car rentals are available at both airports. TIP: Book your car through CostcoTravel for the best deals.
Lyft is non-existent on the island and Uber is very limited.
The Kona side (west side) of the island is full of lava rock. It's unlike anything I've ever seen before. Driving from Kona airport up to the resorts near Puako and Waikoloa you will see several signs for donkey crossings as well as bare stretches of lava rocks.
Food and Drinks:
There are four things I look forward to the most when visiting any island in Hawaii: 1.) fresh fish, 2.) loco moco 3.) shave ice and 4.) local fruits and foods from the farmers' market.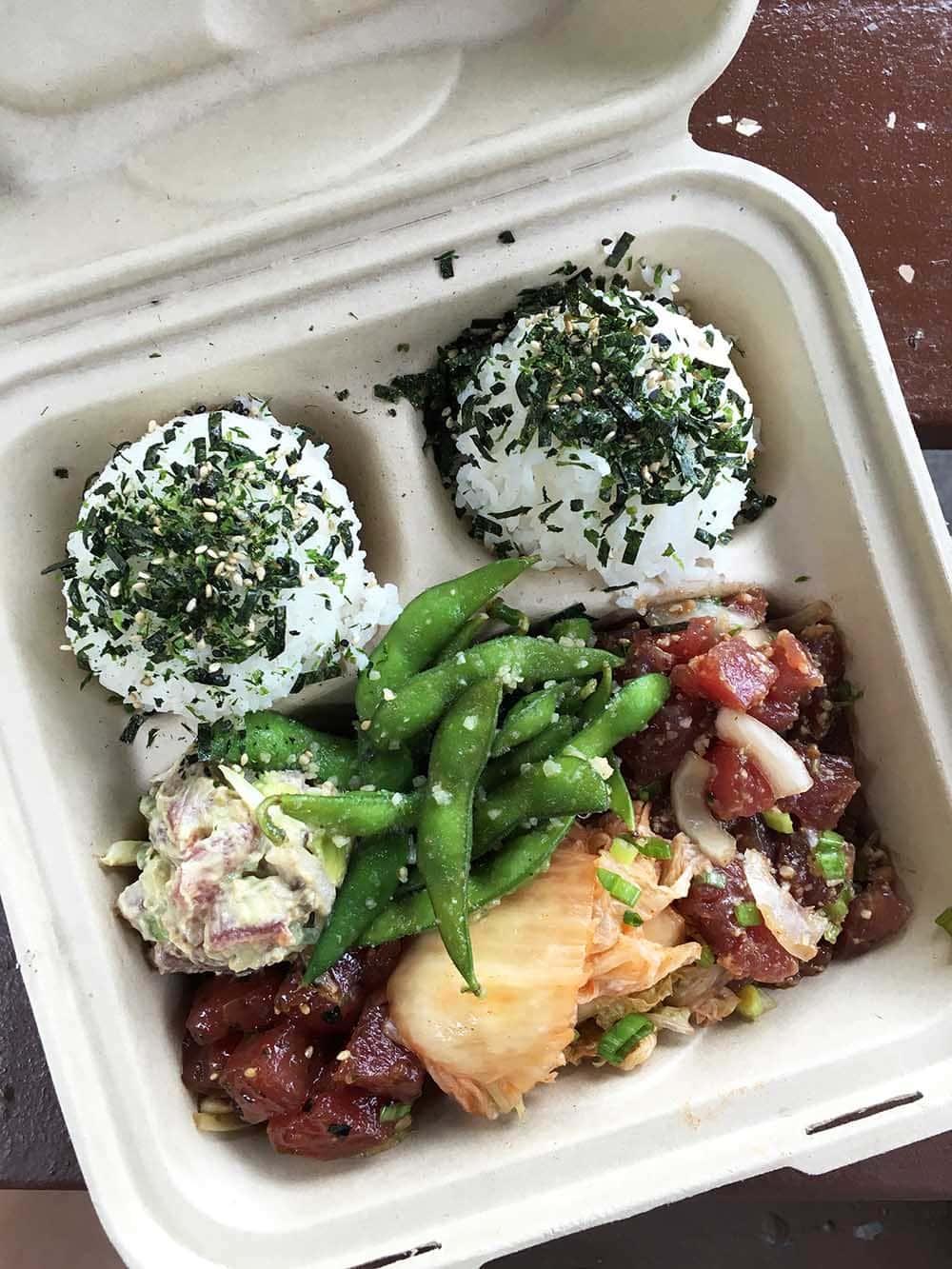 Da Poke Shack 76-6246 Ali'i Drive, Kailua-Kona, open 10am-6pm or until they run out of food
This was the most delicious thing I had on the Big Island. Weeks later and I still think about this magical meal. Get here early, before the good stuff runs out. And yes, they do run out of food before closing time.
They catch their fish fresh every morning. If you arrive early enough, you can watch them break down the catches of the day. (Umeke's is another place popular for poke, but I love Da Poke Shack SO MUCH MORE.)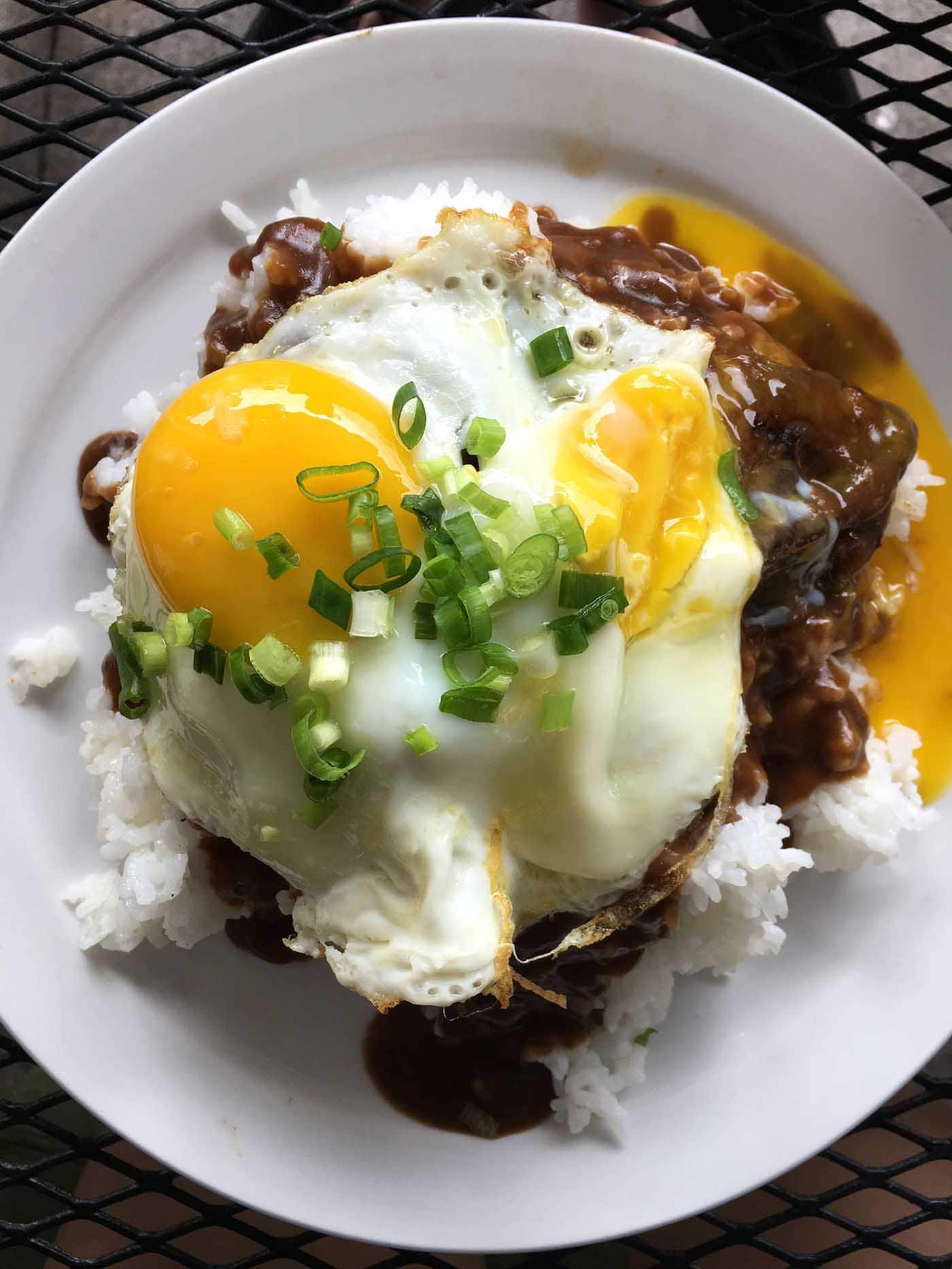 They have 8 varieties of loco moco! The one photographed above is the kalbi moco. It was so delicious that I ate it twice on one week.
You must order the Mac Nut Pancakes with Mac-Nilla Sauce. They also have daily specials like adobo fried rice and dinuguan (Filipino pig blood stew).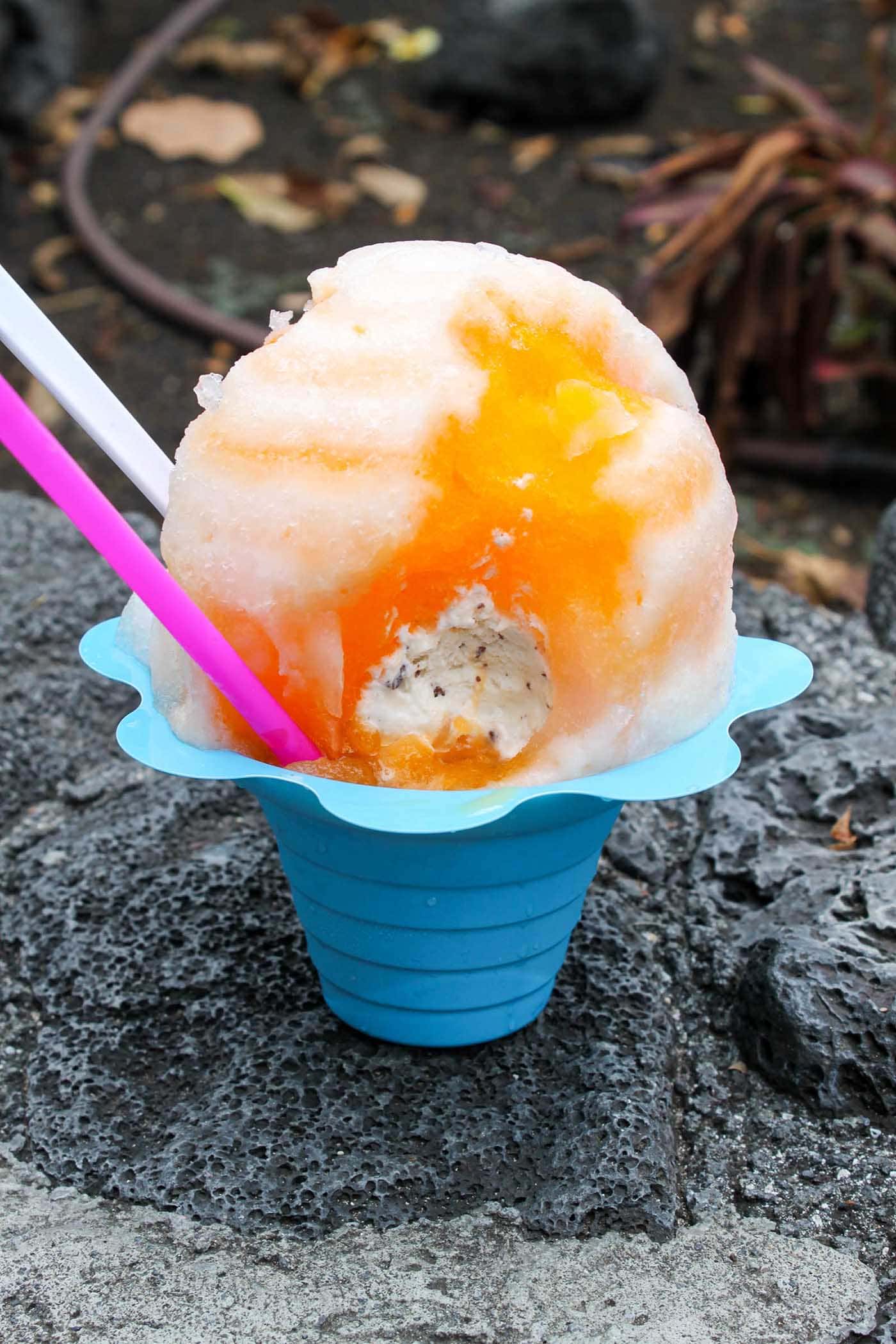 My favorite shave ice is still Ululani in Maui, but this one comes at close second. You can ice cream (or pineapple dole whip!) in the center of your shave ice. They have tons of flavor options. My picks are: tamarind, lychee, and guava.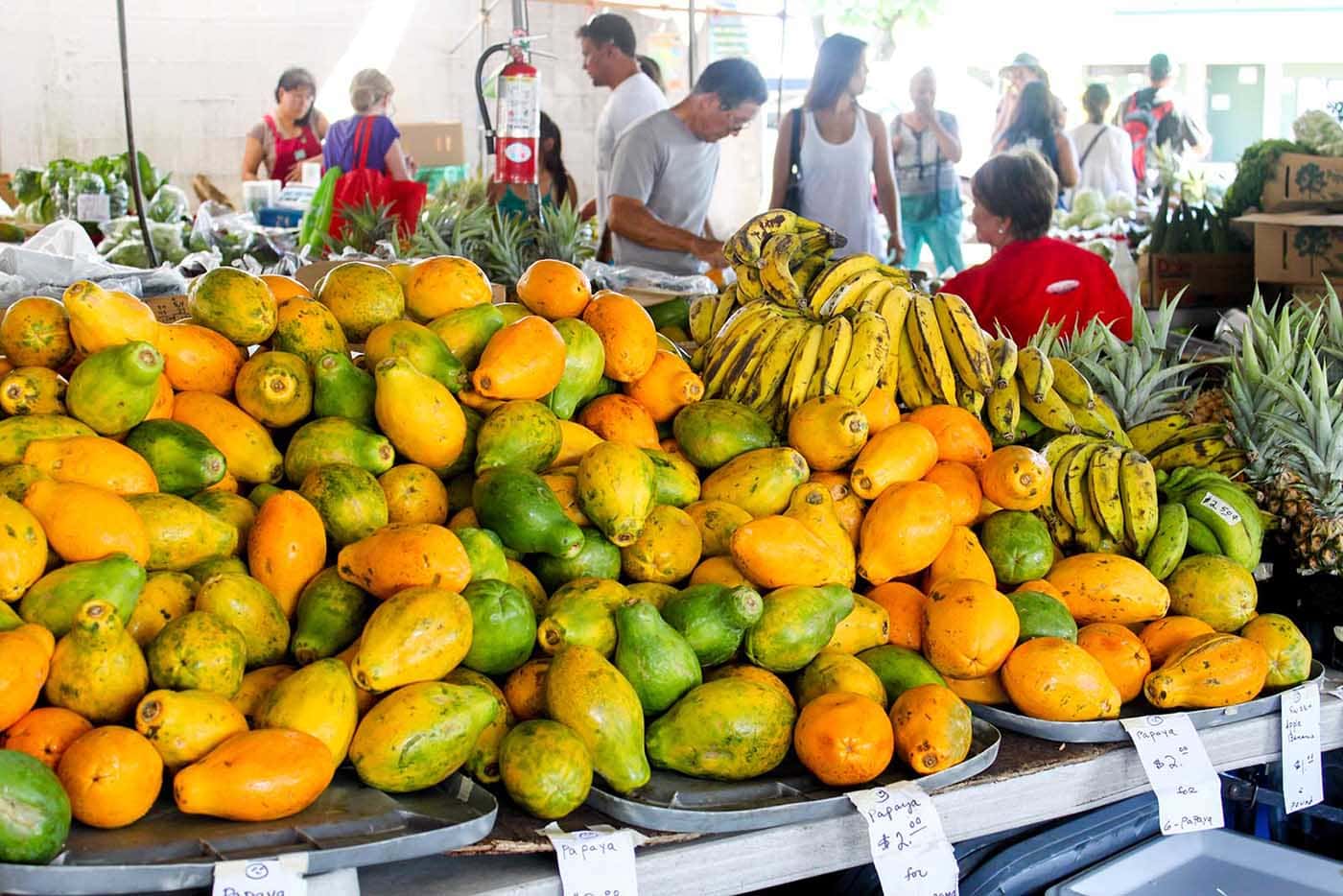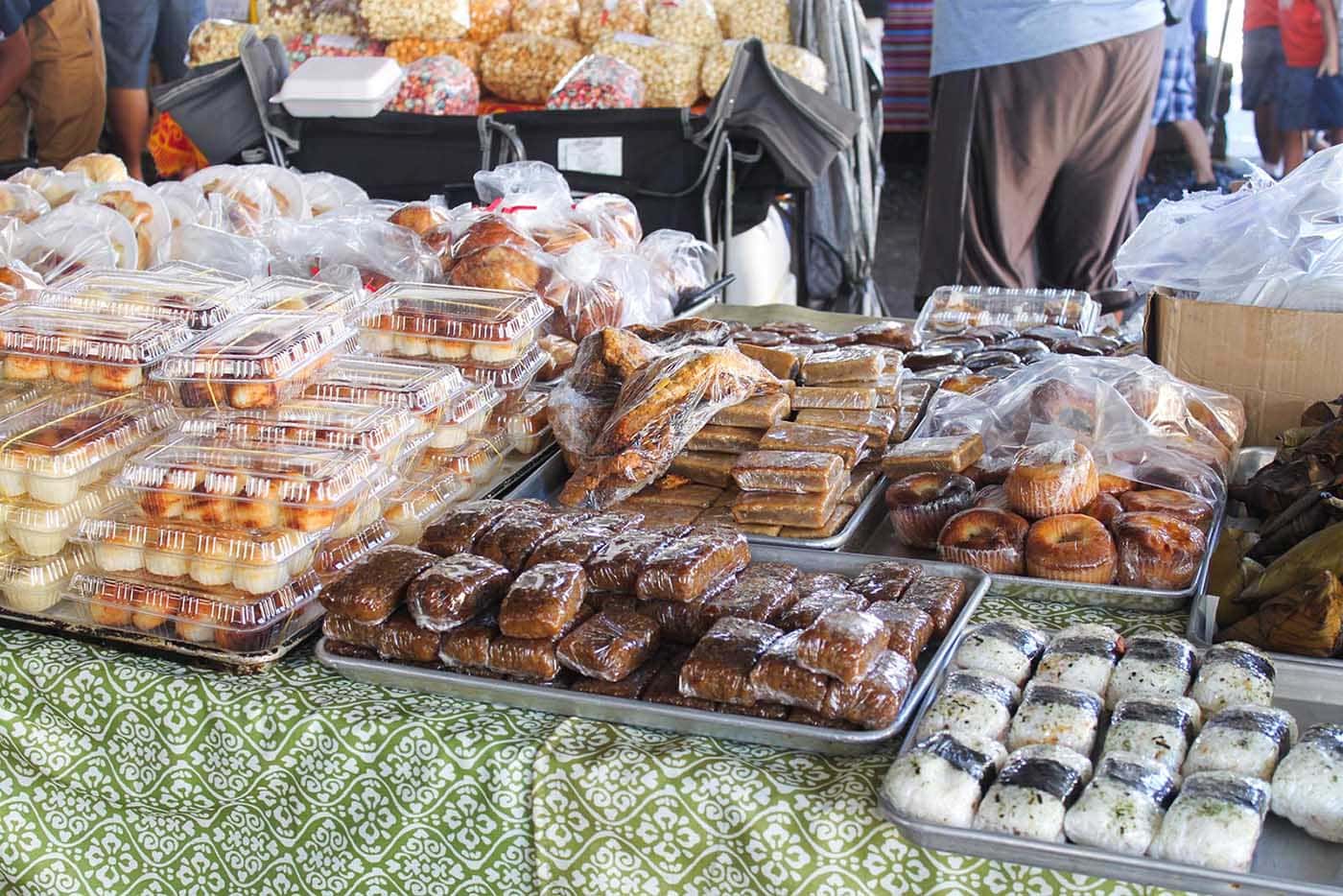 Hilo's Farmers' Market is the largest in all of Hawaii. It's open everyday. Try to visit on Wednesdays and Saturdays when there are over 200 vendors selling local produce, prepared foods, and crafts.
The other days are a bit slower and there are only around 20 vendors available.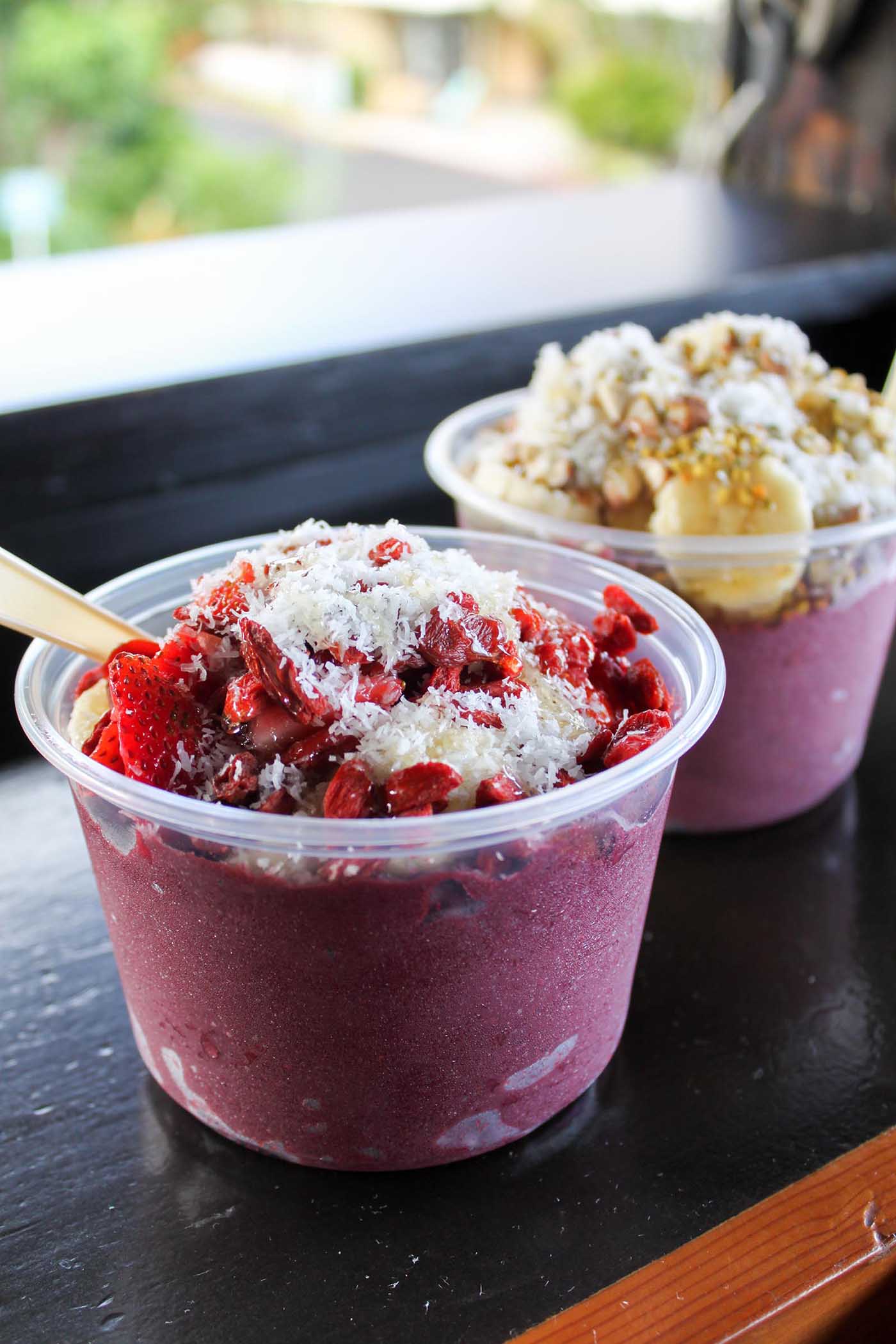 Basik Acai, 75-5831 Kahakai Road, Kailua-Kona, open 9am
Nothing beats acai bowls and fresh fruit smoothies with an ocean view. If you can't make it to this location, they have outposts in San Francisco, Portland, and Reno.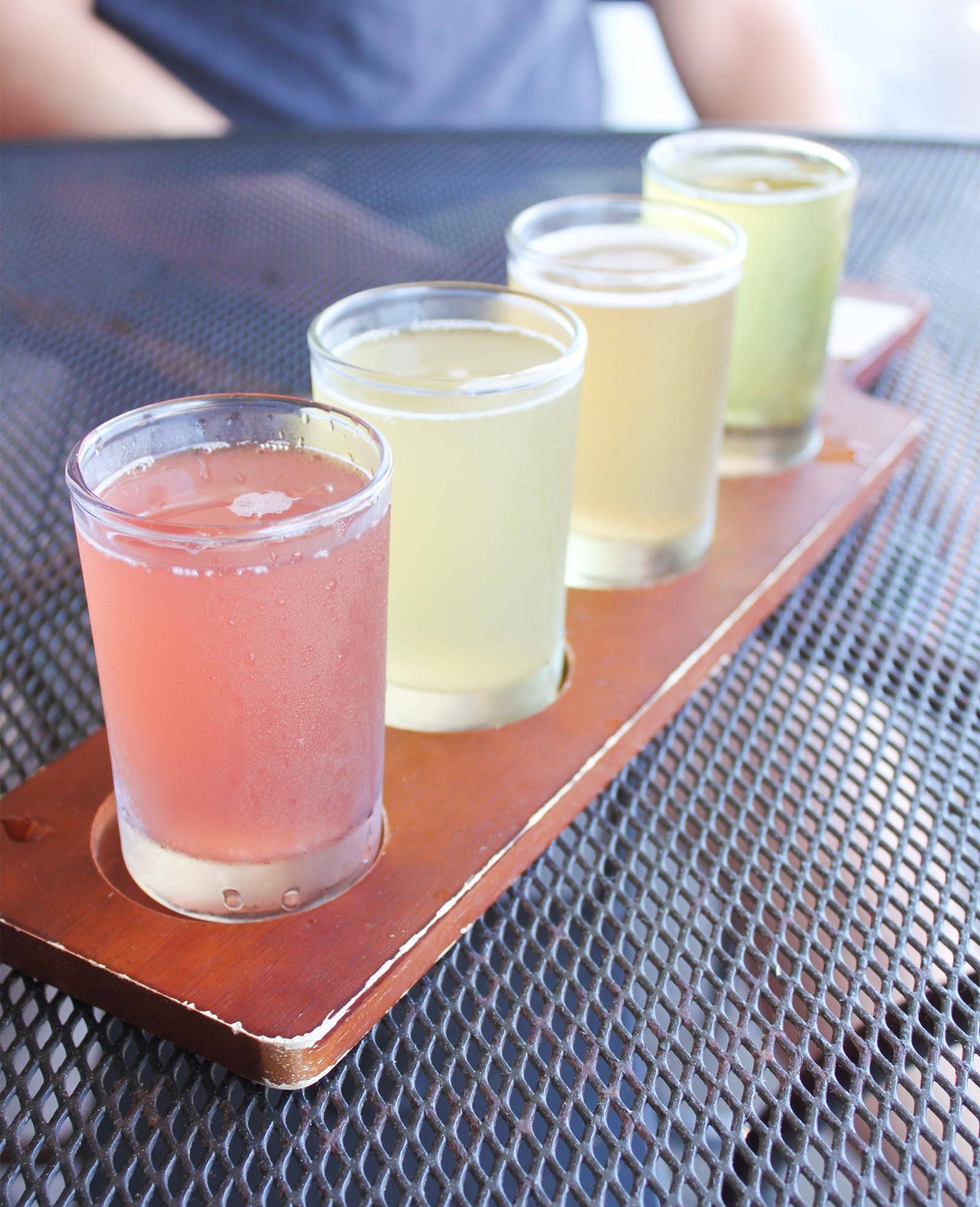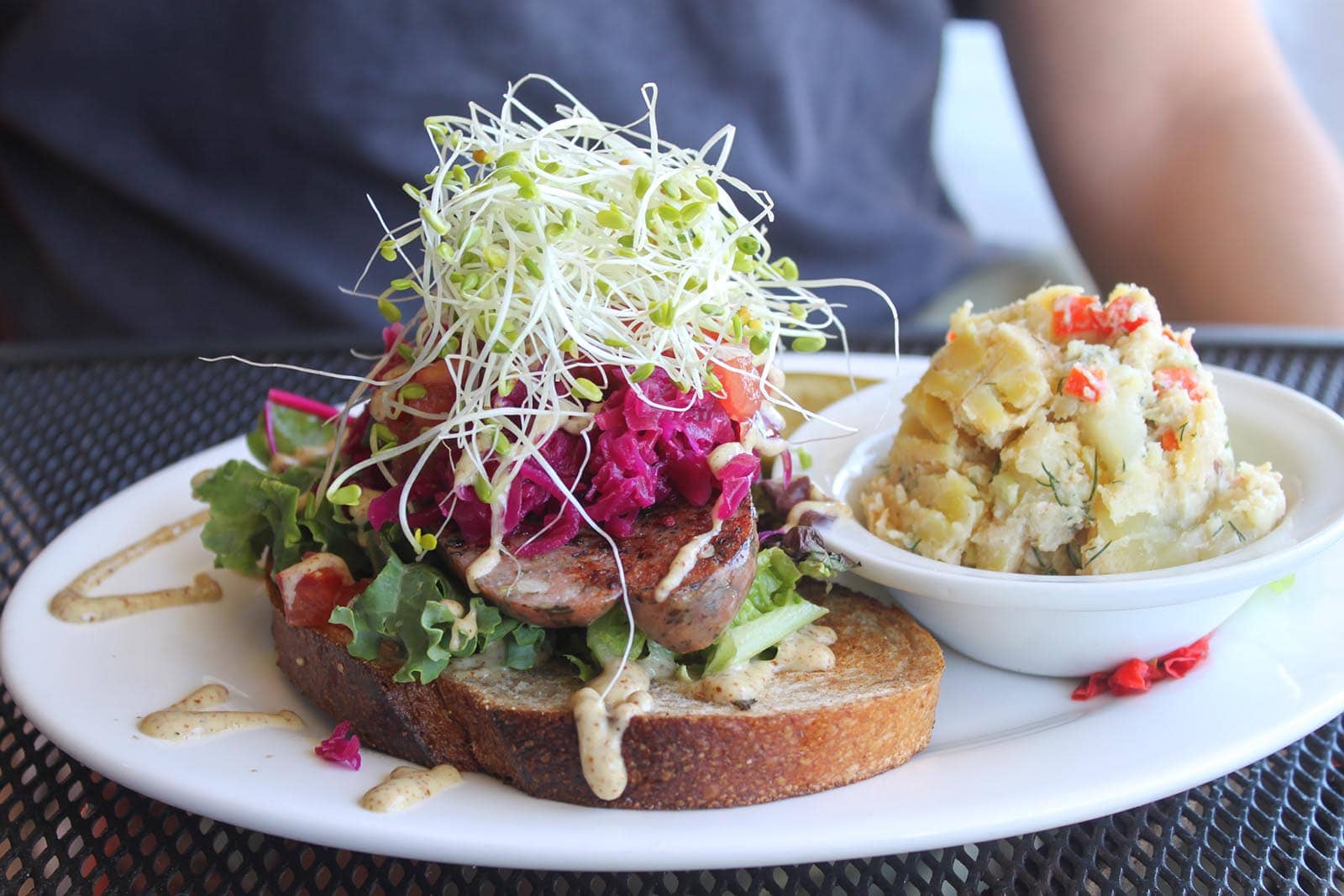 When you need a break from rice mixed plates and poke bowls, Conscious Culture is the place to go. They have all sorts of omnivore and vegan/vegetarian options.
Best of all, they have kombucha on tap! From kombucha flights, fresh coconut, and a great assortment of teas, you'll be well hydrated.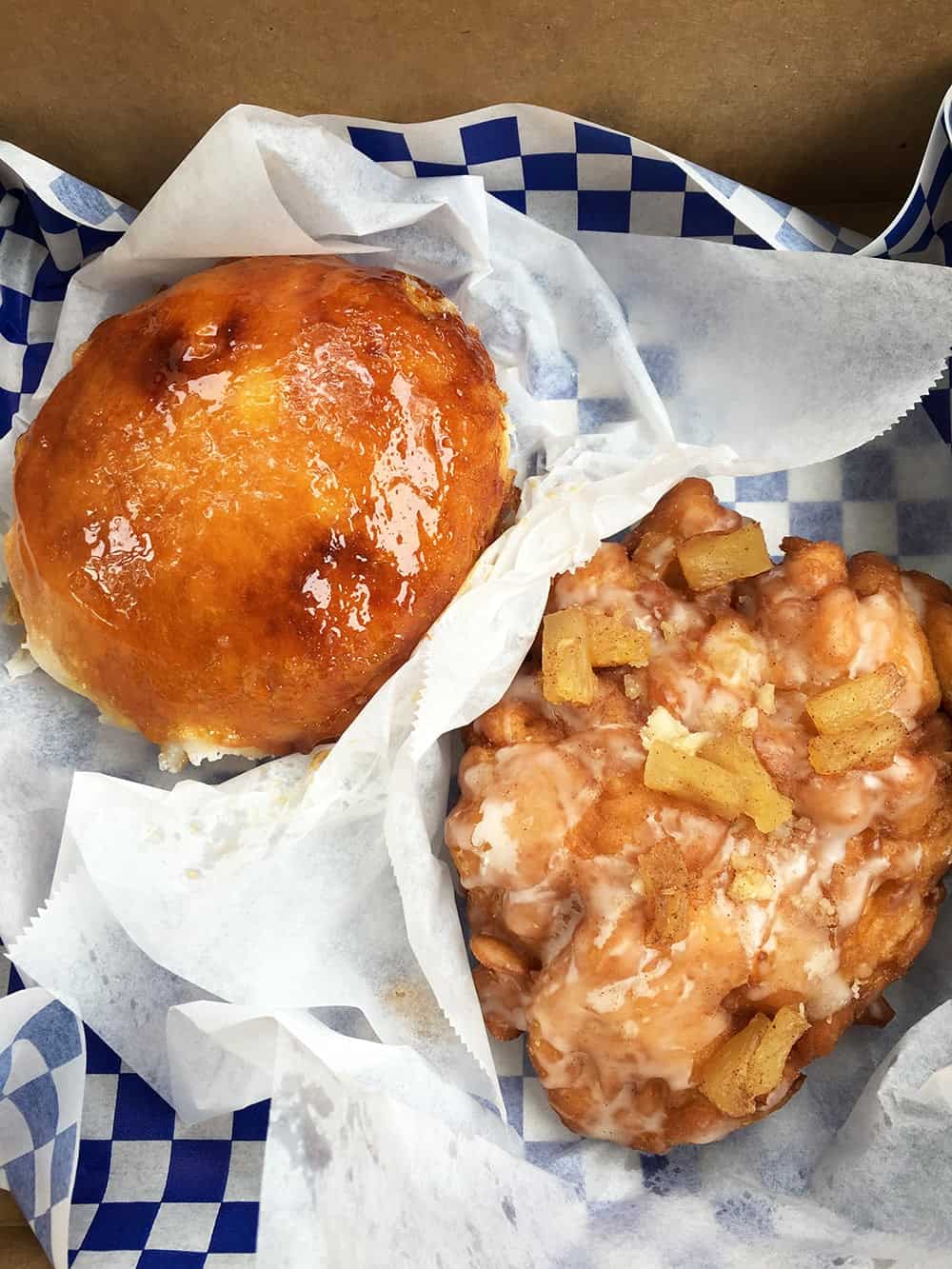 I love fried foods, especially sweet fried foods. I recommend the creme brulee donut and the glazed pineapple fritter. If you want malasadas, see the next location below.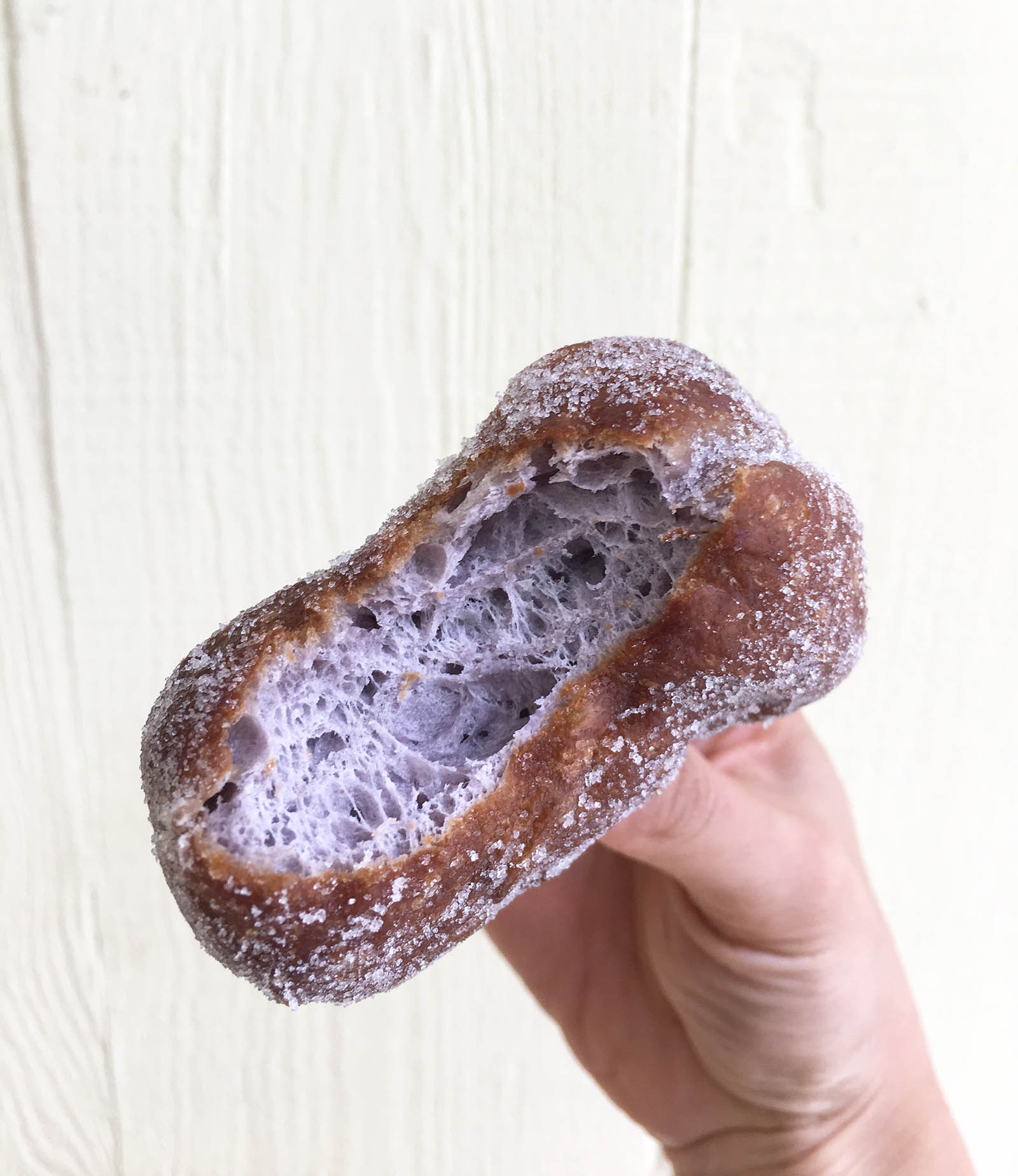 Make a stop at this bake shop on the way to Punalu'u Black Sand Beach and Hawaii Volcanoes National Park. They're most famous for their sweetbreads and shortbread cookies.
I come here for their malasadas. They have a variety of flavors, but the taro one is my fav! If you come during the summer, be sure to order an iced coffee to go!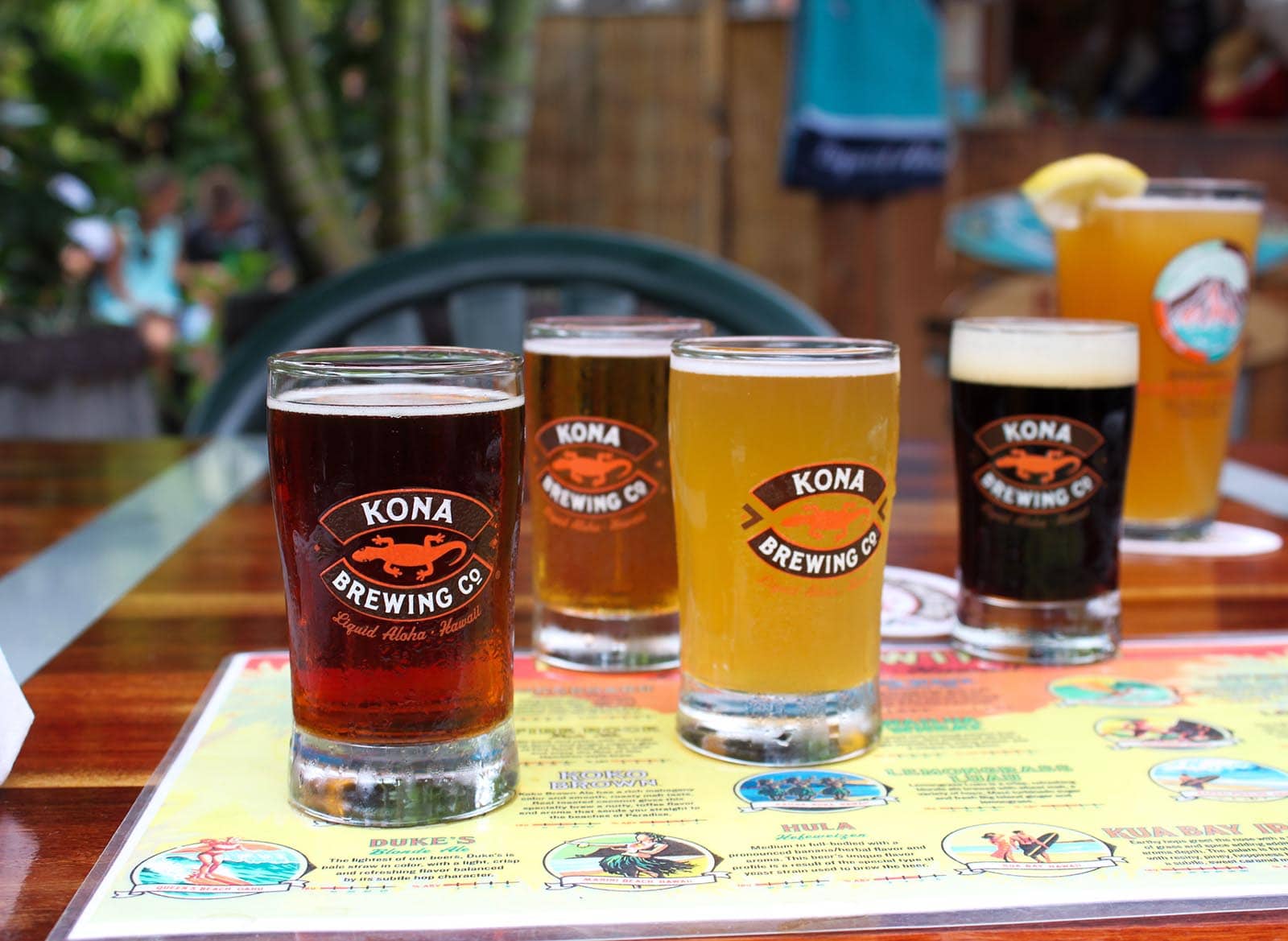 Take the brewery tour and sample all their beers! Then, take a seat at their restaurant for pupus and pizzas. They have indoor seating available, or you can sit outside in the garden.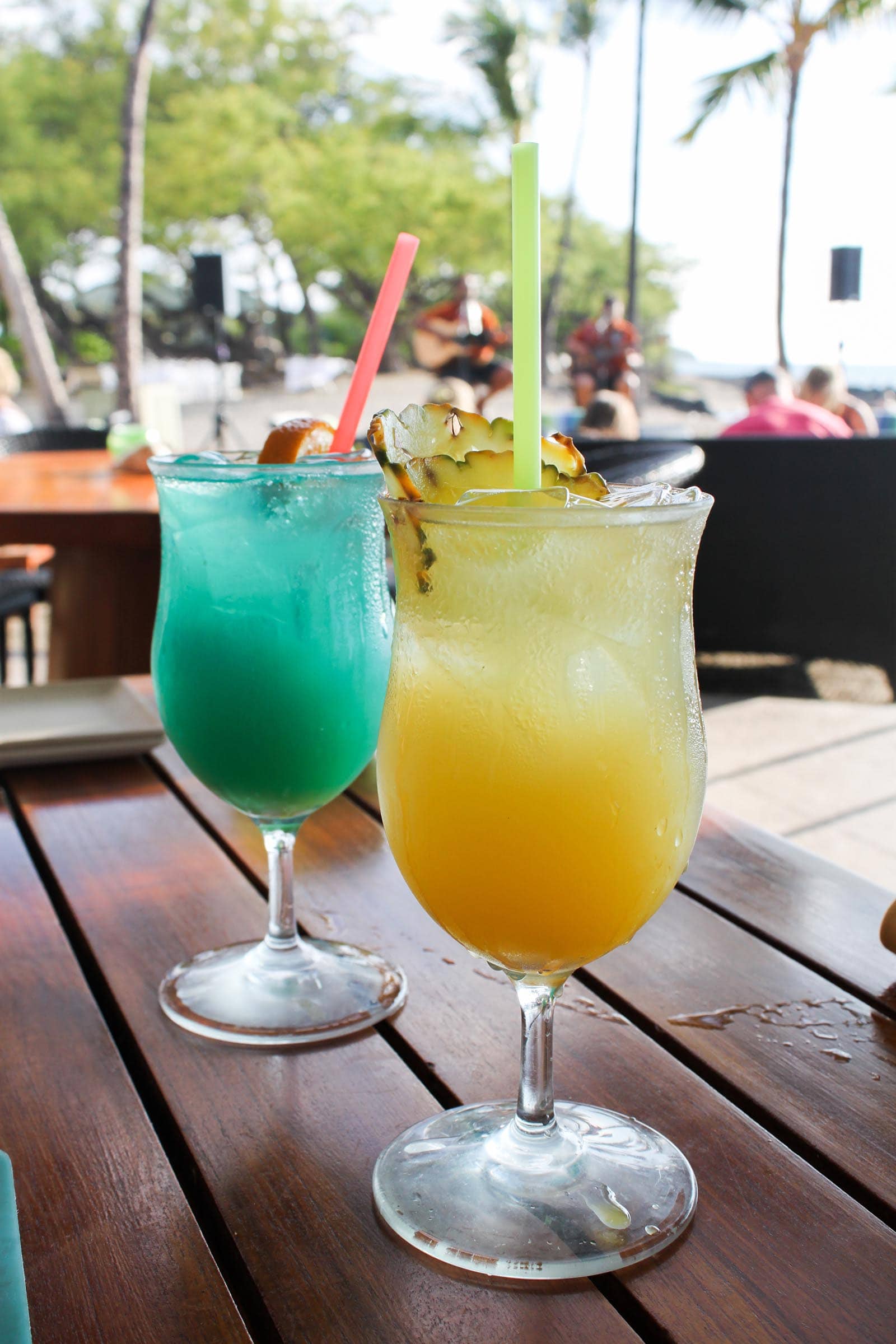 Located within the Waikoloa Beach Resort, this is my favorite place to grab and drink and watch the sunset. It's right on the beach and you can even request to have a table on the sand.
This place gets packed in the afternoon. Be sure to make reservations if you have a large party. Lava Lava, Huggo's, and On The Rocks are all related to each other.
Huggo's, 75-5828 Kahakai Road, Kailua-Kona
If you're in the mood for fine dining, Huggo's is the perfect dinner spot for celebrating special occasions. Request a table by the water for the best views. I always order the catch of the day!
Located next door to Huggo's, On The Rock is a very casual lively bar. They have a wide assortment of tiki cocktails and mixed drinks, as well as some festive souvenir glasses for you to take home. They usually have live music at night.
Things to see and do: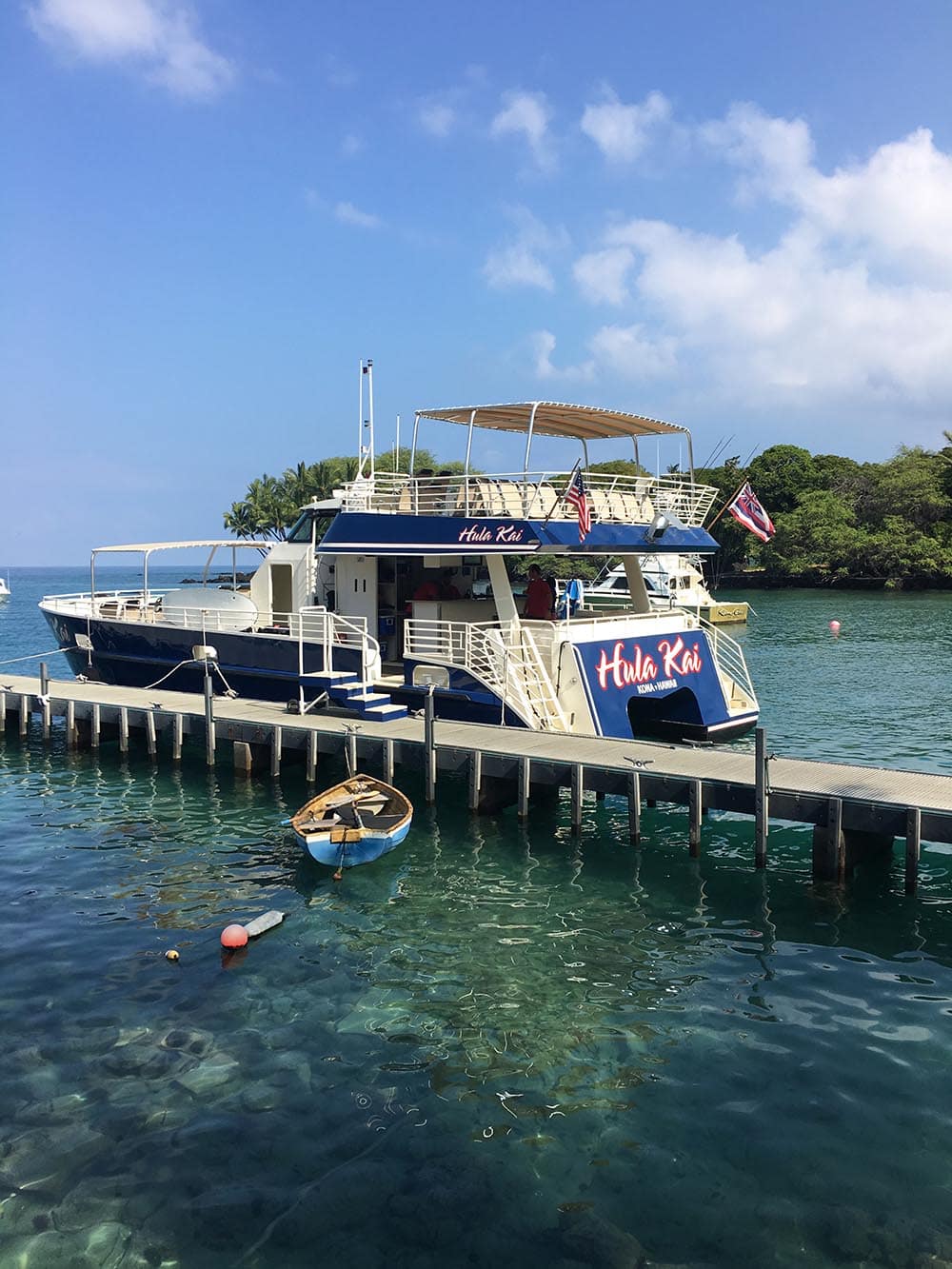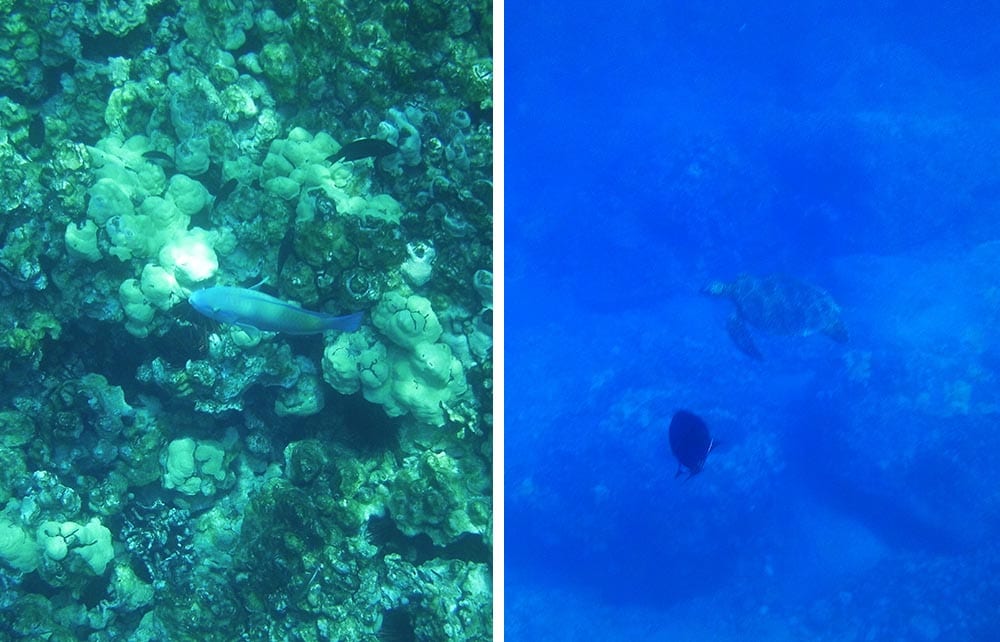 I had so much fun on this snorkeling tour. I've tried the other snorkeling companies, but Fair Wind is my favorite.
They take you to two different snorkeling spots. We saw a ton of fish, some dolphins, and even met a few sea turtles! Unlike the other boats, this one has a restroom on board. And surprisingly, the bbq lunch is super ono!
This is a crazy and memorable experience. As soon as the sun sets, the boats take you out into the ocean for manta ray feedings. You get up close and personal with these giant manta rays. It was unreal.
Word of caution- the waves are much stronger at night. If you are prone to seasickness be sure to take motion sickness medication ahead of time.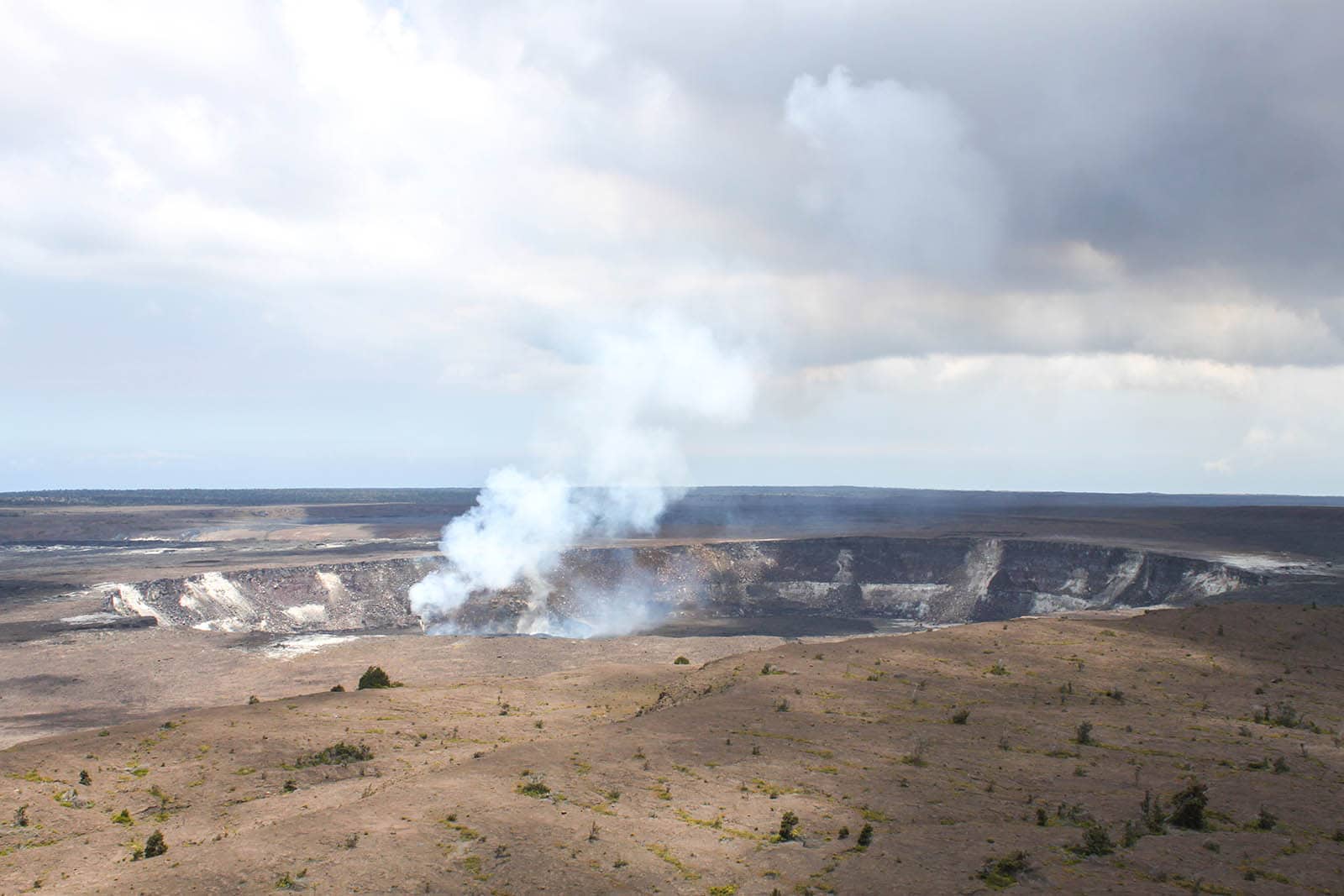 You could spend several days exploring this vast national park. From lava tube caves to forest trails, there is plenty to see and explore. It costs $25 per car to enter the parks. This grants you access to the park for one week.
There are over 150 miles of hiking trails, as well as several biking options, campsites, and guided tours. Best of all, the park is open 24 hours! Go to the Jagger Museum and observation area at nightfall to see the volcano light up with glowing lava.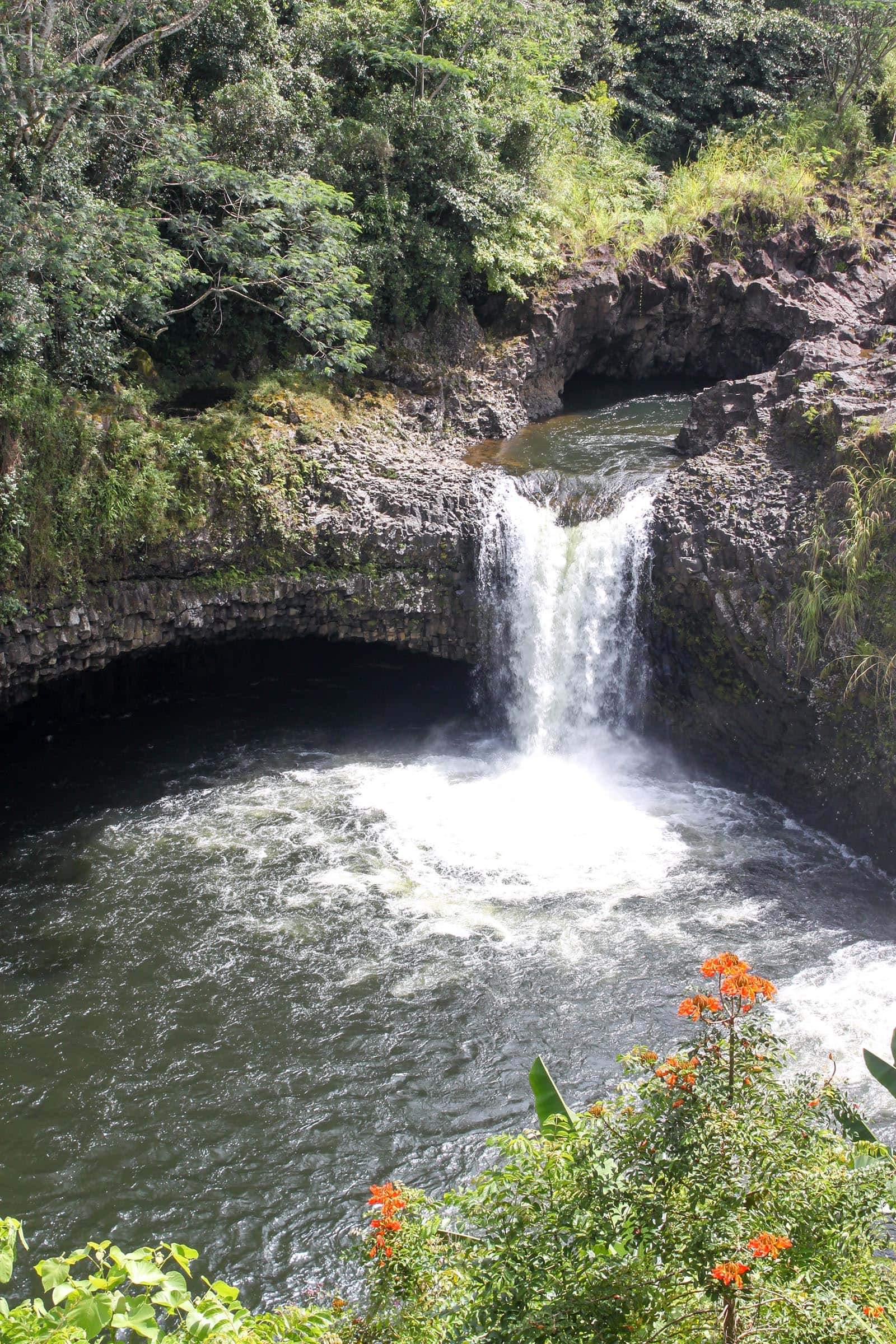 There are several waterfalls on the Hilo side of the island. Three big ones to see: Akaka Falls, Rainbow Falls, and Pe'epe'e Falls.
Word of caution: BRING BUG SPRAY when you hike to these locations. There will be mosquitos.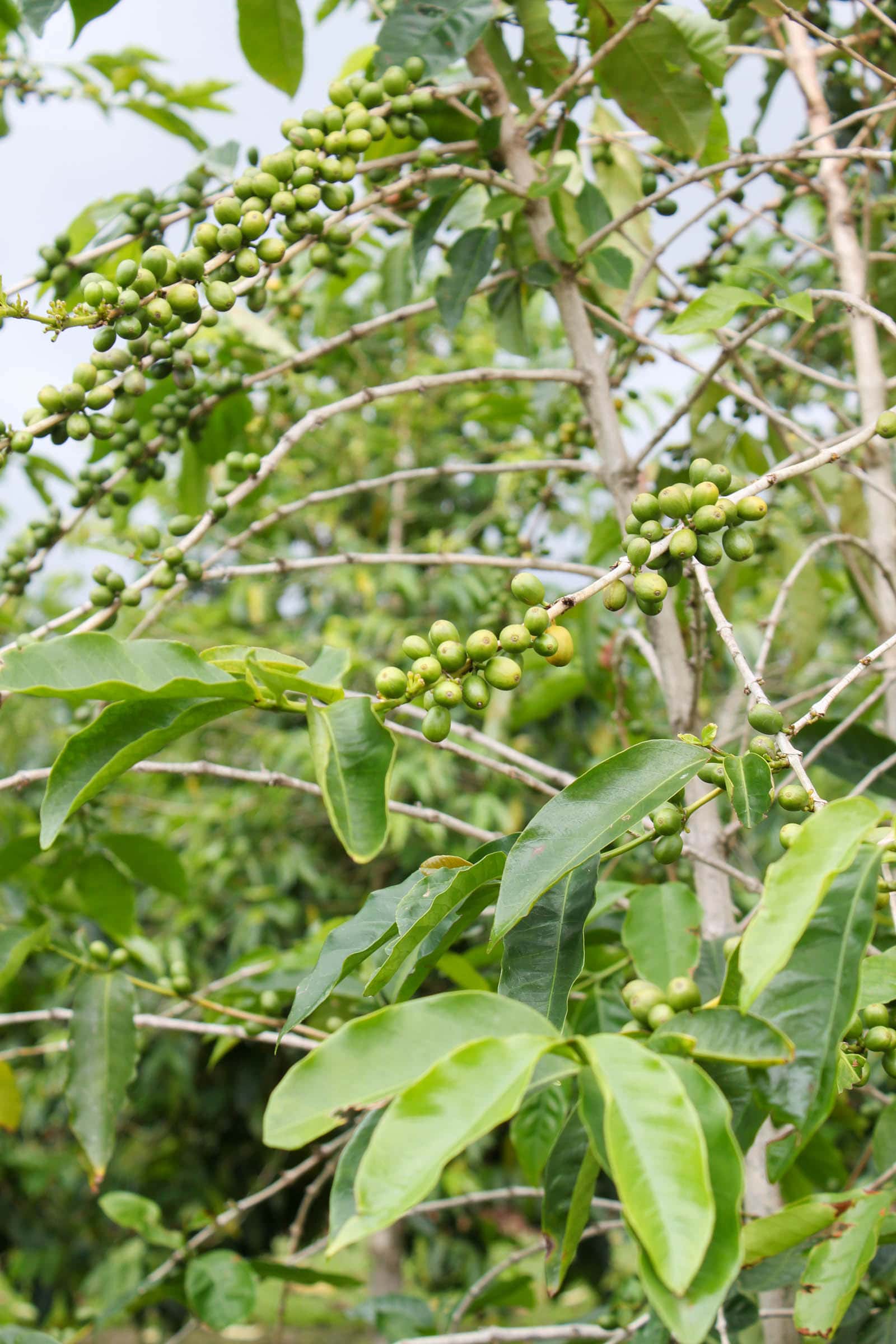 Tour Kona Coffee Plantations
There are several Kona coffee farms with drop-in free tours and tastings. Popular ones to visit include Hula Daddy Kona Coffee and Greenwell Farms. For more detailed coffee activities, check out this guide.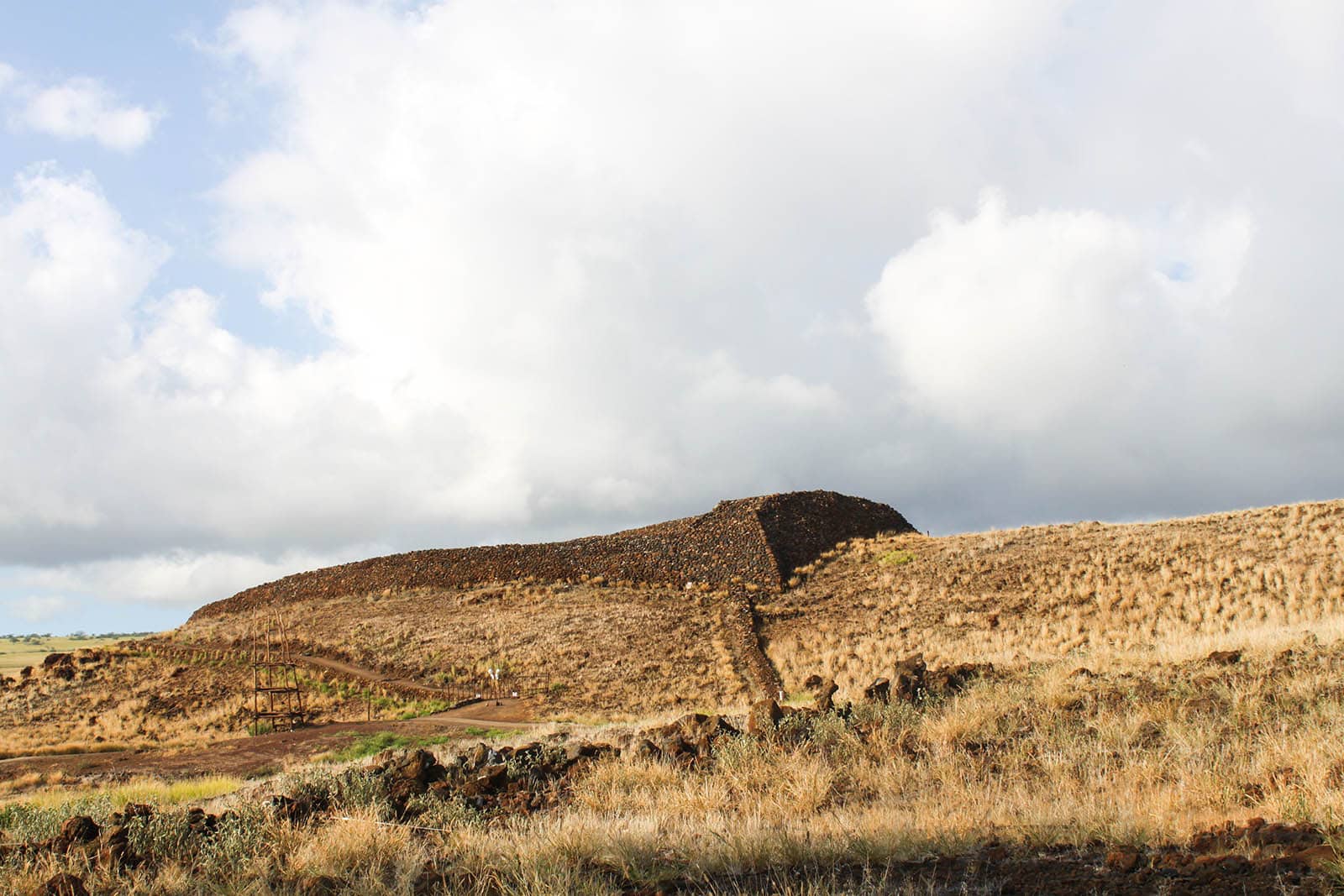 During my first visit to the Big Island, we took this 12-hour Epic Island Volcano Journey tour. It was a wonderful comprehensive introduction to the various areas that make up the Big Island.
The tour takes you around the entire island with numerous spots and breaks at the most iconic locations of the area. I highly recommend it. Take a tour at the beginning of your vacation and ask the tour guides everything you want to know about the island.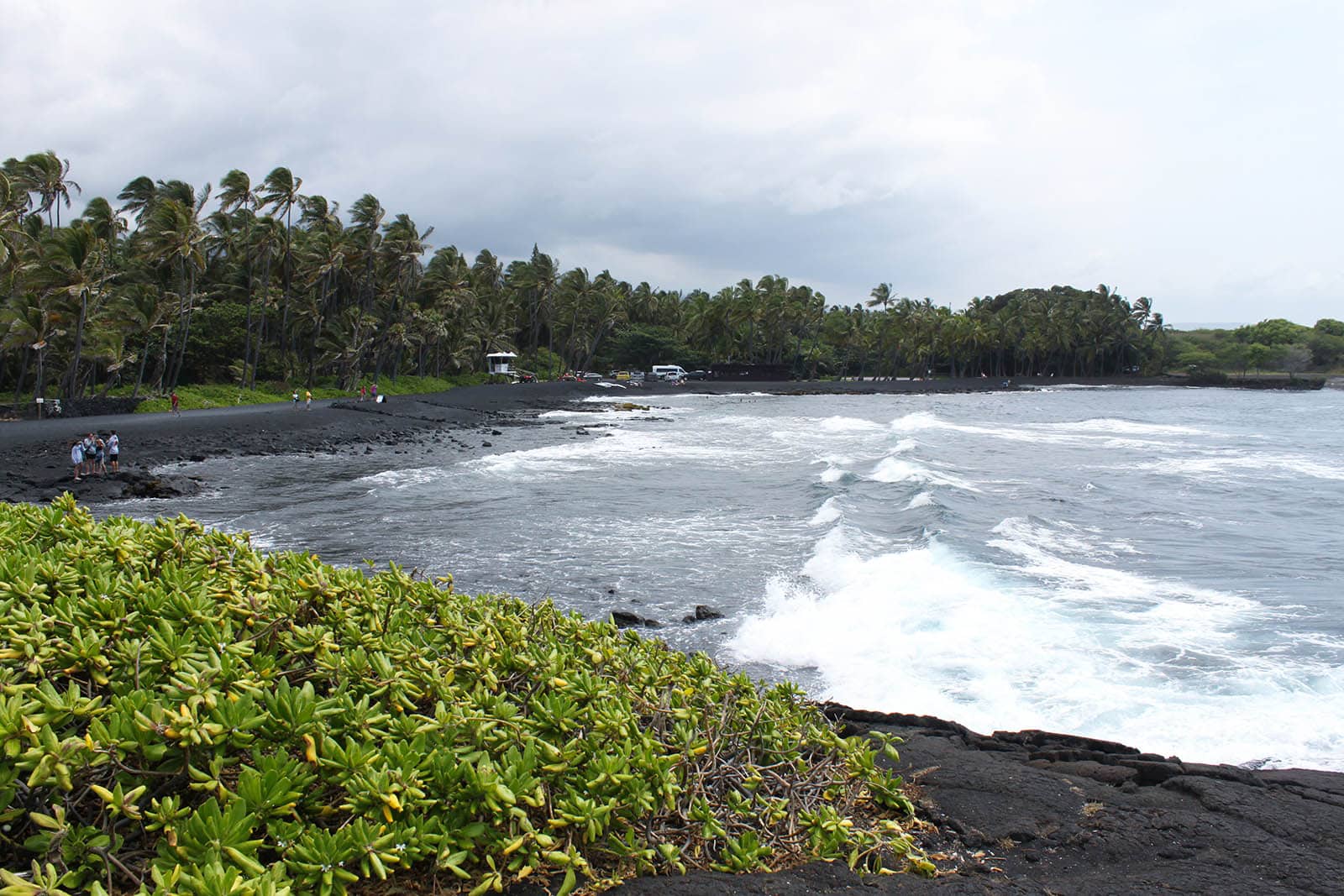 You will pass this beach while driving to Volcanos National Park from Kailua-Kona. It's a beautiful black sand beach known for giant Hawaiian sea turtles. The beach is a bit rocky and not the most ideal place for swimming.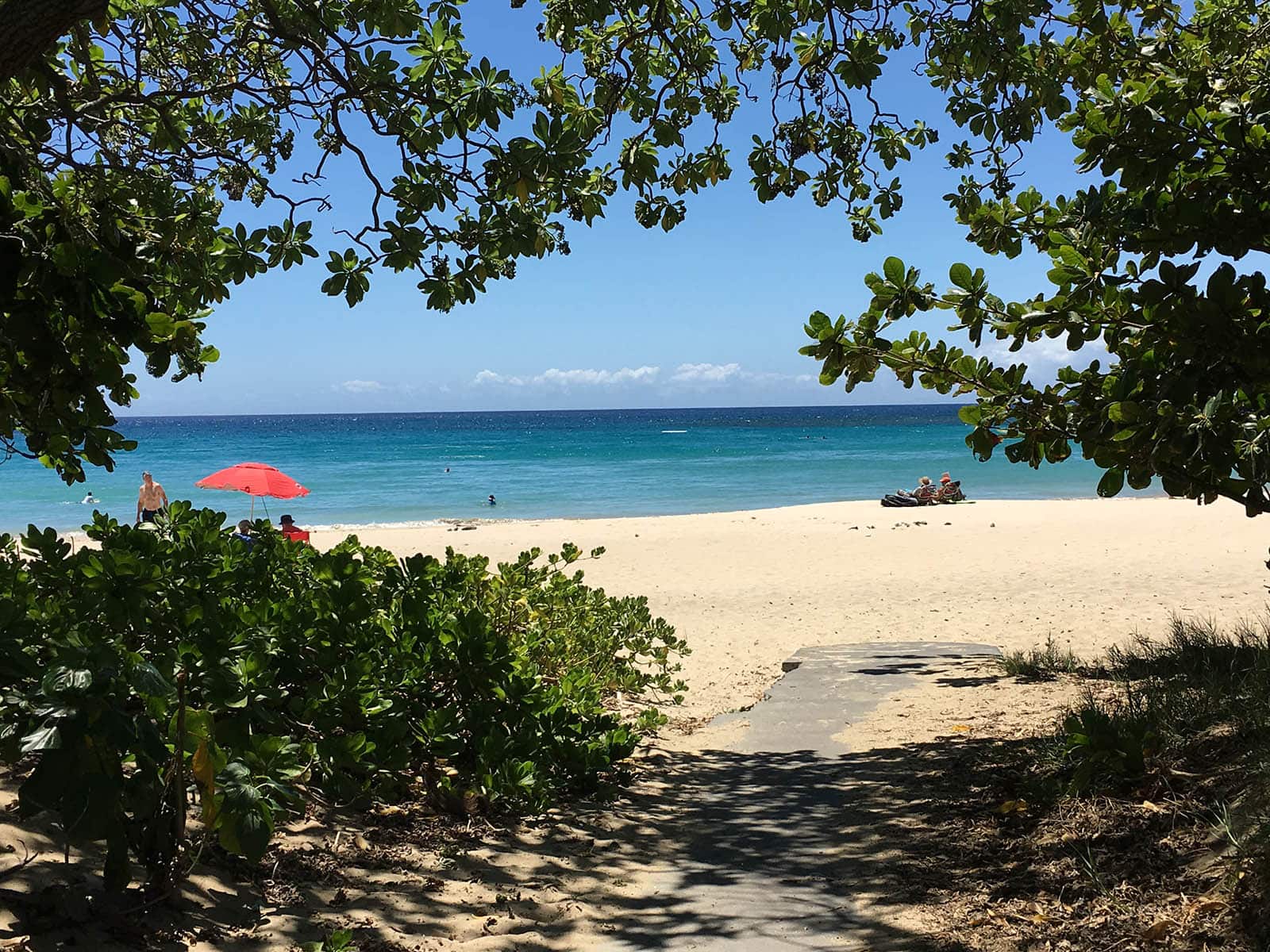 Enter though the Mauna Kea Beach Hotel driveway and follow signs to the free beach parking area. Arrive early morning or late afternoon for parking. The small lot fills up fast, especially on the weekends.
If no beach parking is available, you'll have to pay $45 to park at the hotel. This public beach has access to restrooms and showers. It's the perfect white sand beach for swimming and relaxing.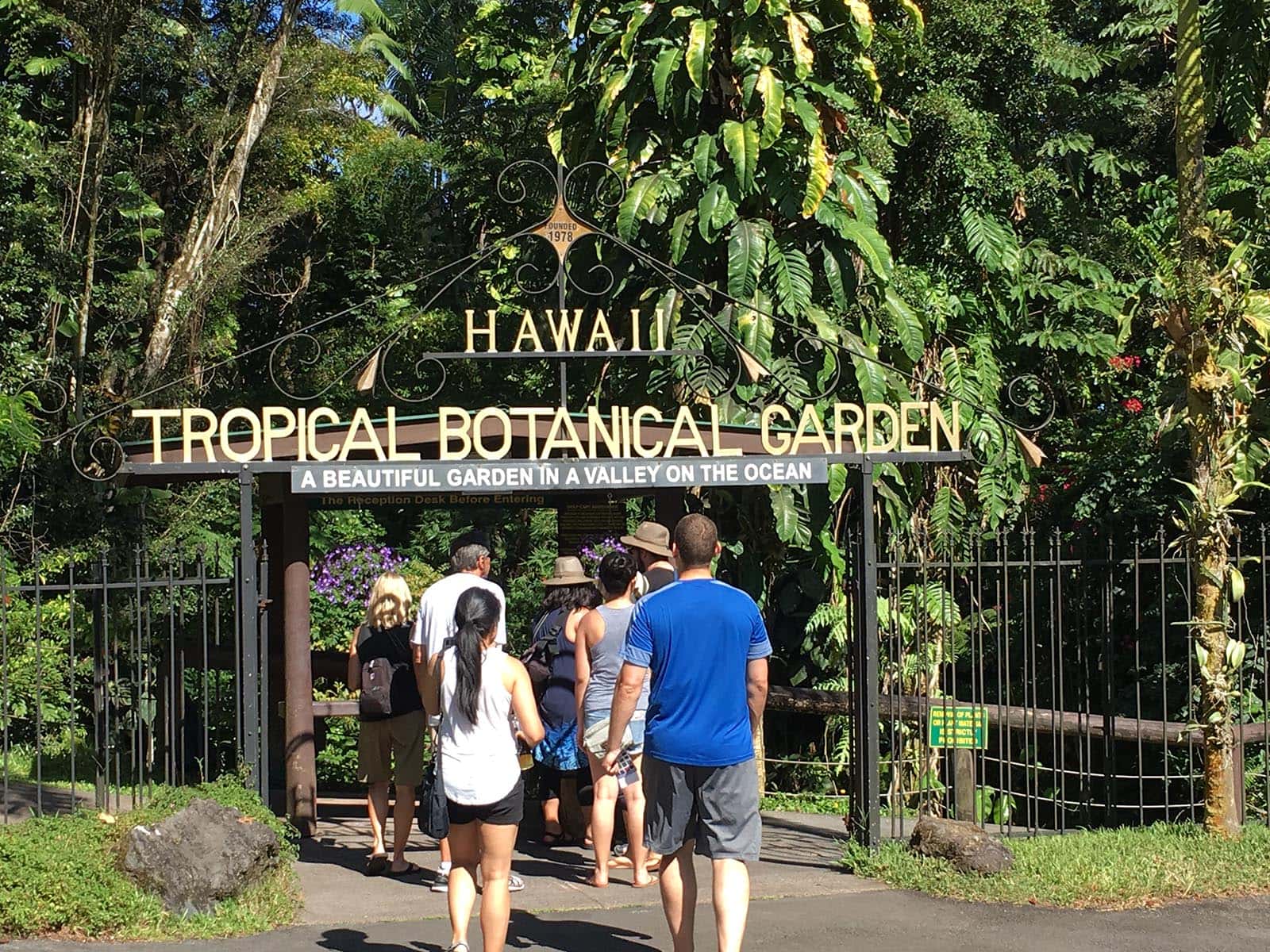 This beautiful tropical garden is filled with exotic foliage and blooms. There's also an aviary and numerous lookout points along the beach. It costs $18 for adult admission and it's totally worth it to be surrounded by all the lush greens. (And you'll see the cutest little pink pineapples!)
It takes about 75 minutes to stroll through all the different areas, however, you'll want to spend some time absorbing it all in. If you get tired of walking, there are golf carts available to drive you back to the entrance.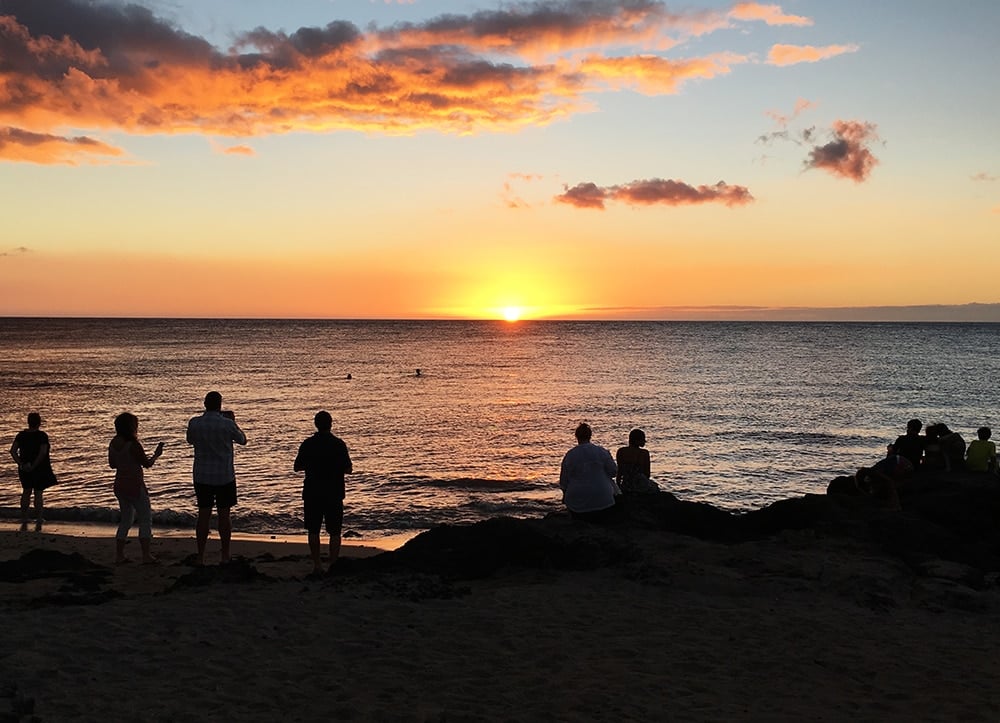 No Hawaiian vacation is complete without experiencing sunset at the beach. My favorite spot for unobstructed sunset viewing is at Lava Lava Beach Club at Waikoloa Beach Resort. What's better than watching the sunset with a tasty cocktail in your hand?
---
Interested in other Hawaiian Island travel guides? See Maui and Kauai!