Easily make iced coffee at home using this homemade coffee concentrate. Customize to your liking with sweeteners, spices, or milks.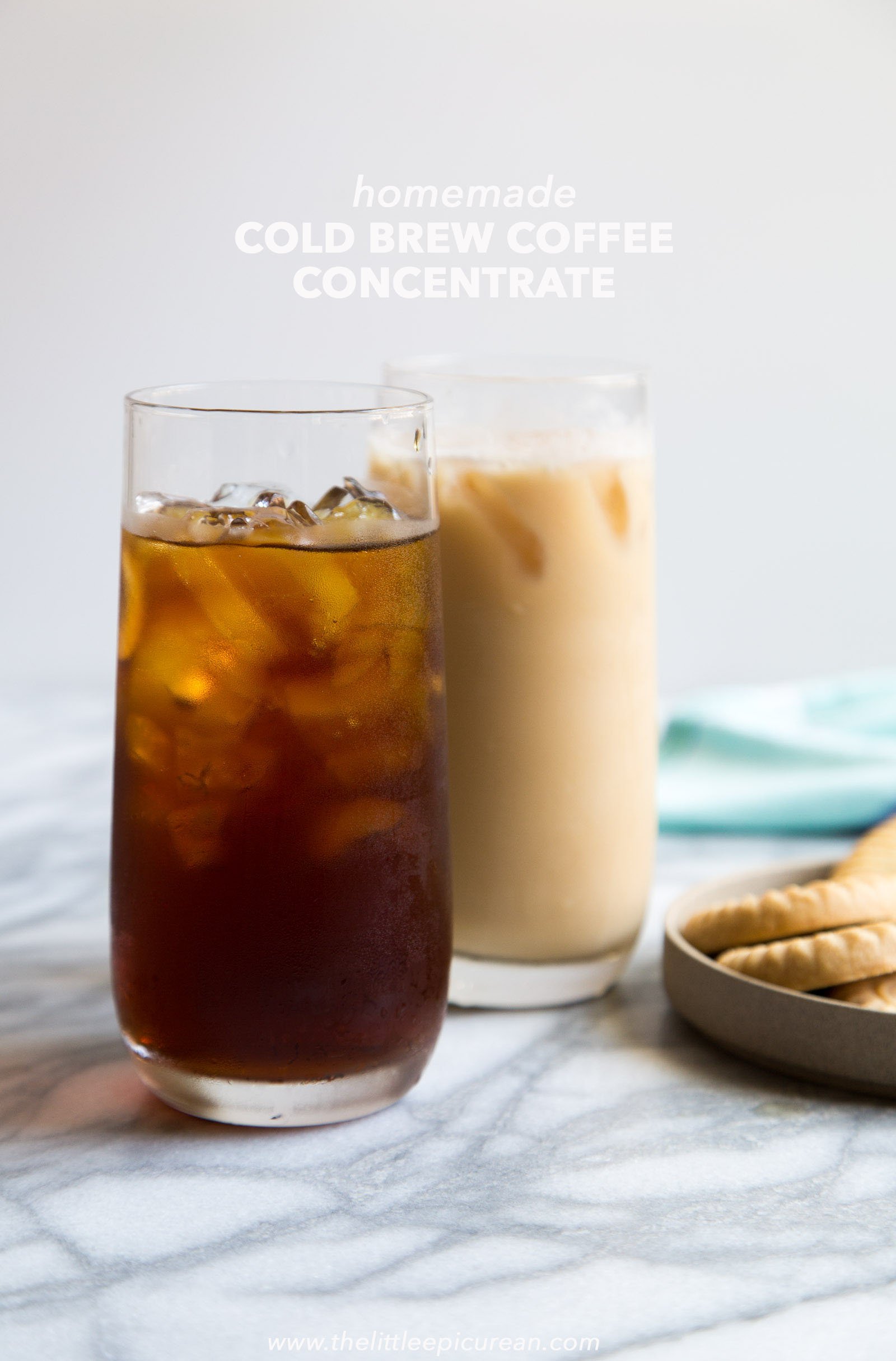 Living in the city (Silver Lake area of Los Angeles) had its perks. I could walk everywhere: market, restaurants, banks, bars, etc.
More importantly, during the hot summer months it meant I could simply cross the street every morning/afternoon to get my daily jolt of caffeine.
Without realizing it, I was spending close to $20 a week to sustain my habit. And then I moved to the suburbs.
Pasadena isn't technically a suburb, but I live in an area that requires a car to get anywhere. The only place I can walk to is a gas station, and they don't sell iced coffee. That's where this concentrate comes into play.
Homemade Cold Brew Coffee Concentrate
Coffee concentrates seem to be popping up everywhere. From the rows of bottled coffee concentrates I see at the market to the numerous cold brew coffee concentrate kits I stumble upon online, it is definitely a hot commodity.
I've purchased my fair share of these products. I love the ease of being able to whip up a batch of iced coffee at a moment's notice. Simply grab a glass, pour, and enjoy.
Obviously, buying these bottles and kits also adds up. This homemade cold brew coffee concentrate solves everything.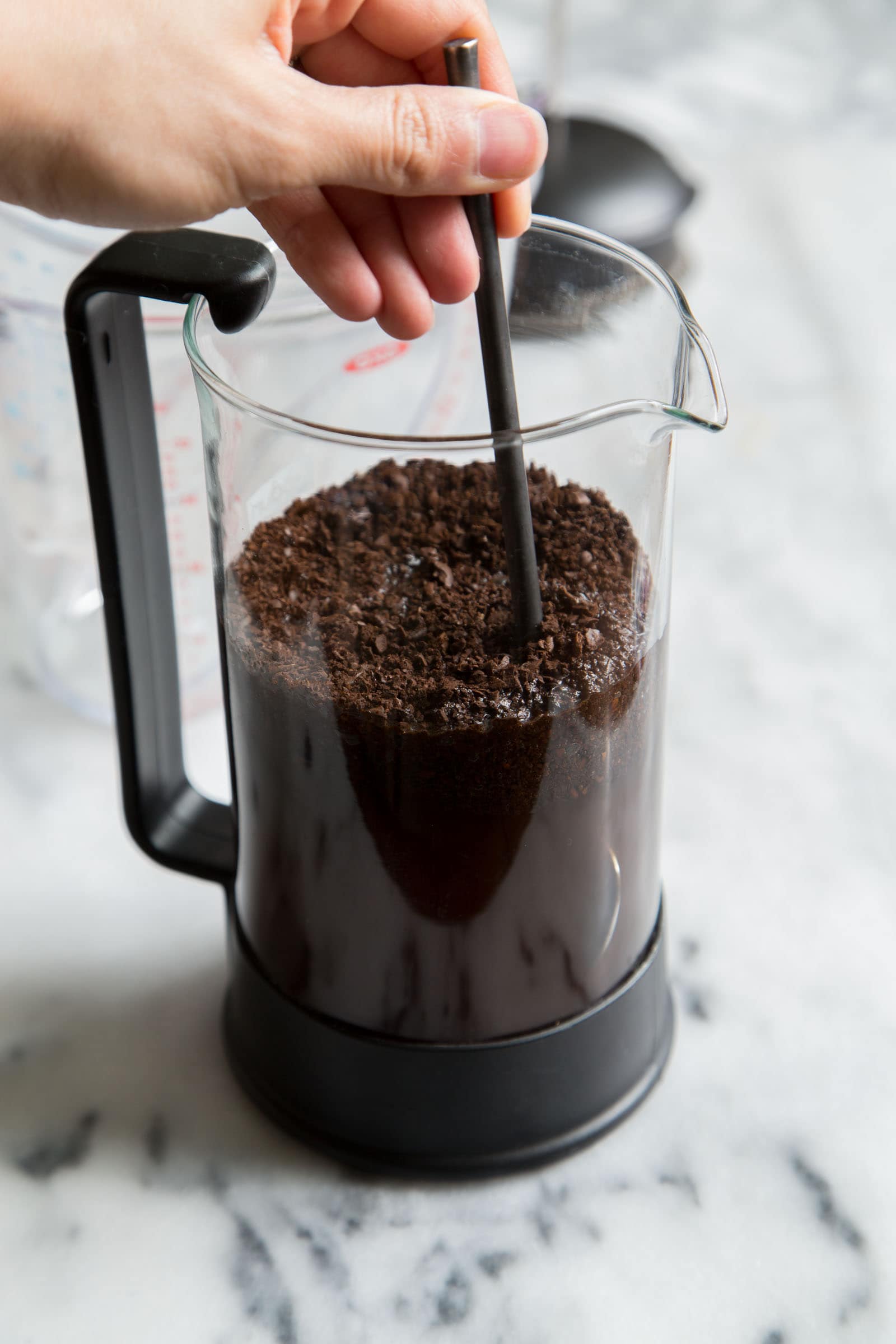 Easiest way to brew coffee:
I have found that using a French press is the easiest way brew coffee. It conveniently separates the coffee bean grounds from the liquids.
I've tried other methods (coffee filter, cheesecloth, etc) but they can get messy.
Preparing coffee beans:
Roughly grind your favorite dark roast coffee beans and place them in your French press container. (Pre-ground beans are fine to use as well.)
Pour in water (filtered is best) and vigorously stir to combine. Cover the container and allow the beans to steep overnight (8-12 hours) at room temperature.
The following morning, slowly press down on the French press plunger to filter out the coffee beans from the liquid. Pour the coffee concentrate into a container and keep it chilled in the fridge until you're ready for an iced coffee.
IT'S THAT EASY.
Why steep coffee beans at room temperature?
Yes, the beans are steeped at room temperature. It's not literally "cold brewed."
You can brew it in the fridge but it'll take longer than 8-12 hours to get the same product.
To me, "cold brew" simply encompasses everything that isn't brewed with hot water. (If you're not interested in coffee concentrate, I also have a post for regular cold brew coffee.)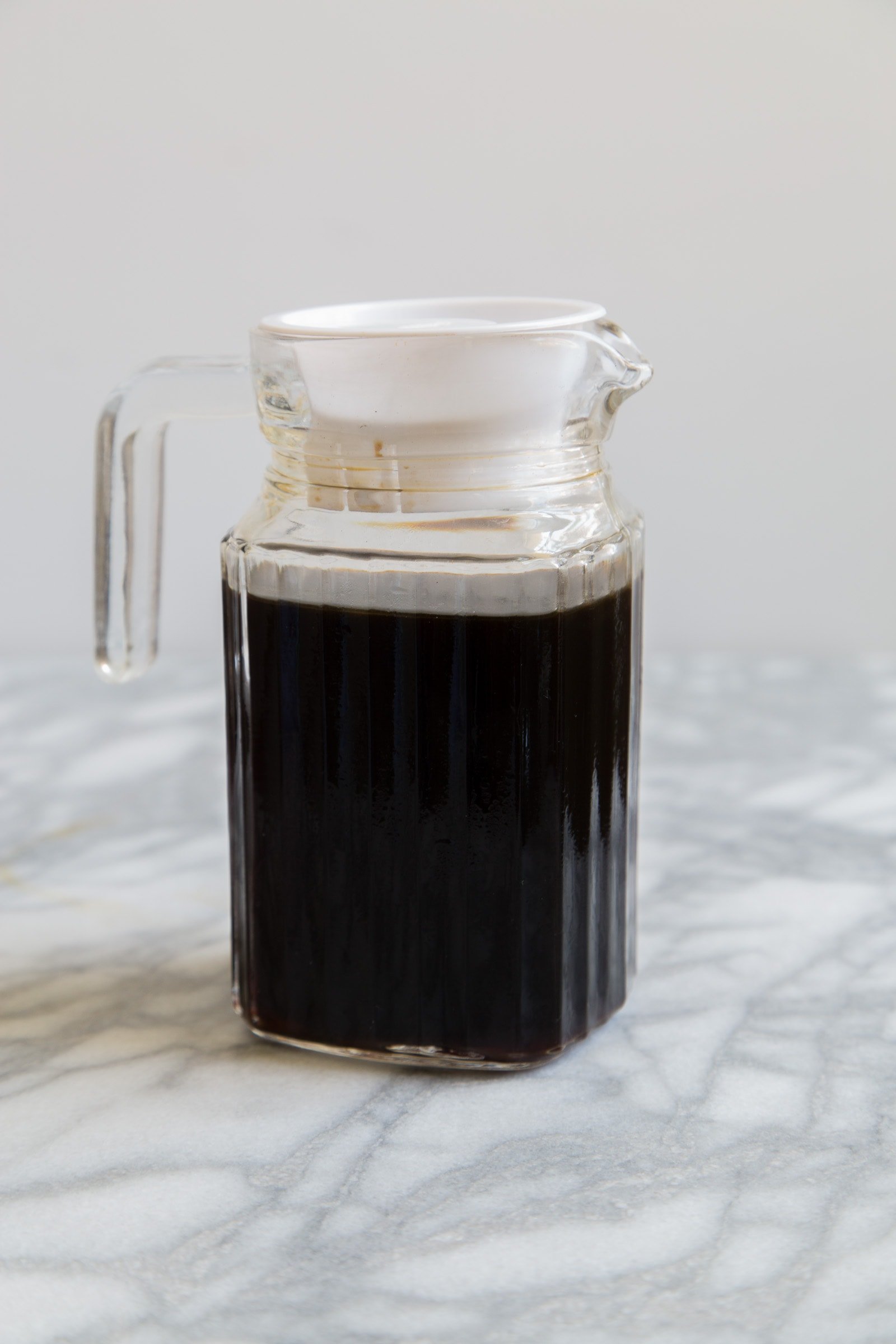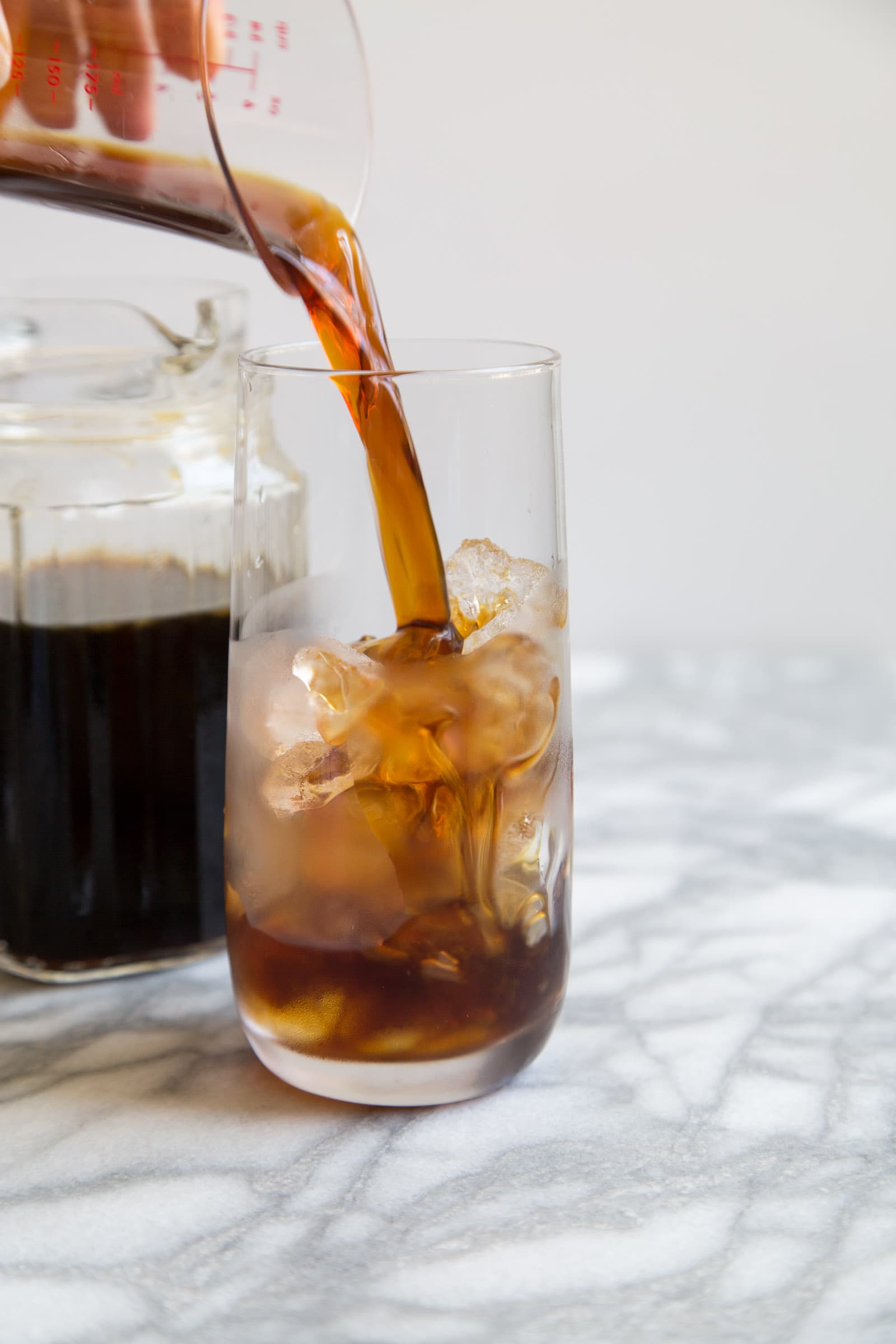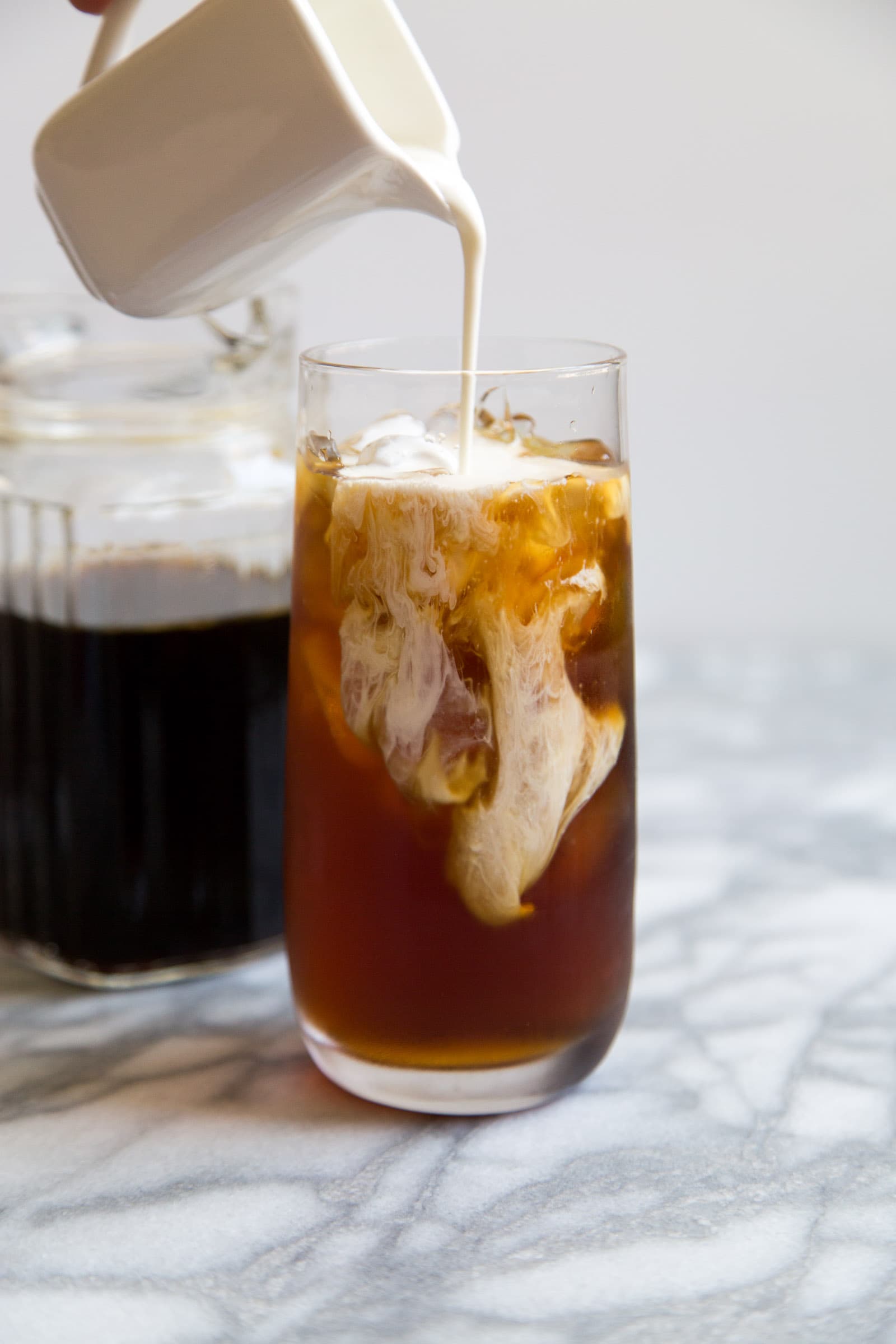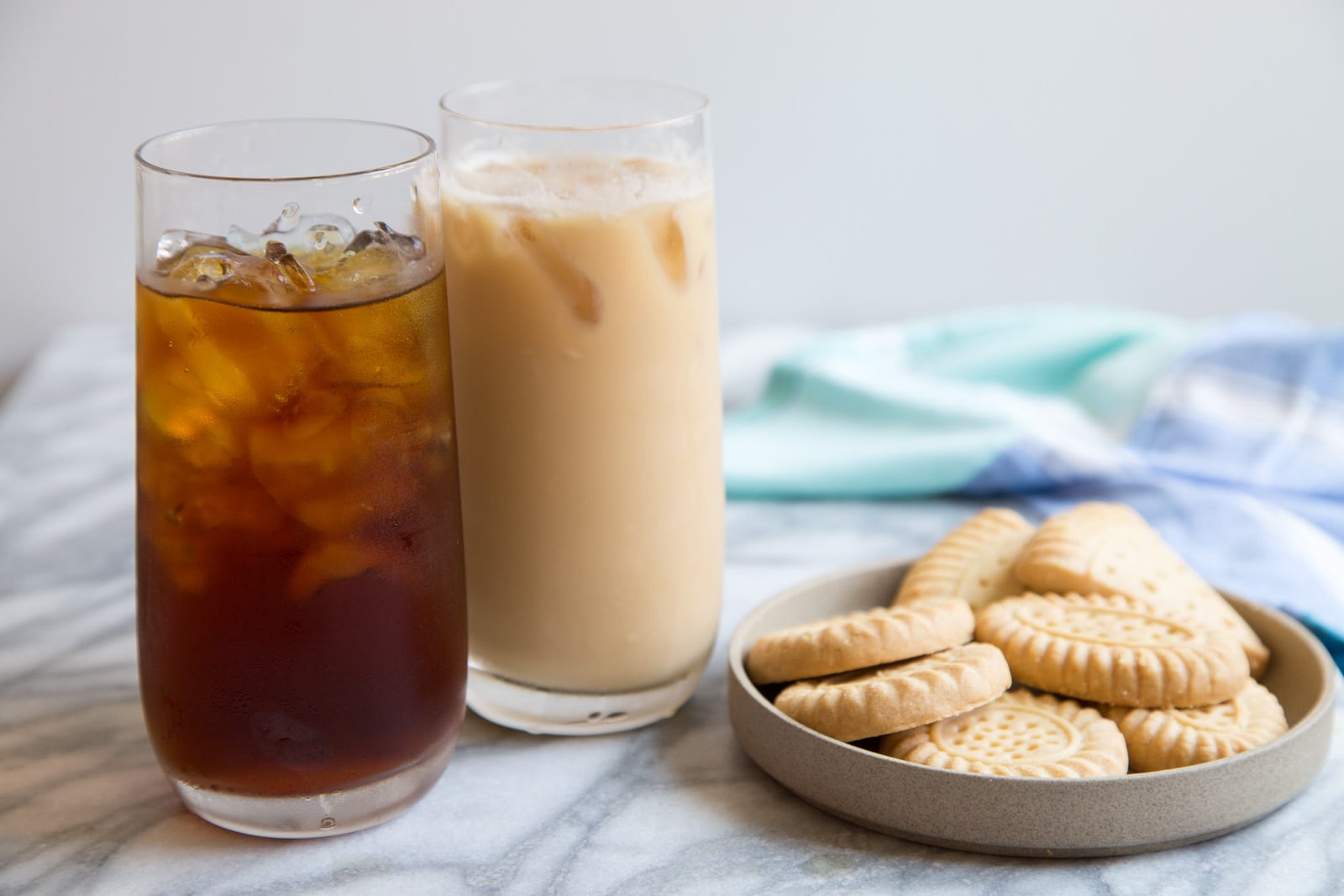 How customize your iced coffee:
The recipe for this coffee concentrate uses a 1:2 ratio of beans to water.
The concentrate makes between 6-8 cups of iced coffee, depending on your desired strength.
Since I prefer strong coffee, I make my iced coffee using a 1:1 ratio of concentrate to water. The standard iced coffee ratio would be 1:2, 1 part concentrate to 2 parts water or milk.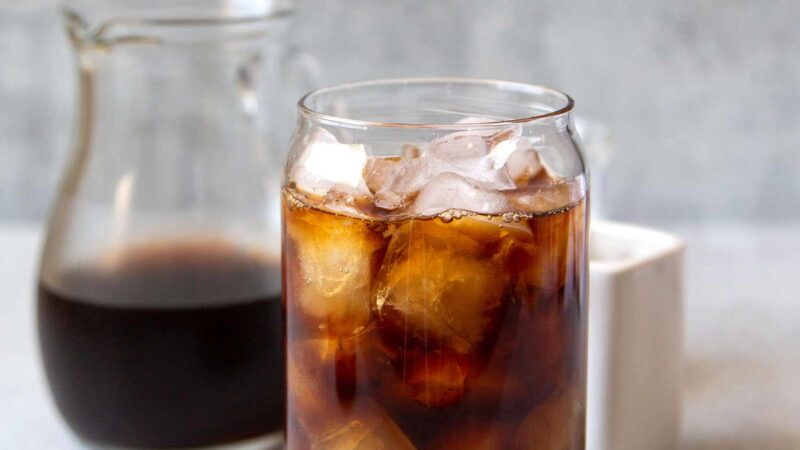 Cold Brew Coffee Concentrate
Yield: 6-8 cups iced coffee
Ingredients
Coffee Concentrate:
1 ½

cups

dark roast coffee beans,

roughly ground

3

cups

filtered water
Iced Coffee:
½

cup

coffee concentrate

½

cup

water or milk
Instructions
Add coffee grounds to French press container. Pour in water and stir vigorously to combine. Cover and allow mixture to steep overnight (8-12 hours) at room temperature.

Gently press down on French press plunger to separate grounds from liquid. Pour coffee concentrate into another container. Keep chilled in the fridge until ready to use.
Iced Coffee:
For strong coffee (1:1 ratio), pour 1/2 cup coffee concentrate and 1/2 cup water in a serving glass filled with ice. For standard iced coffee (1:2 ratio), combine 1/2 cup coffee concentrate with 1 cup water. Customize with sweeteners, milk, or cream as desired.
Notes
I use this 

French Press

 from Amazon
Coffee concentrate will keep in the fridge for one week.
Infuse additional flavors during brewing process. Add vanilla bean, cinnamon sticks, and other spices along with ground coffee.