Ube latte is a sweet delicious mixture of espresso, ube flavoring, and sweetened condensed coconut milk.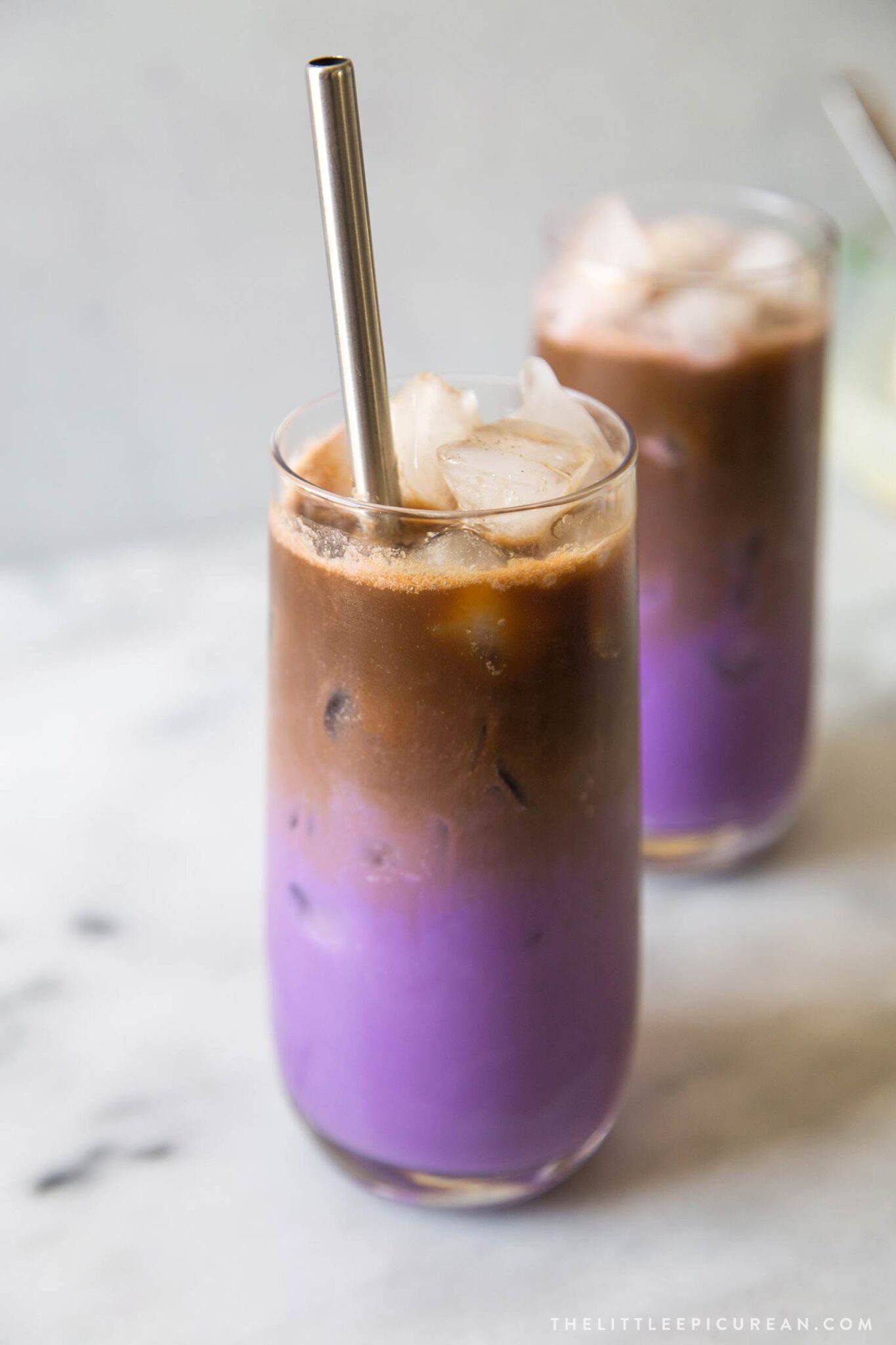 Ube definitely hit the mainstream once Trader Joe's started selling various products flavored with this alluring purple tuber.
The popularity of this flavor continues to grow as interest in Filipino cuisine expands.
I am loving this moment! It's wonderful seeing foods of my childhood enjoyed by the masses!
As the weather heats up, here's a sweet and creamy purple drink you'll want to reach for all summer long!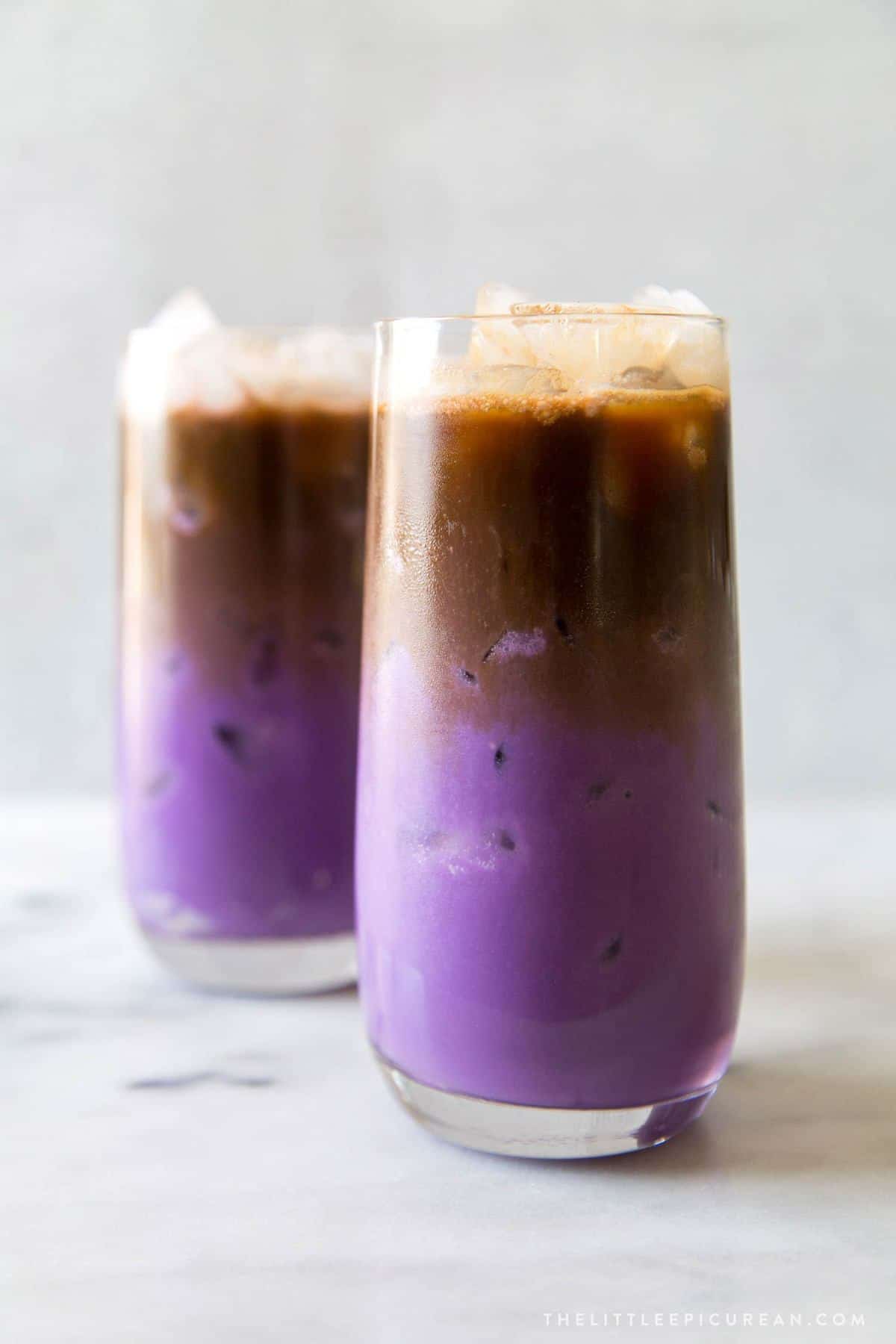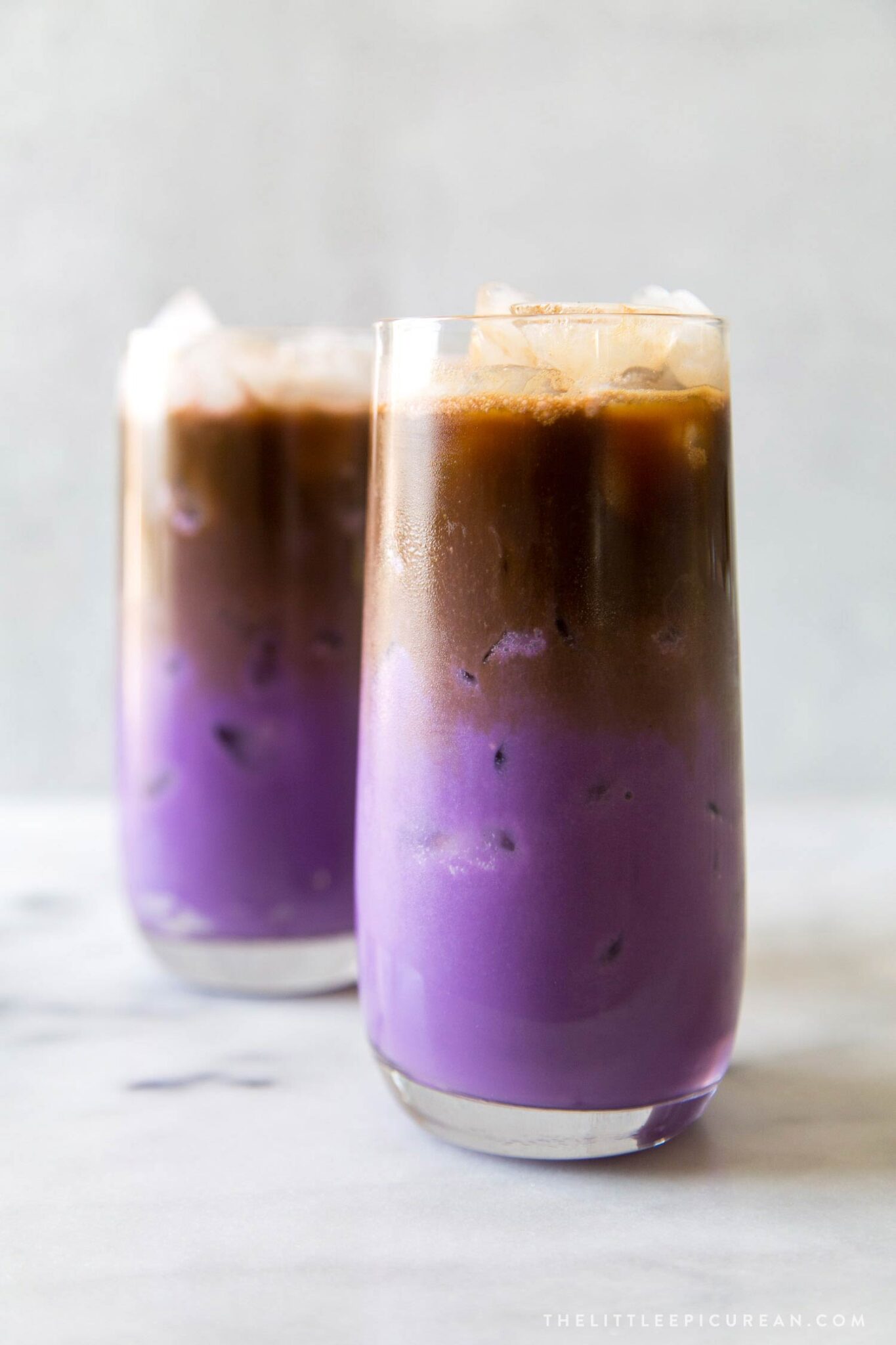 Filipino Purple Yam Latte
I introduce you to my version Iced Ube Coffee!
I was first introduced to this delicious beverage at Teofilo Coffee Company. It was a mild flavored drink made with ube syrup (I think made from ube halaya). There was more focus on the espresso.
My version has a heavier focus on sweet ube flavor! This quick and easy ube latte takes minutes to make.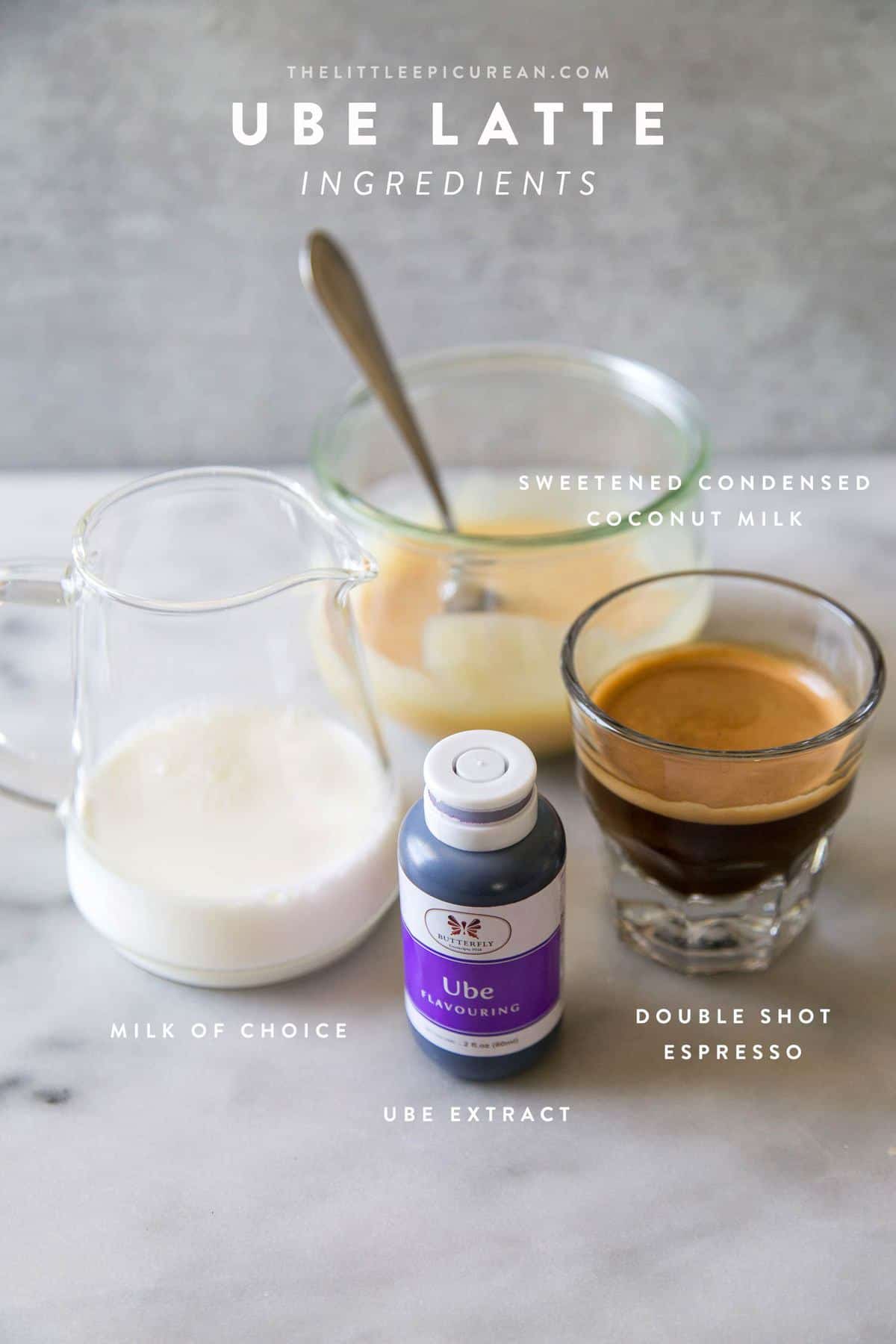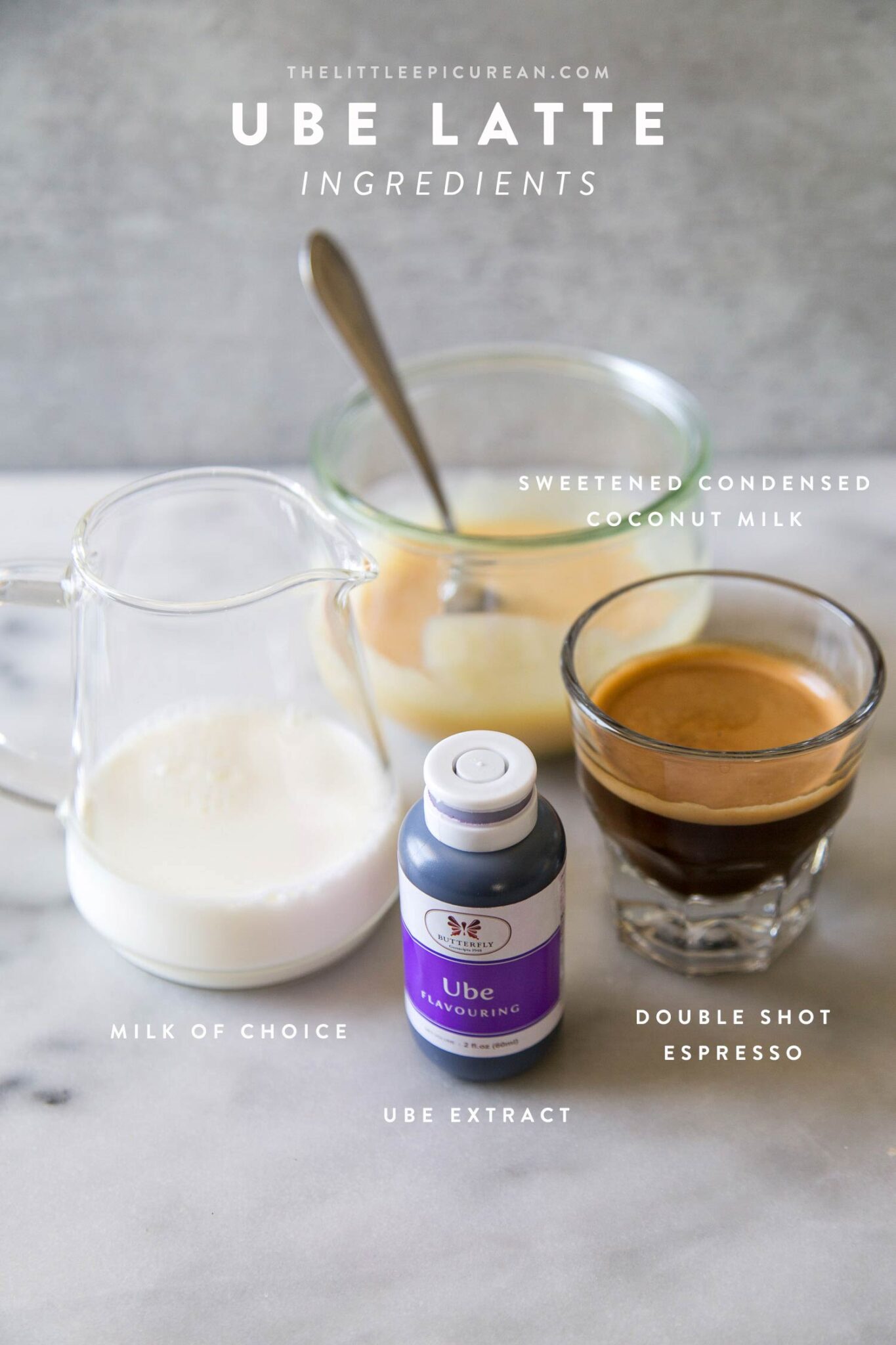 Four ingredients needed:
Ube extract
Espresso
Sweetened condensed coconut milk
Milk of choice (works best with oat milk, cow's milk, or coconut milk)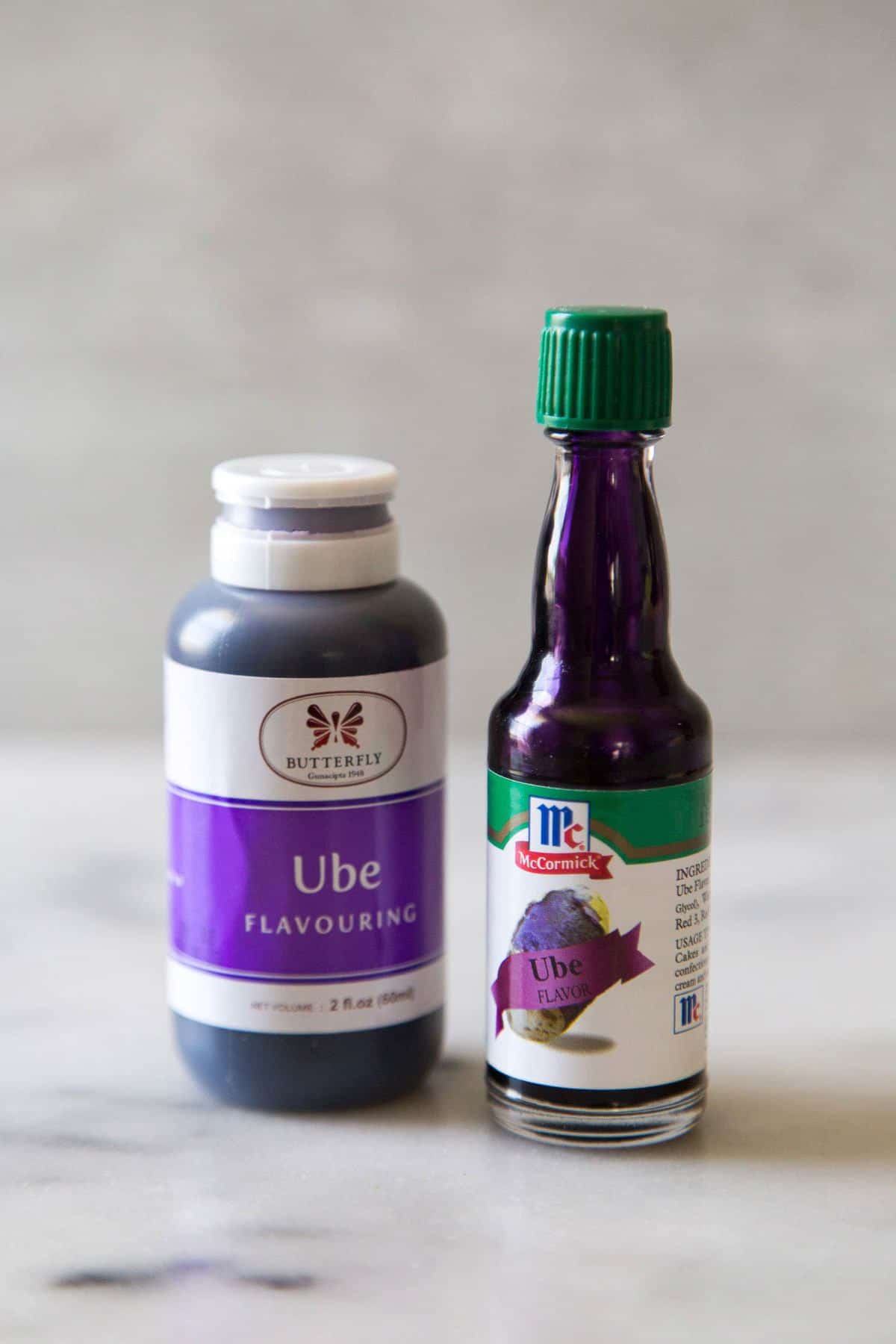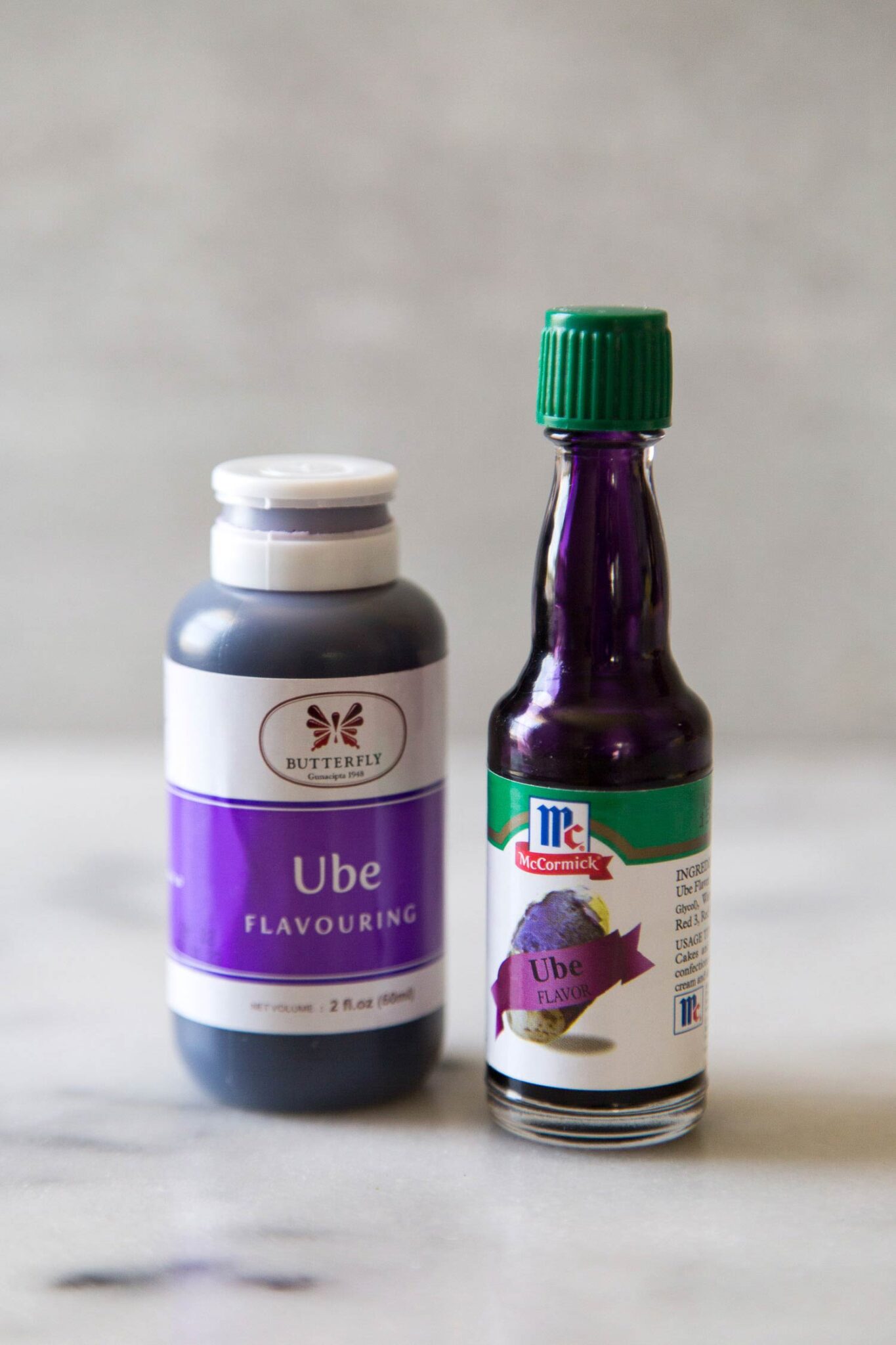 Ube Extract Flavoring
Ube extract is a super potent ingredient that adds ube flavor to any drink or dessert.
BE VERY CAREFUL. This liquid will stain!
The bottle mini bottles in the image above showcase the two most commonly found flavoring brands in the United States: Butterfly and McCormick.
Ube extract provides that iconic purple coloring and rich ube flavor. This ingredient is essential to this recipe.
NOTE: I stock up on ube extract whenever I visit the Philippines, where it costs about $1 per bottle. It is priced much higher in the United States.
Ube flavoring or ube extract is available online (Amazon affiliate link). Find it for a more reasonable price in Filipino supermarkets (such as Island Pacific and Seafood City) and well stocked general Asian supermarkets in the baking section.
Ingredient Intel
What is Ube?
Other Ube Substitutes
Ube extract is the main component that gives this iced ube latte it's flavoring.
I have tried to make a similar drink using ube halaya. Unfortunately, it did not turn out well.
Sweetened Condensed Milk Choices
I highly recommend the Sweetened Condensed Coconut Milk in the image above.
It's just like the sweetened condensed milk you know and love, but made with coconut milk instead of cow's milk!
Yes, the product tastes like coconut. It has a rich creamy quality similar to sweetened coconut cream.
This product is available at Whole Foods, Sprouts, and Target nationwide.
Coconut pairs wonderfully with ube. They compliment each other in a sweet, earthy way.
If you cannot find sweetened condensed coconut milk, feel free to substitute regular sweetened condensed milk.
Filipino supermarkets also carry ube flavored sweetened condensed milk. I personally do not like the product. However, I know many people that are big fans of it.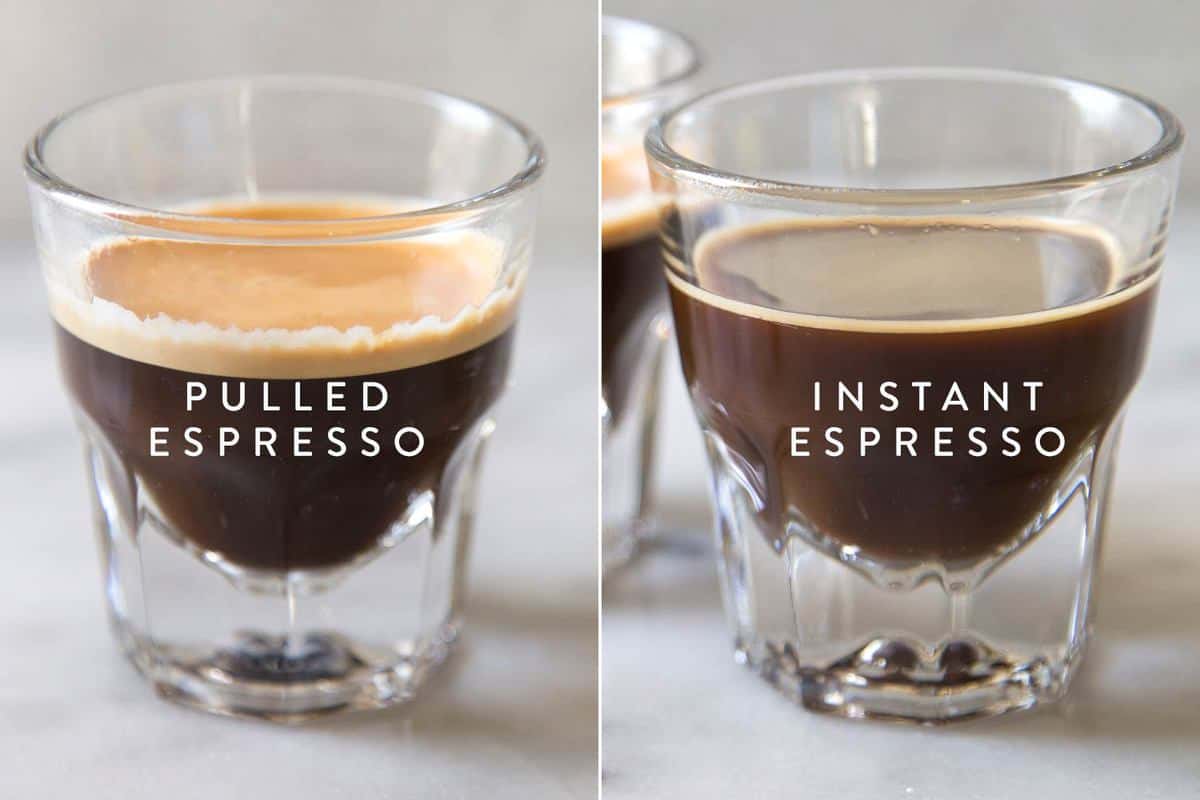 Espresso Options
Ideally, you should use fresh pulled espresso. (I use this Espresso Machine (affiliate link) at home. I highly recommend it!)
Espresso is extracted from pressurized hot water pushing through fine coffee grounds.
An important quality of espresso is the crema that floats on top of the espresso. Crema is a flavorful froth that forms when air bubbles mix with the ground coffee bean's oils.
However, you don't have an espresso machine, there is another option!
Use can make (what I call) "fake espresso" by using instant coffee.
As you can see from the image above, the instant espresso version does not have the crema topping like pulled espresso.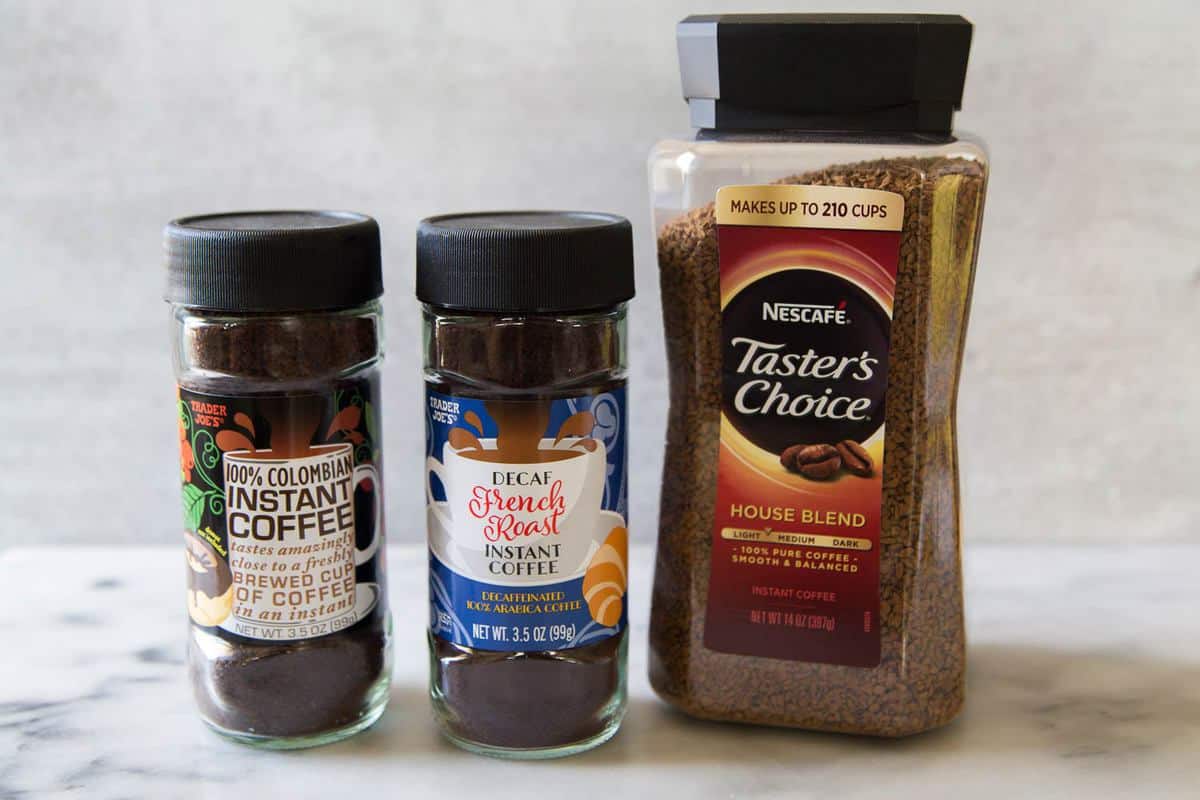 This method works great in cold coffee drinks like iced lattes and frozen blended mocha.
To make a double shot of "instant espresso":
Dissolve 1 tablespoon instant coffee granules in 2 oz (1/4 cup) hot water
The three instant coffees above are the brand and options have I tested with this method. Any roast will work. It's a matter of taste preference.
Why not use instant espresso powder? I have many reasons:
Espresso powder is simply concentrated instant coffee.
It's much more expensive than regular instant coffee.
The intense dark flavor of espresso powder is better suited for baking.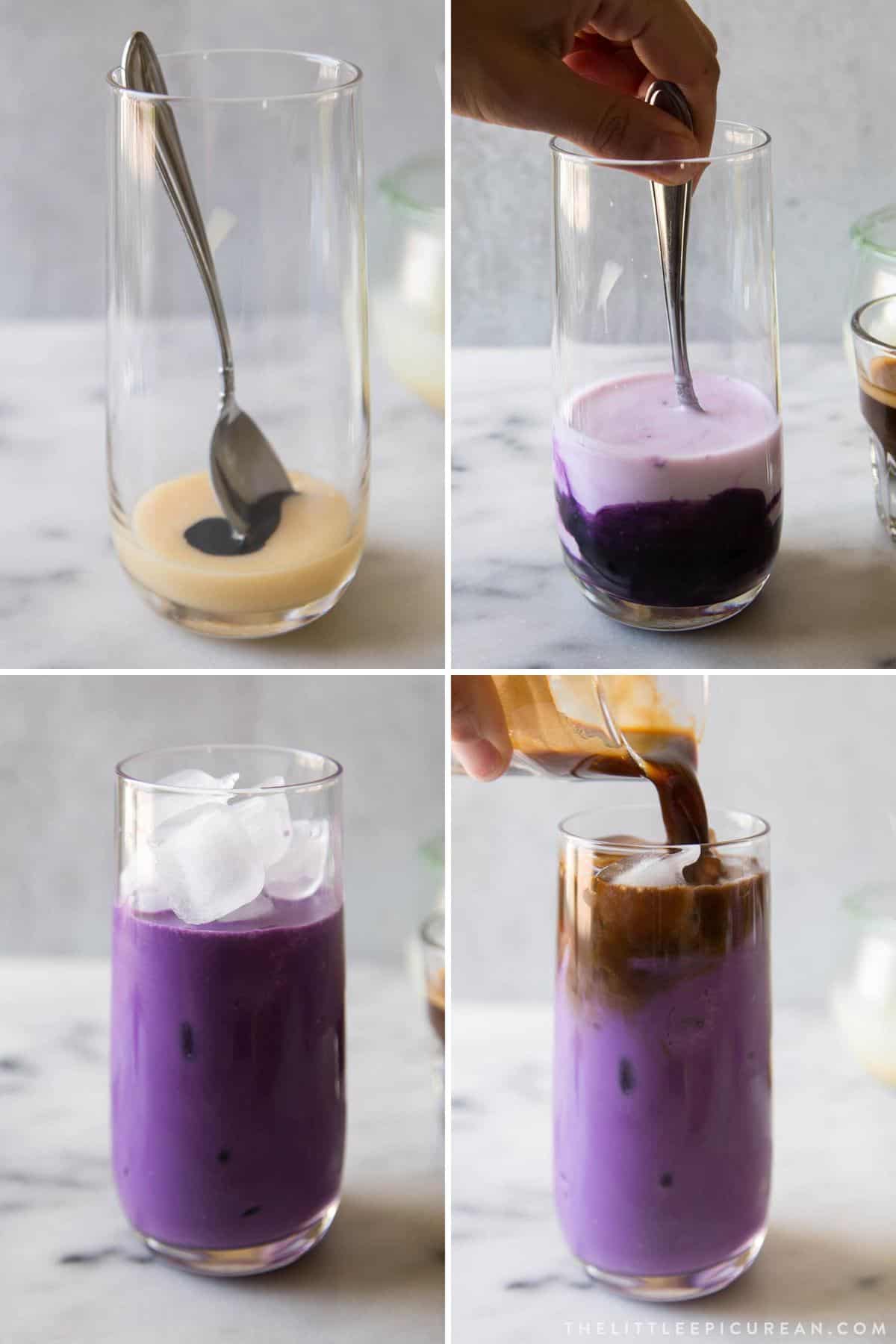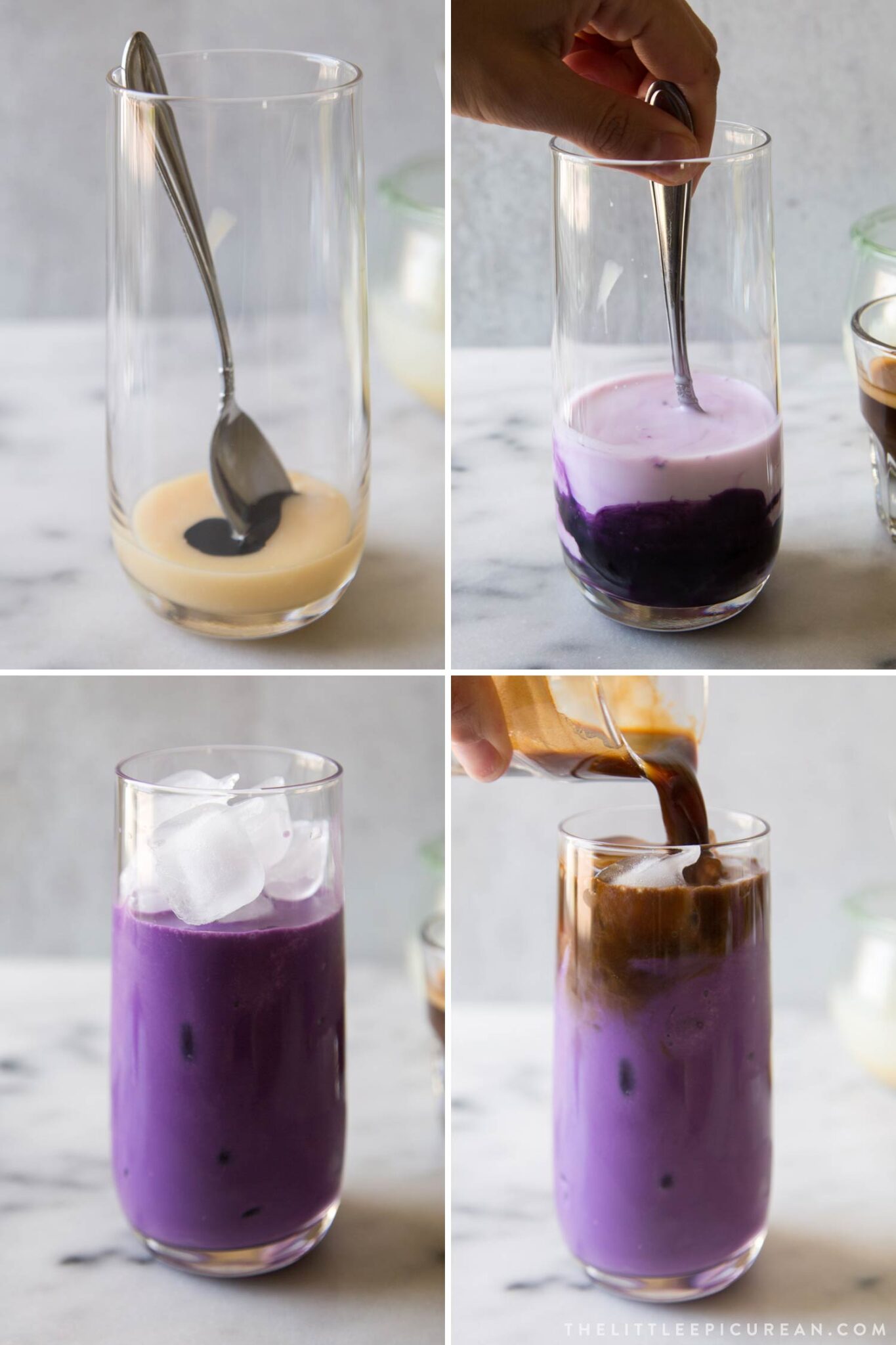 How to Make Iced Ube Latte
Pour sweetened condensed coconut milk and ube extract (flavoring) into a tall serving glass. Mix to combine.
Add in milk of choice. Stir together until ube mixture is fully dissolved.
Fill glass with ice.
Top with espresso!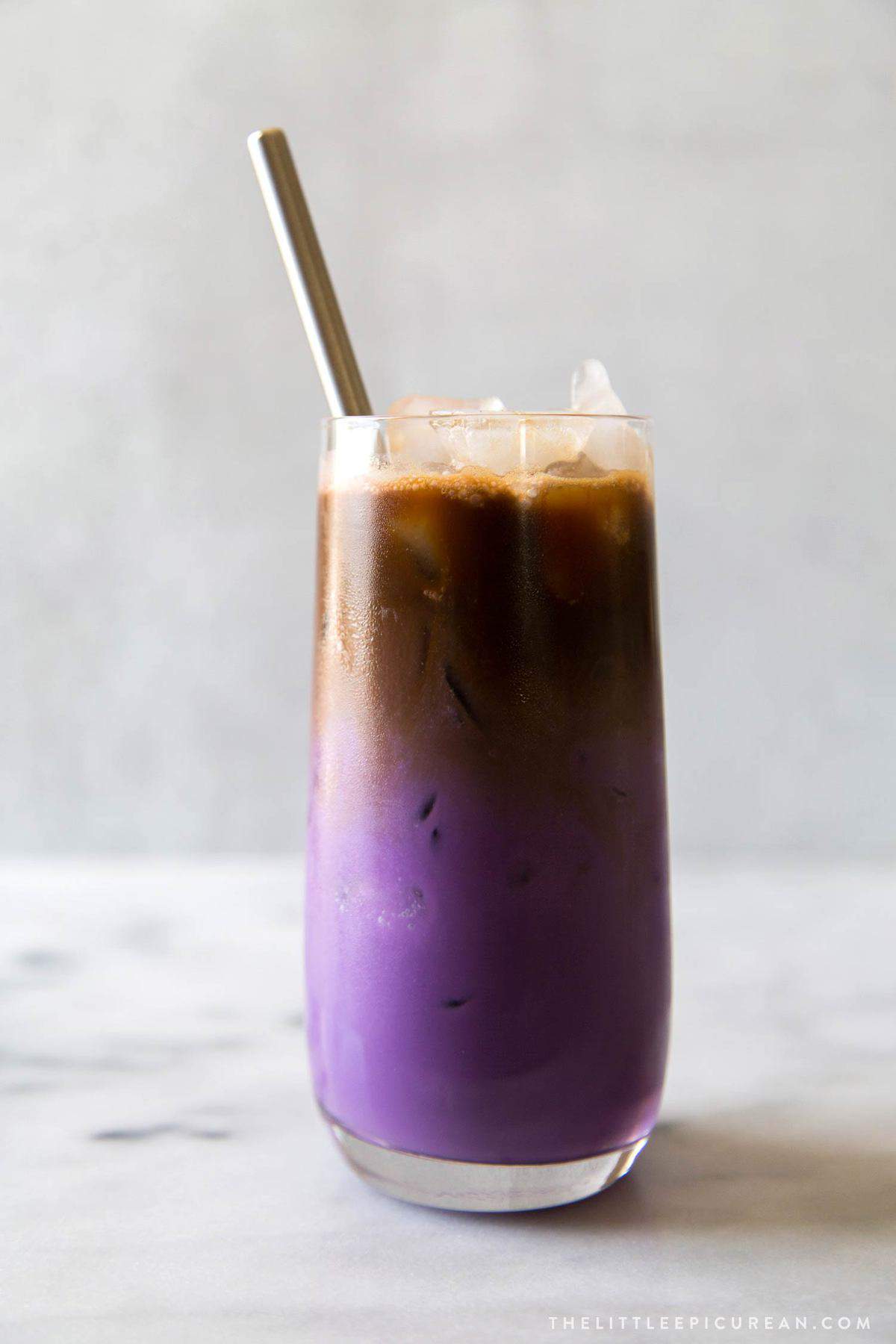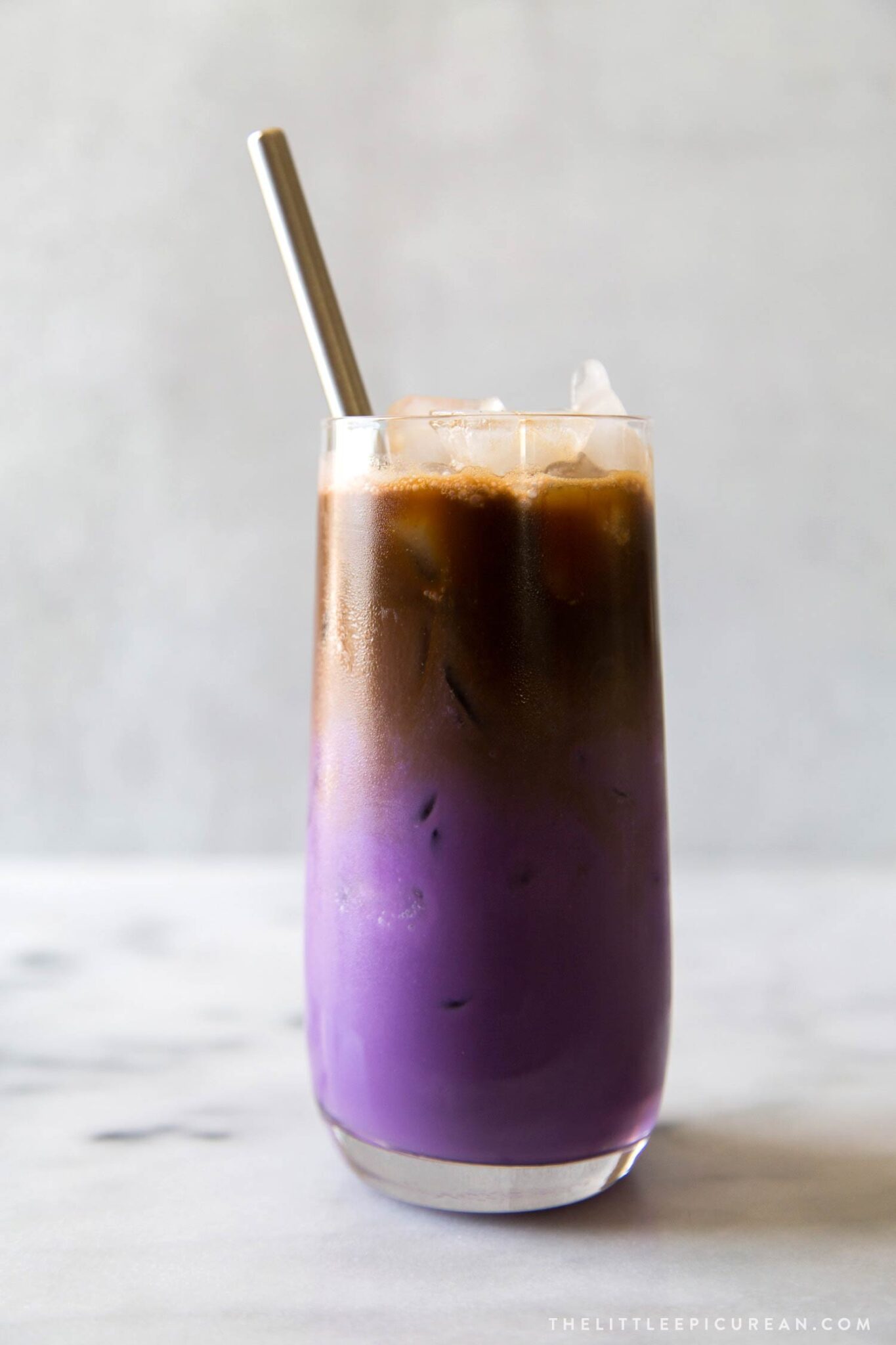 The iced ube latte is so beautiful when layered. After mixing, the bright purple turns into a soft mauve color that's equally striking!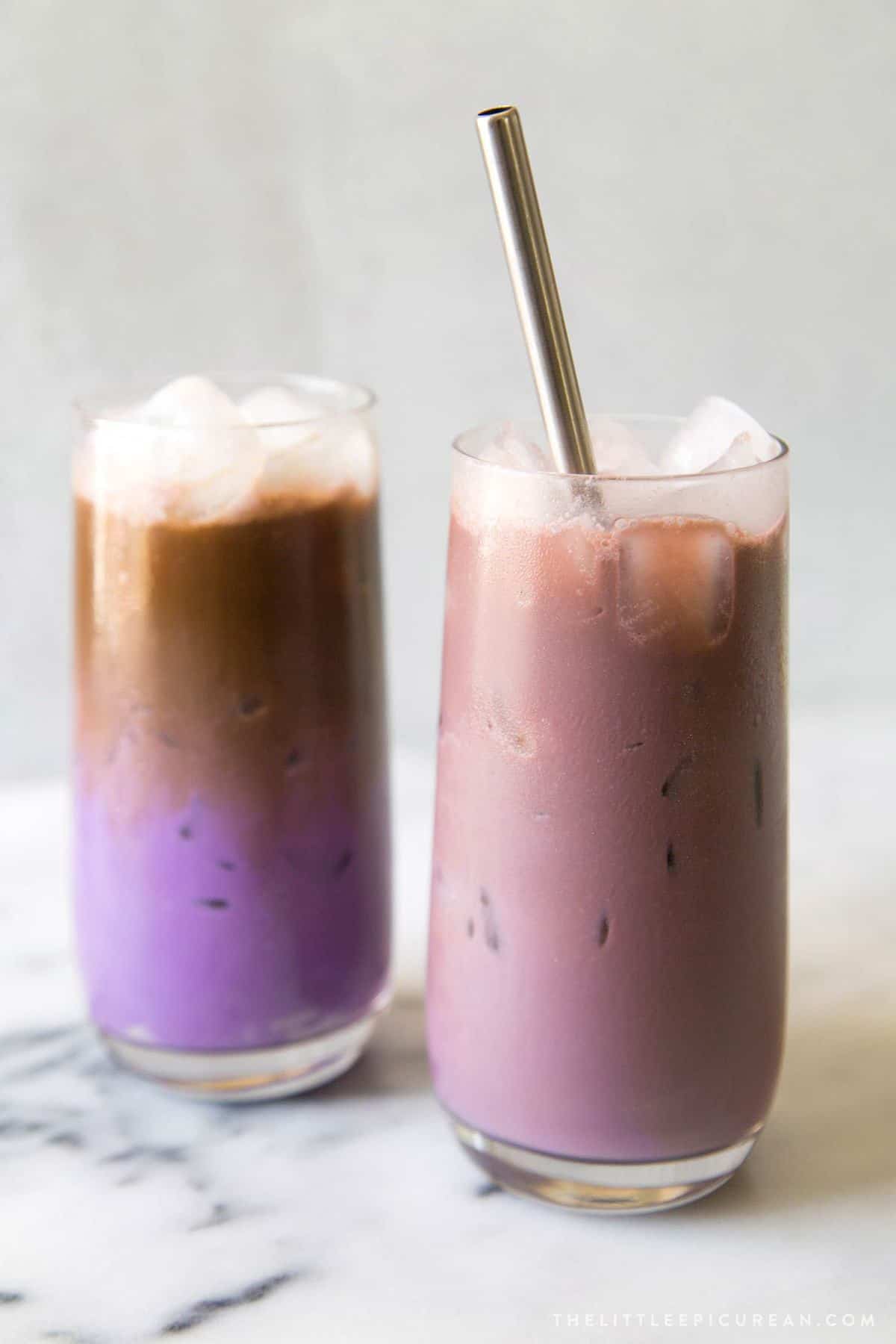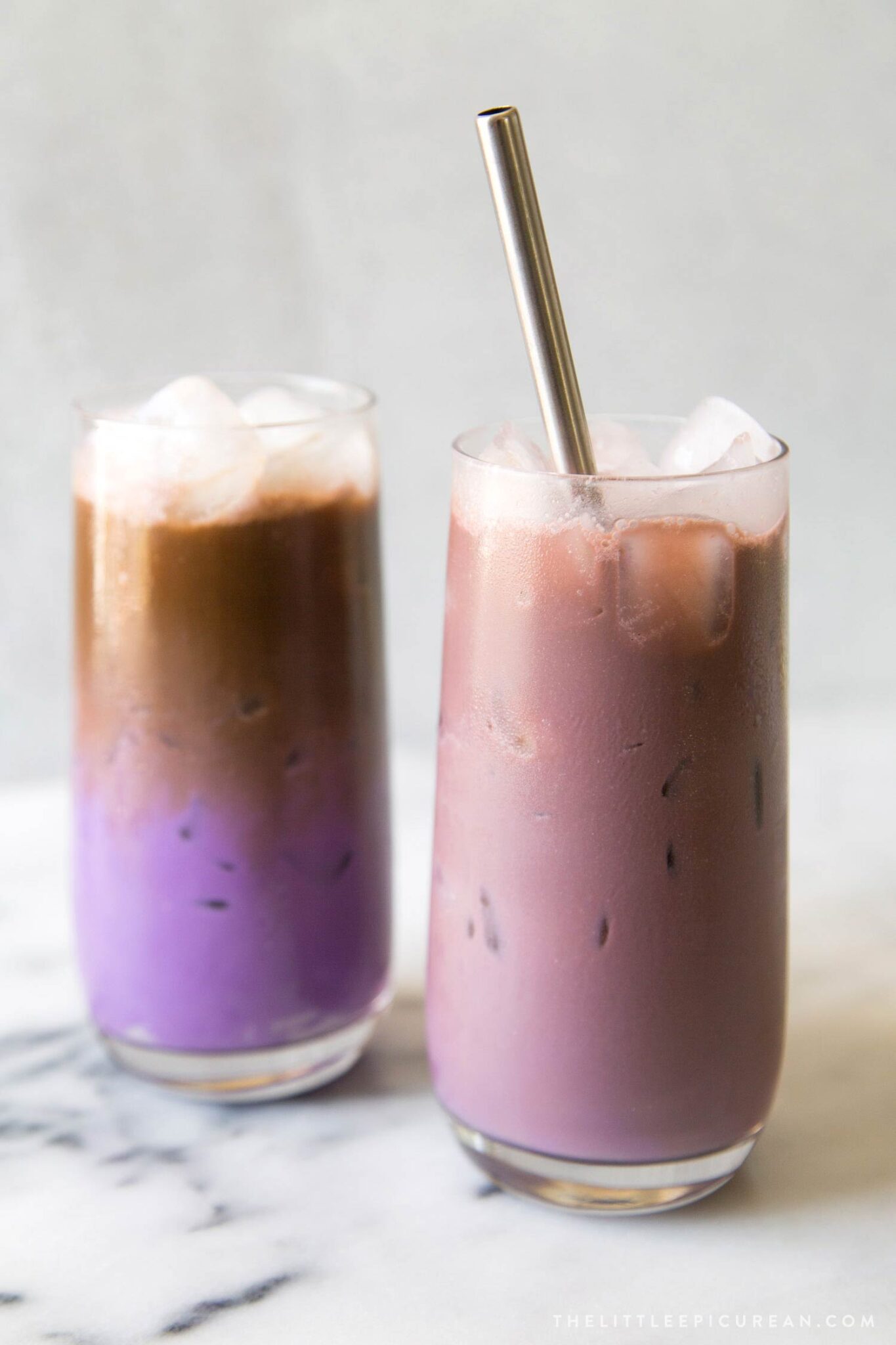 Ready for more ube recipes? Here are some family favorites: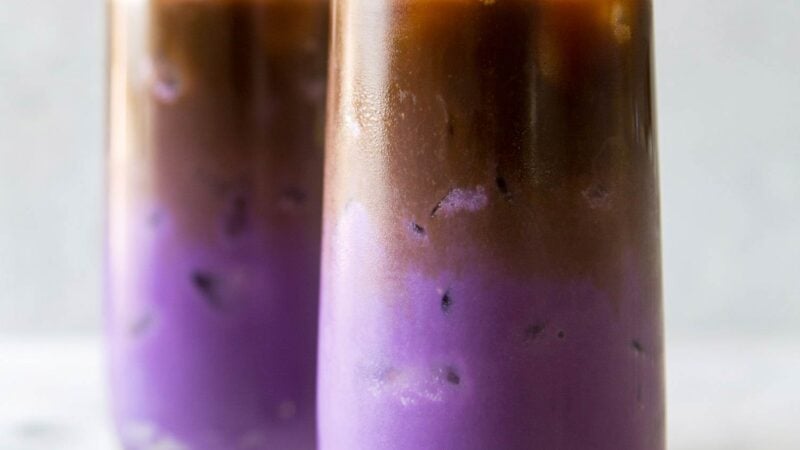 Iced Ube Latte
Ube latte is a sweet delicious mixture of espresso, ube flavoring, and sweetened condensed coconut milk. This recipe can be made with freshly pulled espresso or instant coffee (instant espresso)!
Servings:
1
(multiply as needed)
Ingredients
2

Tbsp

sweetened condensed coconut milk

*

¼

teaspoon

ube extract

(ube flavoring)

½

cup

milk of choice

, or more to taste*

2

oz

espresso (double shot)

,* see notes for instant espresso option

ice

as needed
Instructions
Pour sweetened condensed milk into a tall serving glass. Stir in ube extract. Stir in milk. Mix until ingredients are fully incorporated.

Fill glass with ice. Pour espresso over. Stir contents together before drinking.
Notes
Ube Flavoring:
Ube extract or ube flavoring may be purchased at Filipino supermarkets like Island Pacific or Seafood City. It is sometimes available at 99 Ranch or Hmart. Or, it can be purchased online through Amazon. 
Butterfly and McCormick are two most commonly available ube extracts in the United States. 
Milk Choices:
Cow's milk or oat milk is highly recommend. These options allow the ube flavor to pop through.
You may use soy milk, almond milk, coconut milk, etc. 
Sweetened Condensed Milk:
This sweetened condensed coconut milk is highly recommended. It adds a sweet hint of coconut flavor and creaminess. I purchased this from Whole Foods Market. It is also available at Sprouts or online through Amazon. 
Sweetened condensed milk is another vegan option.
You may use sweetened condensed milk in place of coconut version. 
Espresso:
Freshly pulled espresso is high recommended. This requires use of an espresso machine or a moka pot.
For the "instant version": dissolve 1 Tbsp instant coffee in 2 oz hot water.