Celebrate the warm flavors of autumn with this brown butter pumpkin cake. This small, but mighty cake, is packed with delicious and intense flavors.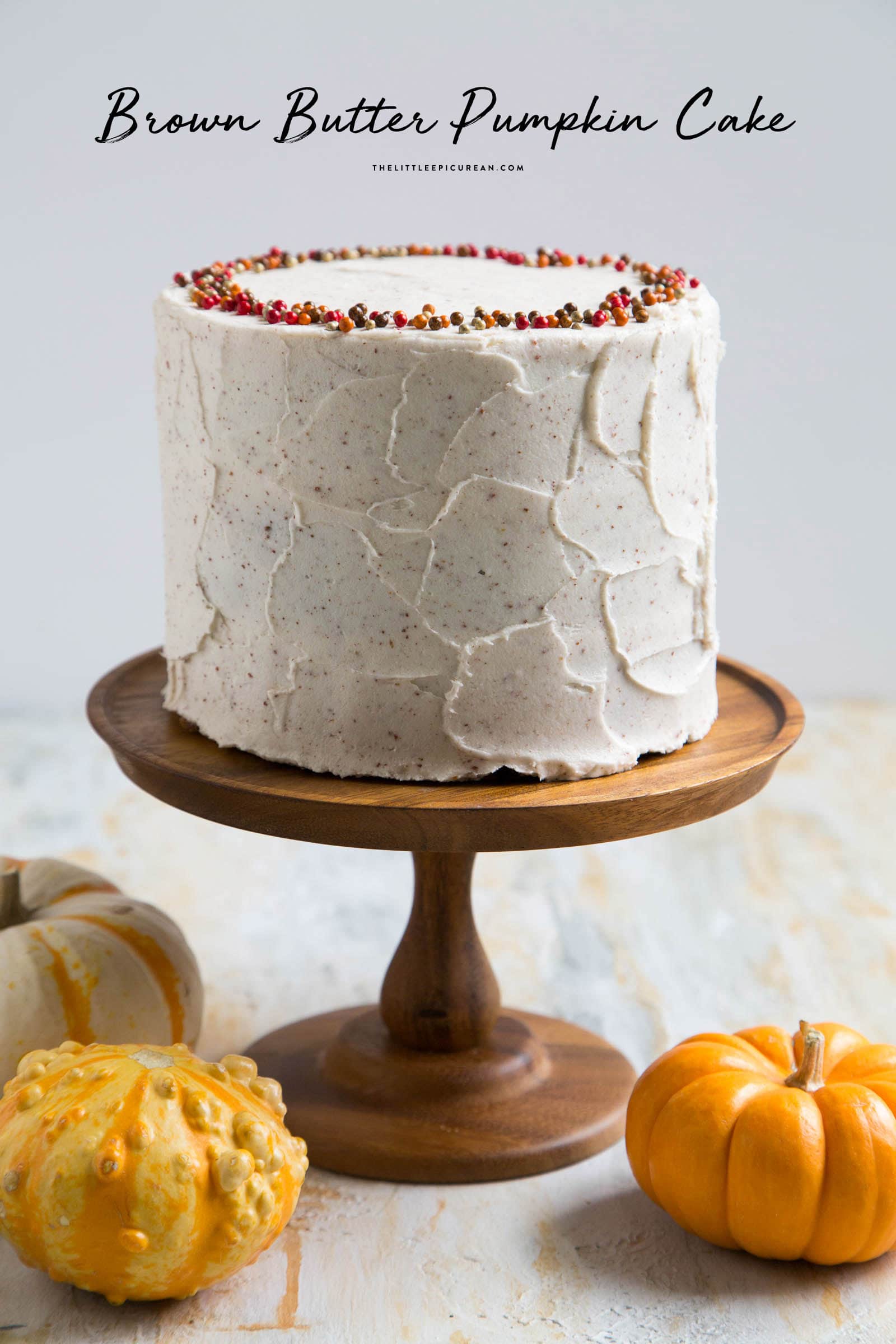 It's my favorite time of the year. Pumpkin season is here! While I'm not the biggest fan of pumpkin spice lattes or pumpkin pies, I love pumpkin cake.
I've made several variations of pumpkin cake throughout the years. (See: chocolate pumpkin cake, cinnamon maple pumpkin cake, butterscotch pumpkin cake) I love pumpkin cake so much that the top layer of my wedding cake was pumpkin.
This brown butter pumpkin cake is unlike any other cake I've shared on the blog before. It's made with BROWN. BUTTER. BUTTERCREAM. It's the most luscious, delicious, exciting buttercream I've yet to taste.
What is brown butter, you ask?
Butter is comprised of water, butterfat, and milk solids. To make brown butter, unsalted butter is melted. As the melted butter is heated, the water evaporates and the milk solids separate from the butterfat (creating clarified butter).
As you continue to heat this mixture, the milk solids "cook" in the fat, thus turning brown. These little golden brown specks are like liquid gold. They create this rich, nutty, deep flavor that heightens and intensifies all baked goods.
The fragrance as it cooks is intoxicatingly delicious. It smells sort of like roasted hazelnuts. Brown butter is popularly used in cookies and pastas. (See: brown butter chocolate chunk cookies and brown butter spaghetti)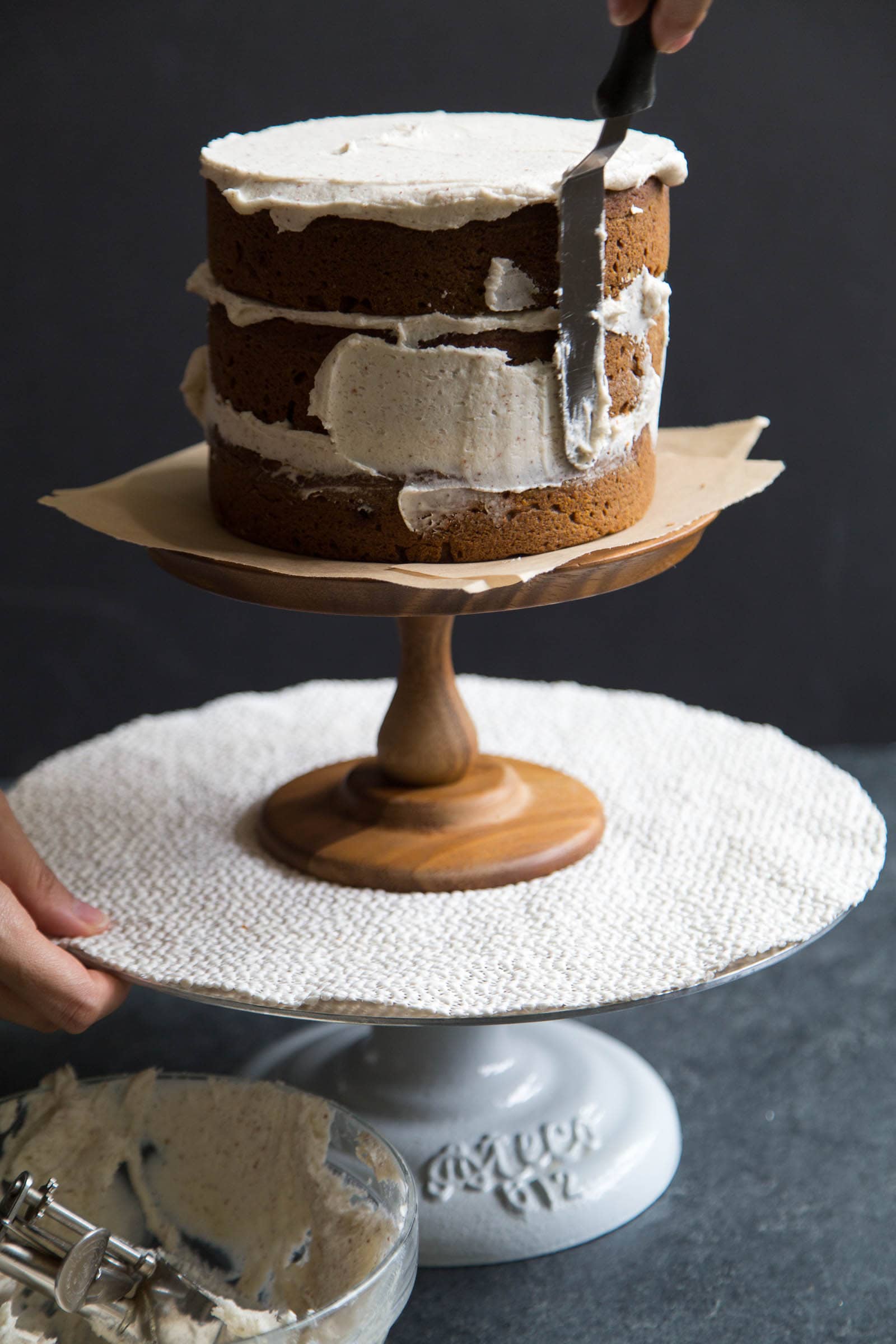 I used a simple mixture of ground cinnamon and nutmeg to spice the pumpkin cake. The pumpkin cake is sweetened with brown sugar and maple syrup. I wanted to keep with the warm, autumn flavors.
The real star of this cake is the brown butter buttercream. Can see you all the little golden specks in the buttercream?
After a slice of this brown butter pumpkin cake, you'll want to use brown butter buttercream for every single cake you make. Don't say I didn't warn you . :)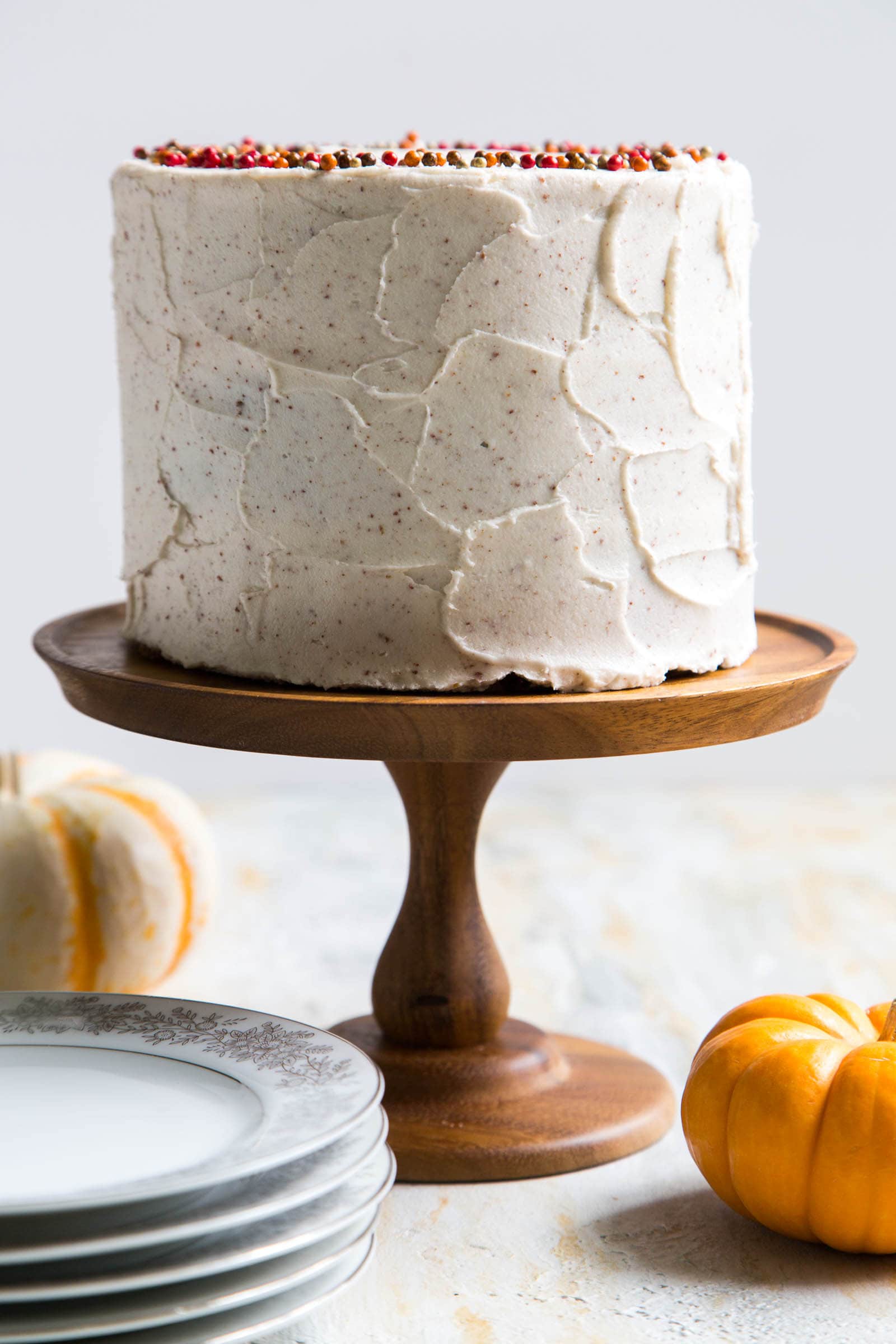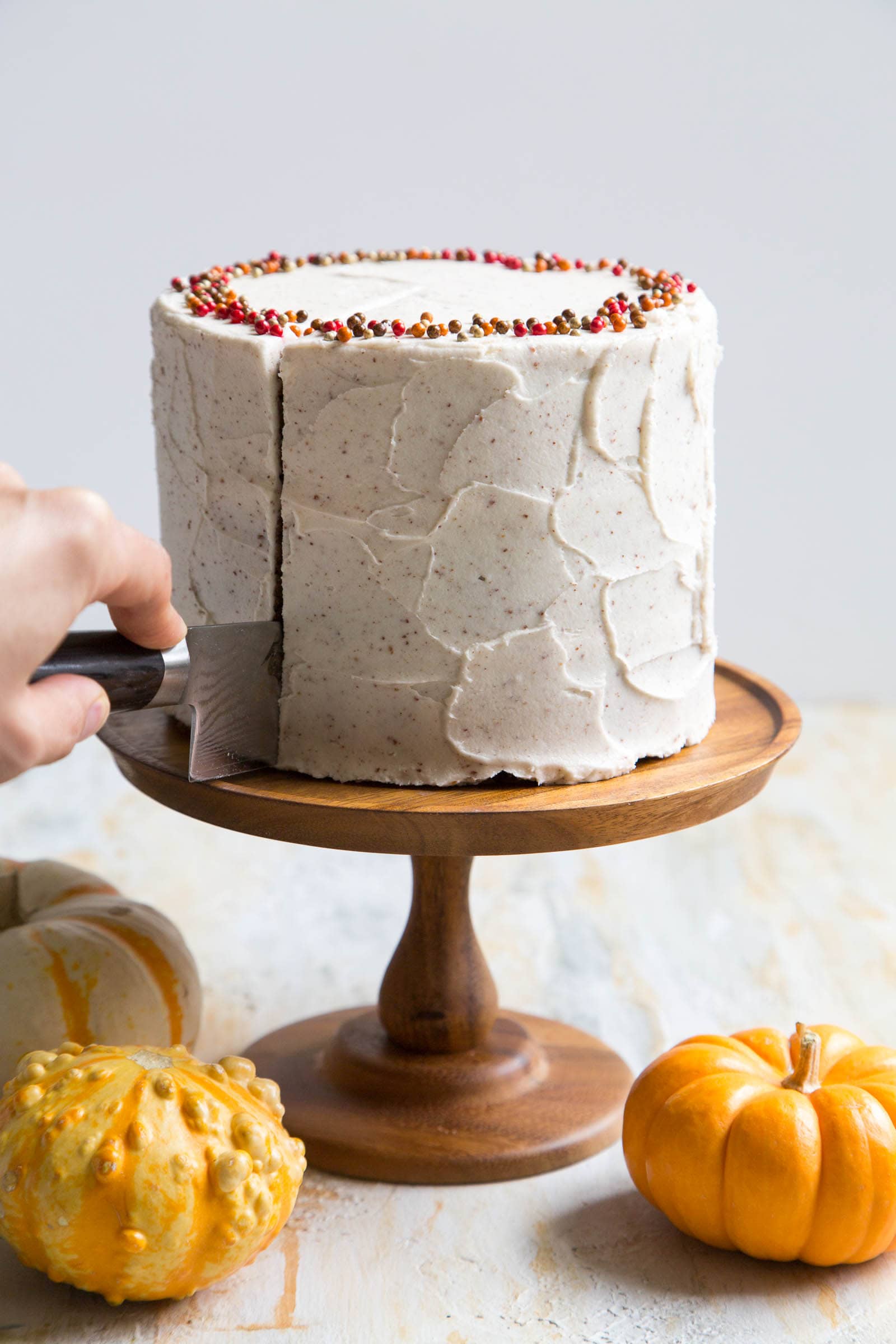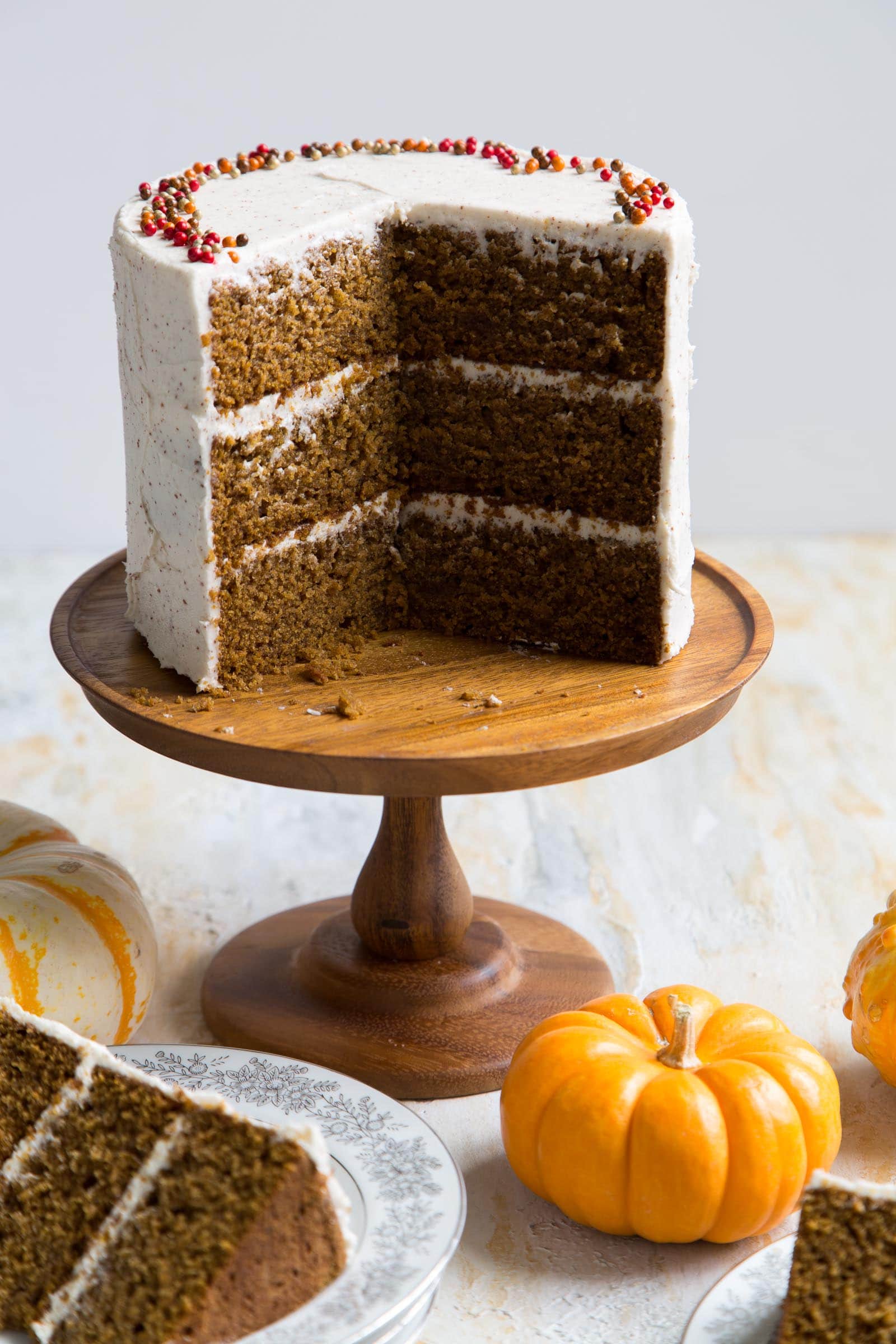 Brown Butter Pumpkin Cake
Celebrate the warm flavors of autumn with this brown butter pumpkin cake. This small, but mighty cake, is packed with delicious and intense flavors.

Yield: three layer 6-inch cake
Ingredients
Pumpkin Cake:
3

cups

all-purpose flour

2

Tablespoons

ground cinnamon

1

teaspoon

ground nutmeg

2

teaspoons

baking soda

1

teaspoon

baking powder

1

teaspoon

fine sea salt

1

cup

coconut oil*

1

cup

light brown sugar, packed

1/2

cup

dark maple syrup, grade B

4

large eggs, room temperature

1

-15 oz can pure pumpkin puree
Brown Butter Buttercream:
1

cup

unsalted butter, sliced into tablespoons

3

cups

confectioners' sugar

2-3

Tablespoons

whole milk

1/4

teaspoon

fine sea salt
Instructions
Pumpkin Cake:
Preheat oven to 350 degrees F. Lightly butter and flour three 6-inch round cake pans. Tap out any excess flour. Line cake pans with parchment paper and set aside.

In a large bowl, whisk together flour, cinnamon, nutmeg, baking soda, baking powder, and salt. Set aside.

In the bowl of a stand mixer fitted with a paddle attachment, beat together coconut oil, brown sugar, and maple syrup until smooth. Scrape down bowl as needed. Add eggs one at a time, ensuring eggs are thoroughly incorporated. Add pumpkin puree and mix until combined. Batter may look curdled at this point.

Add flour mixture in two additions. Mix on low speed until there are no longer any dry streaks of flour. Scrape down bowl as needed.

Evenly distribute batter among prepared cake pans. Level batter as needed. Bake for 35-40 minutes until toothpick inserted in center of cake comes out clean. Allow cake to cool in pan for 10 minutes before unmolding. Remove cake from pan and allow to cool to room temperature on wire rack.
Brown Butter Buttercream:
In a heavy bottomed sauce pan, melt butter over medium heat. Once the butter has melted, continue to cook. Swirl pan occasionally to ensure even heating. Mixture will bubble and foam as it cooks. The bubbling will be vigorous at the beginning but it will subside. Continue to cook until butter smells nutty. The mild solids in the butter will turn rich brown in color. Remove from heat and pour into a heat-safe bowl. Be sure to scrape out as much of the browned milk solids bits.

Allow brown butter to cool to room temperature. Cover and keep chilled in the fridge until solid. Brown butter needs to be completely cooled before mixing into buttercream.

Allow solid brown butter to soften at room temperature. Transfer to the bowl of stand mixer fitted with a paddle attachment (or use an electric hand mixer). Beat until smooth. Add powdered sugar, milk, and salt. Mix until buttercream is soft and fluffy. Scrape down bowl as needed to ensure thorough mixing.
Assembly:
If necessary, level cake layers. Place one cake round on cake board (or serving plate). Spread a layer of brown butter buttercream over cake layer. Place second cake layer on top. Gently press cake layer down to secure. Spread a layer of frosting. Repeat with remaining cake layer.

Spread a thin layer of frosting all over cake to seal in the crumbs (crumb coat). Let chill in the refrigerator for 15 minutes. Spread another layer of buttercream to coat cake. Decorate with sprinkles, if desired.

Keep cake chilled until ready to serve. Allow cake to sit at room temperature for 15-20 minutes to soften before serving.
Recipe Notes
This recipe makes three 6-inch layers. It also works for two 8 or 9-inch layers. Reduce baking time to 30-35 minutes.
If you don't like coconut oil, you can substitute any flavorless oil like vegetable or canola oil.