Homemade pastry cream and peach preserves are stuffed inside these peach cream filled doughnuts. A tasty way to celebrate the end of summer!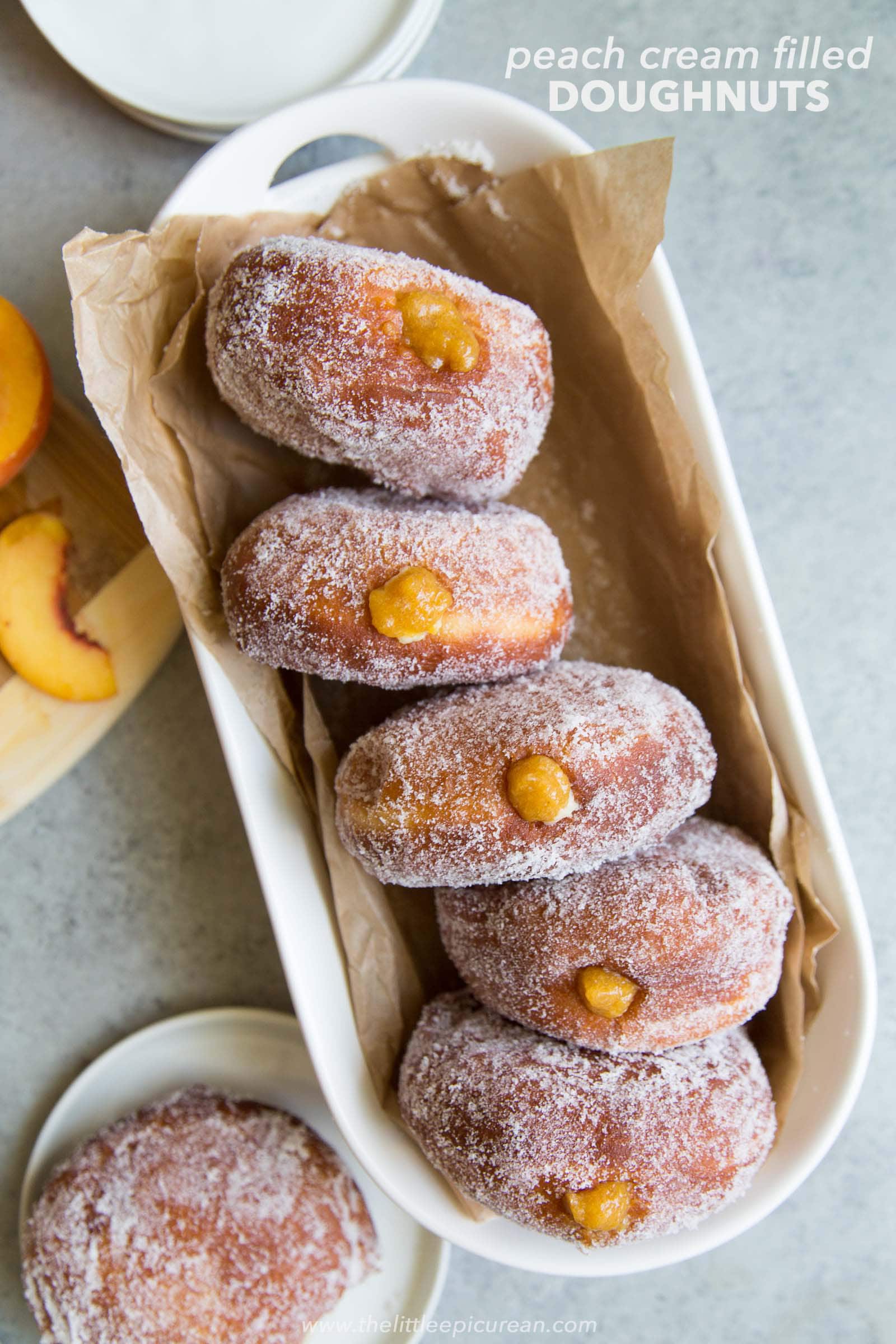 Ever since visiting General Porpoise in Seattle, I have become obsessed with filled doughnuts.
I've been perfecting my filled doughnut recipe all summer and I'm finally ready to share it with you!
As an ode to stone fruit season, I made these peach cream filled doughnuts.
(If you're ready for autumn flavors, check out pumpkin cheesecake filled doughnuts!)
Peach Pastry Cream Filled Donuts
Real deal fried doughnuts can be intimating to new bakers.
Yeast donuts are time consuming. These filled donuts require several components.
Pro Tip
Make Donuts Over Several Days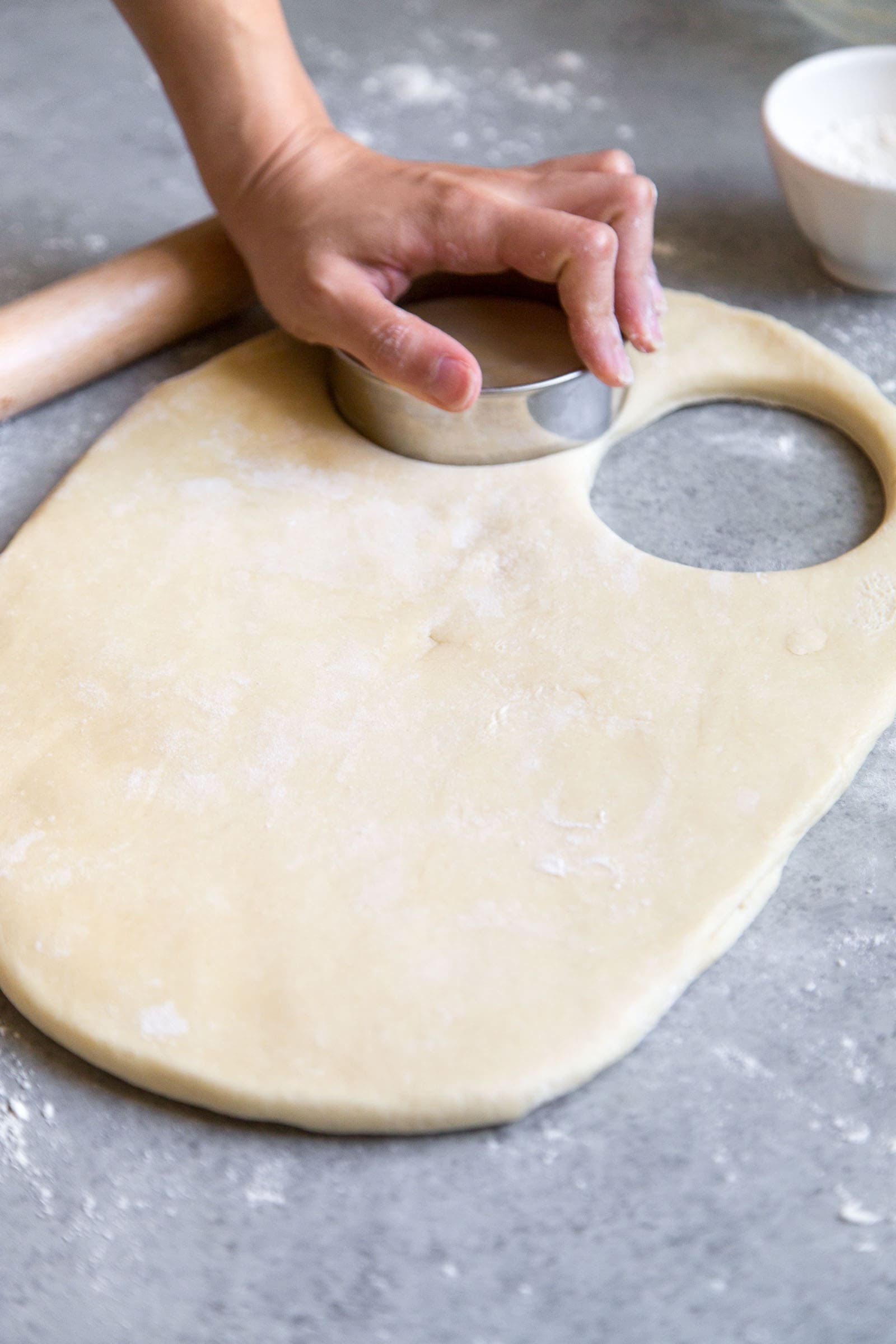 Tips for Working with Dough
Roll out the chilled dough. Work quickly. Chilled dough is easier to manage than room temperature dough.
Punch out 3 1/2 or 4-inch rounds. It's best to use a straight edge round cutter.
Dip the cutter in flour to easily punch out the dough rounds.
Bunch up any scraps and re-roll the dough ONCE. Do not re-roll a second time.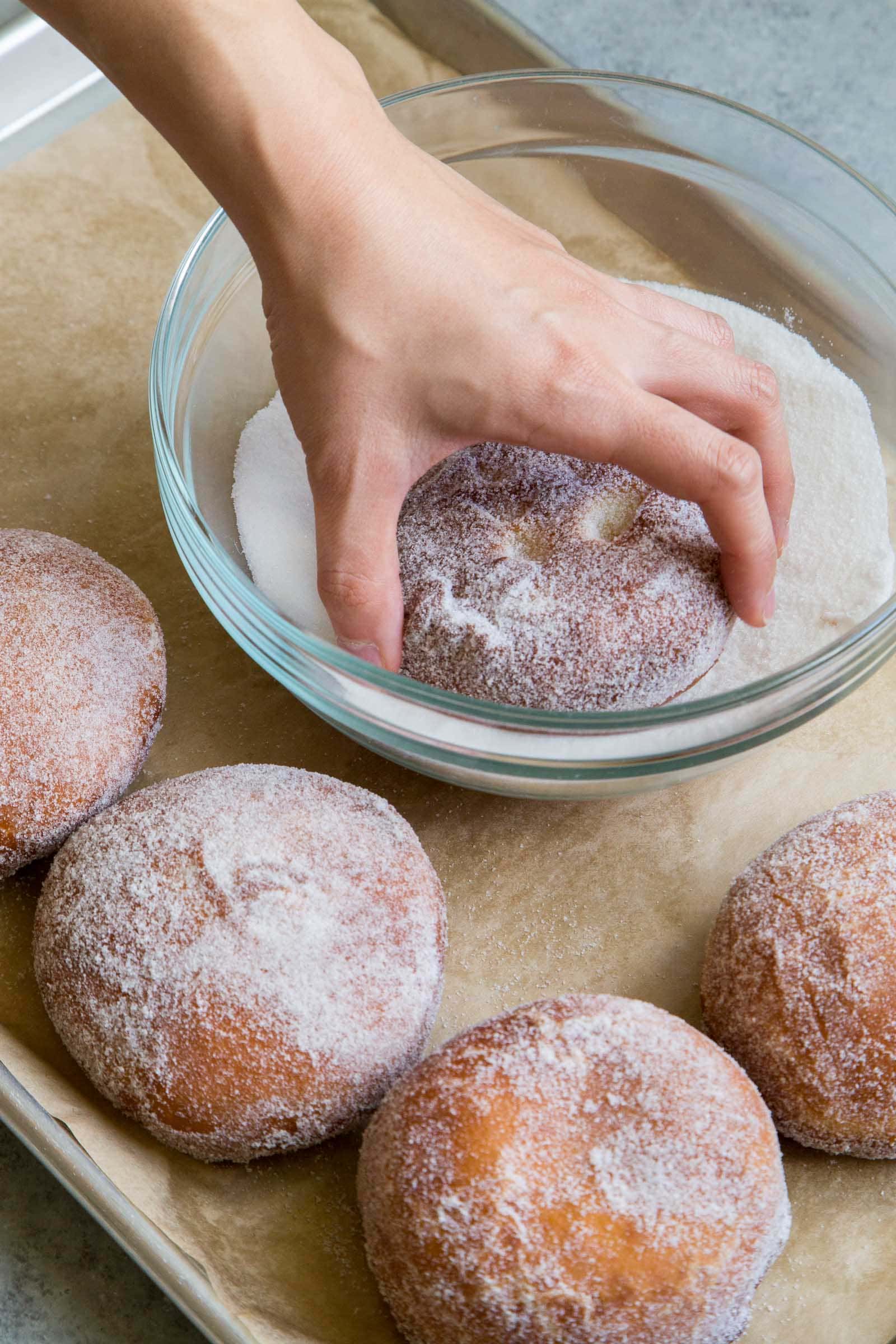 Tips for frying donuts
The majority of donuts shops fry their goods in vegetable shortening (or sometimes called "donut fry shortening" in the food industry).
Since shortening in solid at room temperature, the fried donuts will look and feel less greasy compared to oil fried donuts.
Frying 101
Donut Making Tips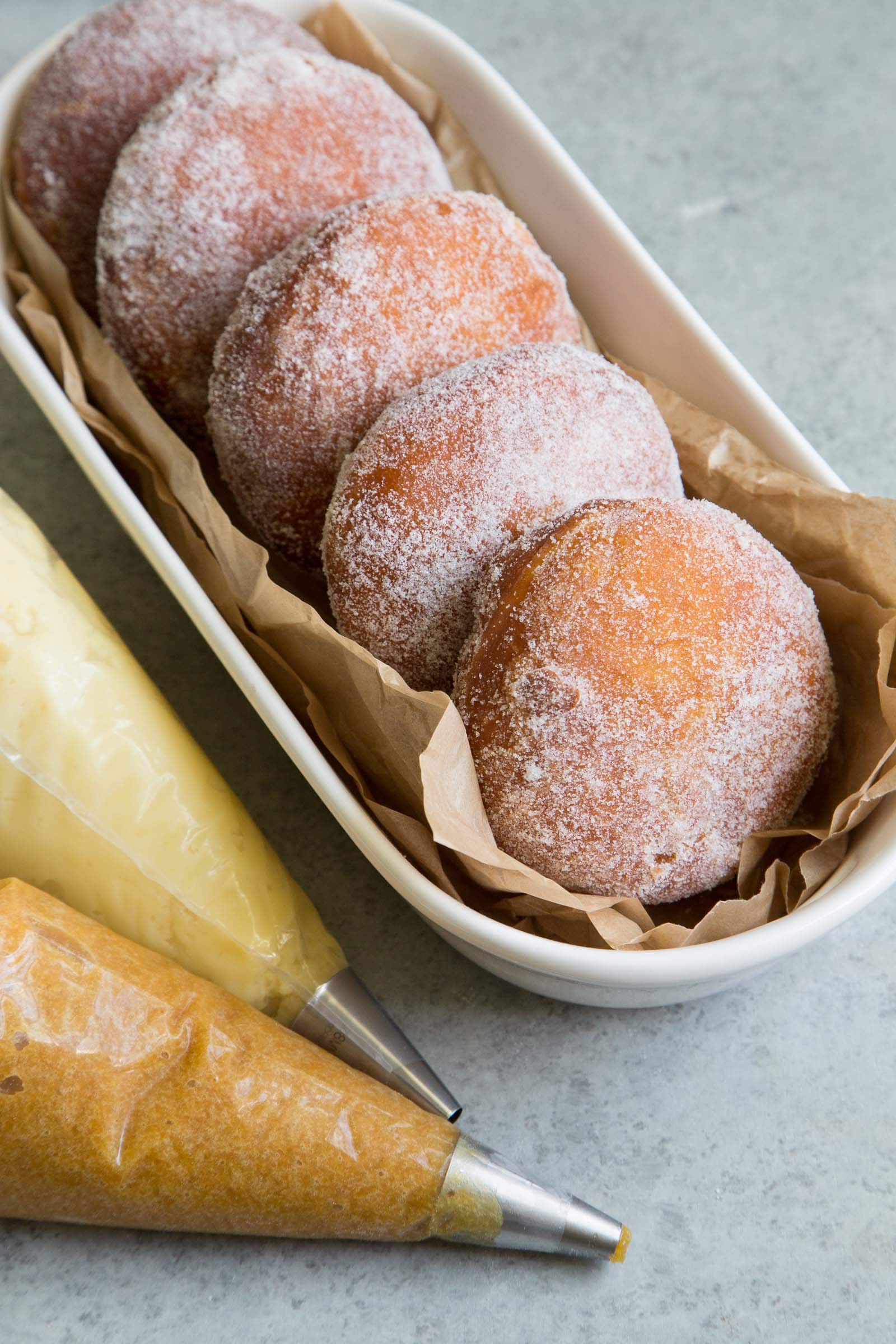 Assembling Filled Yeast Doughnuts
To ensure that each doughnut has plenty of filling, I pipe pastry cream and peach preserves on two ends of the doughnut.
There's nothing more disappointing than a cream doughnut with very little filling.
Don't worry about overstuffing it. The doughnut isn't filled until it feels heavy.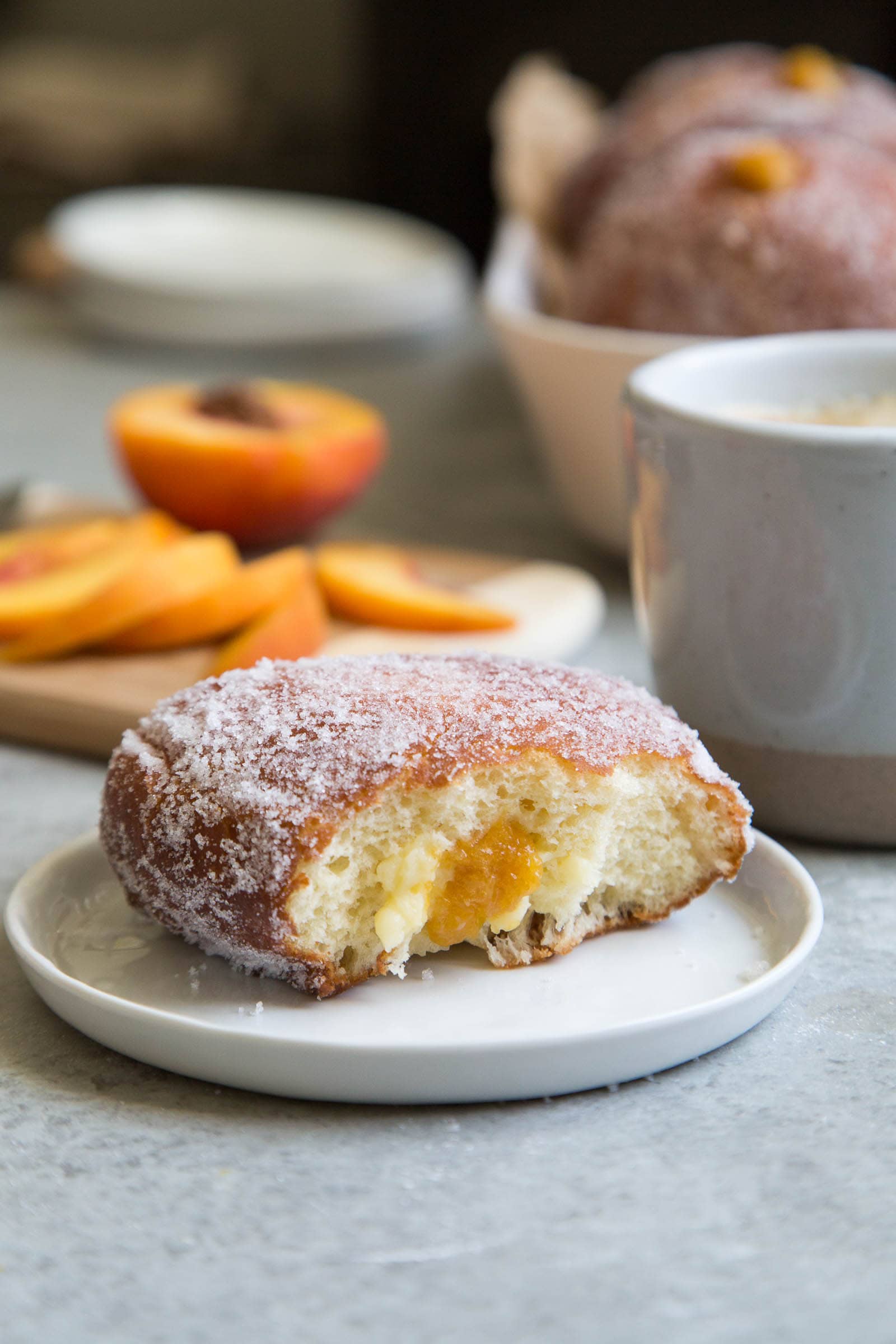 Enjoy these donuts immediately!
Once the doughnuts are filled, they need to be consumed immediately.
While two people can easily devour these (Alex and I speak from experience), it's better to share the wealth. Gather your friends, family, and neighbors over.
Cream filled doughnuts are best enjoyed within hours of filling.
Over time, the pastry cream will start to separate and the doughnuts will become soft and soggy.
These doughnuts take quite a bit of time and effort. I know the recipe instructions look overwhelming.
There are a ton of steps and components. Break it down over the course of three days to make it easier and less intimidating.
Start the preserves on Friday and enjoy homemade cream filled doughnuts all day on Sunday!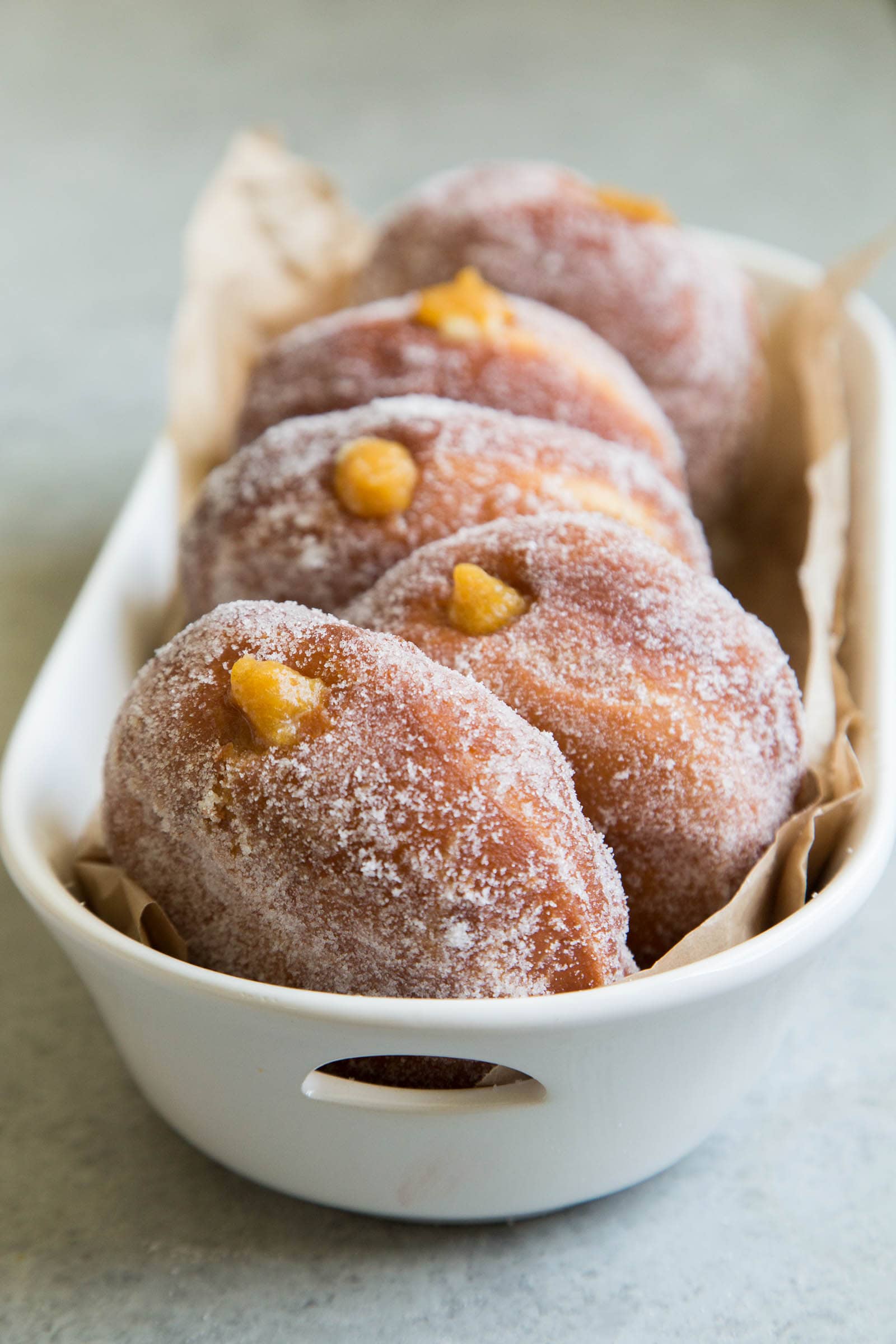 —
For a quick and easy filled doughnut recipe, try these coffee custard filled doughnuts. The dough only requires an hour of resting time.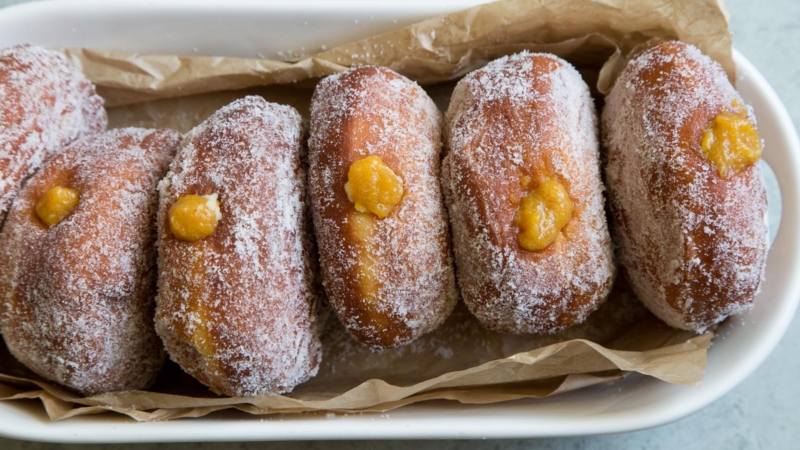 Peach Cream Filled Doughnuts
Homemade pastry cream and peach preserves are stuffed inside these peach cream filled doughnuts. A tasty way to celebrate the end of summer! Yield: makes 10 four-inch doughnuts
Ingredients
Peach Preserves:
20

oz

(about 4 cups) sliced peaches

¼

cup

light brown sugar,

packed

¼

teaspoon

fine sea salt

2

teaspoon

fresh squeezed lemon juice
Vanilla Pastry Cream:
⅓

cup

cornstarch

¾

cup

granulated sugar

divided

2

cup

whole milk

divided

4

large egg yolks

¼

teaspoon

fine sea salt

2

teaspoons

pure vanilla extract

2

Tablespoons

unsalted butter,

softened
Dough:
2 ½

teaspoons

dry active yeast

⅔

cup

whole milk,

heated to 100-110°F

¼

cup

granulated sugar

3

large eggs,

room temperature

3 ½

cups

all-purpose flour

1 ½

teapoons

kosher salt

8

Tablespoons

(½ cup) unsalted butter,

softened
Other Components:
3

cups

vegetable shortening,

for frying

½

cup

granulated sugar,

for coating
Instructions
Peach Preserves:
Combine peaches, sugar, salt, and lemon juice in a heavy bottomed sauce pot. Set over medium heat and bring to a boil. Lower heat and allow to simmer for 10-15 minutes until peaches are soft. Stir as necessary to prevent burning. Remove from heat and mash peaches using a muddler. Cool to room temperature. Transfer to a container and keep chilled in the fridge until ready to use.
Vanilla Pastry Cream:
Line a quarter-sheet baking pan with plastic wrap, making sure the sides of the pan are also covered. Set aside.

Pour 1 ½ cups milk into a large heavy bottomed sauce pot. Add salt and ½ cup sugar. Whisk together. Place over medium-high heat. Stir occasionally to make sure the milk does not burn along the sides or bottom of the pan. Bring to a boil.

Meanwhile, in a medium bowl, whisk together cornstarch and ¼ cup sugar. Add in remaining ½ cup milk and yolks. Whisk until smooth.

Once milk has boiled, reduce heat. Slowly add a little bit of the milk into the cornstarch mixture. Whisk constantly to distribute the heat. Continue to add milk and whisk until only a couple tablespoons of milk are left in the saucepan. Pour all the egg-milk mixture back into the saucepan.

Whisk constantly over medium-low heat until the custard has thickened. Keep whisking and let the custard come to boil to cook out the cornstarch flavor. Remove from heat. Whisk in butter until smooth. Add vanilla and whisk until combined.

Pour the hot pastry cream into the prepared plastic wrapped sheet pan. Spread evenly. Cover with plastic wrap and freeze for 10-15 minutes until the pastry cream has cooled to room temperature. Remove from freezer and transfer to an airtight container. Place plastic wrap directly on pastry cream to avoid condensation. Let chill in the refrigerator until ready to use.
Doughnuts:
In the bowl of a stand mixer, dissolve yeast and 2 teaspoons of sugar in warm milk. Let sit for 5-8 minutes until mixture is foamy. Whisk in remaining sugar and eggs.

Attach dough hook to stand mixture. Add half of flour mixture and salt. Mix on low speed until dough begins to come together. Add remaining flour and continue to mix until dough is shaggy. Slowly add butter and increase speed to medium. Knead for 3 minutes until mixture forms a smooth dough.

Transfer dough to a lightly oiled large bowl. Cover with plastic wrap and allow to chill in the fridge overnight. (8-12 hours)

On a floured surface, roll dough to about ½-inch thick. Using a 3 ½ or 4-inch round cutter, punch out doughnuts. Loosely cover rounds with plastic wrap. Let rest for 45-60 minutes until doughnuts are puffy.

Add vegetable shortening to a large heavy bottomed saucepot (Dutch ovens and cast iron pans work best). Set over medium heat until oil reaches 350° F.

Carefully place 2-3 doughnut rounds into hot oil. Do not overcrowd. Cook for 90 seconds to 2 minutes on each side, until golden brown. Use a slotted spoon to transfer cooked doughnuts onto a paper-towel lined baking sheet. NOTE: Oil temperature will change as you add raw doughnuts. Monitor oil temperature to make sure doughnuts do not burn.

Toss warm doughnuts in sugar. Place on wire rack to cool until you are ready to fill doughnuts.
Assembly:
Once doughnuts are completely cooled, use a chopstick to poke holes on each side of the doughnut.

Prepare two pastry bags fitted with small round piping tips. Fill one bag with pastry cream, and the other bag with peach preserves.

Squeeze about ¼ cup of pastry cream into each doughnut, filling both sides. Squeeze about 1 Tbsp of peach preserves into each doughnut. Serve immediately. 
Notes
Regarding cooking times: sacrifice one doughnut as a tester to make sure the doughnuts are cooked inside. Adjust cooking times accordingly. 
Feel free to substitute store-bought peach jam/preserves to save time
All images and text ©The Little Epicurean