What's better than coffee and doughnuts? Coffee custard filled doughnuts with a cup of a coffee!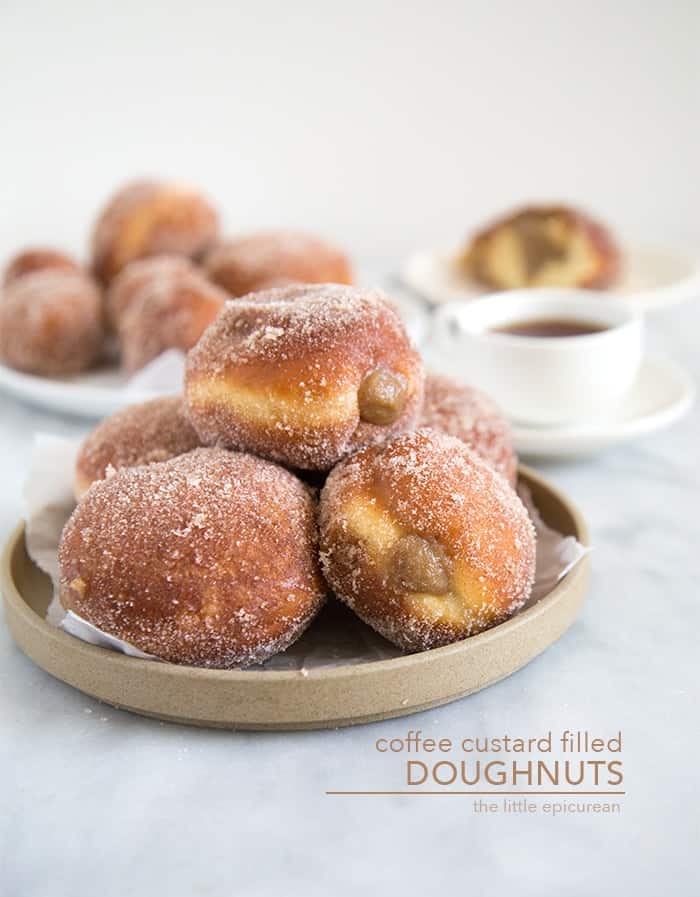 Coffee and doughnuts. They're just made for each other like… macaroni and cheese, peanut butter and jelly, biscuits and gravy, and all the other great couples of the food world.
How about we combine coffee and doughnuts into one awesome treat? YES, please!
You can have it all with these coffee custard filled doughnuts. It's like having your cake and eating it, too. (I still don't really get what that means, but I love saying it.)
Coffee Custard Doughnuts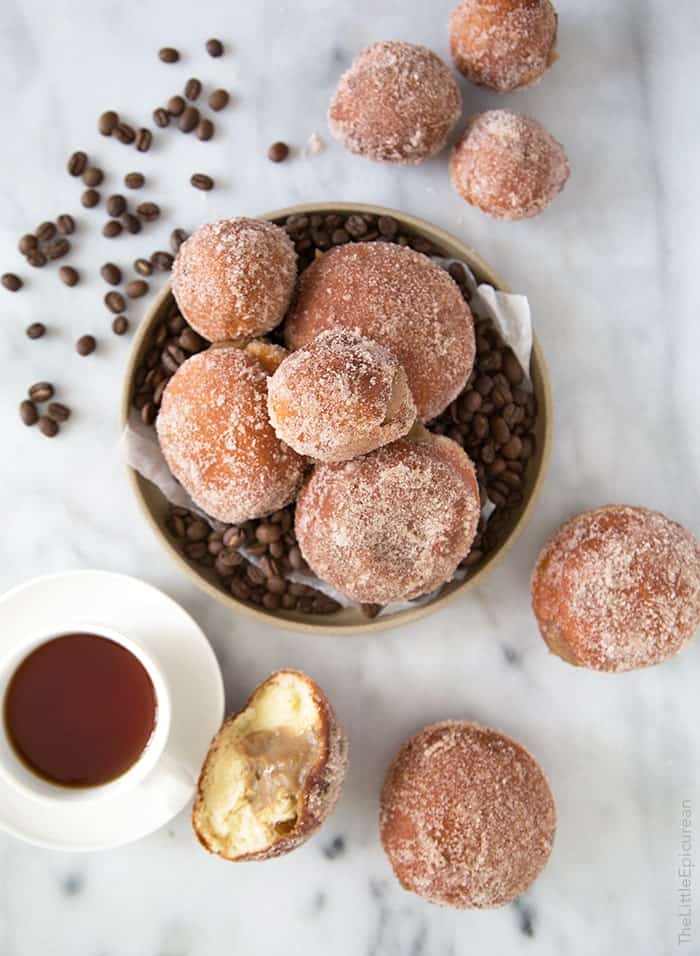 I love pastry cream. It is so versatile, it can be easily flavored and infused with spices, and most of all, it's super quick to make.
It's used to fill eclairs (like my chocolate glazed eclairs), it makes banana cream tarts wonderfully delicious and it provides just the right amount of sweetness to crepe cake (gateau de crepes).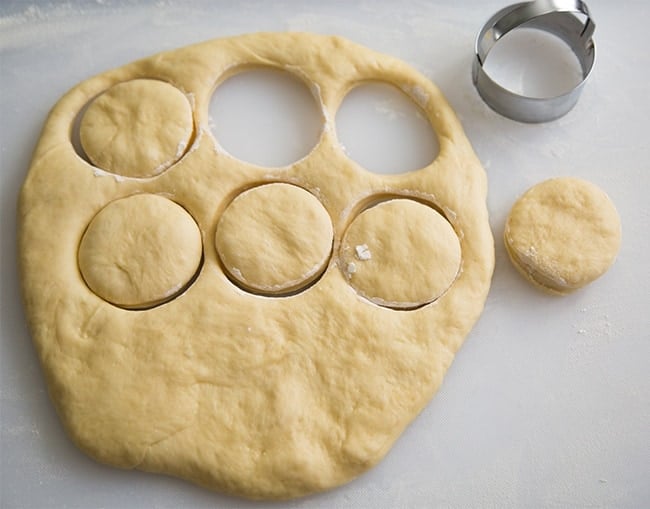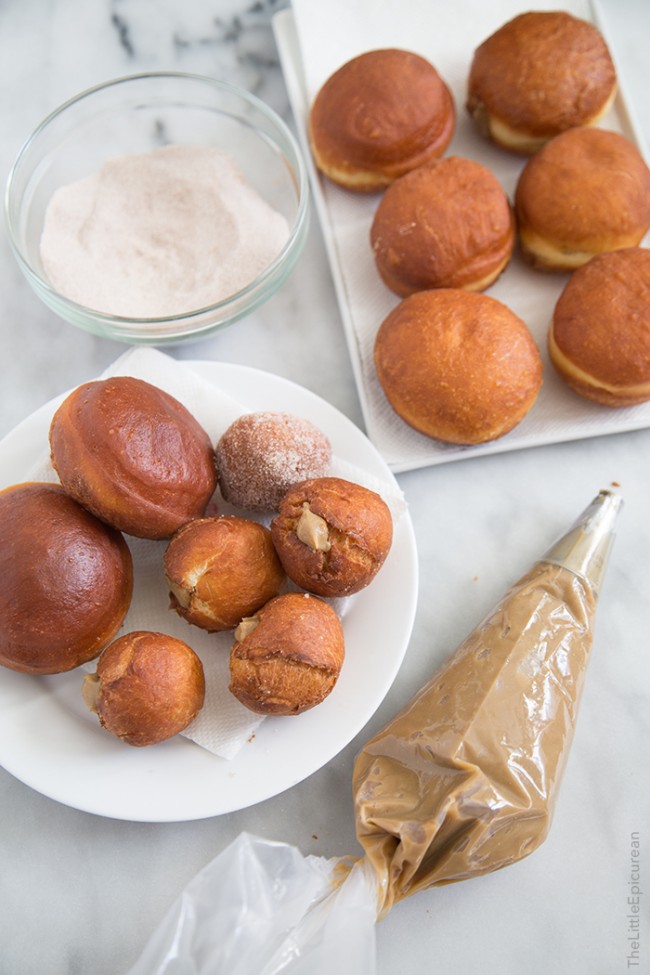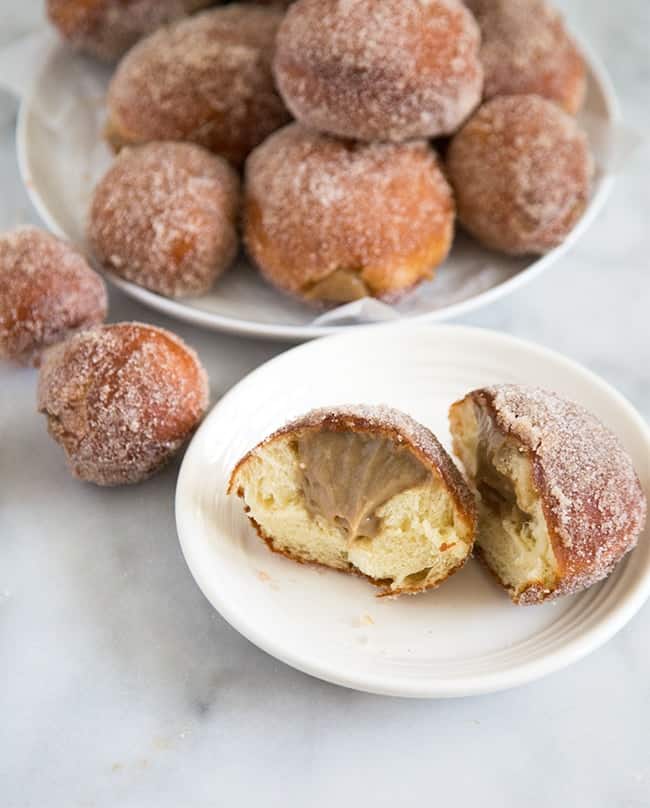 Doughnuts are fairly simple to make. I'd say the most difficult part is getting used to frying. The hot oil can be quite intimidating.
If you're not ready for filled doughnuts, I have plenty of other options for you: buttermilk doughnuts, frosted cake doughnuts, or chocolate chocolate peanut doughnuts.
Healthier Baked Donut Options:
And if the idea of hot oil makes you queasy, here's some of my favorite (healthier) baked donuts: pumpkin donuts, chocolate hazelnut crunch donuts, and cinnamon sugar donuts.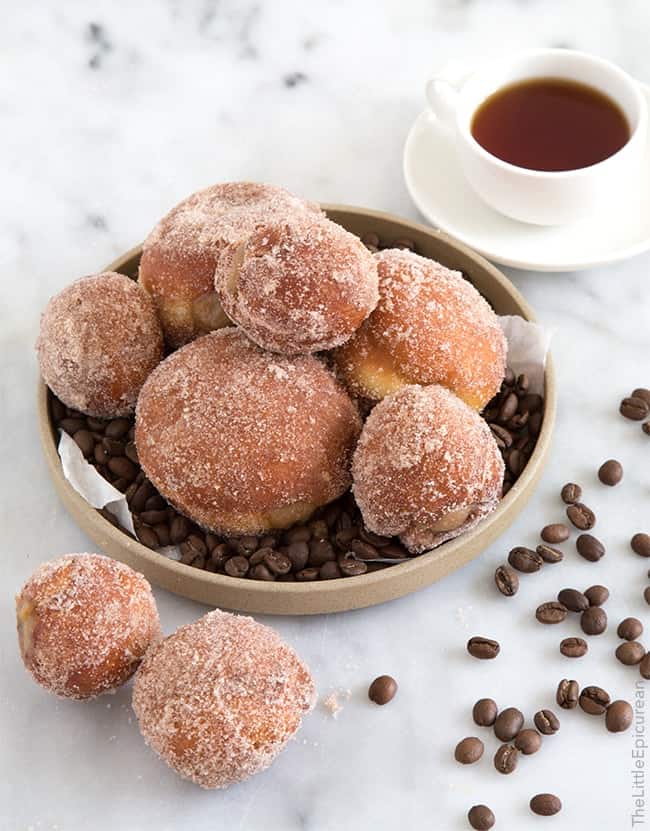 I find doughnut making very relaxing and calming. Sometimes I'm convinced I should just open up a doughnut shop and live happily ever after.
But the thought of waking up at the crack of dawn to make doughnuts doesn't sound very appealing. Perhaps a doughnut bar… a cool trendy bar that serves warm doughnuts to accompany handcrafted cocktails.
Who knows, maybe cocktail and doughnuts will be even more popular than coffee and doughnuts?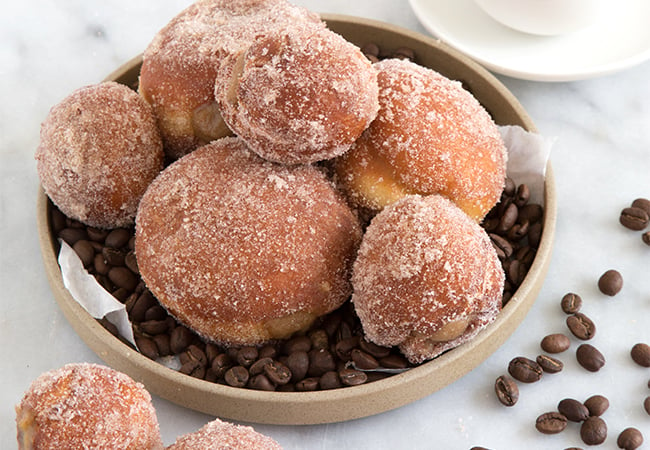 Coffee Custard Filled Doughnuts
Yield: 1 dozen doughnuts + 10 doughnut holes
Ingredients
Dough:
2 1/4

tsp

active dry yeast

1/2

cup

whole milk

2

Tbsp

water

2

Tbsp

granulated sugar

3

Tbsp

unsalted butter,

melted, slightly cooled

2

large eggs,

room temp

1

large egg yolk

room temp

2 1/2

cup

all-purpose flour

vegetable oil, or other frying oil,

as needed
Coffee Pastry Cream:
1/3

cup

cornstarch

1

Tbsp

instant espresso powder

1/2

cup

+ 1/4 cup granulated sugar

1 1/2

cup

+ 1/2 cup whole milk

4

large egg yolks

1/4

tsp

fine sea salt

2

Tbsp

unsalted butter

1

tsp

pure vanilla extract
Cinnamon Sugar Coating:
2/3

cup

granulated sugar

2

tsp

ground cinnamon

3

Tbsp

unsalted butter,

melted
Instructions
Dough:
Pour milk and water into a microwave safe container.  Heat for 20- 30 seconds until warm.  Temperature should be between 100 - 110 degrees F.  Stir in sugar and active dry yeast.  Let sit for 5-8 minutes until mixture is foamy.

Pour mixture into the bowl of stand mixer fitted with a paddle attachment.  Add melted butter and lightly whisked eggs.  With the mixer running on low speed, slowly add about half the flour.  Change to a dough hook.  Increase speed and continue to add remaining flour.  Continue to knead until mixture comes together to form a smooth dough.

Transfer bowl to a lightly oiled large bowl.  Cover with plastic wrap and allow to rest for one hour.

Punch down dough.  Place dough on a lightly floured surface.  Roll or pat dough to about 1/2-inch thick.  Use a round cutter to punch out rounds.  Gather any remaining scrapes and cut out smaller rounds.  Place cutouts on a parchment lined baking sheet.  Cover with plastic wrap as you heat up oil.

Fill a large pot with about 3 inches of vegetable oil.  Using a candy thermometer, bring oil to 350 degrees F over medium heat.

Brush off any excess flour off doughnuts before frying. Depending on the size of your pot, add 3-5 doughnuts to the pot at a time.  Do not overcrowd the doughnuts, as it will decrease the oil temperature too much.  Set a timer for 75 seconds.  By this time, the doughnut should have floated to the top.  Turn doughnuts over and cook other side for another 60-75 seconds until golden brown all over.*  Remove doughnuts from oil and let drain on paper towels.  Repeat with smaller doughnut rounds, reducing time to 60 seconds per side.  Let cool completely.
Coffee Pastry Cream:
Line a quarter-sheet baking pan with plastic wrap, making sure the sides of the pan are also covered.  Set aside.

Pour 1 1/2 cups milk into a large heavy bottomed sauce pot.  Add salt and 1/2 cup sugar.  Whisk together.  Place over medium-high heat.  Stir occasionally to make sure the milk does not burn along the sides or bottom of the pan.  Bring to a boil.

Meanwhile, in a medium bowl, whisk together cornstarch, 1/4 cup sugar, and 1 Tbsp espresso powder.  Add in remaining 1/2 cup milk and yolks.  Whisk until smooth.

Once milk has boiled, reduce heat.  Slowly add a little bit of the milk into the cornstarch mixture.  Whisk constantly to distribute the heat. Continue to add milk and whisk until only a couple tablespoons of milk are left in the saucepan.  Pour all the egg-milk mixture back into the saucepan.

Whisk constantly over medium-low heat until the custard has thickened.  Keep whisking and let the custard come to boil to cook out the cornstarch flavor.  Remove from heat.  Whisk in butter until smooth.  Add vanilla and whisk until combined.

Pour the hot pastry cream into the prepared plastic wrapped sheet pan. Spread evenly.  Cover with plastic wrap and freeze for 10-15 minutes until the pastry cream has cooled to room temperature.  Remove from freezer and transfer to an airtight container.  Place plastic wrap directly on pastry cream to avoid condensation. Let chill in the refrigerator until ready to use.
Cinnamon Sugar and Assembly:
Once doughnuts are cool, use a chopstick to poke a hole of the side of each doughnut.  Fit a pipping bag with a small round tip.  Transfer cooled coffee pastry cream to pipping bag.  Fill doughnuts with coffee pastry cream.

In a small bowl, whisk together sugar and cinnamon.  Keep melted butter in a separate bowl.

Lightly brush cooled doughnuts with butter.  Dunk doughnuts in cinnamon sugar mixture.  Serve and enjoy immediately!
Notes
* Sacrifice one doughnut as a tester to make sure the doughnuts are cooked throughout.  If not, increase cooking time accordingly.