This hot chocolate hazelnut milk is a great dairy-free alternative to the tradition hot chocolate.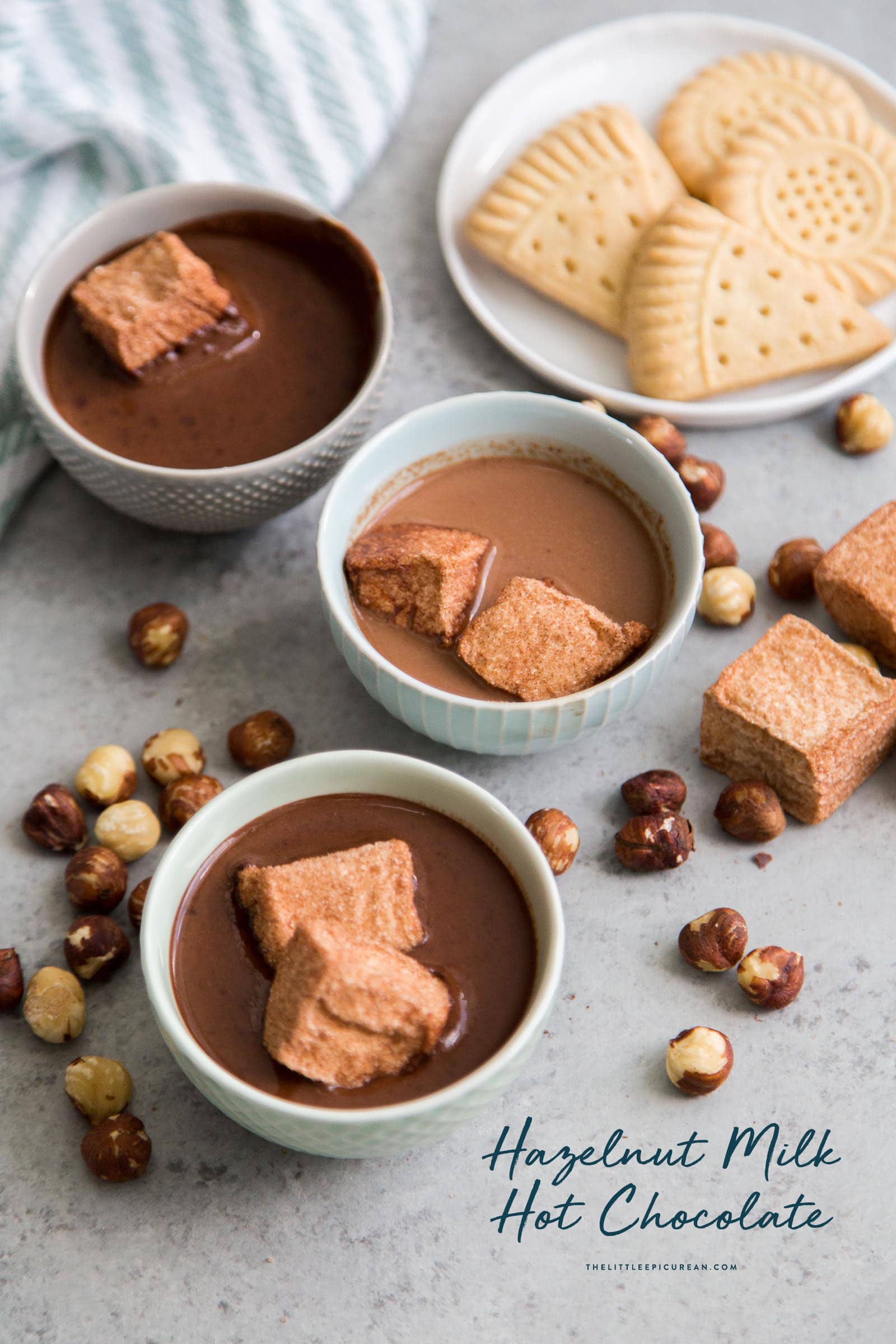 Winter is coming and hot beverage season is upon us. While I love the conveniences of instant powder hot cocoa, nothing beats a silky, creamy, luxurious hot chocolate.
I may be lactose-intolerant, but that doesn't stop me from eating all the cheese, ice cream, and milkshakes.
With the help of lactase enzyme pills, I can enjoy all my favorite dairy treats. But some days, I just don't want to deal with the possibility of stomach aches and pains.
Nut Milks
Over the years I've become a big fan of dairy-free milk alternatives. Nut milks are my favorite, especially homemade ones in which you can control the thickness and consistency of the final product.
By altering the amount of filtered water used in making the nut milk, you can control the viscosity. Less water means thicker, creamier nut milk. More water results with a thinner milk more similar to skim milk.
Hazelnut Milk Hot Chocolate
Yesterday, I shared this recipe for cacao hazelnut milk. While the hazelnut milk is delicious and satisfying on it's own, it's even better with melted chocolate.
Making this hot chocolate hazelnut milk is super easy. Heat up the hazelnut milk and pour it over chopped dark chocolate. Stir until smooth and you're done. Pour yourself a cup and enjoy.
What the difference between hot cocoa and hot chocolate?
Hot cocoa is usually made by dissolving cocoa powder and sugar in hot water (or hot milk). With the addition of sugar, it's definitely on the sweeter side. It's also rather thin in consistency.
Nonetheless, it's delicious. Topped with marshmallows or whipped cream, it's a welcome beverage for chilly weather.
Hot chocolate usually is made by heating together chopped bits of dark (or bittersweet) chocolate with milk, cream, or a mixture of both.
Typically, no additional sugar is added. It's rich in flavor, thick in consistency, and oh so luxurious.
Like hot cocoa, it can be topped with marshmallows, whipped cream, or a shot of liquor.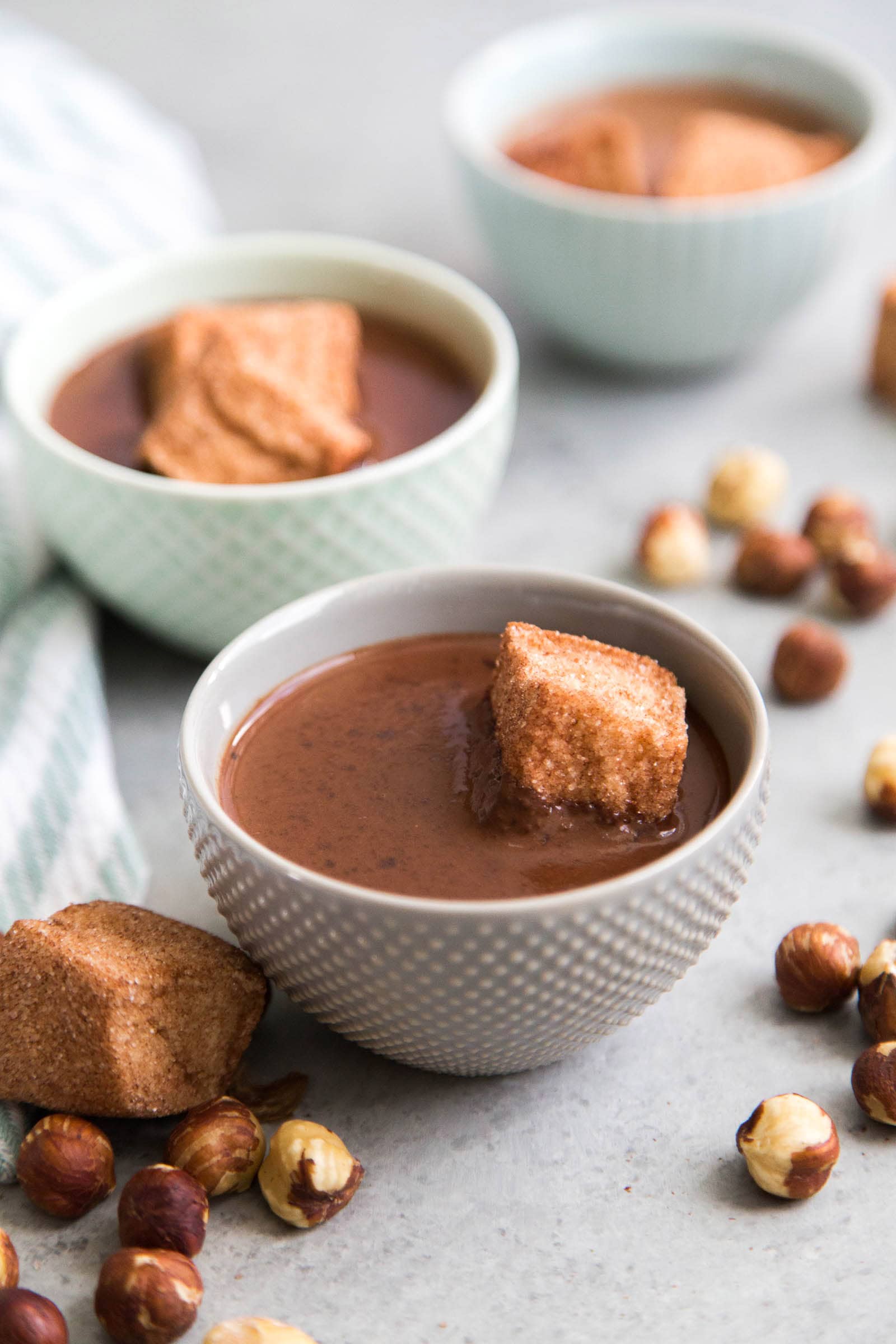 Hot Chocolate Hazelnut Milk
Yield: 2 cups
Ingredients
2

cups

cacao hazelnut milk (see notes for recipe)

3

oz

dark chocolate, chopped

pinch of fine sea salt, optional

marshmallows, to top
Instructions
In a medium sauce pot, bring cacao hazelnut milk to a boil. Pour liquid into a medium bowl with chopped chocolates. Let sit for 2 minutes. Add a pinch of salt and whisk to combine until all the chocolate as melted. Divide among serving mugs. Garnish with marshmallows. Serve warm.
Notes
Recipe for homemade cacao hazelnut milk can be found here.
Feel free to substitute store-bought hazelnut milk, or desired nut milk of choice.
To ensure this is dairy-free, use high-quality dark chocolate. Check the ingredients list. Most dark chocolates with 70% cocoa solids or higher usually not contain any milk products.  
Note: I used these cinnamon churro marshmallows.