This apple slab pie with maple glaze uses a variety of apples to create a perfect balance of sweet and tart.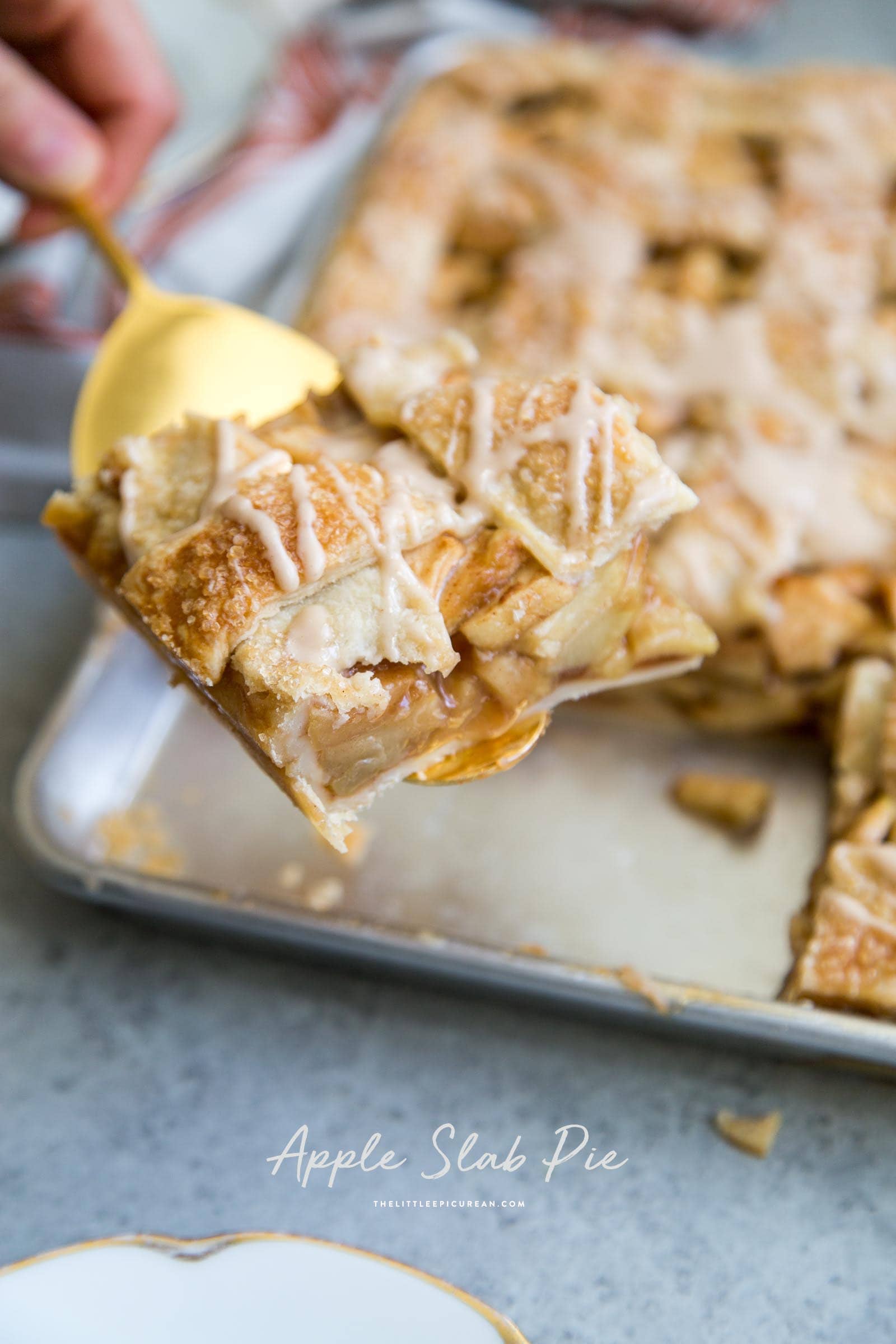 I'm sharing back to back pie recipes! I've been sharpening my pie dough skills because I'm in charge of this year's Thanksgiving pies. I'm making this persimmon cranberry pie (with my favorite pecan crumble!) and this apple slab pie.
Last week, I posted on a poll on Instagram Stories asking whether you liked the traditional round pies or rectangular slab pies. Nearly 2/3 of the people that replied were fans of round pies. I fall in the 1/3 that prefer slab pies.
My preference for slab pie lies in the crust to filling ratio. I want more crust and less filling. With this apple slab pie, there are four corner pieces that have my perfect crust to filling amount. And yes, you bet I'm fighting for one of those four slices.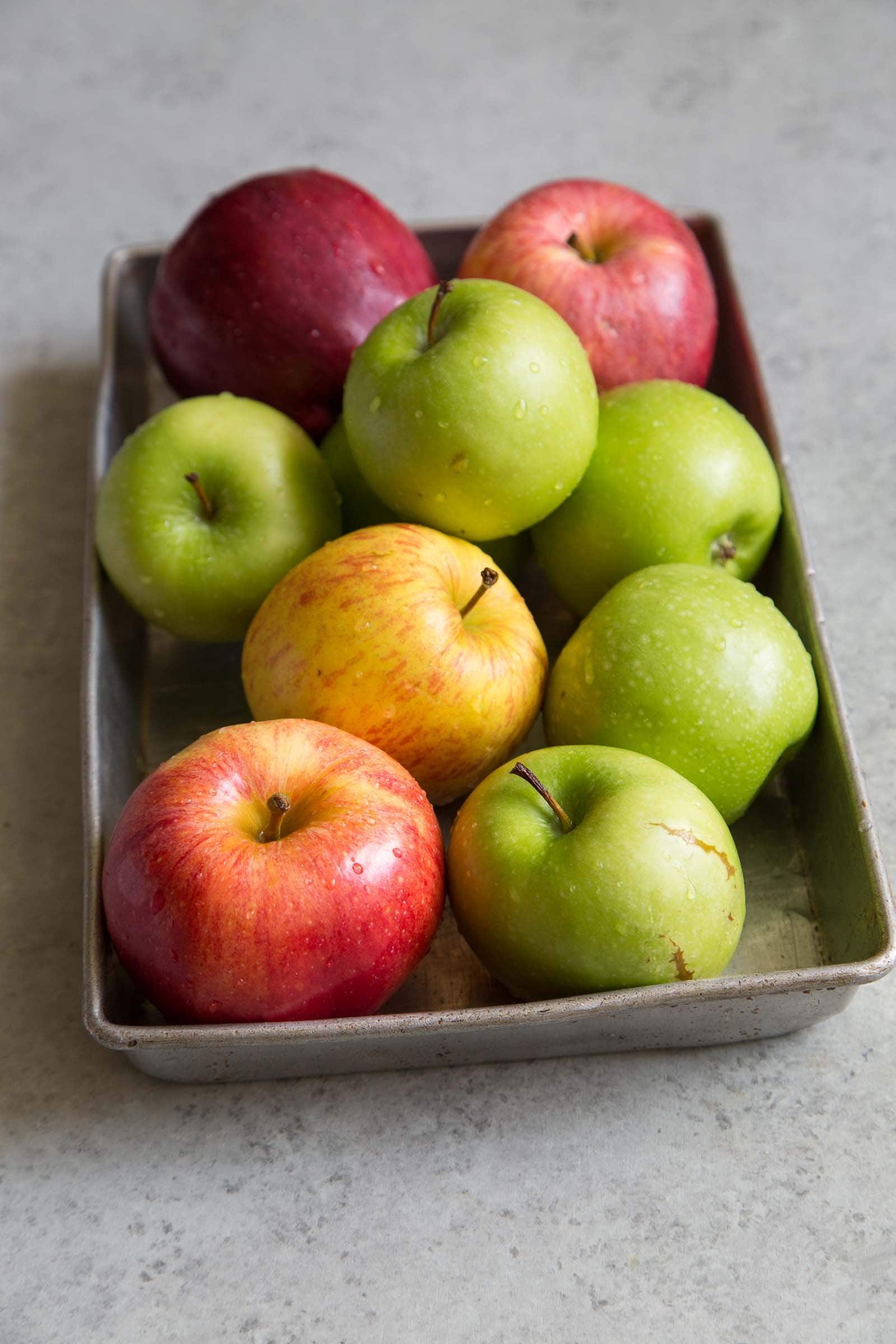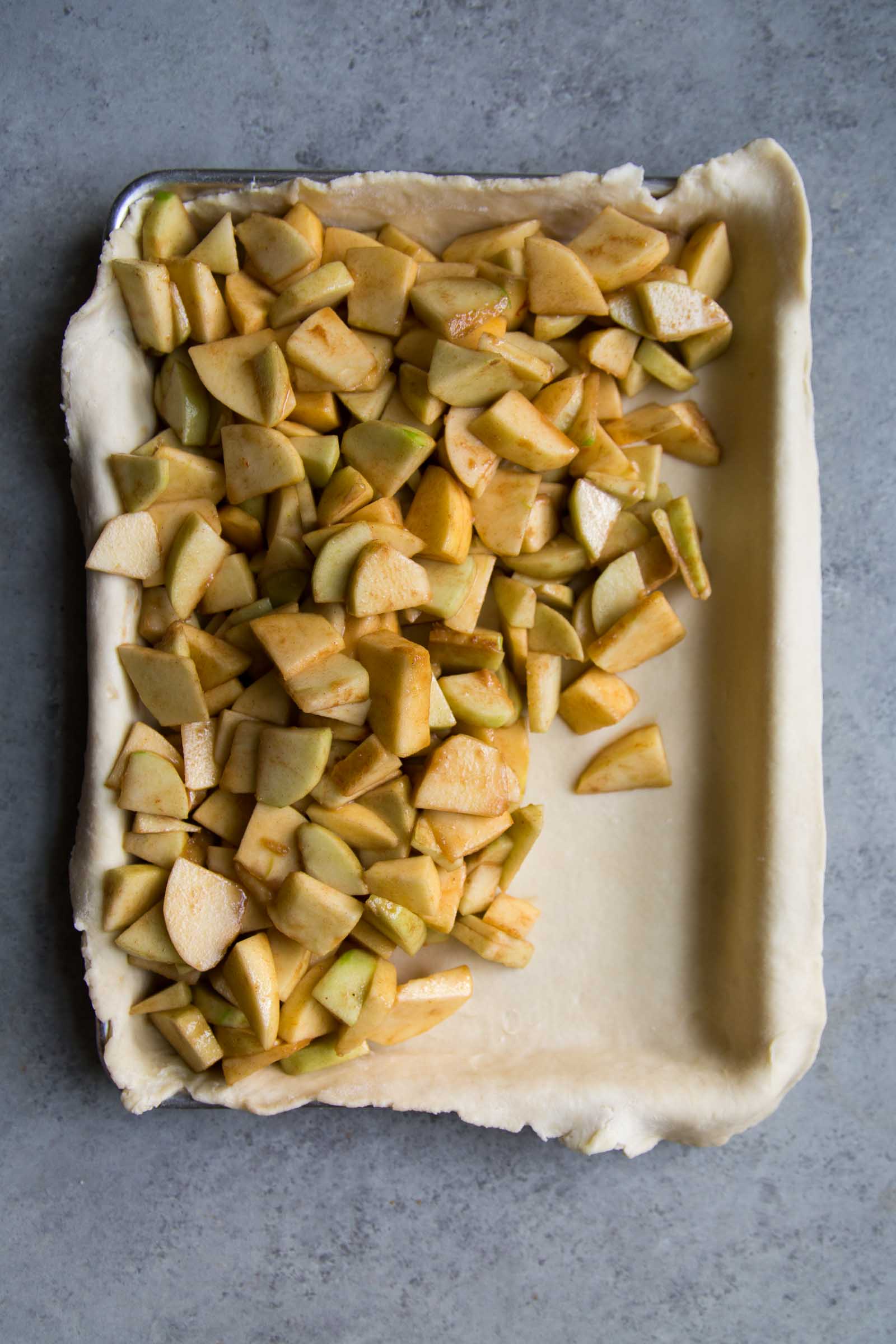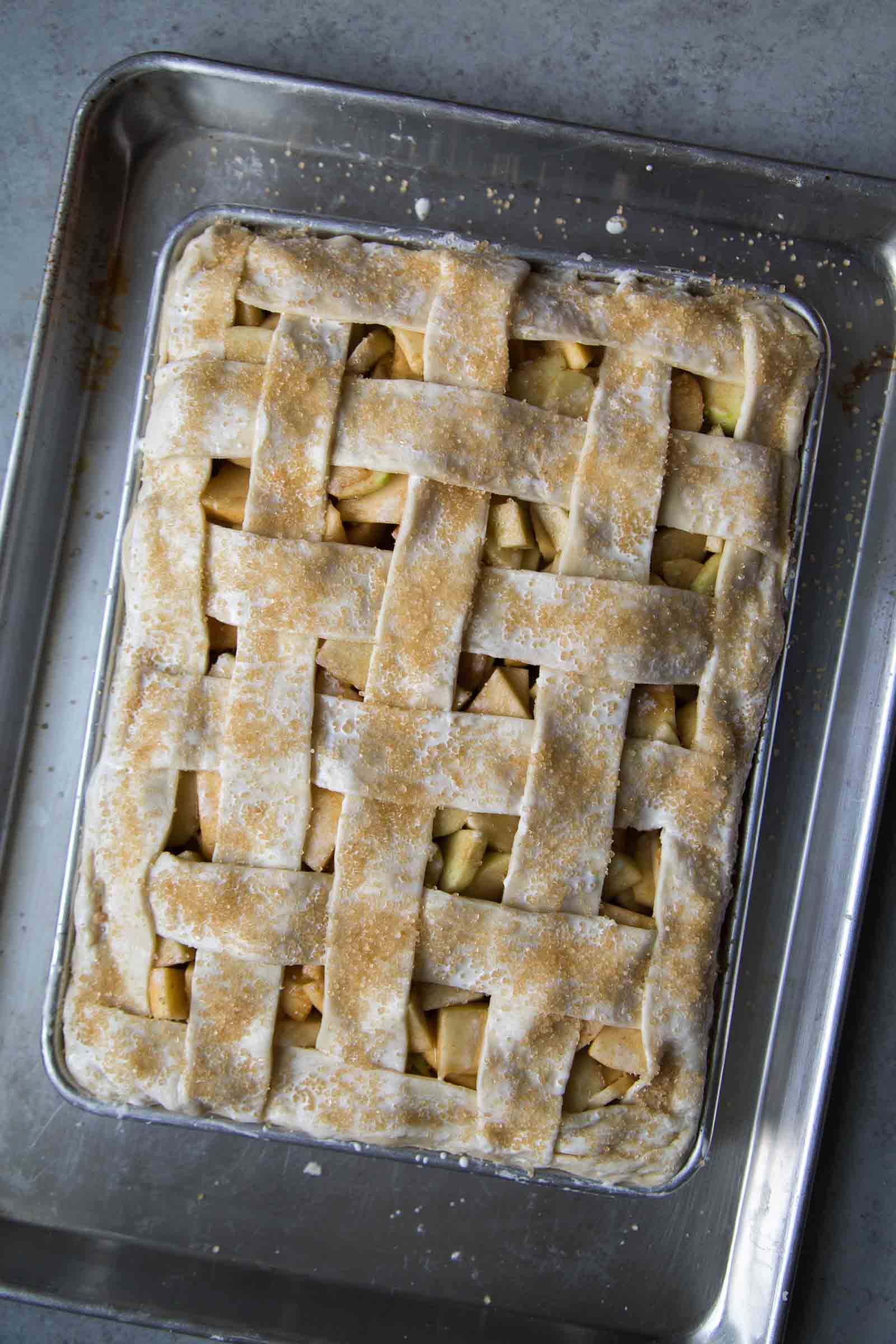 Apple Slab Pie
I generally stick to Granny Smith apples when it comes to apple pie (see: salted caramel apple pie, double crust apple pie and mini apple tarts). Granny Smith hold up during baking, plus their tart flavor pairs wonderfully with cinnamon and brown sugar.
I wanted to shake things up a bit. I used a medley of different apples. Call it ingenuity or laziness. I didn't have enough Granny Smith apples on hand, but I did have some apple leftover from this apple ale winter warmer cocktail.
Rather than make another trip to the market, I just used the apples I had. I'm glad I did. I was so surprised by how delicious this apple slab pie turned out, I made it three times to make sure it wasn't a fluke.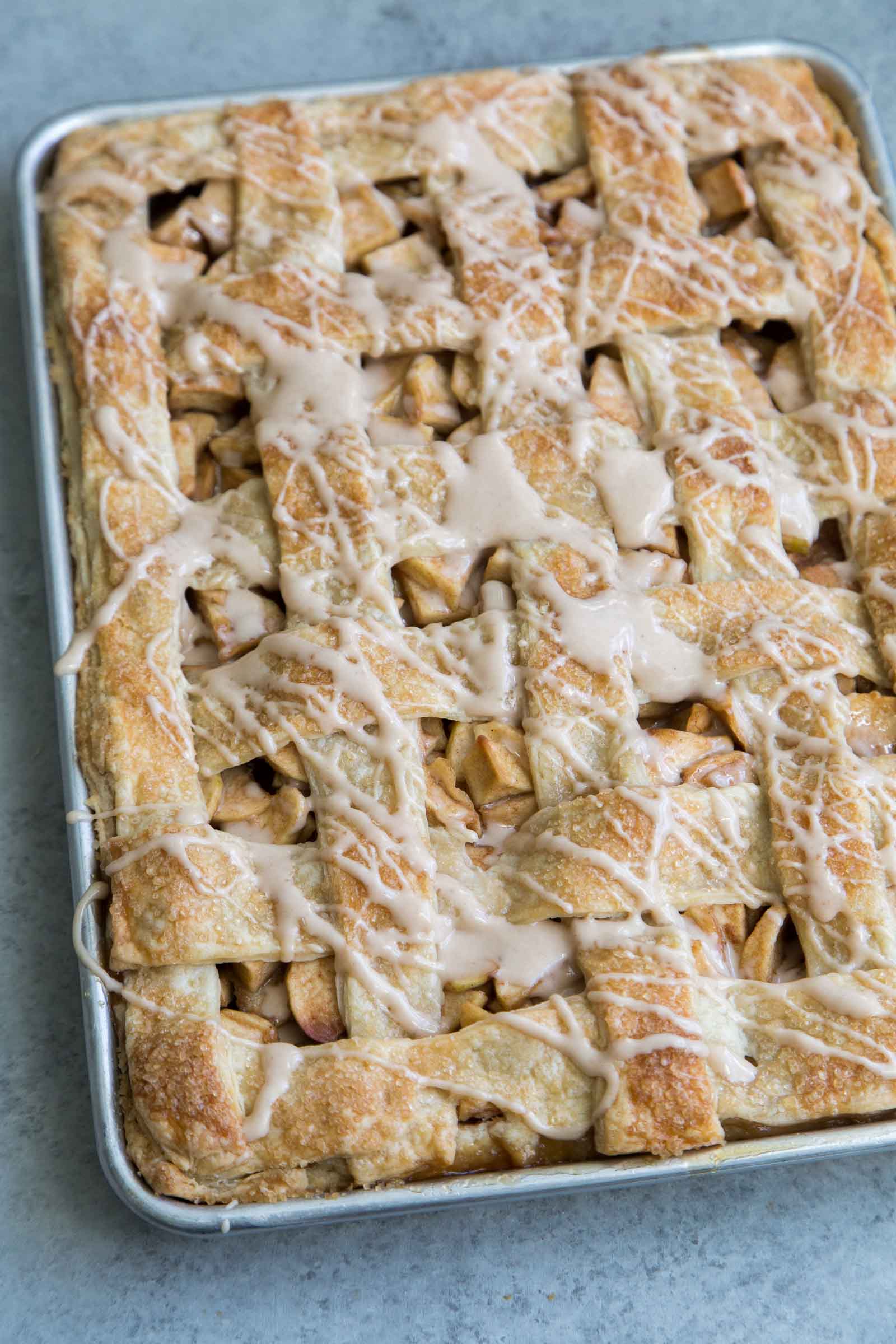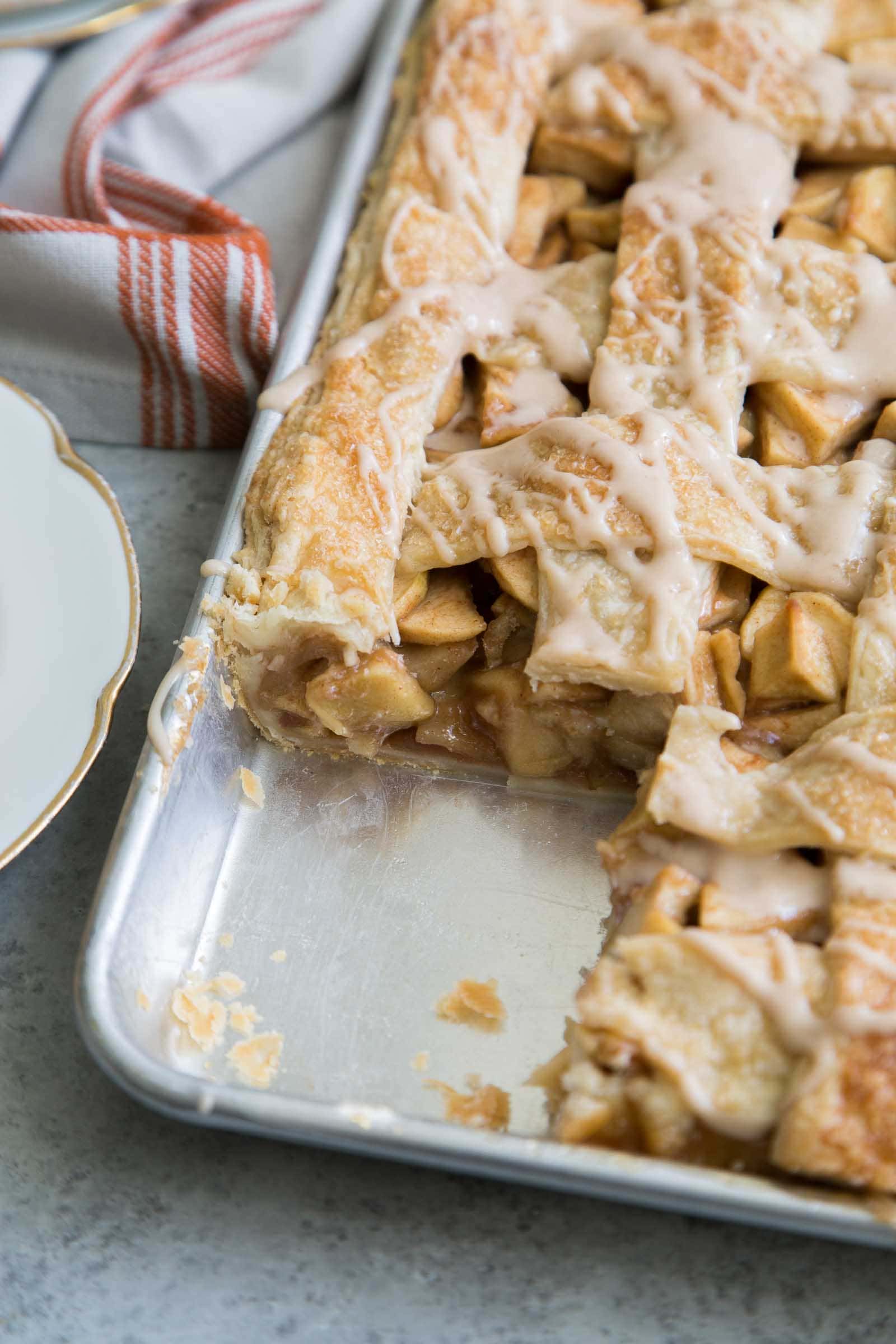 Different Apple Varieties
I used a combination of Granny Smith, Gala, Fuji, and Jonagold (also known as Jonathans). The blend of these different apples provides a nice balance of sweet and tart.
Paired with the flakey dough, the surprise crunch from the turbinado sugar crust, and the pop of sweetness from the maple glaze- this apple slab pie will definitely be a hit.
Top it with a scoop of ice cream or a dollop of spiced whipped cream for even more decadence!
Apple Slab Pie
Yield: 9x13-inch pie (standard quarter sheet tray)
Ingredients
Pie Dough:
2 1/2

cups

(320 g) all-purpose flour

1

teaspoon

fine sea salt

1/4

cup

(50 g) granulated sugar

1

cup

(227 g) unsalted butter, diced into cubes, cold

2

teaspoons

apple cider vinegar

7-8

Tablespoons

ice water
Apple Filling:
3

pounds

apples, cored, peeled, and sliced into wedges*

1

oz

fresh squeezed lemon juice

1/2

cup

dark brown sugar, packed

3

Tablespoons

granulated sugar

2

Tablespoons

all-purpose flour

2

Tablespoons

cornstarch

1/2

teaspoon

fine sea salt

2

teaspoons

ground cinnamon
Topping:
heavy cream, for brushing top

turbinado sugar, for topping crust
Maple Glaze:
1/2

cup

powdered sugar

pinch fine sea salt

2

Tablespoons

maple syrup
Instructions
Pie Dough:
In a large bowl, toss together flour, salt, sugar, and diced butter. Cover with plastic wrap and let chill in the freezer until bowl is cold (about 5-8 minutes).

Using a pastry blender (or two forks), cut cold butter into cold flour until mixture resembles coarse, pebbled sand. Add vinegar and ice water. Fold to combine. Dough will be shaggy.

Dump dough onto a lightly floured work surface and gently knead until mixture comes together. Divide dough into two equal parts. Pat dough to a thickness of about 1/2-inch. Cover in plastic wrap and let chill in the fridge for at least one hour (overnight is best).
Apple Filling:
Toss apples with lemon juice. Add brown sugar and sugar. Fold to coat apple slices. In a small bowl, whisk together flour, cornstarch, salt, and cinnamon. Add to apples and fold to combine.
Assembly:
Preheat oven to 350 degrees F.

Allow chilled pie dough to sit at room temperature for 5 minutes before rolling. Roll dough on a lightly floured work surface to a rectangle about 10-inches by 14-inches and a thickness of about 1/8-inch. Transfer dough to a 9x13-inch quarter baking sheet tray. Firmly press dough into the bottom and up the sides of the sheet tray.

Pour apple filling into the pie shell (including any juices that may have expelled as the apples sat in lemon juice).

Roll out remaining pie dough to a thickness of about 1/8-inch and place on top of apple filling. Decorate as desired: traditional double crust with steam vents, lattice top, or stamp out shapes. Place apple slab pie on a larger sheet tray in case apple filling bubbles out during baking.

Lightly brush pie dough top with heavy cream. Generously sprinkle turbinado sugar on top. Bake for 45-55 minutes, rotating pie halfway through baking. bake until top of pie is golden brown and apples are tender. Test to see if apples are done by piercing with fork or knife. Let pie cool to room temperature on wire rack.
Maple Glaze:
In a small bowl, whisk together powdered sugar, salt, and maple syrup until smooth. Drizzle over cooled pie.
Recipe Notes
3 pounds refers to weight of apples after they have been cored and peeled.
I used a combination of apples: Granny Smith (tart), Gala (super sweet), Fuji (semi-sweet), and Jonagold/Jonathans (semi-sweet)
Why does the pie dough have apple cider vinegar?
Apple cider vinegar prevents gluten development in the pie dough. Gluten forms when water and flour are mixed together. Gluten gives doughs strength and elasticity.
By inhibiting gluten development, this pie dough is easier to roll out. It won't have much stretch or elasticity. Best of all, it will be shrink during baking. You will smell the vinegar when rolling out the dough. However, you will not taste it after baking.
Feel free to substitute distilled white vinegar in place of apple cider vinegar.