These Cinnamon Toast Crunch doughnuts are made from yeast raised doughnuts double dipped in cereal milk glaze and topped with crunchy cereal.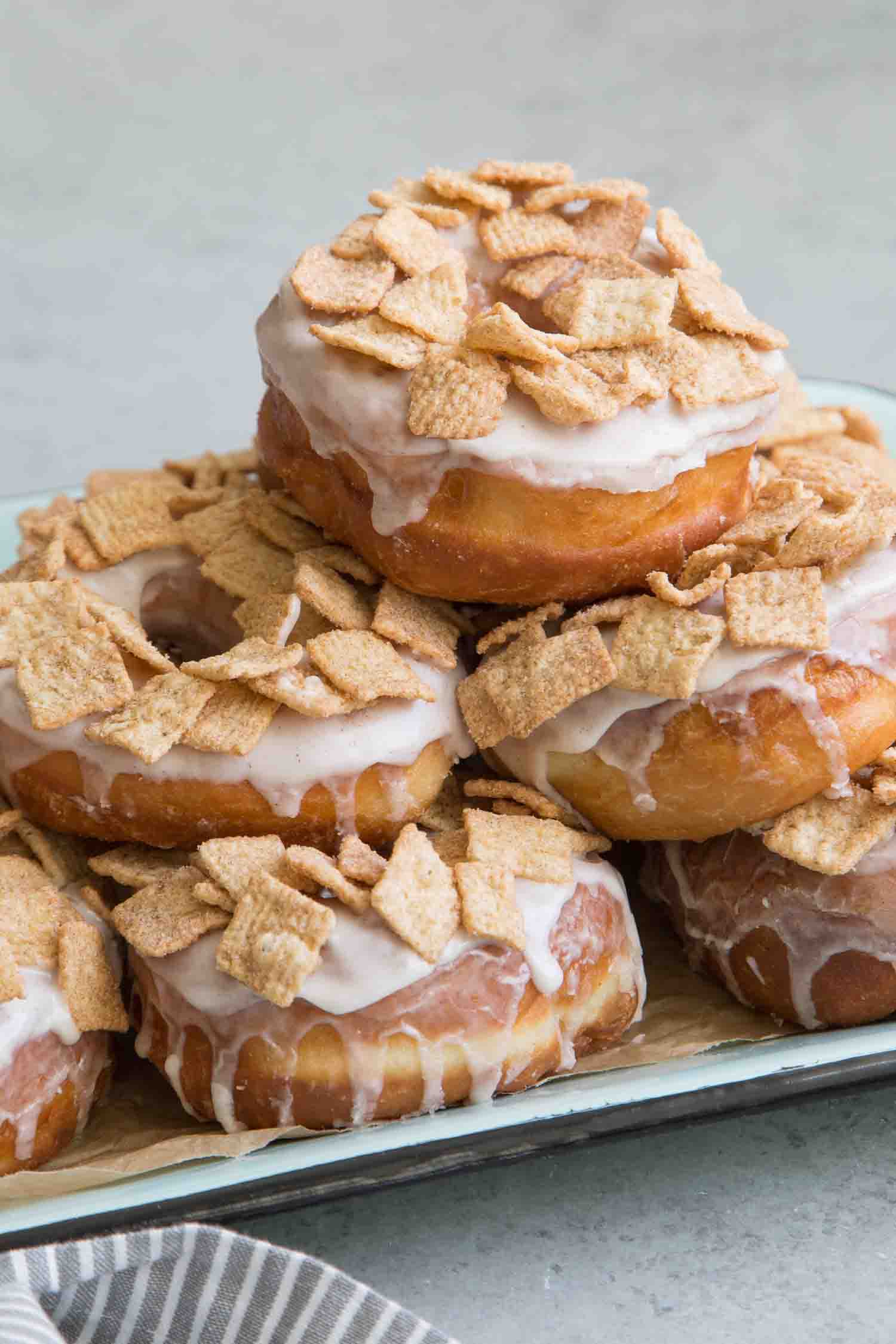 Special occasions demand special treats. Whether you're celebrating a birthday, anniversary, job promotion, completion of a half-marathon, or anything worthy of a sweet and decadent treat, you need this Cinnamon Toast Crunch doughnut.
While I share a lot of cake recipes, my heart really belongs to doughnuts. There is just something so heavenly about fried dough with sweet glaze, especially when enjoyed with a cup of black coffee. (Now that I've perfected my yeast doughnut base recipe, expect to see many more doughnuts in the weeks to come!)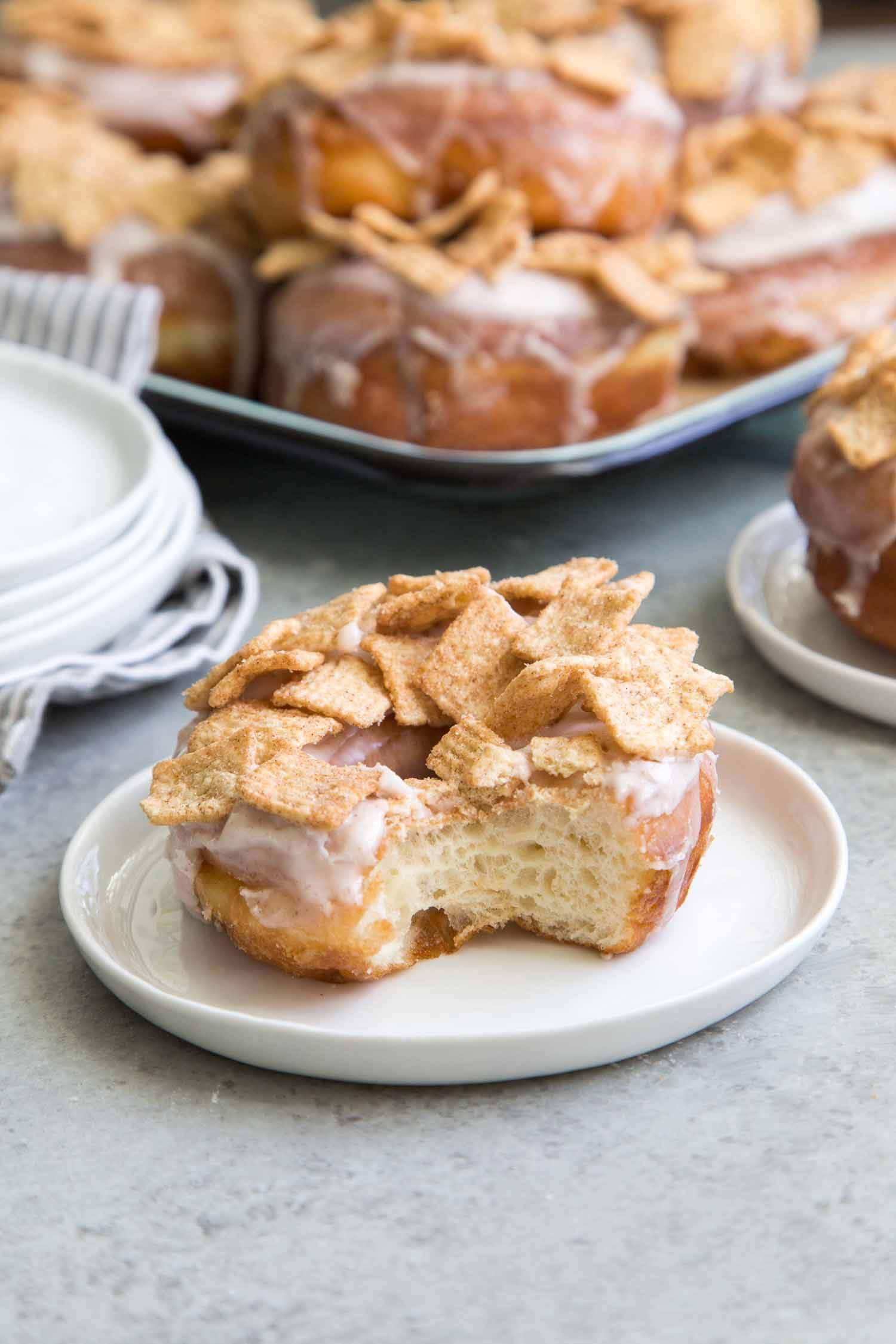 Cinnamon Toast Crunch was my favorite cereal growing up. I loved the crunchy cereal straight out of the box. I enjoyed the way the cereal sweetened my milk. And I even liked eating the cereal once it became a mushy. (Thanks to my father, I'm a huge fan of cinnamon desserts. Give me all the churros, cinnamon rolls, horchata, and snickerdoodles!) If you love CTC as much as I do, you'll want to check out this Cinnamon Toast Crunch Ice Cream Pie.
These Cinnamon Toast Crunch doughnuts are super soft and fluffy. The doughnut will slightly collapse as you bite into it, but it will spring back. Doughnuts are best eaten within hours of frying. Overtime, the cereal topping will get stale. Do not store glazed doughnuts in an airtight container!!! The glaze will melt and make the doughnut super soggy. If you do plan on eating the doughnuts at a later time (say 1-2 hours in the future), keep them in a paper bakery box or store it in a container with the lid ajar.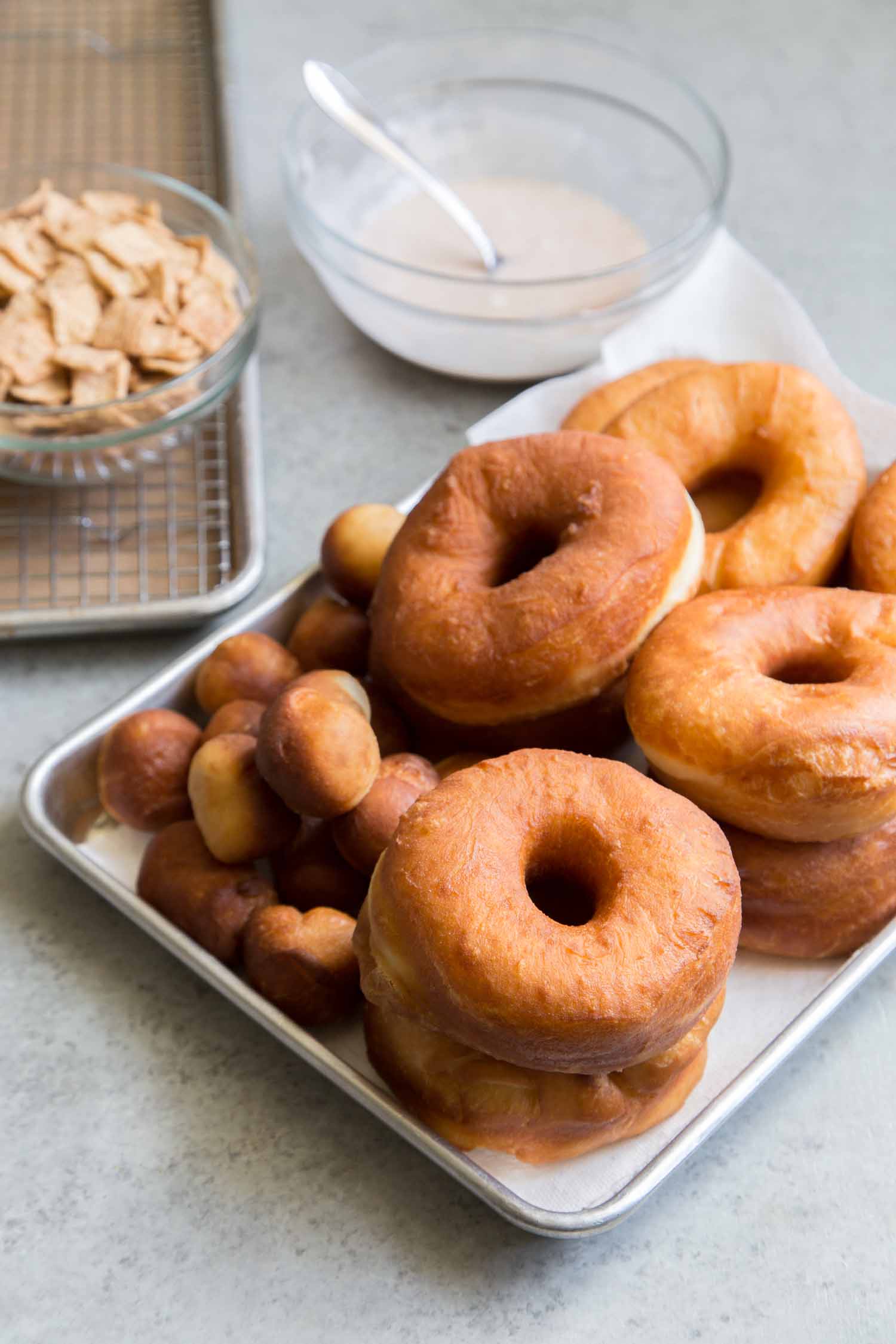 This recipe will make at least twelve 3 1/2-inch doughnuts. You can bunch up the scrape dough and re-roll it ONE time. Don't be tempted to keep re-rolling the dough. Those doughnuts will be not as fluffy.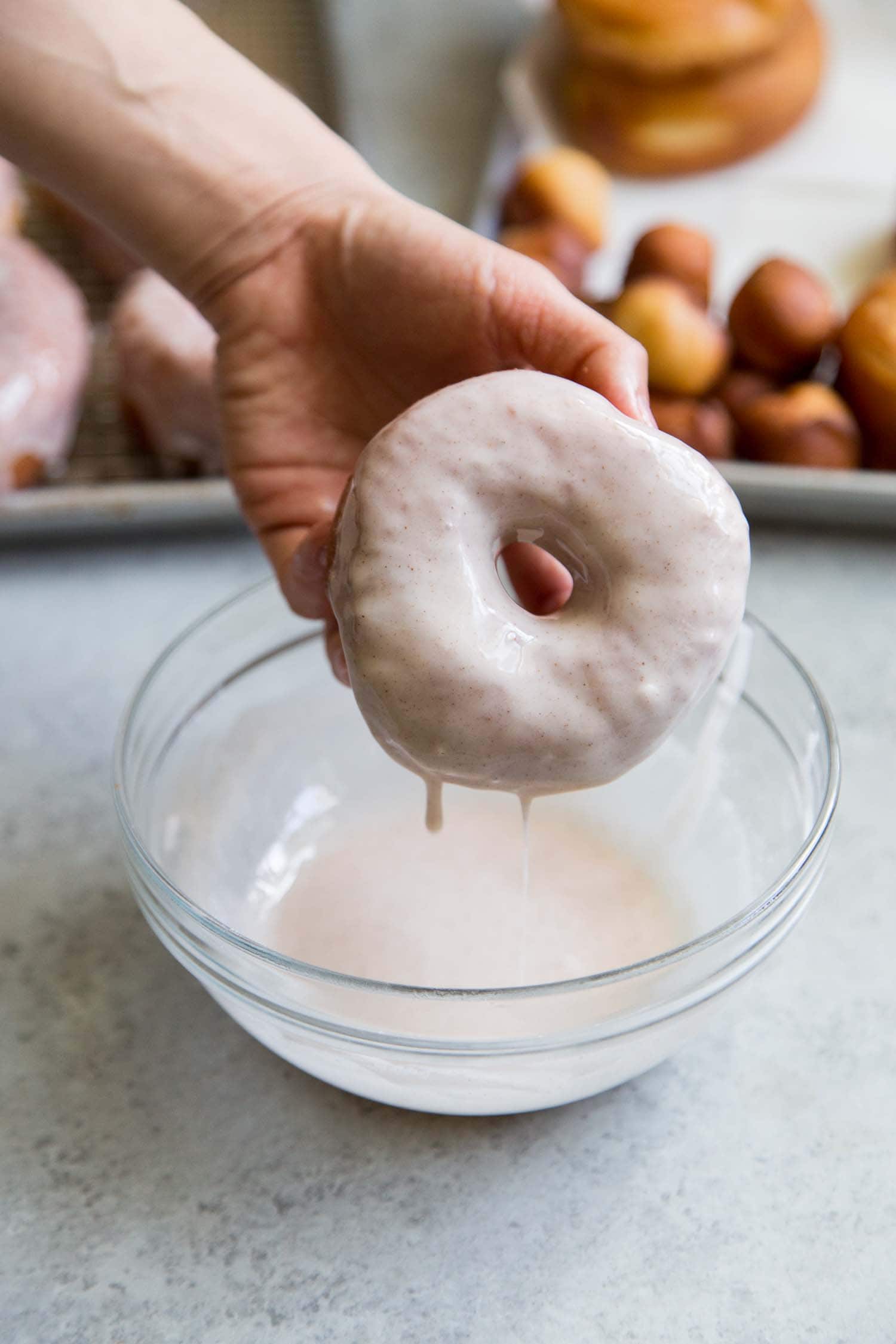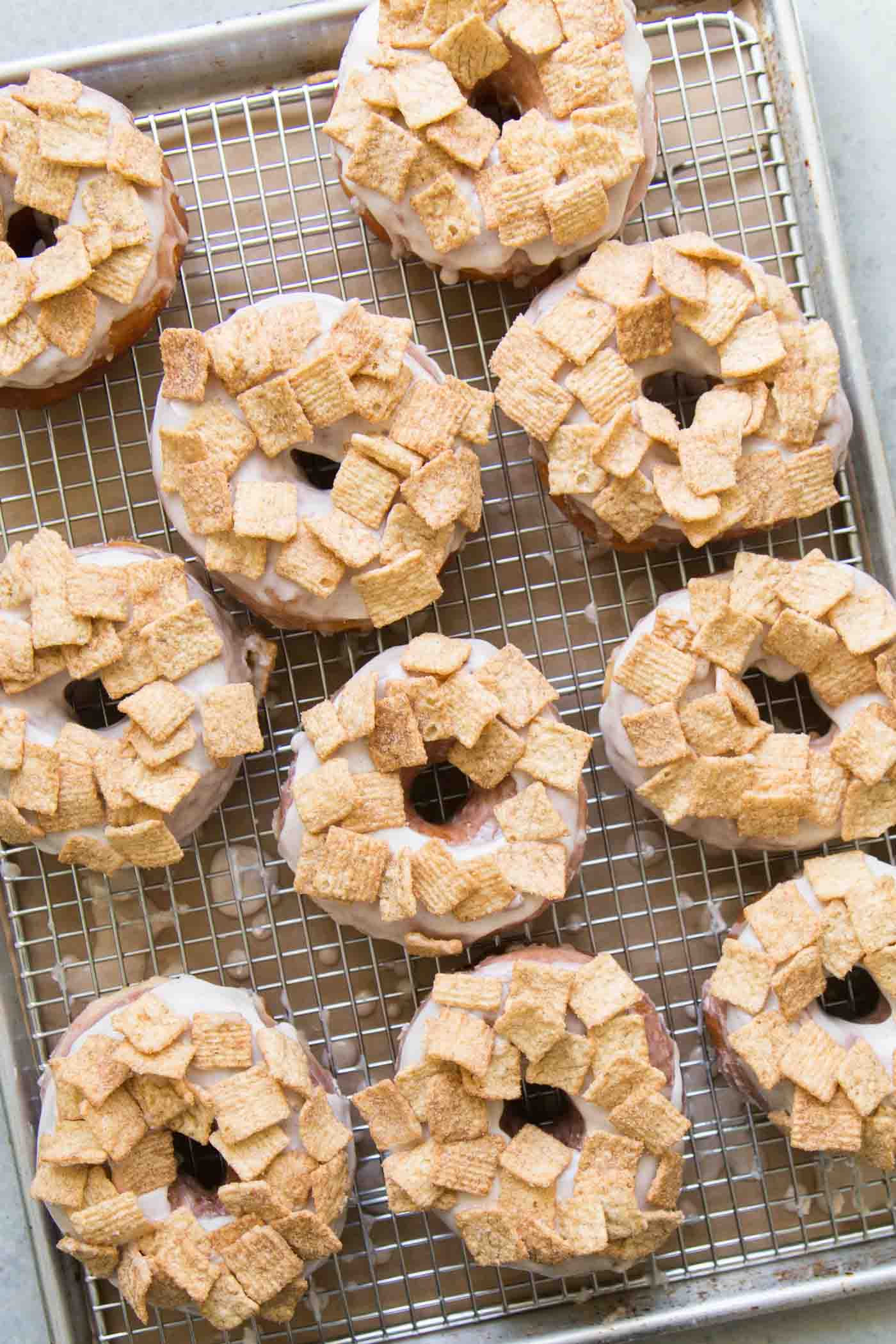 These yeast raised doughnuts are double dipped in cereal milk glaze (yes! they're glazed TWICE!) and topped with crunchy cinnamon cereal. Of course, you can sub in your favorite cereal: Lucky Charms, Fruity Pebbles, Cookie Crisps, Apple Jacks, Cherrios, etc…
Cinnamon Toast Crunch Doughnuts
Yeast raised doughnuts with cereal milk glaze topped with cinnamon cereal
Yield: 12 doughnuts and 12 doughnut holes
Ingredients
Yeast raised doughnuts:
1 1/2

cups

whole milk, warmed to 110 degrees F

1

Tablespoon

instant yeast

3

Tablespoons

granulated sugar

1

large egg

4

cups

all-purpose flour

2

teaspoons

fine sea salt

6

Tablespoons

(3 oz) unsalted butter, softened, room temperature
Cereal Milk Glaze:
1/2

cup

whole milk

1/3

cup

Cinnamon Toast Crunch cereal

2

cups

powdered sugar, plus more to thicken

1/4

teaspoon

ground cinnamon

pinch of fine sea salt

additional cereal, to garnish
Instructions
Doughnuts:
In the bowl of a stand mixer, combine milk, yeast, and sugar. Allow mixture to sit for 5 minutes. Whisk in egg until incorporated.

In a large bowl, whisk together flour and salt. Attach dough hook attachment to stand mixer. With the mixer running on low, add 1/3 of flour mixture. Once dough starts to come together, add another 1/3 of flour mixture. Add softened butter one tablespoon at a time, mixing well after each addition. At this point the dough will be sticky. Scrape down bowl as needed to ensure thorough mixing. Add remaining 1/3 of flour mixture.

Once dough starts to form, increase mixer speed to medium. Knead for 3-5 minutes until dough is smooth and soft. It may still stick to the sides of the bowl, but it should be easy to scrape using a spatula or dough scraper.

Transfer dough to a large greased bowl. Cover with plastic wrap or kitchen towel and allow dough to rest for 30-45 minutes at room temperature until dough has doubled in volume.

Punch down risen dough. Working on a lightly floured surface, roll or pat dough to a thickness of 1/2-inch. Use a 3 1/2-inch doughnut cutter (or 3 1/2-inch round cutter and a 1-inch round cutter) to punch out as many doughnut rings and doughnut holes as you can. Gather up the scrapes and re-roll one time to punch out additional ring and holes.*

Cover doughnut rings and doughnut holes with plastic wrap or kitchen towel while you heat up oil. Attach kitchen thermometer to a large heavy bottomed saucepot (Dutch ovens and cast iron pans work best). Fill pot with 2 to 3 inches of oil. Set over medium heat until oil reaches 350 degrees F.

Carefully place two or three doughnut rings into hot oil. Do not overcrowd the pot. Cook for 90 seconds on each side, until golden brown. Cook doughnut holes for 50 seconds on each side. Use a slotted spoon to transfer cooked doughnuts onto a paper-towel lined baking sheet. NOTE: Oil temperature will change as you add raw doughnuts into the pot. Monitor oil temperature using a kitchen/candy thermometer to make sure doughnuts do not burn.*
Cereal Milk Glaze and assembly:
Soak cereal in milk for 10 minutes. Strain and reserve cereal milk.

Mix together powdered sugar, cinnamon and salt. Add four tablespoons of cereal milk. Stir to combine until mixture is smooth. Add additional cereal milk if glaze is too thick to your liking.

Dip warm doughnuts into glaze, allow excess glaze to drip, and then set on a wire rack to set up. Repeat with remaining doughnuts.

Add a few tablespoons of powdered sugar to thicken glaze. Stir until smooth. Dip doughnuts once again and immediately top with cereal. Enjoy immediately while doughnuts are warm and fresh!
Notes
Doughnuts are best eaten within a few hours of frying. DO NOT store glazed doughnuts in an airtight container. The glaze will melt causing the cereal and doughnuts to become soggy. 
All images and text © The Little Epicurean