This strawberry balsamic shrub is made by macerating fresh strawberries with cane sugar, apple cider vinegar, and a touch of balsamic vinegar. It makes for a tart yet fruity beverage.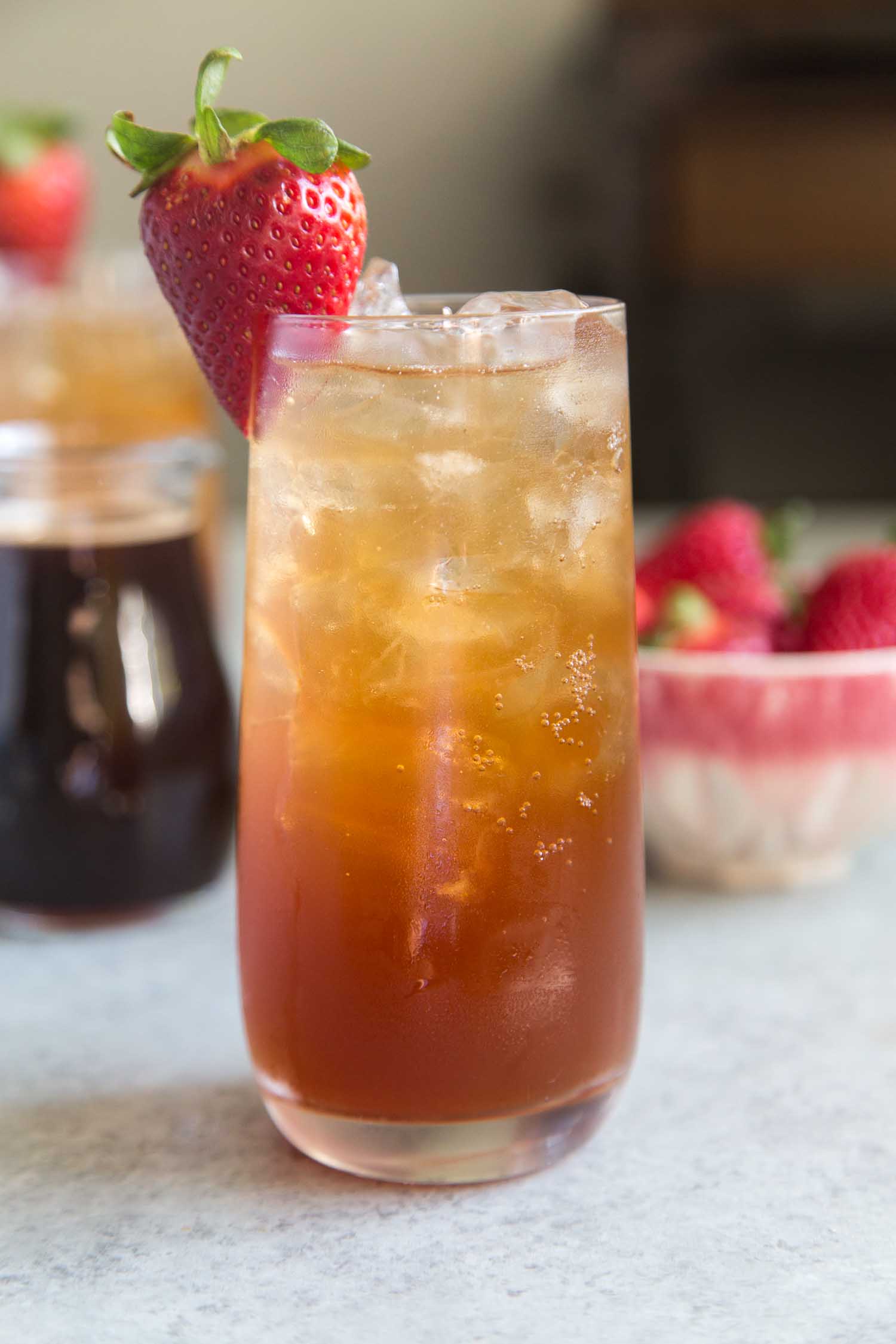 Spring is on the horizon! While some places are still knee deep in snow, strawberries have already begun to make their appearance in Southern California. Tanaka Farms, one of my favorite local farms, is already offering strawberry tours and strawberry picking hours. I may be biased, but I think Southern California strawberries are THE best.
Sweet smelling berries are my weakness. I often get carried away buying much more than I ever eat. Once the berries start to lose their luster, I turn to shrubs!
First blackberry shrubs, then grapefruit shrub, now strawberry balsamic shrub! The first two shrubs are made with fruit, sugar, and apple cider vinegar.
This is a little difference because I added a touch of balsamic vinegar. Balsamic vinegar is super intensely flavored, a little goes a long way.
The robust, concentrated flavor of balsamic works wonderfully with the sweet and floral strawberries. Paired with the tartness (and health benefits) of apple cider vinegar, it comes together for a delightful combination.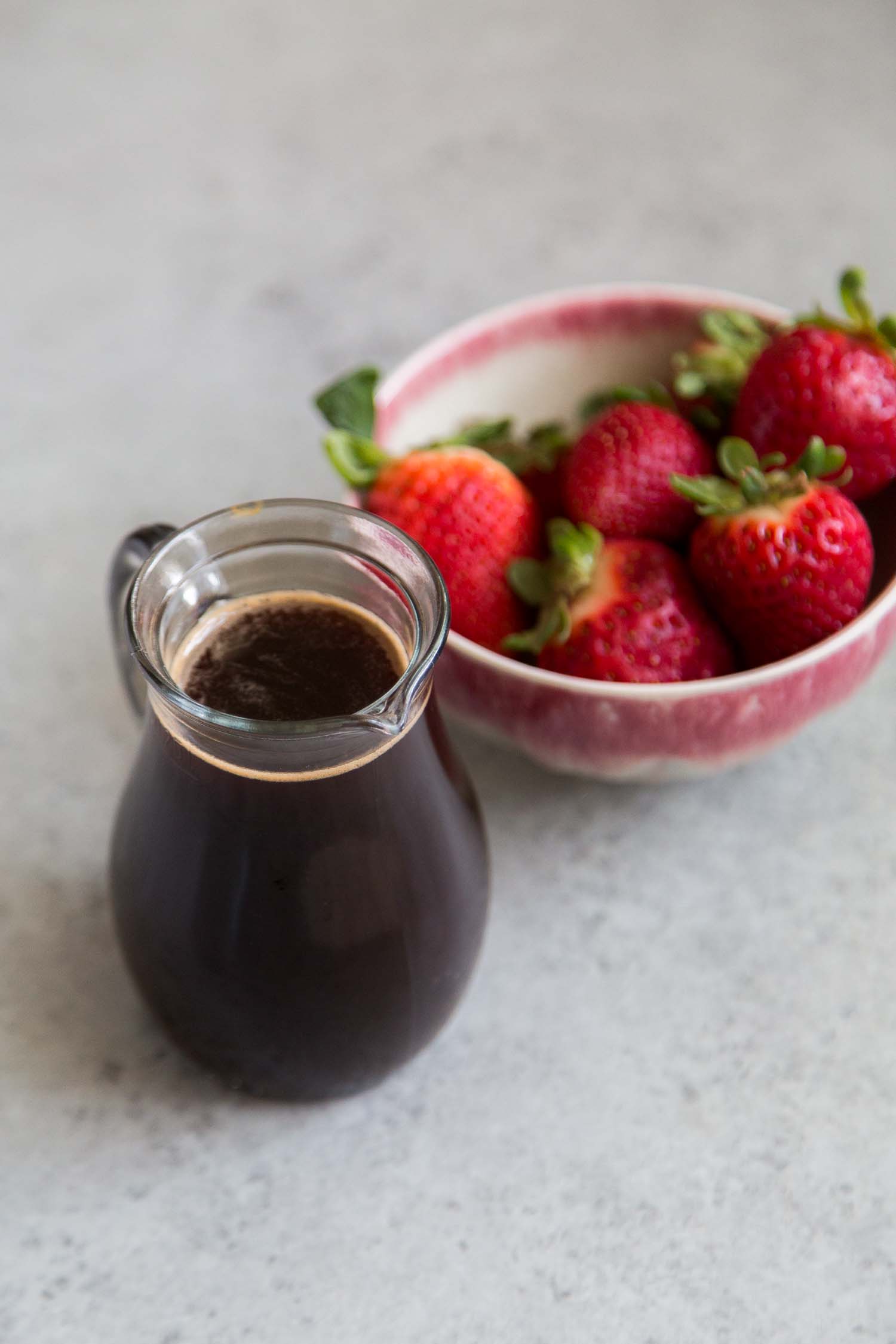 What kind of vinegar can use you to make fruit shrubs?
Shrubs are a wonderful way to preserve fruits. It's much easier than making jams or canning. Shrubs are made with fresh fruit, sugar, and vinegar.
While there are numerous vinegar options to choose from, it is important to make sure that the vinegar has an acidity strength of at least 5%. This is crucial because the vinegar is responsible for preventing the growth of bacteria in the sweet sugar fruit mixture.
The acidity level of the vinegar should be labeled on the bottle. If not, the only other way to measure the pH of vinegar is through pH strips.
Be wary of "flavored" vinegar that have been diluted with water or other liquids. I would stay away from those for shrub making purposes.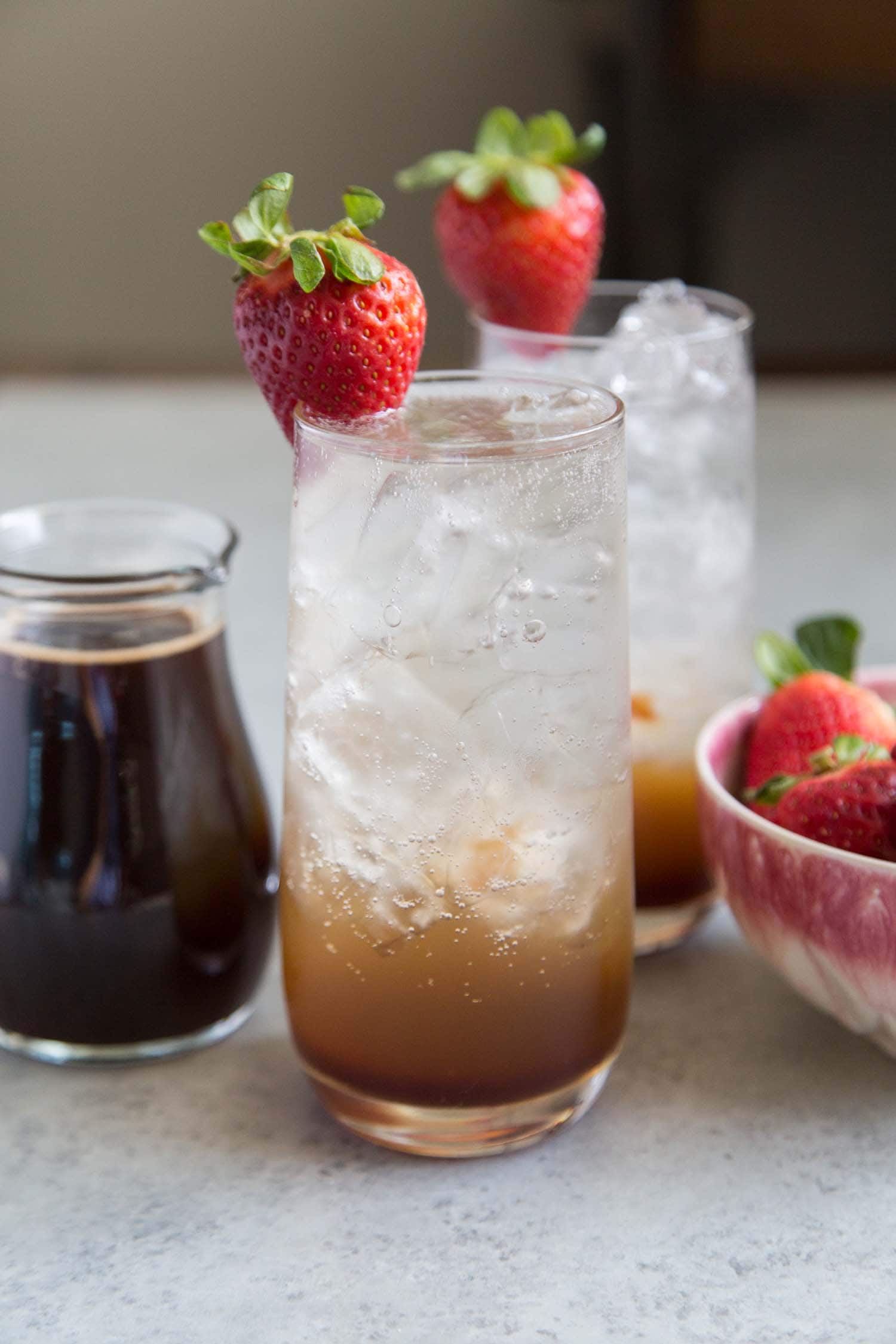 I could eat this strawberry balsamic shrub by the spoonful. The sweet yet tart complexities of this mixture is so intoxicating (in a non-alcoholic way). It's refreshing as a mocktail mixed with chilled sparkling water (or club soda).
You can also drizzle it over oatmeal, yogurt, or sorbet. It can also be mixed with a salad vinaigrette dressing for a pop of unexpected flavor.
Strawberry Balsamic Shrub
Ingredients
1 1/2

cups

strawberries, hulled and sliced

1

cup

granulated sugar

3/4

cup

apple cider vinegar

1/4

cup

balsamic vinegar
Strawberry Balsamic Shrub Mocktail:
1

oz

strawberry balsamic shrub syrup

4-5

oz

chilled sparkling water, or club soda
Instructions
Muddle together strawberries and sugar in a large pitcher or mason jar. Allow mixture to sit for 5 minutes. Stir in apple cider vinegar and balsamic vinegar. Cover and let mixture steep in the fridge for 2 days. Strain out strawberry bits and discard. Store syrup in the fridge until ready to use.
Strawberry Balsamic Shrub Mocktail:
Add 1 oz shrub syrup to a serving glass filled with ice. Top with chilled sparkling water. Stir to combine. Garnish with fresh strawberries, if desired. Enjoy immediately.
Notes
I prefer to use organic, raw, unfiltered apple cider vinegar "with the mother." Favorite brand to use is Bragg.
Both traditional balsamic vinegar and the thicker balsamic vinegar glaze can be used interchangeably in this recipe. 
The longer the shrub steeps in the fridge, the "mellow" and less tart the vinegar flavor will be.