Tropical jackfruit smoothie blends together jackfruit, mango, banana, coconut, and pineapple for a sweet taste of paradise.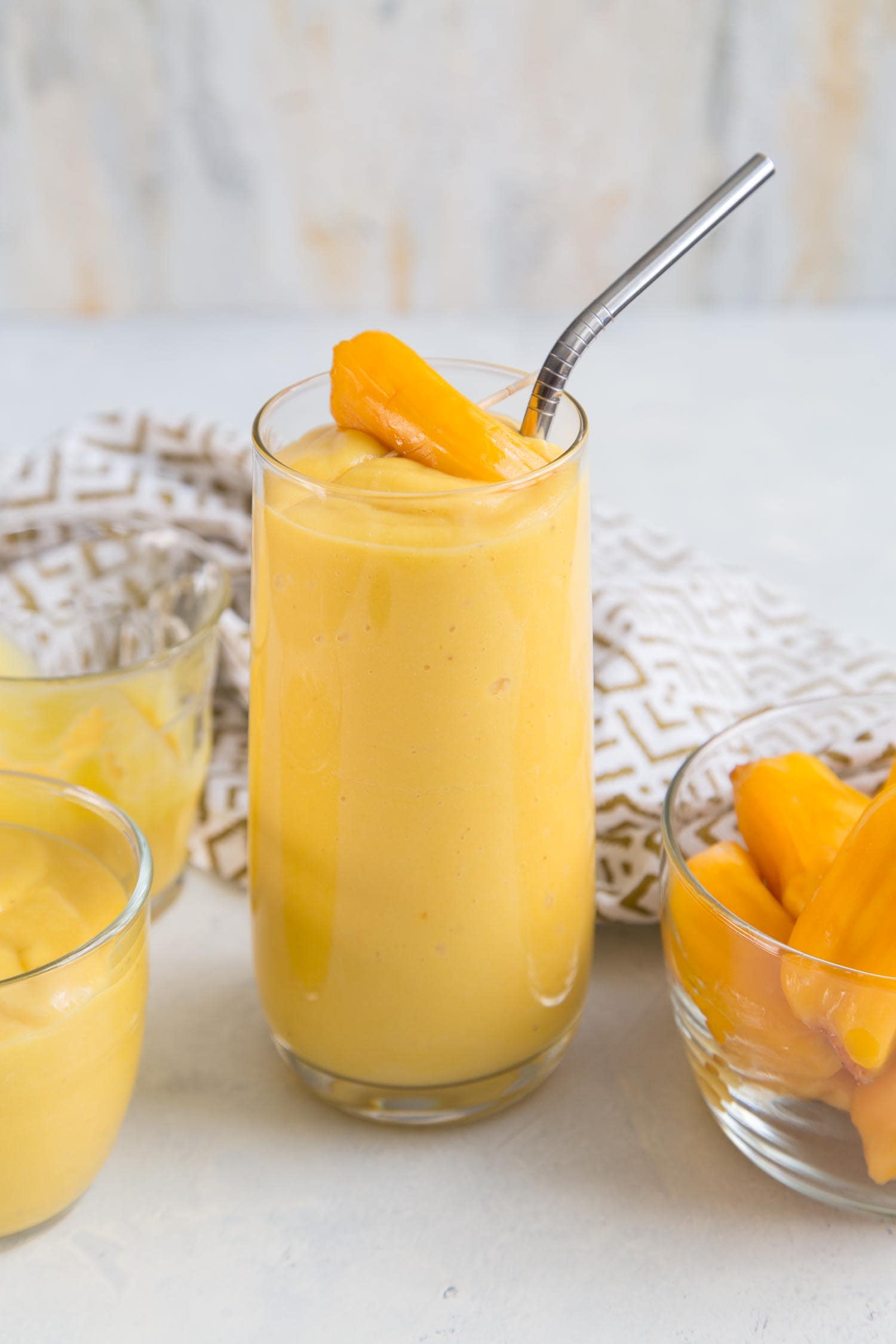 My mother-in-law recently bought a ginormous jackfruit. I have a giant stash of fresh sweet jackfruit in my fridge.
I've been on a jackfruit binge adding the fruit to all sorts of desserts and drinks.
Let's bake jackfruit upside down cake. Then, move on to mango jackfruit popsicles.
But first, jackfruit smoothie!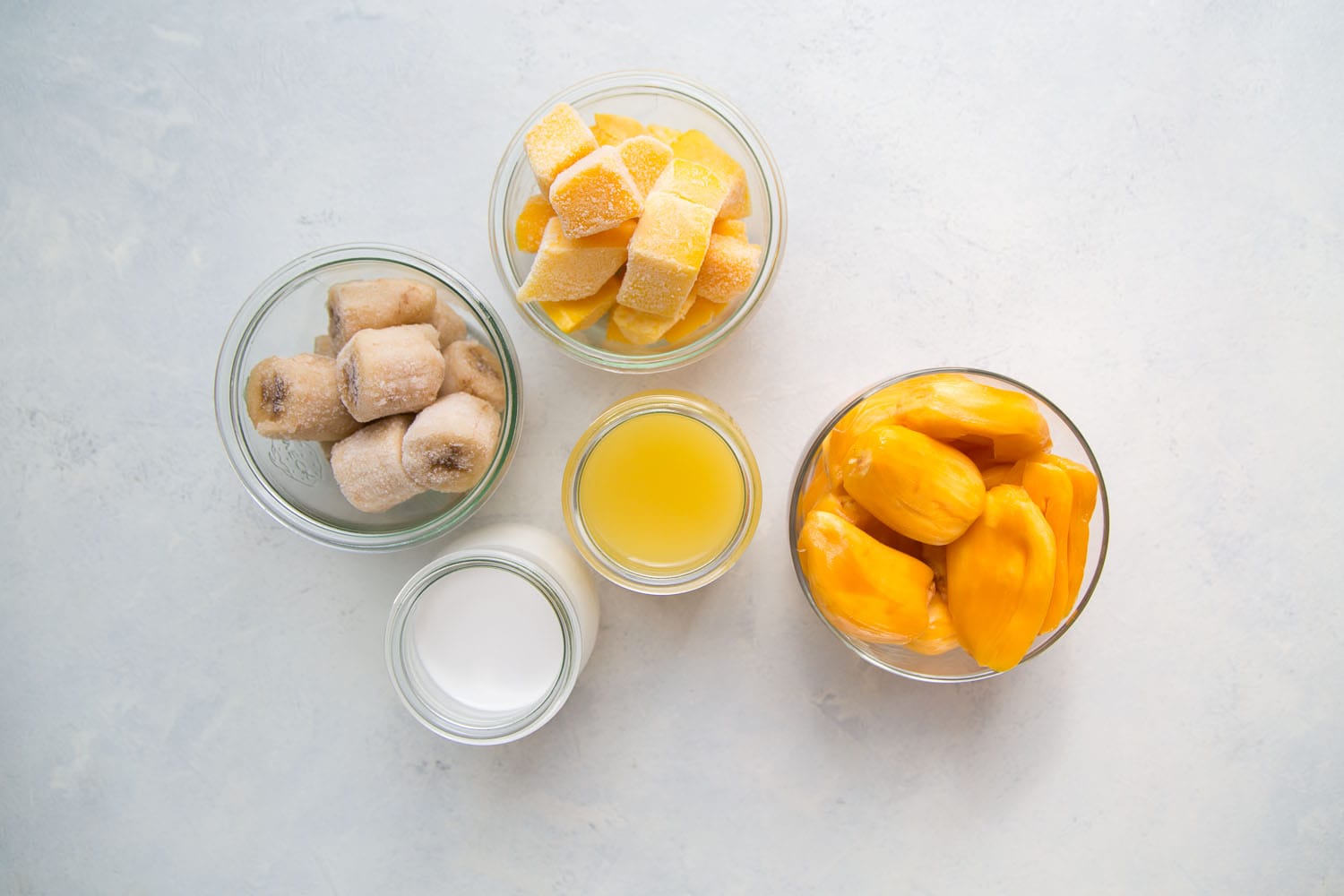 Jackfruit Smoothie ingredients
As photographed above (starting at 12 o'clock and going clockwise) you will need:
frozen mango chunks
fresh jackfruit (seeds removed)
pineapple juice
canned coconut milk (full fat tastes best!)
frozen banana chunks
Frozen mango and frozen banana helps to thicken this smoothie.
If you substitute in fresh fruits, the smoothie will be a lot looser.
Full fat canned coconut milk makes this jackfruit smoothie super rich and creamy. For a lighter version, substitute in light coconut milk or coconut water.
If you cannot find fresh jackfruit, canned RIPE jackfruit will work.
However, the resulting smoothie will be much, much sweeter. Canned jackfruit is packaged in a very sweet sugar syrup.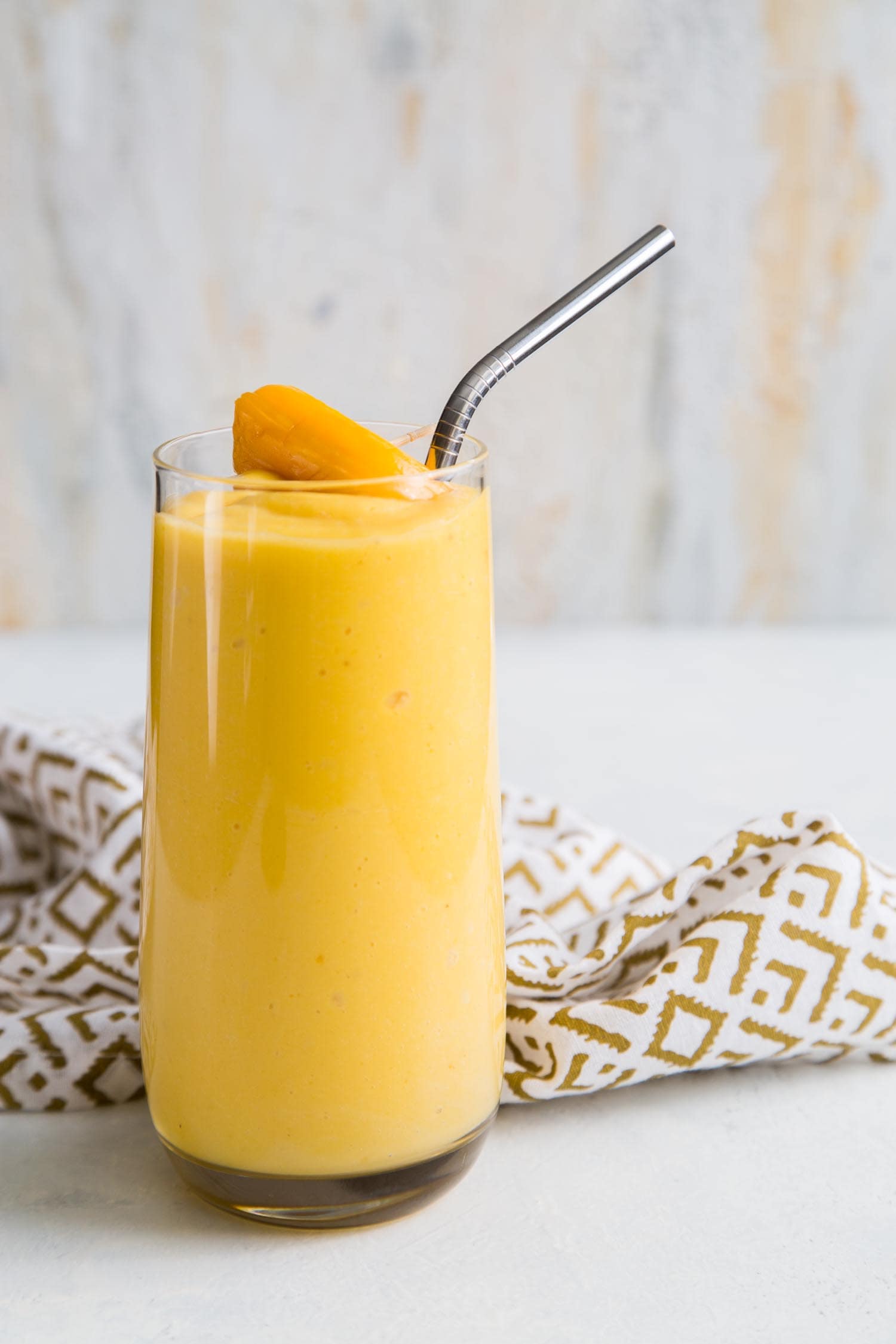 What's the difference between ripe jackfruit and young jackfruit?
Ripe jackfruit is bright golden yellow in color.
The seeded fruit is soft. It is sweet with notes of banana, mango, and cantaloupe mixed into one.
Many Southeast Asian desserts use ripe jackfruit. Best example: Filipino Turon.
Young jackfruit (or unripe jackfruit) is pale yellow-green, almost white in color.
Texture wise, it's a bit tougher. Unripe jackfruit is most commonly used in savory dishes.
Most recently, it has become the popular pulled pork substitute in vegan cooking.
Jackfruit Pina Colada!
This can be served for breakfast, as a snack, or as a mocktail option.
If you want to booze it up, go ahead and add a shot of rum and turn this into a jackfruit pina colada!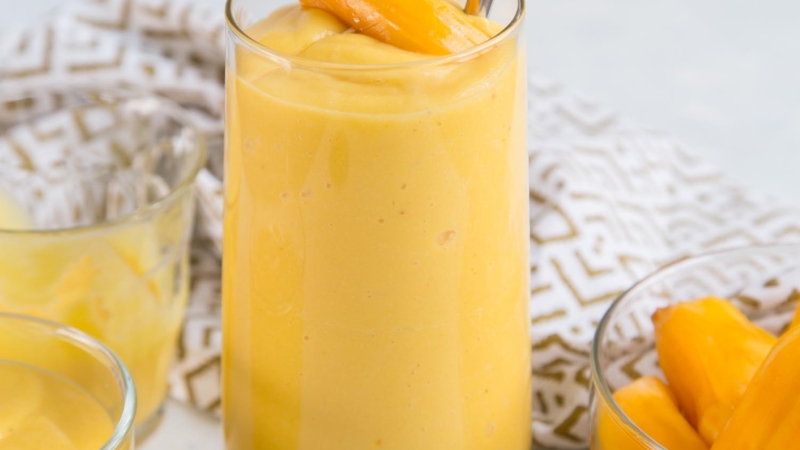 Tropical Jackfruit Smoothie
This tropical jackfruit smoothie blends together jackfruit, mango, banana, coconut, and pineapple for a little taste of paradise. Yield: makes 1 ½ cups
Ingredients
7

pieces

fresh jackfruit

1/4

cup

frozen banana slices

1/2

cup

frozen mango chunks

1/2

cup

well shaken canned coconut milk, unsweetened

1/3

cup

pineapple juice
Instructions
Place all ingredients in a blender. Process until smooth. Serve immediately.
Notes
Fresh banana and mango can also be used in place of frozen. However, resulting smoothie will not be as thick.
Coconut milk makes this rich and creamy. You can also substitute in coconut water for a lighter beverage.
Want to make this into a cocktail?
Add 1 1/2 oz of dark or light rum when blending all the ingredients. It turns into a jackfruit pina colada!