Agua fresca de pepino or cucumber agua fresca is a delicious and refreshing beverage made from fresh cucumbers, citrus juice, water, and a touch of sweetener.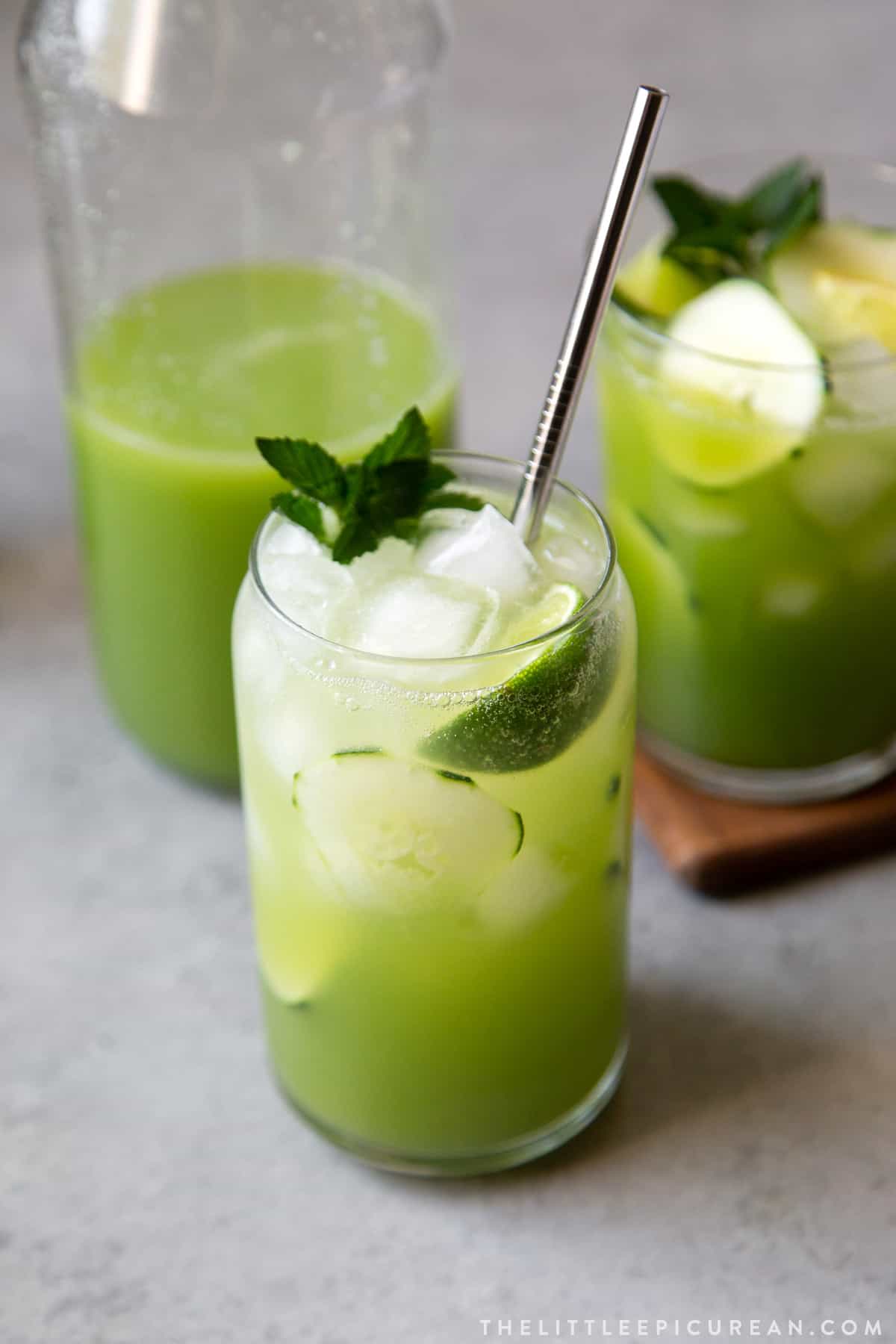 The perfect non-alcoholic beverage for spring and summer.
This mocktail is great for kids and adults of all ages. It's a wonderful cooling and refreshing summer beverage.
Agua Fresca de Pepino
Have you tried spa water (water steeped with lemon wedges and sliced cucumbers)? This is BETTER!
This homemade cucumber fruit water is quick and easy to make. If you grow your own cucumbers during the summer, this is a recipe you'll want to keep handy!
What is agua fresca?
Agua fresca translates to "fresh water." It a super refreshing fruit drink made from fresh fruit blended with water, citrus juice, and sweetener.
Agua fresca can be served two ways- strained (filtered) or unstrained. The filtered version removes some of the pulp and skin from the blended fruits. I prefer the strained version. In my opinion, the juices taste more potent and flavorful.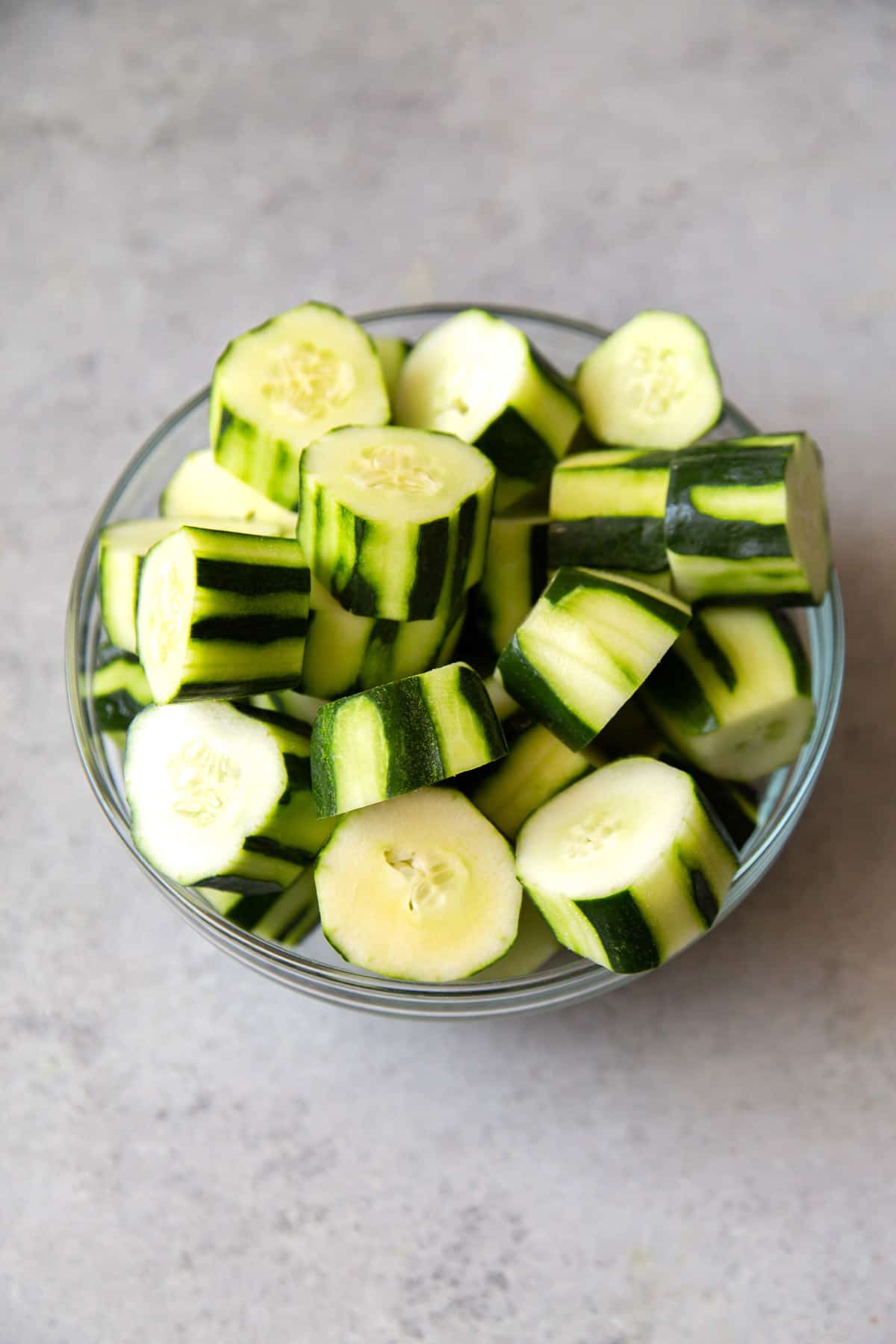 What kind of cucumbers to juice?
Any kind of cucumber will work in the recipe. I am using these marketmore cucumbers I grew from seed. They are "slicing cucumbers." You may use "pickling cucumbers" as well.
I like to keep some of the skin on the cucumber. This adds more flavor. You may choose to keep all the skin on, or peel all the skin off.
Make sure to use fresh cucumbers that are firm to the touch. Don't use soft or soggy cucumbers. Those cucumbers are likely spoiled.
Best Fruits for Agua Fresca
Some fruits work better than others. These are the best fruits to use:
Customize the texture and flavors of the agua fresca to your liking. Mix together a variety of fruits.
Or, add herbs and spices for additional flavor. Mint, basil, rosemary, and hibiscus are often used.
Steep spices such as dried cinnamon sticks or star anise in simple syrup. Then, use that spiced simple syrup to sweetened the agua fresca.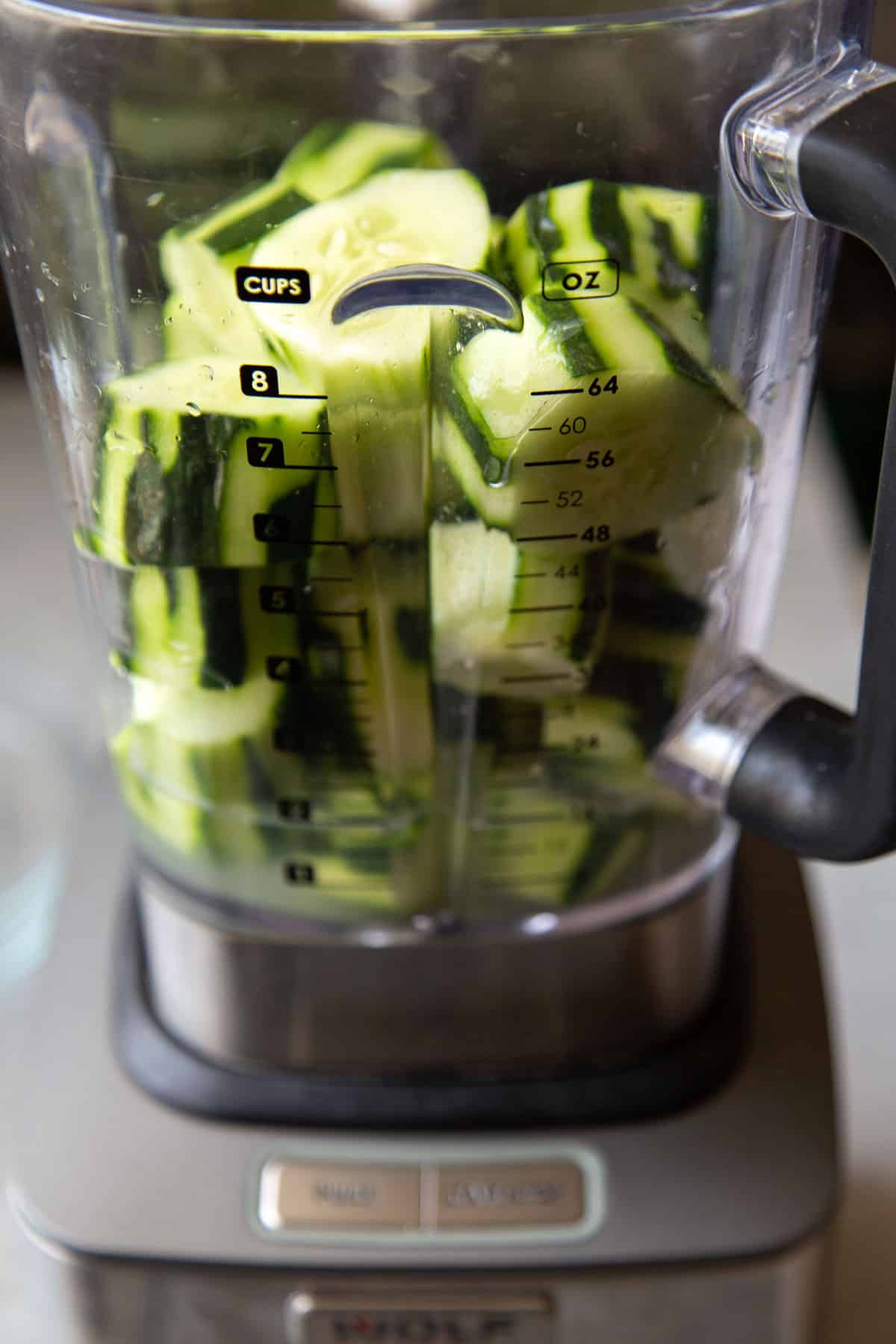 High Powered Blender is Key
A high speed, high powered blender quickly and easily mix the ingredients together. I personally use this Wolf Gourmet High-Performance Blender. It is the one photographed above and below.
Place all the ingredients (cucumber, lemon juice, lime juice, and filtered water) into the blender. Process until smooth.
Alternatively, you may use a food processor or handheld immersion blender.
Traditionally, agua fresca is made with lime juice. I use a mixture of lemon and lime. I find it results in a more flavorful mixture.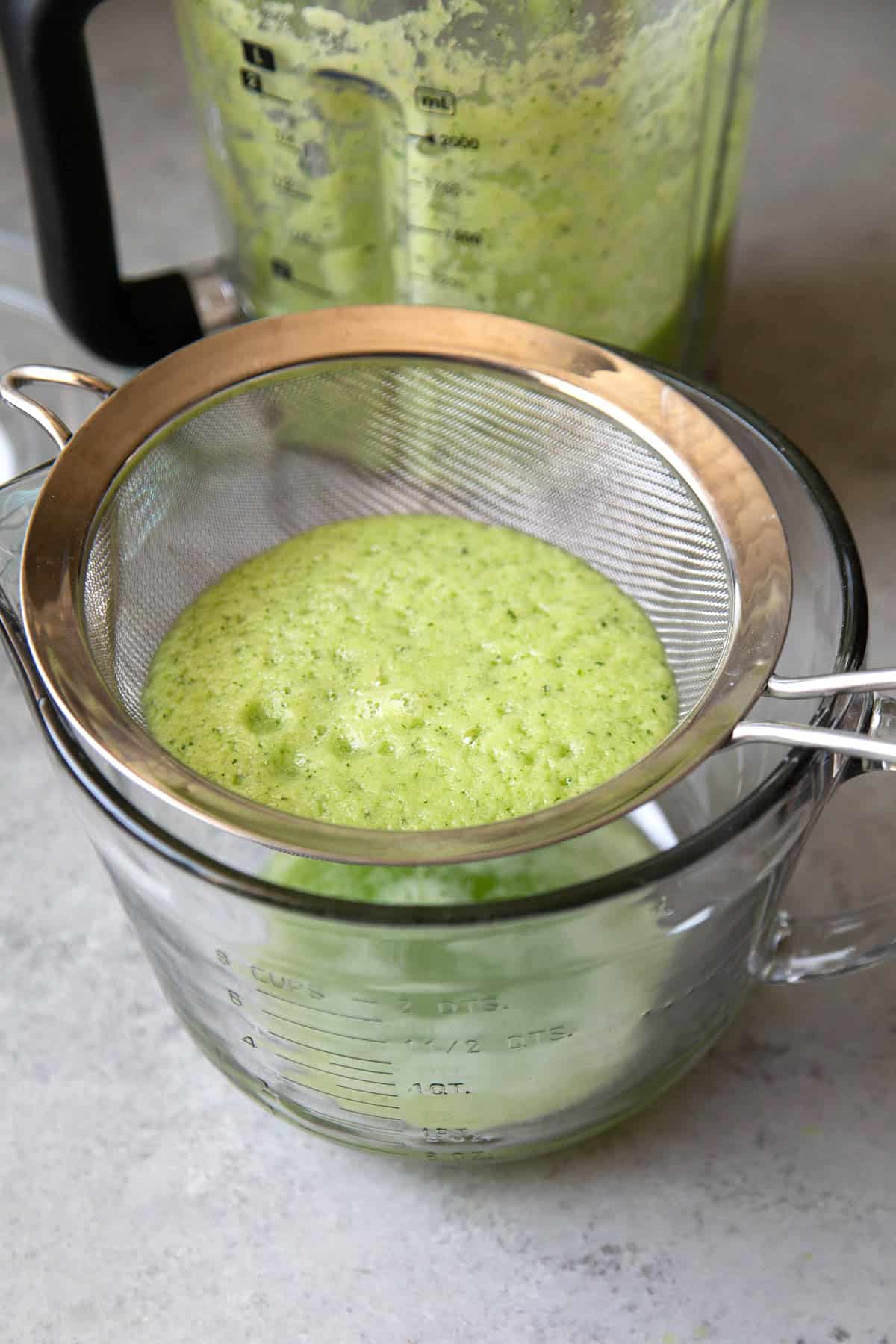 This step is optional, but highly recommend. Use a fine-mesh strainer to strain the pureed mixture.
The liquid will filter through. The thick pulp will remain in the strainer basket.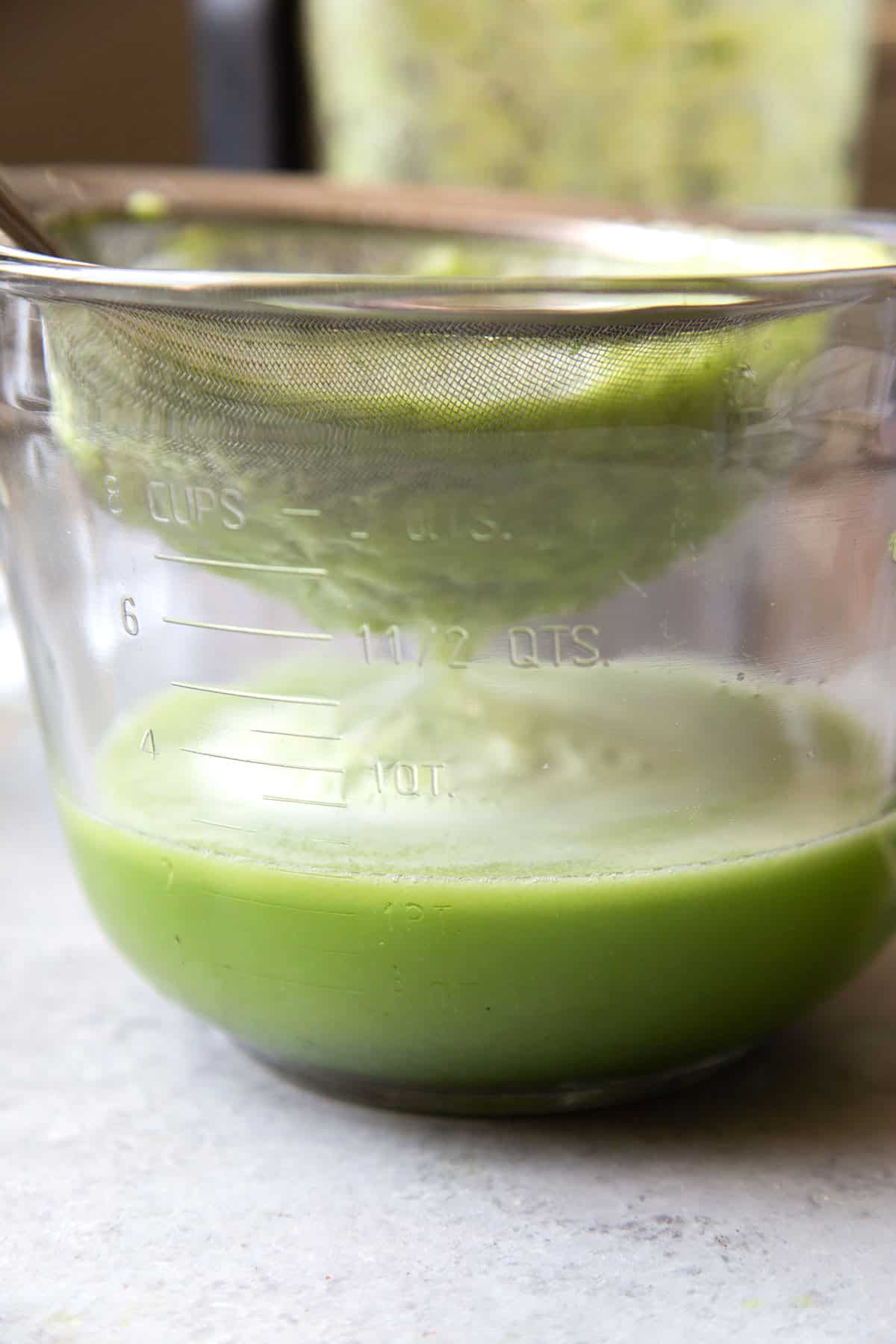 Straining is not necessary. However, the resulting drink will be rather thick. I prefer to strain the juice.
In my opinion, the strained juice is more flavorful and more refreshing.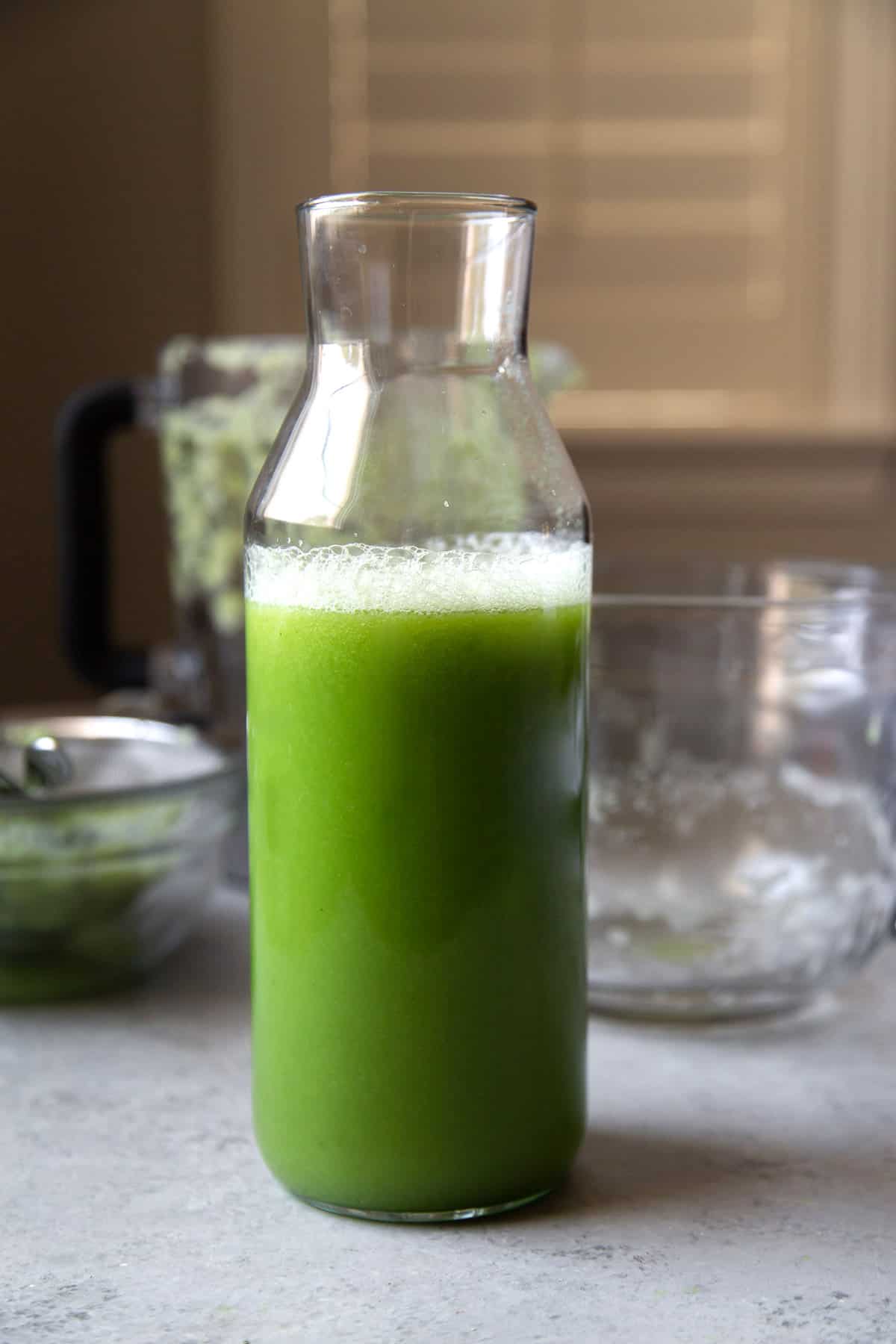 Choice of Sweetener
Agua fresca is traditionally sweetened with cane sugar. For easy mixing, I prefer to use simple syrup.
Simple syrup is a cooked mixture of equal parts water and sugar.
Or, you may sweetened the juice with your choice of sweetener. Agave and honey are good options. And of course, you can skip the sweetener all together, if you'd like.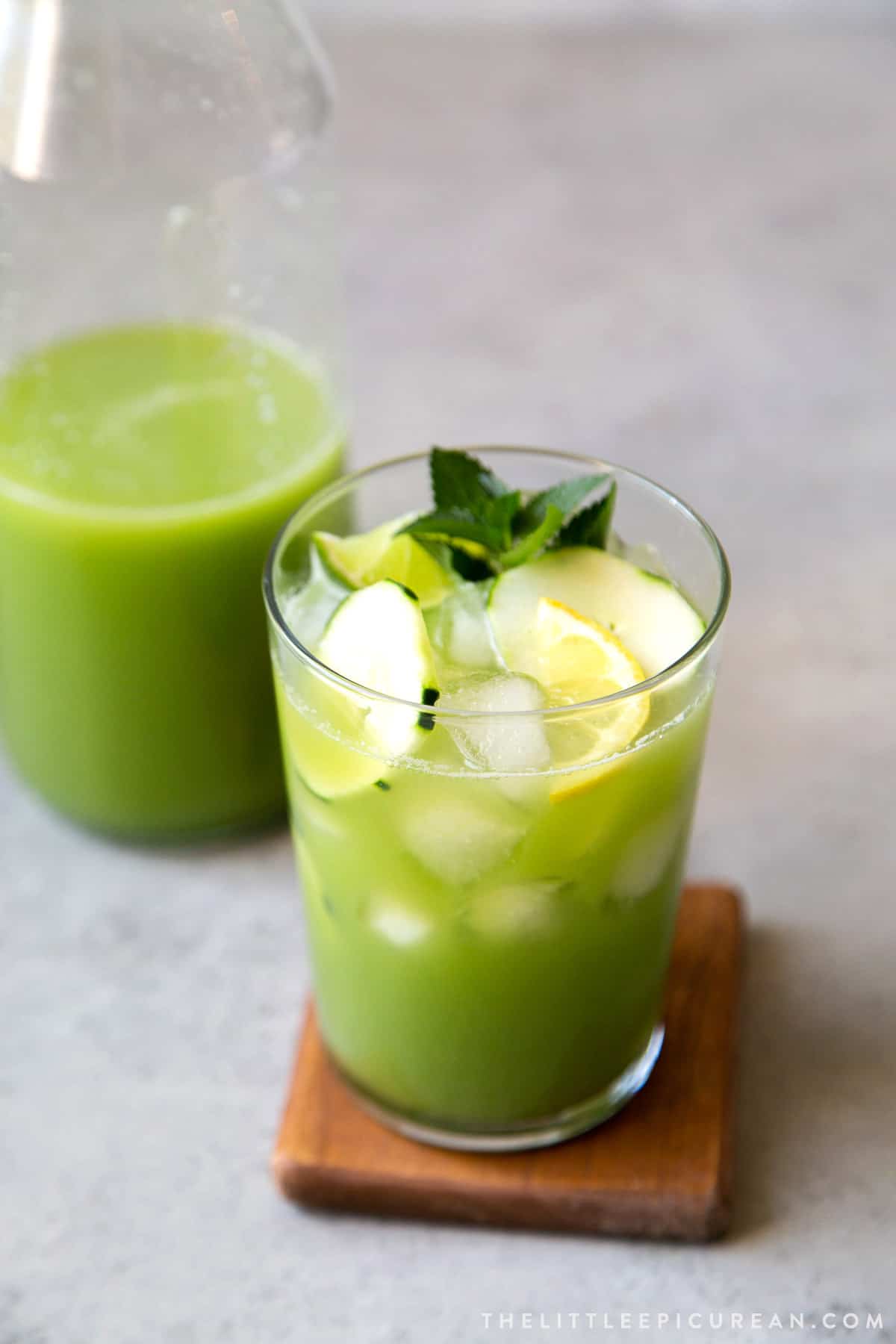 Enjoy juice immediately!
Agua fresca contains unpasteurized fresh juice. Therefore, it should be immediately consumed.
Cucumber agua fresca is best served chilled over ice.
Alternatively, store the agua fresca in an airtight container for up to 72 hours. Ideally, you should enjoy the juice within 48 hours.
Shake or stir the agua fresh before serving. Overtime, the cucumber juice will separate from the filtered water.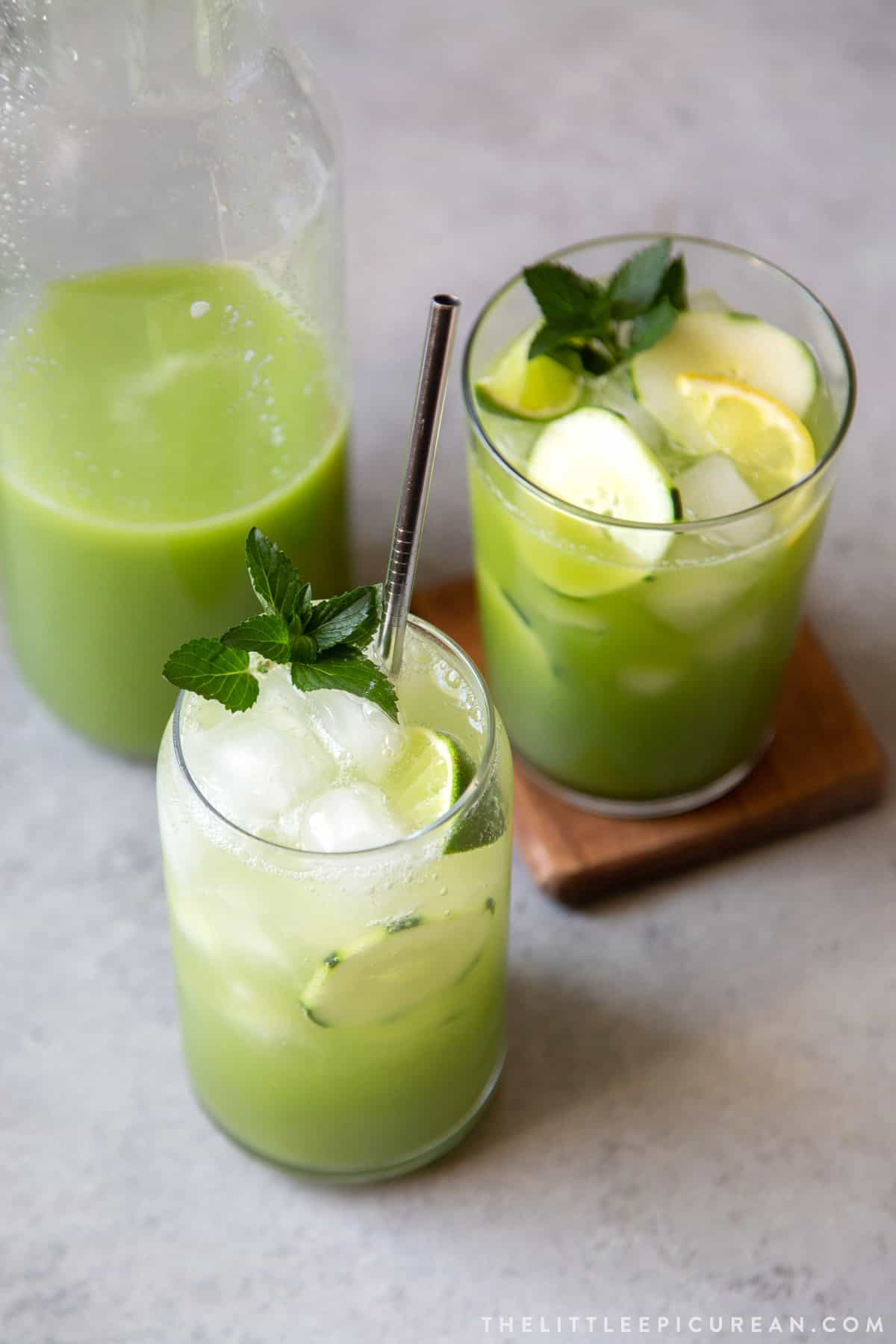 Garnish ice cold cucumber agua fresca with cucumber slices, lime wedges, and/or lemon juices.
Want to stretch out the mixture? Dilute the mixture with additional filtered water. Or, for a fun mocktail, top the cucumber mixture with sparkling water!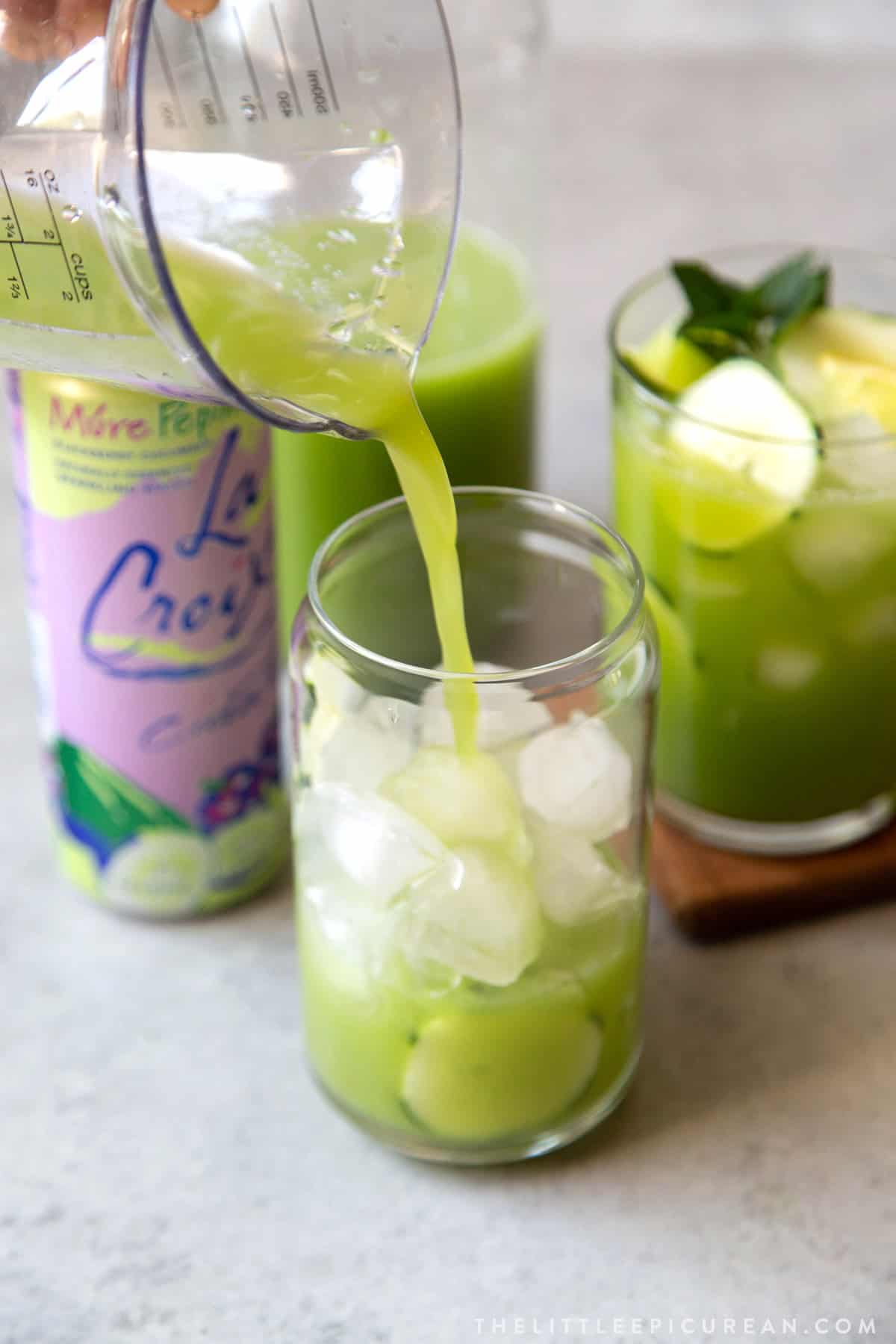 How to make sparkling agua fresca variation
This is a great way to stretch out the cucumber agua fresca. It's a wonderful pick up me during hot afternoon summers.
Start by pouring about 1/2 cup of prepared agua fresca into a serving glass with ice.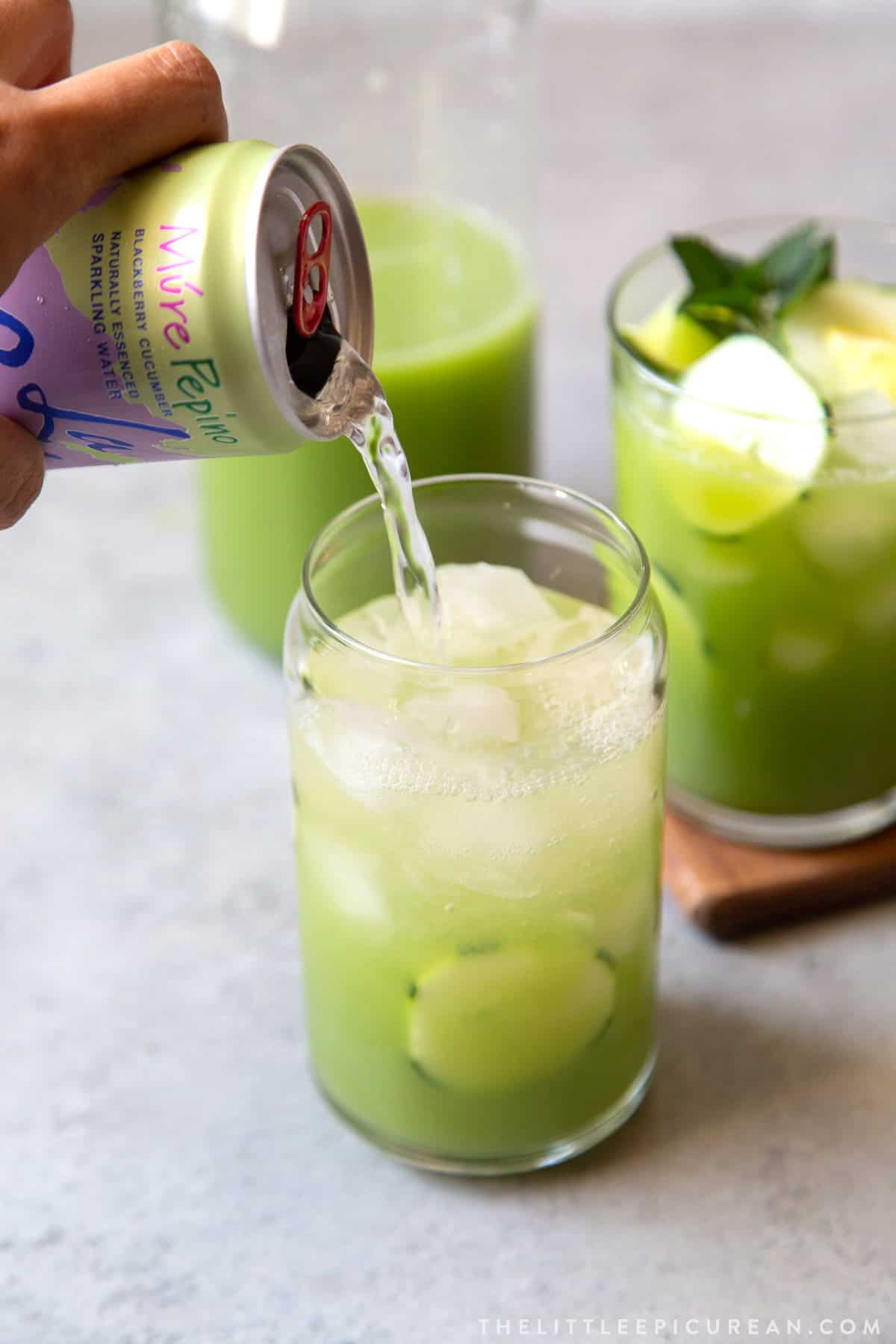 Top with sparkling water. Stir and enjoy!
Any sparkling water will work. Use pure, unflavored sparkling water.
Or, I highly recommend using the mure pepino (blackberry cucumber) flavored La Croix sparkling water. It adds additional cucumber essence with just a hint of sweet and sour blackberry.
Mix up the flavors by using sparkling water made with a splash of fruit juice. Spindrift has plenty of options that pair deliciously with cucumber. Try: pineapple, raspberry lime, or blackberry.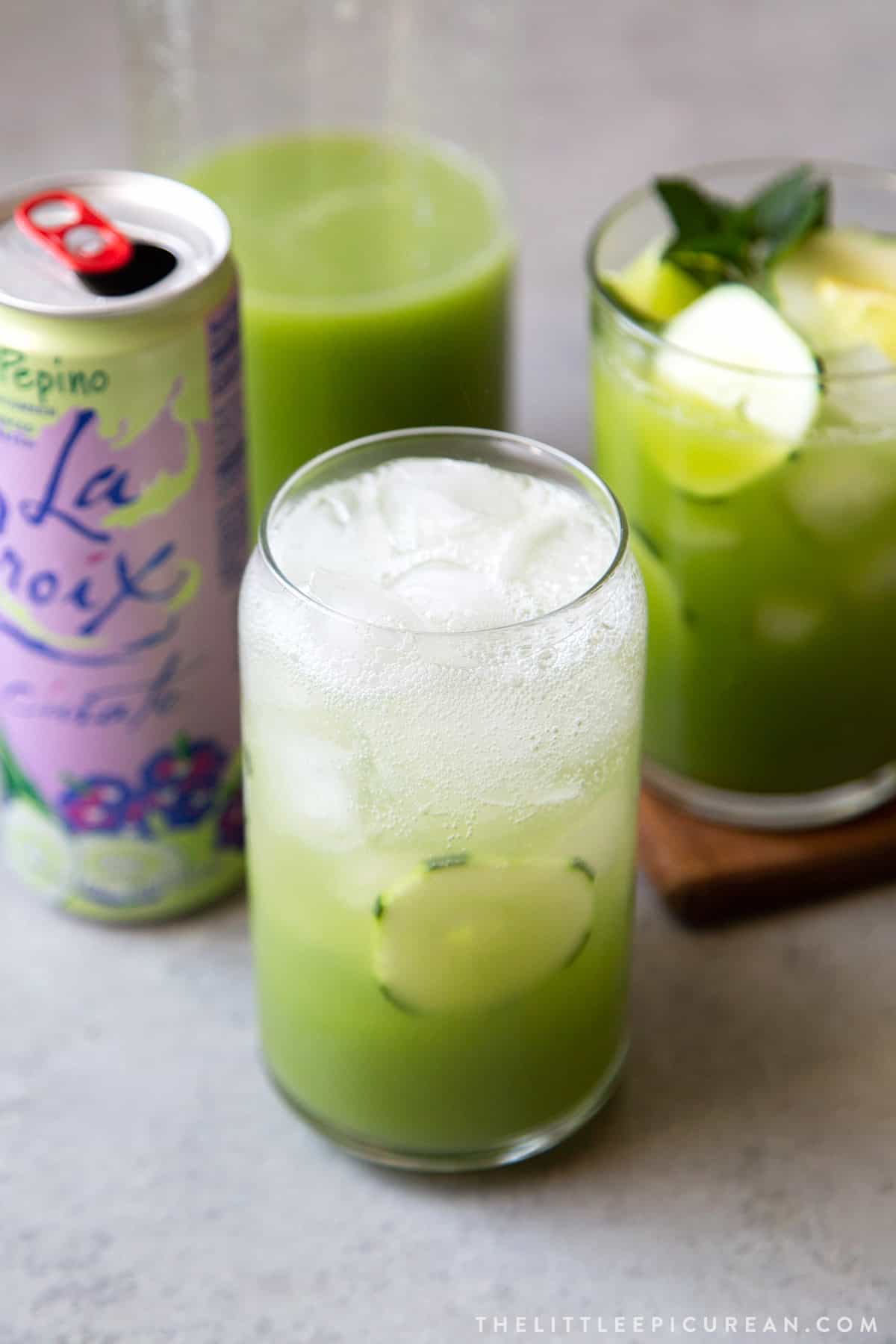 Other ways to use agua fresca
Agua fresca is a perfect mixer for cocktail.
Mix it with tequila to make margarita, with gin for a fruit and floral cocktail, or with vodka and tonic for an upscale drink!
Freeze them in ice cube tray. Use them to flavor your water or sparkling water.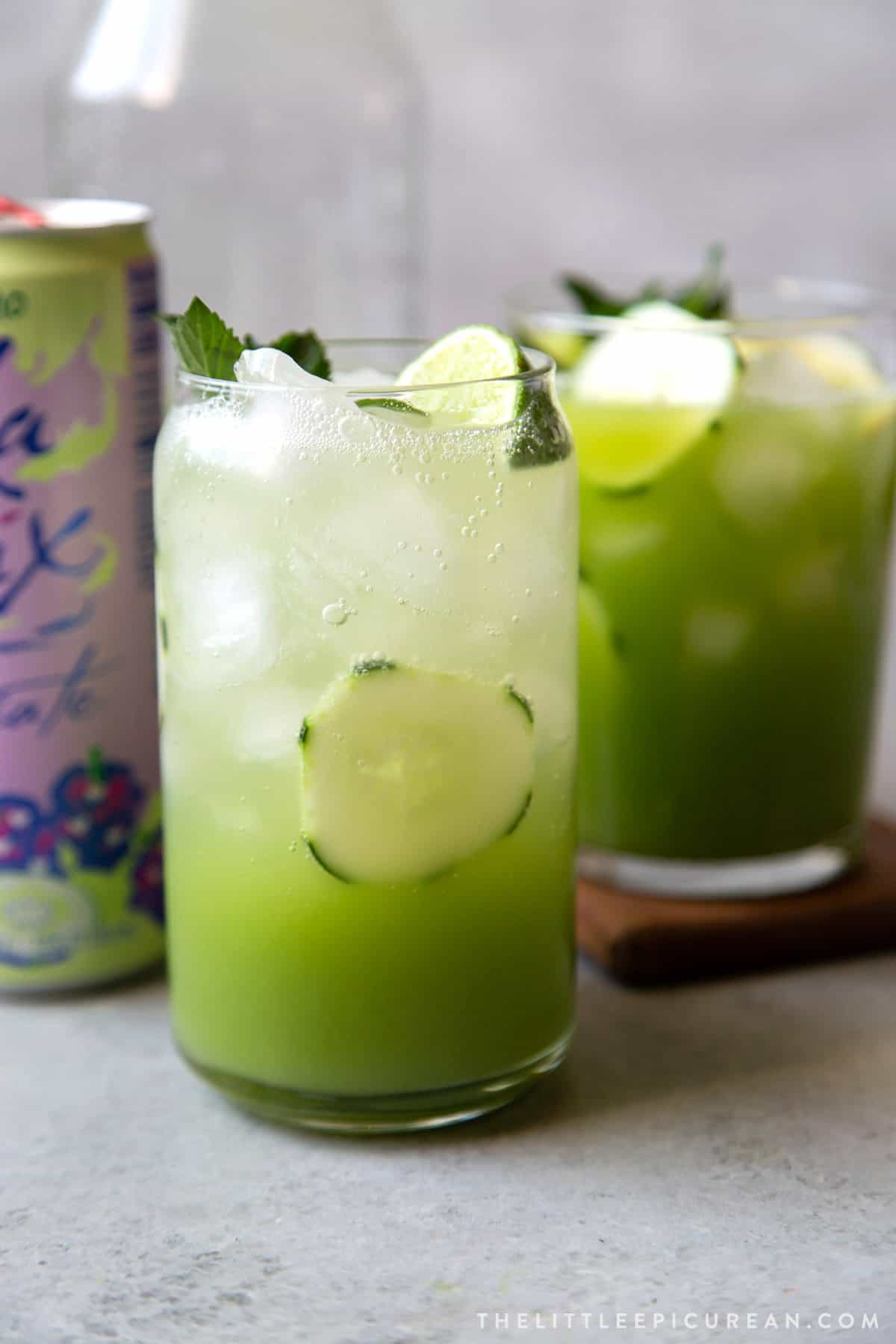 How long does Agua Fresca keep in the fridge?
Agua fresca is unpasteurized fresh juice. As such, it has a short shelf life.
It is best enjoyed fresh over ice the same day it is made. However, you may store the agua fresca in the fridge for up to 72 hours.
Stir or shake the contents before serving. The juice may separate from the filtered water over time.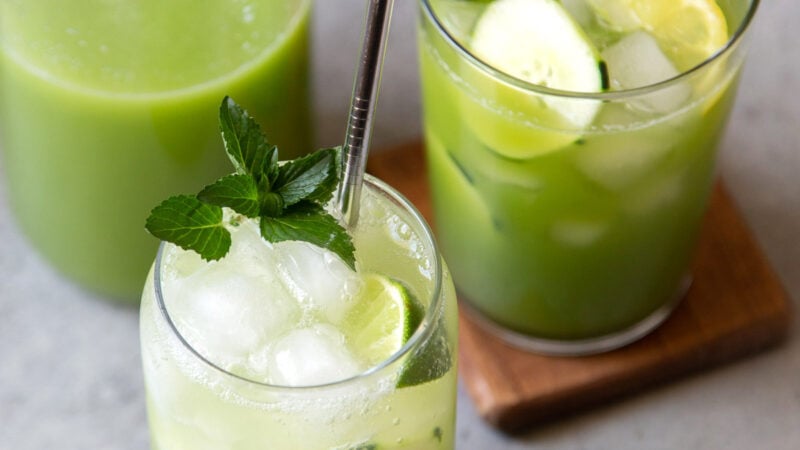 Cucumber Agua Fresca
Agua fresca de pepino or cucumber agua fresca is a delicious and refreshing beverage made from fresh cucumbers, citrus juice, water, and a touch of sweetener. Drink this juice as is or top with sparkling water. Mix with alcoholic spirit of choice to make fresh cocktail! Yield: 4 ½ cups
Equipment
Blender

strainer or cheesecloth
Ingredients
2

pounds

cucumber

2

cups

filtered water

3

Tbsp

lemon juice,

fresh squeezed

1

Tbsp

lime juice,

fresh squeezed

½

cup

simple syrup,

or more to taste
Simple Syrup
1

cup

water

1

cup

granulated sugar
Instructions
In a blender, combine cucumber, filtered water, lime juice, and lemon juice. Process until smooth.

Pour mixture through a fine strainer (or cheesecloth lined strainer) to separate the pulp. Squeeze out all must liquid as you can. You will end up with about 4 cups of liquid. Discard pulp.

*Straining is optional, but highly recommended.

Pour into a large pitcher. Sweeten with 1/2 cup simple syrup, or adjust according to taste preferences. Enjoy immediately served over ice. Or, keep chilled in an airtight container in the fridge until ready to serve.
Simple Syrup:
Combine water and sugar in a heavy bottom sauce pot. Set over high heat and bring to a boil. Cook until sugar has dissolved.

Remove from heat and cool to room temperature. Transfer to an airtight container. Keep in the fridge up to a month.
Notes
Agua fresca keeps in the fridge for up to 72 hours. Ideally, you should consume the fresh juice within 48 hours for best results. 
Any variety of cucumber will work (slicing or pickling). You may keep the skin on, peel some of the skin, or peel all the skin. Keep in mind: there is flavor in the skin of the cucumber. 
Use fresh cucumbers that are firm to the touch. Do not sure soft or soggy cucumbers. 
Sparkling Cucumber Agua Fresca Recipe:
Add 1/2 cup cucumber agua fresca to serving glass half full of ice. Top with chilled sparkling water of choice. Stir to combine.