This quick and easy two ingredient pizza dough is a simple mixture of self-rising flour and Greek yogurt. Enjoy fresh from the oven, homemade pepperoni pizza in less than 30 minutes from start to finish!
I first saw this pizza dough technique on the tv show Naturally, Danny Seo. He calls it yogurt pizza dough and the simplicity of this recipe is pure genius!
After a quick Google search, turns out two ingredient pizza dough is quite popular. I'm a bit upset I only learned about this now. This would have been such a game changer during my college years.
You may have seen two ingredient bagels (also known as the Weight Watchers bagels). Concept is the same in which self-rising flour and yogurt are mix together.
While this two ingredient pizza dough recipe is no match or comparison to real, yeast raised pizza dough, it's pretty darn tasty.
It's a wonderful, quick and easy alternative when you need/want/require pizza stat. Best of all, this recipe doesn't require the use of any fancy equipment. All you need is a mixing bowl and spatula.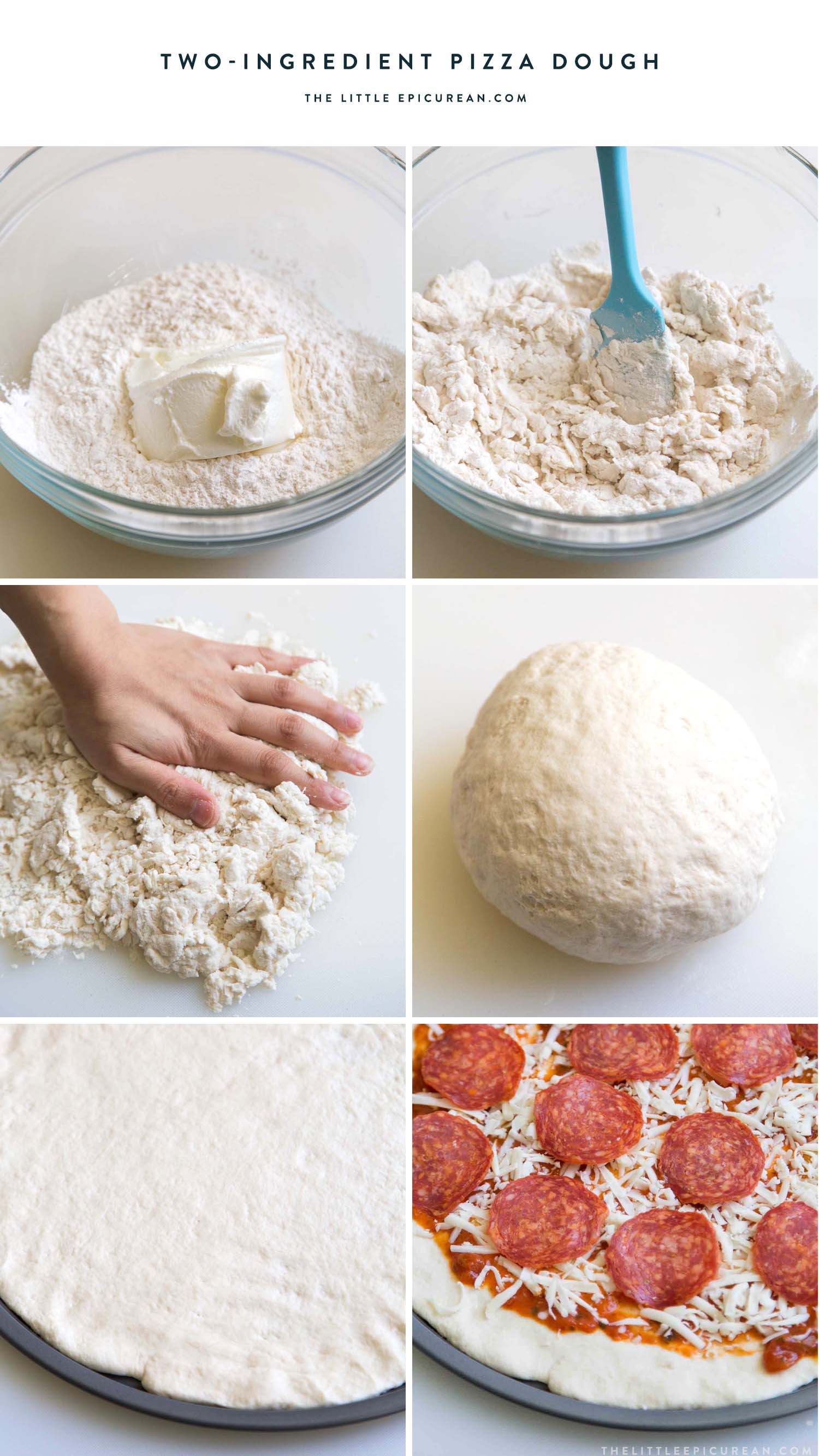 How to make two ingredient pizza dough
Combine self-rising flour and whole milk Greek yogurt in a large bowl until it forms a "shaggy mess."
Dump out the dough onto a clean work surface and knead the the dough together by hand until it is smooth and elastic. It takes about 5 minutes of kneading. No resting or proof time required.
After the dough is smooth, simply roll it out to a 13-inch circle and place on a baking sheet (pizza pan, cookie sheet, etc).
Finish with sauce, cheese, and any other desired toppings.  Bake in a preheated 450°F oven for 12-15 minutes until cheese has melted and the crust has browned.
What is self-rising flour?
Self-rising flour is a combination of flour, baking powder, and salt. It is most commonly used for biscuits, scones, and quick breads. I used store-bought self-rising flour for this recipe.
However, you can easily make your own self rising flour by using one of these recipes: self-rising flour 1, self-rising flour 2, or self-rising flour 3.
Whole Milk vs Reduced Fat Yogurt
I tested this recipe using whole milk Greek yogurt and 2% Greek yogurt. Obviously the biggest different because the two yogurts is the amount of fat.
The whole milk yogurt produced a fluffier, chewier dough. The dough was easier to knead together.
The 2% yogurt required a little more work to knead. While the cooked dough tasted the same as the whole milk yogurt, the 2% yogurt dough is a bit crunchier.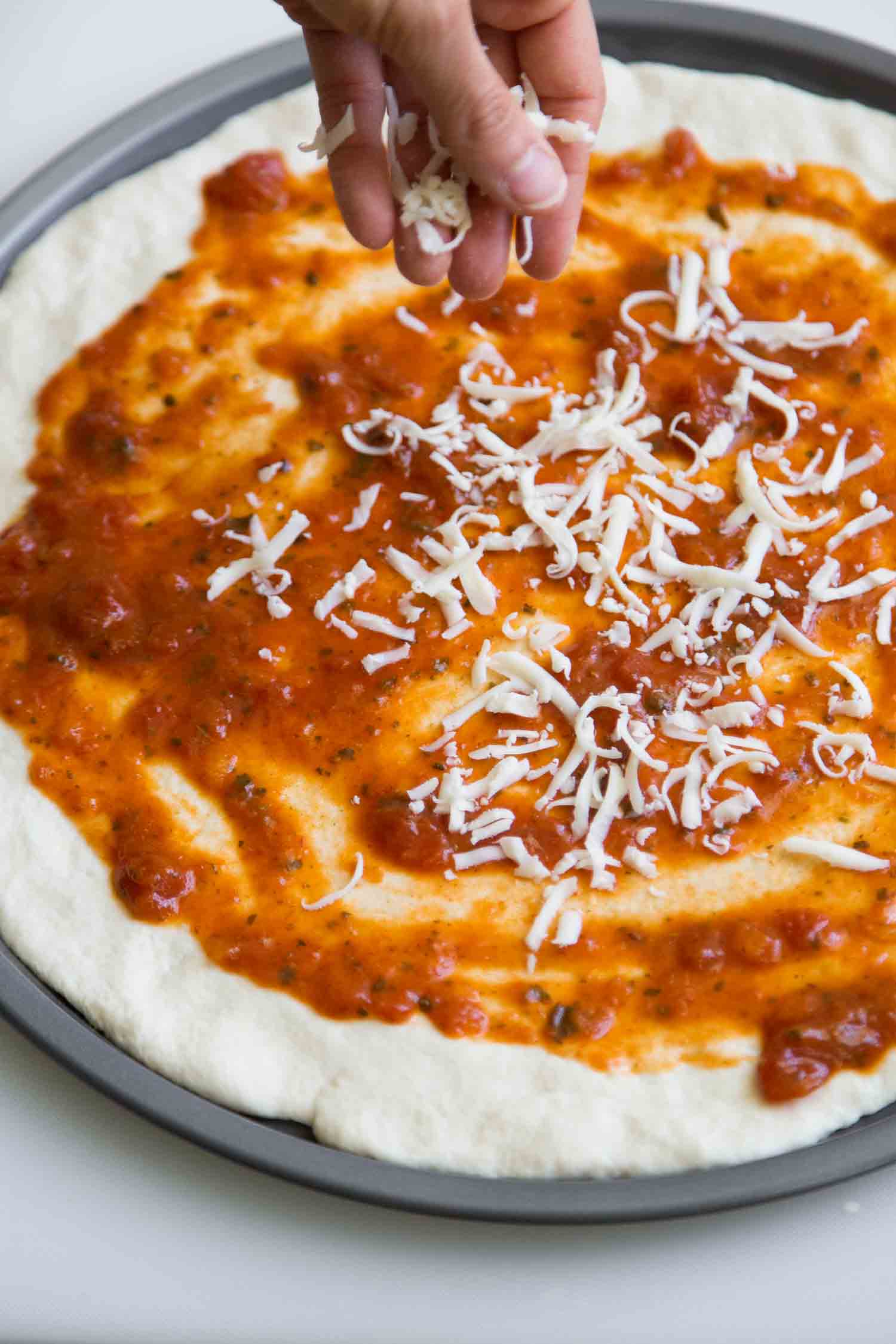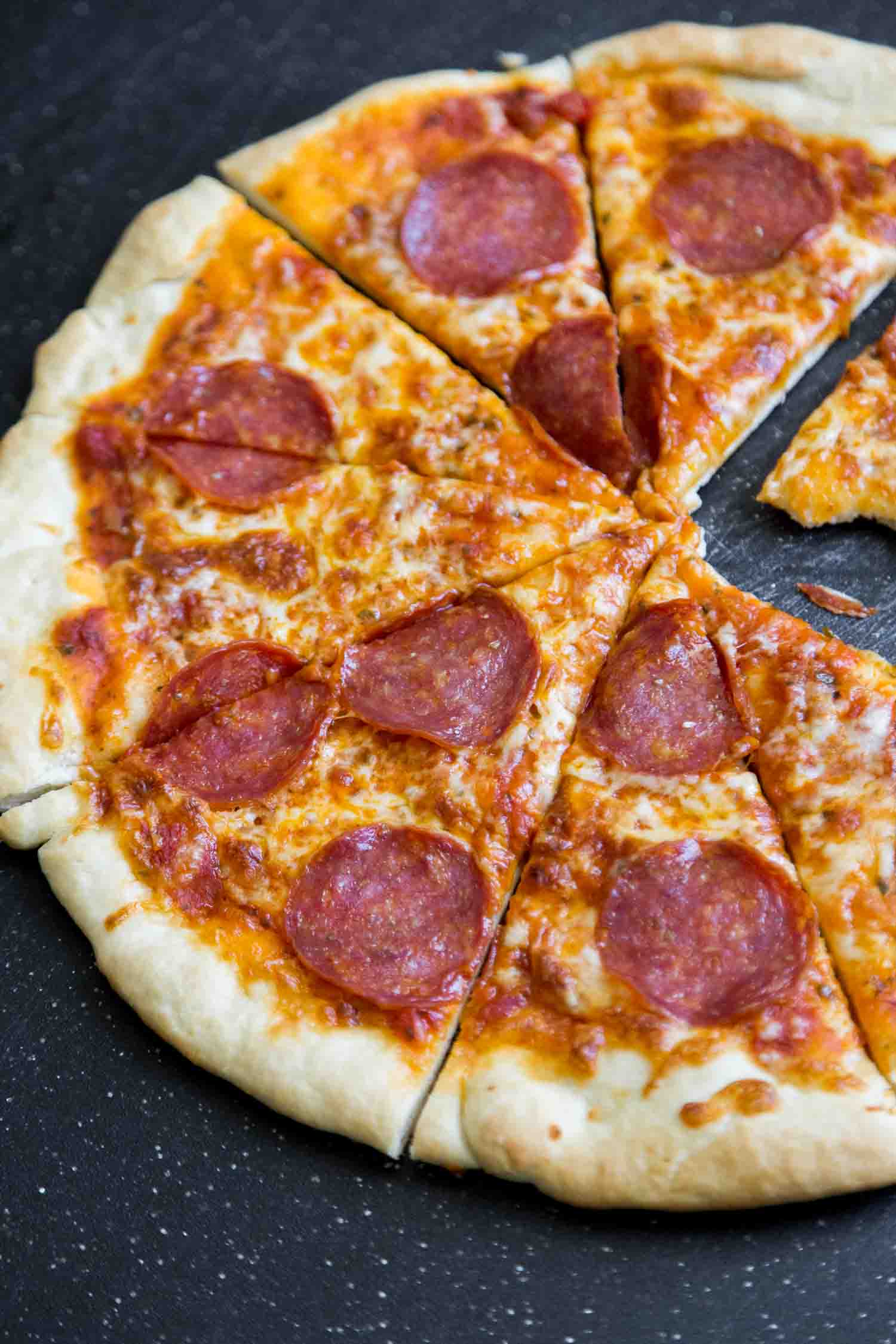 Two Ingredient Pizza Dough
Ingredients
Pizza Dough:
2

cups

self-rising flour

1

cup

full-fat plain Greek yogurt
Toppings:
3

Tablespoons

marinara sauce, or pizza sauce

1/2

cup

shredded mozzarella cheese

pepperoni slices

1

Tablespoon

olive oil, for brushing crust
Instructions
Pizza Dough:
Preheat oven to 450°F. In a large bowl, use a sturdy spatula to combine flour and yogurt until mixture clumps to a shaggy dough. Dump mixture onto a lightly floured work surface. Knead dough together by hand for about 5-8 minutes, until dough is smooth and elastic. Dust with additional flour as needed if dough is too sticky.

Roll dough out to a 13-inch circle. Place on pizza tray, cookie sheet, or baking sheet. Spread marinara sauce over dough, leaving about one inch border for the crust. Sprinkle cheese over sauce. Top with pepperoni. Brush olive oil on exposed crust.

Bake for 12-15 minutes until cheese has melted and the crust and browned.