These white chocolate strawberry scones are best warm, fresh from the oven. The hint of lemon zest brings out the sweetness of the strawberries, while the oven heat gently caramelizes the white chocolate chips.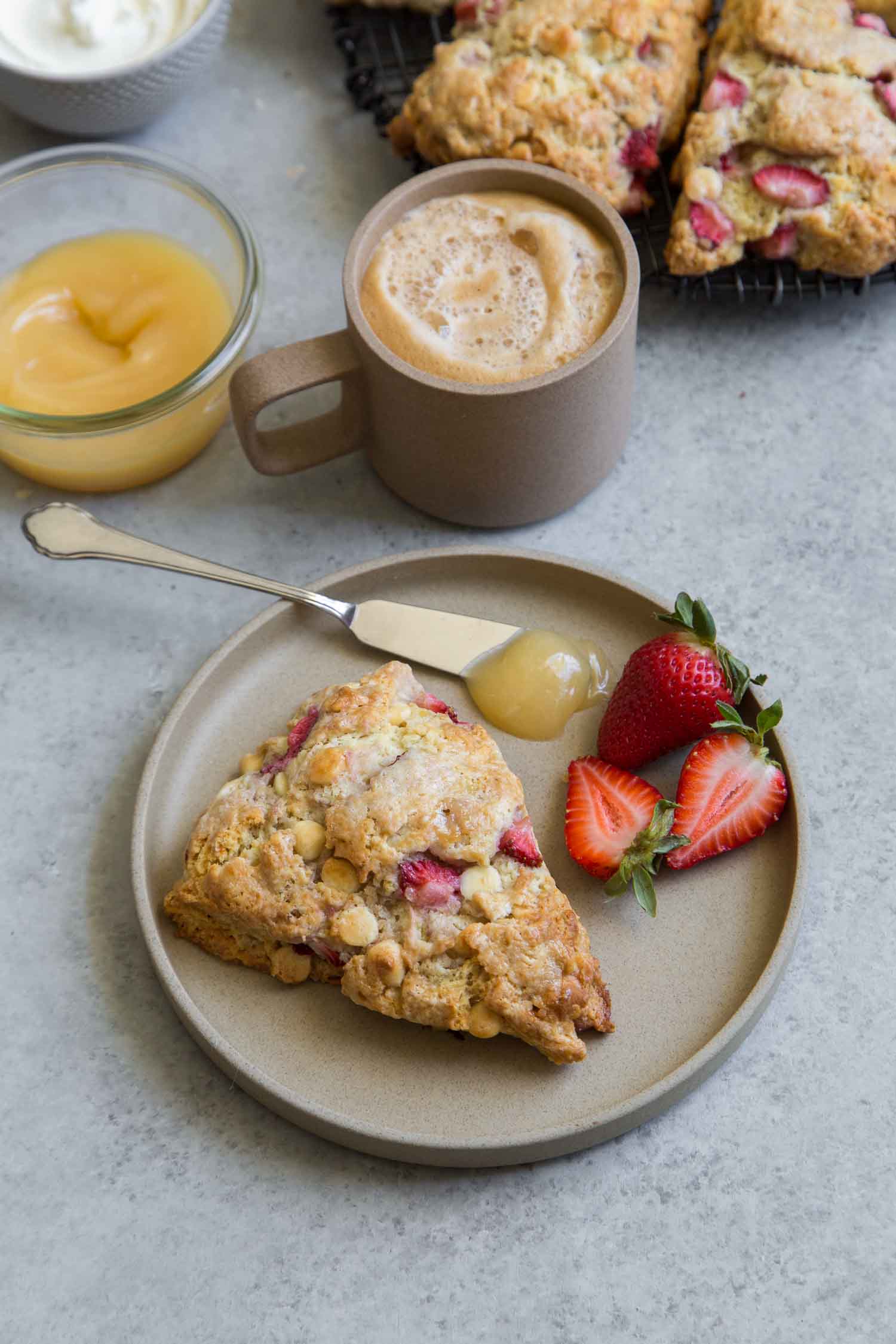 When it comes to scones, I have three requirements. They better be moist, buttery, and must pair well with coffee. These white chocolate strawberry scones checks off all the boxes.
I have never been the biggest fan of white chocolate. It is really chocolate? Sure it contains cocoa butter, but it doesn't have any cocoa solids (cocoa powder). While I prefer dark chocolate (at least 72% cocoa), I am learning to appreciate white chocolate.
We can have a long discussion about the validity of white chocolate being called "chocolate" or we can simply agree that white chocolate is a tasty ingredient that adds much creaminess and flavors to baked goods and treats.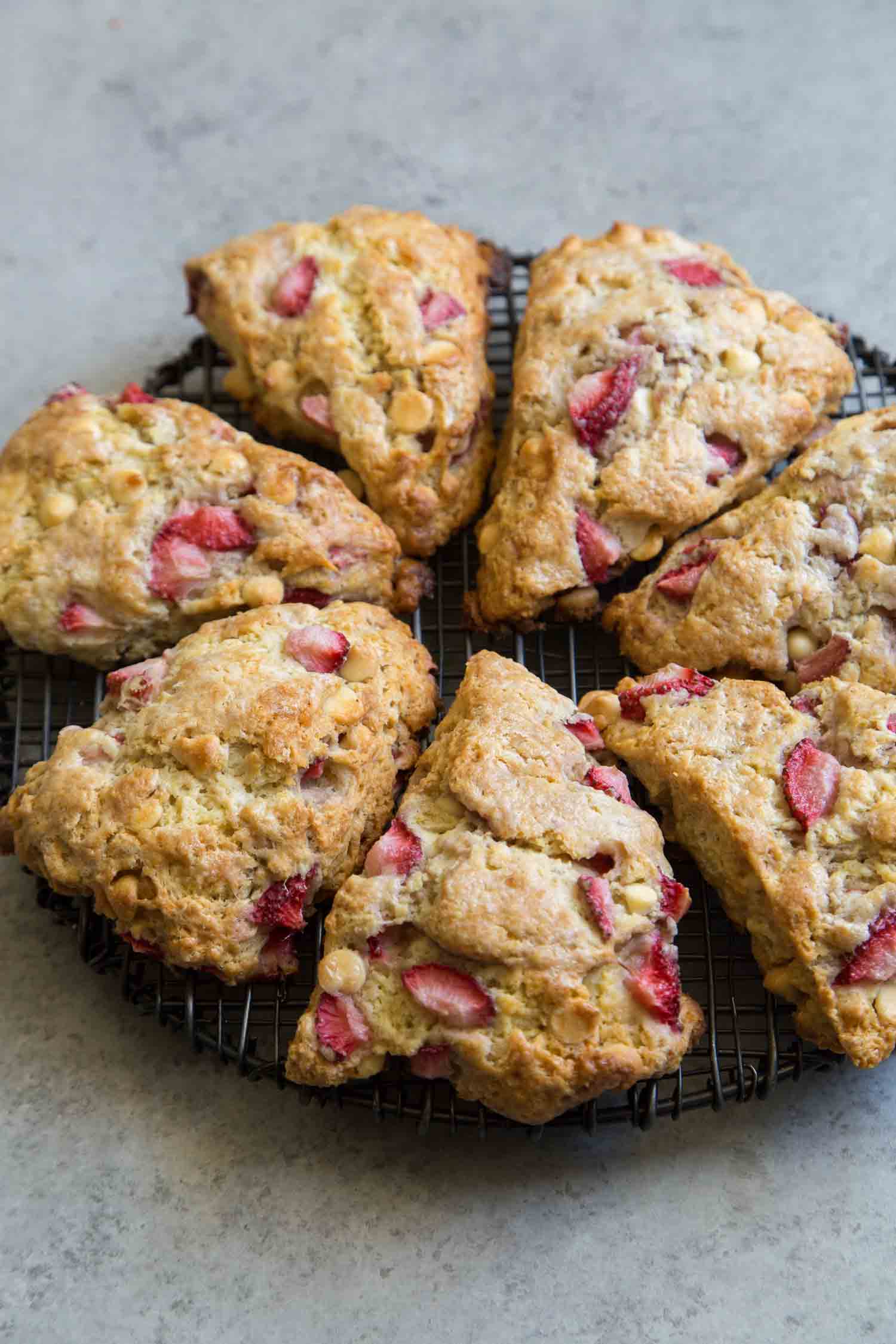 White Chocolate Strawberry Scones
Scones are simple and easy to make. They require few ingredients. Best of all, you can add all sorts of different fruits, spices/herbs, and nuts to customize and cater to your tastes and preferences.
When it comes to making scones, is it very important to have COLD ingredients.  Whisk together the dry ingredients (flour, baking powder, etc) and toss in cold cubed butter. Cover and let that mixture chill in the freezer until all the ingredients are COLD.
You want everything to be cold. Cold mixing bowl, cold dry ingredients, cold butter, cold liquids, and even cold (or semi-frozen) strawberries. In scone making, butter (or choice of fat like lard or shortening) is cut into the dry ingredients. This technique helps to create that flakey texture.
The little bits of butter distributed in the dry mixture melts during baking, producing pockets of air, thus creating the flakey textured layers.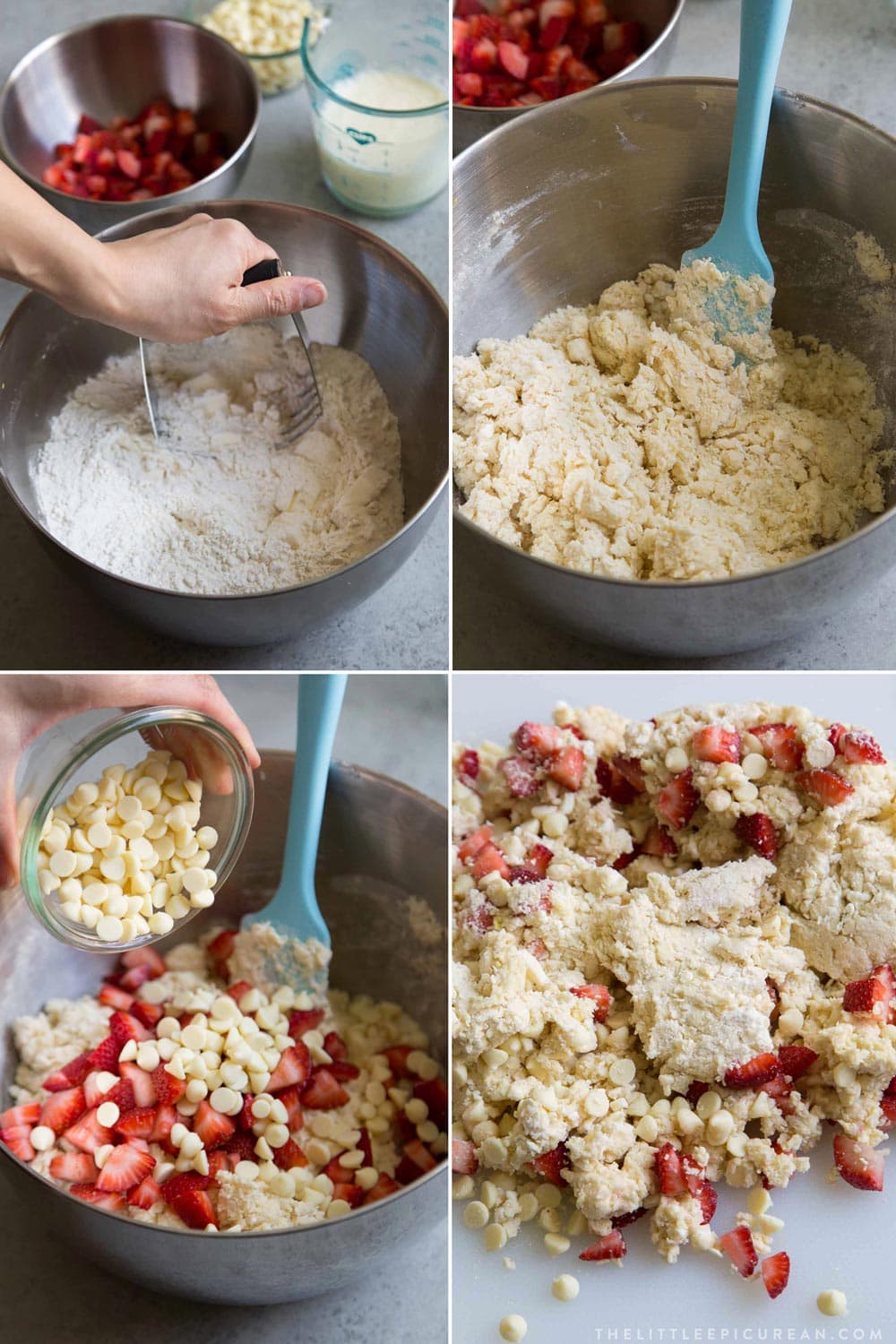 The butter can be cut into the flour mixture using a handy dandy pastry cutter tool. You can also use two forks, or simply work quickly and use your fingers to rub the cold butter into the flour. The mixture will end up looking like coarse, pebbled sand.
Cold liquids (in this case- milk, cream, and egg) are added and folded in. Be careful not to overmix. The dough should look like a "shaggy mess." Follow by adding white chocolate chips and semi-frozen cut strawberries. Knead the dough together until the mix-ins are thoroughly distributed.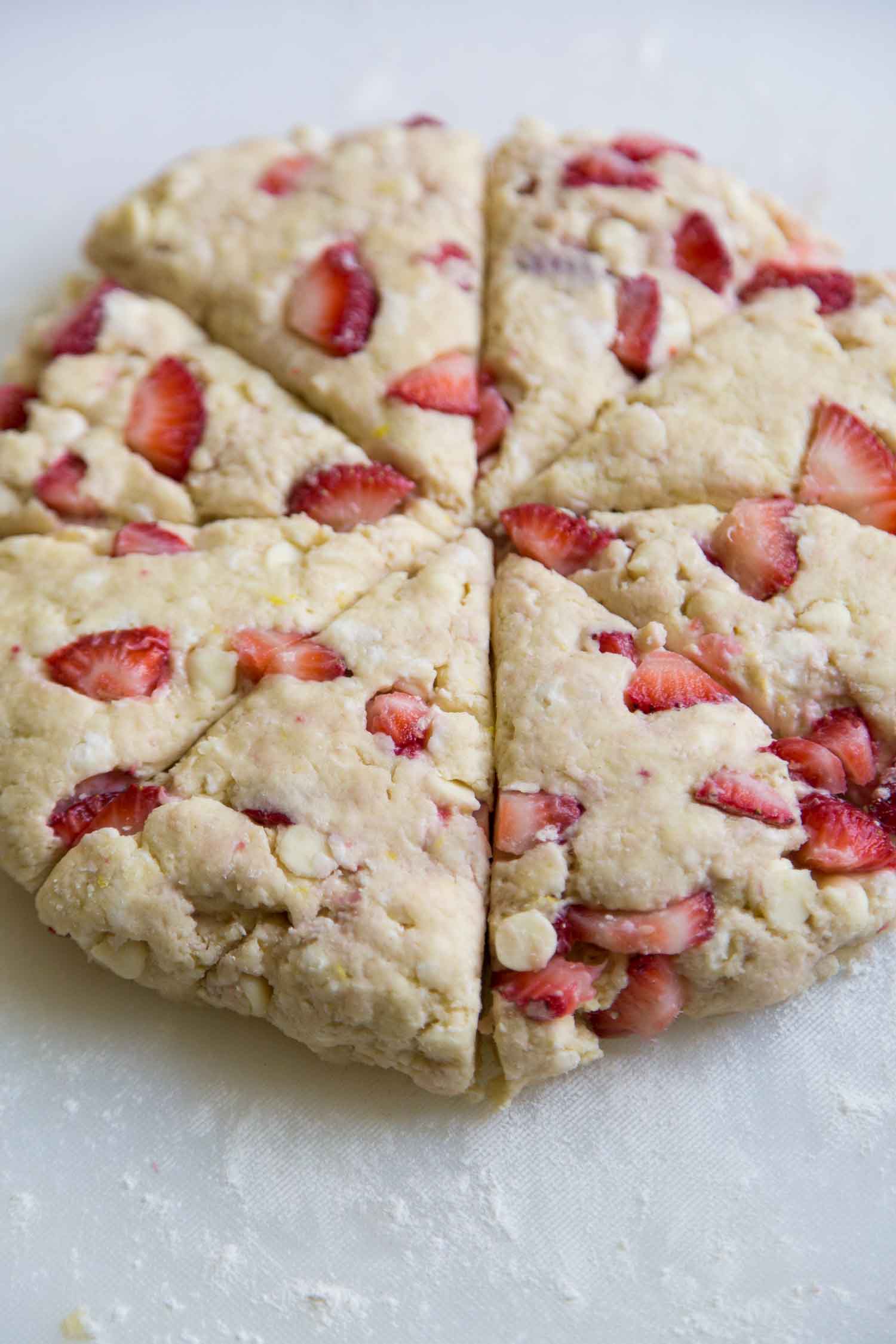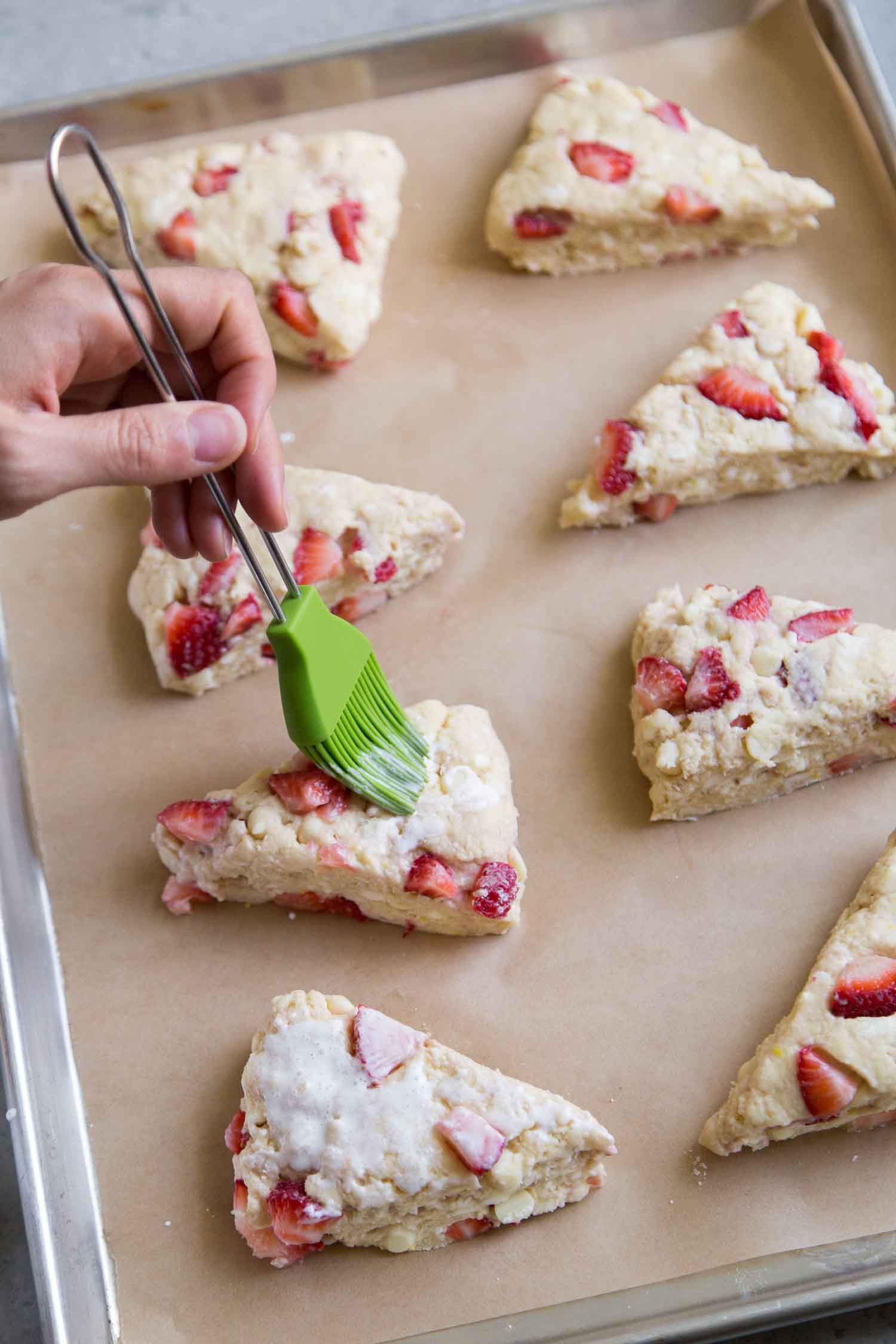 The scone dough is cut into 8 equal wedges. You can also cut these into squares or rectangles, or use a cooker cutter to punch out rounds.
Before baking, the scones get lightly brushed with heavy cream. This will help give the scones a nice crust on top.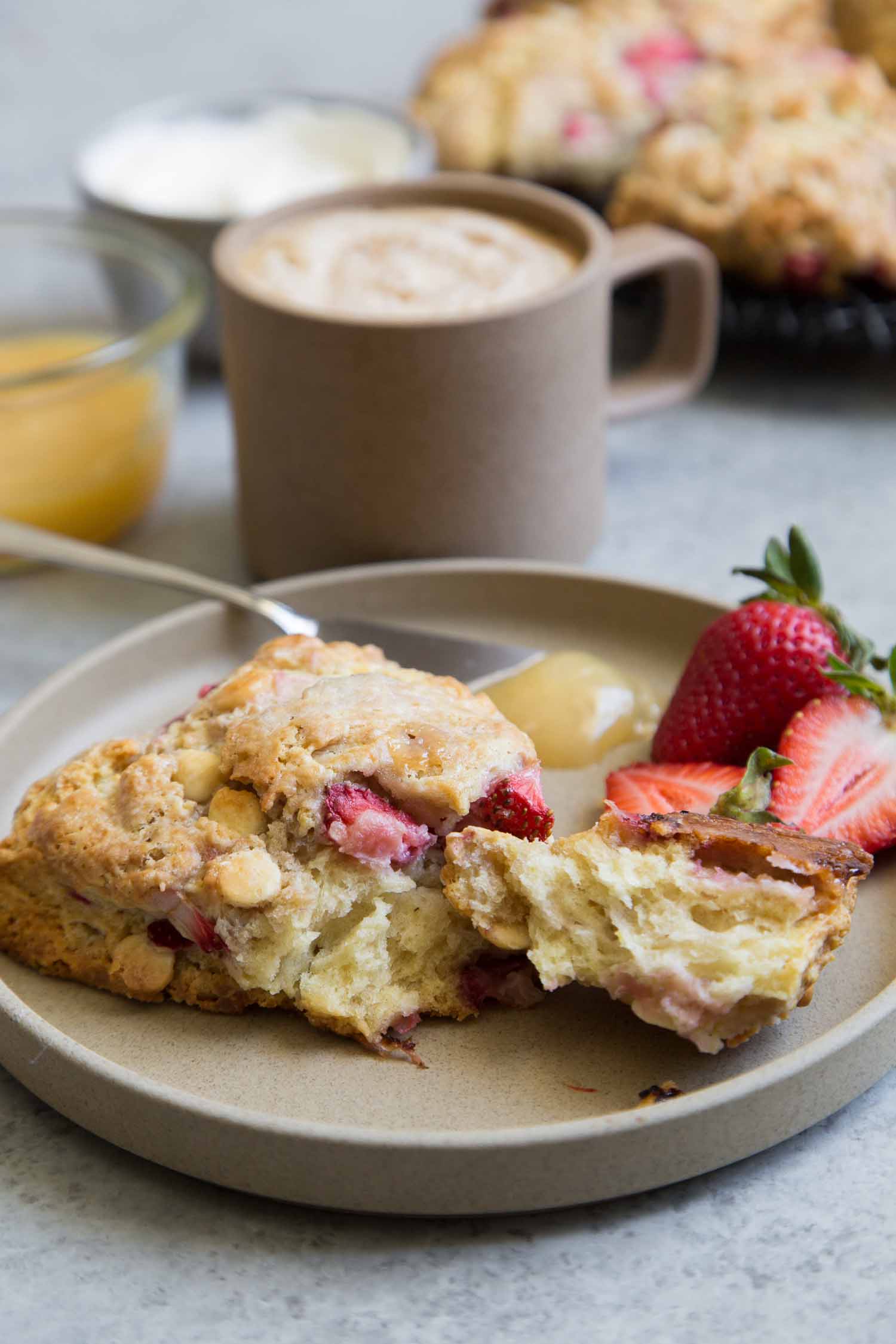 Not only are these scones flavored with white chocolate chips and fresh strawberries. The dough has a touch of finely grated lemon zest. This helps to enhance the sweetness of the strawberries. And because strawberries and lemon are such a great pair, I suggest serving these scones with some lemon curd.
Grab yourself a warm scone and fill your favorite mug with hot coffee. It's time for a little relaxation break.
White Chocolate Strawberry Scones
Ingredients
2 1/2

cups

all-purpose flour

2

teaspoon

baking powder

1

teaspoon

baking soda

1/2

teaspoon

fine sea salt

1/4

cup

granulated sugar

1

teaspoon

finely grated lemon zest (1 lemon)

1/2

cup

unsalted butter, cut into cubes, cold

1

cup

chopped strawberries, bite-sized

1/2

cup

whole milk, cold

1/4

cup

heavy cream, cold

1

large egg

1

cup

white chocolate chips

heavy cream, for brushing tops
Instructions
Preheat oven to 400 degrees F. Line baking sheet with parchment paper or silicon baking mat. Set aside.

In a large bowl, whisk together flour, baking powder, baking soda, salt, sugar, and lemon zest. Toss in cubed butter. Cover and let chill in the freezer for 15 minutes until ingredients are cold.

Place strawberries in a freezer safe tray or bowl. Cover and chill in the freezer for 15 minutes until cold.

In a small bowl, whisk together milk, cream, and egg until well combined.

Remove flour mixture from freezer. Using a pastry blender (pastry cutter) or two forks, cut butter into flour until mixture resembles coarse sand. Add wet ingredients and fold to combine until mixture is a shaggy mess. Gently fold in cold strawberries and white chocolate chips.

Dump coarse dough onto a lightly floured work surface. Gently knead the dough together until smooth and strawberries are well distributed. Pat dough into an 8-inch circle with a thickness of about 1-inch. Cut scones into 8 equal sized wedges.

Transfer scones onto prepared baking sheet, allowing at least 2-inches of space betweens cones. Lightly brush the top of scones with heavy cream.

Bake for 23-25 minutes until the scones have puffed up and the tops are golden brown in color. Let scones cool slightly on baking sheet before transferring to a wire rack to cool.

Serve scones warm or at room temperature with lemon curd, clotted cream, or fruit jam of choice.
Recipe Notes
Since the strawberries are not fully cooked during baking, I suggest storing any leftover scones in the fridge. Simply reheat in the microwave or toaster oven, or enjoy chilled!
All images and text ©The Little Epicurean.