This balsamic strawberry shortcake has balsamic vinegar marinated sliced strawberries and fresh whipped cream all stacked on a fluffy cream biscuit. Add a pop of flavor to the traditional summer shortcake!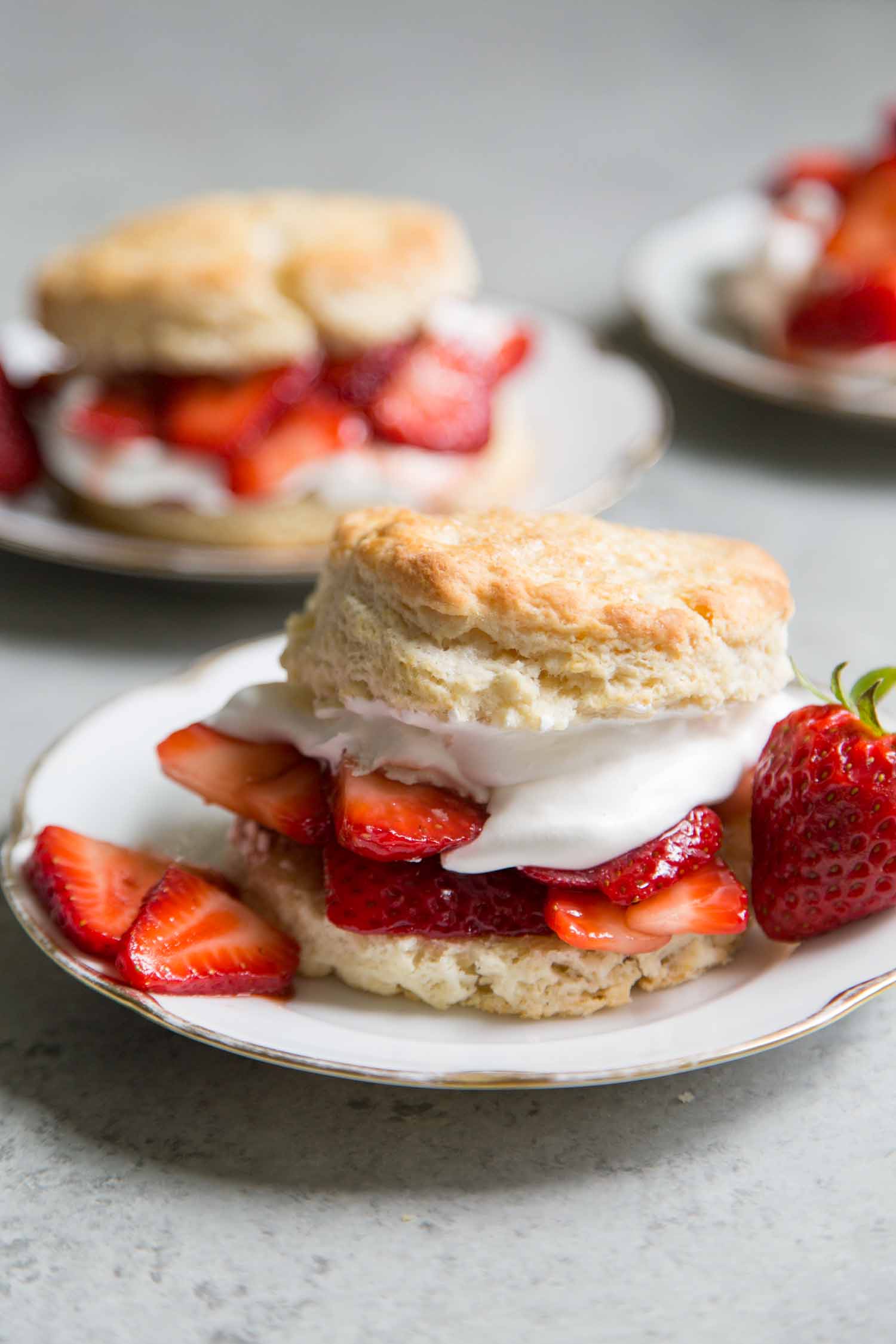 The annual California Strawberry Festival in Oxnard took place two weeks ago. This marks the start of strawberry season in SoCal!
I first learned about strawberry shortcake at a strawberry festival many, many years ago. Up until then, to me, strawberry shortcake was a either a Good Humor ice cream bar or a cartoon character from my childhood.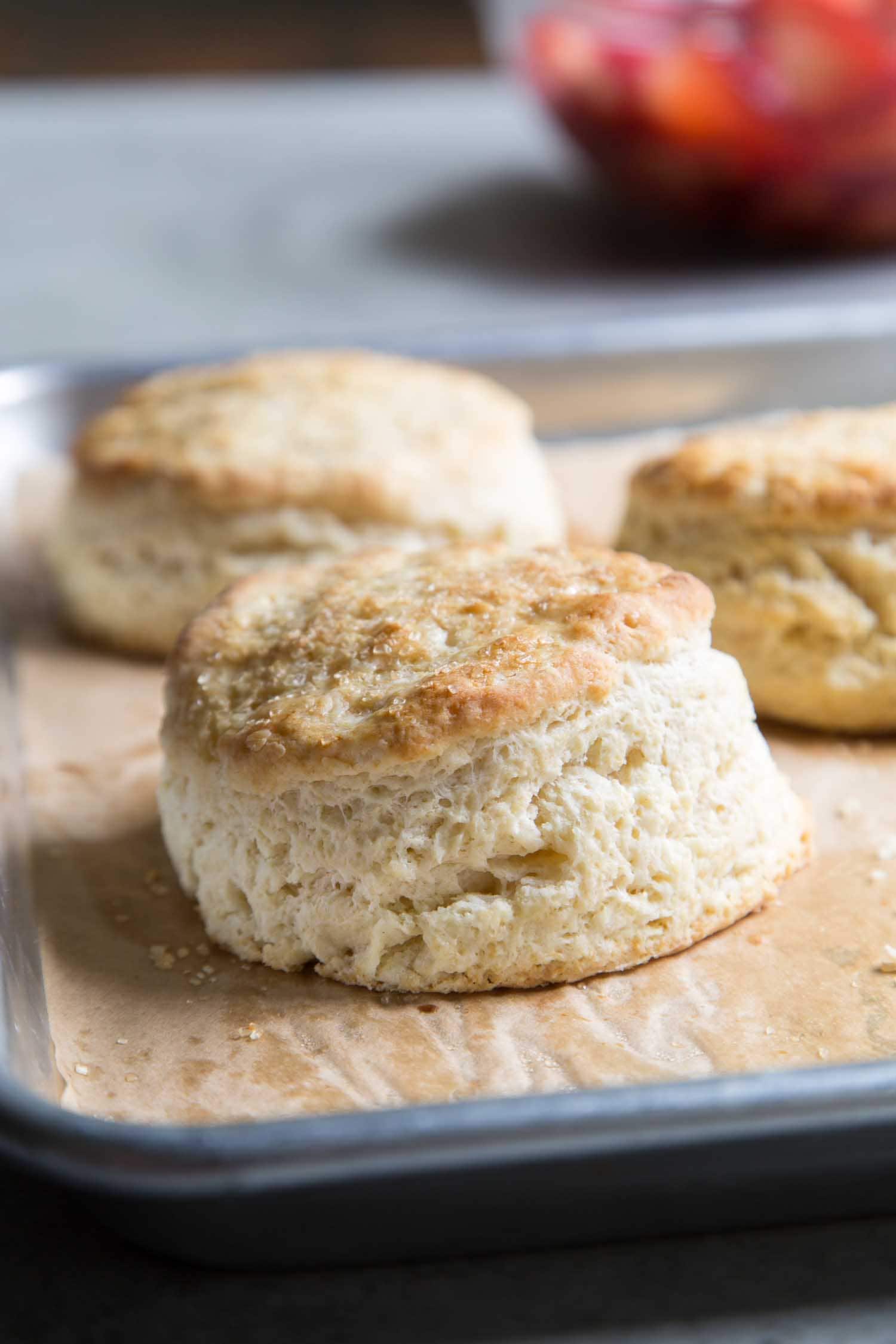 What is a shortcake?
There are many different variations on shortcakes. Essentially, a strawberry shortcake is comprised of three components: a baked pastry, strawberries, and whipped cream.
The shortcake pastry component can take many forms. Some resemble more of a cake, while others take the form of a biscuit. I've also seen cookies, shortbreads, and pound cakes used. And there's this strawberry shortcake doughnut!
This balsamic strawberry shortcake uses a fluffy cream biscuit. The biscuit is leavened using a combination of baking powder and butter. The baking powder rises the dough chemically, while the water in the butter helps to rise the dough through steaming.
The resulting biscuit is light and airy on the inside, yet sturdy on the outside. Thanks to the sprinkling of coarse sugar before baking, there's also a welcome crunch with each bite.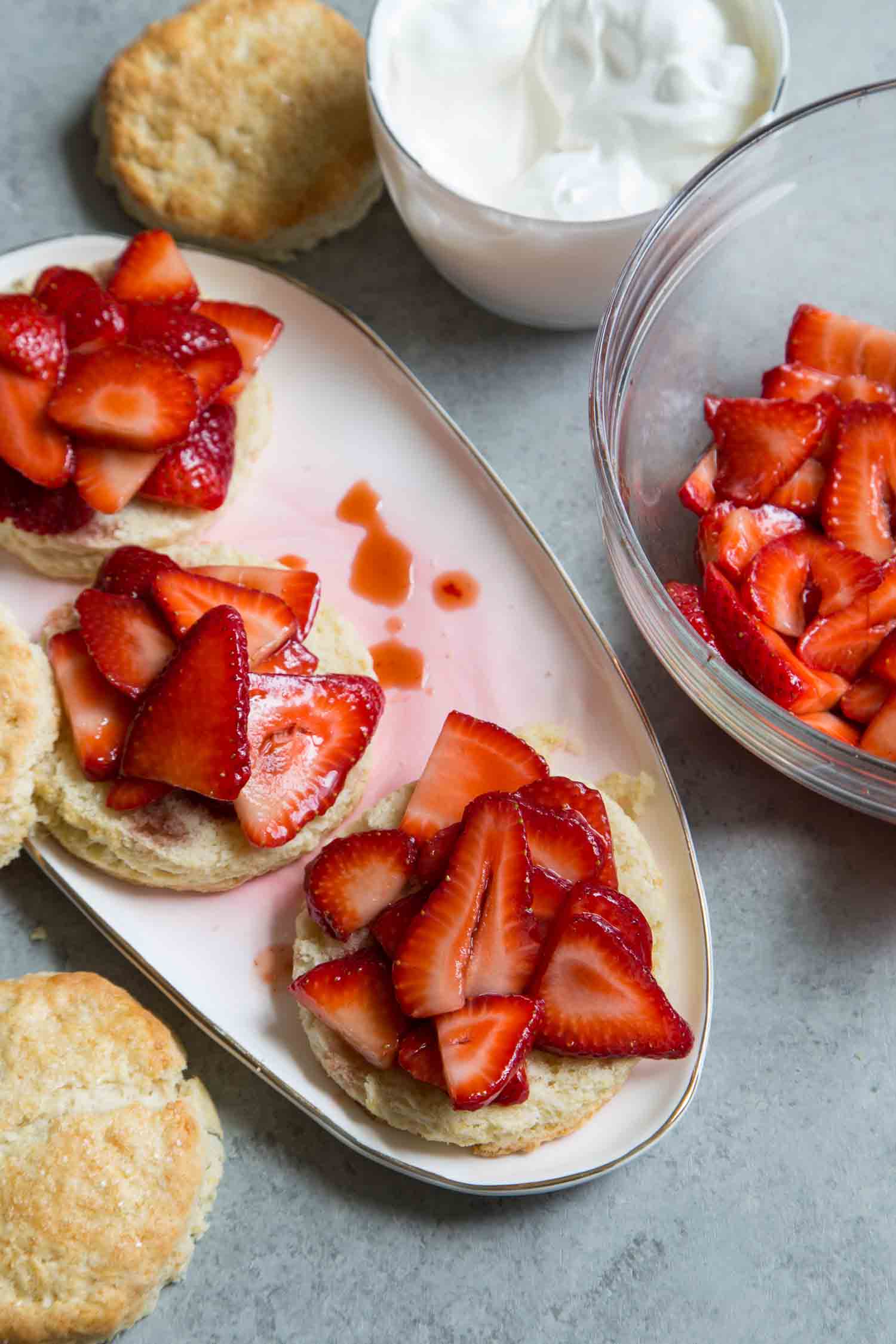 Balsamic vinegar and strawberries pair well together
You've probably seen this pairing in salads and other side dishes. Greens with strawberries with balsamic vinegar dressing  is nothing new.
These two are classically paired together. Ripe strawberries are sweet and slightly floral. Balsamic vinegar has a bit of tang, but it's also sweeter compared to other vinegars. The acid introduced by the balsamic vinegar enhances the flavors of the strawberries.
This is similar to how lemon zest or lemon juice is often added to fruit desserts to bring a bright pop of flavor. In the right amount, the balsamic vinegar does not overpower the strawberries. Together they work together to create harmonious flavors.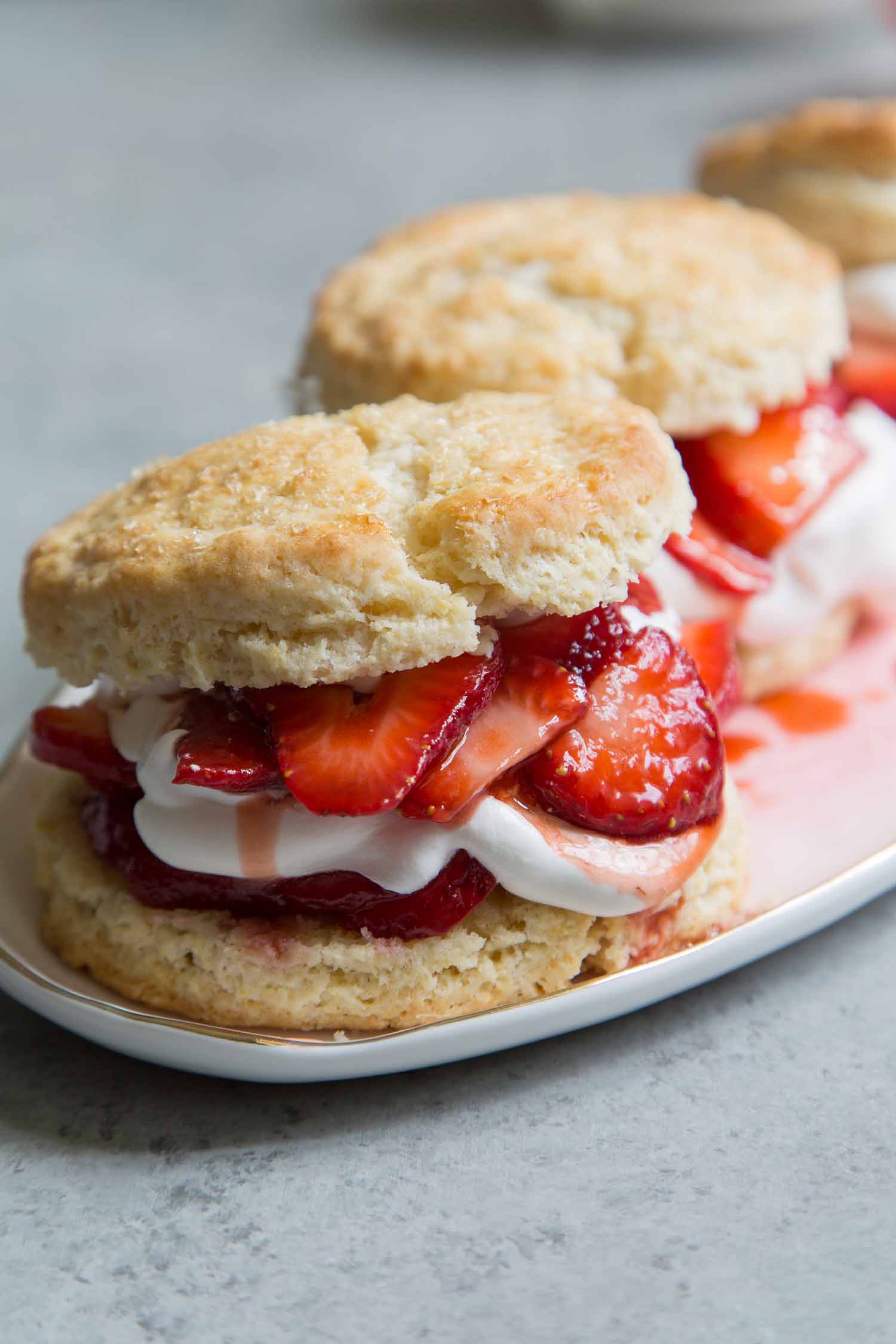 Balsamic Strawberry Shortcake
Yield: makes 4 biscuits
Ingredients
Shortcake Biscuit
1 1/2

cups

all-purpose flour

1/2

teaspoon

fine sea salt

1

Tablespoon

baking powder

2

Tablespoons

granulated sugar

6

Tablespoons

(3 oz) unsalted butter, cut into cubes

2/3

cup

half & half, or heavy cream

turbinado sugar, for sprinkling
Balsamic Strawberry:
1

pound

strawberries, hulled and sliced

2

Tablespoons

granulated sugar

1

Tablespoon

balsamic vinegar
Whipped Cream:
1 1/2

cups

heavy cream, chilled

3

Tablespoons

powdered sugar
Instructions
Biscuit:
Preheat oven to 375 degrees F. Line baking sheet with parchment paper or silicone mat. Set aside.

In a large bowl, whisk together flour, salt, baking powder, and sugar. Toss in butter. Cover and let chill in the freezer (for about 5 minutes) or fridge (about 10 minutes) until ingredients are cold.

Cut butter into flour mixture suing a pastry blender or the tines of two forks until mixture resembles coarse sand.

Reserve one tablespoon of cream. Pour remaining cream into dough mixture. Stir until combined. Transfer shaggy dough onto a lightly floured work surface. Gently knead dough together and pat to a thickness a little over 1/2-inch.

Use a floured 3 1/4-inch round cutter to punch out biscuits. Arrange biscuits on prepared baking sheet. Gather remaining dough and roll out again to punch out additional rounds.

Brush reserved cream over the tops of biscuits. Sprinkle turbinado sugar on top. Bake for 20-25 minutes until biscuits have risen and are lightly golden brown.
Balsamic Strawberries:
Toss together strawberries, sugar, balsamic vinegar, and salt. Allow mixture to marinate for 10-15 minutes before assembling shortcakes.
Whipped Cream:
In a large bowl, whip together cold heavy cream and powdered sugar to medium-firm peaks. Be careful not to over mix. Overmixing will cause mixture to separate or turn into butter. Alternatively, place cream and sugar in a large jar with a lid and shake until cream thickens.