Fans of traditional fried doughnuts, here's an autumn version of a classic sour cream doughnut: Maple Glazed Sweet Potato Cake Doughnuts!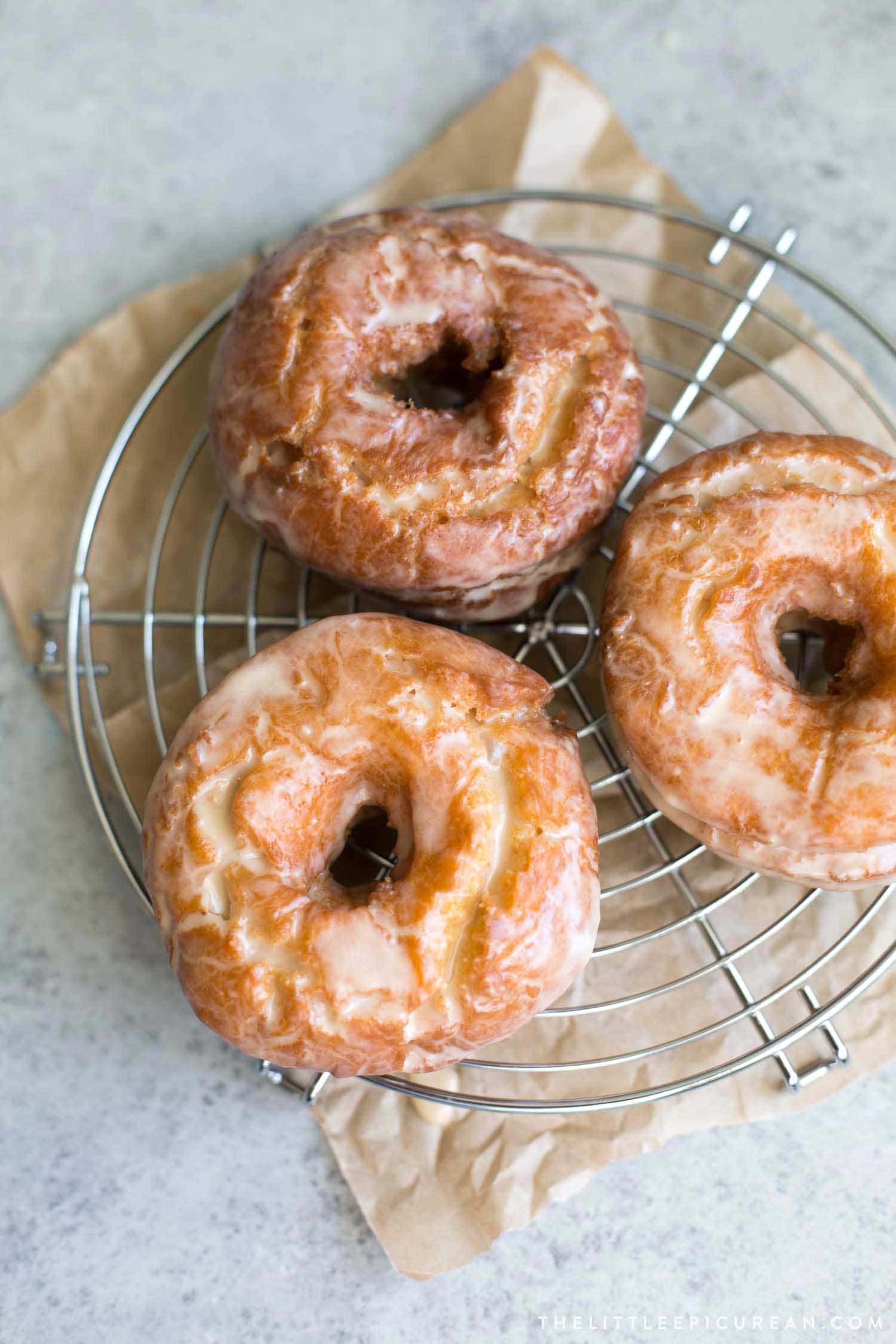 Do you spell it donut or doughnut? Are you a fan of the soft and fluffy yeasted variety or the more dense cake version?
Just please don't tell you prefer baked donuts or the traditional fried doughnuts! But if you like those better, I have a few recipes that might interest you: baked pumpkin donuts, triple chocolate baked donuts, and brown butter apple cider donuts.
For those that like cake doughnuts, I've got the perfect autumn treat for you- maple glazed sweet potato cake doughnuts!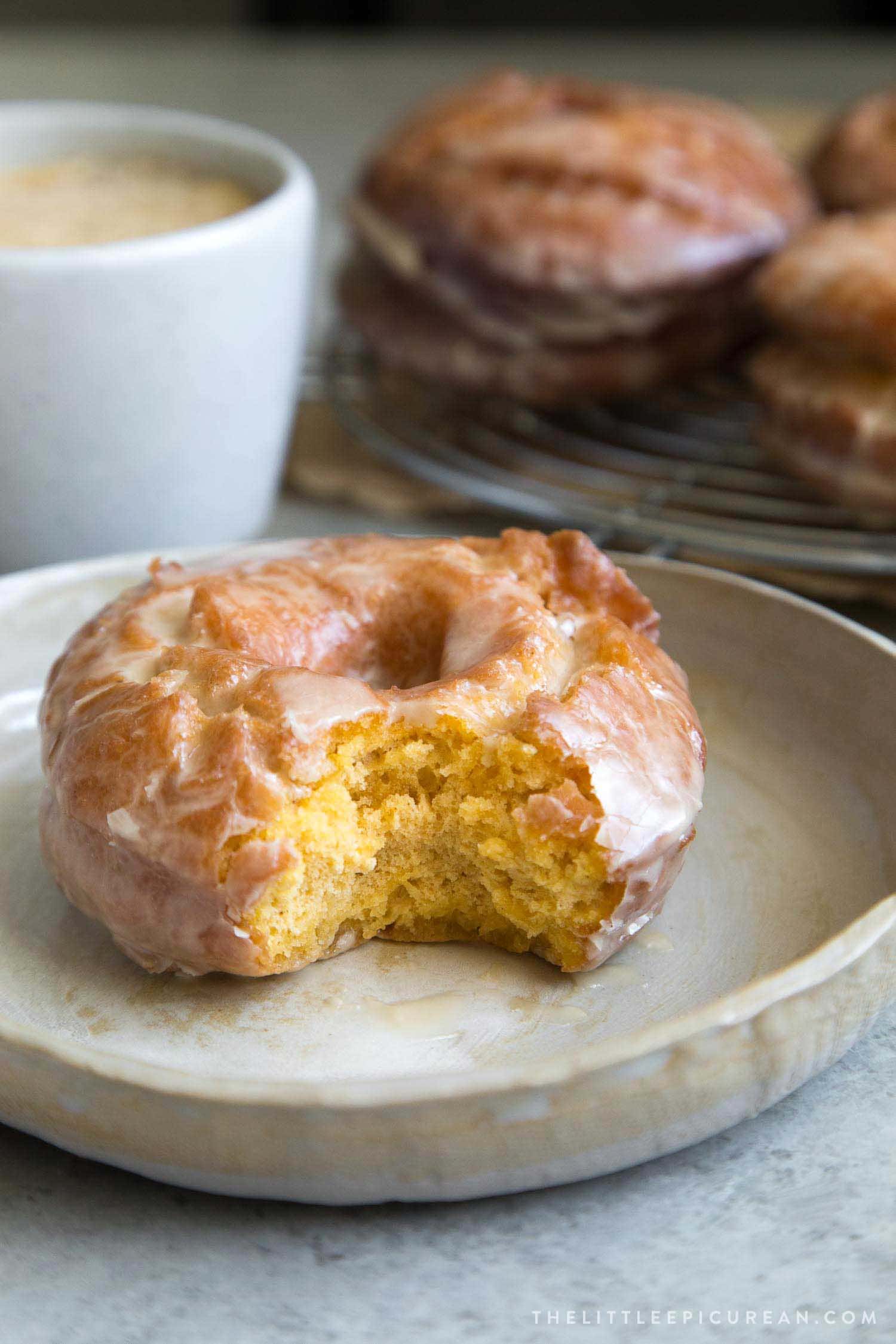 Maple Glazed Sweet Potato Cake Doughnuts
Sweet potatoes are widely available all year long. But did you know, autumn (October through December) is their peak season? Now it makes sense why this root vegetables is popularly used in holiday dishes.
Let's take sweet potato puree and add it to cake doughnuts! Similar to pumpkin puree, sweet potato puree adds moisture to baked goods and sweet treats. The puree also lends a beautiful golden hue to these cake doughnuts.
I used canned sweet potato puree for this recipe. Roasted sweet potato or microwaved sweet potato also works.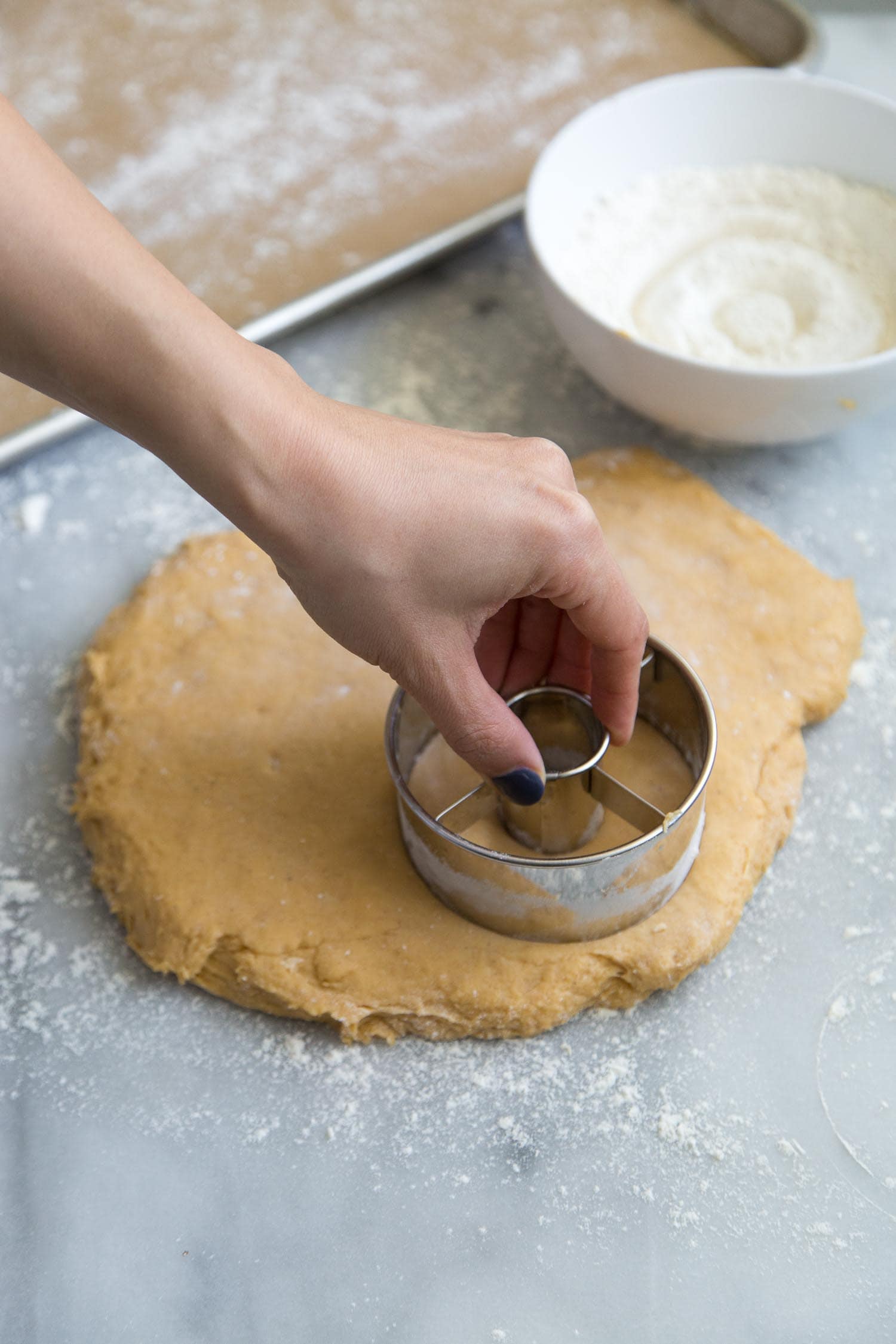 Mixing together Cake Doughnut Dough:
These sweet potato cake doughnuts contain no yeast. Instead, the dough relies on baking powder for it's leavening properties.
As such, make sure you are using relatively fresh baking powder. Over time, baking powder will lose its lifting powders.
Check the expiration label on your baking powder container. Otherwise, you may end with super dense cake doughnuts.
The sweet potato cake doughnut dough comes together easily, similar to mixing together cookie dough. While you can mix the dough by hand, I highly suggest using a stand mixer.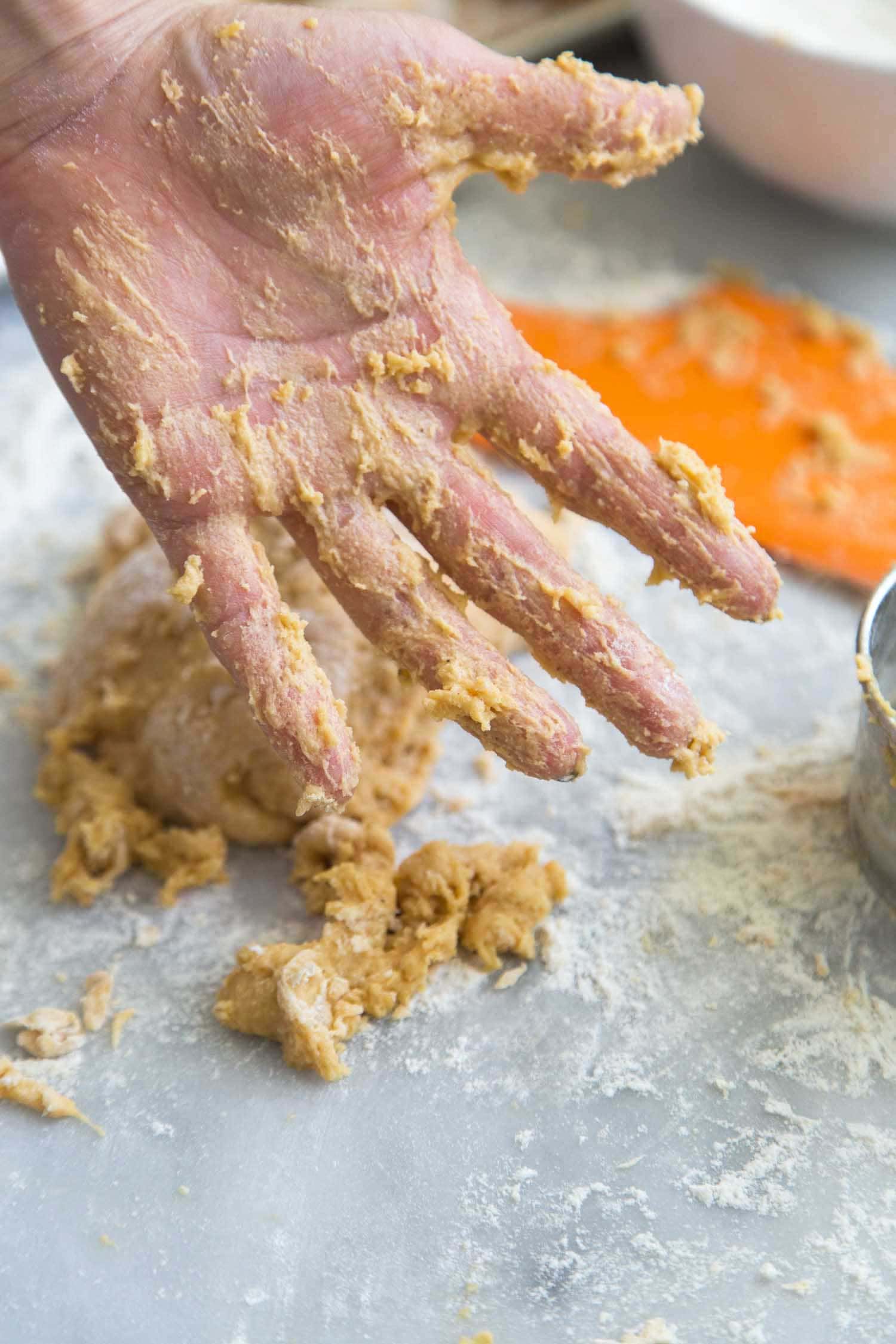 This dough is STICKY!
I'm not kidding. This dough will stick to your hands. Flour your hands, work on a generously floured surface, and be sure to flour the 3 1/2-inch dough cutter often.
If don't have a doughnut cutter, simply use a 3 1/2-inch round cookie cutter paired with a 1-inch round cutter for the center.
Since this dough doesn't contain yeast, the dough can be re-rolled several times. Gather any dough scrapes, knead together, and roll out again to punch out additional rounds.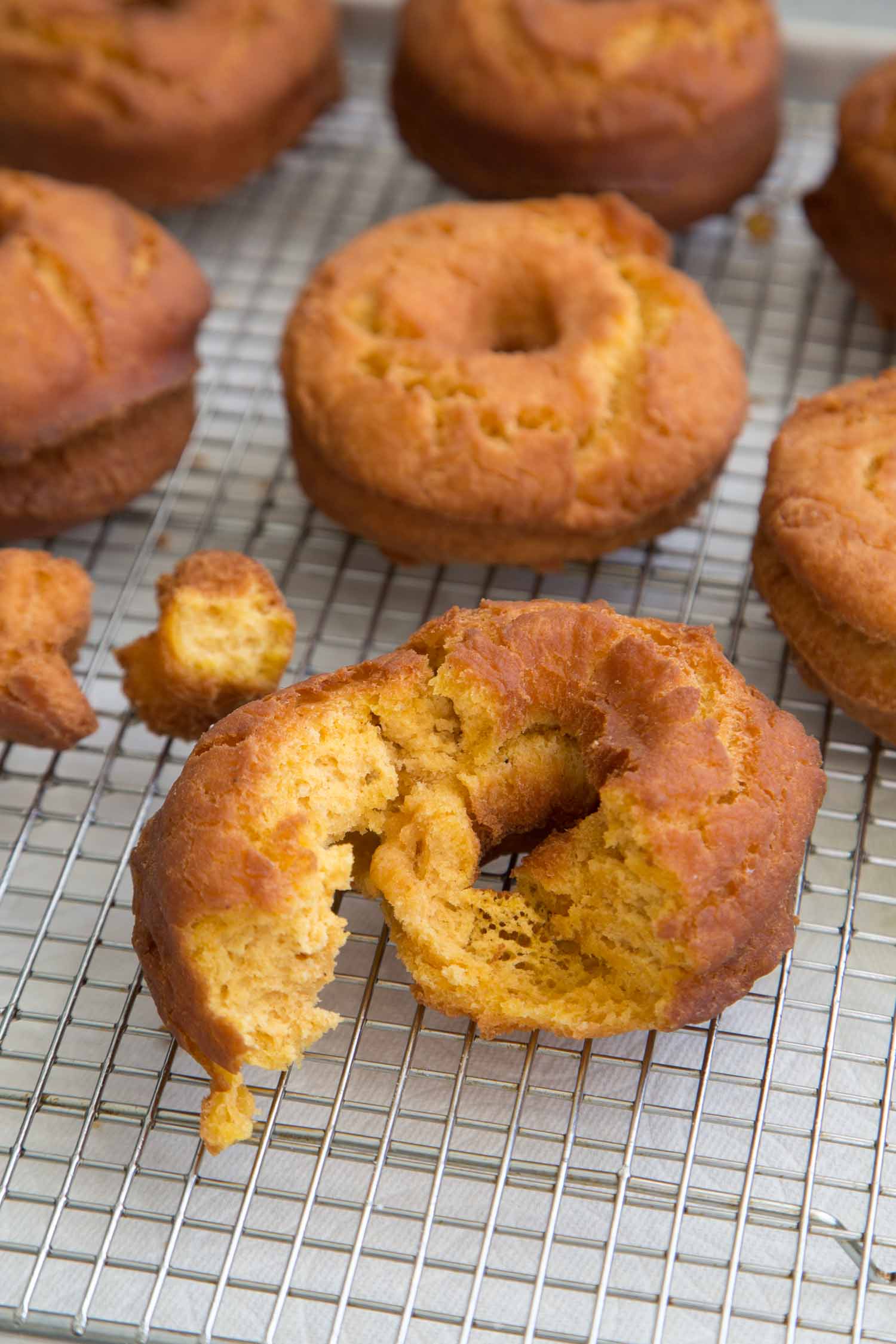 Shortening vs Oil Frying:
The majority of doughnut shops fry their goods in vegetable shortening. Since shortening is solid at room temperature, the doughnuts look and feel less greasy. It also results in a crispier exterior.
Since most of us don't have a giant tub of shortening lying around, you can also fry these doughnuts in vegetable oil or canola oil.
Canola oil is slightly healthier, while vegetable oil (soybean oil) is the cheapest option. These two oils have a high smoke point, making them suitable for deep frying.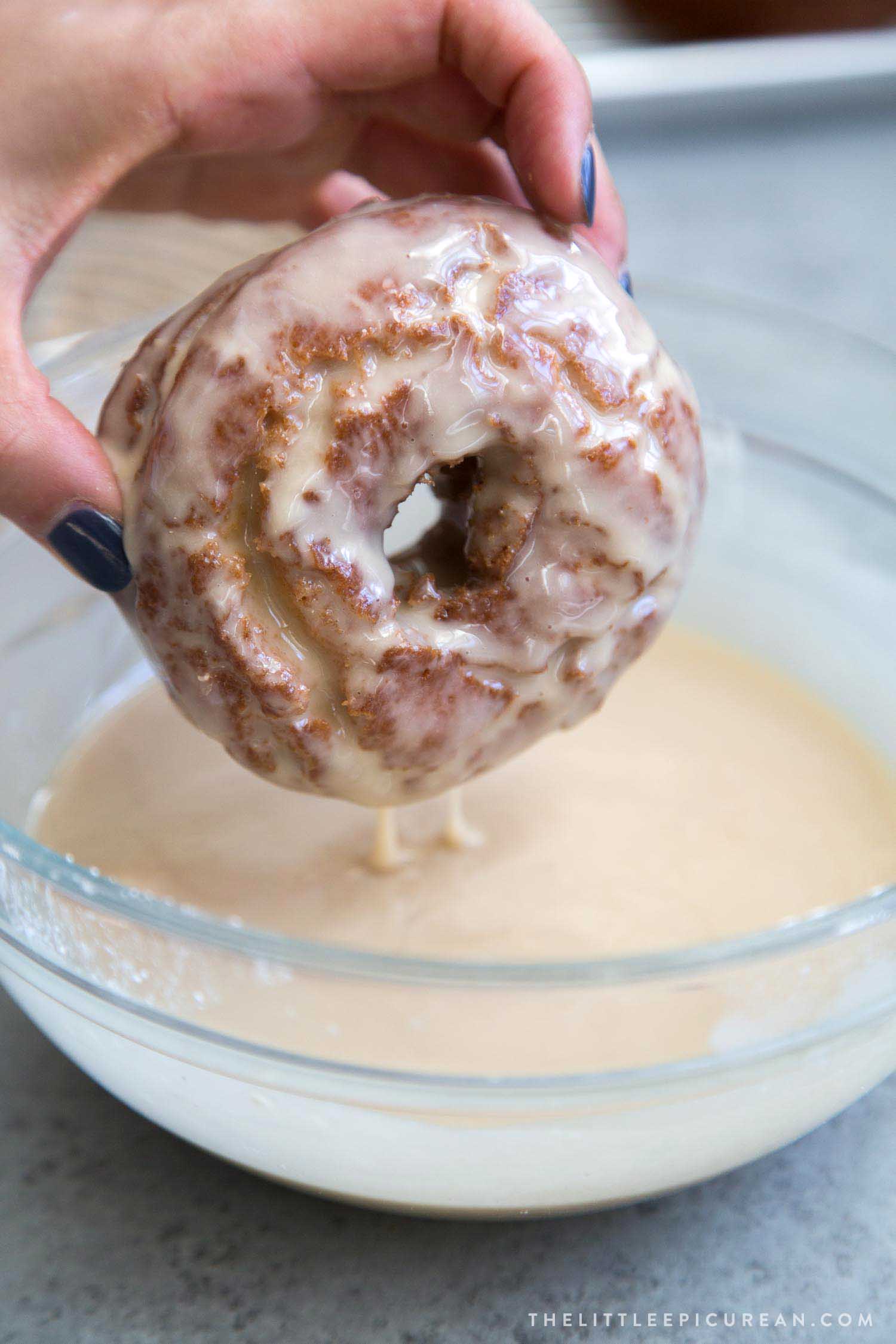 Maple Glaze:
These sweet potato cake doughnuts are dipped in a sweet and silky maple glaze. The glaze is very thin, allowing the glaze to fill all the nooks and crannies of the doughnut.
The glaze is flavored with dark maple syrup, vanilla extract, and a touch of maple extract. The maple extract helps to intensify the maple notes.
I recommend this maple extract from Boyajian (sold at King Flour Flour). Stay away from anything labeled "imitation" maple extract.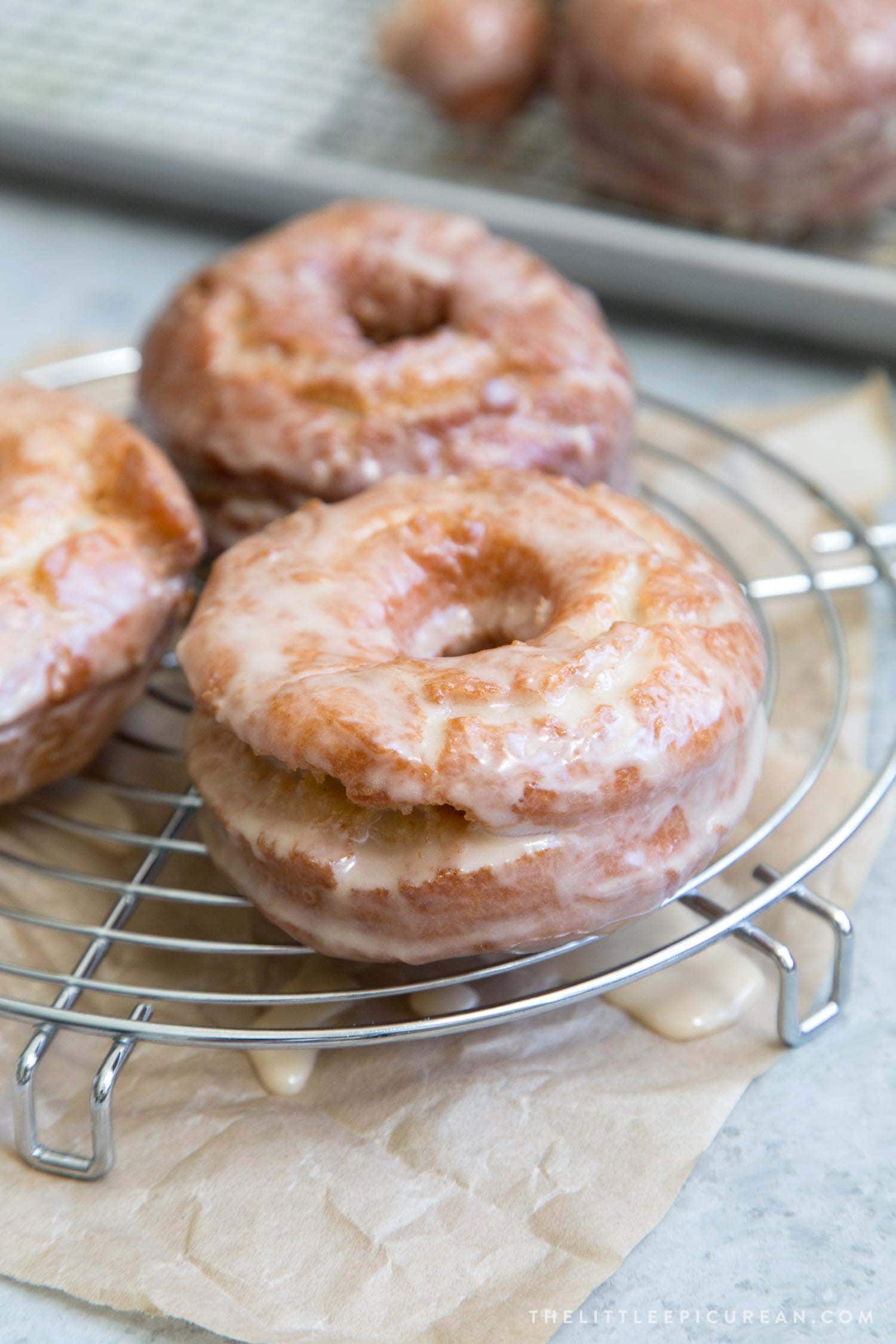 Doughnuts are best served the same day they're fried. Optimally, within hours of frying. However, Alex and I continued eating these sweet potato cake doughnuts three days after.
Store any leftover doughnuts in a breathable box (like a cardboard bakery box or container with the lid slightly jar). The maple glaze needs air circulation, otherwise it will melt and make the cake doughnuts soggy.
Sweet Potato Doughnuts with Maple Glaze
Yield: 10 doughnuts
Ingredients
Sweet Potato Dough:
3

cups

all-purpose flour

1

Tablespoon

baking powder

1

teaspoon

fine sea salt

1/2

teaspoon

ground nutmeg

1/2

teaspoon

ground cinnamon

3/4

cup

granulated sugar

2

Tablespoons

vegetable shortening

* see notes

1

large egg

1

large egg yolk

1

teaspoon

vanilla extract

1/2

cup

sour cream

3/4

cup

sweet potato puree

vegetable shortening, vegetable oil, or canola oil

, as needed for frying
Maple Glaze:
350

grams

confectioners' sugar

1/4

teaspoon

fine sea salt

2

teaspoon

light corn syrup, or glucose

1/2

teaspoon

vanilla extract

1/2

teaspoon

maple extract

* see notes

1/3

cup

dark maple syrup

1/4

cup

hot water
Instructions
Dough:
In a large bowl, whisk together flour, baking powder, salt, nutmeg, and cinnamon. Set aside.

In the bowl of a stand mixer fitted with a paddle attachment, cream together sugar, vegetable shortening, egg, and egg yolk. Scrape down bowl as needed to ensure thorough mixing.

Add vanilla, sour cream, and sweet potato puree. Mix on medium speed until well combined.

Add flour mixture in three additions. Mix on low speed until there are no longer any dry streaks of flour. The dough will be tacky and sticky. Use a sturdy spatula or a bowl scraper to transfer dough to a medium bowl. Cover with plastic wrap and let dough chill in the fridge for at least 1 hour (or up to overnight).
Cooking:
Attach candy thermometer to a large heavy bottomed pot (cast-ion or Dutch oven, preferred). Fill pot about 3-inches deep with shortening or oil. Set over medium heat to 350 degrees F.

Remove chilled dough from fridge. Dough will still be sticky. Transfer dough to a generously floured work surface. Flour the top the of the dough and pat (or roll) dough to a thickness of 1/2-inch. Using a floured 3 1/2-inch doughnut cutter (or round cookie cutters), stamp out doughnut rings. Transfer doughnut rings to lightly floured baking sheet.

Gather dough scrapes, knead together, and re-roll to stamp out more doughnuts.


Brush off any excess flour from the doughnut rings. Once oil comes to temperature, carefully place 2-4 doughnuts at a time into hot oil. Do not overcrowd the pot. Cook for 2 minutes on each side, until golden in color.

Drain cooked doughnuts on a wire rack over a paper towel lined baking sheet. Keep an eye on thermometer and adjust heat accordingly to maintain a constant cooking temperature.
Maple Glaze:
Sift confectioners sugar into a large bowl. Stir in salt, corn syrup, vanilla, maple extract, and maple syrup. Once mixture is well combined, add in hot water. Mix until smooth.

Dip warm doughnuts into glaze. Allow excess glaze to drip back into bowl. Set glazed doughnuts on wire rack and allow glaze to set. Enjoy doughnuts warm or at room temperature.
Notes
A word on leftovers: Doughnuts are best enjoyed the day they are fried. Store any leftover doughnuts in a breathable box (like a cardboard bakery box or container with the lid slightly jar). The maple glaze needs air circulation, otherwise it will melt and make the cake doughnuts soggy.