Belgian liege waffles made with a yeast dough studded with pearl sugar. It is cooked stovetop until golden brown and caramelized all over.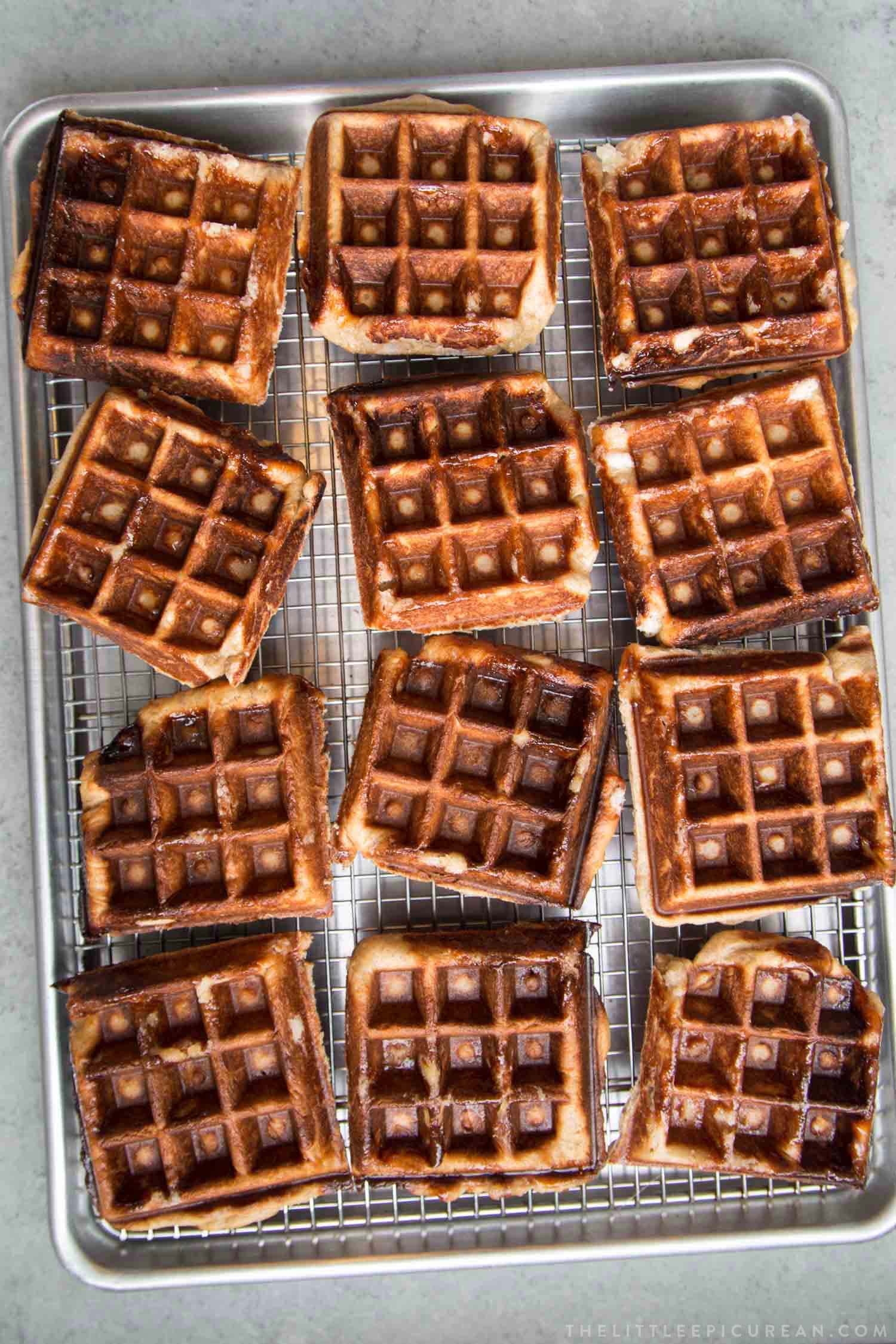 Belgian waffles are best known for their deep pockets. They are also thicker than than the standard American waffles.
While traditionally leavened with yeast, there are many Belgian waffles that use whipped egg whites or baking powder for leavening.
Pearl sugar is what makes Liege Waffles different from the standard Belgian Waffle.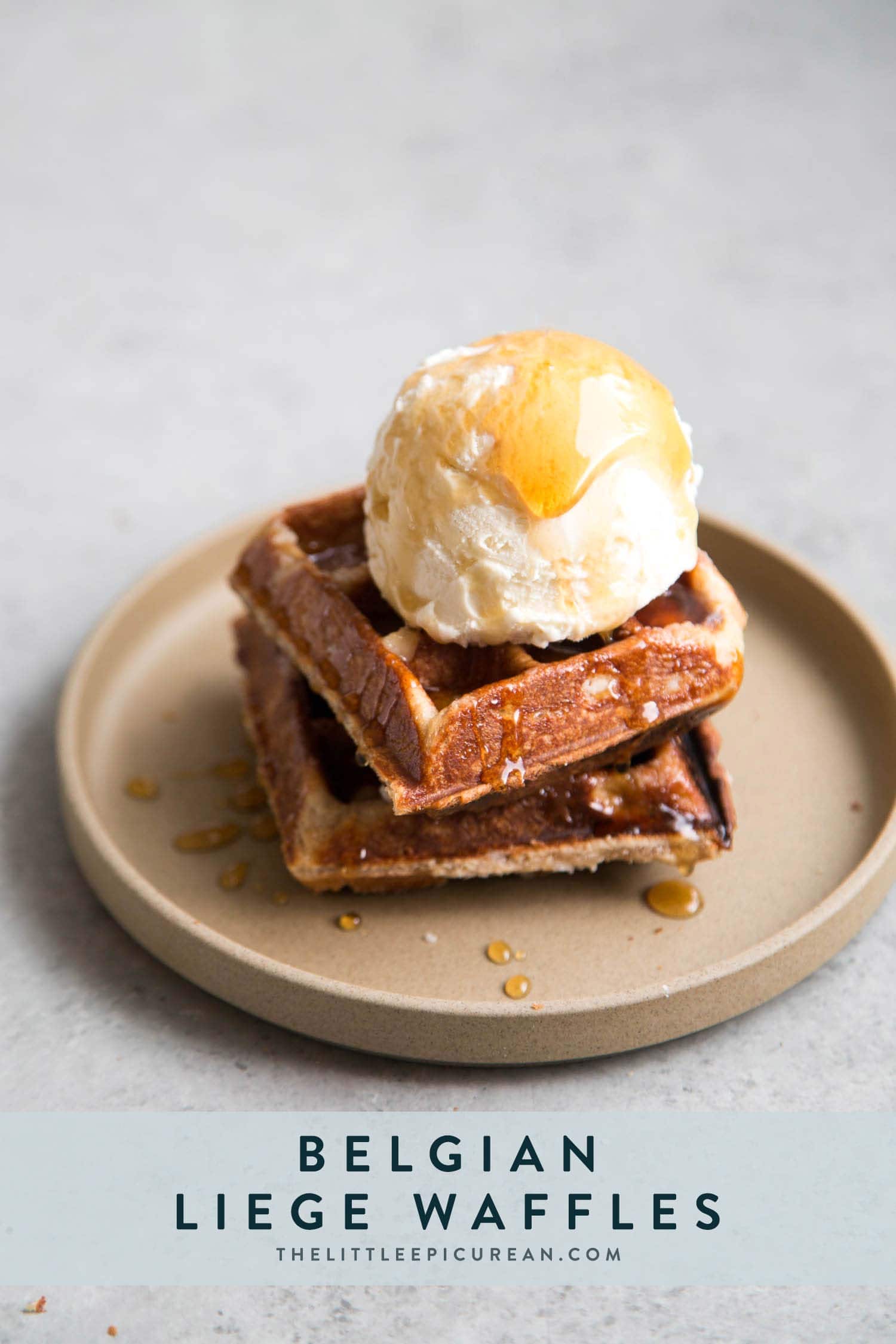 Liege Waffles
These Belgian Liege Waffles are soft on the inside, yet crispy and crunch on the outside.
The pearl sugar in the waffle dough is responsible for that nice exterior. The pearl sugar slowly melts and caramelized creating a crust that protects the soft and fluffy interior.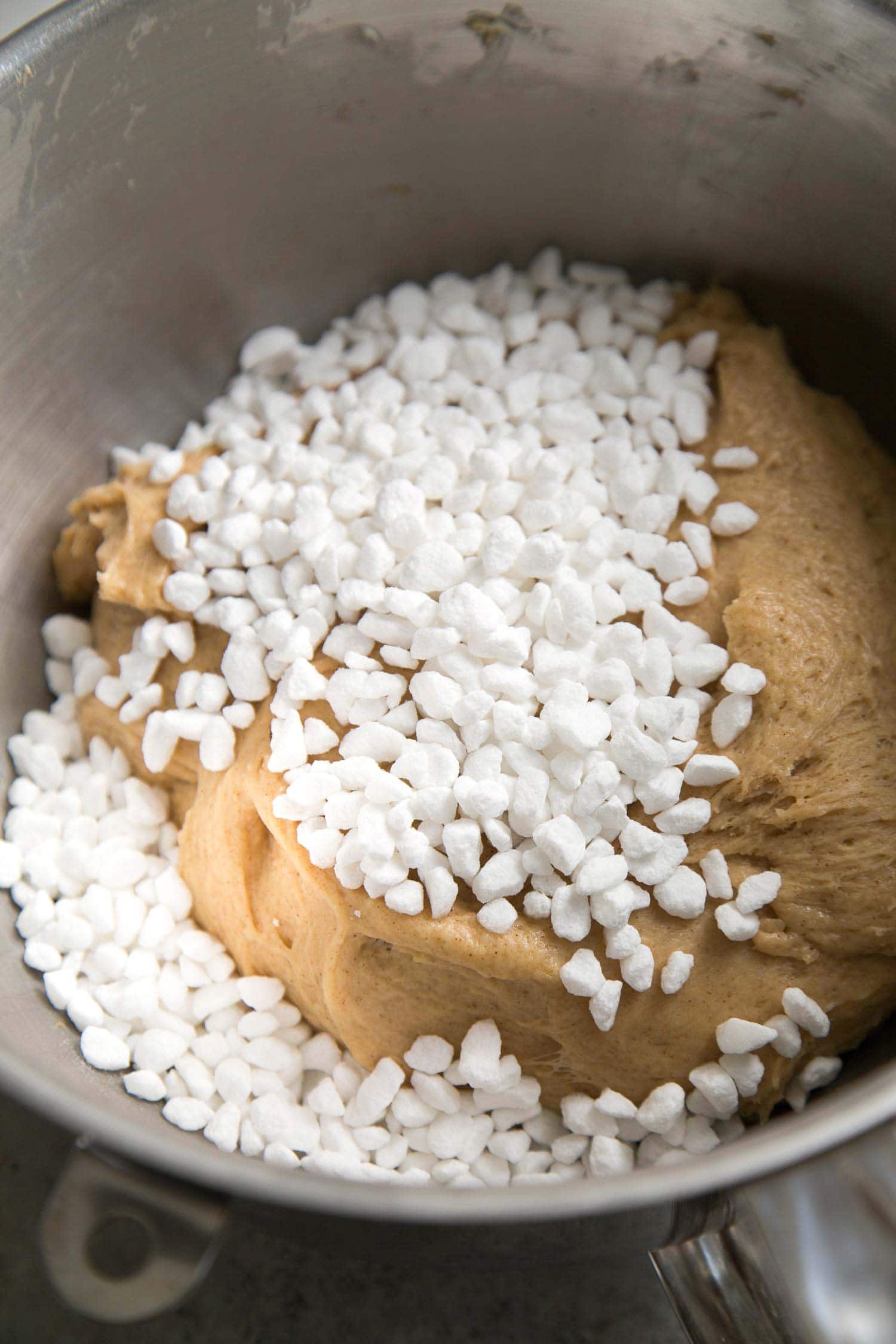 What is Pearl Sugar?
Pearl sugar is made by compressing together sugar crystals. They're like the sugar cubes used for coffee and tea and for muddling cocktails like mojitos.
Pearl sugar is either made from sugar cane or beets. The version made from beets are cheaper and more easily accessible.
There are various types of pearl sugar. This liege waffle recipe uses "Belgian Pearl Sugar." This type of sugar is a bit larger in size and has a higher melting point.
Swedish Pearl Sugar is another popular variety. It is smaller in size. Swedish pearl sugar is often added to garnish finished baked goods like these soft milk buns.
Where can you buy pearl sugar?
Speciality baking supply stores such as Surfas or Sur La Table carry pearl sugar.
Many online retailers sell different varieties of pearl sugar as well. I recommend this Belgian Pearl Sugar from Amazon.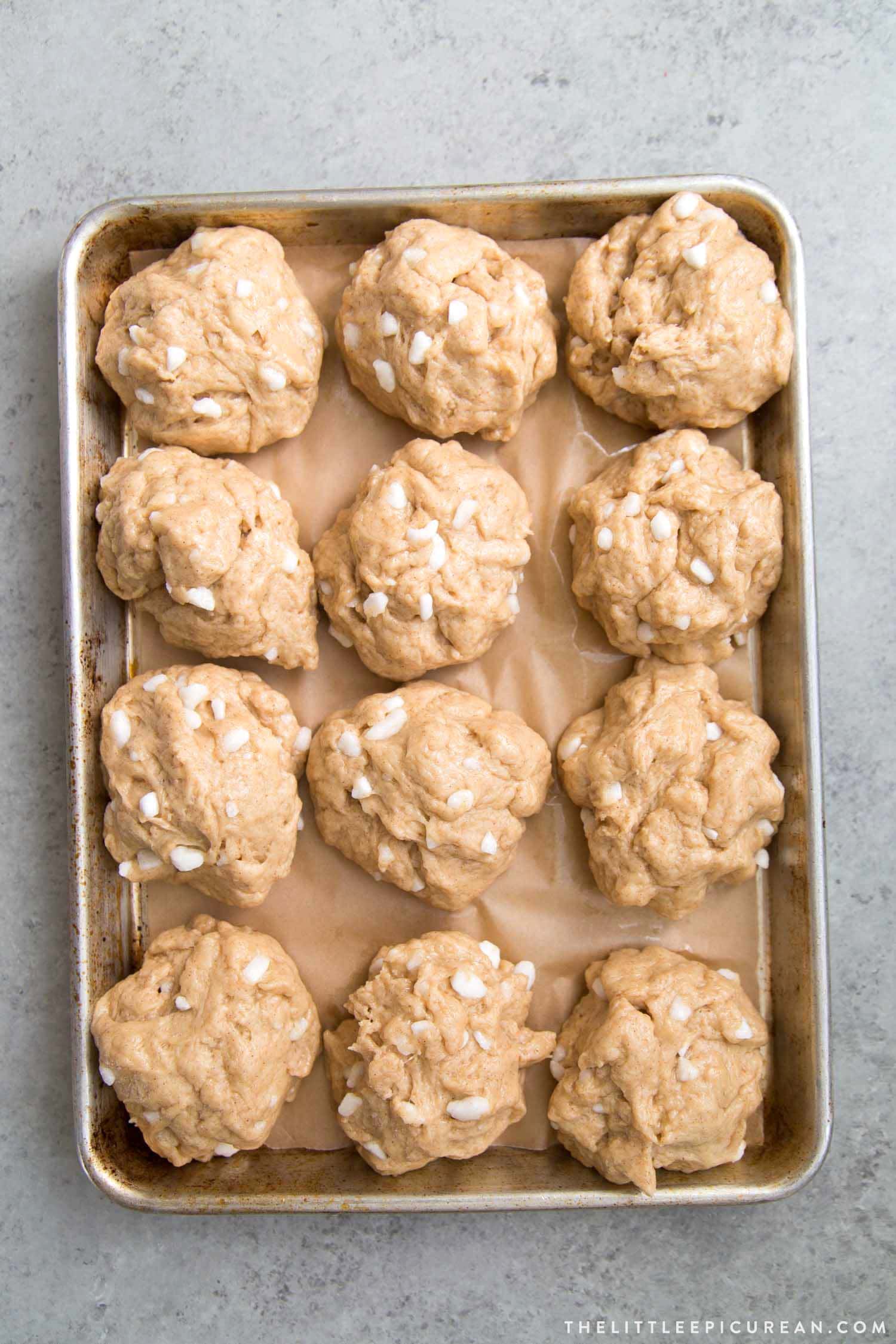 Waffle Dough
The dough for these waffles are made similar to cinnamon rolls and brioche bread.
Dry active yeast is reactivated in warm milk. Once bubbly and foamy, the eggs, vanilla and sugar are added. Flour follows until the dough turns into a "shaggy mess."
Adding the butter is the tricky part. The butter should softened and at room temperature. An entire cup of butter is added to the dough.
The butter needs to be adding slowly added to the dough. If you add at butter all at once, the dough may not be able to absorb all the fat.
I recommend using a stand mixer with a dough hook attachment to mix this dough together. The stand mixer makes this dough SUPER easy to whip together.
Don't have a mixer? No worries. This liege waffle dough CAN be knead together by hand. However, it will be a bit labor intensive.
The dough is time consuming to make. But, much of that "time" is spent letting the dough rest and rise.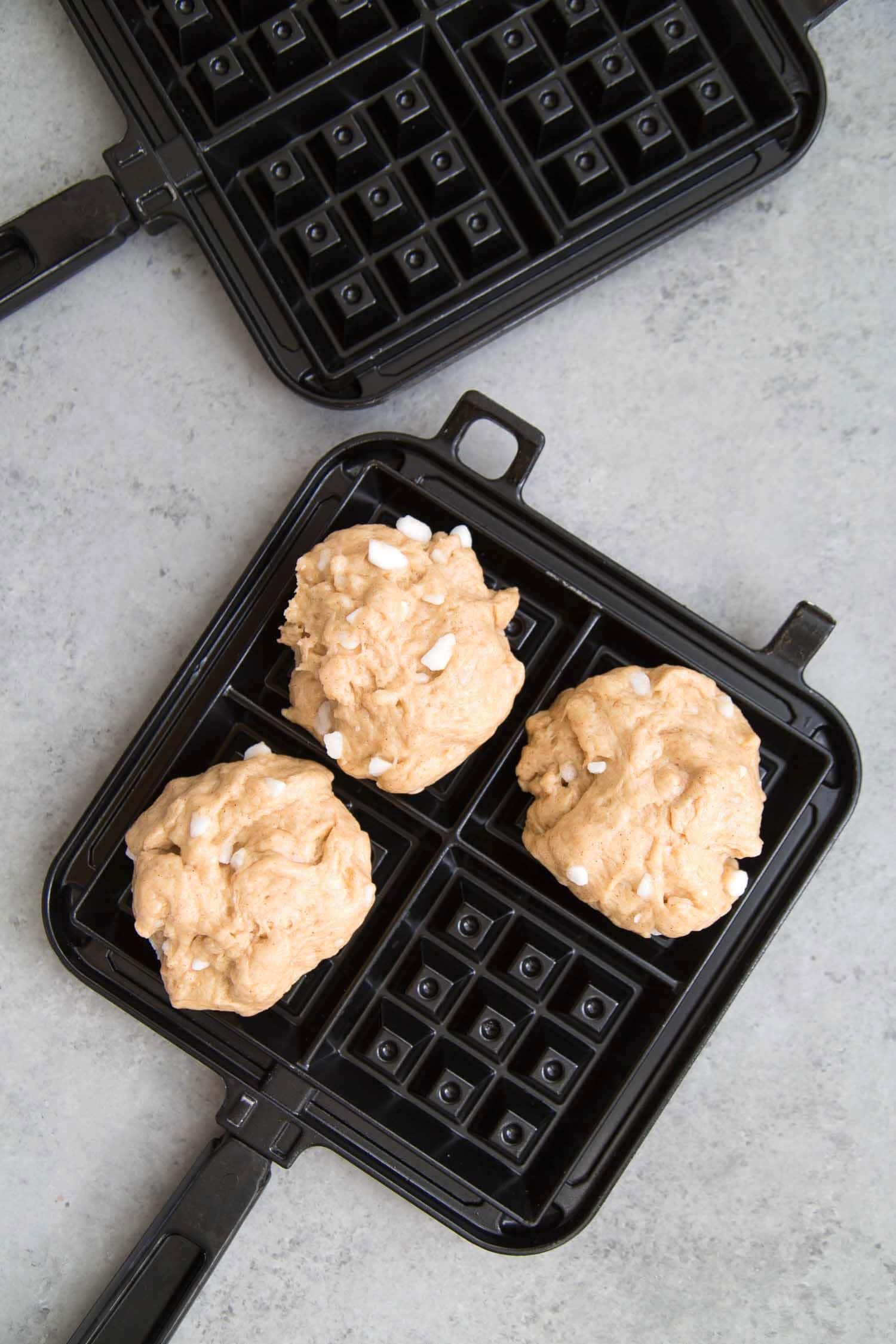 Recommended Tools for Leige Waffles:
I highly recommend this stovetop waffle iron to make this recipe.
I've tested this recipe using both an electric waffle maker and an old school stovetop version. Hands down, the stovetop waffle iron is better.
It is easier to maintain and adjust temperature on a stovetop waffle iron. Clean-up is a breeze. Best of all, this stovetop waffle iron takes up very little space as compared to a large and bulky electric version.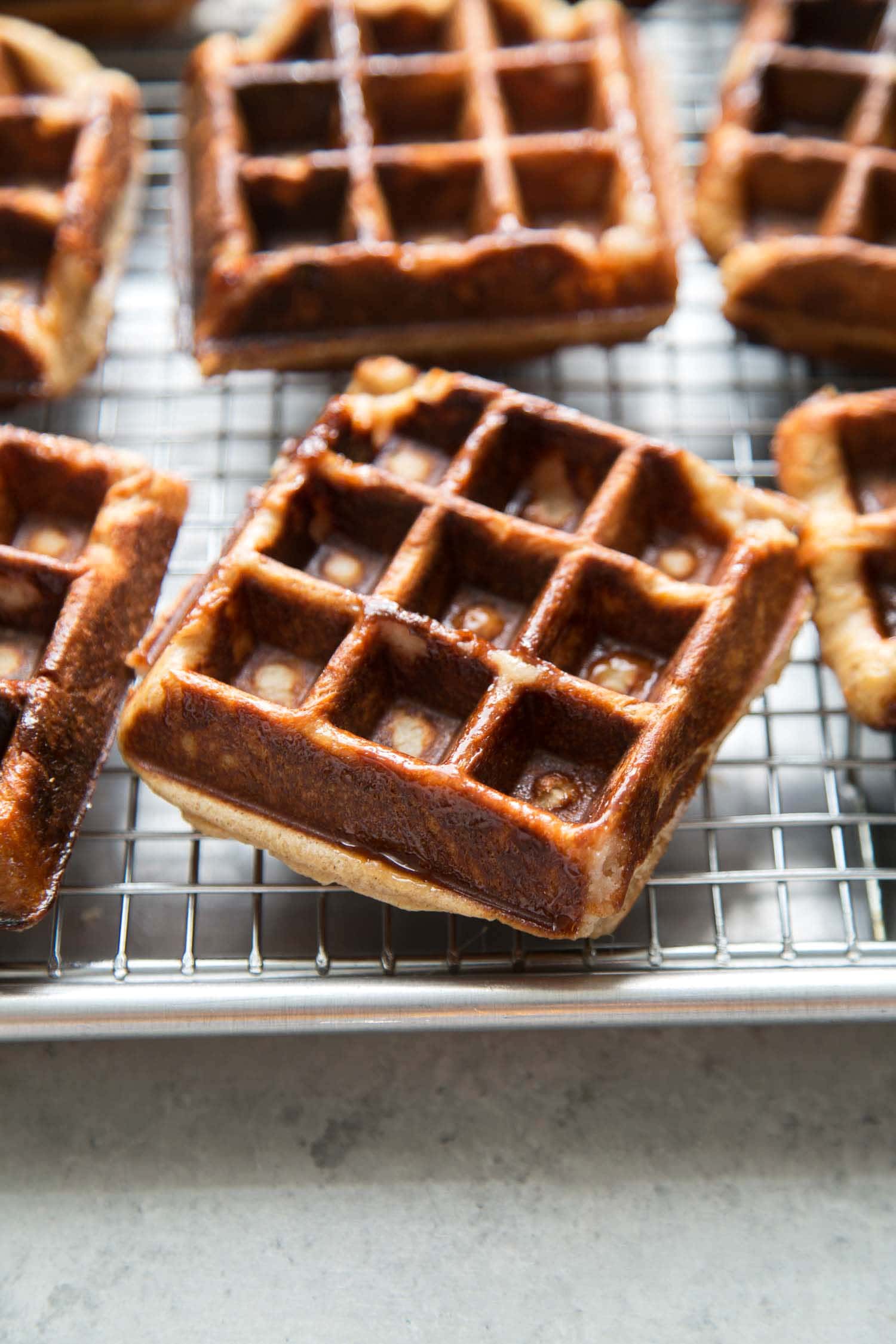 Why are those waffles so dark?
My dough recipe is a bit darker and richer in color than most other Belgian Liege Waffles. The combination of brown sugar and ground cinnamon is responsible for the uncooked dough's tan color.
As the dough cooks in the waffle iron, the pearl sugar melts and slowly caramelizes. I like to cook the sugar until it is rich golden brown. This allows for deeper, richer flavors.
However, you may also stop cooking the waffles earlier to achieve more light blond golden appearance.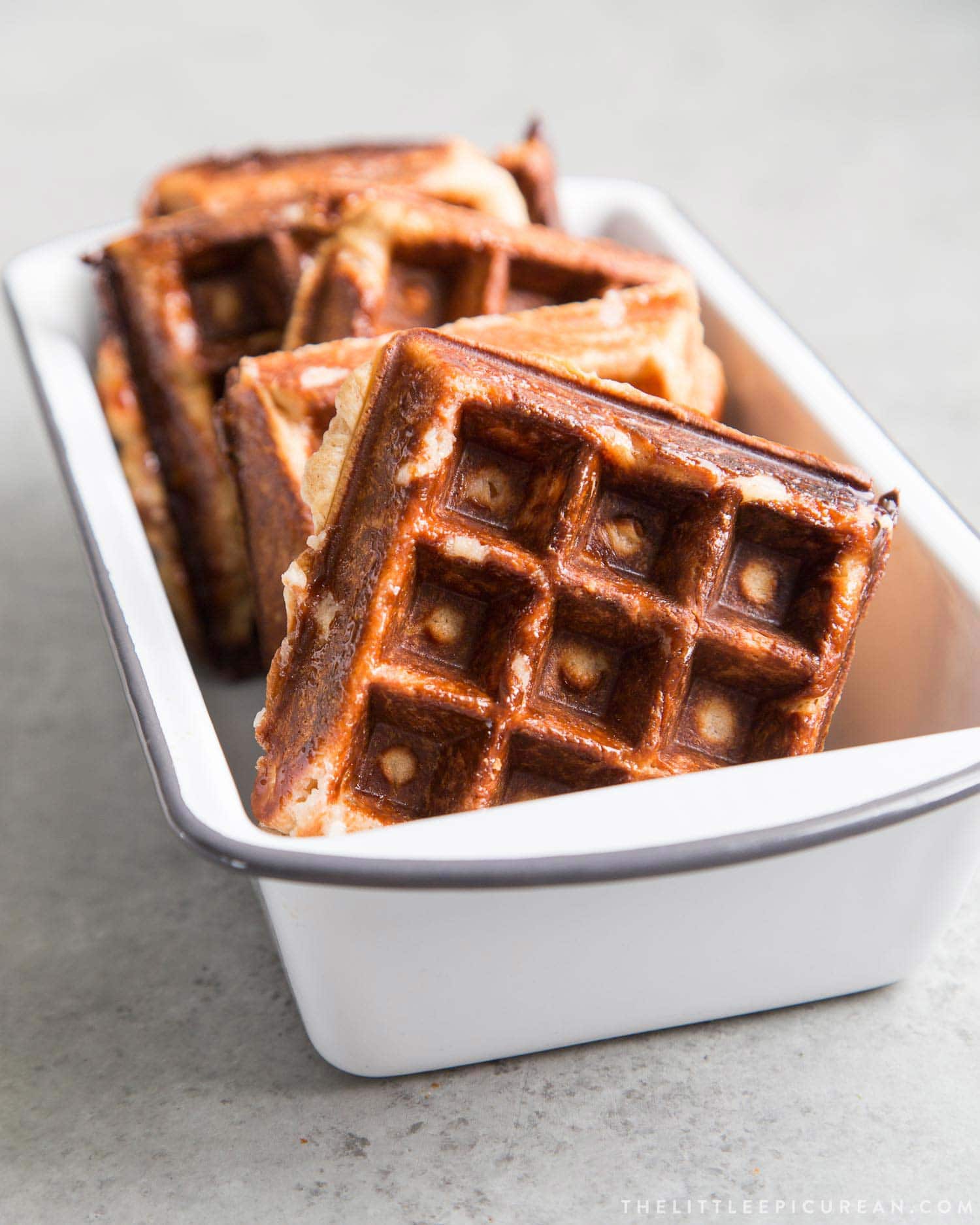 Suggestions on serving:
These liege waffles taste best fresh from the waffle iron while they're still hot!
After cooking, allow the waffles to rest on a wire rack to allow for air circulation. This prevents the waffles from becoming soggy.
The waffles can be enjoyed as it. For a sweeter flavor, drizzle maple syrup of top. For the ultimate in indulgence, top a short stack of warm liege waffles with a scoop of ice cream. Finish with whipped cream and maple syrup!
Notes on leftovers:
These waffles are best enjoyed the same day they are cooked.
Should you have leftovers, store cooled waffles in an airtight container at room temperature for up to three days.
Re-crisp waffles in a toaster over, or reheat in a microwave oven.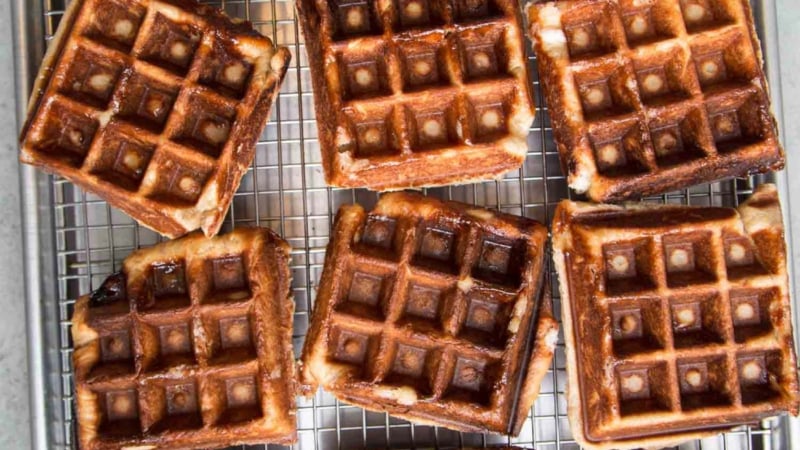 Belgian Liege Waffles
Belgian liege waffles made with a yeast dough studded with pearl sugar. It is cooked stovetop until golden brown and caramelized all over.
Ingredients
1

cup

whole milk,

warmed to 100-110°F

2 ¼

teaspoon

dry active yeast

1

teaspoon

granulated sugar

2

large eggs,

room temp, lightly whisked

1

teaspoon

pure vanilla extract

5

Tablespoon

light brown sugar (57 g),

packed

4

cups

all-purpose flour (544 g)

2

teaspoon

ground cinnamon

½

teaspoon

kosher salt

1

cup

unsalted butter (227 g)

1

cup

pearl sugar (186 g)
Instructions
In the bowl of a stand mixer, whisk together warm milk, yeast, and sugar. Let mixture sit for 5-7 minutes until foamy and aromatic.

Add eggs, vanilla, and brown sugar to mixing bowl. Whisk until incorporated. Attach dough hook to stand mixer.

In a large bowl, whisk together flour, cinnamon, and salt. Add flour mixture in three additions. Mix on low speed until dough is a shaggy mess, about 2 minutes. Scrape down sides of bowl.

With the mixer running on low speed, add softened butter one tablespoon at a time. Once all the butter as been added, increase to medium speed. Knead for 5-7 minutes until dough is smooth and pulls away from the sides of the mixing bowl.*

Cover bowl and let dough rest for 2 hours at room temperature.

Punch down risen dough. Add pearl sugar. Use dough hook to mix in pearl sugar for 30 seconds on low speed, or use a sturdy spatula to fold in sugar.*

Divide dough into 12 equal parts. Shape into a rough ball. (A kitchen scale is recommended for equal portions!) Place on a parchment lined baking sheet. Cover with plastic wrap and let dough rest for 15 minutes. Meanwhile, set up waffle iron.

I use this stovetop Belgian waffle iron. Separate the two waffle iron pieces and set over medium heat. Lightly brush irons with neutral flavored oil.

Once iron is hot (about 350°F measured on an infrared thermometer), add portioned dough balls to bottom waffle iron. Attach top waffle iron. Press down on handle to distribute dough. Cook over medium heat for 3 minutes on each side. Dough may steam as it cooks. Cook waffles until golden brown and pearl sugar has melted and caramelized.

Transfer cooked waffles to a wire rack while you cook remaining dough. Serve immediately. Otherwise, cool to room temperature and store in an airtight container for up to 3 days.

Waffles will lose their crunch once stored in an airtight container. Re-crisp in a toaster oven if desired.