This fresh mint chip ice cream is made without artificial coloring. The ice cream may be an off white creamy color, but it's bursting with fresh mint flavor!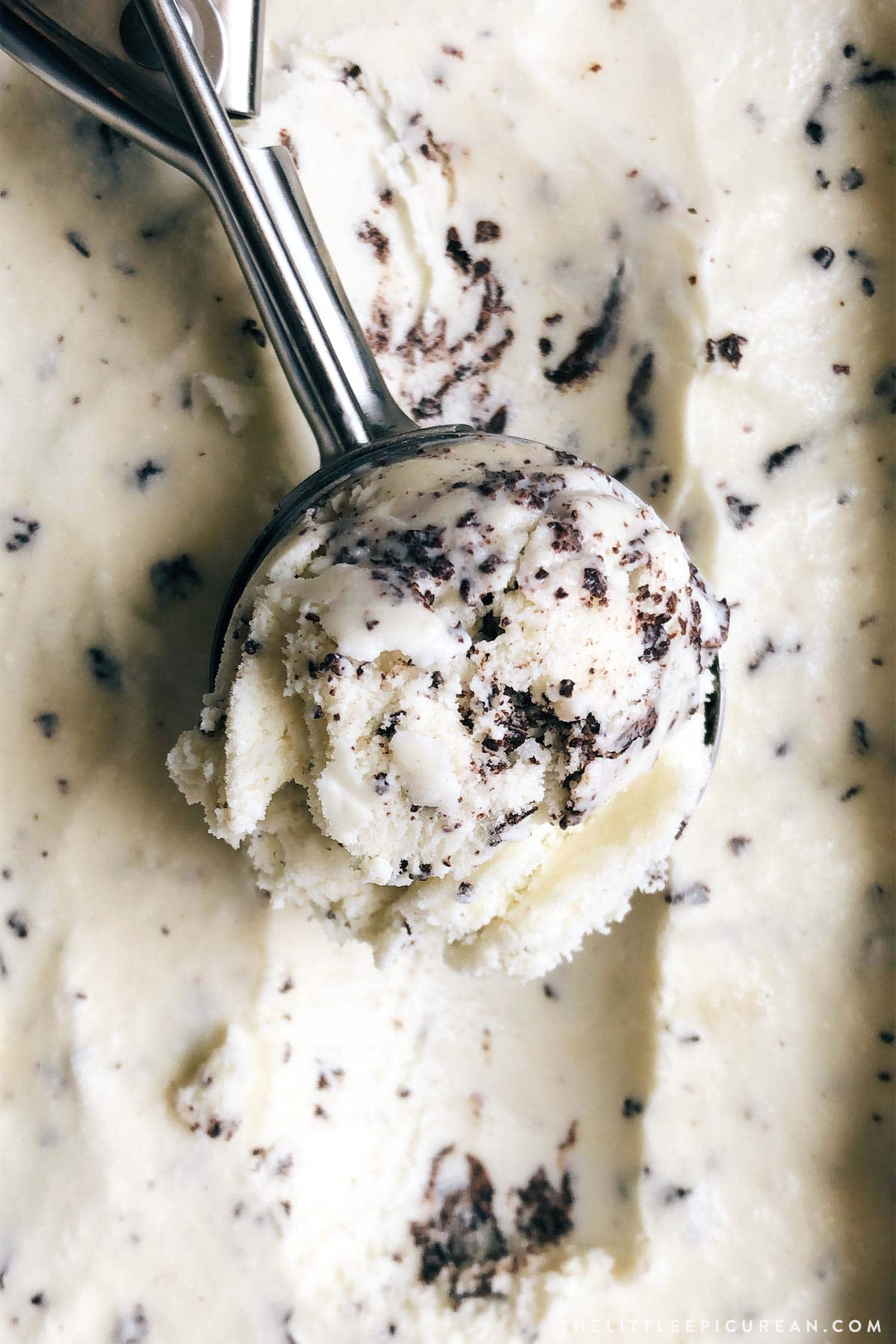 Skip the artificial food coloring. This mint ice cream is au naturale.
It may not be the green color associated with mint ice cream. However, it is still packed with all the cool minty flavor!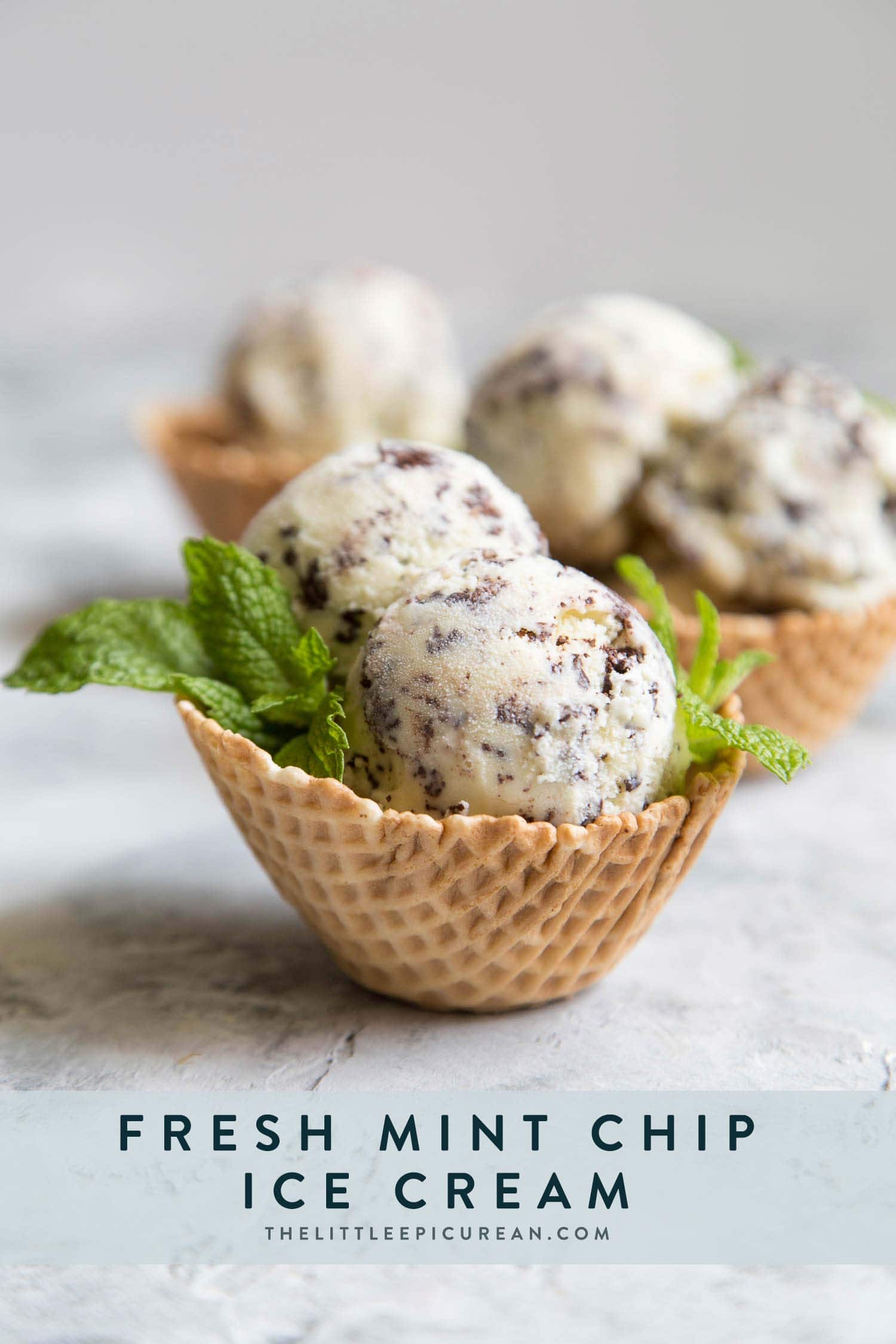 Homemade Mint Chip Ice Cream
My first introduction to mint chocolate chip ice cream was at Thrifty's.
I was a bright eye kid intrigued by the ice cream's vivid green color. And obviously, the little specks of chocolate studded throughout the ice cream had me sold.
It has been almost a decade since my last scoop of Thrifty's mint n'chip ice cream.
Years later, I'm still a fan of the flavor. Here's a homemade version that rivals that of my favorite local ice cream shops!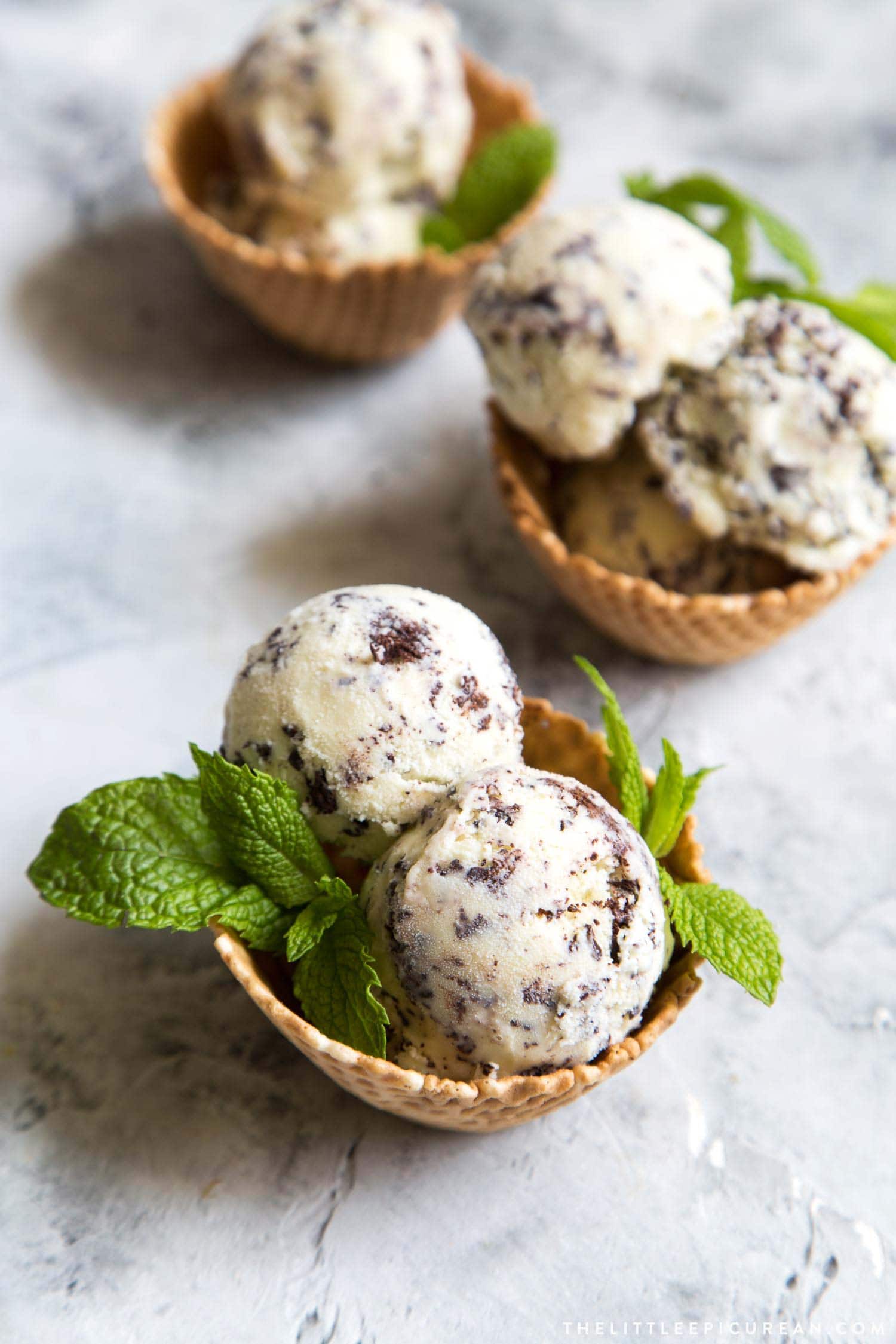 What type of fresh mint to use for ice cream?
There are over a dozen different varieties of mint with varying degrees of "minty" flavor.
I used peppermint for this recipe. However, spearmint is more commonly available at most supermarkets.
If you grow your own mint, I suggest planting some chocolate mint! They're the BEST mint to use for desserts.
If in a pinch, you may also use a tiny amount of culinary grade peppermint oil to naturally flavor the ice cream. DO NOT USE peppermint oil meant for oil diffusers.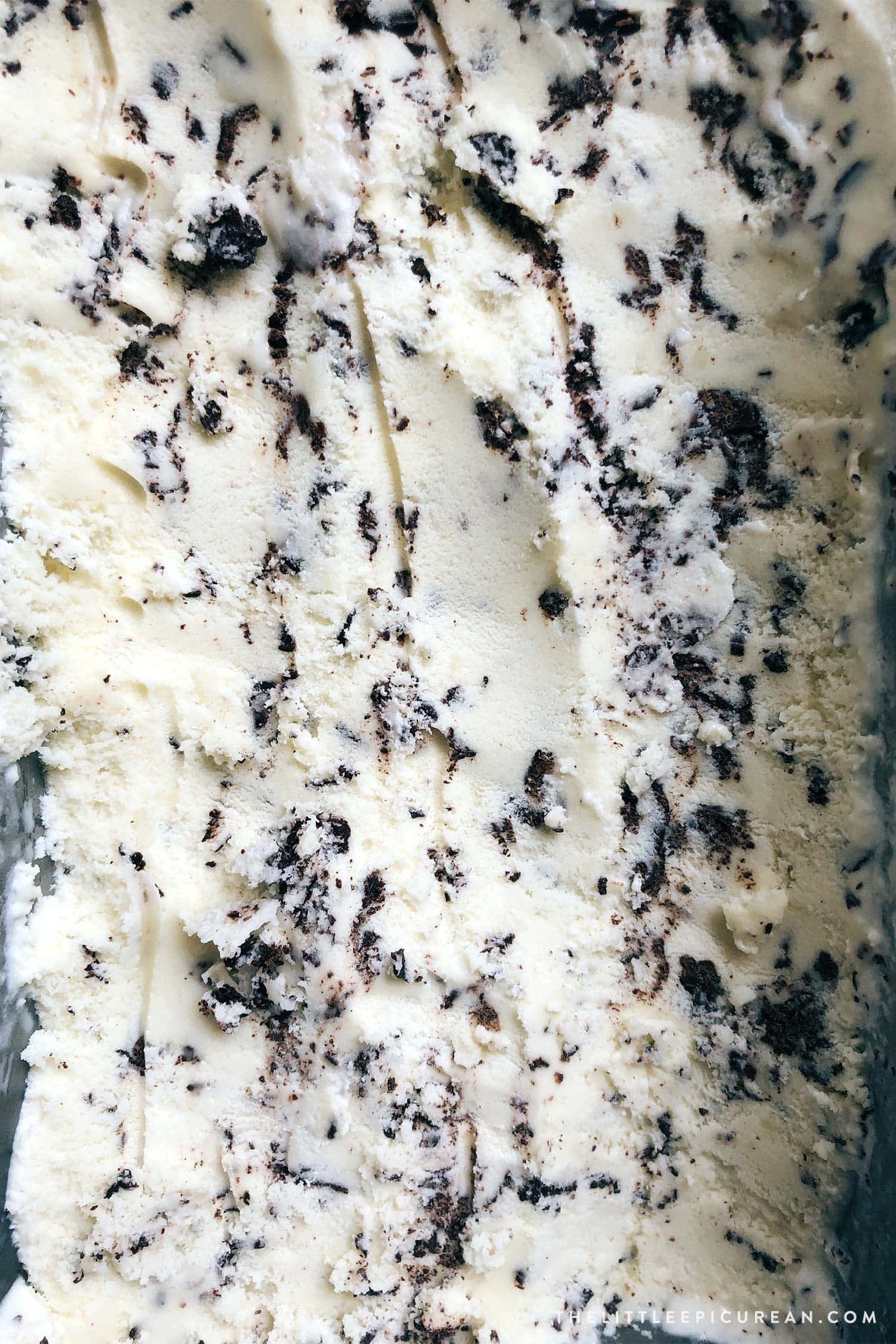 How to incorporate chocolate into ice cream?
Instead of folding in chopped chocolate pieces into the ice cream, I tried something different. Chocolate chunks are often difficult to scoop. Here's a better technique!
Use melted chocolate!
I learned about this technique through this stracciatella gelato recipe on Bon Appetit. Drizzle a mixture of melted chocolate and oil into the churning ice cream.
The mixture hardens like "magic shell." Thanks to the oil, the mixture freezes into delicate streaks of chocolate chips.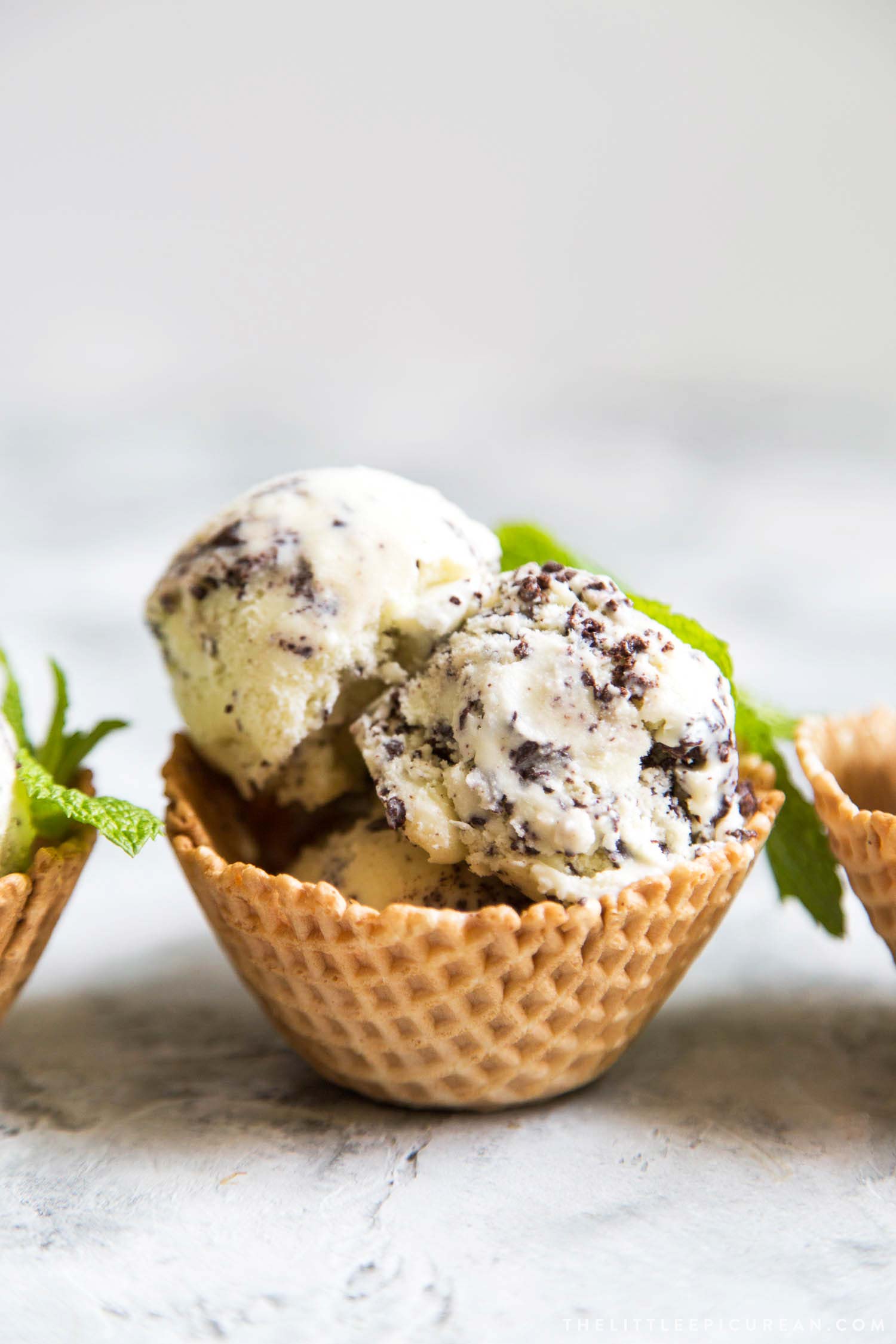 Recommended Ice Cream Equipment
I personally use this compressor ice cream machine. It's perfect if you make ice cream and sorbet often. This version does not require freezing the canister ahead of time.
I recommend this simpler ice cream maker for infrequent ice cream making. I used this one for several years before upgrading.
The canister does need to be frozen for 24 hours prior to use. I suggest keeping in the freezer at all times just in case you ever need it.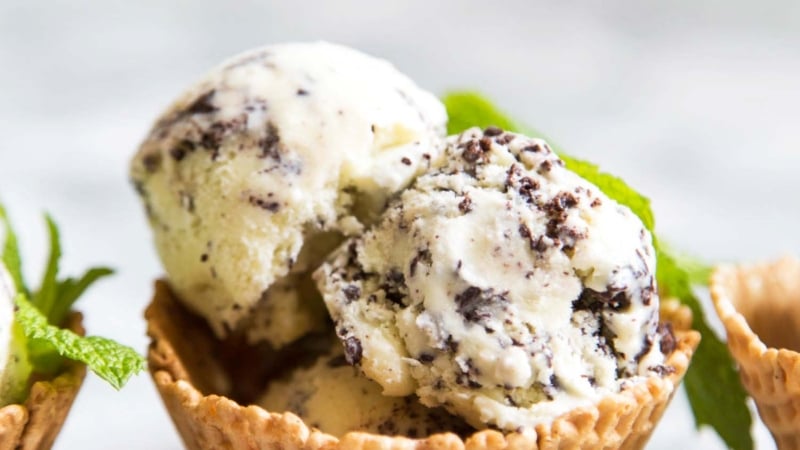 Fresh Mint Chip Ice Cream
Homemade ice cream infused with fresh mint and churned with melted dark chocolate. Yield: about 1 quart
Ingredients
2

cups

(454 g / 500 ml) heavy cream

1

cup

(227 g / 250 ml) whole milk,

or 2% milk

½

cup

+ 1 Tablespoon (100 g + 12 g) granulated sugar

1

cup

fresh mint leaves

, loosely packed, then torn or chopped*

5

large egg yolks (75 grams)

½

teaspoon

pure vanilla extract

¼

teaspoon

kosher salt

4

oz

(113 g) dark chocolate,

finely chopped

2

teaspoon

refined coconut oil
Instructions
In a heavy bottomed medium pot, mix together cream, milk, and 1 tablespoon sugar over medium heat.  Continue to heat until almost to a boil.  Keep an eye on the mixture, stirring often to make sure milk does not scald.

Remove from heat and add chopped or torn mint leaves. Cover pot with lid and let steep for 30 minutes. Taste. If more mint taste is desired, continue to steep for another 15-20 minutes.

Strain liquid mixture. Discard mint leaves. Place liquid back in medium pot and set over medium heat.

In a large bowl, whisk together egg yolks, remaining sugar, and 1/4 cup of milk-cream mixture from pot.

Once milk begins to boil, lower heat. Temper hot milk mixture into sugar-yolk mixture. Slowly add hot milk into yolk mixture about 1/4 cup at a time, whisking to distribute heat. Continue to add milk into the yolks. Once all the milk has been added, transfer everything back into the pot.

Continually stir over medium-low heat until mixture reaches nappe consistency, or 180 degrees F on a kitchen thermometer. Let mixture sit at 180-185℉ for a few minutes to pasteurize eggs. Remove from heat. Stir in vanilla and salt.

Pour mixture into an airtight container. Cover and let chill and mature in the fridge overnight.

The following day, freeze mixture in ice cream making according to your unit's instructions. While ice cream is churning, prepared melted chocolate.,

Gently melt chopped chocolate and coconut over a double broiler, or at 50% power in the microwave at 20 second intervals, until smooth.

Once ice cream volume has increased by half and the mixture has reached as soft-serve like consistency, gently pour melted chocolate mixture into churning ice cream. Pour in a steady stream until all the chocolate has been added. Continue to churn ice cream for another 30 seconds to 1 minute until chocolate is thoroughly combined.

Transfer mixture into a freezer safe container. Spread into an even layer. Cover tightly. Let chill in the freezer for at least 2 hours until frozen. Allow frozen ice cream to sit at room temperature for 5 minutes before scooping.

Ice cream can be kept in the freezer for up to two weeks.
Notes
Ingredient Notes:
Tear or chop fresh mint leaves to expose the oils. The oils will intensify the minty flavors of the ice cream.
I suggest using peppermint, chocolate mint, or spearmint variety of fresh mint. 
Refined coconut oil has no flavor. Unrefined coconut oil will have a lingering coconut flavor. Neutral flavored oil like grapeseed oil may be used in place.
2% milk (or reduced-fat milk) may be used in place of whole milk (5% fat). DO NOT use non-fat milk. Otherwise, the ice cream will have an icy texture.
Equipment Notes:
All images and text ©The Little Epicurean