These three ingredient homemade boba pearls do not contain any artificial food coloring. The cooked tapioca pearls get their rich color from dark sugar!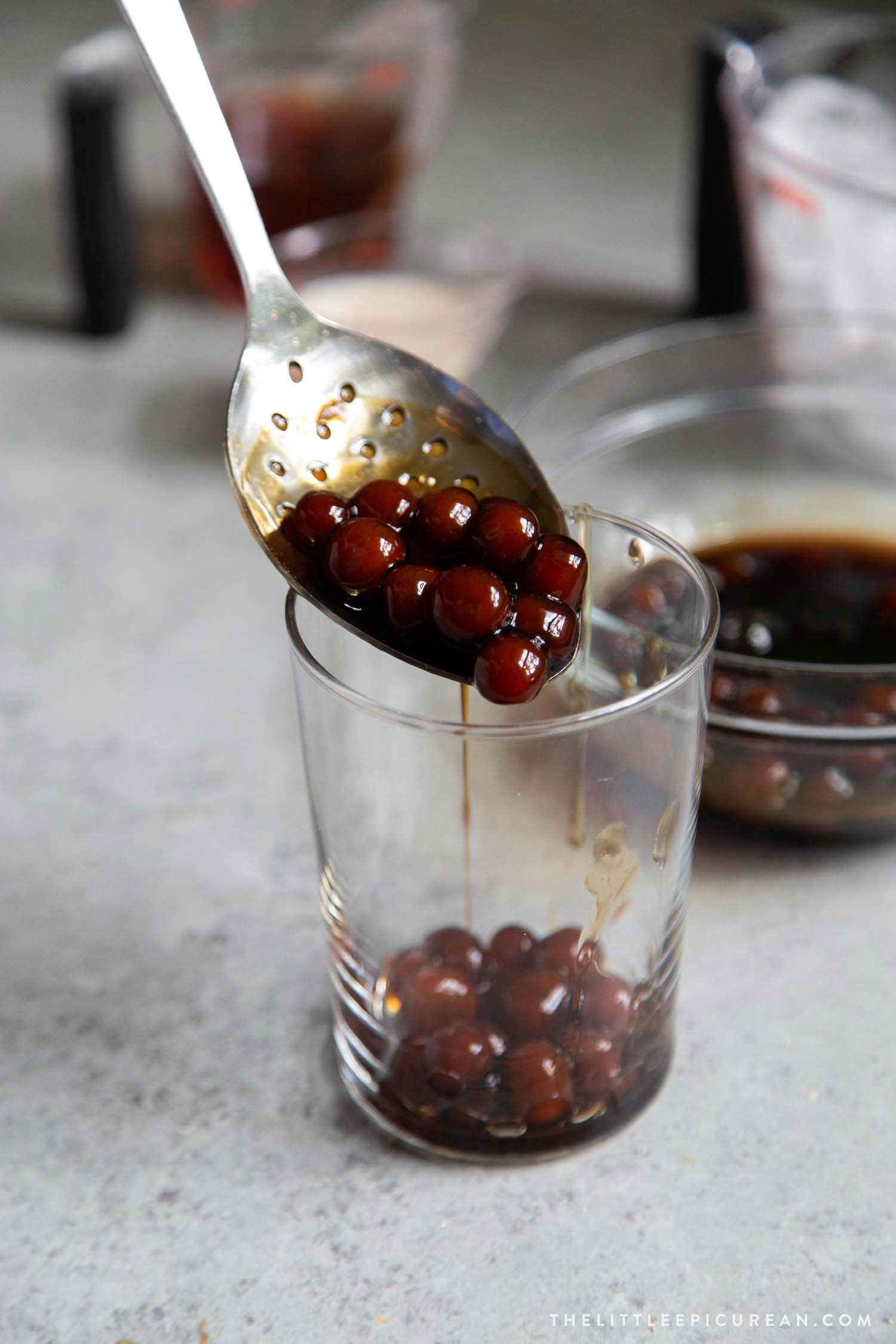 Save your money and skip a trip to the bubble tea shop.
With a little time and effort, you can make warm brown sugar boba from scratch!
Use this homemade boba for Boba Milk Tea Cake, Boba Cupcakes, or Taho (Filipino sweet tofu dessert). And of course, you can use it to make your own boba milk tea aka bubble tea!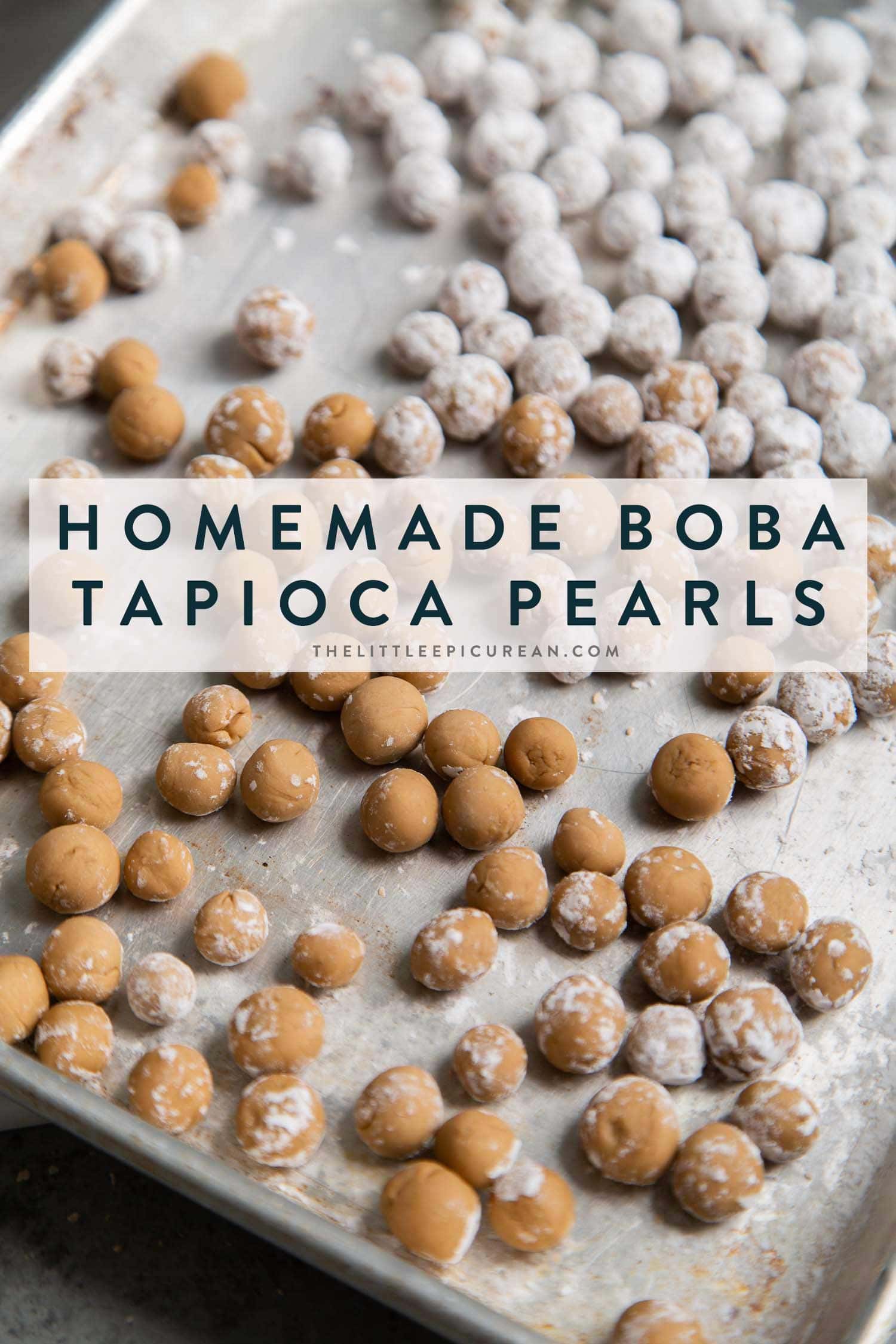 Unlike the packaged dry tapioca pearls typically sold in markets, these homemade tapioca pearls can be cooked and stored in the fridge. These tapioca pearls can be reheated to its original glory even days after cooking.
Why make Tapioca Pearls from scratch?
all natural ingredients (just 3 simple ingredients!)
no artificial food coloring or preservatives
raw tapioca pearls can be frozen and used for later
homemade boba cooks quicker than store bought dried boba pearls
There are various types of tapioca pearls. You may be more familiar with the small white tapioca pearls used for making tapioca pudding.
These tapioca pearls are better known as boba. This increasingly popular treat originates from Taiwan.
They are traditionally made with either tapioca starch or cassava starch.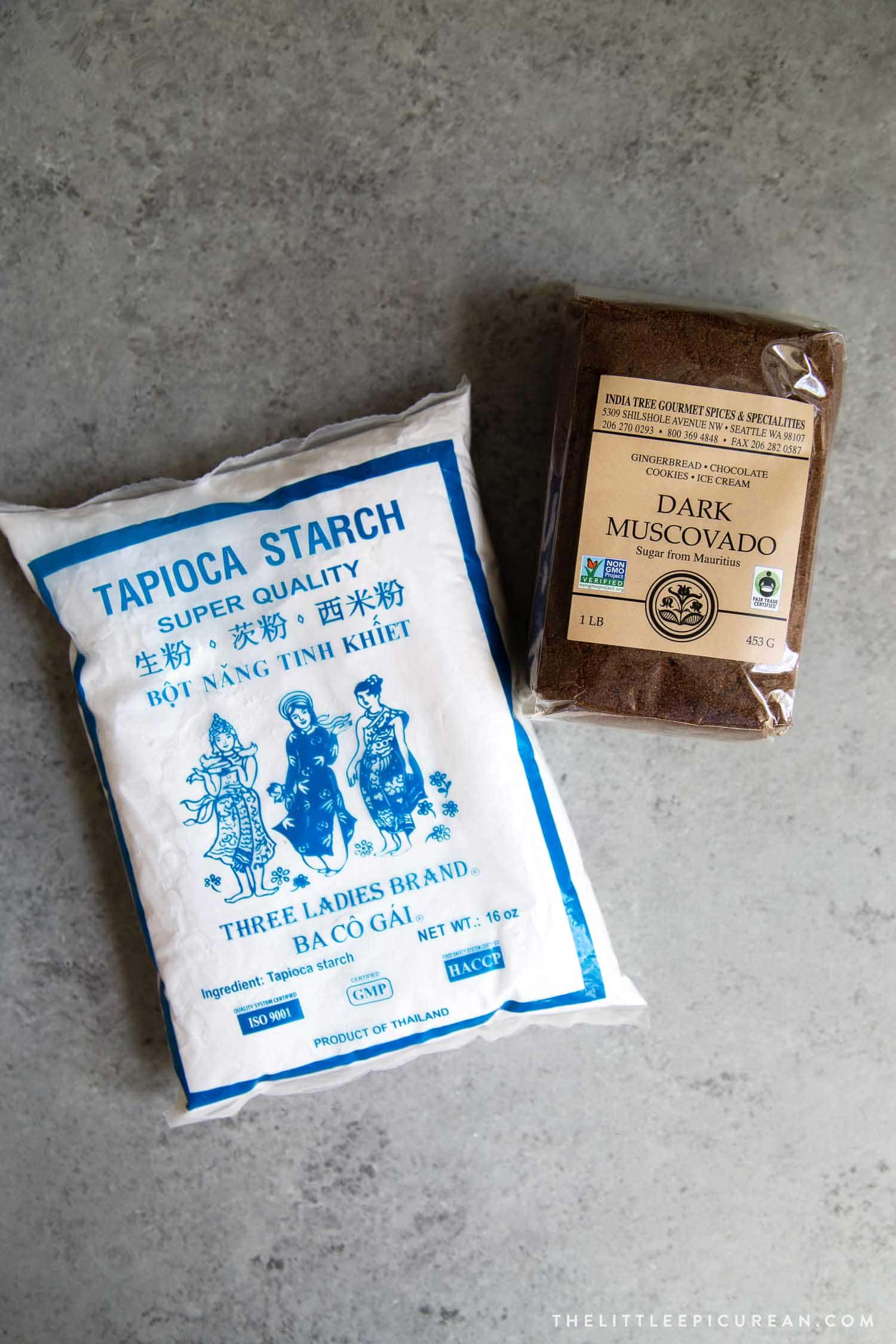 This version uses three simple ingredients: tapioca starch, and dark muscovado sugar, and water.
What is tapioca starch?
Tapioca starch is also labeled as finely milled tapioca flour in the United States. It comes from the cassava root.
Tapioca starch is a popularly used in gluten-free baking because it gives baked goods a chewy texture.
On a broader range, tapioca starch is primarily used as a thickening agent (similar to corn starch). It is great for thickening soups, sauces, and pie fillings.
It has a rather neutral flavor. Instead, it absorbs the flavors of the ingredients it is mixed with.
As such, this tapioca pearl recipe combines tapioca starch with well flavored dark muscovado sugar.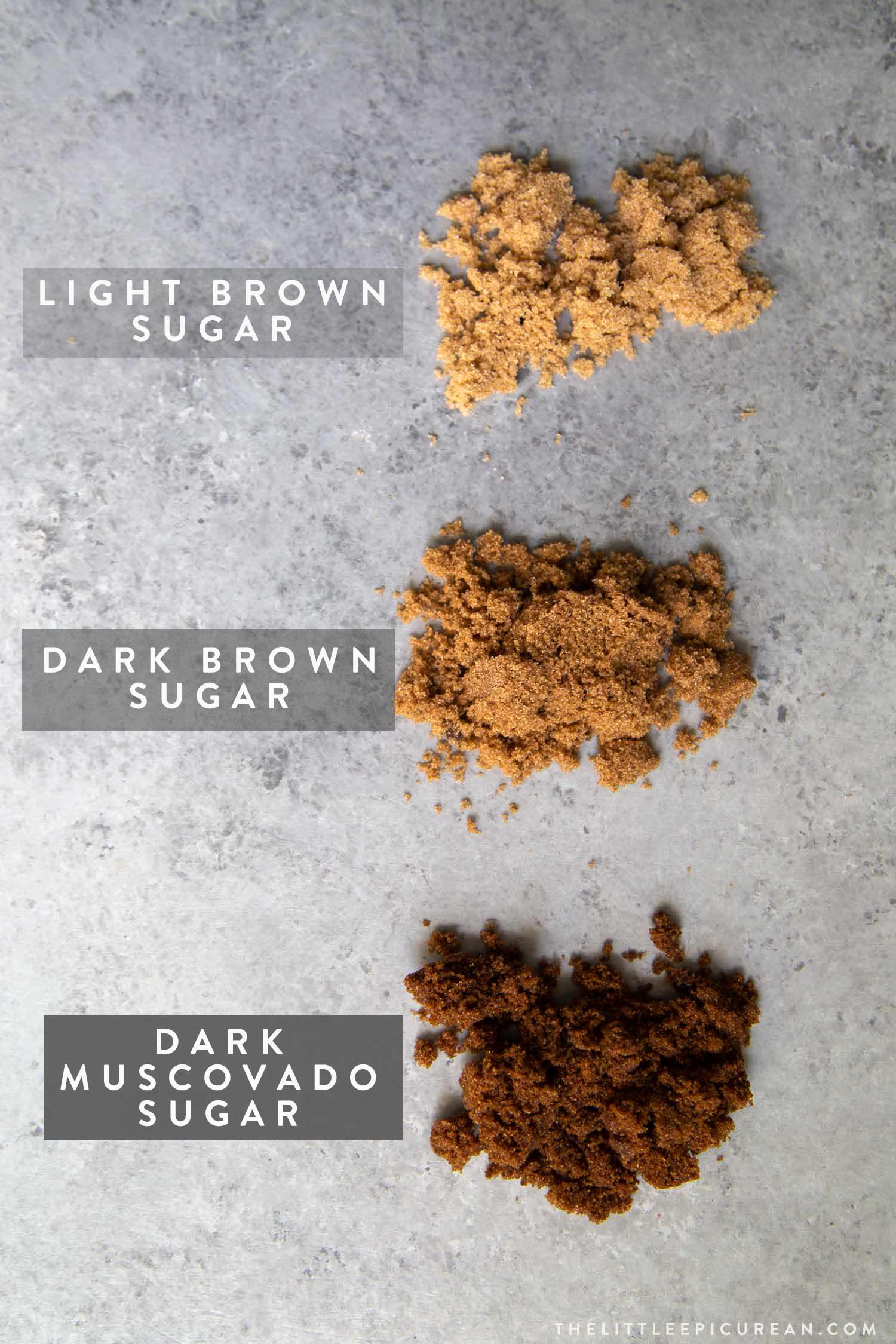 Dark Sugar Used for Boba Making
I recommend using dark muscovado sugar for this homemade boba recipe.
Muscovado sugar is also known as Barbados sugar. It is an unrefined brown sugar with more molasses than traditional brown sugar. It comes in dark and light varieties.
The high molasses content makes muscovado sugar moist and a bit sticky. It has a rich, intense flavor that gives desserts extra warmth and decadence.
As you can see from the photograph above, dark muscovado sugar has a richer brown color compared to the standard light brown and dark brown sugar.
If you cannot find muscovado sugar, either brown sugars would make a fine substitute. However, it will not have the same rich flavor. And in a pinch, you can use white granulated sugar.
NOTE: I purchased my muscovado sugar from Whole Foods Market.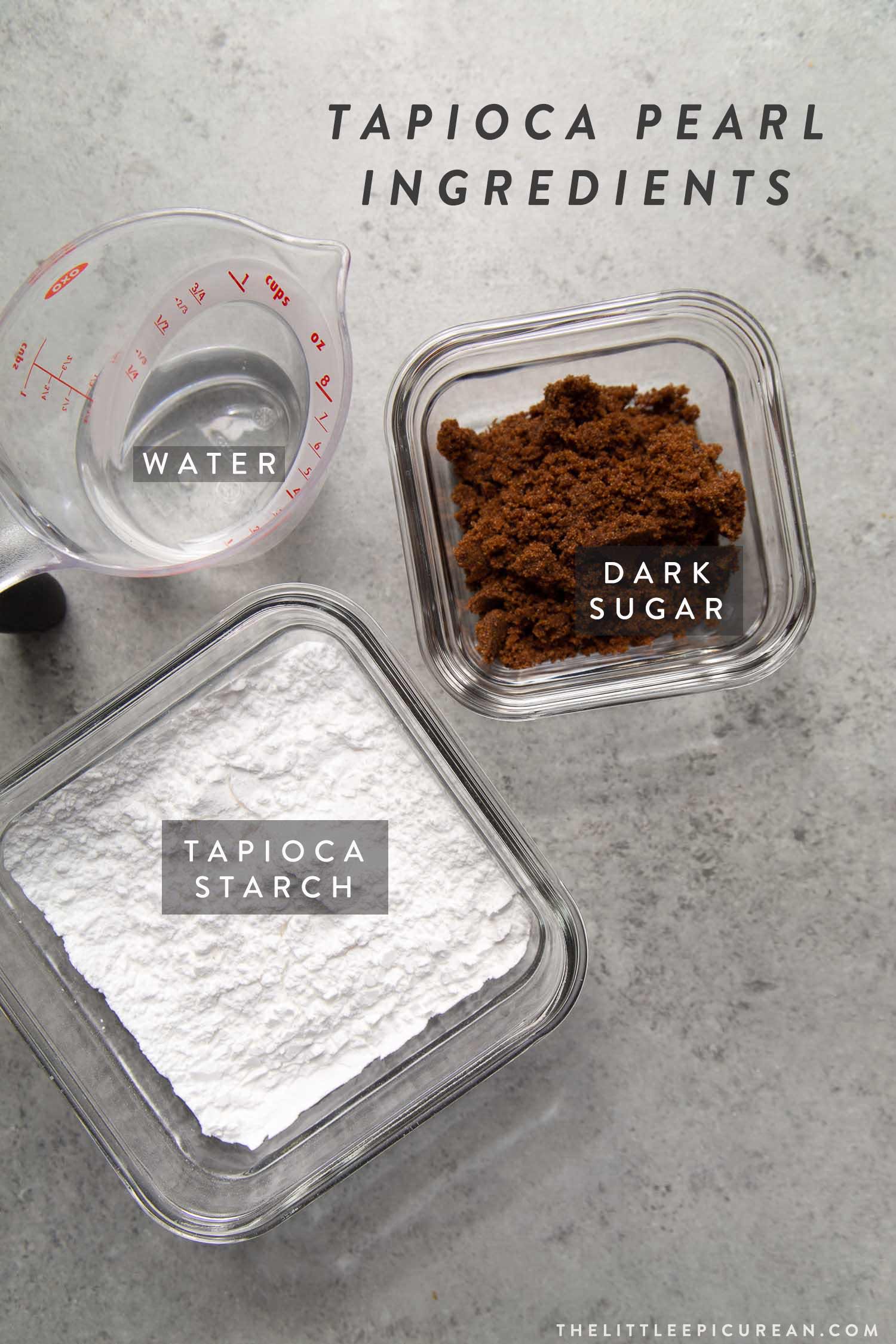 How to make tapioca pearls
You will need water, dark sugar, and tapioca starch.
Mix water and sugar in a heavy bottomed sauce pot. Bring mixture to a boil.
Add in half the tapioca starch and mix until a smooth paste forms. Add remaining half of tapioca starch and mix by hand until you can no longer stir contents together.
Transfer shaggy dough to clean work surface. Knead together by hand until smooth dough forms.
Divide dough into four equal parts. Working with one piece at a time, roll dough into a log. Cut into small marble sized pieces. Roll into a ball and place on tapioca starch dusted plate.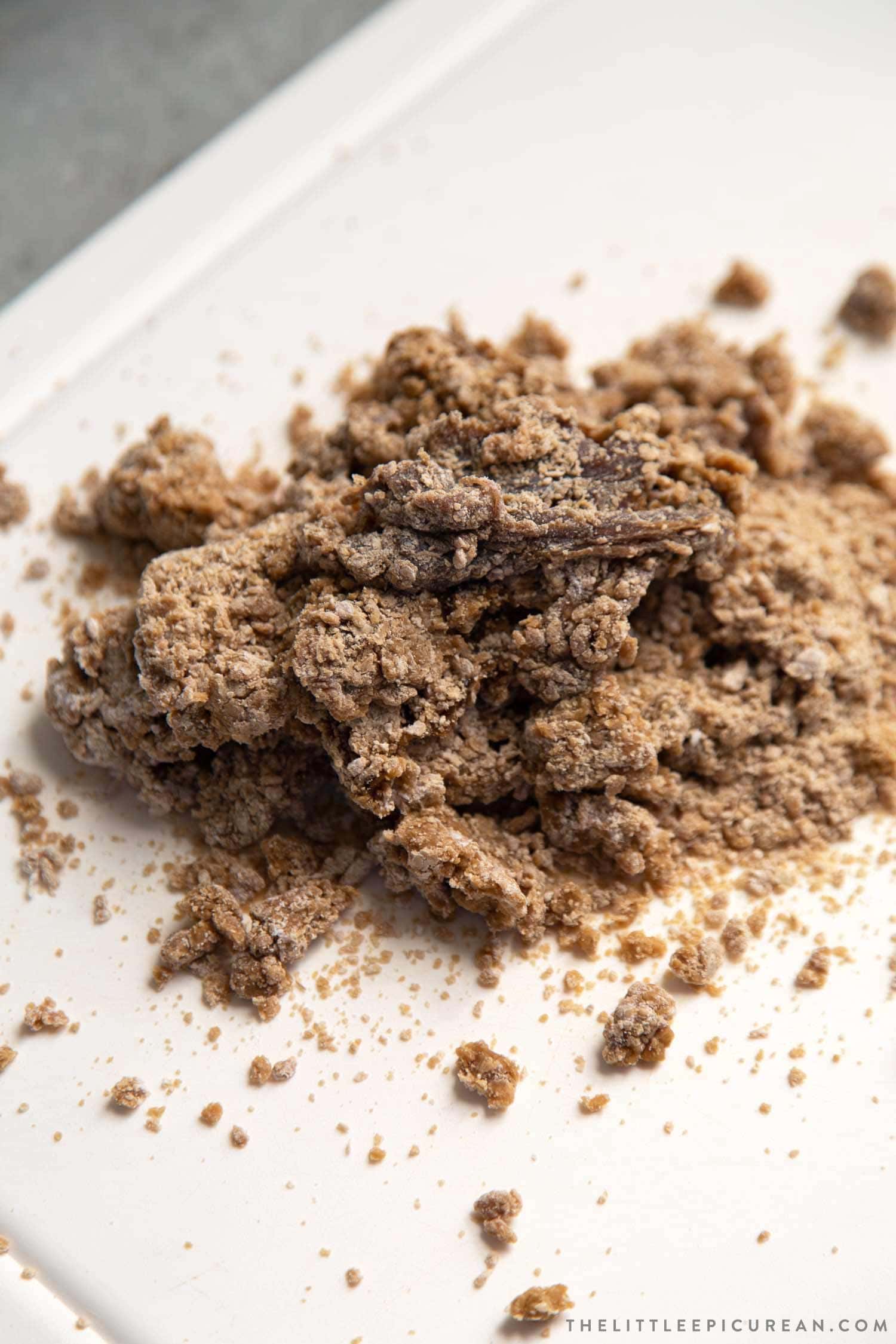 You will end up with a dry shaggy mess dough like the photograph above. Use your hands to vigorously knead the dough together.
If the dough does not come together, simply wet your hand with water. Your moistened hands will help to bind the dough together.
Repeat wetting your hands as necessary until a smooth dough forms, like the photograph below.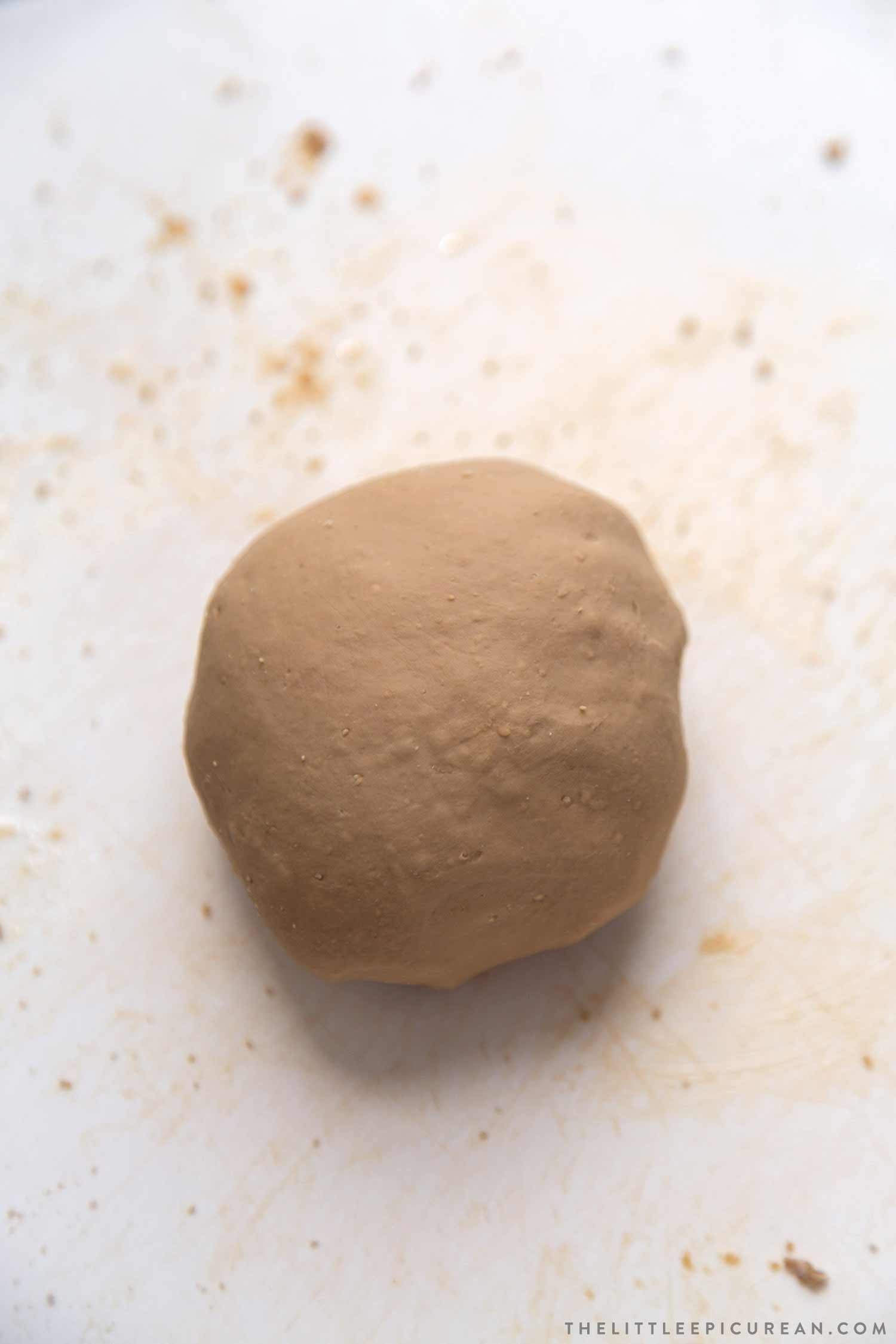 It takes a bit of work to knead to the dough, but eventually it WILL come together to form a smooth ball.
Don't worry if there are little dry bits in the dough. As you can see in the photograph above, the smooth ball does have little clumps of tapioca flour. That's okay! It will not affect the final product.
Rolling homemade boba pearls by hand
Yes, it's a tedious process. You have to roll each little ball of dough by hand.
However, it's something you can do while watching tv or streaming your favorite show.
Better yet, get the whole family involved. Sit around the kitchen table rolling out dozens of homemade boba pearls to keep in the freezer for later use!
The recipe listed here makes about 1 1/2 cups of uncooked boba pearls. Double or triple the recipe as needed to fit your needs.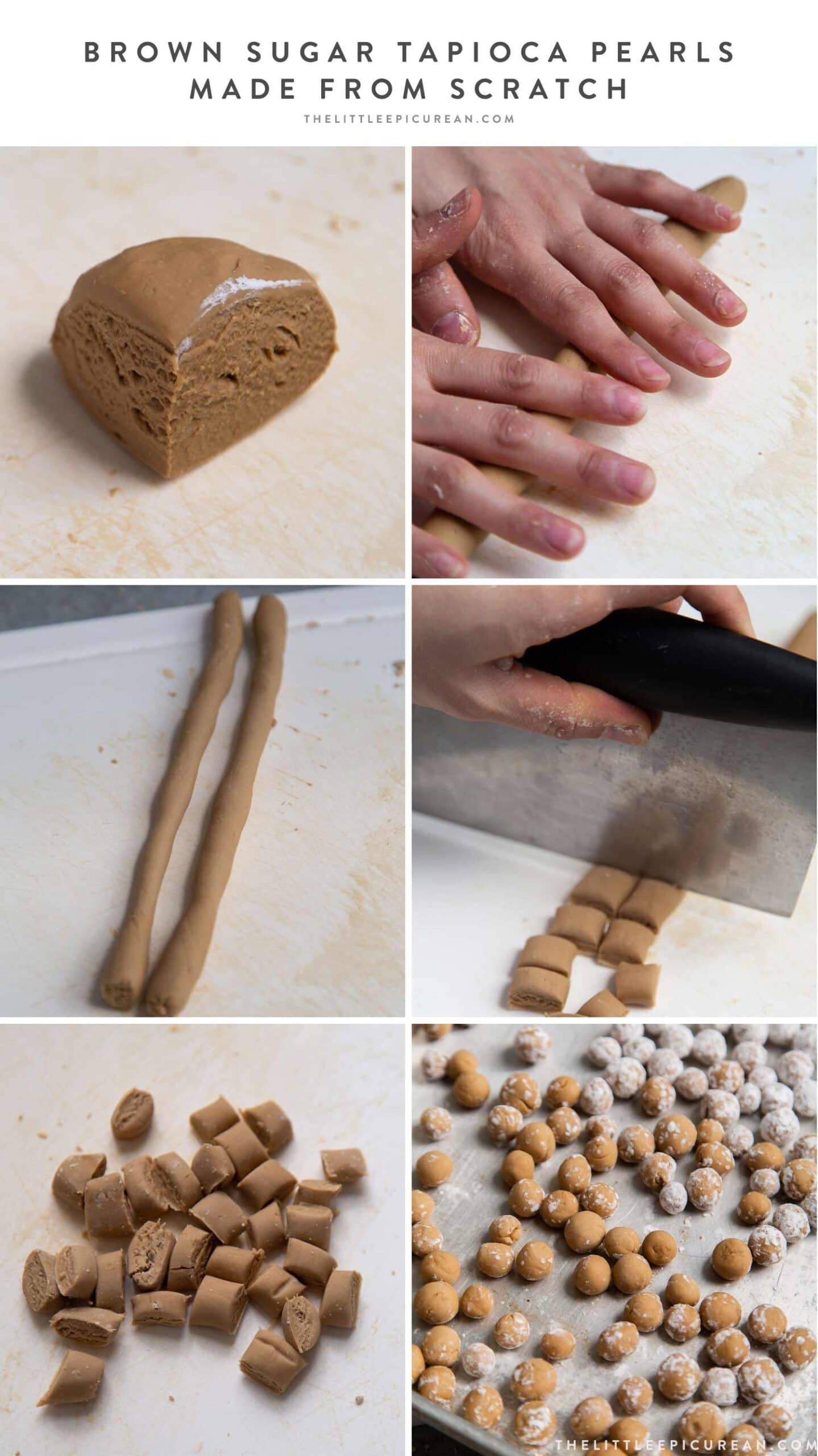 Tips and Tricks:
Work quickly because dough will dry out.
Do not fuss if dough gets dry or crumbly. Simply moisten the palms of your hands with water to help rehydrate the dough.
Keep a bowl of water handy for dipping, or use a spray bottle to lightly mist the palms of your hands.
Enlist the help of others to make the process faster. (Plus, you'll be able to make a larger batch!)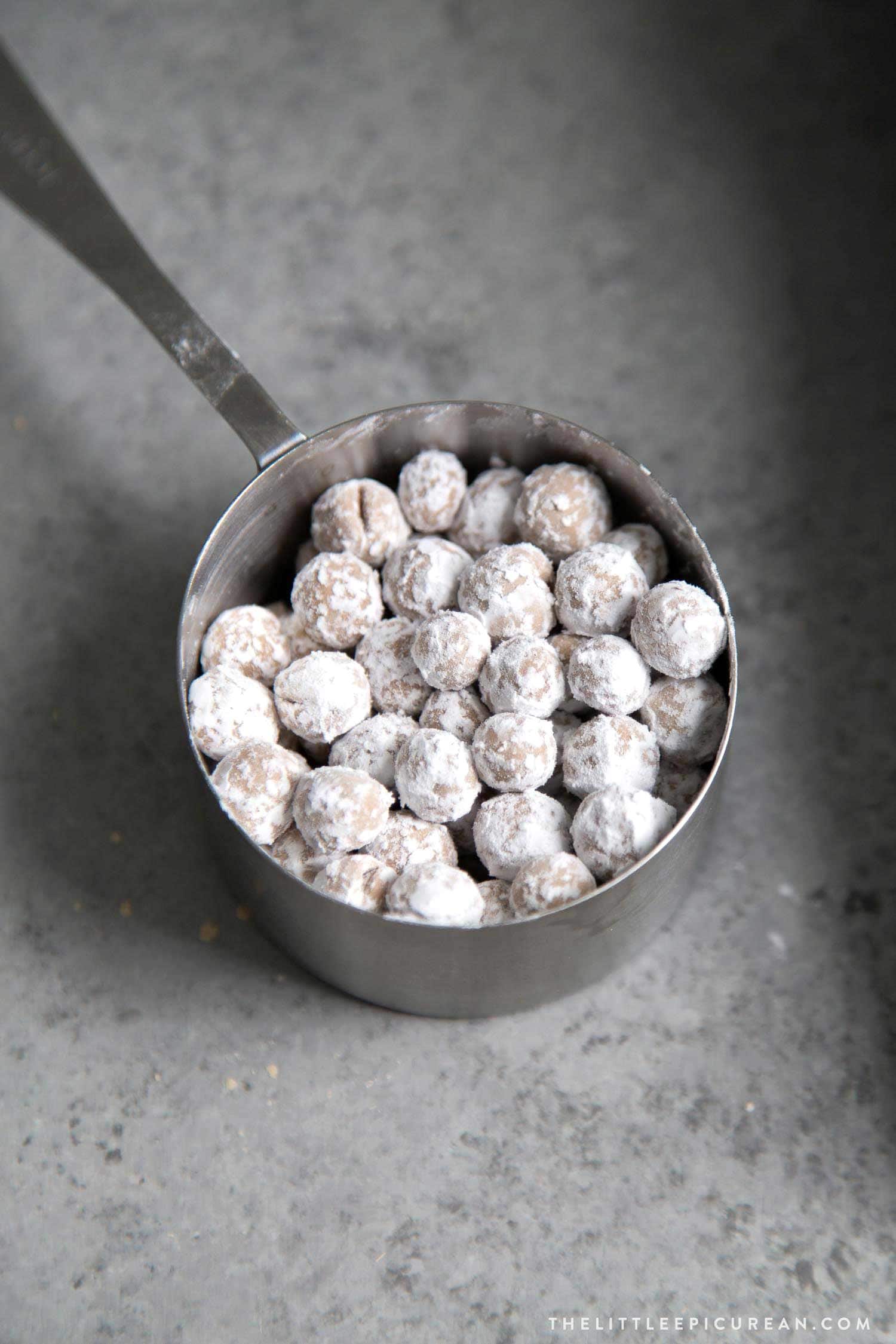 Once you've rolled all the dough, place tapioca pearls in mesh strainer (sifter) to shake off excess tapioca starch before cooking or freezing.
Freezing Raw Boba Pearls for Later Use
Stock the freezer with bags of homemade boba tapioca pearls. Cook whenever a craving for boba milk tea strikes!
Spread raw tapioca balls on a sheet tray or freezer safe plate. Place in the freezer for 2-3 hours until solid.
Then, transfer frozen tapioca pearls to an airtight container (like a zip-top bag). Keep in the freezer for up to six weeks.
When ready to cook, simply follow the instructions as listed in the recipe. No need to thaw tapioca before cooking.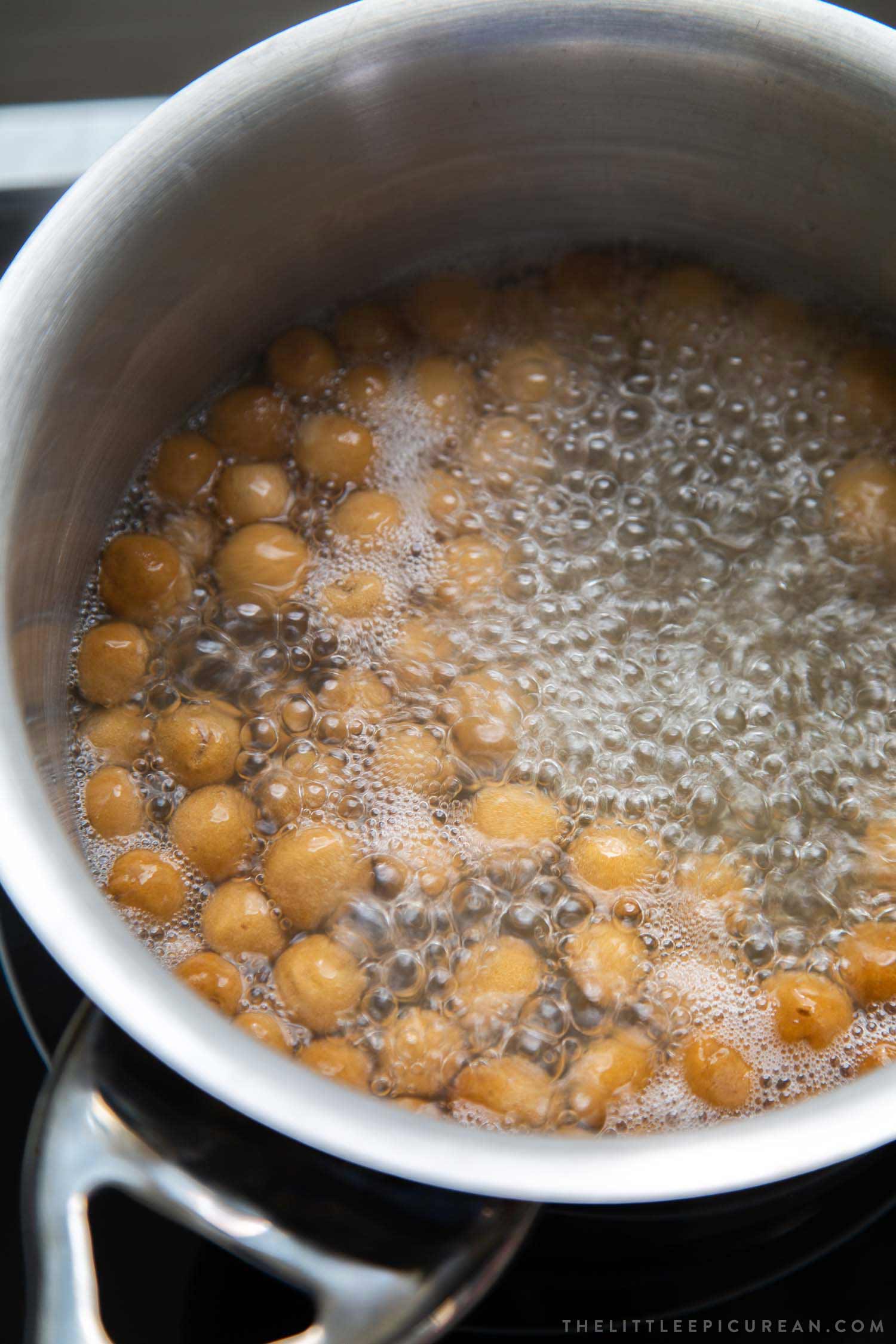 Do you need to strain the cooked tapioca before adding sugar?
I don't. The raw tapioca pearls are cooked in a 4:1 ratio of water to pearls.
During cooking, the tapioca pearls will absorb a great deal of water. Some water will also evaporate during the cooking process.
The remaining liquid leftover is the perfect amount to create the soaking sugar syrup.
The brown sugar syrup may be a little stickier or thicker than the standard soaking/braising liquid of the other boba recipes you'll find on the internet.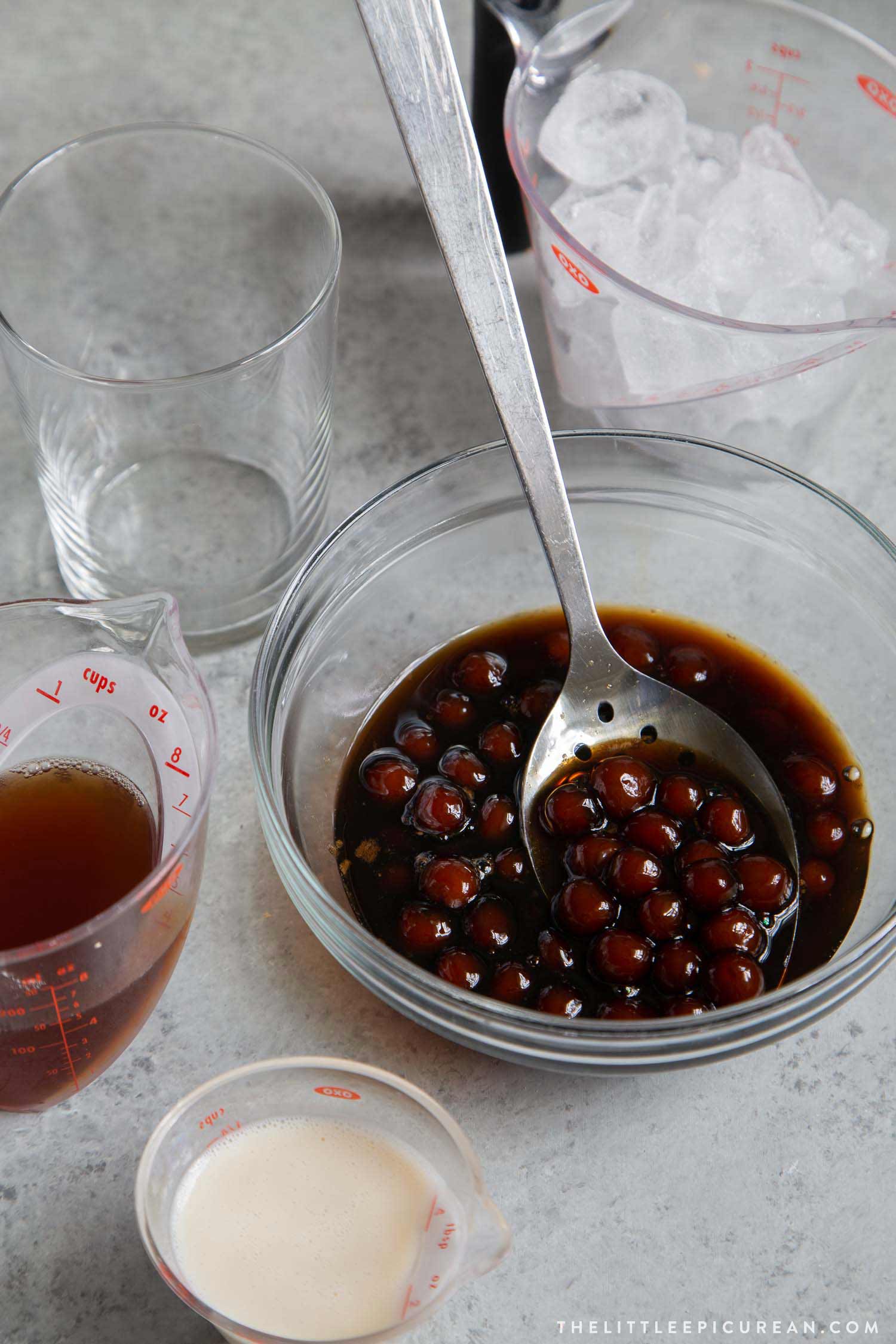 How to serve warm brown sugar boba?
Welcome to the best part! It's time to eat.
The options are endless:
enjoy the boba with iced milk tea (recipe follows below)
use it to top cake or cupcake (see my boba cake recipe!)
homemade boba is ridiculously delicious in taho (Filipino sweet tofu dessert)
serve it with your favorite fruit smoothie
also great spooned over ice cream
Homemade Boba Tapioca Pearls
From scratch boba is easier than you think! It only takes three ingredients to make. Best of all, these homemade boba pearls do not contain artificial food coloring or preservatives.
Make a large batch and freeze for later use!
Yield: about 1 1/2 cup uncooked tapioca balls
Ingredients
Tapioca Pearls:
80

grams

(about 1/3 cup) water

70

grams

(about 1/3 cup) dark muscovado sugar,

or other brown sugar

160

grams

(about 1 cup) tapioca starch
Cooking Syrup:
1490

grams

(48 oz/ 6 cups) water

300

grams

(about 1 1/2 cup) muscovado sugar,

or other brown sugar
Instructions
In a small heavy bottomed sauce pot, combine water and muscovado sugar. Set over medium high heat and bring to a boil.

Reduce heat to medium. Add half of tapioca starch. Use a sturdy spatula to quickly incorporate starch into hot liquid. Add remaining half of tapioca starch. Stir and fold mixture together in pot until shaggy dough forms.

Remove from heat and transfer shaggy dough onto a clean work surface. Knead dough together by hand. Dough will be rather dry. Wet palms of hands with water to encourage dough to stick together. Continue to knead until smooth dough forms. *

Divide dough into four equal parts. Work with one piece of a dough at a time. Cover other dough with plastic wrap or upside bowl to prevent it from drying out.

If dough is starting to dry out, moisten palms of hands with water to gently hydrate dough. Roll dough into a thin log (about 1 - 1.5 cm in diameter). Cut the log into two equal parts. Align the two logs and cut into small pieces, about 1.5 cm each.

Roll each piece in between your palms to form balls. If the dough is drying out and difficult to roll, moisten your palms with water and continue to roll.

Place formed tapioca balls in a sheet tray dusted with a small amount of tapioca.

Repeat with rolling logs and shaping balls with remaining dough.

Once you have shaped the dough, place raw tapioca balls in a mesh strainer (sifter). Shake out any excess tapioca starch.

*At this stage, you can either cook the pearls or freeze for later use.
Cooking Tapioca:
*If using all the tapioca pearls: bring to a boil 6 cups of water. Add 1 1/2 cups raw tapioca pearls. Stir to ensure pearls do not stir together. Allow mixture to continue to boil for 10-15 minutes.

Pearls will float to the top as they cook. After 10 minutes, taste one pearl to check for doneness.

Add 1 ½ cup (300 g) dark sugar and stir to combine. Bring to a boil, then reduce heat to a simmer. Let mixture simmer for 10-15 minutes. Remove from heat. Allow tapioca pearls to cool in brown sugar syrup for 10-15 minutes before serving.
Freezing Tapioca:
Spread sifted raw tapioca balls on a sheet tray. Place in the freezer for 2-3 hours until solid. Transfer to airtight container (like zip-top bag). Can be stored in the freezer for up 6 weeks.

When ready to cook, follow cooking tapioca instructions. No need to thaw tapioca before cooking.
Reheating Cooked Tapioca:
The cooked tapioca will keep in the fridge up to 4 days. Be sure to store tapioca in the brown sugar syrup.

To reheat in microwave: place tapioca and syrup together in microwave safe container. Heat for 20 second intervals until tapioca is warm, chewy, and soft. (Takes about 40-60 seconds depending on your microwave's wattage)

To reheat stovetop: place tapioca and syrup in a heavy bottomed sauce pot. gently reheat oven low heat until tapioca is warm and chewy.
Recipe Video
Recipe Notes
Cooking Notes:
1:4 ratio of raw tapioca pearls to water. For example, cook 1 cup raw tapioca pearls in 4 cups of boiling water.
1:1 ratio of raw tapioca pearls to dark sugar for soaking/cooking syrup. For example, 1 cup raw tapioca pearls will need 1 cup dark sugar. 
Other methods, require you to strain the tapioca from the original cooking water. I don't do that.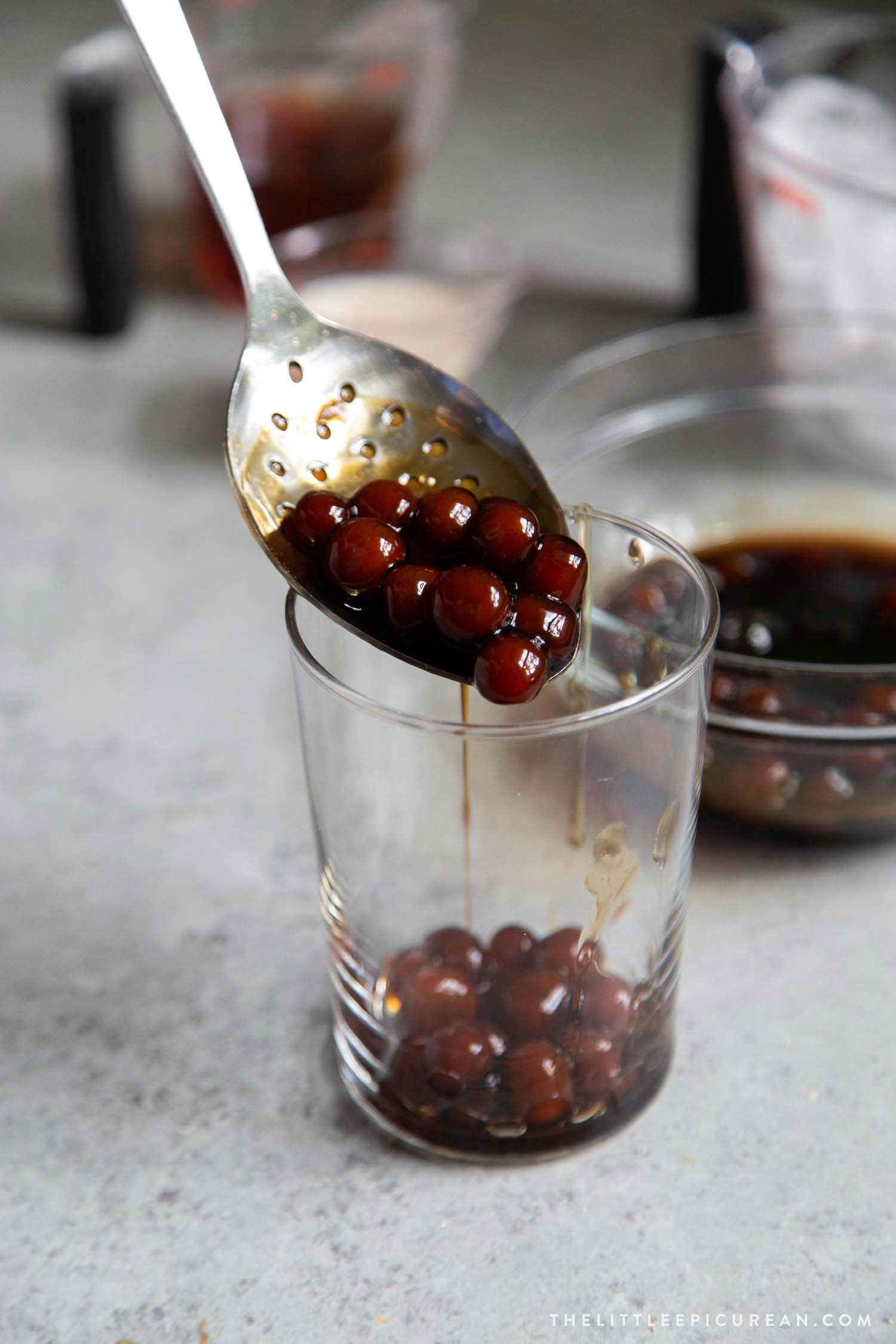 From Scratch Boba Milk Tea
Spoon warm brown sugar boba into serving glass.
Fill glass with ice.
Pour in 2/3 cup sweetened iced tea.
Top with 1/4 cup creamer or milk of choice.
Stir and enjoy!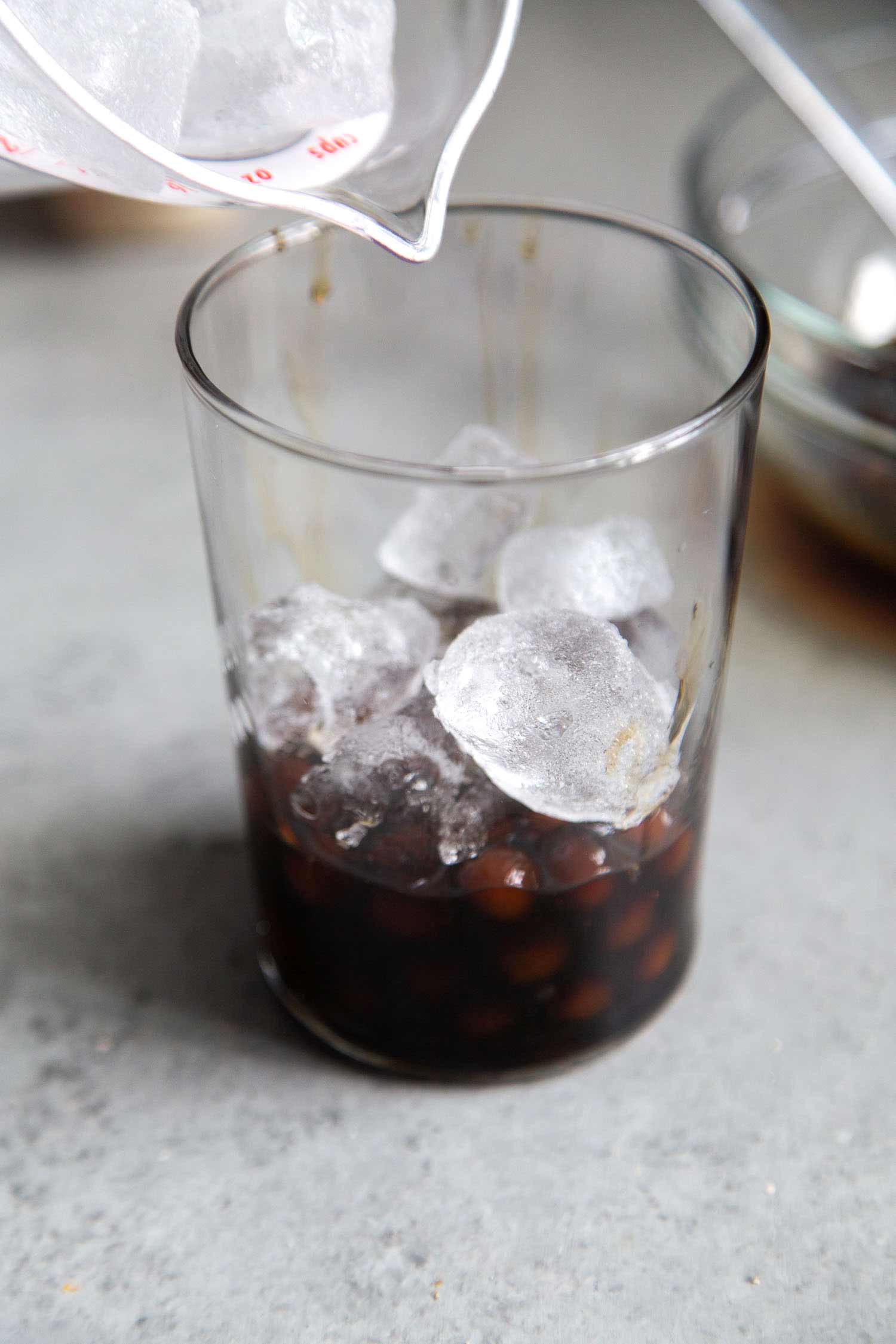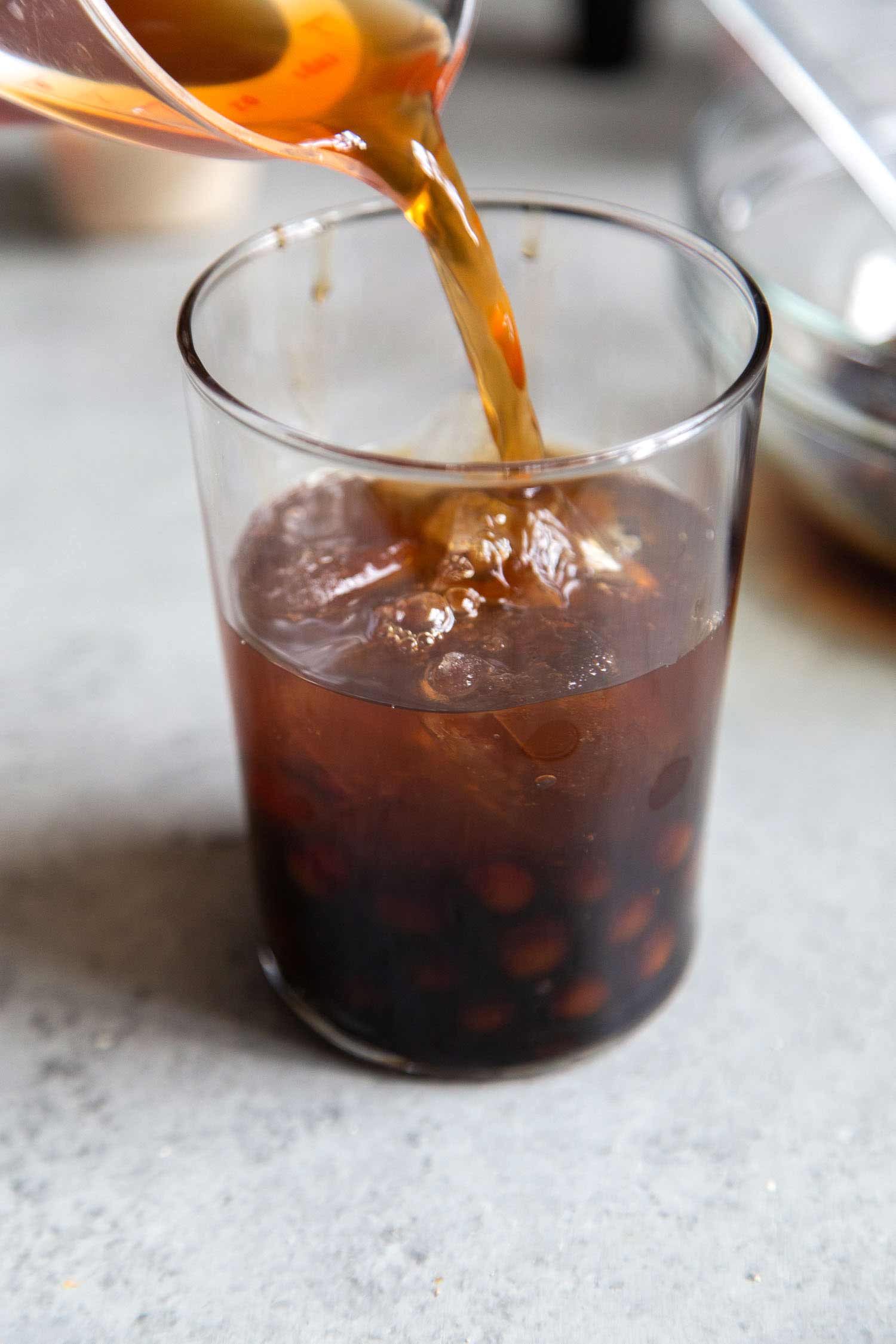 Sweetened Black Tea (makes 4 cups)
Ingredients:
2 Tbsp loose leaf black tea (your choice of English Breakfast, Earl Gray, etc)
4 cups filtered water brought to a boil
simple syrup or boba's brown sugar syrup (adjust amount depending on your sweetness preference)
Directions:
Place loose left tea in tea bag or tea strainer.
Pour over 4 cups freshly boiled filtered water.
Let mixture steep for 8-10 minutes. Strain out tea leaves.
Stir in simple syrup.
Let mixture cool. Store in the fridge until cold.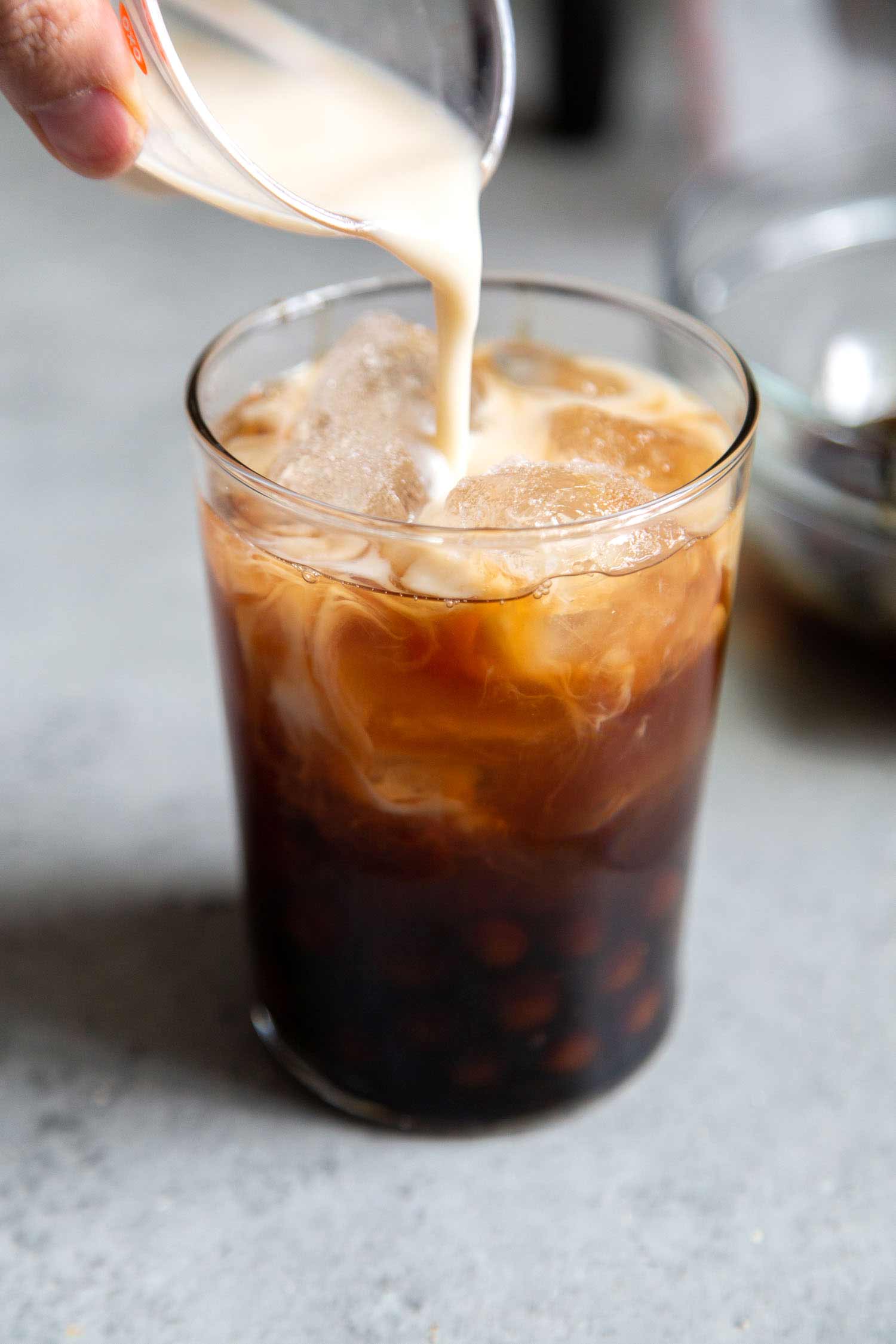 I steep the tea for much longer than directed on tea packages. Yes, it's stronger than the average tea recipe.
The tea will be lighted and diluted by the ice, cream/milk, and boba in the drink.