Taho is a Filipino sweet treat consisting of silken tofu, simple syrup, and tapioca pearls.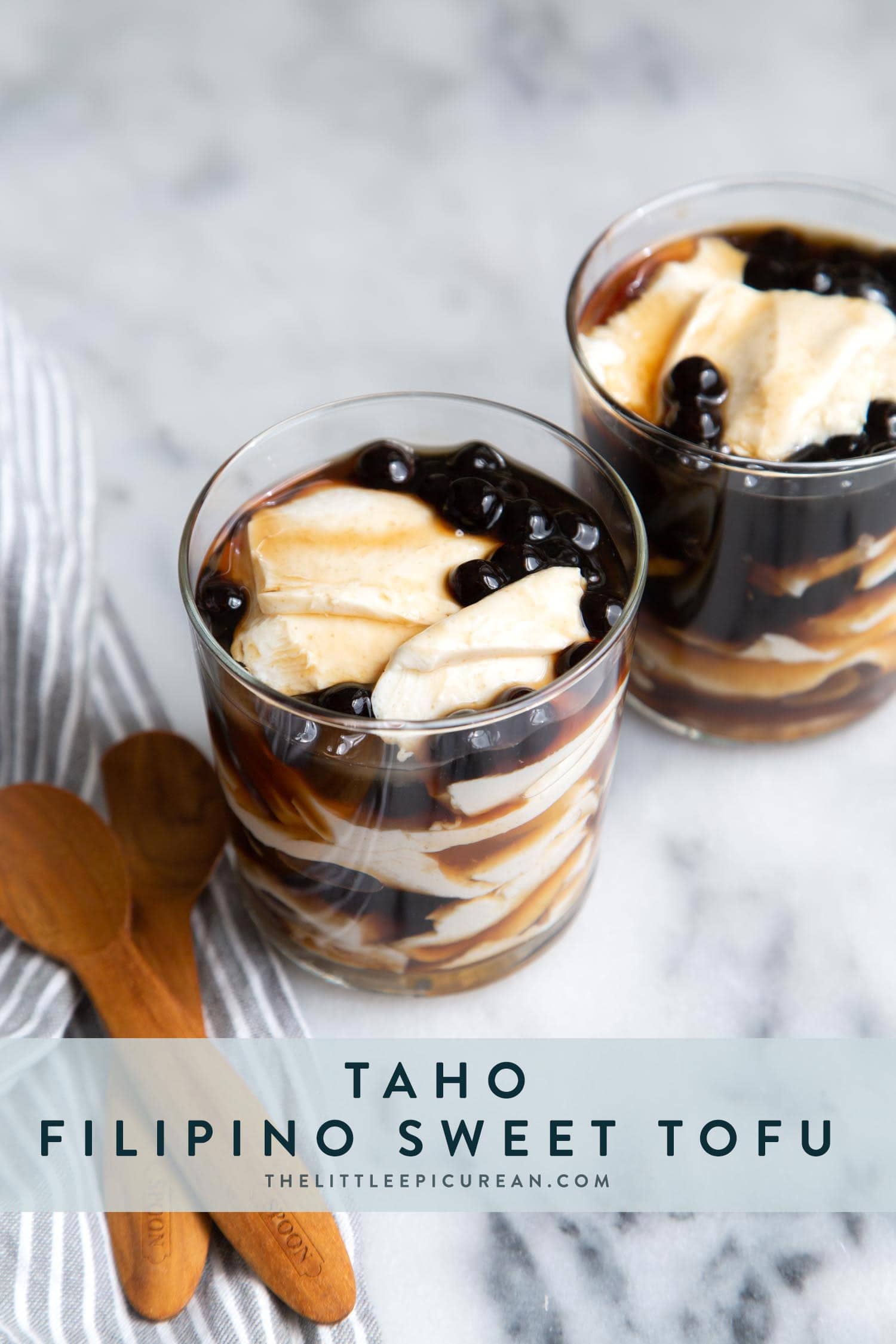 Filipino Sweet Tofu Dessert
Early in the morning or sometime in the late afternoon, you'll hear a man yelling "TAHO! TA-HO! TAAAHOO!"
That signals it's time to grab your money and wait outside your door for the taho man.
This is a familiar routine for many in the Philippines.
I was lucky to experience it during summer vacations as a kid, as well as during my study abroad program in college.
Taho is a delicious breakfast or afternoon snack that is enjoyed all year long.
What is taho?
Taho is a street snack comprised of three ingredients: soft tofu, arnibal (simple syrup), and sago (tapioca balls).
It is usually served warm or at room temperature.
However, you can also enjoy the tofu chilled for a cooling treat.
Indonesia, Malaysia, Thailand and many other neighboring Asian countries have their own version of this sweet tofu snack.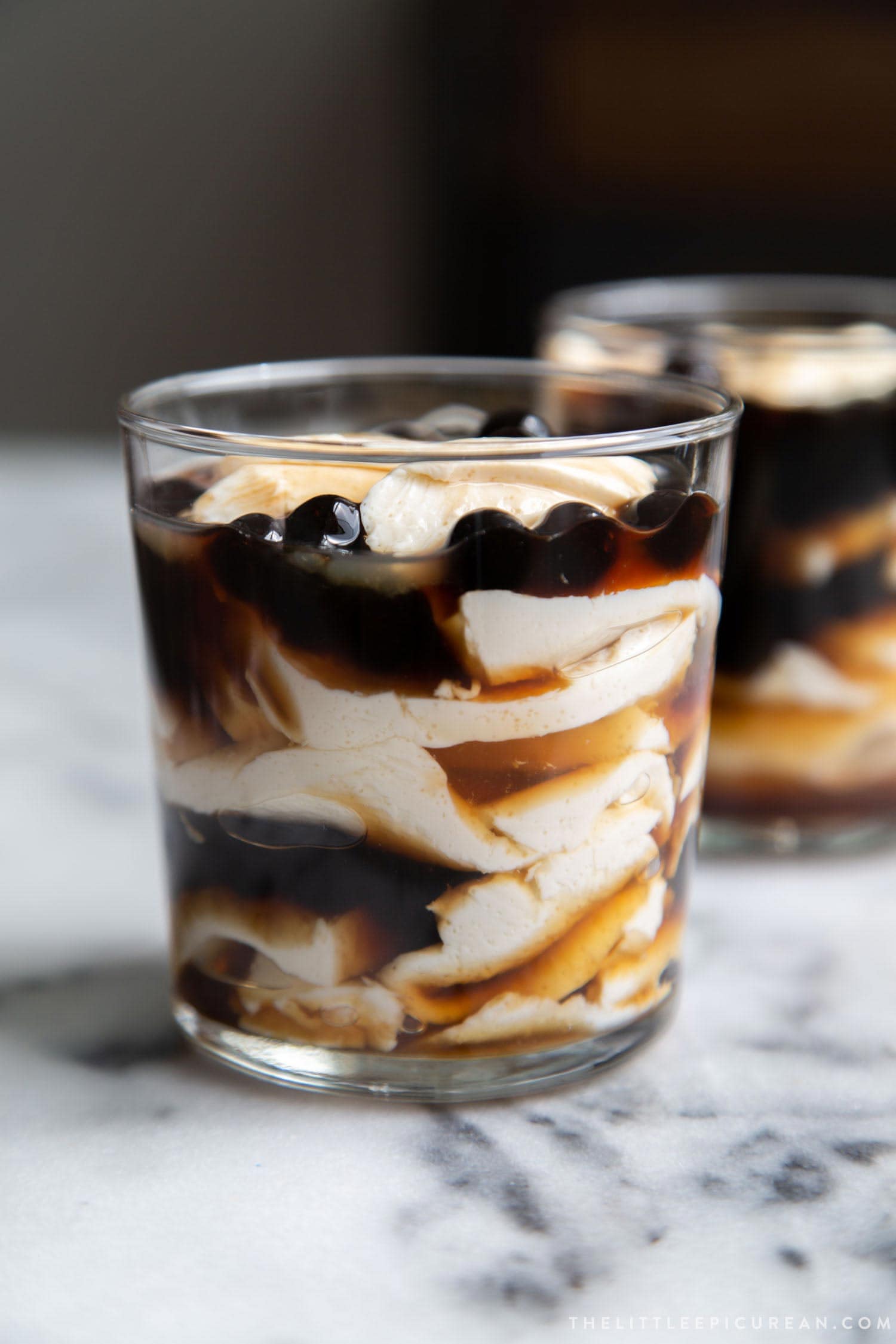 When is taho eaten?
Taho is usually eaten as a light breakfast or as a sweet afternoon snack.
It is enjoyed in the Philippines year round.
Taho is served in tiny snack sized portions. It's usually served in a small 5 to 8 oz cups.
Silken tofu is rather low in fat with a small amount of protein.
However, taho is technically a dessert because it's full of sugar. Sugar from the simple syrup and the sugars from the tapioca balls.
NOTE: the portions in the glassware photographed above serve 2.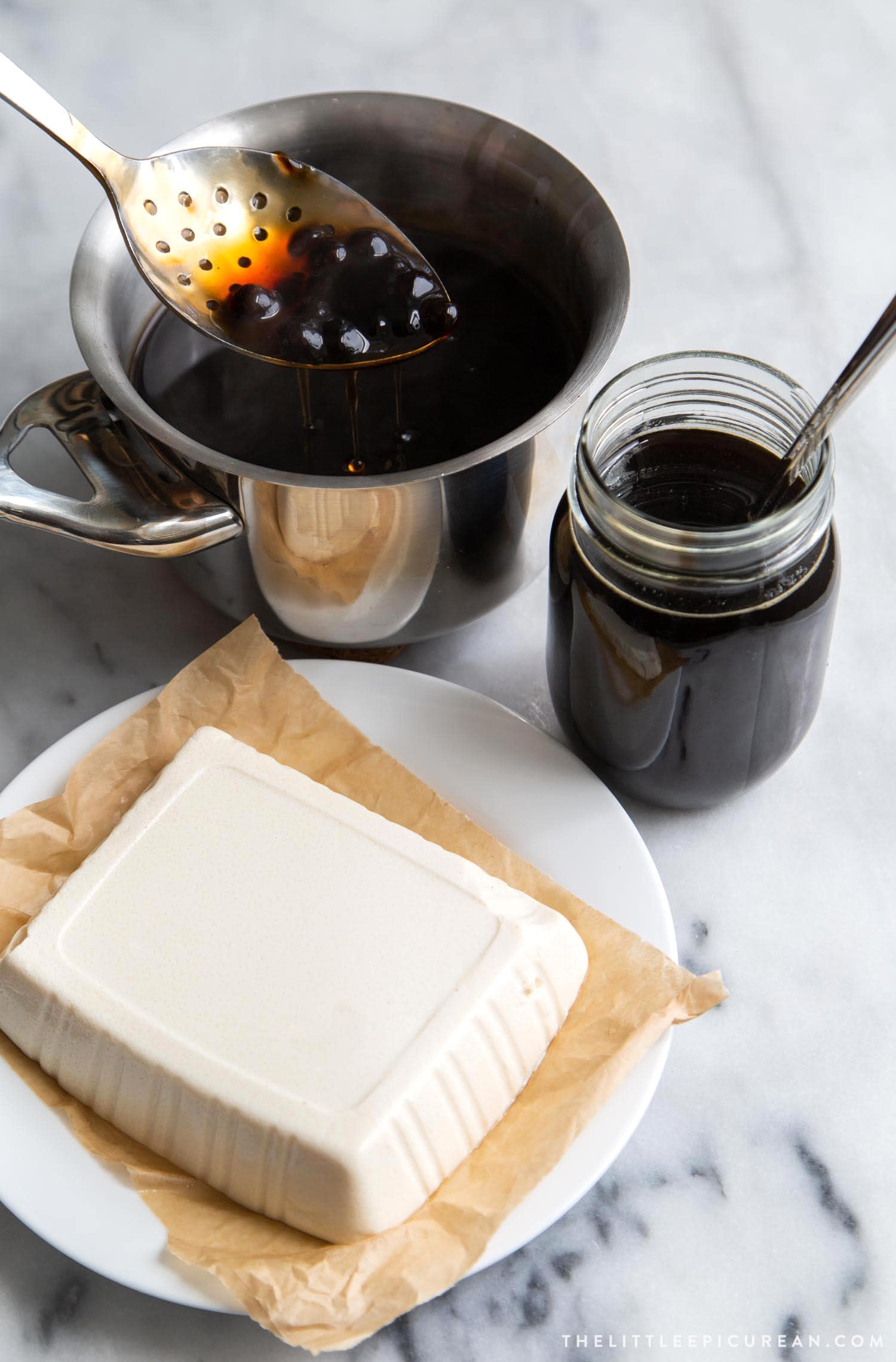 There are many varieties of silken tofu. Which one to use?
There are a wide range of tofu varieties available. The standard selection include: extra firm, firm, regular, soft, and silken.
These categories are based the amount of moisture in the tofu, which in turn determines the texture of the tofu.
It can be a bit confusing because there are several other varieties until the silken tofu category.
Well stocked Asian groceries will have soft silken tofu, firm silken tofu, and sometimes even extra firm silken tofu.
I highly recommend using soft silken tofu for this recipe.
If you cannot find silken tofu, use soft tofu.
Use the packaged tofu found in the refrigerated section of the supermarket.
Do not use the tofu sold in boxed cartons found at room temperature.
Do you have a recipe for homemade silken tofu?
Not at this time. I'm working on it!
But, if you can't wait, I recommend reading this tofu making cookbook.
What is arnibal?
Arnibal is the Tagalog word for simple syrup.
It is a cooked mixture of water and sugar. Sometimes, it is pandan or vanilla flavored.
Arnibal is made with brown sugar, dark cane sugar, or unrefined sugar. As such, arnibal is rather dark in color.
This brown sugar simple syrup is used to sweetened all sorts of drinks and desserts.
It's wonderful for iced tea or coffee.
I also like to drizzle it on top of shaved iced, rice puddings, or oatmeal and porridges.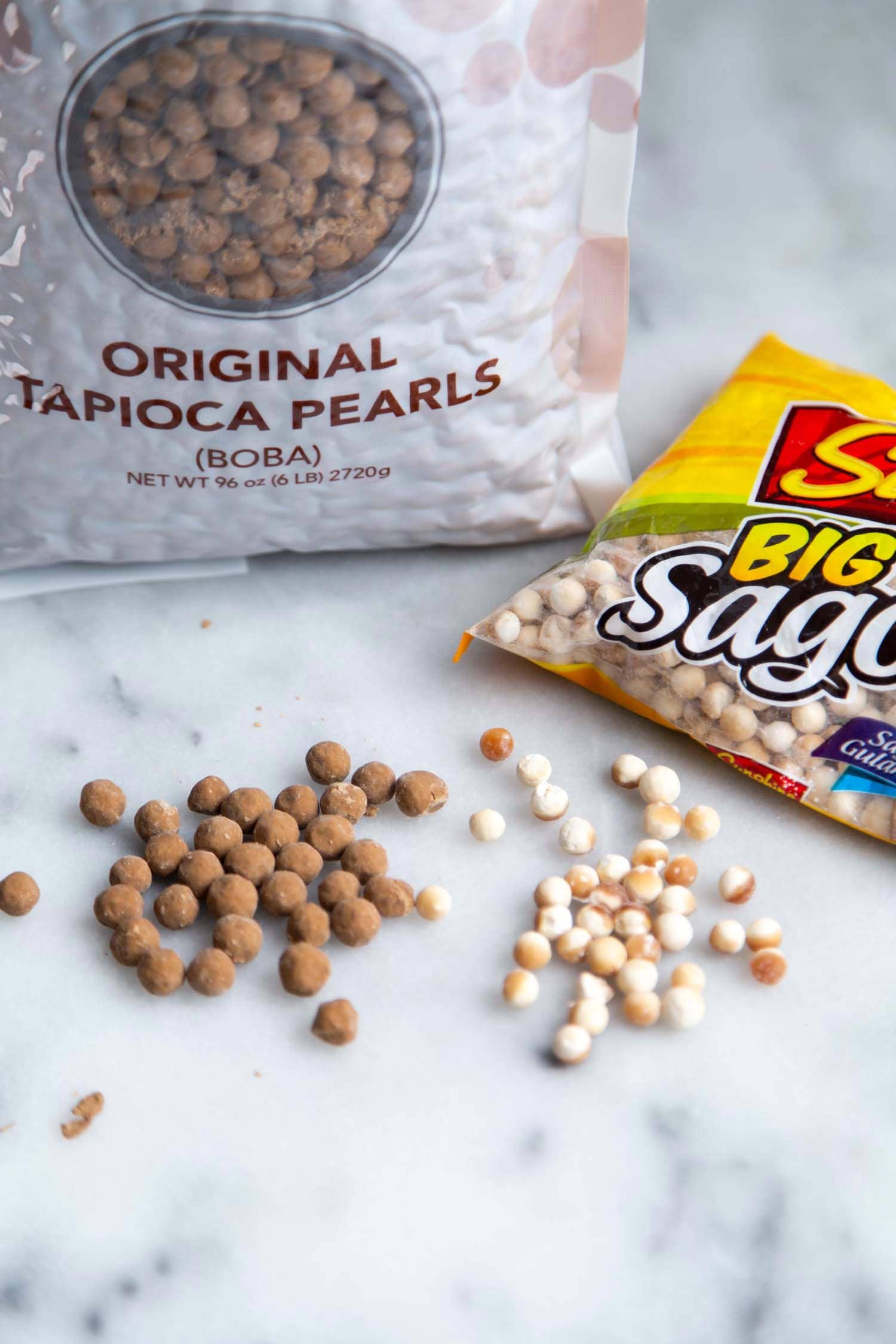 What's the difference between sago, boba, and other tapioca balls?
Traditionally, taho is served with sago.
Sago is made from the starch of tropical palm trees. Whereas, boba and other tapioca balls are made with tapioca starch or cassava starch.
Sago is sold at Filipino supermarkets and well stocked Asian supermarkets.
However, I prefer to use boba because it is more readily available.
Both sago and boba are sold in various sizes and colors. The size of the pearls will determine the cooking time. The larger the pearls, the longer the cooking time. 
Sago and boba technically should not be used interchangeably.
But, for the sake of ease and flavor, I prefer boba! (Especially brown sugar boba!)
For the ultimate taho, I suggest you try this homemade boba tapioca pearl recipe! 
More Recipes with Boba Pearls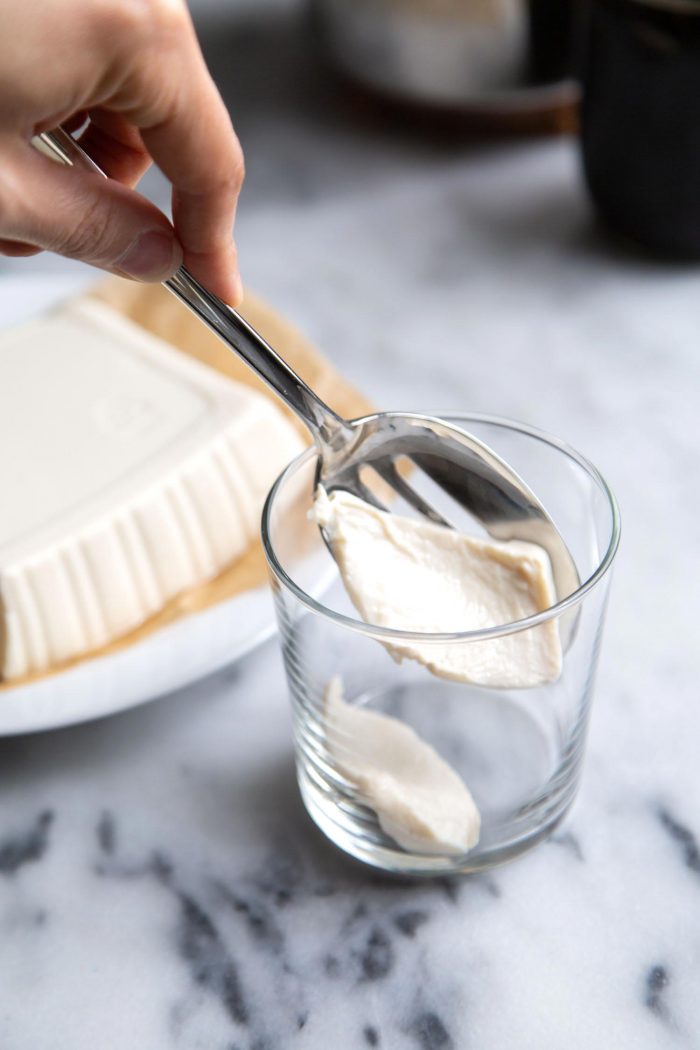 How to Assemble Taho
Steam the silken tofu until cooked. (I don't suggest eating the tofu straight out of the package. It's best to heat the tofu to avoid stomach problems.)
Use a slotted spoon to shallow ladle to scoop thin layers of warm tofu into a small serving glass.  
Drizzle some arnibal over the tofu. And follow with a scoop of warm brown sugar boba.
Repeat adding layers until serving glass is full. Serve and enjoy immediately!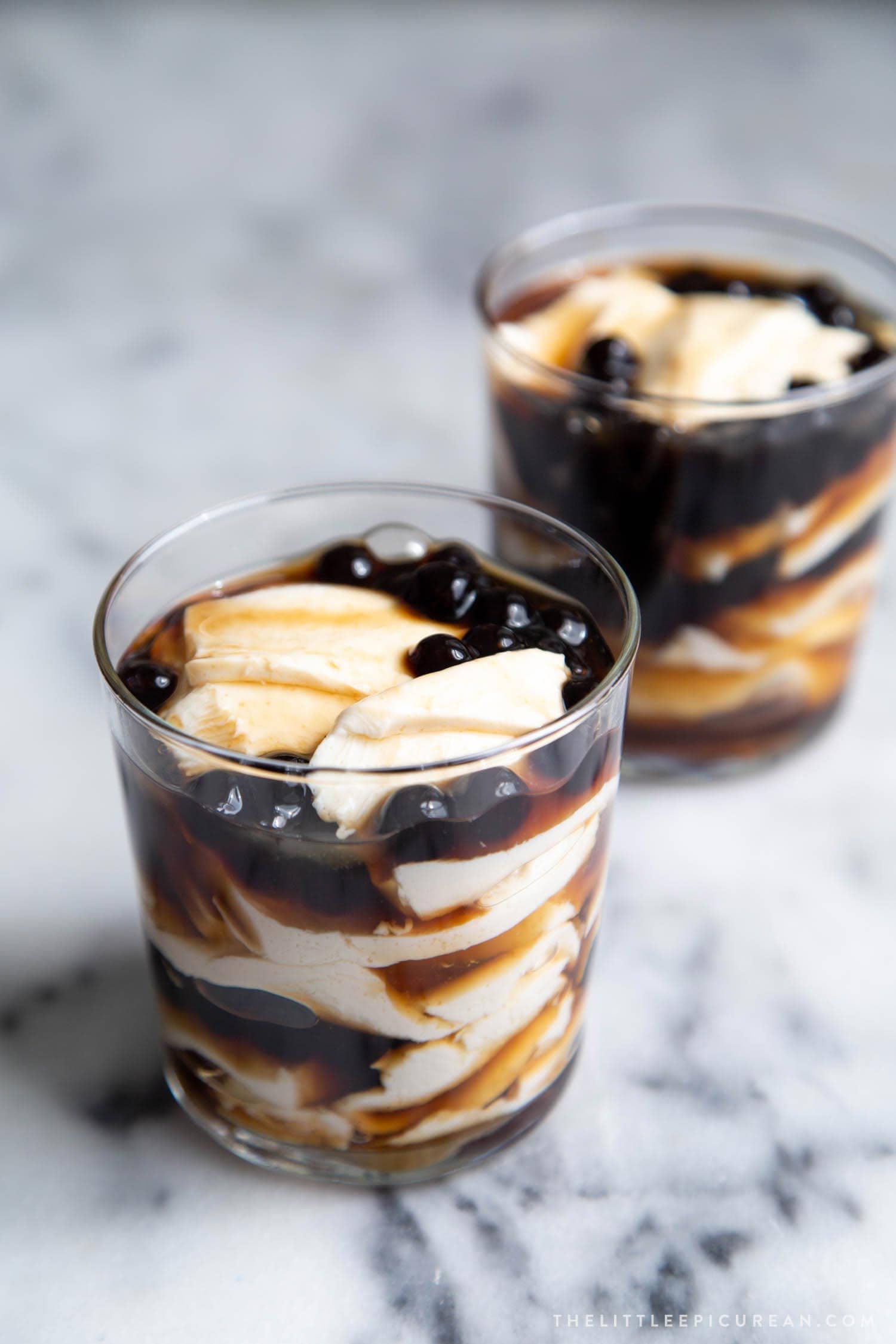 More Filipino Snack and Dessert Recipes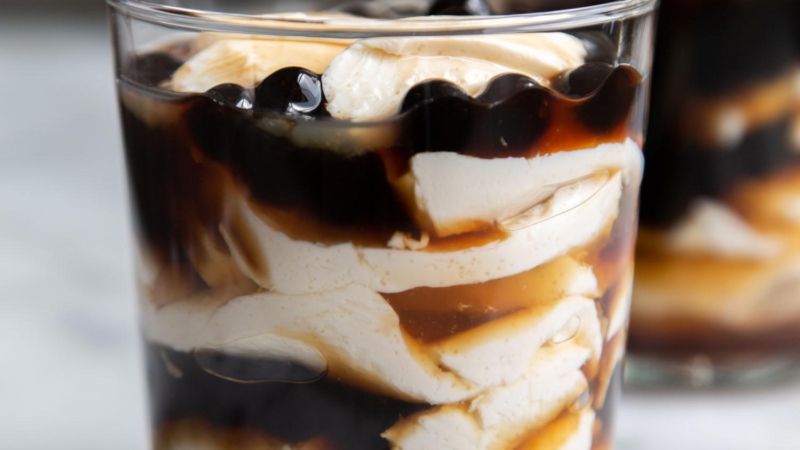 Taho (Filipino Sweet Tofu Dessert)
Taho is a layered dessert made with steamed silken tofu, brown sugar syrup, and sago pearls. This is traditionally served warm, but it can also be enjoyed chilled.
Ingredients
Sweet Tapioca:
1

cup

dried tapioca pearls (boba)

½

cup

dark brown sugar
Tofu:
14

oz

package silken tofu
Arnibal:
½

cup

water

1

cup

dark brown sugar
Instructions
Sweet Tapioca:*
Fill a heavy bottomed sauce pot with 5 cups water and bring to a boil. Add in dried tapioca pearls. Stir to combine and prevent pearls from sticking together. Allow mixture to continue at a soft boil for about 40 minutes.

At this point, the pearls should look gelatinous. Reduce heat to a simmer and cook for another 15 minutes until pearls are soft and chewy.

Add brown sugar and continue to simmer until sugar has dissolved. Remove from heat and allow tapioca pearls to soak in sugar syrup for 15-20 minutes. Taste to ensure pearls are soft and cooked throughout. If not, contiue to simmer until softened.

As mixture cools, the syrup will thicken. Keep boba mixture warm until ready to assemble.
Tofu:
Steam silken tofu for 10 minutes until cooked throughout. Remove from steamer basket and allow to cool slightly. Set aside.
Arnibal:
In a small sauce pot, bring water and brown sugar to a boil. Reduce heat and simmer until sugar has dissolved. Remove from heat and allow to cool slightly.

*If desired, pandan leaves or vanilla bean may be steeped in arnibal for extra flavor. Alternatively, use a small amount of pandan extract or vanilla extract.
Assembly:
Use a slotted spoon or a shallow ladle to scoop up thin layers of tofu. Place in serving glass. Dizzle a few teaspoons of arnibal over tofu. Follow with a small scoop of sweet tapioca. Repeat layering until serving glass is full.

Serve and enjoy immediately!
Notes
*Alternatively, follow package instructions to cook tapioca pearls.
*For a chilled version, store steamed tofu and arnibal in the fridge until cold. Assemble as directed with warm tapioca.
Ingredient Notes:
Use silken tofu or soft tofu that is found at the refrigerated section of the supermarket. DO NOT use the ones in cartons sold at room temperature.
For the real deal, traditional taho, use sago pearls. These can be purchased at Filipino supermarkets or through Amazon. 
I usually purchase my dried tapioca black pearls from Ten Ren. I go to the location on Broadway (LA Chinatown). They sell large 6.5 pound bags, which roughly makes 100 servings of boba. 
The boba package photographed here is from Lollicup. It can be purchased at their headquarters in Chino or at variousRestaurant Depot locations.
The dried tapioca pearls used in this recipe are already sweetened with caramel and maple syrup flavoring.
There are two types of tapioca pearls:one has a long cooking time, while the other is par-cooked allowing for a much shorter cooking time. In my opinion, the longer cooking one tastes MUCH better.
Tapioca pearls are best eaten within hours of cooking. DO NOT refrigerate. The pearls will harden to a rubbery consistency.