Easy homemade fig jam flavored with vanilla bean. Make this delicious fruit spread with a handful of ingredients.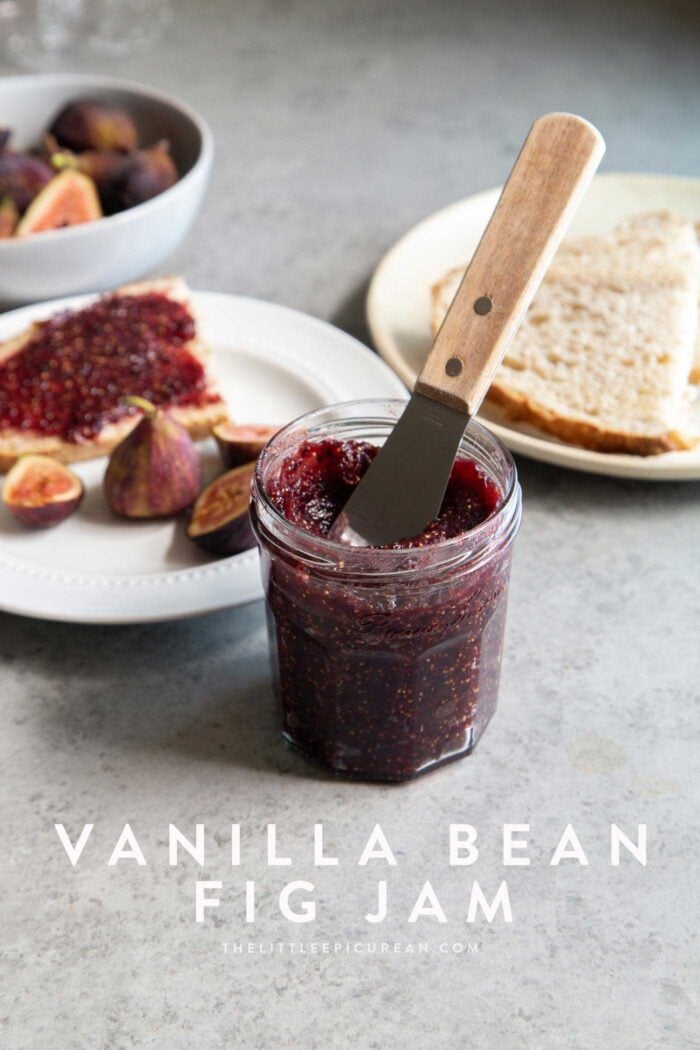 Easy Fig Jam
Figs begin to make their appearance early summer in Southern California.
However, it's not until August or September, when many varieties of figs are widely available at the farmers' market and supermarkets. 
Fig season ranges depending on the variety. This recipe uses a mixture of mission figs and brown turkey figs.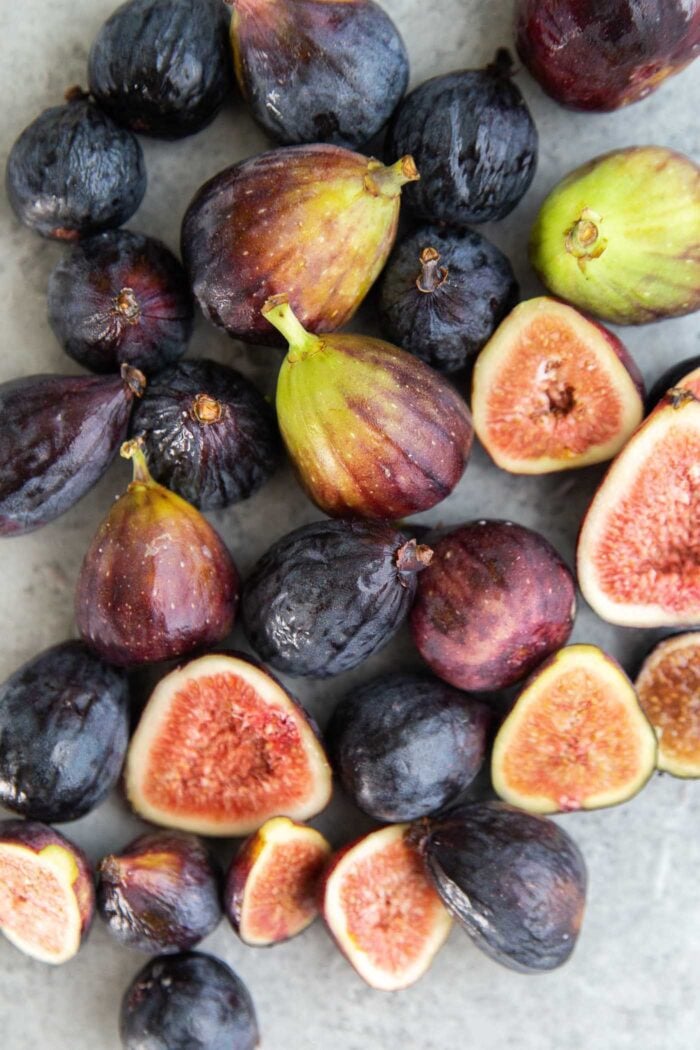 Any variety of fresh figs will work. Save the picture perfect figs for eating and snacking.
Use up any blemished, overripe, or soft figs for this jam.
Out of fresh figs? No worries.
You may also use dried figs for this recipe. Simply rehydrate dried figs in freshly boiled water until softened!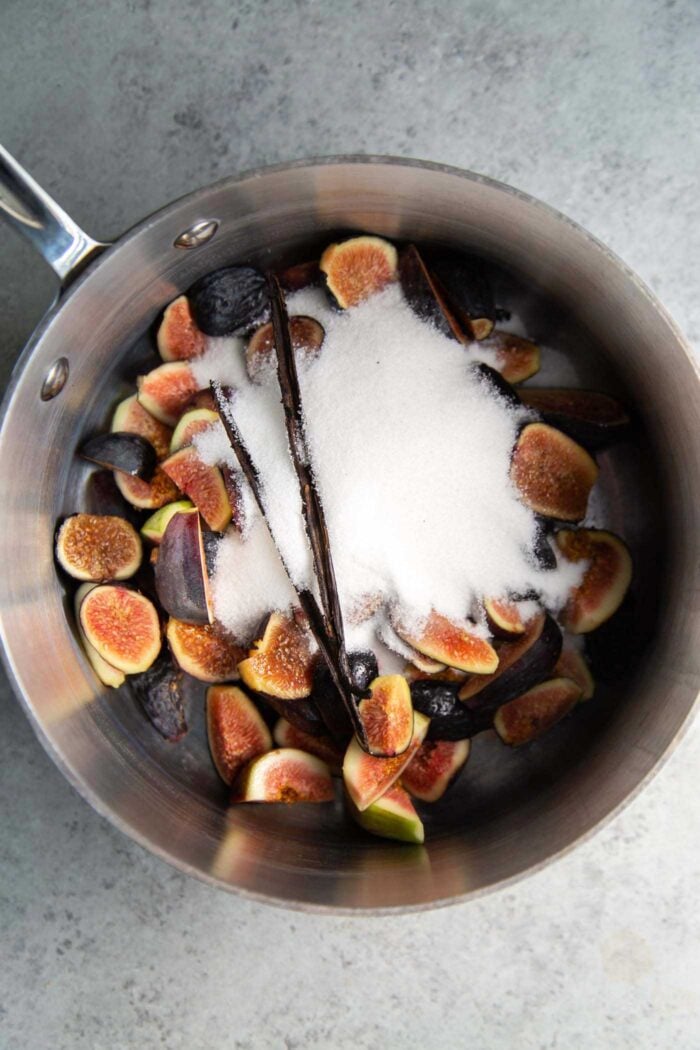 Vanilla Bean Fig Jam
This is an easy refrigerator jam. Unlike traditional canning that can preserve foods for a year or more, refrigerator jam has a relatively short shelf life.
This small batch vanilla bean fig jam keeps in the fridge for two to four weeks. 
As a quick jam, it does not need to be sealed and boiled like traditional canning.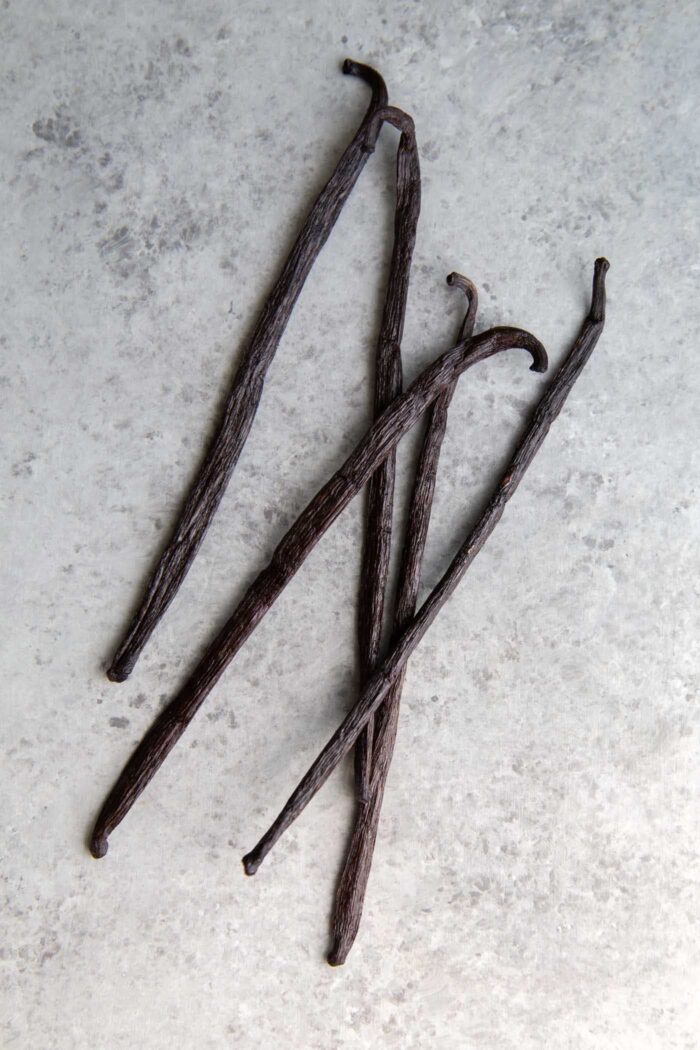 Figs are delicious on their own, yet one noted. Figs one their own are simply sweet.
Paired with vanilla bean, the figs turn into this luxurious rounded flavor warm with earthy tones.
The vanilla bean pod and vanilla bean scrapings are steeped in the cooking fig mixture. 
The flavors from real vanilla beans does not compare to pure vanilla extract or even store-bought vanilla paste. However, vanillas beans are quite the splurge.
I purchase them a few times a year for special occasions and special projects.
The vanilla beans I used for this recipe were purchased from Costco. Costco has a great deal for quality vanilla beans!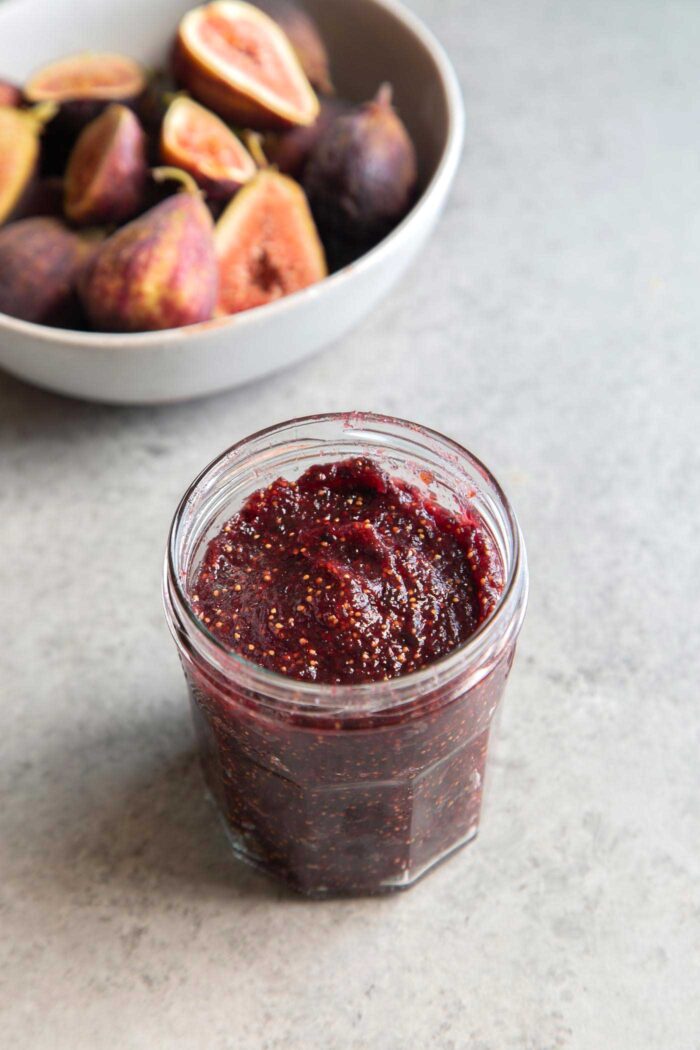 Vanilla Bean Substitutes
You may use high quality pure vanilla bean extract or vanilla paste. Add this at the very end of the cooking process, after the figs have been cooked down with the sugar and lemon juice.
The vanilla extract must be added at the end to preserve the vanilla's delicate flavor.
Asides from vanilla, you may flavor the fig jam with orange peel, cinnamon sticks, or cardamom pods.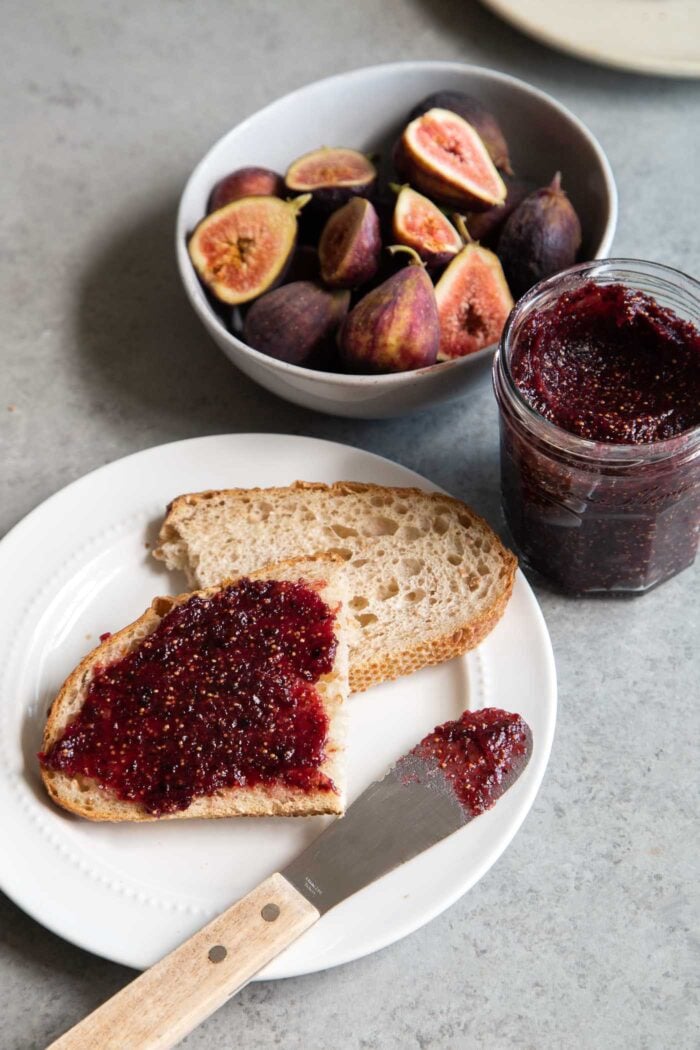 What to make with Fig Jam?
We use to it make fig pistachio bostock or almond butter & fig jam sandwiches.
It can be used for this caramel fig chocolate cake or as a condiment for a meat and cheese board.
Of course, it's delicious just spread on a piece of toast!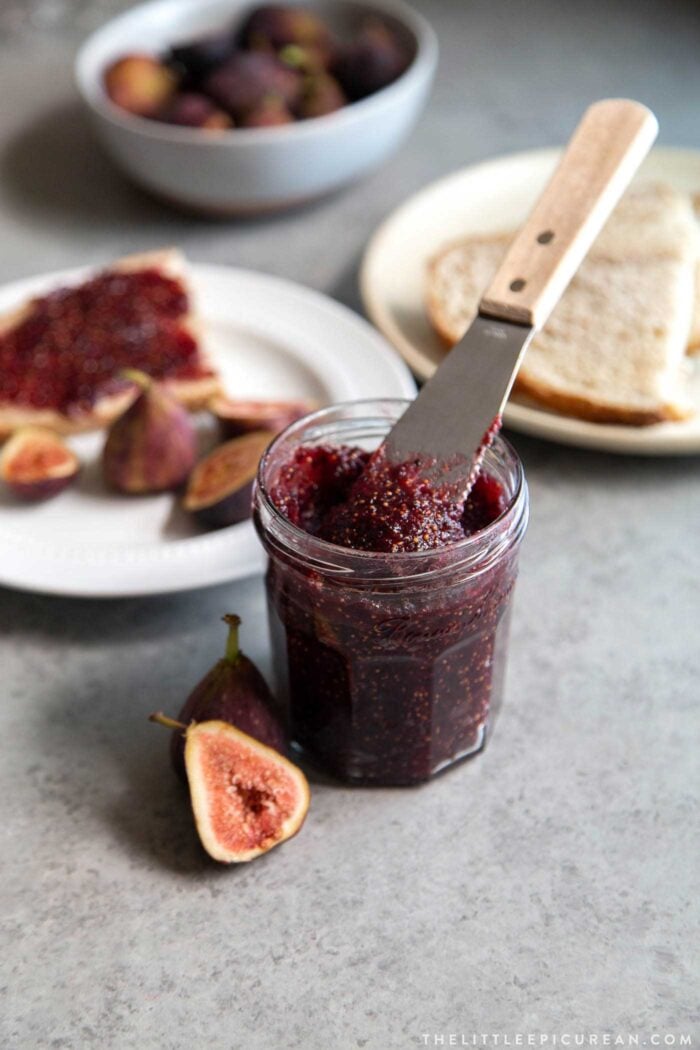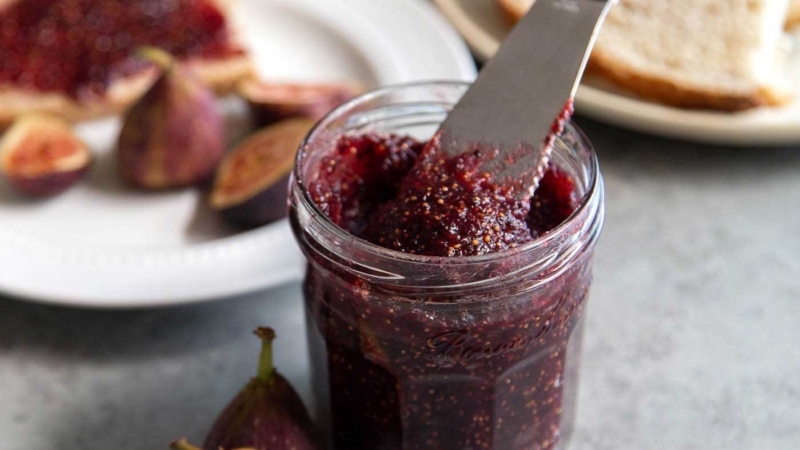 Vanilla Bean Fig Jam
Quick and easy homemade fig jam steeped with vanilla bean. Spread this jam on everything from toast, tarts, and even cake! Yield: about 1 ¼ cup
Ingredients
454

grams

(16 oz/1 pound) fresh figs,

sliced in half or quarters

150

grams

(¾ cup) granulated sugar

1

vanilla bean pod,

split open lengthwise, beans scraped out

14

grams

(1 Tbsp) fresh squeezed lemon juice
Instructions
Combine cut figs, sugar, vanilla bean scrapings, vanilla bean pod, and lemon juice in a heavy bottomed medium saucepot. Bring mixture to a boil over medium-high heat. Once mixture has come to a boil, reduce heat to medium.

Stir mixture frequently to ensure fruit does not burn along the sides or bottom of the pot. Simmer for 30-40 minutes until figs have broken down and mixture has thickened.

Discard vanilla bean.* Use an immersion blender to process chunky jam into a thick jam. Alternatively, place in a blender or food processor.

Transfer jam to a jelly jar or glass jars with tight fitting lids. Let the jam cool uncovered to room temperature. Then cover, and store in the fridge for up to two weeks.
Notes
Vanilla bean substitute: Add 2 teaspoon of pure vanilla extract or vanilla bean paste at the end of step 2, once figs have broken down and cooked in the sugar.