Chia berry jelly donuts made with a yeast raised dough that is fried until golden brown and then filled with a quick homemade chia blueberry-strawberry jam.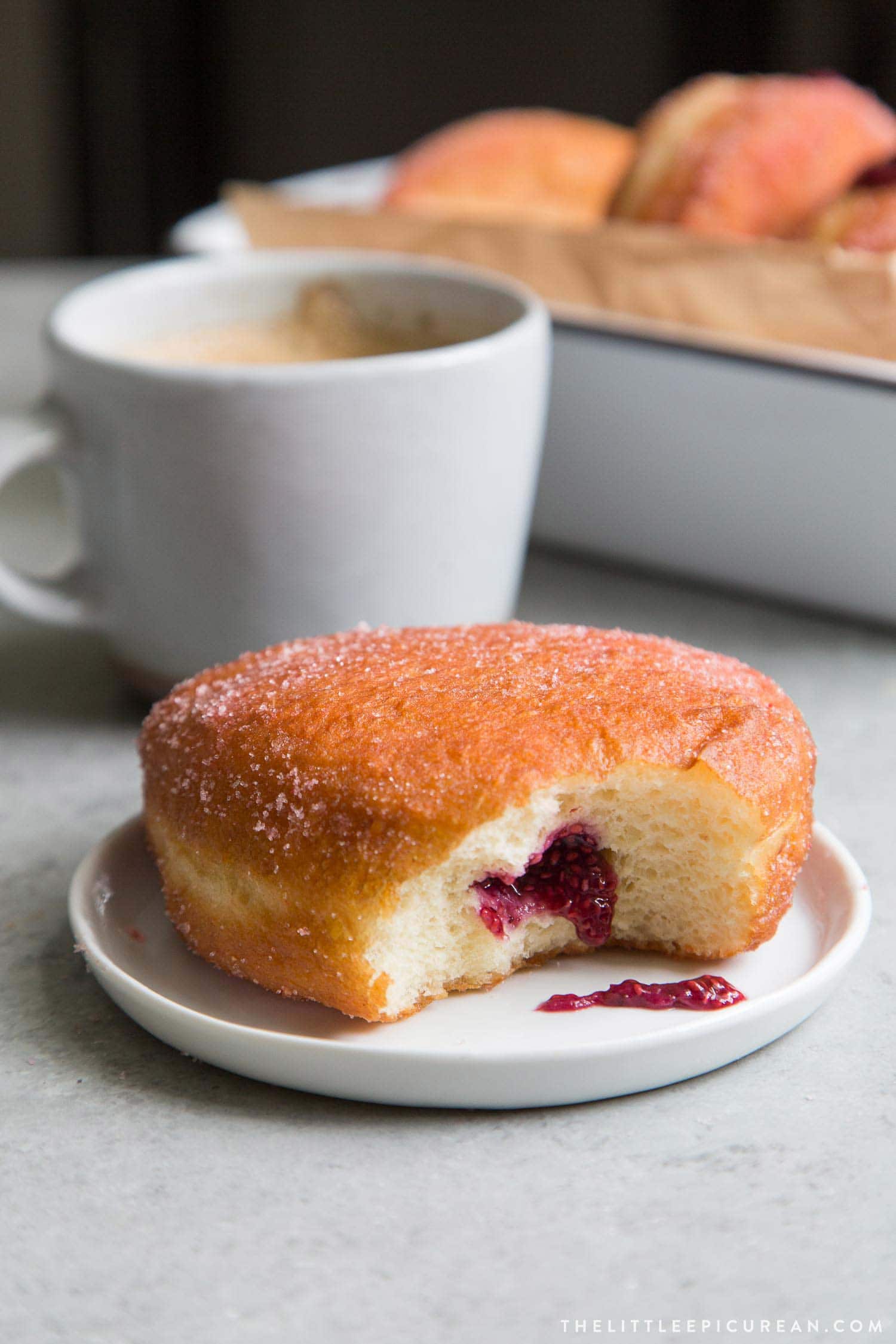 Jelly filled doughnuts are known by many names. It's pfannkuchen in Germany, bombolini in Italy, and sufganiyot in Israel.
Whether you spell them donut or doughnut, these fluffy fried pieces of dough are the ultimate comfort food. They can be enjoyed morning, noon, or night.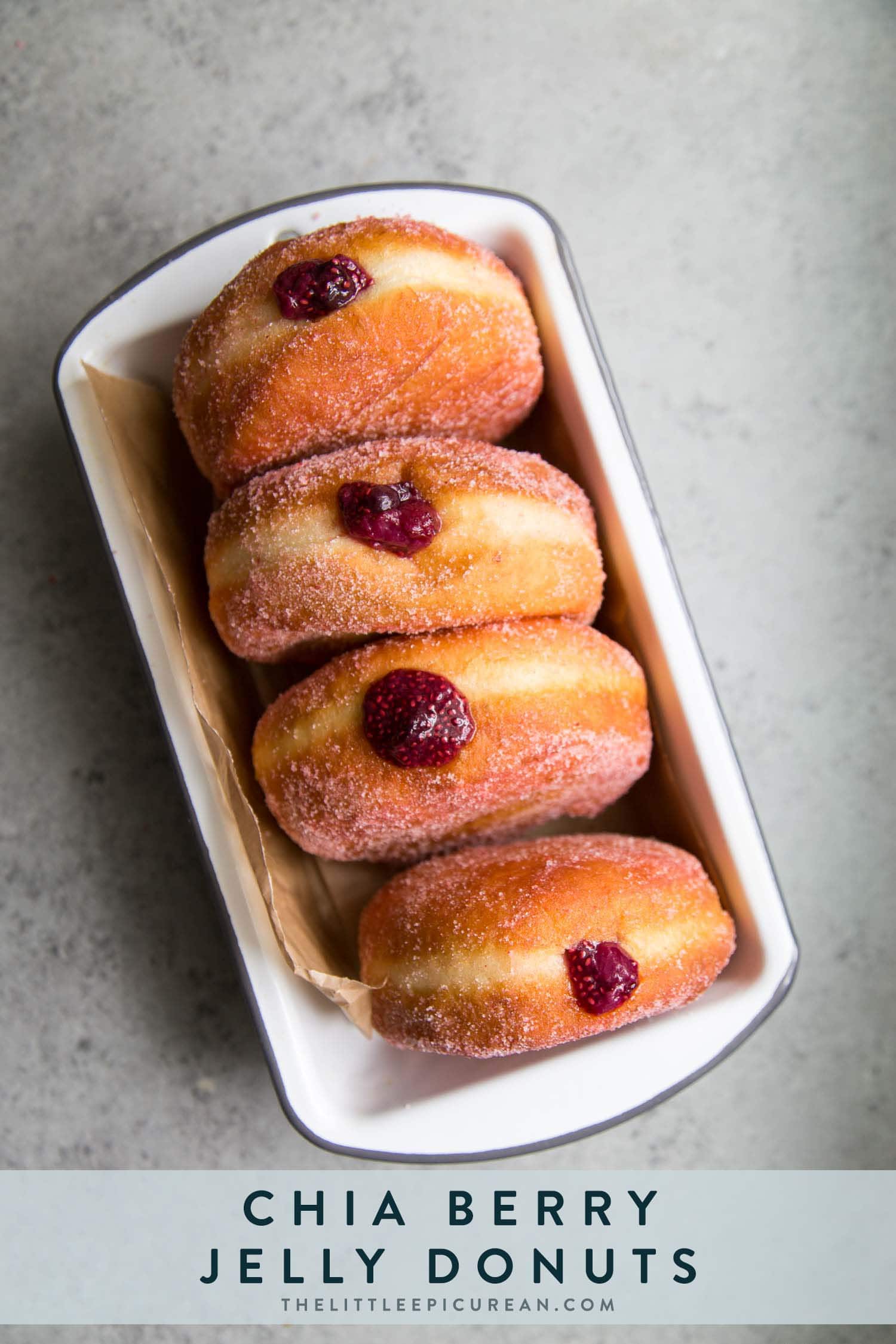 Jelly Donuts
Yeast donuts can be filled with all sorts of goodness such as these peach cream filled doughnuts or pumpkin cheesecake doughnuts.
These fried little pillows of dough are filled with a quick and easy chia berry jelly. The jelly uses a combination of fresh strawberries and blueberries.
During the off season, frozen strawberries or frozen blueberries may also be used.Other soft fruits like raspberries or ripe nectarines may also be used in place.
To skip an extra step, feel free to sub in your favorite store-bought jelly or jam!
(scroll down for a pastry cream filled version!)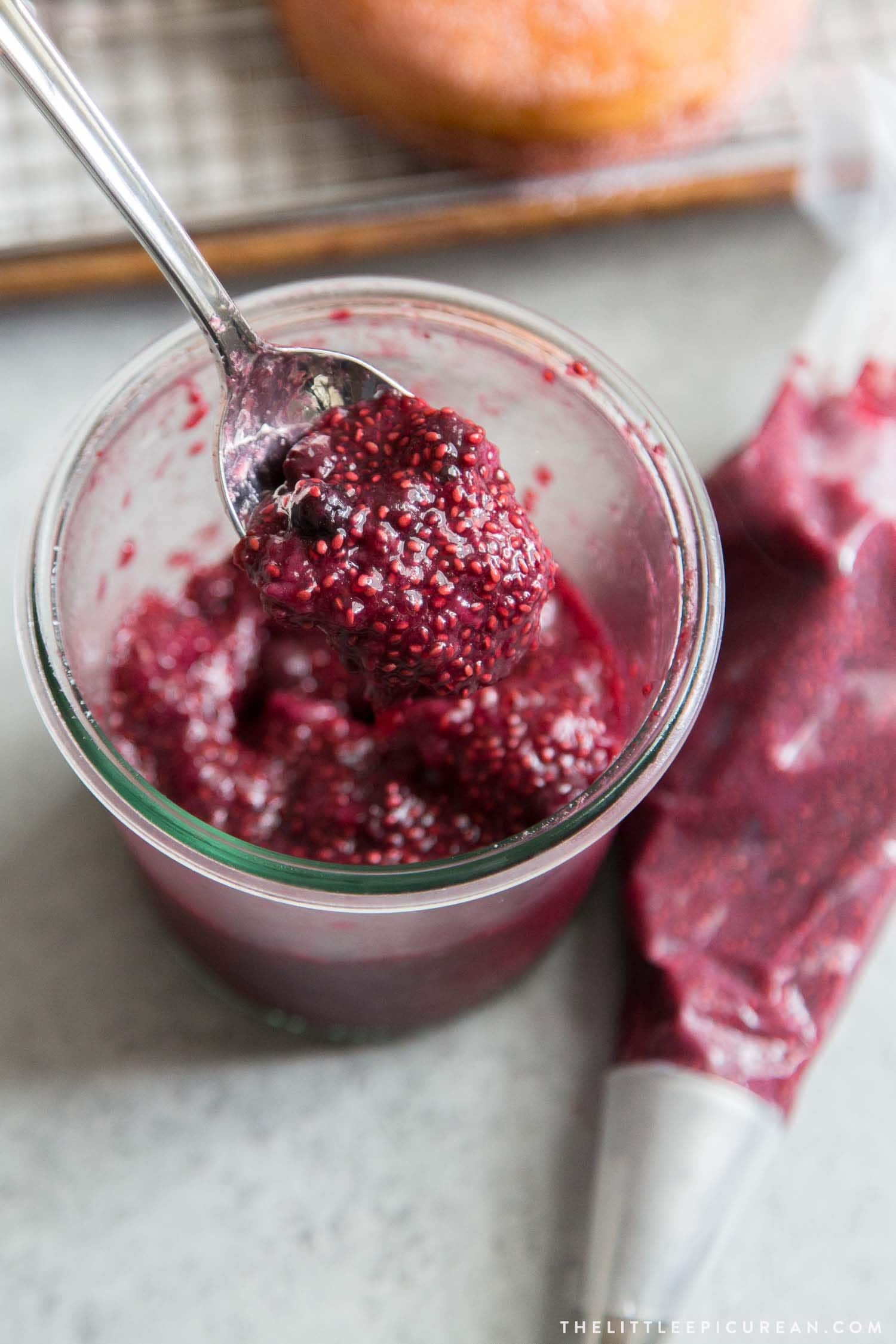 Why add chia seeds to fruit jam?
Have you ever made overnight oats with chia seeds? Overnight the chia seeds thicken the oat mixture, making it creamier and fuller in texture.
Although neutral in flavor, chia seeds are a welcome addition to numerous sweets and recipes.
They're full of good for you Omega-3s. Chia seeds have more potassium than bananas and more calcium than milk! Also, they're a decent source of dietary fiber.
When introduced to liquids, chia seeds soften and absorb the moisture. Once hydrated, it is said that chia seeds can grow 20 to 30 times their weight.
The soaked chia seeds forms a outer coating of gel that acts as a thicker. As such, chia seeds are a great vegan substitute for eggs in baking.
Chia seeds act as a wonderful thicker for jams and jellies, smoothies, soups, and even salad dressings!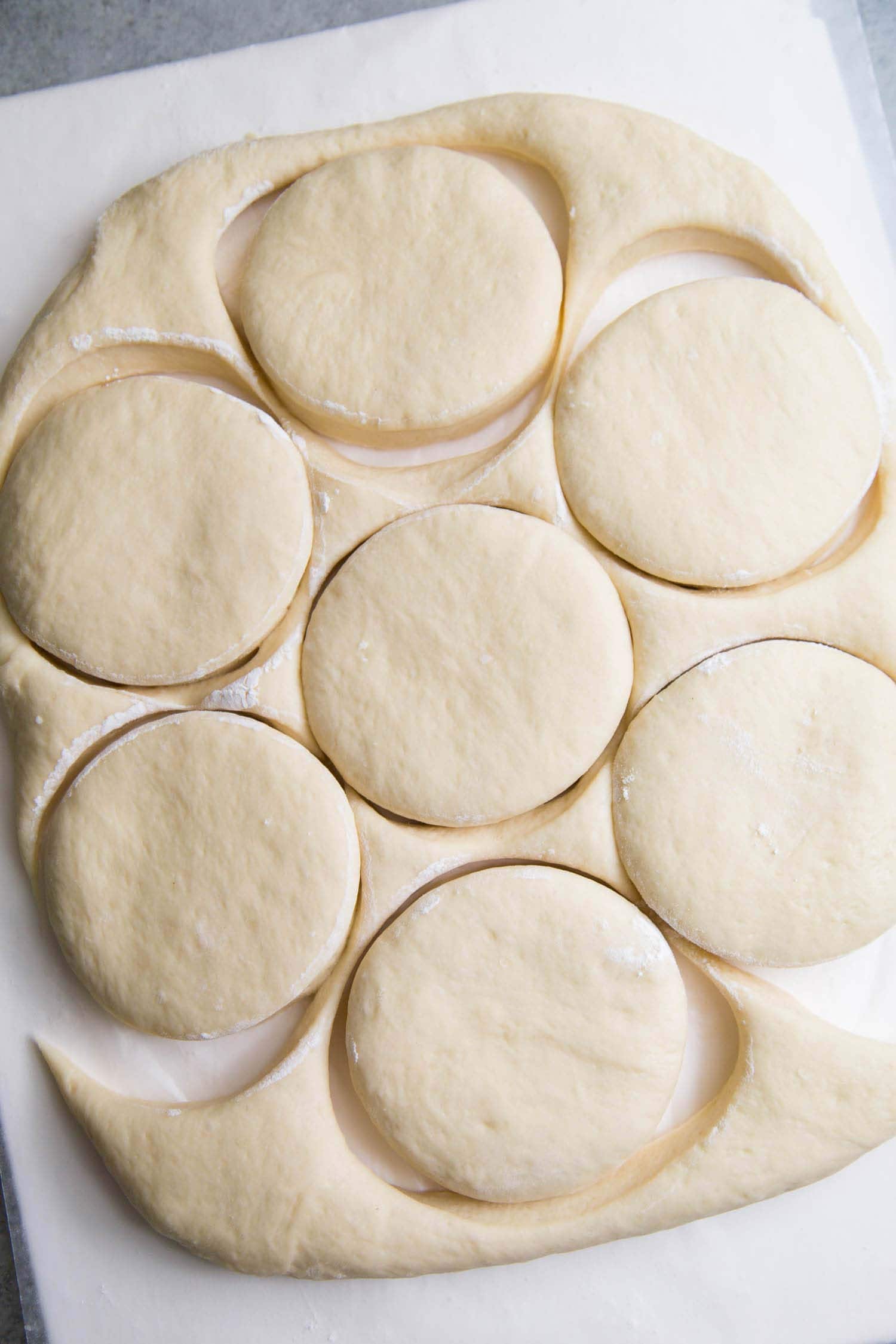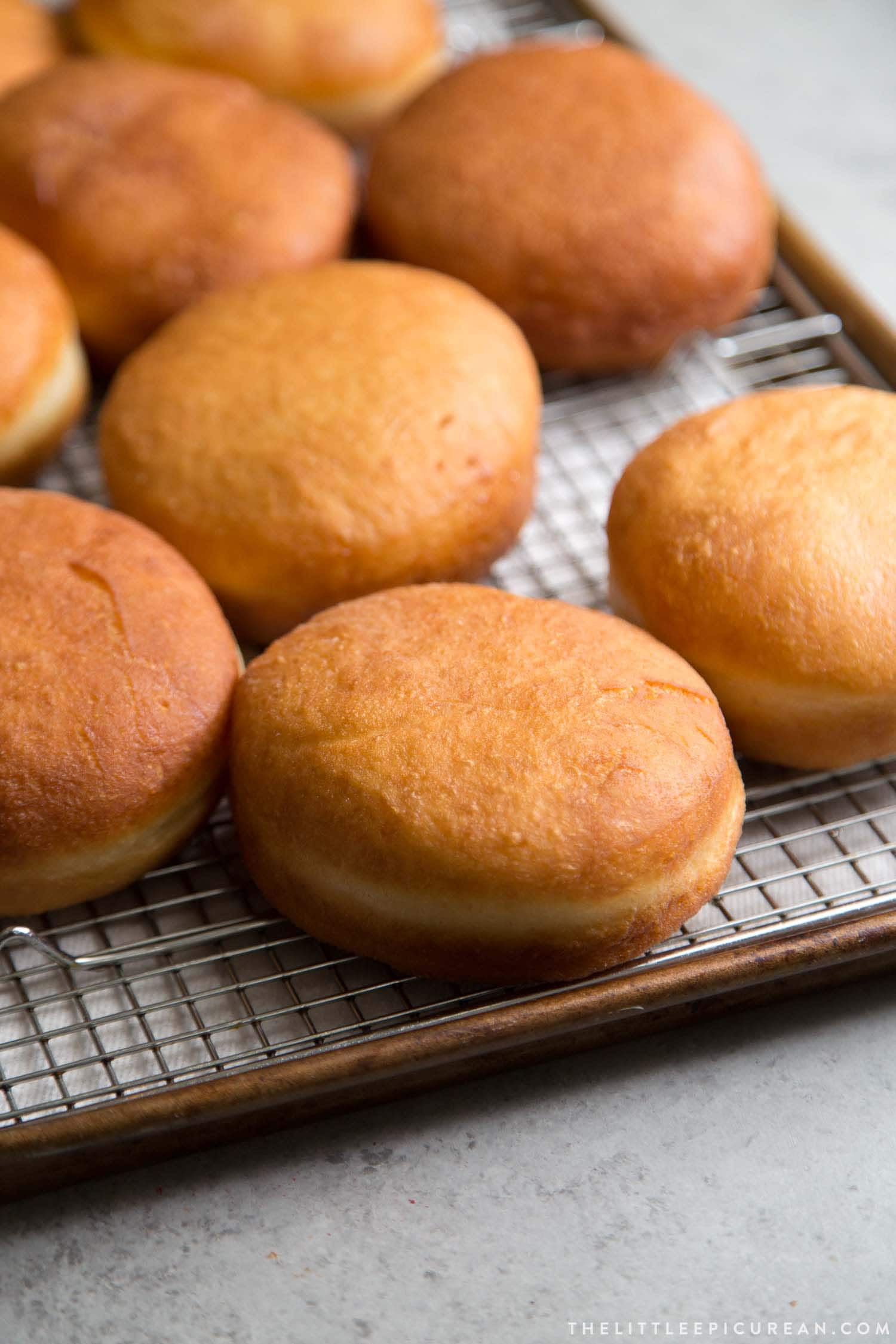 Oil temperature matters when frying!
Use a candy thermometer to maintain proper cooking temperature.
Oil temperature will change as raw dough is added to the oil. Monitor oil temperature using a candy thermometer to make sure donuts do not burn.
Dutch oven pot and cast iron pans are great for frying because they maintain and hold temperature well.
If the oil is too hot, the donut will burn on the outside before the insides are ever cooked.
If the oil is too cool, the donuts will not crisp up. Rather, they will soak up all the oil.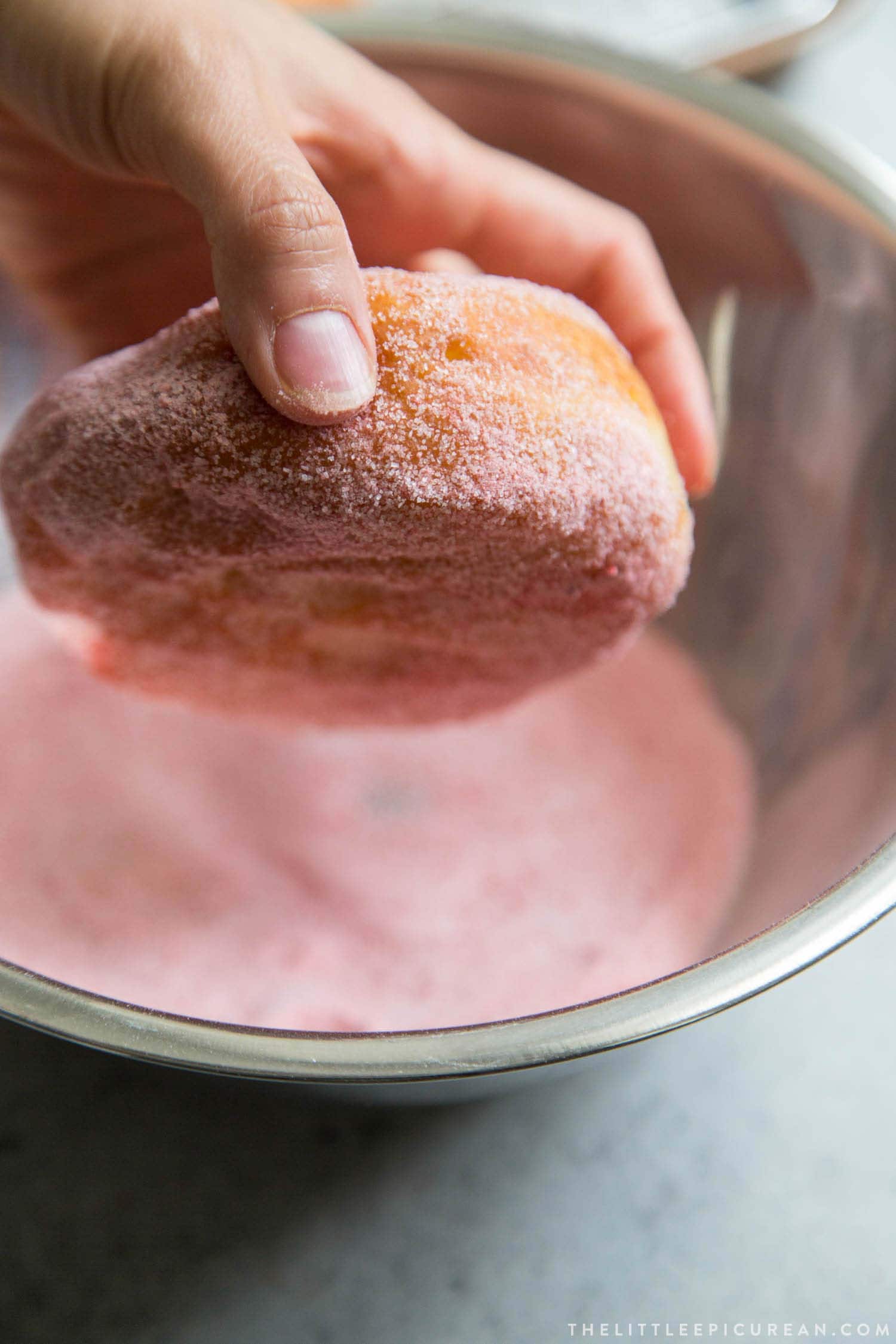 Strawberry Sugar Coating
Skip the plain old granulated sugar. These jelly donuts are tossed in a strawberry sugar coating made from freeze dried strawberries.
The freeze dried strawberries add a warm and inviting pink hue to the sugar. Plus, it adds a nice pop of strawberry flavor.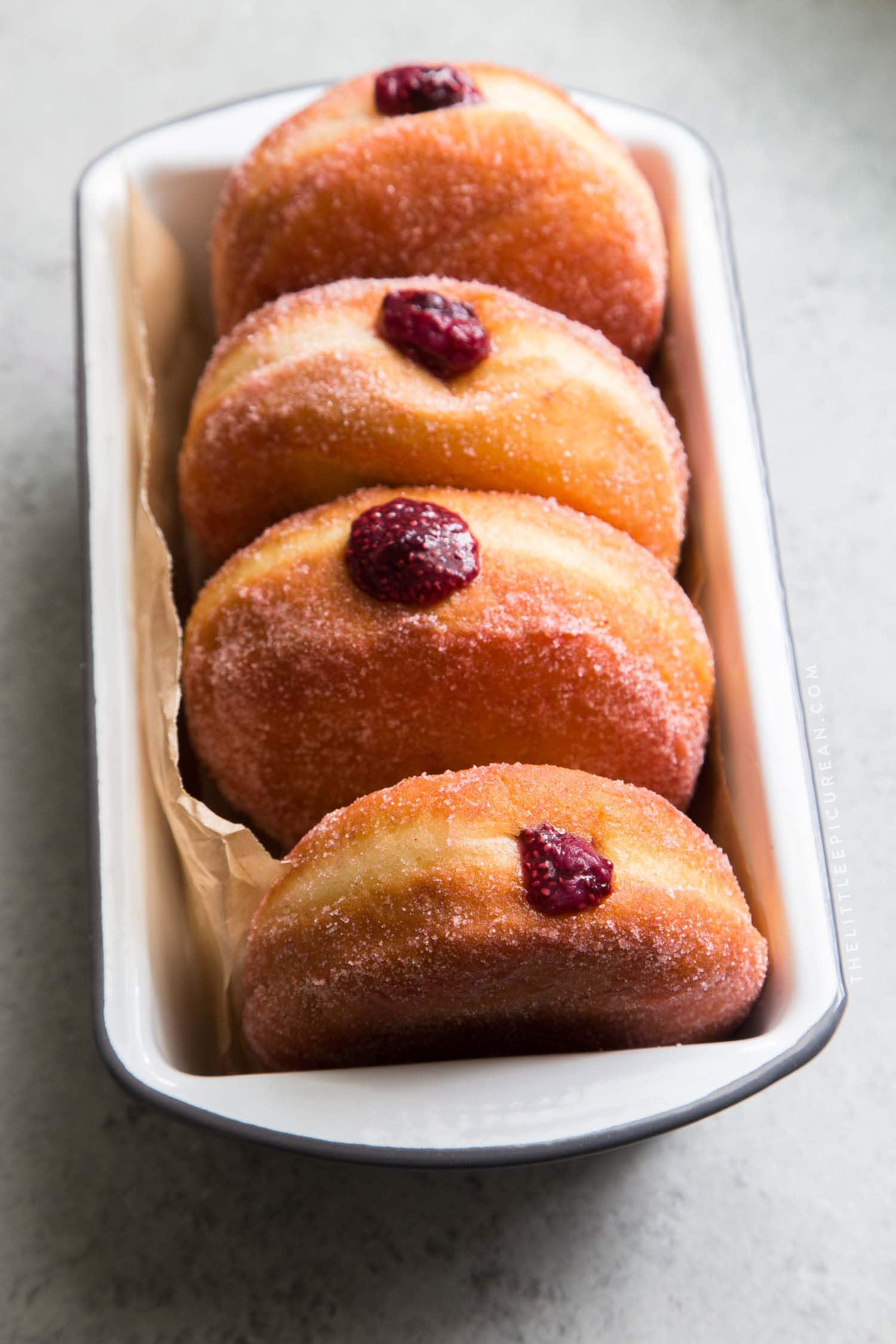 After being tossed in strawberry sugar, the donuts are finally filled with berry jelly.
Once the donuts are filled, they need to be consumed immediately.
Overtime the jelly will seep into the dough causing the donuts to become soggy. No one wants that. Eat your share of jelly donuts then, share the rest with family and friends!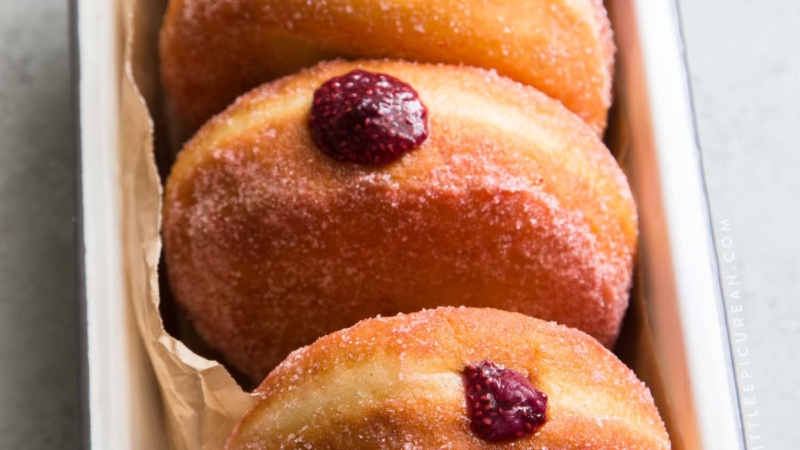 Chia Berry Jelly Donuts
Yeast raised doughnuts fried until golden brown, coated in strawberry sugar, then filled with homemade strawberry blueberry jam.
Ingredients
Chia Berry Jam:
1 ½

cup

strawberries,

hulled, sliced into quarters

1 ½

cup

blueberries

¼

cup

granulated sugar

3

Tablespoon

white chia seeds

1

Tablespoon

white wine vinegar,

or apple cider vinegar
Yeast Dough:
1 ¼

cup

whole milk,

warmed to 100-110°F

2 ¼

teaspoon

active dry yeast

3

Tablespoon

granulated sugar

2

large eggs

1

large yolk

¾

teaspoon

kosher salt

4 ¼

cup

all-purpose flour

6

Tablespoon

vegetable shortening

*

frying oil
Strawberry Sugar Coating:
freeze dried strawberries

1

Tablespoon

turbinado sugar

½

cup

granulated sugar
Instructions
Chia Berry Jam:
In a small heavy bottom sauce pot, combine strawberries, blueberries, and sugar. Set over medium heat. Cook stirring often to prevent sugar from burning. Fruit will soften and expel juices. Cook for 6-8 minutes until liquid is syrup like in texture.

Remove from heat. Stir in white wine vinegar. Fold in chia seeds. Transfer to a heat safe container and let chill in the fridge until ready to use. Jam will thicken as it sits in the fridge.
Yeast Dough:
In the bowl of a stand mixer, whisk together warm milk, yeast, and one teaspoon of sugar. Let mixture sit for 5-7 minutes until bubbly and aromatic.

Whisk in remaining sugar, eggs, egg yolk, and salt until smooth.

Attach dough hook to mixer. With the mixer running on low, add flour in three additions. Between the second and third addition, add shortening one tablespoon at a time.

Increase to medium speed. Knead dough for 3-5 minutes until mixture forms a smooth dough that no longer sticks to the sides of the bowl.

Transfer dough to a large greased bowl. Cover bowl and let sit at room temperature for one hour, or until doubled in volume.

Punch down risen dough. On a floured surface, roll dough to about 1/2-inch thick. Using a 4-inch round cutter, punch out doughnuts. Loosely cover rounds with plastic wrap. Let rest for 30 minutes until doughnuts are puffy.

Add frying oil to a large heavy bottomed sauce pot such as a Dutch oven or cast iron. Set over medium heat until oil reaches 360°F (or 182°C).

Brush off any excess flour from dough. Carefully place 2-3 donut rounds into hot oil. Do not overcrowd. Cook for 90 seconds on each side, until golden brown*. Use a slotted spoon to transfer donuts onto a paper towel lined baking sheet.
Strawberry Sugar:
Using a spice grinder, pulse together freeze dried strawberries and turbinado sugar to a powder consistency. Whisk powder mixture with granulated sugar.
Assembly:
Toss warm donuts in strawberry sugar. Place on wire rack to cool until you are ready to fill donuts.

Use a chopstick to poke a hole on one side of the donut. Wiggle the chopstick to create a pocket for the jam.

Prepare a pastry bag fitted with a small round piping tip. Fill bag with jam.

Insert piping tip into donut hole. Squeeze enough jam into donut until donut feels full and heavy. Serve immediately!
Notes
Jam keeps in the fridge for one week. Use leftover jam for toast, stir into yogurt, or spoon over oatmeal.
This is my recommend brand of vegetable shortening. 
*Cooking time may vary depending on the temperature of oil and the thickness of dough. Sacrifice one donut as a tester. Slice donut in half to ensure insides are cooked.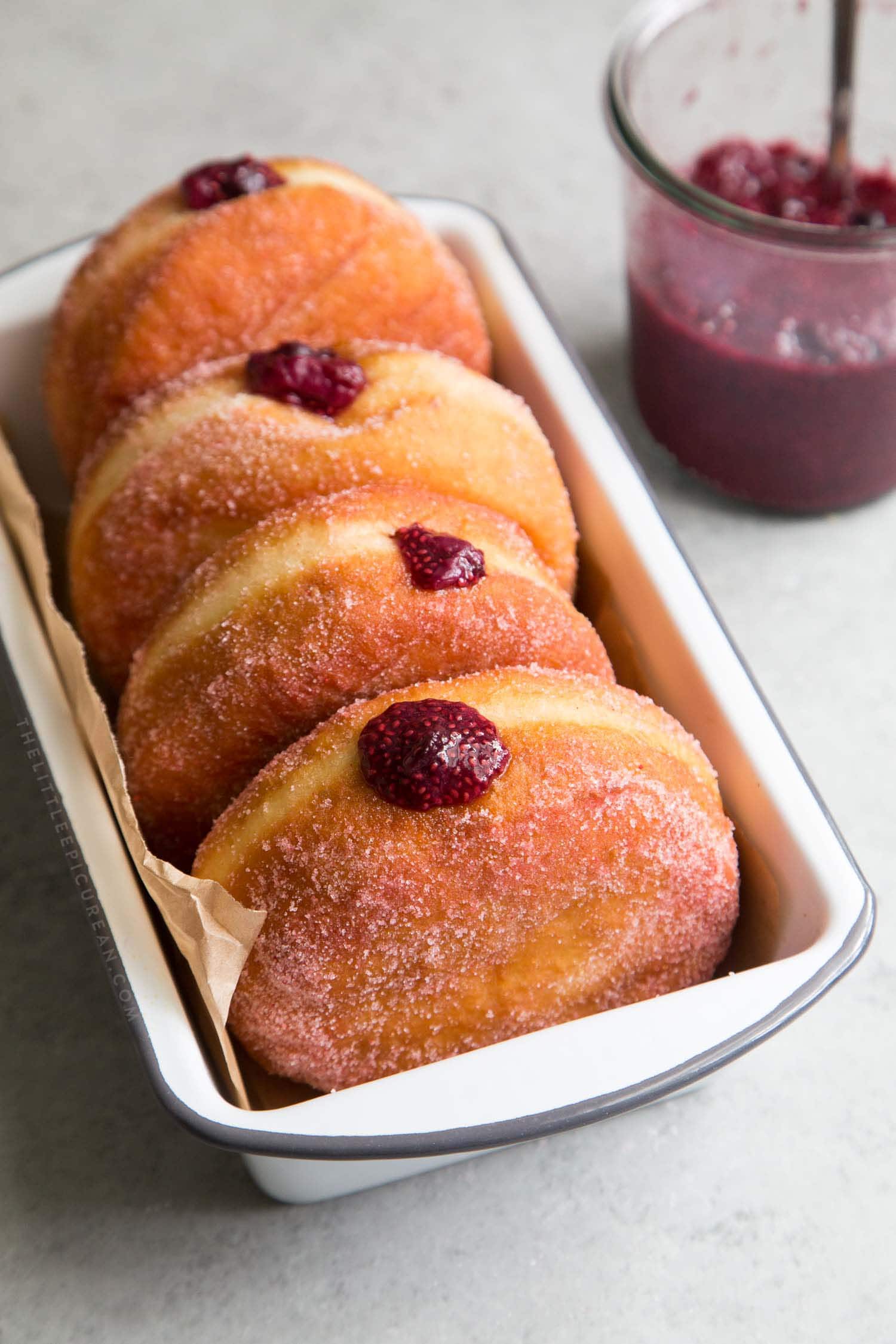 Interested in a pastry cream filled donut? Use this pastry cream recipe:
Vanilla Bean Pastry Cream, makes about 2 cups
1/4 cup cornstarch
3/4 cup granulated sugar, divided into 1/2 cup and 1/4 cup
2 cups whole milk, divided into 1 1/2 cup and 1/2 cup
3 large egg yolks
1/4 teaspoon kosher salt
2 Tablespoon unsalted butter
2 teaspoon vanilla bean paste, or 1 vanilla bean split or scraped (or 2 teaspoon pure vanilla extract)
Instructions:
Line a half-sheet baking pan with plastic wrap, make sure the sides of the tray are also covered. Set aside.
Pour 1 1/2 cup of milk into a large heavy bottomed saucepan. Add salt and 1/2 cup sugar. Whisk together. Place over medium-high heat and bring to a boil. Stir occasionally to make sure the milk does not burn along the sides or bottom of the pan.
Meanwhile, in a medium bowl, whisk together cornstarch and 1/4 cup sugar. Add in remaining 1/2 cup of milk and yolks. Whisk until smooth.
When the milk has boiled, slowly add a little bit of the milk into the egg mixture. Whisk constantly to distribute the heat. Continue to pour and whisk until only a couple tablespoons of milk are left the saucepan. Then pour the egg-mik mixture back into the saucepan.
Whisk constantly over medium heat until the custard has thickened. Keep whisking and let the custard come to a boil to cook the cornstarch out. Remove from heat. Whisk in butter, whisk until smooth. Add vanilla and whisk until combined
Pour the hot pastry cream into the prepared plastic wrapped sheet pan. Spread evenly. Cover with plastic wrap and freeze for 10-15 minutes until the pastry cream has cooled to room temperature. Remove from freezer and continue to cool in refrigerator until ready to use.
Refresh chilled pastry cream by giving it a good whisk or use an electric hand mixer to beat until smooth.